7 Key Events That Are Going To Happen By The End Of September
Is something really big about to happen?  For months, people have been pointing to the second half of this year for various reasons.  For some, the major concern is Jade Helm and the unprecedented movement of military vehicles and equipment that we have been witnessing all over the nation.  For others, the upcoming fourth blood moon and the end of the Shemitah cycle are extremely significant events.
Yet others are most concerned about political developments in Washington D.C. and at the United Nations.  To me, it does seem rather remarkable that we are seeing such a confluence of economic, political and spiritual events coming together during the second half of 2015.  So is all of this leading up to something?  Is our world about to change in a fundamental way?  Only time will tell.  The following are 7 key events that are going to happen by the end of September…
Late June/Early July – It is expected that this is when the U.S. Supreme Court will reveal their gay marriage decision.  Most believe that the court will rule that gay marriage is a constitutional right in all 50 states.  There are some that believe that this will be a major turning point for our nation.
July 15th to September 15th – A "realistic military training exercise" known as "Jade Helm" will be conducted by the U.S. Army.  More than 1,000 members of the U.S. military will take part in this exercise.  The list of states slated to be involved in these drills includes Texas, Colorado, New Mexico, Arizona, Nevada, Utah, California, Mississippi and Florida.
July 28th – On May 28th, Reuters reported that countries in the European Union were being given a two month deadline to enact "bail-in" legislation.  Any nation that does not have "bail-in" legislation in place by that time will face legal action from the European Commission.  So why is the European Union in such a rush to get this done?  Are the top dogs in the EU anticipating that another great financial crisis is about to erupt?
September 13th – This is Elul 29 on the Biblical calendar – the last day of the Shemitah year.  Many are concerned about this date because we have seen giant stock market crashes on the last day of the previous two Shemitah cycles.
On September 17th, 2001 (which was Elul 29 on the Biblical calendar), we witnessed the greatest one day stock market crash in U.S. history up until that time.  The Dow plummeted 684 points, and it was a record that held for exactly seven years until the end of the next Shemitah cycle.
On September 29th, 2008 (which was also Elul 29 on the Biblical calendar), the Dow fell by an astounding 777 points, which still today remains the greatest one day stock market crash of all time.
Now we are approaching the end of another Shemitah year.  So will the stock market crash on September 13th, 2015?  Well, no, because that day is a Sunday.  So I guarantee that the stock market will not crash on that particular day.  But as Jonathan Cahn has pointed out in his book on the Shemitah, sometimes stock market crashes happen just before the end of the Shemitah year and sometimes they happen within just a few weeks after the end of the Shemitah.  So we are not just looking at one particular date.
September 15th – The 70th session of the UN General Assembly begins on this date.  It is being reported that France plans to introduce a resolution which would give formal UN Security Council recognition to a Palestinian state.  Up until now, the United States has always been the one blocking such a resolution, but Barack Obama is indicating that things may be much different this time around.
September 25th to September 27th – The United Nations is going to launch a brand new sustainable development agenda for the entire planet.  Some have called this "Agenda 21 on steroids".  But this new agenda is not just about the environment.  It also includes provisions regarding economics, agriculture, education and gender equality.  On September 25th, the Pope will travel to New York to give a major speech kicking off the UN conference where this new agenda will be unveiled.
September 28th – This is the date for the last of the four blood moons that fall on Biblical festival dates during 2014 and 2015.  This blood moon falls on the very first day of the Feast of Tabernacles, it will be a "supermoon", and it will actually be visible in the city of Jerusalem.  There are many that dismiss the blood moon phenomenon, but we have seen similar patterns before.  For example, a similar pattern of eclipses happened just before and just after the destruction of the Jewish temple by the Romans in 70 AD.
Perhaps none of this alarms you.  But when you add everything above to the fact that the elite definitely appear to be feverishly preparing for something, a very alarming picture emerges.
For example, due to fears that a "natural disaster" could interrupt their operations in New York, the New York Fed has been working hard to build up a satellite office in Chicago.
What kind of "natural disaster" could possibly be so bad that it would cause the entire New York Fed to shut down?
And NORAD has decided to move back into the base deep inside Cheyenne Mountain after all these years.  The threat of an electromagnetic pulse was the reason given for this decision.
By themselves, perhaps those moves would not be that big of a deal.  But let's add all of the weird movements of military vehicles and equipment that we have been witnessing lately to this discussion.  I included this list from Intellihub in a previous article, but I believe that it bears repeating…
On March 13th, Intellihub founder Shepard Ambellas detailed photos and documentation of nearly 40 U.S. Army soldiers, wielding training rifles and dressed in full combat gear, participating in an urban warfare style training drill just outside the Texarkana Regional Airport perimeter.
In the middle of April, a report out of

Big Springs

, Texas revealed that a train full of

military equipment

and over a dozen helicopters had arrived in the town ahead of Jade Helm 2015.
Photographs taken in Corona, California a few days later added to the Jade Helm speculation after they showed a MRAP full of what looked to be U.S. Marines driving down the 1-15 freeway. "In broad daylight with not a care in the world"
On April 24th a shocking report on Intellihub News detailed armed troops seen confronting angry protesters in a "professional news package"of riot control training released by the military
"A massive buildup, a lot of movement and its undeniable at this point," read the headline on April 25th after a convoy was seen in Oroville, California that stretched as far as the eye could see.

Moving into May, photographs taken in Indiana showed a massive military convoy heading down the freeway. The photos, taken by a concerned citizen, show the convoy heading west on I-70 for reasons unknown.
Two days later, video footage, this time out of Texarkana, Arkansas, highlighted a convoy of Humvees driving down the highway as well as a trainload of military vehicles that was seen shortly after.
In mid May, Intellihub reporter Alex Thomas published a detailed report that confirmed that the military was indeed training to take on the American people, this time in the form of domestic house to house raids.
The next day a new report, also by Alex Thomas, proved that Marines were actually practicing for the internment of American citizens.
On May 18th, a train full of hundreds of military Humvees was spotted, further revealing the increased military buildup across the country leading into Jade Helm 2015. The train was heading towards Cleveland for unknown reasons although a possible connection to planned upcoming protests had been mentioned.
This past week a massive military war game simulation called Raider Focus was announced. The war game will include the largest military convoy seen on the roads of Colorado since World War II.
On may 23th, Intellihub News reported on pictures sent to ANP that show a 1/4 mile long military train convoy near the Colorado Wyoming border.
Finally, a report published this week detailed a stunning propaganda move by the military involving a New Jersey school and the worship of the military on the streets of America. "As parents, teachers, and students looked on with joy, Marines from the Special-Purpose Marine Air Ground Task Force landed helicopters on the baseball diamond of a New Jersey school."
What does all of this mean?
It is hard to say.  We have imperfect information, so it is difficult to come up with perfect conclusions.
But what I will say is that I believe that the second half of 2015 is going to be extremely significant.  I believe that events are about to start accelerating greatly, and I believe that life in America is about to change dramatically.
So what do you think?  Please feel free to share your thoughts with all of us by posting a comment below…
At the Edge of the World, Facing the End of the World
Writing about climate change is an exercise in managed insanity. The human mind isn't equipped to parse a crisis—the greatest in the history of our species—of such complexity and urgency and darkness. With record-breaking superstorms ravaging coastlines at a regular clip, it's hard to feel good about the impact that Homo sapiens has had on our leafy, temperate, Goldilocks planet.
You might even go so far as to suggest that the human species is a plague, given the untold destruction we've wrought on this planet. Once you subscribe to that argument, it becomes nearly impossible to think of a noble pursuit for a person. Doctors save lives—firefighters too. Teachers hope toinspire the next great genius, maybe someone like Norman Borlaug, whose agricultural breakthroughs allowed our population to balloon on a planet with only so much arable land. All noble pursuits in the name of spreading the human plague.
The thing about the human plague is that while it's busy wrecking the planet, it's also demolishing us. Climate change will destroy not just our bodies, but our psyches. Supercharged rivers will wash away cities. Even when we should know better, because we have more than abundant science to back it up, the Trump administration prepares to obliterate regulations controlling methane, one of the most potent greenhouse gases. That plague theory is holding up.
But unlike a plague, we can think. We can plan. A plague tears through a population indiscriminately. It can't pull back when it starts running out of victims and say, Whoa, what am I doing? If I keep this up, it'll be the end of me! We can, and last week at the Global Climate Action Summit, many of the best minds the human species can muster gathered to right the course.
These people included but were not limited to: environmentalists, mayors from around the world, human rights activists, technologists, academics, business leaders, labor leaders, and former secretaries of state. The kinds of folks with noble pursuits. This was climate change activism without borders. If the Paris Agreement, drafted in 2015, was about governments coming together to fight, last week's event showed that the most ambitious climate action isn't happening on the national scale—it's cities and states that are leading the way.
It's easy to think that our presidents or prime ministers, our queens or our kings, are the undisputed arbiters of a country's direction. Not so. For several thousand years, it's been the cities that truly guide a nation. Cities are where citizens trade goods and ideas. Cities are where foreigners bring their own cultures and knowledge. And cities are were innovation flourishes. Cities have always competed with each other, but they have also shared ideas.
And so it goes with developing and deploying green technologies. Los Angeles mayor Eric Garcetti put it to me best: "When Shenzhen says, I've got 100 percent of our bus fleet electrified and all of our taxis, that's good competition for LA to try to catch. And it's collaborative in the sense that when people back in LA say there's no way we can electrify our buses by 2030, I can point to the fact that Shenzhen in China just did it, and it took them two and a half, three years."
While environmentalists or, really, anyone who cares about the future of Earth, have been getting bent out of shape about Trump, cities and states have been gaining tremendous ground in the battle against climate change. Last week, an organization called C40, essentially a climate-change-busting network of international metropolises, announced that 27 of its member cities had already peaked in their emissions and had come down at least 10 percent from that high.
On the other side of the country, as I write this, Hurricane Florence is tearing the Carolinas to pieces, just days after news broke that the Trump administration had transferred $10 million from FEMA to ICE. Bad enough in a world without climate change, but all the worse in a world where warmer waters are feeding stronger hurricanes. Scientists suspect Florence is no exception.
And so the climate chasm between American cities and the federal government widens. That's instilled a sense of urgency in mayors, who were already leading the way on mitigation. The president has galvanized that movement, not crippled it. While Trump's EPA does literally the opposite of protecting the environment (do keep in mind that a Republican, none other than Nixon, created the EPA, cities are scrambling to deploy solar panels and electric bus fleets and car charger networks. It's what the planet demands, but also what citizens demand—constituents want clean air, no matter what the EPA does.
Al Gore got onstage Friday and said this, his voice crescendoing into a boom: "We are seeing businesses lead the way, we're seeing investors lead the way, we're seeing cities and counties and all kinds of civic organizations leading the way. We must we do it, we can do it. I'm convinced ever more because of the success of this summit here in San Francisco that we will do it. For anyone who doubts that we as human beings have the political will to meet our obligations that history is demanding of us, just remember that political will is itself a renewable resource."
We're not only the plague. We're also the immune system, and we're fighting back.
Risk of UK Tsunami Much Higher than Previously Thought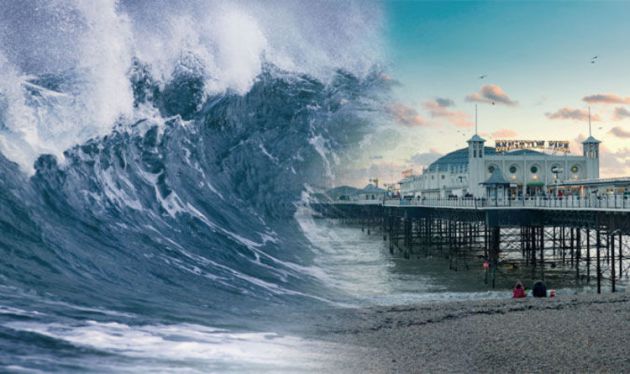 It was long believed that the last tsunami to devastate the UK was 10,000 years ago caused by a massive underwater landslide know as the Storegga Slide – a massive wave was sent hurtling towards the Shetland Islands as well as parts of mainland Scotland, Norway and Greenland.
via unexplained-mysteries:
New research has revealed that the last tsunami to hit the UK was a lot more recent than anyone had realized.
Given how long ago this happened, scientists had long dismissed the disaster as something extremely rare, but now new evidence has been found to suggest that this may not actually be the case.
"We found sands aged 5,000 and 1,500 years old at multiple locations in Shetland, up to 13 meters (43 ft) above sea level," said Sue Dawson from the University of Dundee.
"These deposits have a similar sediment character as the Storegga event and can therefore be linked to tsunami inundation."
The discovery indicates that tsunamis can and do hit the UK on a much more regular basis.
"They're much higher frequency, and 1,500 years ago is very, very recent – it's 500 [CE] if you want to think about it like that," said Dave Tappin from the British Geological Survey.
"It means that the hazard – the risk – is far more serious than we thought previously."
Unexplained-Mysteries
The US Is Woefully Underprepared For The Next Pandemic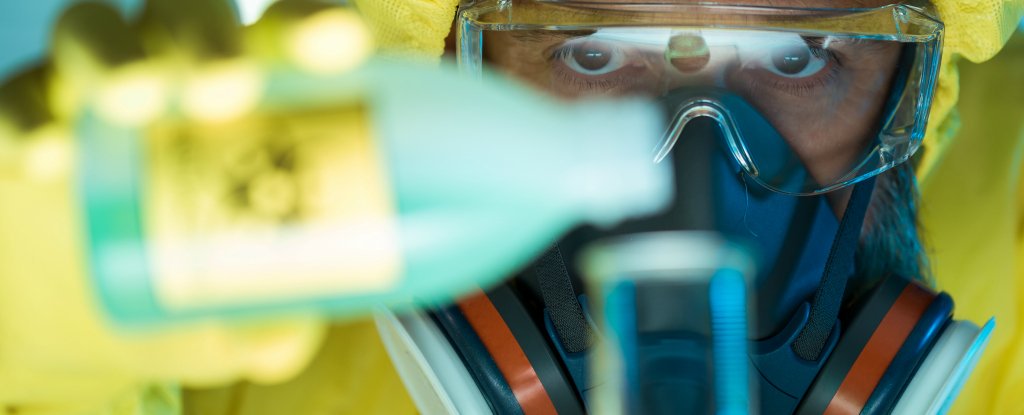 One hundred years after the Great Influenza pandemic of 1918, global health leadership stands at a crossroads. The United States continues to expand its policy of isolationism at a time when international cooperation in health could not be more important.
The state of pandemic preparedness and the necessary steps for protecting the people throughout the world was the topic of The Scowcroft Institute for International Affairs' 2nd Annual White Paper.
As pandemic policy scholars, with two of us spending the majority of our career in the federal government, we believe that it is essential to prepare the country and the world for the next pandemic. It is not a matter of if, but when, the next disease will sweep the world with deadly and costly consequences.
There are many topic areas that national leaders must address to create better preparedness and response capabilities, but we believe three are most urgent.
These include targeting the resistance to antimicrobial agents that has come about because of overuse and misuse of antibiotics; ensuring continuity of supply chains; and improving and strengthening leadership.
Overuse of a wonder drug
Prior to Alexander Fleming's discovery of penicillin, even the smallest scratch could be deadly. Its discovery, however, helped contribute to the perception that man had conquered disease, despite Fleming's warning that "the thoughtless person playing with penicillin treatment is morally responsible for the death of a man who succumbs to infection with the penicillin resistant organism."
Now, 70 years later, society is quickly reaching the precipice of that reality.
The problem of antibiotic overuse and misuses is extensive. In fact, in the United States, 80 percent of all antibiotic use occurs in the agricultural sector and the majority of this use is nontherapeutic, meaning it is not medically necessary.
Misuse of antibiotics also occurs frequently in the human health sector, however. The Review on Antimicrobial Resistance estimated that if changes are not made, the world could witness 10 million deaths annually due to antimicrobial resistant infections.
To help prevent this public health threat from reaching that level of crisis with potential catastrophic implications, we recommend four actions.
First, an increase of investment needs to be made by the federal government and the private sector into research, development and production of new antimicrobials.
In 2014, WHO also called for greater investment in discovering new antimicrobials, but in the last 50 years, only one new class of antibiotics has been discovered.
Second, governments throughout the world need to create stronger internationally harmonized regulatory systems for agriculture production and veterinary use of antimicrobials.
For example, in the United States, antibiotics cannot be purchased without a prescription from either a medical doctor or a veterinarian (for the agricultural sector).
But many countries in the developing world have no oversight for animal or human use of antibiotics. In some places, particularly African countries, many antibiotics can be purchased over the counter.
You may already have experienced the third recommendation, if your doctor has sent you home from an appointment without an antibiotic prescription because your illness was viral.
Health care providers and consumers need to decrease misuse and overuse of antimicrobials in human health by only prescribing antibiotics in cases of bacterial infection. The Centers for Disease Control and Prevention has issued guidelines for this, including recommendations for patients.
Last, governments throughout the world need to understand that fighting antimicrobial resistance requires a collaboration between animal health, human health and environmental health.
This idea, known as One Health, works to bring together researchers and professionals from these three areas to address disease-related challenges.
While these actions require monetary and time investments, they are essential. Without taking these actions society may find itself in a post-antibiotic world.
This world, as former Director-General of the World Health Organization Margaret Chan explained in 2012, means "the end of modern medicine as we know it. Things as common as strep throat or a child's scratched knee would once again kill."
Will global supply chains collapse?
Modern society is able to function and flourish in large part because of the global supply chains transporting parts, equipment and supplies with speed, efficiency and just-in-time delivery, which allows business to keep carrying costs low because they can order what they need and have it shipped quickly, or "just in time."
Global supply chains, which consist of production specialization through comparative advantage, has enabled great economic development, but their just-in-time structure also leaves them exceedingly vulnerable. Components of the critical medical infrastructure, such as components essential to running life support machines or insulin for diabetics, are always in transit.
This means that even a localized disease could deprive people of needed medical supplies. For example, if an epidemic hits a town in Asia where N95 masks, which are used to protect people from hazardous substances, are manufactured, there may no longer be any N95 masks to be shipped to the United States or elsewhere.
The United States experienced supply chain breakdown when Hurricane Maria caused a disruption in the supply of small bag IV saline. A manufacturer in Puerto Rico that produces nearly half of all the saline utilized in the U.S. had to halt production because of the hurricane.
This interconnectedness of the global economy and the expansiveness of medical supply chains means that a disruption anywhere along the line could spell disaster worldwide.
To help prevent such a disaster, the federal government needs to understand the United States' critical supply chains. The federal government and private sector should be aware of likely points of breakdown.
Once there is understanding, the U.S. must implement new policies that enable private sector innovation to diversify production and transportation where possible.
Diversification of production and transportation means that there is not just one production source for critical supplies. Thus, a disruption in one geographical location would not cripple the entire supply chain.
Centralized, involved leadership
Diseases do not respect borders, and for this reason, pandemics are a global threat. Therefore, the U.S. must address the threat of pandemics in cooperation with all other nations and with multilateral institutions such as the World Health Organization, the U.N. Security Council, UNICEF and more.
We believe that investment in global health security, such as the establishment of a permanent fund for influenza preparedness and response, and remaining engaged with the international community to prevent an outbreak from becoming a pandemic is the best way to protect the American people.
Additionally, we believe that the U.S. should commit to pandemic preparedness by creating a position of authority within the White House that transcends administrations and elevates pandemics as existential threats to a national security priority. There is a need to have decision-making authority and oversight vested at the highest levels of government.
In the midst of a pandemic, decisions must be made quickly. Quick decision-making can often be hindered by the absence of high-level leadership. The need for high-level leadership, coordination and a new strategy are essential to mitigate the threat of pandemics, but these fundamental pandemic preparedness gaps persist.
The next great pandemic is coming. The true question is: Will we be ready when it does? Right now, that answer is no, because the country lacks the sufficient safeguards we have outlined.
But if the United States chooses to elevate the issue of pandemic preparedness and biosecurity as a national security priority, we could be. Outbreaks are inevitable, but pandemics are not if we take action now.
Christine Crudo Blackburn, Postdoctoral Research Fellow, Scowcroft Institute of International Affairs, Bush School of Government and Public Service, Texas A&M University ; Andrew Natsios, Director of the Scowcroft Institute of International Affairs and Executive Professor, Texas A&M University , and Gerald W. Parker, Associate Dean For Global One Health, College of Veterinary Medicine & Biomedical Sciences; and Director, Pandemic and Biosecurity Policy Program, Scowcroft Institute for International Affairs, Bush School of Government and Public Service, Texas A&M University
This article was originally published on The Conversation. Read the original article.