New Perspectives on Improving Health Care in the U.S.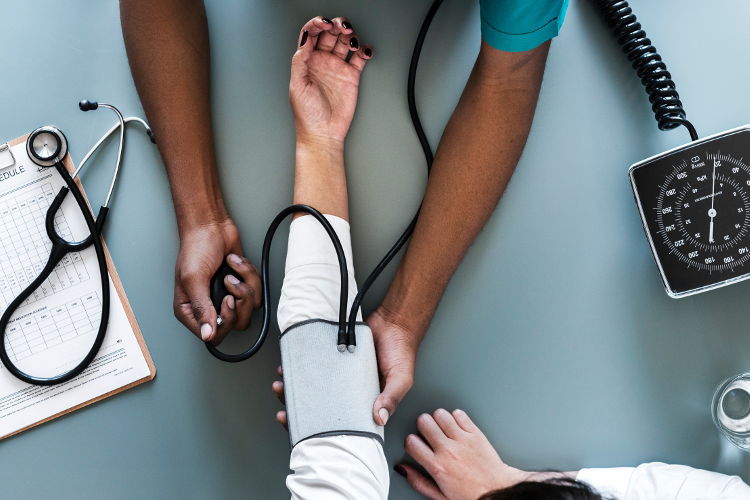 Alex Pietrowski, Staff Writer
Waking Times
The idea that the poor state of health among Americans can only be addressed with effective health care services is impractical and unrealistic. It is a known fact that a healthy diet is one of the best ways to reduce the amount of illness in our society. Thus, it would be more sensible to put more attention on improving the condition of food quality and education regarding accurate dietary standards.
The Hefty Price of Health Care
On average, Americans spends $5,500 out-of-pocket on health care each year. The biggest share of this cost is made up of insurance premiums. A comparison of health insurance plans in India, the U.S. and European countries illustrates that cost of insurance in the U.S. is outrageous. In India, health care insurance spending totals only about $3.7 billion for 1.3 billion people. In Europe, the health insurance bill for 33 countries combined and 509 million people totals $708 billion. Compare this to $1.1 trillion in the U.S. for only 326 million people.
Families that are unsubsidized by Obamacare or employer benefits carry an even bigger burden. They spend anywhere from 10 to 17 percent of their household income on insurance premiums. (This is calculated using country averages.) In addition, out of pocket health expenses for these households could amount to the average deductible of $7,900 per year. Thus, for an average household making $60,000 per year, this could mean 23 percent of their income is spend on health care!
The costs don't stop there. Productivity losses linked to absenteeism due to poor health cost employers about $150 billion each year. In addition, corporations pay billions per year to subsidize health insurance for their employees.
Poor Food Quality Equal Poor Health
As the U.S. government continues to struggle in establishing a health care system that is economical for both citizens and institutions, it seems reasonable to also consider a different perspective. This perspective looks at improving health with better food quality and improved dietary standards.
The food industry in the U.S. might as well be called the chemical food industry. Most live foods are over-treated with pesticides and herbicides. Many are also genetically altered or enhanced.
Moreover, packaged foods are made with various agri-business by-products, such as high-fructose corn syrup, and food processing by-products, such as pulp refuse and pomace. Finally, producers prepare processed and semi-processed foods with countless chemically-created ingredients. The most common are preservatives, sweeteners, colorants and flavor-enhancers.
Consequently, unless you're eating 100% organic, non-GMO foods, you're likely getting much less nutrition from your foods than your ancestors. Furthermore, you're likely putting more stress on the body as it has to digest, filter and eliminate all of the additional chemicals you're putting in the body. The two combined make it more difficult for the body to fight off disease.
Lack of Effective Nutritional Education
Finally, there's the state of dietary education, which does not sufficiently stress the significance of eating a healthy diet. School children do learn about the importance of fresh fruits and vegetables, but school systems do not teach by example.
Most public schools offer school lunches mostly made of processed and prepackage foods. As well, primary schools offer ice cream, candy, sodas and chips for children to buy. Visit any U.S. public school lunchroom and look on the children's plates. You will find very few fruits, and even fewer vegetables.
Children learn though experience. Thus, one of the most effective ways to truly revamp dietary habits is to engaged students in growing their own organic foods. Then, schools could serve fresh produce as part of school meals.
Little Effort to Change Established Dietary Habits
Looking at nutritional education beyond primary schools, it is a small component of the higher medical school system. Most doctors give very little nutritional guidance beyond over-generalized advice, like "Eat more vegetables," and "Drink your milk." Instead, many family practitioners have become a distribution arm of the pharmaceutical industry. As a result, the people we turn to for health advice do very little to help us establish better dietary habits.
No wonder that the typical Western diet still consists of 50 to 80 percent carbohydrates!
Of course, the U.S. government has made some feeble attempts to change this. Thus, in 2005 and 2011, the USDA revamped the notoriously outdated Food Pyramid. The newest USDA graphic (below) shows that about half of your plate should consist of fruits and vegetables.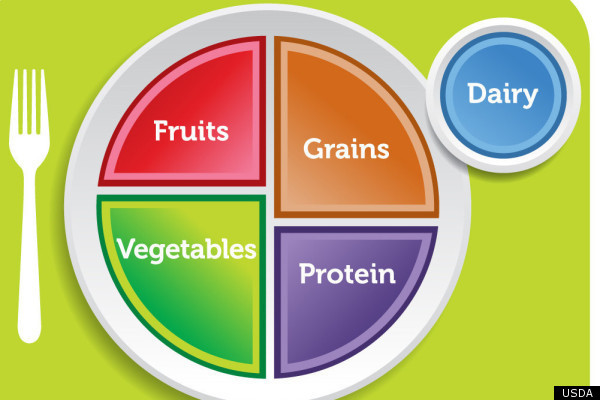 This is definitely a step in the right direction. Unfortunately, old habits are hard to break and a new graphic sure isn't going to change much. Moreover, what percentage of U.S. adults do you think have actually seen USDA's new food guidelines? The number is likely very low.
Final Thoughts
Without additional robustness in nutritional education at all levels, as well as an overhaul of the food industry's quality standards, we are not likely to see any significant changes in how and what people eat. As a result, a growing share of Americas will suffer from illness and face the burden of high-costs of health care in the U.S.
The poor health of the American public and the rising cost of health care are significant issues that need attention. Yet, it's important to consider that the answers don't necessarily reside solely in the hands of the health care industry.
"The Doctor of the future will give no medicine, but will interest his patient in the care of the human frame, in diet, and in the cause and prevention of disease." – Thomas A Edison, 1847-1931
About the Author
Alex Pietrowski is an artist and writer concerned with preserving good health and the basic freedom to enjoy a healthy lifestyle. He is a staff writer for WakingTimes.com. Alex is an avid student of Yoga and life.
Sources:    
https://www.forbes.com/sites/danmunro/2015/01/04/u-s-healthcare-spending-on-track-to-hit-10000-per-person-this-year/#49ece1c86dea
https://drive.google.com/file/d/1vi3S2pjThLFVwB7OtYwFmOiLVPTFl_wk/view
https://www.cms.gov/Research-Statistics-Data-and-Systems/Statistics-Trends-and-Reports/NationalHealthExpendData/downloads/highlights.pdf
https://www.cnbc.com/2017/06/23/heres-how-much-the-average-american-spends-on-health-care.html
https://www.benefitspro.com/2016/10/27/study-americans-spending-10-percent-of-income-on-h/?slreturn=20180610201522
https://www.ey.com/Publication/vwLUAssets/EY-global-analysis-of-health-insurance-in-india/$File/ey-global-analysis-of-health-insurance-in-india.pdf
http://ec.europa.eu/eurostat/statistics-explained/index.php?title=File:Healthcare_expenditure_by_financing_scheme,_2015_(%25_of_current_healthcare_expenditure)_FP18a.png
https://www.cdcfoundation.org/businesspulse/healthy-workforce-infographic
https://www.ncbi.nlm.nih.gov/pubmed/25748244
https://www.huffingtonpost.com/2011/06/02/food-pyramid-usda_n_870375.html
This article (New Perspectives on Improving Health Care in the U.S.) originally created and published by Waking Times and is published here under a Creative Commons license with attribution to Alex Pietrowski and WakingTimes.com. 
Experts Horrified by Leaked CRISPR Baby Study
Chinese scientist He Jiankui's creation of the world's first gene-edited human babies was undoubtedly one of the most impactful science stories of 2018.
But for as much attention as the experiment received, the paper detailing it was never actually published — until now.
On Tuesday, MIT Technology Review published excerpts from a copy of He's manuscript, titled "Birth of Twins After Genome Editing for HIV Resistance," which it obtained from a source earlier in 2019.
The outlet also shared the manuscript with a legal scholar, a doctor specializing in in vitro fertilization, an embryologist, and a gene-editing specialist — and the experts' reactions to He's CRISPR baby study confirm that it was an absolute ethical nightmare.
The MIT Tech Review story highlights 13 problems the experts found with the paper, not least of which is the fact that the researchers behind it never managed to actually prove their claims that the experiment was "successful."
Additionally, the experts note that He and his co-authors seem to have made deliberate attempts to conceal some key information, such as by not naming the doctors involved in the experiment.
In other instances, He's team appears to have outright lied, for example by noting in the manuscript that the twins were born in November 2018 when people familiar with the experiment have said the birth occurred in October.
The experts told MIT Tech Review that reading the manuscript not only left them concerned that the parents involved in the CRISPR baby study only participated to gain access to in vitro fertilization — and not to prevent their offspring from inheriting the father's HIV — but also that the doctors involved in the experiment might not have even known what was happening.
"Approaching this document, I was hoping to see a reflective and mindful approach to gene editing in human embryos," Rita Vassena, scientific director of assisted reproduction company Eugin Group, told MIT Tech Review.
"Unfortunately, it reads more like an experiment in search of a purpose," she continued, "an attempt to find a defensible reason to use CRISPR/Cas9 technology in human embryos at all costs, rather than a conscientious, carefully thought through, stepwise approach to editing the human genome for generations to come."
FBI launches a new phobia: You're being watched on smart TVs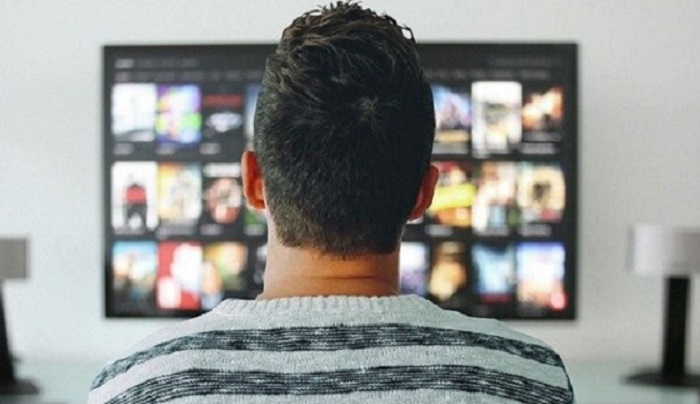 Federal Bureau of Investigation warned US citizens that hackers can watch and monitor them through modern TVs.
It goes without saying that ordinary people can be watched via smart camcorders. Therefore, these cameras must be "sealed " when not in use.
Smart TVs have built-in internet access to watch streaming media content.
Technically, it's a hybrid between a PC and a TV. That's why the FBI triggered the alarm – any ordinary computer can be hacked, which means it can be done with smart TVs.
Many smart TVs are equipped with camcorders and microphones. If hackers break into your TV, they will be able to watch and hear you, and you won't even notice it.
But, hackers will not stop until they penetrate your TV. If their activity is not stopped, they will reach your smartphone and laptop using your data.
The FBI advises:
"Don't rely on the default settings. Protect your privacy by putting, for example, an opaque adhesive tape on your cameras when not in use. "
This warning was posted on November 26, 2019 by FBI staff at the Bureau's official website.
The warning was deliberately issued before Black Friday and Cyber ​​Monday, known for selling people a variety of things, including digital equipment and smart TVs.
The warning also says:
"If they get access to your equipment, in the simplest case, they will modify your channel list or show inappropriate videos to your children. At worst, they will unnoticed, turn on the camera and microphone, even in your bedroom."
It is reported that if citizens spot cyber fraud cases, they can always 'knock' at the FBI's local office or file a complaint online through a dedicated website.
All of this provokes conspiracy theorists to ask questions, such as: who should be more guarded by hackers or special services? Isn't this evidence that the FBI is spying on people the same way? Why is this information given? What is the FBI's intended purpose?
Latest Tests Reveal Children's Cereals Still Contaminated with Toxic Glyphosate
The Environmental Working Group (EWG) has compiled fresh data on the levels of toxic glyphosate (Roundup) found in several popular oat-based breakfast cereals, and the verdict is this: All of them contain at least trace amounts of the cancer-causing herbicide, while most of them are loaded with it.
Olga Naidenko, PhD, a senior science advisor at EWG, along with Alexis Temkin, a toxicologist at EWG, identified the presence of glyphosate in all of the 21 oat-based cereals and snack products they tested. And all but four of these products were found to contain glyphosate at levels higher than what EWG considers to be "protective for children's health with a sufficient margin of safety."
The worst product was General Mills' Honey Nut Cheerios Medley Crunch, which clocked in at 833 parts per billion, or ppb, of glyphosate. In second place was General Mills' Cheerios Toasted Whole Grain Oat Cereal, which tested at 729 ppb of glyphosate.
General Mills' Honey Nut Cheerios was one of the few cereal products that tested below EWG's children's health benchmark of 160 ppb of glyphosate, containing 147 ppb of glyphosate according to EWG's tests. The best-testing product was Nature Valley Fruit & Nut, and Dark Chocolate & Nut, Chewy Trail Mix Granola Bars, at 76 ppb of glyphosate.
A whole slew of other General Mills and Nature Valley products tested at somewhere in between these upper and lower levels, while still mostly exceeding EWG's children's health benchmark of 160 ppb of glyphosate.
These latest findings are significant in that they once again prove that children's breakfast cereals, especially those that aren't organic and contain oat ingredients, are a toxic nightmare that's being completely ignored by federal health authorities.
The Environmental Protection Agency (EPA), for instance, has yet to act on a petition filed by EWG that calls on the agency to "sharply limit" the amounts of glyphosate residue allowed on food. EWG has also called on the EPA to put an end to the use of glyphosate as a preharvest desiccating, or drying, agent.
But the EPA rarely acts on behalf of the general public, it's important to note. In fact, the agency has been colluding with Monsanto (now Bayer-Monsanto) for years to keep glyphosate on the market by claiming that the chemical is completely safe for humans – this being a total lie.
Amid ongoing litigation concerning glyphosate's cancer-causing properties, Bayer-Monsanto is desperate to keep a lid on the truth – and the EPA is actually helping the company to continue deceiving the public about it. But EWG's petition, which includes 19 food companies that agree with its demands, has already been signed by more than 80,000 people, meaning the EPA can't ignore it forever.
Prior to 1993, the EPA actually had standards in place to prevent excess glyphosate from getting into food. But those standards have since been abolished, which explains why the American food supply is becoming increasingly more toxic with each passing day.
"EWG's petition, currently under consideration by EPA, calls on the agency to return to its health-protective 1993 standard," EWG reports. "But it could take years for EPA to act, and the agency has been caught colluding with Monsanto to promote the claim that the chemical is safe."
"The only way to quickly remove this cancer-causing weedkiller from foods marketed to children is for companies like General Mills and Quaker to use oats from farmers who do not use glyphosate as a desiccant," EWG goes on to explain, adding that more than 236,000 people have already signed a petition calling on these two companies to stop sourcing oats from farms that use glyphosate as a preharvest desiccant.
You can sign that petition yourself at this link.
Ethan Huff
Natural News