Over 8 Million U.S. Children Now On Psychiatric Drugs

Paul A. Philips, Guest
Waking Times
Not just the U.S., but the rest of the Western World, alarmingly, over the last 15 years the consistently sharp increases in child mental disorders have now reached epidemic levels. 1 in 5 children have been diagnosed with a mental health problem. In turn, more children than ever before are on psychiatric drugs.
Mental Disorders – Some Disturbing Stats
Could the rise in mental disorders be the result of the agendized push for increased psychiatric drugging that began in and around the 1990's? As mentioned earlier, 1 in 5 children have now been diagnosed with a mental health problem:
ADHD (Attention Hyperactivity Disorder) is now well over 40%
For children aged between 10-14 years suicide rates have risen by 200%
Teenager depression – up at 37%…
Psychiatric drugs – breaking down the figures
The different age groups and corresponding figures making up the well over 8 million children on psychiatric drugs in the U.S.A alone can be summarized:
Under 6 year-olds – 1,146,530 (yes, that's well over a million!) and breaking down this figure 
Less than 1 year olds – 274,804
2-3 year olds – 370,778
4-5 year olds – 500,948
6-12 Year olds – 4,130,340
At 6 years old the psychiatric drugging increases greatly because school starts. If a child is constantly disrupting a class of say 20 to 30-odd other children then drugging is seen as the easiest way to 'neutralize' or sedate the disruptive child…
13-17 Year olds – 3,617,593
-Do the adding up and that comes to a staggering 8,894,463. For more information on these figures go here and here.
Parents not informed about the well-documented serious risk
Of course, parenting can be difficult at times. In this era, parents face new complex challenges such as, for example, how to make the right choices for their children's mental health. Parents are up against Big Pharma's highly deceptive psychiatric criminal drug cartel that cares more about profits than people in the 'PharMonopoly. '
It begins with the parents who are informed of their child's "mental disorder."  The parents are then told that their child needs "medicating" without being given the full facts. They're not told about the dangers of prescribing their child psychiatric meds that could cause serious side-effects, based on a mental disorder than has no science: No confirming medical tests to support a "diagnosis" based only on a subjective opinion from the child's behavioural checklist. For example, consider the flaws in the case of giving a one year-old antidepressants.
How far will this agendized reckless endangerment go? It pays no heed to the pressing issue of informed consent.  In the name of freedom, the right to refuse meds needs to be preserved before every single child ends up medicated.
It's no great secret either that psychiatric drugs don't cure. Psychiatrists and suchlike have openly admitted this. However, if parents refuse to get their child medicated on a potentially life-destroying psychiatric drug then they could find themselves charged with "gross medical neglect" by the CPS (Child Protective Service).
What about those non-invasive, non-toxic alternative therapies?? –No money to be made on those for Big Pharma, so these options are neglected. Stand alone drug treatment should only be a last resort. A holistic approach should be used (more on this later).
School shootings
Children or adults, every day, millions are affected by mood-altering meds. Some reach their breaking point, culminating in horrific violent outbursts on others, or as suicides (or attempted suicides).
Whether it's Columbine, Parkland, or other schools, after a pupil goes on a headline-making, school-shooting, killing rampage, there's one thing that always ends up as "speculation" when people ask why it happened. Be it, for examples, from mainstream media or with politicians when debating gun laws, rumours abound, that "speculation" is the suggestion that the school shooting violence was brought on by the affects of psychiatric meds.
But it's not speculation.
The link between the violence and psychiatric meds is a well-documented fact. Be it with school shootings or adults, many of these infamous mass-killers had either been on or were coming off psychiatric meds.
As long as the paid-off politicians turn a proverbial blind eye to this obvious link while allowing the Big Pharma psychiatric industry a highly lucrative cosy pathway that leads to the drug sales then we are an endangered race.
As famous psychiatrist Peter Breggin tells us in so many words, the equation is quite simple:more psychiatric meds = more mass shootings. 
Solutions
Firstly, parents need to connect the dots; educate themselves on how to make informed choices for the mental health and well-being of their children.
For optimal health and well-being
As mentioned earlier, stand alone,"band-aid" toxic drug treatment capable of assaulting the mind, body and spirit should only be a last resort. A holistic approach incorporating an IEP (Individualized Education Programme), family therapy and nutrition can be used…
The following advice is not only for children but also for adults. Bear this in mind when 1 in 6 adults are on psychiatric meds. Here are 6 things for optimal health and well-being.
1. Diet
The importance of a good diet cannot be overstated. A healthy diet greatly promotes good mood, ability to concentrate and has even been shown to reduce violent behaviour. Avoiding junk food such as refined sugar products, a good diet consists of natural wholesome organic seeds, nuts, fruits and vegetables…etc. Make sure of a good supply of quality fats.  
2. Drink plenty of water
Many suffering from mental health problems are known to be seriously dehydrated. For example, schizophrenics have this disposition. The human body is around 75% water. So, it goes without saying that drinking good water promotes health and well-being. The brain has the highest water content…
3. Maintain good gut health
Gut microbiome greatly influences mood and behaviour. Fermented foods, probiotics and B-vitamins promote beneficial gut microbiome. A healthy gut produces good levels of the feel-good chemical serotonin.
4. Get lots of sunlight
Those suffering from depression are known to have low vitamin D levels. Increased sunlight exposure raises body vitamin D levels and thus effectively treats depression. How about getting sunlight by spending time in nature?
5. Handle stress levels
Out-of-balance stress and mental health problems are inextricably linked.  Therefore to return to balance it's necessary to handle stress levels.
Meditation and yoga are excellent ways to handle stress. They have shown to be good for treating metal problems such as depression.
6. Reduce EMF exposure
Overexposure to EMF/RF wireless applications have been known to cause nervous, hormonal and behavioural problem, so try to minimize this. Especially with children as they are more susceptible.
Finally
Consult a health professional at all times for guided advice.
About the Author
Paul A. Philips is the author of NewParadigm.ws.
This article (Over 8 Million U.S. Children Now On Psychiatric Drugs) was originally created and published by NewParadigm.ws and is re-posted here with permission. 
Yes, fear is the power of control
"… The young devil to the old:
– How did you manage to send so many souls to hell?
Old devil:
– Through fear!
Young:
– Well done! And what were they afraid of? Wars? Hunger?
Old:
– No … Disease!
Young:
– They weren't sick? Weren't they dying? Wasn't there a medicine?
Old:
-….. got sick. They died. There was a cure …
Young:
– I do not understand…
Old:
– We accidentally decided that the only thing that needs to be preserved at any cost is LIFE !!!
They stopped hugging … They stopped greeting each other !!! They left all human contact …. They left everything that made a person human!
They were left without money. They lost their jobs.
But they chose to fear for their lives, even if they didn't have bread to eat.
They believed what they heard, read the newspapers and blindly believed everything they read.
They gave up freedom.
They never left the house again. They never went anywhere. We never visited friends and family again. The whole world has turned into a huge prison with convicts – volunteers.
They accepted everything !!! All this to live another miserable day …
They didn't live, they died every day!
It was too easy to take their pitiful soul … "
Clive Lewis "Letters from a Senior to a Junior Devil".
From the book "Balamut's Letters" (1941)
Havana Syndrome again? CIA officers are mowed down by a mysterious disease
A CIA officer in Moscow experienced symptoms of the so-called "Havana syndrome" in 2017. This became known to The New York Times with reference to sources in diplomatic circles.
CIA officer Mark Polimepulos, who helped lead covert operations in Russia and Europe, complained about the manifestation of mysterious symptoms. According to the newspaper, in December 2017, he felt severe dizziness, which later developed into a prolonged migraine, forcing him to retire. At that time, Polymerpoulos was 48 years old.
It is noted that such a case was not the only one. Similar symptoms were experienced by the staff of the American ambassadors in Cuba and China in 2016-2018. However, the exact number of cases and the place where this happened is not named. It is alleged that the US diplomats have tried to influence in a similar way around the world.
At the same time, the US State Department was unable to establish an unambiguous reason that caused the "Havana syndrome." Among other things, it was assumed that the diplomats may have been exposed to an unidentified sound effect.
In 2017, it was reported that, beginning in late 2016, American diplomatic officials and their relatives in Cuba began to complain of symptoms such as hearing loss, nausea, headaches and balance disorder. 
The Associated Press received audio footage of the attack and described the harassing sounds as "the high-pitched sound of crickets combined with fingernails scratching on a board." Then the American government suggested that Russia or China could be the culprit.
Many victims are still undergoing rehabilitation. Specialists from the University of Pennsylvania performed magnetic resonance imaging and revealed visible changes in the structure of the brain in the diplomatic missions.
Differences were found in 23 men and 17 women who complained of health problems while on diplomatic duties in Havana. Scientists have yet to figure out what causes the unusual symptoms.
How Russia and the United States nearly started a nuclear war in 1995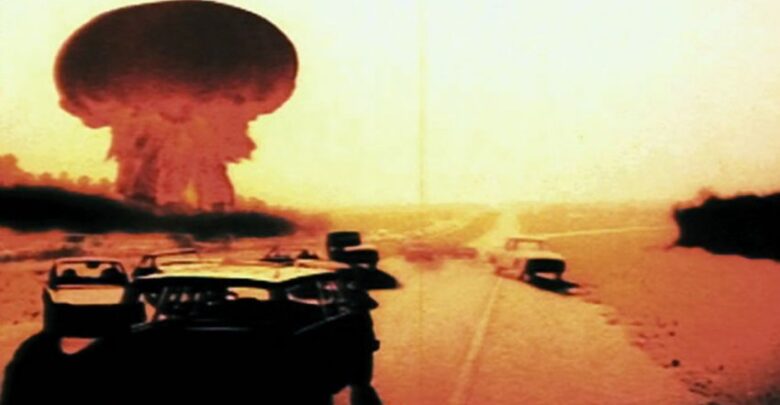 The Norwegian meteorological rocket incident remains the only time in history that the Russian president has activated his nuclear briefcase.
On January 25, 1995, Doomsday could have come in the world: the Russian Federation was preparing to launch a nuclear strike on the United States. How did it come about that the states that left the confrontation of the Cold War in the past and had just normalized relations with each other found themselves on the verge of mutual destruction?
The beginning of the war?
The cause of the crisis was an ordinary Norwegian meteorological rocket. Its launch from the small island of Anneia at 7 am local time (10 am Moscow time) towards Spitsbergen caused a stir in Russia.
Black Brant XII. Legion Media / ZUMA Press
Equipped with scientific equipment to study the aurora borealis, the Black Brant XII was similar in size to the nuclear-powered American Trident D-5 ballistic missile, intended for launch from submarines. In addition, it flew along a trajectory along which, as the Russian Defense Ministry believed, American missiles would fly in the event of a nuclear war.
In December 1994, Norway informed 28 states, including Russia, about the planned launch, but did not give a specific date, limiting itself to specifying the period: from January 15 to February 10 of the next year. Due to bureaucratic delays, this information did not reach the Russian Missile Warning System, which sounded the alarm.
Decisive minutes
An emergency meeting with the country's top political and military leadership was convened in the Kremlin. Defense Minister Pavel Grachev, Chief of the General Staff Mikhail Kolesnikov and President of the Russian Federation (as Supreme Commander-in-Chief) Boris Yeltsin had three strategic missile forces control terminals activated – the so-called nuclear suitcases.
Vladimir Sayapin / TASS
The military believed the lone missile could have been fired to create an electromagnetic pulse that knocked out Russian radars and communications systems. Following it, a massive blow could be expected.
For several tense minutes, as leaders watched it flight, it was decided whether Russia would launch a nuclear strike against the United States.
"Little is known today about what Yeltsin said at the time, given that it could have been some of the most dangerous moments in the entire history of the nuclear era," The Washington Post journalist, David Hoffman wrote three years after the incident : "They make it clear that the Cold War nuclear readiness system continues to operate, and how catastrophic its consequences could be, despite the fact that the feud between the great powers is already over."
The situation was discharged only when it became clear that the rocket had gone towards Spitsbergen (not far from which it fell into the ocean). The nuclear cases have been deactivated.
Russian President Boris Yeltsin (center) and Russian Defense Minister Pavel Grachev (right). Igor Mikhalev / Sputnik
The incident with bringing Russia's Strategic Nuclear Forces to combat readiness, soon became the property of the world community. When, four years later, the Norwegians were about to repeat their launch of Black Brant XII and reported this to the Russian Foreign Ministry, the US additionally warned all key Russian military departments about it through their channels. As a result, this time there were no unpleasant surprises.
Source: rbth.com