Alien Life Might Be so Advanced That It's Indistinguishable From the Laws of Physics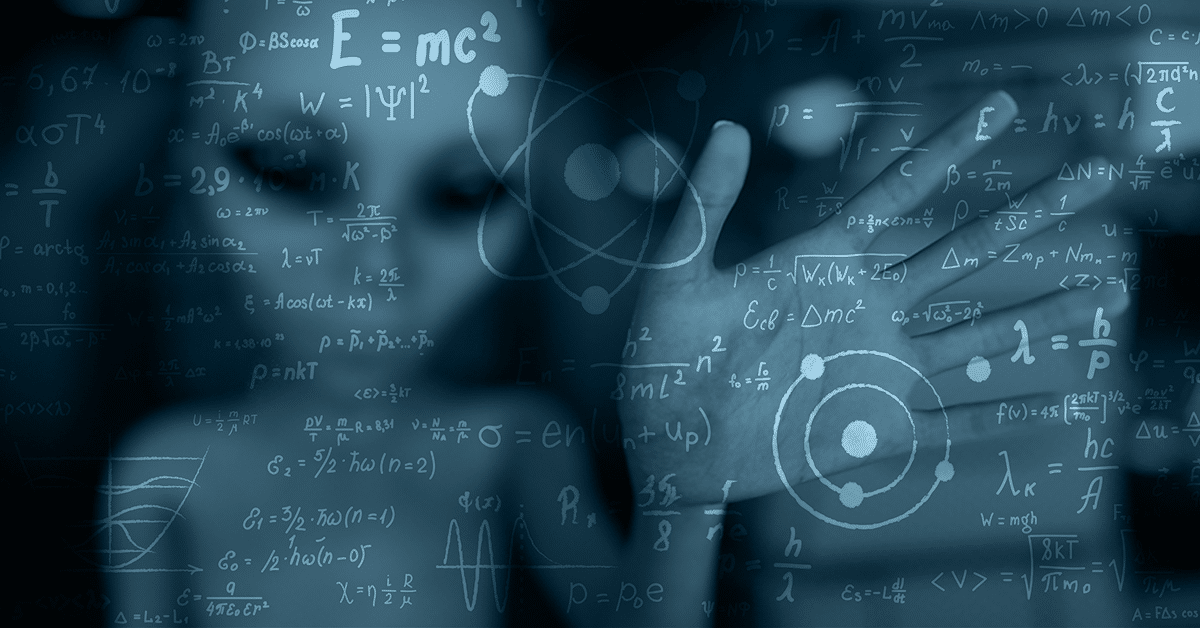 We've never seen aliens … or have we? No, Roswell conspirators, not now. Please sit down. We're talking in multitudes of higher complexity.
Try this on: Maybe aliens are the puppet masters behind the laws of physics. Or maybe aliens literally are physics. Just when we thought we had a grasp on the fundamental constants of the universe, boom, dark matter rips off the mask, and it's E.T. Too crazy to be true? Prove it.
Related Video: The Physics of Life
Magic, Shmagic
British science-fiction writer and futurist Arthur C. Clarke famously formulated three adages known as Clarke's three laws. Of them, number three steals most of the spotlight: "Any sufficiently advanced technology is indistinguishable from magic."
Consider cavemen for a moment. If you hand-delivered an iPhone to an ancient cave-dweller, he'd be dumbfounded at the "magical" device. But give it some time, and Fred Flintstone would probably start tweeting and Snapchatting. Now, let's crank 'er up a notch. Imagine technology so advanced, it's not even recognizable as technology, or magic, for that matter. It could be so advanced that calling it magic would be an insult. Sorry, David Blaine.
One-Word Explanation for Anything: ALIENS
This isn't all some far-out psychedelic rambling. (Even if it were, we'd still be here for it.) As bonkers as it may sound, Scharf argues that his thought experiment could explain the most mysterious cosmic phenomena. Take our dear ol' elusive friend, dark matter. This unseen stuff makes up 27 percent of the observable universe, but virtually everything else about it is famously unknown. Based on the assumptions and predictions of cosmologists and astronomers, dark matter could be much more complicated than we're ready to understand. Inconsistencies between dark matter models and observations only back that up.
With all this apparent complexity, Scharf says it wouldn't be outlandish to think that technologically advanced life is stored there. "What better way to escape the nasty vagaries of supernova and gamma-ray bursts than to adopt a form that is immune to electromagnetic radiation? Upload your world to the huge amount of real estate on the dark side and be done with it." The inconsistencies might just be a result of being artificially tampered with.
You can run a similar exercise with the elusive dark energy, which makes up roughly 68 percent of the universe. The universe didn't start expanding at an accelerated rate until a cool 5 billion years ago, and scientists don't know why. Well, well, well, how convenient.
According to Scharf, an advanced alien civilization could have bumped the speed up so they wouldn't have to live in such a crowded, hot mess of a universe. "Any very early life in the universe would have already experienced 8 billion years of evolutionary time by the time expansion began to accelerate," he writes. "It's a stretch, but maybe there's something about life itself that affects the cosmos, or maybe those well-evolved denizens decided to tinker with the expansion."
Just Sayin'
Note that the ideas Scharf is putting out there are just that: ideas. None of this is peer-reviewed or even testable (YET). This is just one brave astrobiologist on a mission to brainstorm the boundaries of theoretical possibility and make you paranoid beyond all reason that every inescapable, so-called law of "nature" affecting you is extraterrestrial intelligence. We're just having fun, kids!
Scharf signs off with a mind-bender: "Perhaps hyper-advanced life isn't just external. Perhaps it's already all around. It is embedded in what we perceive to be physics itself, from the root behavior of particles and fields to the phenomena of complexity and emergence. In other words, life might not just be in the equations. It might be the equations."
Want more from Carl Scharf? Check out this book "The Copernicus Complex: Our Cosmic Significance in a Universe of Planets and Probabilities." 
NASA in alien life BREAKTHROUGH after DNA discovery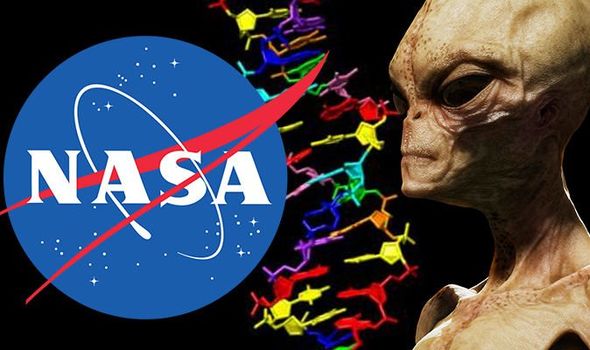 NASA has synthesised an "alien" form of DNA, revolutionising our understanding of what extraterrestrial life may resemble and where it exists.
Deoxyribonucleic acid (DNA) contains the genetic instructions for all known living things. And scientists at US space agency NASA have created an "alien" form of DNA. This DNA could lead breakthroughs in understanding what alien life could resemble.
The NASA discovery suggests there might be unimagined forms of DNA-based life as we know it on Earth.
And alien life on other worlds might be built using different molecular systems of the kind the NASA scientists have synthesised, they have suggested.
The new molecular system will allow scientists searching for alien life to recalibrate what exactly they are actually looking for and where it could exist.
DNA is a complex double helix-shaped molecule stored and then transmitting the genetic information that makes us who we are.
This data is passed from generation to generation in every living thing on Earth, allowing life to continue.
DNA is constructed of four different ingredients, known as nucleotides and are common across all life on our planet.
But DNA could likely vary significantly elsewhere in the universe, the NASA study has shown.
Imagining forms of life that might use different structures – and developing ways of detecting them – is a central part of NASA's work.
And this week's announcement is a huge breakthrough, as the study has has created such a molecule.
Lori Glaze, acting director of NASA's Planetary Science Division said: "Life detection is an increasingly important goal of NASA's planetary science missions, and this new work will help us to develop effective instruments and experiments that will expand the scope of what we look for."
The new research saw scientists create a new kind of molecule system that functions like DNA, but has an important difference.
Instead of DNA's usual four ingredients, the NASA scientists have created one containing eight.
It has all of the four that are found in life on Earth: adenine, cytosine, guanine, and thymine.
The NASA scientist have added an extra four synthetic ones, capable of mimicking the structures of the ingredients found in regular DNA.
The NASA researchers call the new creation "hachimoji" DNA – hachi is Japanese for eight, while moji means letter.
Hhachimoji DNA functions the same as our DNA, meeting the same requirements that allow it to store and transmit information.
That has meant that the kinds of molecules that might be storing information in life on alien worlds could be similarly different.
Source www.express.co.uk
Massachusetts Town Removes Monument to Historically Documented UFO Sighting
In this age of government UFO revelations and presidential candidates promising disclosure of secret UFO files, you would think that the town which claims to be the home of the "only historically documented UFO sighting in the United States" would be proud of a monument touting the event. In this case, you would be wrong.
"The monument was removed at considerable expense to the town. Unfortunately, the party responsible was not responsive."
The Berkshire Edge interviewed Selectman (a New England term for a member of the local government board) Martin Mitsoff about the removal this week of the Sheffield UFO monument located near the Sheffield, Massachusetts, covered bridge where in 1969 Thomas Reed, then age 9, and his family found themselves "being taken aboard a tarnished circular looking vessel where an image of a willow tree was displayed." The next thing he says he remembers is being back in the car and a couple of hours had passed.
His grandmother reported the incident to the police and found that at least 20 others had also reported seeing a UFO and a local radio station said they received 40 calls from witnesses. Reed claims he took a lie detector test and got a 99.1 truth rating. Based on that, the Great Barrington Historical Society declared the UFO sighting "historically significant and true" and money was raised to create a 6-foot tall, 5,000-pound concrete memorial (you can see photos of the monument and the park here) with an inscription that reads in part:
"This Governor's Citation [is] in recognition of the off-world incident on Sept. 1st, 1969, which engaged the Reed Family, which has been established."
Cool! What's Selectman Mistoff's problem? Well, the monument attracted graffiti and was discovered to be on government property, so it was moved 50 feet and updated with lights and a bench. Then it was discovered to be on a town right-of-way easement. That prompted a year of meetings and email exchanges which resolved nothing. On June 4, this happened:
"A crew from the town highway department arrived at around 8:30 a.m. with a front-end loader/backhoe combination and hauled away the monument, a bench and a row of crushed stone."
The story doesn't reveal where the monument was hauled away to, but Reed considers this to be an act of theft and plans to file charges.
Wait a minute! Why doesn't the governor's office get involved, since the plaque on the statue is from current Governor Charlie Baker? Doesn't that make this an official state monument? An earlier story by The Berkshire Edge has a possible answer:
"Tim Buckley, then Baker's communications director, said in 2016 the citation was issued in error after a persistent Reed repeatedly asked the governor's staff to put his signature on it. The text of the citation is all in capitals and is poorly written. It appears to have been notarized by a justice of the peace in Connecticut."
Uh-oh. It looks like the local officials agree with the governor's former communications director and not with Reed nor the producers of the TV show "Unsolved Mysteries," which had just been in town to do a segment on Reed and his UFO story. Should Reed try to enlist some UFO disclosure proponents like former US Senator Harry Reid or Tom DeLonge? That might help, but for now it appears the parties have their lawyers aimed at each other and will shoot it out in court.
Has anyone considered asking for help from the crew of the UFO?
Source: Mysterious Universe
Navy pilots report seeing UFOs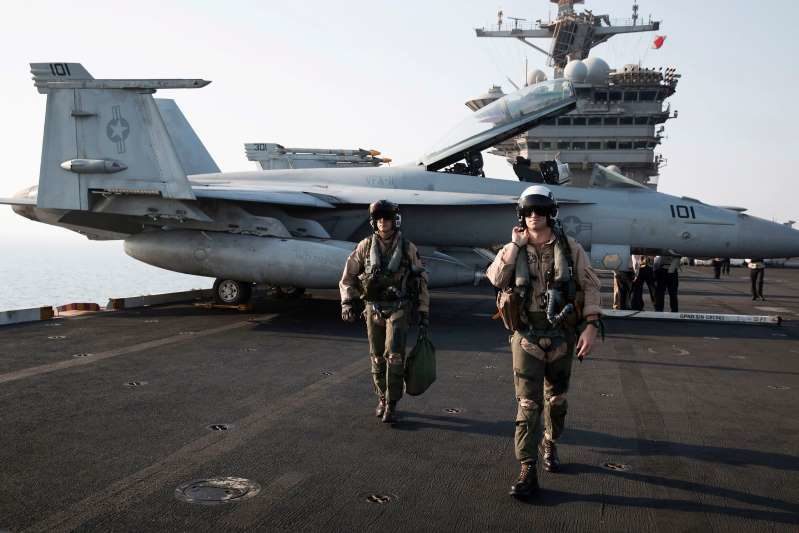 © Adam Ferguson/The New York Times
Helene Cooper
MSN
A US Navy pilot and a weapons system officer from the VFA-11 "Red Rippers" squadron after returning to the aircraft carrier USS Theodore Roosevelt in the Persian Gulf in 2015.
The strange objects, one of them like a spinning top moving against the wind, appeared almost daily from the summer of 2014 to March 2015, high in the skies over the East coast. Navy pilots reported to their superiors that the objects had no visible engine or infrared exhaust plumes but that they could reach 30,000 feet and hypersonic speeds.
"These things would be out there all day," said Lieutenant Ryan Graves, an F/A-18 Super Hornet pilot who has been with the Navy for 10 years and who reported his sightings to the Pentagon and Congress. "Keeping an aircraft in the air requires a significant amount of energy. With the speeds we observed, 12 hours in the air is 11 hours longer than we'd expect."
In late 2014, a Super Hornet pilot had a near collision with one of the objects, and an official mishap report was filed. Some of the incidents were captured on video, including one taken by a plane's camera in early 2015 that shows an object zooming over the ocean waves as pilots question what they are watching.
"Wow, what is that, man?" one exclaims. "Look at it fly!"
No one in the Defense Department is saying that the objects were extraterrestrial, and experts emphasize that earthly explanations can generally be found for such incidents. Graves and four other Navy pilots, who said in interviews with The New York Times that they saw the objects in 2014 and 2015 in training maneuvers from Virginia to Florida off the aircraft carrier USS Theodore Roosevelt, make no assertions of their provenance. But the objects have gotten the attention of the Navy, which this year sent out new classified guidance for how to report what the military calls unexplained aerial phenomena, or unidentified flying objects.
Joseph Gradisher, a Navy spokesman, said the new guidance was an update of instructions that went out to the fleet in 2015, after the Roosevelt incidents.
"There were a number of different reports," he said. Some cases could have been commercial drones, he said, but in other cases "we don't know who's doing this, we don't have enough data to track this. So the intent of the message to the fleet is to provide updated guidance on reporting procedures for suspected intrusions into our airspace."
The sightings were reported to the Pentagon's shadowy, little-known Advanced Aerospace Threat Identification Program, which analyzed the radar data, video footage, and accounts provided by senior officers from the Roosevelt. Luis Elizondo, a military intelligence official who ran the program until he resigned in 2017, called the sightings "a striking series of incidents."
The program, which began in 2007, was officially shut down in 2012 when the money dried up, according to the Pentagon. But the Navy recently said it investigates military reports of UFOs, and Elizondo and other participants say the program – parts of it remain classified – has continued in other forms. The program has also studied video that shows a whitish oval object described as a giant Tic Tac, about the size of a commercial plane, encountered by two Navy fighter jets off the coast of San Diego in 2004.
Leon Golub, a senior astrophysicist at the Harvard-Smithsonian Center for Astrophysics, said the possibility of an extraterrestrial cause "is so unlikely that it competes with many other low-probability but more mundane explanations." He added that "there are so many other possibilities – bugs in the code for the imaging and display systems, atmospheric effects and reflections, neurological overload from multiple inputs during high-speed flight."
Graves still cannot explain what he saw. In the summer of 2014, he and Lieutenant Danny Accoin, another Super Hornet pilot, were part of a squadron, the VFA-11 "Red Rippers" out of Naval Air Station Oceana, Va., that was training for a deployment to the Persian Gulf.
Graves and Accoin spoke on the record to The Times about the objects. Three other pilots in the squadron also spoke to The Times about the objects but declined to be named.
The pilots began noticing the objects after their 1980s-era radar was upgraded to a more advanced system. As one fighter jet after another got the new radar, pilots began picking up the objects but ignoring what they thought were false radar tracks.
But Graves said the objects persisted, showing up at 30,000 feet, 20,000 feet, even sea level. Then pilots began seeing the objects.
What was strange, the pilots said, was that the video showed objects accelerating to hypersonic speed, making sudden stops and instantaneous turns – something beyond the physical limits of a human crew.
Asked what they thought the objects were, the pilots refused to speculate.