A Scary Twist Within Discovery's "Russian Yeti"
The Discovery Channel will tackle a major mystery on June 1, 2014, at 8 PM Eastern, when they simulcast in the USA and Russia their new documentary, Russian Yeti: The Killer Lives, directed by Neil Rawles.
The Soviet Snowman Commission signaled an important moment in history. In 1958-1959, the USSR seriously inquired as to whether unknown hairy hominoids existed in Russia. But then it was shut down. Why? What secrets were being hidden? What occurred back then?
The founders of cryptid hominoid research in Russia are shown less than a decade after the Commission was disbanded (left to right): Boris Porshnev, Alexander Mashkovtsev, Pyotr Molin, Dmitri Bayanov, and Marie-Jeanne Koffmann. This photograph is from January 1968.
The new Discovery documentary fuels speculation that Porschnev's January 1959 Snowman expedition was withdrawn from the mountains because he was getting too close for comfort to discovering hidden Soviet secrets.
Boris Porshnev
Earlier in 2014, UK's Raw production company traveled to Maine to tape an interview with yours truly, Loren Coleman, at the International Cryptozoology Museum. Director Neil Rawles wanted to talk to me about the role the Russians and Americans had in searching for Snowmen in 1957-1960, with emphasis on my work about Tom Slick.
In my book and research on Tom Slick, I had conducted FOIA searches revealing he had traveled to Moscow to talk to the Soviet Snowman Commission.
I was told by the production crew that during the middle of May, those interviewed for the program could begin to talk about their interviews and the documentary to and in the media.
On May 9th, Discovery sent out a press release. The following is their statement, unedited:
DISCOVERY CHANNEL HEADS DEEP INTO SIBERIA IN SEARCH OF RUSSIAN YETI ON SUNDAY, JUNE 1

American explorer Mike Libecki Investigates Mysterious Deaths of Nine Students and Uncovers Something Truly Horrifying
(Los Angeles, Calif.) – On February 2, 1959, nine college students hiked up the icy slopes of the Ural Mountains in the heart of Russia but never made it out alive. Investigators have never been able to give a definitive answer behind who – or what – caused the bizarre crime scene. Fifty-five years later, American explorer Mike Libecki reinvestigates the mystery – known as The Dyatlov Pass incident – but what he uncovers is truly horrifying.

RUSSIAN YETI: THE KILLER LIVES, a 2-hour special airing Sunday, June 1 at 9 PM ET/PT on the Discovery Channel, follows Mike as he traces the clues and gathers compelling evidence that suggests the students' deaths could be the work of a creature thought only to exist in folklore.

Based on diary accounts, forensic evidence and files that have just recently been released, Mike pieces together the graphic stories in search of what really happened that evening. According to the investigators at the time, the demise of the group was due to a "compelling natural force." The students' slashed tent was discovered first with most of their clothing and equipment still inside. Next, the students' bodies were found scattered across the campsite in three distinct groups, some partially naked and with strange injuries including crushed ribs, a fractured skull, and one hiker mutilated with her eyes gouged out and tongue removed.

The mysterious scene left more questions than answers. Why was the tent slashed from the inside? Why would the victims leave their clothing behind in subzero weather? Could it have been a government top secret weapon that killed them? Or an indigenous local tribe that lashed out for trespassing on their land? But perhaps most strange of all, why did the Soviet government suppress the autopsy and other reports for 30 years?

Mike first heard about the Dyatlov Pass incident on a climbing expedition in 2011 and since then has become obsessed with the case. "I've spent a lot of time alone in the mountains and have had my share of near-death experiences," he said. "I know if I went missing, I'd want my family to know what happened to me."

Determined to find answers, Mike hires Russian translator Maria Klenokova to join him. Together, they set out to one of the most remote and inhospitable places on Earth. However, nothing prepared them for what they were about to discover. Following the trail of evidence, Mike finds proof that the hikers were not alone – a photograph, taken by one of the hikers a day before they died that suggests that they encountered a Yeti. But just how far will they go to find the answers?

RUSSIAN YETI: THE KILLER LIVES is produced for Discovery Channel by Raw. For Raw, Executive Producer is Richard Bond. For Discovery Channel, Executive Producers are Michael Sorensen and Sarah Davies.
The documentary is in post-production now, and, as usual, I have no idea if the interview with me about Tom Slick will make the final cut.
But I do have a feeling the documentary will be about more than just the Dyatlov Pass incident. Nevertheless, from this press release, it does seem that the Dyatlov Pass mystery has been upgraded to a focus of their treatment.
As two recent books on the mysterious Dyatlov Pass incident indicate, this early Russian 1959 event is one of the biggest mysteries of the 20th century.
The Dyatlov Pass incident generally refers to the mysterious deaths of nine ski hikers in the northern Ural mountains on the night of February 2, 1959. The incident happened on the east shoulder of the mountain Kholat Syakhl (Холат-Сяхыл, a Mansi name, meaning Dead Mountain). The mountain pass where the incident occurred has since been named Dyatlov Pass (Перевал Дятлова) after the group's leader, Igor Dyatlov (Игорь Дятлов).
The entire group died, and a riddle developed about what had scared they so much they had cut through their tent (instead of using the entryway) and taken off in barefeet and socks. Diaries and cameras found around their last camp made it possible to track the group's route up to the day preceding the incident. Photographs showed various camp activities, and, in many ways, mirrors the "found footage" genre in narrative fiction film in recent years.
Some of the injuries killing the skiers were,
mysterious, car crash-like injuries, according to Russ­ian cryptozoologist Mikhail Trakhtengertz, looked 'as if someone had hugged them, oh so tightly," and a number of armchair theorists have sugg­ested that what sent the group running in terror from their tent was the sight of a 3m (10ft)-tall monster looming out of the snows.

Sightings of 'abominable snowmen' and yeti-like creat­ures are common in Russia – after all, if such creatures do exist then the country's vast snowfields offer plenty of places for them to hide from the eyes of man.

Trakhtengertz has also stated that in their 'newspaper', the Evening Otorten, the students had written in large letters: "From now on we know that the snowmen exist". Perhaps, though, we shouldn't read too much into this; it goes onto say: "They can be met in the Northern Urals, next to Otorten mount­ain." Given the humorous tone of the 'newspaper', it's quite likely that the students were jokingly referring to themselves rather than recording a genuine sighting of an almasty. Source: Fortean Times February 2009.
Among the many photographs left behind by the Dyatlov Pass party is a haunting image: a dark figure at the edge of the forest. Could it have been a Yeti? The Discovery documentary will explore several mysterious questions, including that one.
While the above picture may only be that of a young skier at the edge of a Russian forest, in the context of the Russian Yeti, it may take on a life of its own linking it to the long history of Almas, Almasty, Kaptars, Yetis, and Snowmen in Eurasia.
Highest number of Loch Ness Monster Sightings in Nearly 40 Years
A count of Loch Ness monster sightings in 2019 finds that the famous cryptid has been seen 18 times, which is the highest number in almost 40 years.
The count comes from the Loch Ness Monster Sighting Record, maintained by longtime researcher Steve Campbell. According to the Nessie hunter, who collects reports throughout the year and judges the credibility of the cases, the considerable number of notable sightings is the best ever recorded since 1983, when it is said that 20 different encounters occurred.
This would be continuing a trend that has been unfolding in recent years, in which Nessie's sightings are constantly increasing at a remarkable pace. To that end, for those who maintained a score, 2018 had 15 sightings, 2016 had 12 and the three years prior to each presented seven reports. These numbers contrast sharply with much of this century, as it was not uncommon for many years between 2015 and 2000 to have only one or two cases.
Campbell credited two key factors to this meteoric increase in sightings in recent years: webcams observing the waters of the famous sight, which allow anyone in the world to detect the creature, and an increase in tourism in the legendary landmark. He too reflected to a local newspaper that modern technology has helped a lot, because "in the connected digital world we live in now, people are taking pictures and sending them to us", which is considerably easier than in the "old days" where a witness would need to have his possible photo of Nessie physically revealed in a laboratory and then mailed.
It is somewhat ironic that 2019 ended with a considerable number of sightings, since it was also a year in which the legend of the monster that lurks in Loch Ness was even more publicized thanks to an environmental DNA study which suggested that the creature was a giant eel. For his part, Campbell disagreed with the findings, arguing that "Loch Ness is an open waterway. It is not a closed ecosystem ". Leaving this debate aside, as it is likely to continue for some time, the question for 2020 may be whether or not we will see another increase in sightings, or whether last year will end up being seen as the peak of Nessie sightings.
Some unclear and controversial issues in cryptozoology
Recently, the famous ufologist and paranormal researcher Nick Redfern (Nick Redfern) expressed his opinion on cryptozoology.
He says:
"Cryptozoology is actually considered a discipline that deals with the study and search of animals unfamiliar with science. However, I have to say that I prefer the name Monster Hunting, because to me, a word like cryptozoology seems too incomprehensible.
I am sure that most people, if you ask them what cryptozoology is, will have no idea. But if you tell them "monster hunting," people understand what it's all about. "
According to Lauren Coleman, director of the International Museum of Cryptozoology in Portland, "Cryptozoology" literally means the study of hidden and not yet discovered animal species.
It is estimated that 1.8 million species of living creatures on planet Earth are now known to humans, while their total number is estimated to be around 7 million (!).
Therefore, while cryptozoology is often ridiculed as pseudoscience, it is, in fact, a necessary and very important area.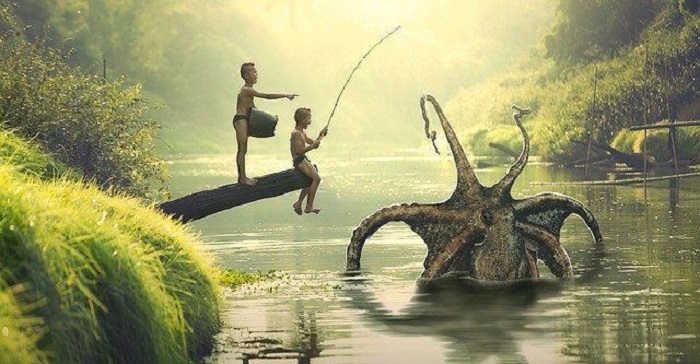 However, if you look at those creatures that cryptologists often research, it turns out that they are not really animals. Or, at least, they are not animals to the extent that we refer to the term.
For example, Yeti, Bigfoot, Yowie and others. Most Yeti researchers will say that these creatures are unknown species of large primates or have survived to this day by disappearing humanoid monkeys. But things get complicated when there are stories of Yeti in which these creatures behave much differently than familiar animals.
There are many reports that the Yeti have been observed in close proximity to UFOs. There are also many stories in which people who were too close to the Yeti experienced strange feelings of disorientation and fear, and they seemed to be controlled by these Yeti.
There are even stories where the Yeti had other "superpowers". For example, after meeting with them, some eyewitnesses experienced "wasted time syndrome". That is, some events were not in their memory and they did not remember any of what happened to them.
Some Yeti researchers believe that they are able to isolate and control infrasound, and that it can affect humans. Low-frequency sounds are unfavorable to the human nervous system.
In a February 27, 2019 in article on the Exemplore site, researcher Dermal Rozan wrote that they could emit sound waves.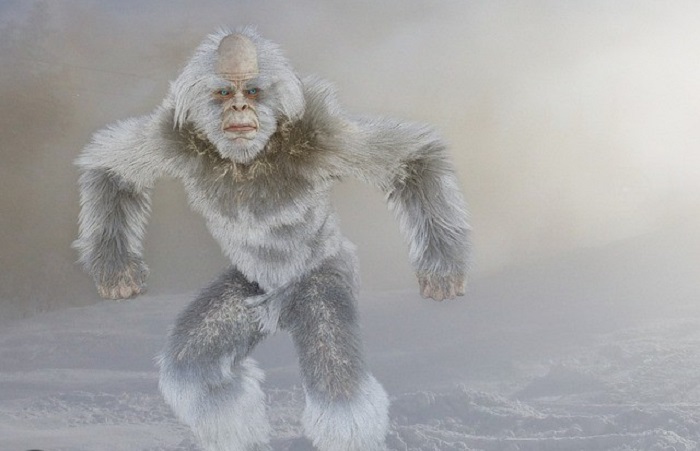 There are stories of eyewitnesses who saw the Yeti literally disappear in the bright light. Not all of these stories are so widespread. Against the backdrop of the total mass of messages, they are a minority, but they exist and cannot be thrown away simply because they do not fit into the general concept.
If the Yeti are mere primates not yet discovered by science, then they should not associate with strange flashes or UFOs, sound waves, etc. After all, not all known large humanoid monkeys, such as gorillas or chimpanzees, have been seen in these situations. If Yeti is just a monkey, then it will act like a monkey.
Another object of cryptozoology is Dogman. In the images, he is often portrayed as a werewolf and almost always described as a wolf walking vertically on both hind legs.
Eyewitness reports indicate that very often the Dogmen were seen near some ancient religious buildings, such as mounds, as well as near intersections, cemeteries or old bridges. All these places have traditionally been associated with supernatural and paranormal phenomena.
If Dogmen are any real animals, what is the reason for them to live only on ancient mounds and bridges?
Cryptologists are also interested in so-called lake monsters. The most famous of them is Nessie from the Scottish lake Loch Ness. Many Nessie seekers base their arguments on a scientific basis.
They think Nessie is a dinosaur that has survived to this day, or is another unknown animal. But if we look at Nessie's extensive research history, it turns out that Nessie is often associated with supernatural phenomena.
For example, renowned researcher Ted Holiday regularly complained that, during his attempts to film Nessie with a camera or take a picture, his equipment had collapsed at the most crucial moments. If he had managed to take pictures, then they were damaged.
Other Nessie researchers, at the most important moments, regularly began to experience strange discomfort.
The famous occultist Alistair Crowley owned privately the Boleskin House (now burnt down) on the shores of Loch Ness. It is alleged that he performed various magical rituals there.
UFOs are often seen above the lake itself, and in the 1970s, Ted Holiday met up with Men in Black near Loch Ness.
Do you find that all these creatures are probably not animals that have not yet been discovered by scientists, but are something supernatural? Should they be excluded from cryptozoology?
Yes… if cryptozoology is thought to be concerned only with the search for unexplored true flesh and blood animals.
And with Dogman, Yeti, etc., researchers must deal with another field of action – the occult and the paranormal.
Calanoro – a monster from Madagascar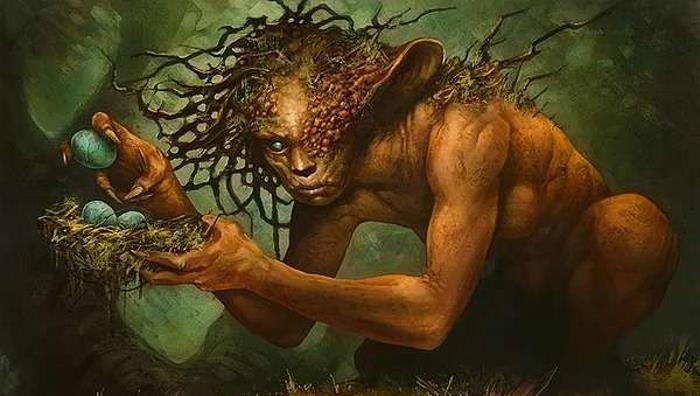 Among the many stories telling that Madagascar may be the home of several strange species of monkeys, one of the most popular is the story of calanoro.
This creature is said to be a humanoid cryptid that lives deep in the forests of Madagascar. It is alleged that calanoro can be found throughout the island, and yet encounters with it are very rare.
Local residents agree that Kalanoro exists, but they call it differently: Kotoki or Wazimba. People from the tribes of Antakarana and Tsimikheti say that in their area, the calanoro lives in caves. They say that it has been on the island for more than two thousand years and the first meetings with it took place when people just arrived in Madagascar.
Despite the large number of different names, calanoro is usually described as a creature about 60 centimeters tall, similar to monkeys and with long nails on hooked fingers. It is covered with long hair. It is sometimes said that it has feathers or scales on its back. Eyes are usually described as burning with fury.
This creature is often said to love water, and it can be seen splashing in rivers and lakes. In some cases, they believe that the calanoro has only three fingers pointing back, and they say that his eyes glow in the dark.
Like many similar creatures that are said to live in Africa, Kalanoro is a small creature with a rather complex language. Their voice is called soft, similar to a female. Kalanoro prefer to live in caves, but from time to time they can visit the villages in search of food. In 1886, a man named J. Herbert Smith wrote about calanoro.
The story appeared in one of the local magazines. It was said that, delving into the jungle, the researchers heard from the locals about the calanoro, the "wild forest man" covered with wool and beard in the case of males.
One of the witnesses said that once he stayed overnight in the forest, started a fire and could not sleep. Gradually, the fire died out, and when the coals were already smoldering, the man noticed a dark figure warming at them, which fully corresponded to the description of the calanoro.
Realizing that it was noticed, the creature grabbed a stick and threw hot coals in the face of the man. In another similar case, it was said that the bonfire attracted the calanoro, but first a male appeared who became interested in the rice left in the pot, and then, when the calanoro became convinced that there was no threat to him, he called his girlfriend, they sat next to the fire and began to eat from a bowler passing it to each other.
What really is calanoro remains unclear. No purposeful expeditions were made to search for it, since it is considered only a legend and there is no clear evidence of his existence.
Perhaps this is even better for the calanoros themselves.