Tech Being Developed by DARPA that 'Taps into Human Brain' with Mind-Controlling Drones
Technology that will allow direct communication with the human brain is already causing numerous concerns regarding possible misuse, especially in terms of thought privacy and forced brainwashing.
The US military's Defence Advanced Research Projects Agency (DARPA) has initiated research aimed at creating a so-called brain-computer interface (BCI) that will allow two-way communication between a human soldier and, for example a swarm of drones or computer cyber defences.
In an interview with Express, Professor Jacob Robinson of Rice University, head of one of the six research teams funded by DARPA for that purpose, has revealed the technology will essentially allow people to "tap into the brain" without performing an invasive surgery to install an implant into it. Such an approach will permit a drastic reduction in the gap between making a decision and sending a corresponding command to a machine.
"There is a delay between my thought and the movement of the muscles required to interface with the external world. So the idea is if we can communicate from the brain to the external world without having to move a muscle then we could have a much faster communication with external devices", he said.
DARPA expects to get the technology for an interface capable of delivering commands with up to 50 milliseconds by 2023. After that, clinical tests and implementation will follow. Robinson believes that in 10-20 years BCI will become available on the civilian market.
"Applications can include patients who are 'locked in' or paralysed and we also think this technology could be used in the commercial sector and in the military – perhaps even recreationally, as it allows much faster communication with your computer", the professor said.
At the same time, the technology isn't new, and researchers have already reached a certain degree of success with brain implants capable of reading brain signals and converting them into commands for computers and other machines. But as the technology develops, the ethical concerns regarding its misuse become more acute.
Robinson says the researchers are fully aware of them and are working together with ethics experts to form so-called "neural-ethical standards" that will regulate the use of the technology. He said that addressing such concerns is crucial, especially considering the fact that the US government is participating in developing the BCI.
"And there is additional concern when technologies like these are being developed by the US government, as there is always the potential for them to be misused. There will be, for example, concerns over privacy, use of the data and autonomy", he said.
Sputniknews
Cancer vaccine shown to be safe and effective has entered human trials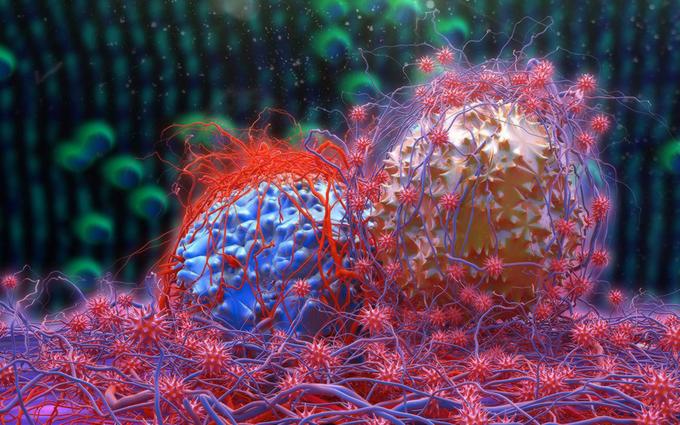 A person, like any living creature, can be vaccinated against cancer, although this disease is fundamentally different from viral infections against which vaccines are traditionally used. 
This has been proven by scientists at Ohio University, who developed a methodology for the use of immune checkpoint inhibitors. Animal studies have shown 90% effectiveness of this therapy and complete safety for the body.
Cancer tumors are extremely insidious and have a defense mechanism against the body's immune system in the form of the signaling protein PD-1. It is present on both healthy and cancerous cells, and is responsible for the friend-or-foe recognition procedure when immune B and T cells approach them. As long as PD-1 proteins in cancer cells and PD-L1 proteins in lymphocytes are working normally, the immune system simply ignores the infection, not seeing it as a target to attack.
The idea of ​​Dr. Pravin Kaumay, the developer of the inhibitors, is to interfere with the identification procedure. For this purpose, special monoclonal antibodies have been developed, which are injected into the body, seek out PD-1 proteins and settle on them, preventing proper contact with PD-L1 proteins. Lymphocytes cannot recognize these cells and automatically start the procedure for destroying them – the immune system itself begins to eradicate cancerous tumors in the body.
More importantly, blocking the signaling system destroys the usual comfortable environment for cancer cells, they are constantly threatened, cannot grow and spread throughout the body. 
This is the beneficial effect of vaccination with inhibitors – this therapy is called PD1-Vaxx. The technology has been thoroughly tested, it uses second-generation inhibitors, which are much more effective. The first human patients have already been recruited in the US and Australia to test PD1-Vaxx.
A lack of oxygen leads to aging, excess oxygen leads to immortality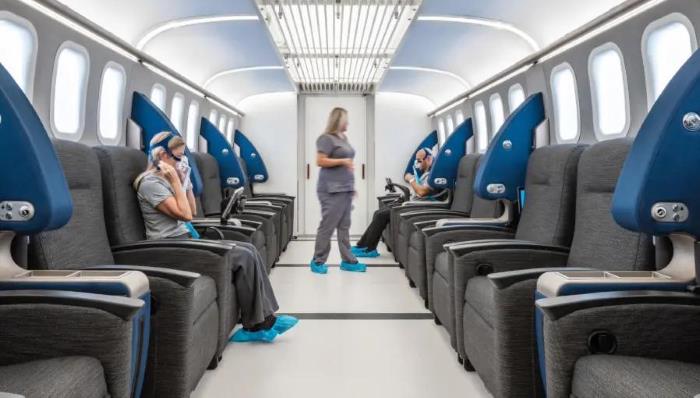 Israeli scientists claim that by using only oxygen, they have successfully reversed the biological aging process.
A recent study conducted by Tel Aviv University professor Shai Efrati and a team at Shamir Medical Center showed that when healthy adults over 64 were placed in a pressurized chamber and given pure oxygen for 90 minutes a day, five days a week and within three months, the aging process not only slowed down, but actually changed in the opposite direction.
In particular, a study published in the peer-reviewed journal Aging focused on whether this oxygen enrichment process could reverse two key indicators of biological aging: the contraction of DNA telomeres and the accumulation of senescent cells in tissues. Telomeres are located at the ends of a chromosome, consist of repeating sequences of non-coding DNA, and serve as caps to protect the chromosome from damage during replication.
Each time replication occurs, these bumpers take a hit, making the chromosomes shorter and shorter. Once the telomere reaches a certain length, the cell can no longer replicate, which leads to aging: malfunctioning of cells, which ultimately leads to cognitive or other age-related impairments and even diseases such as cancer.
About 35 adults over the age of 64 took part in the study and applied hyperbaric oxygen therapy, using 100% oxygen at an ambient pressure greater than one absolute atmosphere to increase the amount of oxygen dissolved in body tissues.
Every 20 minutes, participants were asked to remove their masks for five minutes, returning oxygen to normal levels.
However, during this period, the researchers saw that fluctuations in free oxygen concentration were interpreted at the cellular level as a lack of oxygen – rather than interpreting the absolute level of oxygen.
In other words, repeated intermittent hyperoxic (increased oxygen levels) exposure induced many of the mediators and cellular mechanisms that are usually induced during hypoxia (low oxygen levels). Dr. Efrati calls this the hyperoxic-hypoxic paradox.
"The fluctuations in the oxygen level that we have created is what matters," he told The Jerusalem Post. "During this process, there is, as it were, a lack of oxygen, which causes cell regeneration."
The practical consequences of therapy include increased attention, processing speed, and executive function, which tend to decrease with age and about which more than 50% of people over the age of 60 express concern.
According to the study, the changes were equivalent to having the participants' bodies at the cellular level go back 25 years.
"We're not [just] slowing aging – we're moving back in time," says Dr. Efrati. Efrati has been studying aging for ten years and runs Aviva clinics in Florida. The study, he said, is evidence that the cellular basis of the aging process can be reversed, adding that it "offers hope and opens up the opportunity for many young scientists to target aging as a reversible disease."
It could also allow doctors and scientists to find a way to control telomere length and develop drugs to help them grow again when needed. But will it make people live longer?
The duration of the effect has yet to be determined in the long term, says Efrati. But "probably yes." We know people with shorter telomeres die earlier, so that makes sense."
At the moment, the only drawback of the study is the limited sample size, that is, so far relatively few people have participated in the experiment, but over time, scientists will solve this problem too.
Cyberfarm 2077. YouTuber showed what a Russian cyber village could look like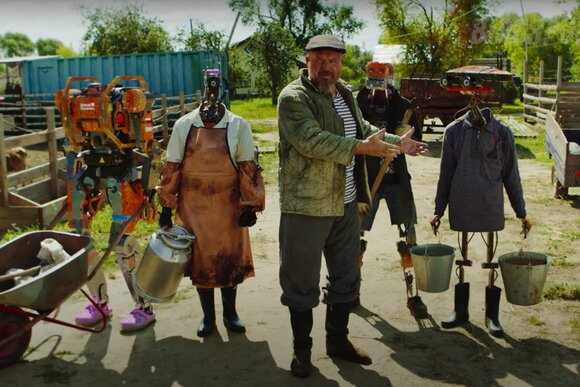 On November 19, the day the Cyberpunk 2077 video game was supposed to be released, a five-minute video about a Russian cyber village appeared on YouTube. It combines the aesthetics of cyberpunk with the life of the Russian provinces.
Russian director and blogger Sergei Vasiliev made a short film that is an excerpt from the life of a fictional Russian village with the technologies of the future. The short film was shot in the style of a video blog. 
"They say that Russia is a technically backward country, there are no roads, no robotics, rockets do not fly, and mail takes too long. [This is not true]," the creators say.
The main character, a farmer called Nikolai, talks about his cyber farm, where three androids work, and invites new workers to his business. The robots milk the cows, walk them and go to fetch water. Instead of a cesspool, there is a black hole in the toilets, and mail is delivered by flying wagons of the Russian Post. New technologies have also solved the problem of Russian roads – cars now fly over it, but even there are holes in the air.
The authors of the short film said that a "creative association of enthusiasts" worked on the creative, and now they "plan to release further videos in the same universe."