Stephen Hawking's Final Words: We Live In 'The Matrix'
Just before Stephen Hawking passed away in March, the renowned physicist claimed the universe is a computer simulation, just like the one portrayed in 'The Matrix' movies.
Ten days before his death, Hawking published his final and most groundbreaking theory on the origin of the universe – and to-date it has recieved very little media coverage.
Zerohedge.com reports: As PBS reports, the new report, co-authored by Belgian physicist Thomas Hertog, counters the longstanding idea that the universe will expand for eternity.
If you asked an astrophysicist today to describe what happened after the Big Bang, he would likely start with the concept of "cosmic inflation." Cosmic inflation argues that right after the Big Bang — we're talking after a teeny fraction of a second — the universe expanded at breakneck speed like dough in an oven.
But this exponential expansion should create, due to quantum mechanics, regions where the universe continues to grow forever and regions where that growth stalls. The result would be a multiverse, a collection of bubblelike pockets, each defined by its own laws of physics.
"The local laws of physics and chemistry can differ from one pocket universe to another, which together would form a multiverse," Hertog said in a statement. "But I have never been a fan of the multiverse. If the scale of different universes in the multiverse is large or infinite the theory can't be tested."
Along with being difficult to support, the multiverse theory, which was co-developed by Hawking in 1983, doesn't jibe with classical physics, namely the contributions of Einstein's theory of general relativity as they relate to the structure and dynamics of the universe.
"As a consequence, Einstein's theory breaks down in eternal inflation," Hertog said.
Einstein spent his life searching for a unified theory, a way to reconcile the biggest and smallest of things, general relativity and quantum mechanics.
He died never having achieved that goal, but leagues of physicists like Hawking followed in Einstein's footsteps. One path led to holograms.
Diagram of evolution of the (observable part) of the universe from the Big Bang (left) to the present. After the Big Bang and inflation, the expansion of the universe gradually slowed down for the next several billion years, as the matter in the universe pulled on itself via gravity. More recently, the expansion has begun to speed up again as the repulsive effects of dark energy have come to dominate the expansion of the universe. Image and caption by NASA.
Instead of the 'standard' description of how the 'universe' unfolded (and is unfolding), the authors argue the Big Bang had a finite boundary, defined by string theory and holograms.
The new theory – which sounds simplistically like the world of the red-pill-blue-pill Matrix movies – embraces the strange concept that the universe is like a vast and complex hologram. In other words, 3D reality is an illusion, and that the apparently "solid" world around us – and the dimension of time – is projected from information stored on a flat 2D surface.
The Telegraph reports that Prof Hertog, from the Katholieke Universiteit Leuven (KT Leuven), said:
"It's a very precise mathematical notion of holography that has come out of string theory in the last few years which is not fully understood but is mind-boggling and changes the scene completely."
Applied to inflation, the newly published theory suggests that time and "the beginning" of the universe arose holographically from an unknowable state outside the Big Bang.
Prof Hawking said before his death:
"We are not down to a single, unique universe, but our findings imply a significant reduction of the multiverse, to a much smaller range of possible universes."
And believe it or not, there's actually evidence that the world works this way.
As PBS concludes, some physicists point out that the Hawking-Hertog theory is preliminary and should be considered speculation until other mathematicians can replicate its equations.
Sabine Hossenfelder, a theoretical physicist with the Frankfurt Institute for Advanced Studies, said on her blog that the ideas put forward in this paper join others that are currently pure speculation and don't yet have any evidence to support them. She makes it clear that while the proposals aren't uninteresting, Hawking and Hertog haven't found a new way to detect the existence of universes other than our own.
"Stephen Hawking was beloved by everyone I know, both inside and outside the scientific community," she wrote.
"He was a great man without doubt, but this paper is utterly unremarkable."
Video:
Japan has developed an inflatable scooter that weighs practically nothing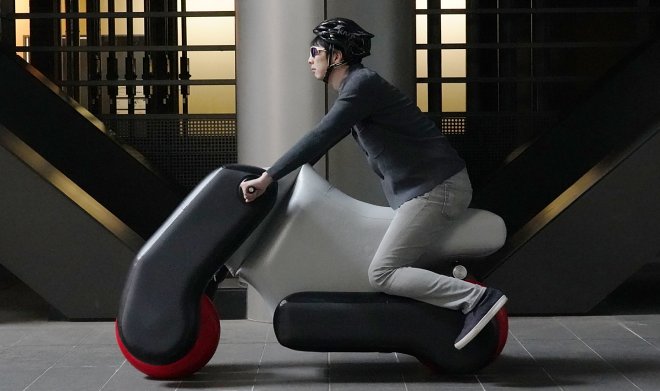 The University of Tokyo engineers have developed the Poimo inflatable electric scooter, which is created individually for each owner. It is enough to send your photo to the manufacturers – and a personal optimized model will be assembled for you.
The scooter is designed with a special program for the body size of a particular user and his specific fit. Moreover, each owner is free to make any changes to this model. If he makes any changes to the drawing, the program will automatically redesign the electric bike to maintain its strength, stability and controllability. When the model is finished and approved, it is handed over to the manufacturer.
The scooter consists of seven separate inflatable sections that are constructed from durable fabric and sewn with straight stitch. It remains to add electronic components – in particular, a brushless motor and a lithium-ion battery.
The finished electric scooter weighs about 9 kg and can travel at speeds up to 6 km / h (that is, slightly faster than a pedestrian). It can work for an hour on one charge.
This is how the current version of Poimo looks like in action:
Excerpts from Elon Musk's speech at the Martian Society convention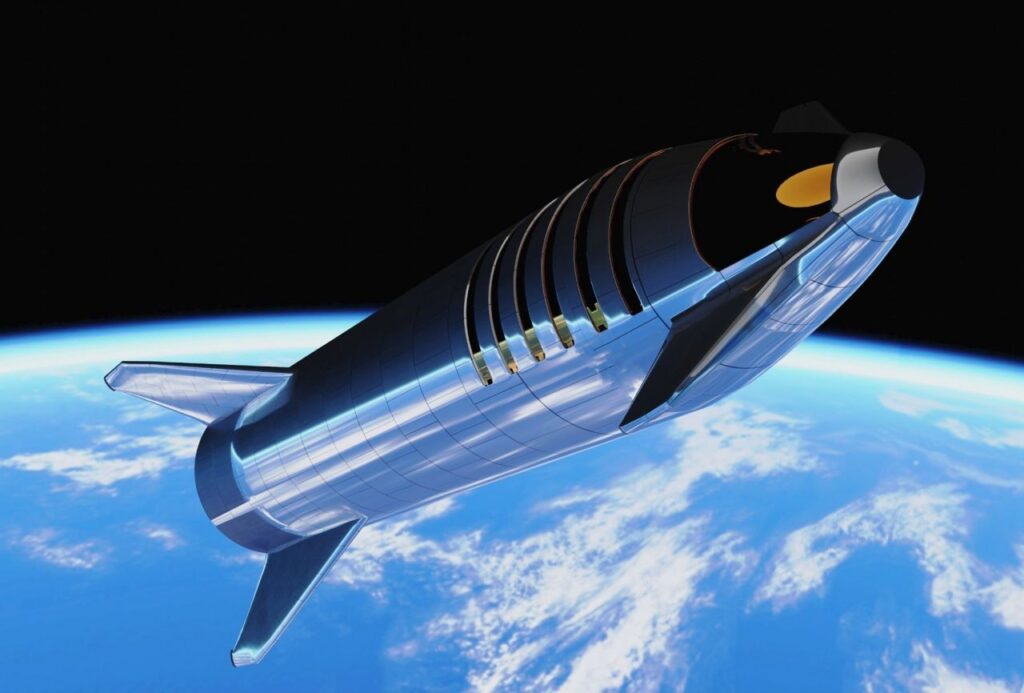 Elon Musk's comments with questions relayed from the Mars Society Membership by Dr. Robert Zubrin, James L. Burk, and Carie Fay. Following Elon's 30 min time, Dr. Zubrin took additional questions. This special event was part of the 2020 Mars Society Virtual Convention from October 14-18, 2020.
About Starship Test Schedule:
– entering orbit – with a probability of 80% -90% will take place in 2021
– the probability of the return of the ship and the 1st stage in this flight is 50%
– test of refueling in orbit – 2022
– Starship lunar version – 2022 or 2023
– Starship flight to Mars – around 2024
The goal of the Starship is to build a self-sufficient settlement on Mars as quickly as possible. Musk does not rule out the possibility that this will not be achieved during his lifetime. According to his rough estimates, to create a self-sufficient city, it will be necessary to deliver 1 million tons of cargo, which corresponds to 4-5 million tons in a low Earth orbit. Modern single-use launch vehicles are capable of removing less than 1% of this value.

"Disposable launch vehicles are completely stupid. They are a waste of time. I think people need to stop wasting time on this. If you try to sell a disposable plane, you will be thrown out of the office. If you try to sell a disposable car, you will also be thrown out of the office. "
A series of questions and answers followed:

What is the best landing site on Mars?
– I'm not sure about that. But I can name the criteria. The first of these is latitude: most likely it will be in the northern hemisphere, far enough to the north to have water ice, but to still have enough sunlight.It also needs to be low to get the most benefit from atmospheric braking.
How do you prioritize mission priorities: research, infrastructure construction, and science?
– The first will be the construction of a fuel plant.

A question from a teenager who wants to become an engineer and robot maker with a dream to work at SpaceX: what is the most important education in order to become an engineer?
– There are many varieties of this profession: you can be an aerospace engineer, in the field of electronics, software, or a chemical engineer involved in creating safe production of fuels. I think physics is a good foundation for critical thinking.
Boring Company was originally conceived as a tunnel manufacturing firm on Mars?
– No. It was originally something of a joke. I thought tunnels were a good solution to reduce the traffic problem in cities and improve the quality of life by turning parking lots into green parks. To do this, you need to go to 3d [get away from the "flat" infrastructure – approx. per.]. I think tunnels are good for Mars too. But there you need a lot lighter equipment: you don't care about mass on Earth, but you will have to take care of it a lot when going to Mars.
At Boring Company, have you learned a lot of technology that might come in handy on Mars?
– I think, yes.
Do you have any tips for young people who love Mars but don't know how to participate in its settlement?
– I think any strong advocate of the need to conquer Mars matters. People often don't even think about it. I often talk to people who don't even know about it. Therefore, I consider it important for humanity and consciousness in general to bring a discussion about this to society. Talking about it with friends and acquaintances – I think this is what we should do. In my estimate, we will spend less than 1% of our efforts on Mars exploration, exactly less than healthcare, perhaps even less than cosmetics – this will be enough to make life multi-planetary. But this requires people to start talking about it 100 times more often. I think this is what really matters. [the entire cosmonautics of the world is $ 424 billion a year, while cosmetics is $ 532 billion, and tobacco production is $ 849 billion – approx. per.]
What's the coolest part about Starship development?
– I think the coolest detail is the ability to work with a great group of engineers and come up with interesting solutions. I think the best thing is the opportunity to work with smart and creative people who come up with solutions that were not available before. This is a great reward.

What do you focus on when hiring, especially with regard to engineers?
"We're looking for signs of exceptional ability. Or at the very least, striving to do exceptional things at SpaceX.
Are you planning to make a Mars-Earth communication system like Starlink?
– Yes, I think we will use a laser, probably launched into orbit, to avoid atmospheric diffraction. Thus, it will be a laser beam going from the orbit of the Earth to the orbit of Mars. And also relay satellites in solar orbit, since the laser beam cannot be sent through the Sun [when it is between Mars and Earth – approx. per.].
Can Starship be used for other destinations like Venus and other planets?
– Starship will be able to travel to any target in the solar system that has a solid surface when fuel depots appear. It is not the kind of transport that will take us to other stars, but when we become a multi-planetary species, we will create a demand for innovation in space travel that will ultimately lead us to interstellar travel.
Cern Scientists Plan an Impressive Experiment – They Will Come Into A Parallel Universe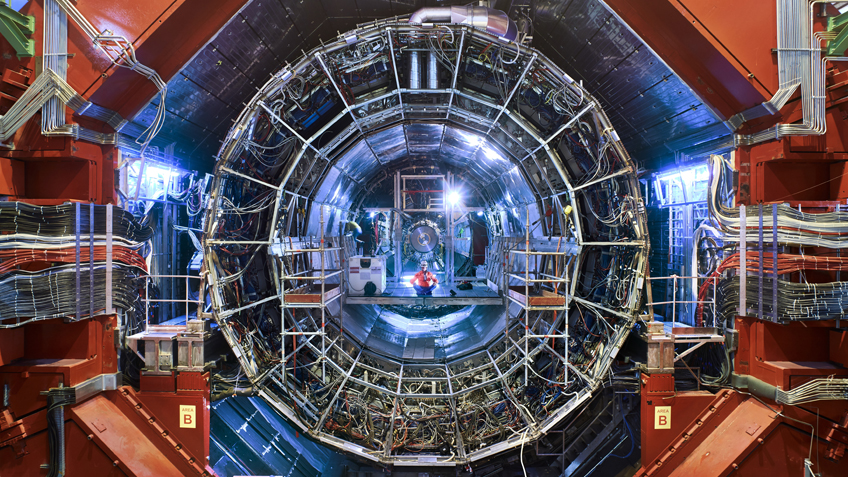 Cern scientists are once again preparing to impress the entire planet and become the focus of discussions with the new experiment they are planning.
An experiment that, if it brings the fascinating result that scientists have in mind, will change the way we think about the world , will take place in the next few days at the Large Hadron Collider, the European nuclear center, Geneva CERN Research.
The astonishingly LHC complex, the largest, most energetic elemental accelerator in the world, will be "fired" for the first time to its highest energy levels, in an effort to detect – or even create – tiny black holes.
If it succeeds, then, a completely new universe will be revealed – rewriting not only the books of physics, but also the books of philosophy!
It is possible, however, that gravity from our universe will "leak" into this parallel universe, as LHC scientists say.
From the Higgs boson to dark matter and the parallel universe
According to the British Express, the experiment is sure to "trigger" the critics, who are worried about the LHC, many of whom warn that the elementary particle accelerator will mark the end of our universe, creating a of the black hole.
Nevertheless, Geneva has remained … intact since 2008, when the LHC began its spectacular "work".
The first scientists at the Large Hadron Collider proved the existence of the Higgs boson – a key building block of the universe – and the LHC appears to be on track to locate "dark matter" – a previously undetectable force now considered that it constitutes the majority of matter in the universe, being, in fact, the reason why the latter is constantly expanding and moving away.
So next week's experiment is considered to change the game.
The truth is out there
Mir Faizal, one of three heads of the three natural groups behind the experiment, said:
"Like many parallel sheets, which are two-dimensional objects (width and length) can exist in a third dimension (height) , so parallel universes can also exist in higher dimensions. We anticipate that gravity can leak into extra dimensions, and if that happens, then tiny black holes can be produced in the LHC.

Normally, when people think of the multiverse, they think of the interpretation of quantum mechanics by many worlds, where every possibility is realized. This cannot be tested and so it is a philosophy and not a science. We do not mean this with parallel universes. What we mean is real universes, in extra dimensions. The truth is out there."