Is Stephen Hawking right about aliens?
Stephen Hawking thinks that making contact with aliens would be a very bad idea indeed. But with new, massive telescopes, we humans are stepping up the search. Have we really thought this through?
In February 2008, Nasa sent the Beatles song, Across the Universe, across the universe. Pointing the telescopes in its Deep Space Network towards the north star, Polaris, astronomers played out their short cosmic DJ set, hoping that it might be heard by intelligent aliens during its 430-year journey to the star.
The hunt for intelligent species outside Earth may be a staple of literature and film – but it is happening in real life, too. Nasa probes are on the lookout for planets outside our solar system, and astronomers are carefully listening for any messages being beamed through space. How awe-inspiring it would be to get confirmation that we are not alone in the universe, to finally speak to an alien race. Wouldn't it?
Well no, according to the eminent physicist Stephen Hawking. "If aliens visit us, the outcome would be much as when Columbus landed in America, which didn't turn out well for the Native Americans," Hawking has said in a forthcoming documentary made for the Discovery Channel. He argues that, instead of trying to find and communicate with life in the cosmos, humans would be better off doing everything they can to avoid contact.
Hawking believes that, based on the sheer number of planets that scientists know must exist, we are not the only life-form in the universe. There are, after all, billions and billions of stars in our galaxy alone, with, it is reasonable to expect, an even greater number of planets orbiting them. And it is not unreasonable to expect some of that alien life to be intelligent, and capable of interstellar communication. So, when someone with Hawking's knowledge of the universe advises against contact, it's worth listening, isn't it?
Seth Shostak, a senior astronomer at the Seti Institute in California, the world's leading organisation searching for telltale alien signals, is not so sure. "This is an unwarranted fear," Shostak says. "If their interest in our planet is for something valuable that our planet has to offer, there's no particular reason to worry about them now. If they're interested in resources, they have ways of finding rocky planets that don't depend on whether we broadcast or not. They could have found us a billion years ago."
If we were really worried about shouting in the stellar jungle, Shostak says, the first thing to do would be to shut down the BBC, NBC, CBS and the radars at all airports. Those broadcasts have been streaming into space for years – the oldest is already more than 80 light years from Earth – so it is already too late to stop passing aliens watching every episode of Big Brother or What Katie and Peter Did Next.
The biggest and most active hunt for life outside Earth started in 1960, when Frank Drake pointed the Green Bank radio telescope in West Virginia towards the star Tau Ceti. He was looking for anomalous radio signals that could have been sent by intelligent life. Eventually, his idea turned into Seti (standing for Search for Extra Terrestrial Intelligence), which used the downtime on radar telescopes around the world to scour the sky for any signals. For 50 years, however, the sky has been silent.
There are lots of practical problems involved in hunting for aliens, of course, chief among them being distance. If our nearest neighbours were life-forms on the (fictional) forest moon of Endor, 1,000 light years away, it would take a millennium for us to receive any message they might send. If the Endorians were watching us, the light reaching them from Earth at this very moment would show them our planet as it was 1,000 years ago; in Europe that means lots of fighting between knights around castles and, in north America, small bands of natives living on the great plains. It is not a timescale that allows for quick banter – and, anyway, they might not be communicating in our direction.
The lack of a signal from ET has not, however, prevented astronomers and biologists (not to mention film-makers) coming up with a whole range of ideas about what aliens might be like. In the early days of Seti, astronomers focused on the search for planets like ours – the idea being that, since the only biology we know about is our own, we might as well assume aliens are going to be something like us. But there's no reason why that should be true. You don't even need to step off the Earth to find life that is radically different from our common experience of it.
"Extremophiles" are species that can survive in places that would quickly kill humans and other "normal" life-forms. These single-celled creatures have been found in boiling hot vents of water thrusting through the ocean floor, or at temperatures well below the freezing point of water. The front ends of some creatures that live near deep-sea vents are 200C warmer than their back ends.
"In our naive and parochial way, we have named these things extremophiles, which shows prejudice – we're normal, everything else is extreme," says Ian Stewart, a mathematician at Warwick University and author of What Does A Martian Look Like? "From the point of view of a creature that lives in boiling water, we're extreme because we live in much milder temperatures. We're at least as extreme compared to them as they are compared to us."
On Earth, life exists in water and on land but, on a giant gas planet, for example, it might exist high in the atmosphere, trapping nutrients from the air swirling around it. And given that aliens may be so out of our experience, guessing motives and intentions if they ever got in touch seems beyond the realm's even of Hawking's mind.
Paul Davies, an astrophysicist at Arizona State University and chair of Seti's post-detection taskforce, argues that alien brains, with their different architecture, would interpret information very differently from ours. What we think of as beautiful or friendly might come across as violent to them, or vice versa. "Lots of people think that because they would be so wise and knowledgeable, they would be peaceful," adds Stewart. "I don't think you can assume that. I don't think you can put human views on to them; that's a dangerous way of thinking. Aliens are alien. If they exist at all, we cannot assume they're like us."
Answers to some of these conundrums will begin to emerge in the next few decades. The researchers at the forefront of the work are astrobiologists, working in an area that has steadily marched in from the fringes of science thanks to the improvements in technology available to explore space.
Scientists discovered the first few extrasolar planets in the early 1990s and, ever since, the numbers have shot up. Today, scientists know of 443 planets orbiting around more than 350 stars. Most are gas giants in the mould of Jupiter, the smallest being Gliese 581, which has a mass of 1.9 Earths. In 2009, Nasa launched the Kepler satellite, a probe specifically designed to look for Earth-like planets.
Future generations of ground-based telescopes, such as the proposed European Extremely Large Telescope (with a 30m main mirror), could be operational by 2030, and would be powerful enough to image the atmospheres of faraway planets, looking for chemical signatures that could indicate life. The Seti Institute also, finally, has a serious piece of kit under construction: the Allen Array (funded by a $11.5m/£7.5m donation from Microsoft co-founder Paul Allen) has, at present, 42 radio antennae, each six metres in diameter, but there are plans, if the Seti Institute can raise another $35m, to have up to 300 radio dishes.
In all the years that Seti has been running, it has managed to look carefully at less than 1,000 star systems. With the full Allen Array, they could look at 1,000 star systems in a couple of years.
Shostak is confident that, as telescope technology keeps improving, Seti will find an ET signal within the next two decades. "We will have looked at another million star systems in two dozen years. If this is going to work, it will work soon."
And what happens if and when we detect a signal? "My strenuous advice will be that the coordinates of the transmitting entity should be kept confidential, until the world community has had a chance to evaluate what it's dealing with," Davies told the Guardian recently. "We don't want anybody just turning a radio telescope on the sky and sending their own messages to the source."
But his colleague, Shostak, says we should have no such concerns. "You'll have told the astronomical community – that's thousands of people. Are you going to ask them all not to tell anybody where you're pointing your antenna? There's no way you could do that.
"And anyway, why wouldn't you tell them where [the alien lifeform] is? Are you afraid people will broadcast their own message? They might do that but, remember, The Gong Show has already been broadcast for years." And, for that matter, the Beatles.
"Canadian Roswell": Jacques-Yves Cousteau family investigating a UFO crash near Shag Harbor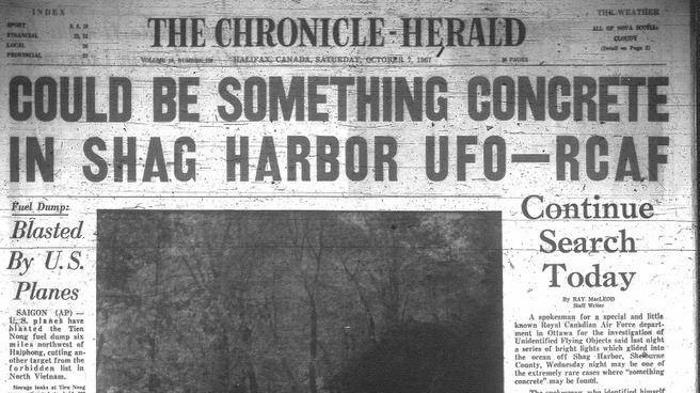 Jacques-Yves Cousteau gained worldwide fame as one of the largest and most successful explorers of the sea and depths. His grandchildren decided to devote themselves to the study of a completely different sacrament.
Already in August, they are going to go to the waters near Shag Harbor, a small fishing village on the coast of the Canadian province of Nova Scotia, in search of an unidentified flying object (UFO) that allegedly crashed into the sea here in 1967.
As reported by the Shag Harbor Incident Society, which is still investigating the case, the grandchildren of the famous explorer of the seas, Selina and Fabian Cousteau, announced their upcoming visit to the traditional UFO Conference of Shag Harbor "and said they want to take a direct part in the research and search at the alleged crash site of an unknown object".
Background
At about 11 pm on the night of October 4, 1967, local fishermen and residents of the village of Shag Harbor watched in the clear and moonless night sky the crash of a brightly luminous object that fell into the sea. Among the witnesses were three members of the Royal Canadian Mounted Police (RCMP), as well as civilian pilots who were flying over the southwest coast of Nova Scotia at the time.
Despite the undertaken searches, no wreckage or bodies were found, therefore the observation is still considered inexplicable today – 51 years after the incident. True, countless government and military protocols and documents are dedicated to the incident, which is why it is considered one of the most extensively documented UFO incidents in the history of Canada.
According to the president of the research society and one of the witnesses of the incident, Lauren Wickens, Cousteau's grandchildren will visit the scene in preparation for the filming of a series of new investigative documentaries.
"On their arrival, Brother and Sister Cousteau will dive accompanied by local diver David Queta, who has been involved in the investigation of the incident since 1967."
Another TR-3B? Huge triangular UFO flew over New York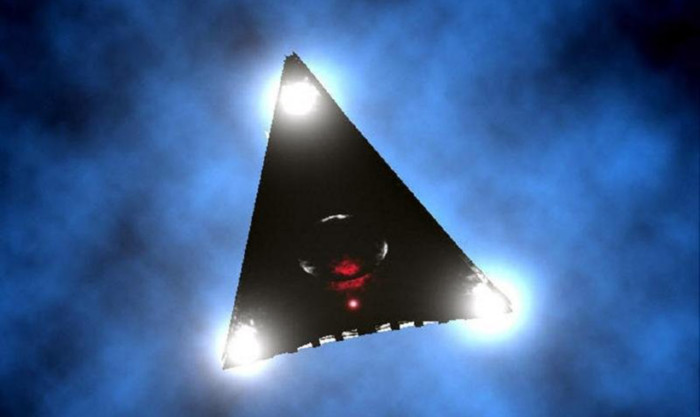 A resident of Bronx, New York, on January 16, 2021, saw three UFOs above the houses in his area, moving synchronously in the form of a huge triangle. The brightly shining points were very clearly visible in the night sky.
The man managed to capture a triangle slowly floating in the sky on video (see below) and posted it on his YouTube channel.
Since he was a very modest blogger who had only a few subscribers, his video went unnoticed for several days by UFO lovers, until finally it was re-posted on social networks, and from there it got to news sites.
The video shows how the author of the video is very surprised by what is happening, he looks up into the sky and says:
"They fly nearby and look like stars. It's a triangle and I don't know what it is."
Then he tried to ask someone from the passers-by about whether they knew that it was in the sky, but they could not answer either.
On social networks, this video caused a lot of comments from curious people who offered their versions of what they saw. From the fact that someone has programmed the drones to move in the form of a triangle, to the fact that they are actually Chinese lanterns.
The lantern version was quickly criticized, as the lights move at such a high altitude that Chinese lanterns could not continue to burn so brightly.
The drone version also drew a lot of criticism, because in order to launch several large drones over residential buildings in New York, you need to obtain special permission and it is not so easy.
The most popular was the theory that what he saw was a secret American reconnaissance aircraft TR-3B, about which there have been many rumors for a long time. Allegedly, it was developed on the basis of an alien ship that fell in Roswell, it can move silently and is practically invisible to radars.
Indians and aliens – "I was told that there are four aggressive species in the universe, and humans are one of them."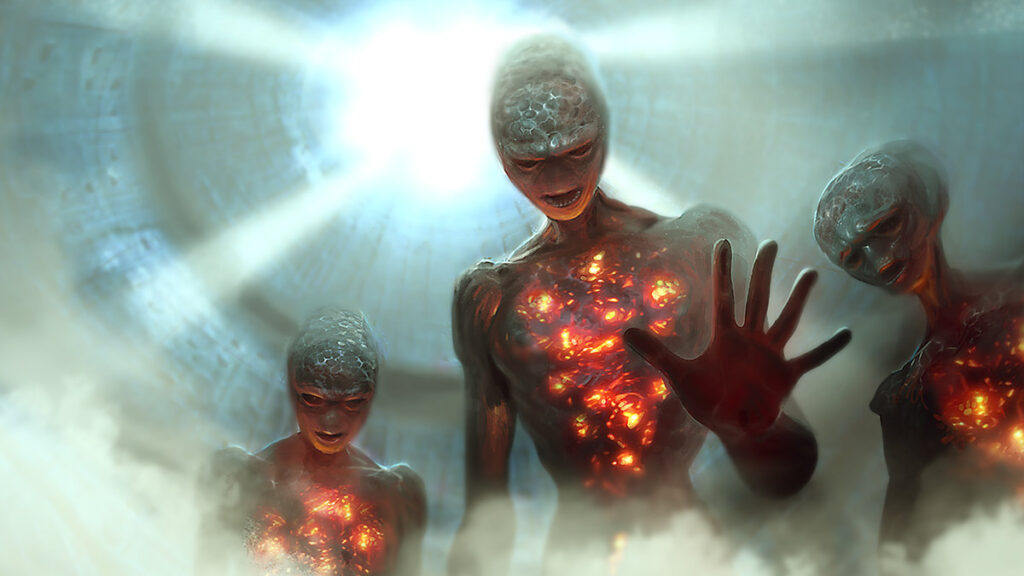 Dr. Ardi Sixkiller Clarke, professor emeritus at Montana State University, who is a native of the Cherokee tribe, has studied Indian stories about the "Star People" and collected stories of encounters between aliens and native Indians over the years.
Here is one of the stories she recorded, which she recorded from the words of a female elder named Tali:
I have seen star creatures all my life. The first time I was about 8 years old. I picked berries by the river. I watched the ship descend and land across the river. I crossed the river, stepping carefully over the rocks so as not to get my feet wet. I was curious; I've never seen anything like it.
As I approached, the door opened and I went inside. I remember that the star beings greeted me. There were two women. One combed my hair and said that I was beautiful. After that, I often met with them.
Sometimes I brought them flowers, sometimes stones. My grandmother told me that stones have a soul, and I tried to explain it to them. I don't think they understood. But they taught me to heal with my hands. Star doctors taught me how to treat diseases with my hands. They taught my grandmother how to heal.
When my grandmother died, the star beings were very saddened and I was tasked with continuing her work and learning about herbs and healing people naturally and metaphysically.
They are light, tall and thin. They are much smarter than us, but they are interested in our development. They travel the stars and learn from others throughout the star system. They collect information about the aging process of earthlings. They are trying to understand why we die so young.
Star people live much longer than we do. The normal age for them is 1000 Earth years. They do not have such diseases as we do. Their civilization does not consume alcohol and tobacco.
They choose who they will be, their job and stay on it forever. They become experts in their field, which leads to many discoveries that improve their lives. Star physicians visit Earth constantly. They mostly watch, but all over the world there are "helpers" who serve them. Both my grandmother and I were their assistants.
Star people call themselves observers.
They weren't cruel. I was told that there are four aggressive species in our universe. People are one of them."
Dr. Clarke ends the story like this:
"For the next five plus years, I frequently visited the reservation to meet Tali. She remained strong and mobile until her death at 95. On the day of her funeral, several people saw a UFO appear and hover in the sky. I was one of them."
Observers
In the stories of many people who have come into contact with representatives of extraterrestrial civilizations, there are references to the fact that they are just observers. It seems that some of these creatures are just curious observers of planet Earth, collecting data, as if some of them are carrying out scientific missions to bring information about other planets and civilizations back to their planet.
We are not alone in the universe. Perhaps one day we ourselves will become aliens for someone exploring another planet.
Can we change?
As for the fact that humans are one of the most violent species in the universe … We are empathetic beings with tremendous potential for good. We really can, but we do not change, and if you were an alien watching what is happening on our planet, you would probably be intimidated by how aggressive and cruel we are …
It is a pity that we are in a group of worlds characterized as aggressive, but I really hope that we will change. People can change, but only by standing at the edge of the abyss and realizing that if they do not change, human civilization will simply disappear. We are already on the edge of the abyss. We have actually destroyed the house we live in and the name of this house is Earth.
Humanity has only two ways – to change or die out.