What If The Moon is Not What You Think It Is ?!
Glorious, pale, veiled in mystery and intrigue. It's been piercing the darkness of night with its rays since time immemorial. There hasn't been a single culture to not worship the moon. In fact, all living organisms have an affinity for it. The moon exerts influence on all realms of existence underneath it. In turn, everyone and everything pay(s) homage.
For tens of thousands of years, humans have been fond by this heavenly body found in close proximity to Earth.
All past generations have thought of what could lie on the moon. Or what its purpose might be. Or if it gives man any kind of special abilities.
Humans have craved for so long to unravel the moon mystery. And the answer remained only at the stretch of their imagination since there was no way on Earth they could reach it.
However, after thousands of years of technological advancement, humans could finally aspire to touch the moon surface.
Finally, in 1969, with the entire world watching and holding breath, the Apollo 11 crew comprised of astronauts Buzz Aldrin, Neil Armstrong, and Michael Collins, have finally reached this notorious celestial body.
It was indeed a "small step for man," and at the same time a "giant leap for mankind."
After countless years and tremendous human sacrifice, we finally got the chance to see what was up there.
To everybody's surprise, the moon proved desolate and gray. There were no special findings whatsoever, except for a bunch of soil samples and rocks retrieved by the crew.
And, of course, a lush collection of videotapes with the space flight and landing.
Subsequent years have seen nine other astronauts walk on the moon surface. Every time they would bring to earth more and more soil samples, weighing hundreds of pounds, as well as priceless video footage.
Then, after a while, some of the images were thrown out of the archive oven into the public's grasp. And there were plenty of anomalies that caught the eye, especially eerie lights and out-of-place objects that surrounded the missions.
Of course, they were all ignored or debunked as lens flares or video glitches. But many people refused to put their trust in the official explanation and began scrutinizing the public data they had at their disposal.
NASA claimed there was nothing out of the ordinary regarding the moon, but people sensed there was something more than met the eye.
The first recordings of Neil Armstrong and Buzz Aldrin walking on the moon's surface were all grainy and blurry, although Hollywood movie quality in 1969 was pretty neat, or at least vastly superior to the original footage recorded on the moon.
People were demanding answers and the pressure on NASA grew as days progressed.
And then it happened: In 2016 NASA admitted that the ORIGINAL footage of the first moon landing from 1969 was entirely lost.
An investigation led by NASA engineer Richard Nafzger revealed that the priceless Apollo 11 tapes, along with 200,000 others, were degaussed, or magnetically erased, in order to be reused by the agency to save money.
To tackle this grave issue, they grabbed available cassette copies from CBS news archives, together with other recordings stored at Johnson Space Center, and sent them all to a man named Lowry, best known for restoring old Hollywood films, so that he would digitalize and render what was left of the original footage.
Thousands of years of waiting to reach the moon surface, and the most prestigious space institution had erased the original evidence of the first moon landing like it was nothing of importance.
They even stated that they "should have had a historian running around saying 'I don't care if you are ever going to use them – we are going to keep them',"
This episode of incompetence, so unexpected from a crew of rocket scientists, has furthered fueled the belief that something of great importance is found on the moon.
And the worst part – they wouldn't let the public know about it. At least not entirely.
Almost five decades after the initial man's descent on the lunar surface and numerous questions with equivocal answers remain.
Have we really been up there? Or was the moon landing staged inside a Hollywood basement?
Is the Moon really a natural satellite? Or is it rather artificial in nature?
What did they discover on the lunar surface that they're not letting us know about it?
What's with all the strange and bright objects surrounding the lunar landings?
These are just some of the intrigues we are going to solve. So, let's dive right into it.
What Is The Moon?
According to science, the moon is a natural satellite locked in Earth's orbit that exerts a gravitational force on our planet responsible with pulling on water in the oceans and causing bulges that create "high tide".
We can only see one of its two faces, as the dark side of the moon lies concealed, away from any curious eyes.
When looked at through a telescope, the moon reveals many intriguing features deemed natural by the scientific community.
There are numerous formations, especially inside craters, that greatly resemble artificial structures, the likes we see here on Earth. They also reflect a great deal of sunlight.
Because of these, researchers pursuing alternative truths have wondered if there isn't already an active moon operation in place.
After all, the moon is a very strategic spot: it has one hidden side where you can place all the bases without anyone noticing, while the other side is constantly keeping an eye on unaware earthlings.
And judging by the space race of the 60s where the U.S. competed against the Soviet Union to claim first spot on the moon, they really wanted to get the operations going.
Whoever reached the lunar surface first had the upper hand in establishing the first facility, as well as discovering what was up there.
After this duel had been comfortably won by the U.S., a new age to conquer Earth's orbit, as well as space, began.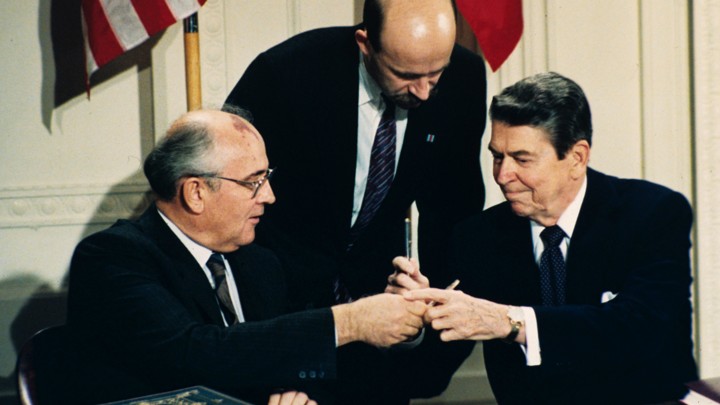 On March 23 1983, during the Cold War between Soviet Russia and Western powers, President Ronald Raegan initiated the Strategic Defense Initiative or SDI.
The project, dubbed Star Wars, was meant to deflect the Russian ICBM missiles in case they were launched towards the U.S. or Europe.
In order to tackle the heavy artillery, breakthrough technologies had to be developed and installed in orbit. The project received funding but was short lived. The Cold War had ended two years later and the space technology seemed too complex and costly, so later administrators had to reduce the SDI to a minimum.
Of course, what went on behind closed doors remains classified to this day. However, various independent researchers believe they know what's happening above us, and, I got to tell you, it's like something out of a sci-fi movie.
Sky watcher John Lenard Walson has captured mind-boggling footage of spaceships stationed in Earth's orbit, in close proximity to the moon.
He's captured a mothership and other small vessels on camera, together with other moon structures believed to be artificial and part of a larger complex.
So, is it possible that world superpowers have already established a moon colony and are waiting for the opportune moment to make these news public?
Or are we dealing with extraterrestrial beings that have dwelled on the moon for who knows how long?
This would explain why nobody has set foot on the moon for such a long time.
Is there a pact between these beings and our earthly leaders? Whatever the case, there are just too many strange things happening when it comes to the moon.
For instance, in 2009, NASA had bombed the moon in a $79 million attempt to learn if there is water out there. The explosion was meant to raise 6-km-high plumes of dust that would confirm of infirm the existence of water on the lunar surface.
The mission failed to reach the predicted outcome, and many were left scratching their heads as to what had happened.
The Cabeus crater where the explosion had taken place is on the dark side of the moon, further fueling beliefs that NASA bombed a Russian or alien base instead.
Speaking about aliens on the moon, contactee Alex Collier is confident that the moon is a huge interstellar transit ship that came here from another galaxy. The alien overlords inhabiting it have conducted experiments on unaware humans for thousands if not tens of thousands of years.
These astounding claims were reached using psychic readings and telepathy. And there is more.
A message received by Collier from the Andromedans describes the moon as hollow, with lots of underground facilities undergoing operations.
"THE MOON IS HOLLOW. IT CONTAINS HUGE UNDERGROUND FACILITIES BUILT BY ETS AND LATER HUMANS FROM EARTH. THERE ARE SEVEN OPENINGS INTO THE MOON'S CRUST, AND THE UNDERGROUND BASES. CONSERVATIVE SCIENTISTS HAVE WONDERED WHY SO MANY CRATERS SEEM SO SHALLOW, DESPITE THEIR SIZE. THE ANDROMEDANS SAY, IT'S BECAUSE MUCH OF THE SURFACE WAS BUILT ON TOP OF A METALLIC SHELL OF A CIRCULAR SPACE CREST; OR A "WAR CARRIER".
While this telepathic message may seem too far-fetched and with no real evidence to back it up, you might want to know that there are things up there that don't always make sense, and that, in fact, support the above theory.
On December 21, 1968, NASA's Apollo 8 mission marked the first manned mission outside of Earth's orbit and around the moon. Close to 3,000 photos were captured using a 70mm camera installed on the Lunar Orbiter.
Before heading back to Earth, the camera snapped a peculiar picture of what appears to be a huge entrance into the lunar surface. No more pictures were taken afterward. When the public demanded explanations, the astronauts blamed this on a camera glitch.
And there are just too many weird things happening on the dark side of the moon. During their 1969 lunar voyage, Apollo 10 crew heard "weird music" coming from this unseen part of Earth's satellite.
So, could the moon be more than what we are taught to believe?
Well, after successfully carrying the first astronauts on the moon and back to earth, the spacecraft was deliberately crashed into the lunar surface to serve scientific purposes.
We don't know exactly what researchers have concluded, but we do know what they've heard – the moon ringing like a bell when struck.
Could this, coupled with the above references, prove the moon is hollow or that it has a very peculiar composition? Is the moon artificial?
There are countless anomalies that indicate the moon is something slightly different than what we are being told. If you don't believe none of the above, know that there's more.
A very bizarre theory, probably the wildest out there, claims the moon is nothing more than a hologram.
The sky watcher who came up with this idea has recorded footage showing what he dubbed a "lunar wave."
With so many theories out there, it's challenging to determine which point of view is right or wrong, or how close we are to the truth.
At the end of the day, our own research and life understanding will offer the answers we need and are craving for.
If there are aliens involved or humans, or even both, we can only speculate.
With many nations today planning to set up bases on the moon, it remains only a matter of time until this far away reality will also become known to the public.
In the near future, thanks to the likes of Elon Musk and Space X, humans will be able to voyage around the moon and witness space firsthand.
This move will happen in the next couple of years and will mark "an important step toward enabling access for everyday people who dream of traveling to space."
Until that day, however, the moon will remain at the stretch of our imagination, possibilities still unlimited.
References:
David Icke Has Finally Revealed Reptilians Evidence!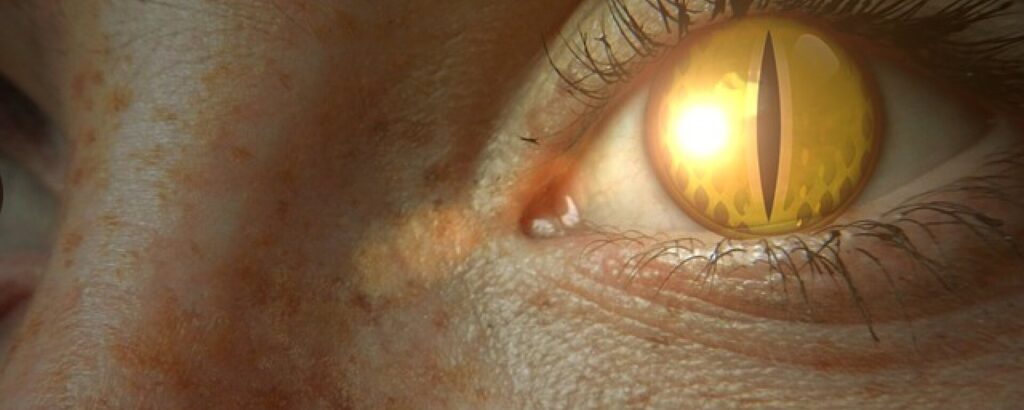 First things first! You need to learn about this world known theory that reptilians are mixed with people of the elite of our planet and they are ruling it by their desires.
Secondly, you need to know that this theory doesn't belong you David Icke but thanks to him, it has been made popular all around the world. And now, he claims that he has reptilians evidence and it is time for the world to know the truth!
We advise you to continue reading this text with an open mind and actually be amazed at how deep it really goes.
This all connects with Pope's Audience Hall which reveals designs and discoveries that have been made upon 10 years of research of the elite and the Illuminati. This hall is located in Vatican as you may know and it partially lies in Rome, Italy. This all may sound pretty normal to you but there is a great number of things that make this building strange.
The construction of the building is strong and made to last because the architect Pier Luigi Nervi has used reinforced concrete to design it.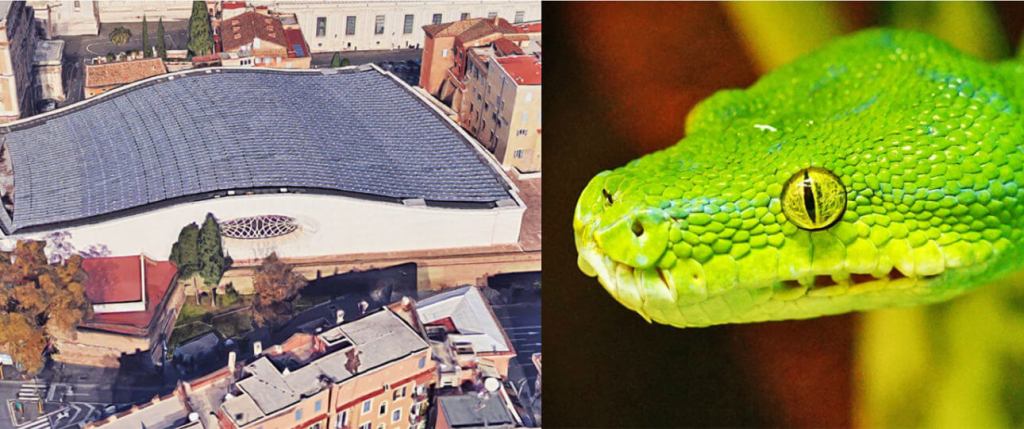 The simple form of the building that has a curve may not be that astonishing but what if you compare it with a head of a snake? The overall shape, the wide back, the rounded front and the curved top are exactly like the shape of a snake's head. Just look at the photos side by side and you will need no further explanation.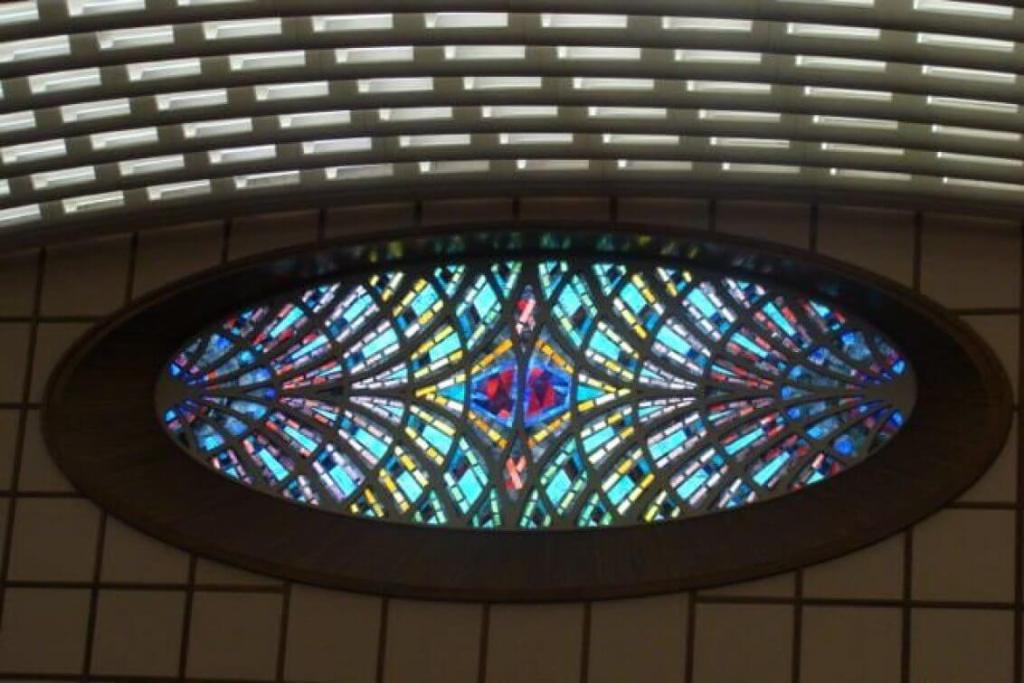 If you are still not convinced by looking at the window one by one, try looking them both from inside and be amazed! You are observing the stage and there are two reptilian eyes staring at you! Once you see it, it is kind of creepy.
Also, you should be able to notice the scale and the fangs now. In the middle of the stage there is a statue and on both of the sides, there are two sharp pointed fangs.
If you are not yet convinced just look at this photos side by side. The interior of the hall and a snake's head. The stage the eyes, you just can't deny these reptilians evidence.
Again, if you take a closer look at the statue, in the middle you will see Christ rising and if you just focus on the shape of his head you will be astonished. It is very difficult to see this from the front so you should take a left and then a right look. You will feel goosebumps when you see that his head is actually a head of a snake!
Just think about this and try to figure out the reason for such metaphor of a building and a snake? The craziest thing about it is that when the Pope is speaking from the stage, it looks like the snake is speaking! Wow.
Aliens, UFO bases, Nazi Bases, or Trapped Fallen Angels?
Antarctica is most likely the whitest region on earth, with a ridiculous amount of ice that is too harsh humans. Yet, this white mass might be burying some of the darkest mysteries about the world. Every day, more research is being done about this place and what secrets it holds.
Antarctica has been home to a lot of mysteries for long. For one, we have the incident of Operation Highjump.
It is believed by some that about 250,000 senior officers belonging to the Nazi Party managed to escape in U-boats from Germany towards the end of the Second World War.
Some even believed that Hitler was one of the escapees.
If those many people ran away during a war that got the whole world at attention, where would they have escaped to?
Some say it must be Argentina, but is this really feasible? 250,000 men can't be hidden in plain sight…
Unless we are talking of the plain rarely visited by humans. Deep in Antarctica.
According to some theories, the German Nazi had been building powerful weapons here at their secret base in Antarctica. These weapons are well ahead of their time, with possible help from alien intervention.
This would seem far-fetched until you consider what happened just before the Second World War ends. The United States decided on a huge expedition to Antarctica while the war was still going on. This expedition is known as Operation Highjump.
Expeditions are not a new thing, but why then?
Maybe more surprising is the number of U.S. personnel and machinery on this expedition. Over 4,000 U.S. personnel led by Adm. Richard Byrd on dozens of aircraft and ships went on this expedition.
No other U.S. expedition to Antarctica had been so massive.
Even if there is a hurry to dominate this place, is there something in particular to dominate?
Wait for it.
This expedition was supposed to last for 6 – 9 months. After just one month, the expedition was ended abruptly, and it had nothing to do with the cold.
According to a report by the Chilean Press, there is a high probability that there were other more powerful people waiting.
Many conspiracy theorists today believe they had been bombarded by artillery, forcing them to retreat after sustaining heavy casualties.
From what must have happened there, the personnel on the expedition couldn't have had a chance. It was a massacre.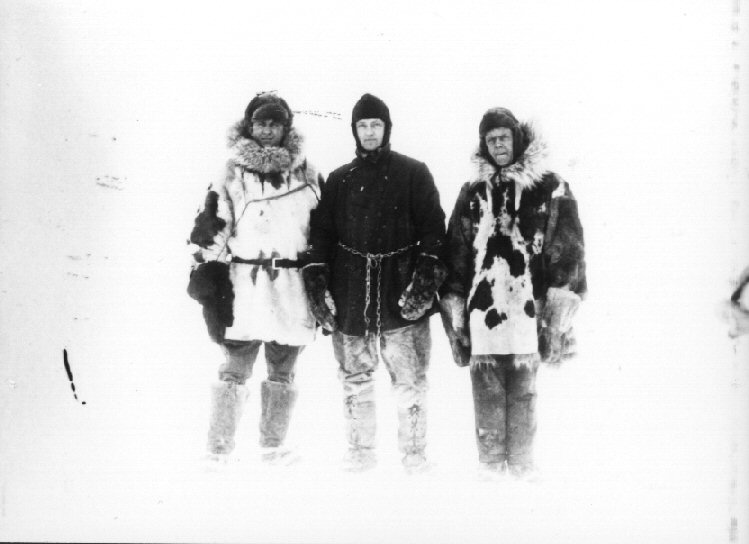 Even though the U.S. would not confirm this, Adm. Richard Byrd was quoted in the Chilean Press talking about how they were confronted by a new enemy that "could fly from pole to pole at incredible speeds."
This could only have been or at least inspired by alien technology. As at that time, it was basically impossible to travel at such speed.
But this was not just about Byrd. There are several other reports of pilots who saw flat disc-shaped UFOs chasing them, even though they were not shot at.
These pilots also reported how their planes were being followed by balls of light. Yet, even though these UFOs, which the pilots called "foo fighters," didn't attack them, it somehow was able to disable the pilots' plane' bombing capabilities.
According to the United States, all these didn't happen. Only one plane crashed, killing 3 pilots. If this were true, was that why the expedition was canceled?
And, let's say it wasn't true. Who was behind those UFOs?
Could it have been the German or were those extraterrestrial?
There seemed to be more to Antartica, any way you look at it.
Speaking of extraterrestrials, the more Antarctica is examined, the more the mysteries that crop up.
An example is the huge electromagnetic anomaly that was detected by NASA satellites in 2006. This anomaly wasn't lying on the surface either. It was buried deep underneath 151 miles of ice. What a beautiful way to confuse researchers. Over a decade later, they are still left with questions.
But then, turning to an ancient scroll dated millennia ago, the Book of Enoch, some interesting passages seemed to have something to say about this.
Enoch was the man who was reported to have escaped death. He was the great great grandfather of Noah.
He wrote about how he was taken to the place where the corrupted angels who disobeyed God and came to earth were imprisoned.
In his book, he had talked about the 200 fallen angels who had lived among men, teaching men advanced technologies for their time and sleeping with the women and fathering the Nephilim, thereby genetically modifying men and leading mankind astray.
The book talked about where they were imprisoned, until the appointed day. This place was supposed to be lit by the sun both during the day and at night.
In his words, [the Sky] was burning day and night.
As it turns out, this fits perfectly with the Southern Hemisphere during the summer season in Antarctica. At this time, there is daylight for 24 hours.
This phenomenon, known as Aurora Australis, or Southern Lights, can be visible from high southern latitudes in Antarctica, Australia, New Zealand, Chile, and Argentine.
Let's say that was a coincidence. Enoch went further in his book by mentioning "seven mountains of precious stones, three towards the east and three towards the south." This is where it gets more interesting. Mt Vinson fits the description of the central mountain. After all, it is the highest mountain in Antarctica.
As for the other six, there were there, just not aligning as specified. This could signify that there had been a shift in the Earth's axis of rotation.
This is not uncommon. These shifts are known to cause such calamities as floods and tectonic events.
Then, it gets even more interesting.
If we consider the research conducted by Sir Charles Hapgood, in which he proposes that the last pole shift could have happened about 11,000 years ago, just at the end of the last ice age, we can begin to question if this has any relevance to the biblical flood.
This would perfectly explain why these angels would be moved at this time and imprisoned. It would place their whereabouts firmly somewhere in Antarctica.
Could they be imprisoned at the summit of the gigantic Mt. Vinson or could they be hidden right under the 151 miles of ice mentioned earlier?
While these are exciting thoughts, there is really no solid proof of this, but we can continue to dig more. A journey of 151 miles has to start with a question.
References:
NASA scientist admits that aliens have already visited Earth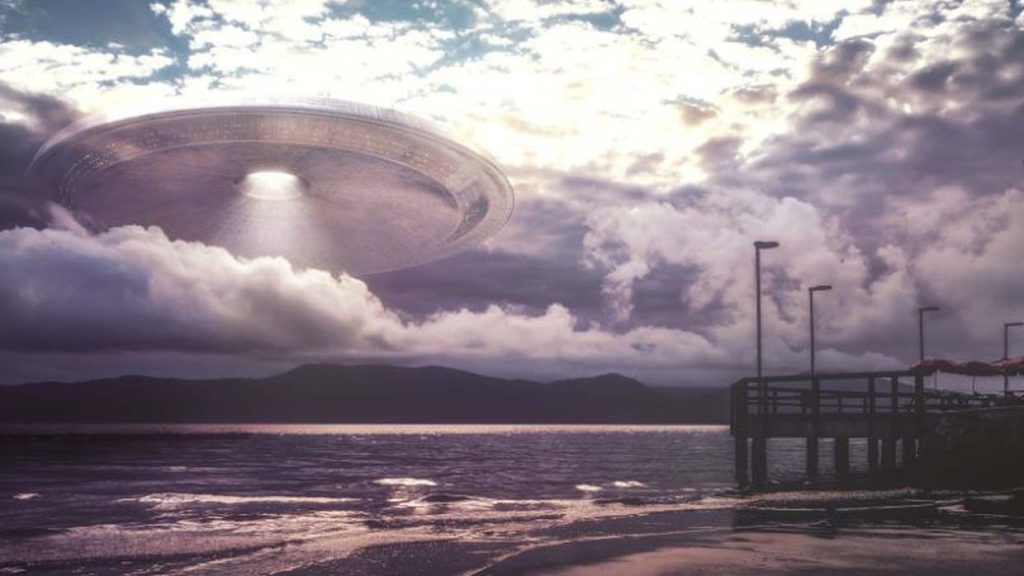 For all we know, we are alone in the universe. Earth is the only planet inhabited by life, and human beings are the only intelligent beings. Of course, this is what scientists tell us, however, there are many who believe that there have already been contacts with beings from other worlds. There is Area 51, the base of the Air Force in Nevada, where the US government allegedly stores extraterrestrials in freezers. And there was a mysterious incident in Roswell, New Mexico, in 1947, and mutilated cows in Colorado.(aliens have already visited Earth)
Although it can be said that the idea that there could be other creatures in the universe has existed since, at least, the fifth century BC, when the Greek philosopher Democritus postulated "innumerable worlds of different sizes" , and not all were lifeless. Four hundred years later, the Roman poet Tito Lucrecio Caro wrote about "other worlds" with "different tribes of men and wild beasts"".In the seventeenth century, the German astronomer Johannes Kepler wrote of a trip to the moon in which travelers encountered creatures resembling reptiles.(aliens have already visited Earth)
At the end of that century, the Dutch mathematician Christiaan Huygens wrote a book that speculated about the conditions of other planets and concluded that some of them had to harbor life. Pointing his telescope to Mars in 1894, the American astronomer Percival Lowell saw a network of what he thought were channels, structures so elaborate that they could only have been built by beings with intelligence.
And it would not just be stories and theories from the past, as some researchers are taking that possibility seriously and are tracking beyond our planet for evidence of extraterrestrials. But the last thing we would expect is for a NASA scientist to reveal that it is possible that we have already been visited by civilizations from other worlds.(aliens have already visited Earth)
Extremely intelligent super-small entities
In new research , Silvano P. Colombano, a professor and scientist working in NASA's Division of Intelligent Systems, has revealed that extraterrestrial life may already have visited Earth . He also assures that it is possible that it is very different from what humanity is used to, the carbon-based organisms that are currently found on our planet, reports MailOnline .
"I simply want to point out the fact that the intelligence we could find and could choose to find us (if it has not already done so) may not be produced at all by carbon-based organisms like us," Colombano wrote in a document.(aliens have already visited Earth)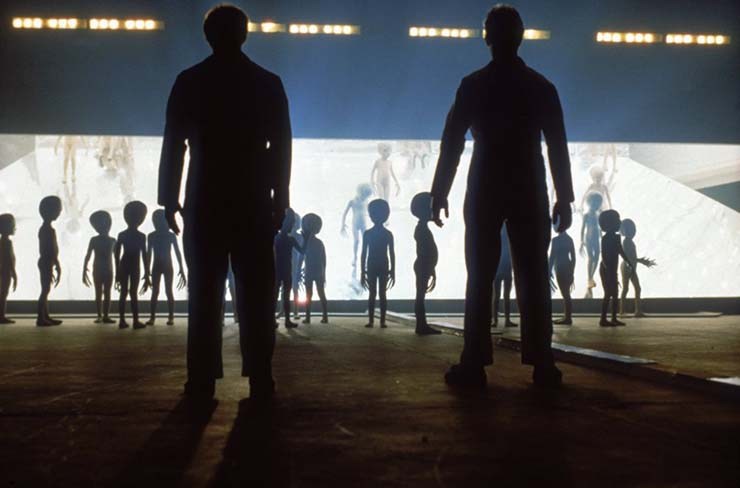 Colombano added that scientists should revisit the assumptions, from the life of an extraterrestrial to its height since the size of an intergalactic explorer could be that of an extremely small super intelligent entity .
"Our typical lives would no longer be a limitation (although even these could be dealt with multigenerational missions or suspended animation), and the size of the 'explorer' could be that of an extremely intelligent super-intelligent entity ," Colombano added.(aliens have already visited Earth)
But Colombano goes further, assuring that the aliens may have discovered a technology that humans can not yet understand , which makes missions such as interstellar travel possible.
"If we adopt a new set of assumptions about what higher forms of intelligence and technology we could find, some of those phenomena could fit with specific hypotheses and we could start a serious investigation , " suggested the NASA scientist.
Even so, the scientist admits that interstellar travel could be an unbreakable barrier, in a lapse of thousands of years, although he added that it could be possible depending on what we assume about various life forms.
"Taking into account also that the technological development in our civilization began about 10 thousand years ago and has seen the emergence of scientific methodologies only in the last 500 years, we can suppose that we could have a real problem to predict the technological evolution even during the next a thousand years, "he concluded.(aliens have already visited Earth)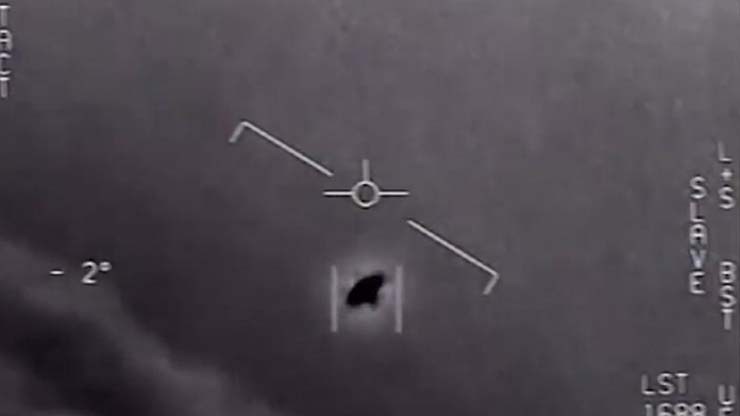 And if someone thinks that Colombano, who has a doctorate in biophysical sciences, has ended his surprising study, he is very wrong. In addition, he has called on other scientists to seriously investigate UFO sightings . And this is precisely what the experts in the field of ufology have been requesting. But what is most striking is that it is a NASA scientist who makes this revelation and call to his colleagues.
Are they preparing us for extraterrestrial contact?