Glorious, pale, veiled in mystery and intrigue. It's been piercing the darkness of night with its rays since time immemorial. There hasn't been a single culture to not worship the moon. In fact, all living organisms have an affinity for it. The moon exerts influence on all realms of existence underneath it. In turn, everyone and everything pay(s) homage.
For tens of thousands of years, humans have been fond by this heavenly body found in close proximity to Earth.
All past generations have thought of what could lie on the moon. Or what its purpose might be. Or if it gives man any kind of special abilities.
Humans have craved for so long to unravel the moon mystery. And the answer remained only at the stretch of their imagination since there was no way on Earth they could reach it.
However, after thousands of years of technological advancement, humans could finally aspire to touch the moon surface.
Finally, in 1969, with the entire world watching and holding breath, the Apollo 11 crew comprised of astronauts Buzz Aldrin, Neil Armstrong, and Michael Collins, have finally reached this notorious celestial body.
It was indeed a "small step for man," and at the same time a "giant leap for mankind."
After countless years and tremendous human sacrifice, we finally got the chance to see what was up there.
To everybody's surprise, the moon proved desolate and gray. There were no special findings whatsoever, except for a bunch of soil samples and rocks retrieved by the crew.
And, of course, a lush collection of videotapes with the space flight and landing.
Subsequent years have seen nine other astronauts walk on the moon surface. Every time they would bring to earth more and more soil samples, weighing hundreds of pounds, as well as priceless video footage.
Then, after a while, some of the images were thrown out of the archive oven into the public's grasp. And there were plenty of anomalies that caught the eye, especially eerie lights and out-of-place objects that surrounded the missions.
Of course, they were all ignored or debunked as lens flares or video glitches. But many people refused to put their trust in the official explanation and began scrutinizing the public data they had at their disposal.
NASA claimed there was nothing out of the ordinary regarding the moon, but people sensed there was something more than met the eye.
The first recordings of Neil Armstrong and Buzz Aldrin walking on the moon's surface were all grainy and blurry, although Hollywood movie quality in 1969 was pretty neat, or at least vastly superior to the original footage recorded on the moon.
People were demanding answers and the pressure on NASA grew as days progressed.
And then it happened: In 2016 NASA admitted that the ORIGINAL footage of the first moon landing from 1969 was entirely lost.
An investigation led by NASA engineer Richard Nafzger revealed that the priceless Apollo 11 tapes, along with 200,000 others, were degaussed, or magnetically erased, in order to be reused by the agency to save money.
To tackle this grave issue, they grabbed available cassette copies from CBS news archives, together with other recordings stored at Johnson Space Center, and sent them all to a man named Lowry, best known for restoring old Hollywood films, so that he would digitalize and render what was left of the original footage.
Thousands of years of waiting to reach the moon surface, and the most prestigious space institution had erased the original evidence of the first moon landing like it was nothing of importance.
They even stated that they "should have had a historian running around saying 'I don't care if you are ever going to use them – we are going to keep them',"
This episode of incompetence, so unexpected from a crew of rocket scientists, has furthered fueled the belief that something of great importance is found on the moon.
And the worst part – they wouldn't let the public know about it. At least not entirely.
Almost five decades after the initial man's descent on the lunar surface and numerous questions with equivocal answers remain.
Have we really been up there? Or was the moon landing staged inside a Hollywood basement?
Is the Moon really a natural satellite? Or is it rather artificial in nature?
What did they discover on the lunar surface that they're not letting us know about it?
What's with all the strange and bright objects surrounding the lunar landings?
These are just some of the intrigues we are going to solve. So, let's dive right into it.
What Is The Moon?
According to science, the moon is a natural satellite locked in Earth's orbit that exerts a gravitational force on our planet responsible with pulling on water in the oceans and causing bulges that create "high tide".
We can only see one of its two faces, as the dark side of the moon lies concealed, away from any curious eyes.
When looked at through a telescope, the moon reveals many intriguing features deemed natural by the scientific community.
There are numerous formations, especially inside craters, that greatly resemble artificial structures, the likes we see here on Earth. They also reflect a great deal of sunlight.
Because of these, researchers pursuing alternative truths have wondered if there isn't already an active moon operation in place.
After all, the moon is a very strategic spot: it has one hidden side where you can place all the bases without anyone noticing, while the other side is constantly keeping an eye on unaware earthlings.
And judging by the space race of the 60s where the U.S. competed against the Soviet Union to claim first spot on the moon, they really wanted to get the operations going.
Whoever reached the lunar surface first had the upper hand in establishing the first facility, as well as discovering what was up there.
After this duel had been comfortably won by the U.S., a new age to conquer Earth's orbit, as well as space, began.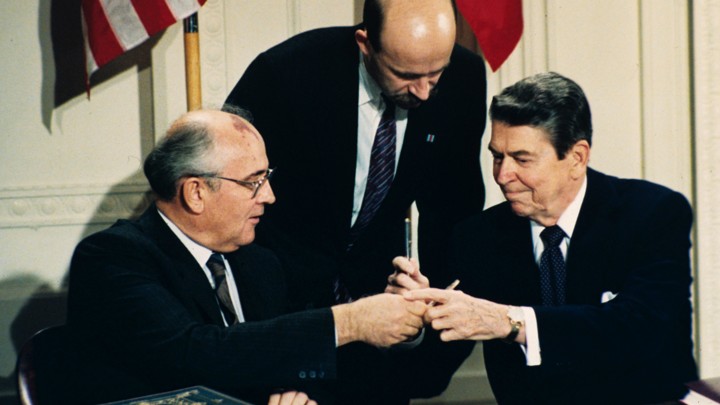 On March 23 1983, during the Cold War between Soviet Russia and Western powers, President Ronald Raegan initiated the Strategic Defense Initiative or SDI.
The project, dubbed Star Wars, was meant to deflect the Russian ICBM missiles in case they were launched towards the U.S. or Europe.
In order to tackle the heavy artillery, breakthrough technologies had to be developed and installed in orbit. The project received funding but was short lived. The Cold War had ended two years later and the space technology seemed too complex and costly, so later administrators had to reduce the SDI to a minimum.
Of course, what went on behind closed doors remains classified to this day. However, various independent researchers believe they know what's happening above us, and, I got to tell you, it's like something out of a sci-fi movie.
Sky watcher John Lenard Walson has captured mind-boggling footage of spaceships stationed in Earth's orbit, in close proximity to the moon.
He's captured a mothership and other small vessels on camera, together with other moon structures believed to be artificial and part of a larger complex.
So, is it possible that world superpowers have already established a moon colony and are waiting for the opportune moment to make these news public?
Or are we dealing with extraterrestrial beings that have dwelled on the moon for who knows how long?
This would explain why nobody has set foot on the moon for such a long time.
Is there a pact between these beings and our earthly leaders? Whatever the case, there are just too many strange things happening when it comes to the moon.
For instance, in 2009, NASA had bombed the moon in a $79 million attempt to learn if there is water out there. The explosion was meant to raise 6-km-high plumes of dust that would confirm of infirm the existence of water on the lunar surface.
The mission failed to reach the predicted outcome, and many were left scratching their heads as to what had happened.
The Cabeus crater where the explosion had taken place is on the dark side of the moon, further fueling beliefs that NASA bombed a Russian or alien base instead.
Speaking about aliens on the moon, contactee Alex Collier is confident that the moon is a huge interstellar transit ship that came here from another galaxy. The alien overlords inhabiting it have conducted experiments on unaware humans for thousands if not tens of thousands of years.
These astounding claims were reached using psychic readings and telepathy. And there is more.
A message received by Collier from the Andromedans describes the moon as hollow, with lots of underground facilities undergoing operations.
"THE MOON IS HOLLOW. IT CONTAINS HUGE UNDERGROUND FACILITIES BUILT BY ETS AND LATER HUMANS FROM EARTH. THERE ARE SEVEN OPENINGS INTO THE MOON'S CRUST, AND THE UNDERGROUND BASES. CONSERVATIVE SCIENTISTS HAVE WONDERED WHY SO MANY CRATERS SEEM SO SHALLOW, DESPITE THEIR SIZE. THE ANDROMEDANS SAY, IT'S BECAUSE MUCH OF THE SURFACE WAS BUILT ON TOP OF A METALLIC SHELL OF A CIRCULAR SPACE CREST; OR A "WAR CARRIER".
While this telepathic message may seem too far-fetched and with no real evidence to back it up, you might want to know that there are things up there that don't always make sense, and that, in fact, support the above theory.
On December 21, 1968, NASA's Apollo 8 mission marked the first manned mission outside of Earth's orbit and around the moon. Close to 3,000 photos were captured using a 70mm camera installed on the Lunar Orbiter.
Before heading back to Earth, the camera snapped a peculiar picture of what appears to be a huge entrance into the lunar surface. No more pictures were taken afterward. When the public demanded explanations, the astronauts blamed this on a camera glitch.
And there are just too many weird things happening on the dark side of the moon. During their 1969 lunar voyage, Apollo 10 crew heard "weird music" coming from this unseen part of Earth's satellite.
So, could the moon be more than what we are taught to believe?
Well, after successfully carrying the first astronauts on the moon and back to earth, the spacecraft was deliberately crashed into the lunar surface to serve scientific purposes.
We don't know exactly what researchers have concluded, but we do know what they've heard – the moon ringing like a bell when struck.
Could this, coupled with the above references, prove the moon is hollow or that it has a very peculiar composition? Is the moon artificial?
There are countless anomalies that indicate the moon is something slightly different than what we are being told. If you don't believe none of the above, know that there's more.
A very bizarre theory, probably the wildest out there, claims the moon is nothing more than a hologram.
The sky watcher who came up with this idea has recorded footage showing what he dubbed a "lunar wave."
With so many theories out there, it's challenging to determine which point of view is right or wrong, or how close we are to the truth.
At the end of the day, our own research and life understanding will offer the answers we need and are craving for.
If there are aliens involved or humans, or even both, we can only speculate.
With many nations today planning to set up bases on the moon, it remains only a matter of time until this far away reality will also become known to the public.
In the near future, thanks to the likes of Elon Musk and Space X, humans will be able to voyage around the moon and witness space firsthand.
This move will happen in the next couple of years and will mark "an important step toward enabling access for everyday people who dream of traveling to space."
Until that day, however, the moon will remain at the stretch of our imagination, possibilities still unlimited.
References: