Telepathy and How it Fits into the UFO Puzzle
There is much evidence throughout the years that UFO occupants use telepathy on humans. Physicists such as Jack Sarfatti research a field called post-quantum theory which goes beyond accepted quantum mechanics; it has been called the new dawn of physics. Post-quantum theory involves the concept of consciousness.
The post-quantum world of Jack Sarfatti is detailed in an article entitled "Bye, Bye Schrodinger!" " http://stardrive.org/Jack/Synergy.pdf In it, Sarfatti outlines the current status of his post-quantum theory. Sarfatti particularly dislikes laymen restating his amazing theories in simple, non-mathematical ways, but that's what I am about to do; I am referring to Sarfatti's work simply to establish the fact that there is indeed serious work on the reality of telepathy.
I also want to point out that those of us who feel a telepathic or quantum entanglement connection to UFO occupants might actually have a right to simplify, even omit, the quantum math and its almost incomprehensible specifics. We have dealt with this very real "contact" most of our lives with no counseling, no therapy, no help, and often there has been derision. Telepathy is just as real for us as it is for Jack Sarfatti, who did have a strange contact experience in his childhood, but we are simply not educated or perhaps not capable of his level of mathematical proof.
Suffice it to say, the concept and reality of telepathy is not new age mish-mash and I believe telepathy is in integral part of the UFO phenomenon.
Sarfatti has stated that a "hidden variable" (which, according to Sarfatti, could be an electromagnetic, geometrodynamical or torsion field configuration), piloted by its attached mental quantum informational pilot wave— explains how thought moves matter.
However, Sarfatti notes, one must also explain how matter reacts back on thought, because the "change in thought induced by matter is consciousness."
Sarfatti suggests that "paranormal telepathy, precognition, and remote viewing are impossible in principle in quantum theory." Post-quantum theory, however, has corrected these faults. As Sarfatti writes, "in The New Jerusalem of post-quantum theory … we find consciousness and our possibly immortal souls."
"All things are not possible," exclaims Jack Sarfatti. "However, many more things are possible than are dreamt of in the philosophies of many respectable mainstream scientists to be sure."
With this background in mind, what are the types of telepathy we humans have thus far encountered? Of course, how can you really know that a thought has been sent telepathically to you, but that another thought is your own? We'll try to answer this too. Here are several types of telepathy:
Channeling is a form of telepathy. Some channels go into deep trances like old-fashioned spiritualists (trance mediums) in order to receive messages from aliens of the higher realms (or, I suppose, the lower realms). Do these channels, some of whom are well known personalities, hear the alien's voice in their heads or do "concepts from outside" simply land in their heads as thoughts? Or are they faking? For the purpose of this article, we'll assume the phenomenon of channeling is sometimes not faked. Whether they hear a voice or simply receive thoughts, the channel is receiving a form of telepathy.
Another type of telepathy is experienced by people who were contacted at some point, then feel an entanglement of consciousness with a UFO occupant. This is an on-going, probably lifelong form of telepathy which perhaps is not pure telepathy but rather is the blending of two consciousnesses through quantum manipulation.
Quantum entanglement occurs when two or more objects share an unseen link bridging the space between them. A hypothetical pair of dice, for instance, would always land on matching numbers when rolled simultaneously, even if one was rolled on Earth and the other was rolled on Mars. Do not make the mistake of thinking "entanglement" is a negative term, perhaps similar to "parasites" or some such. It is not! It is a neutral term used by scientists to describe an astounding phenomenon of quantum physics.
Quantum entanglement was called Spukhafte Fernwirkung by Albert Einstein, meaning "spooky action at a distance." Einstein muttered that it violated his famous speed limit which states, nothing goes faster than the speed of light in his Theory of Relativity.
Physicists have recently managed to entangle two diamonds at the quantum level, so it has been proven that this finicky phenomenon is not limited to tiny, ultra-cold objects. Quantum entanglement has now been achieved for macroscopic diamonds on a quantum level.  Everyday objects like diamonds can be placed into a quantum state.
In this experiment, the two diamonds sub-atomic molecules became entangled and therefore a phonon was not confined to either diamond; instead, the two diamonds entered an entangled state in which they shared one phonon. If we crushed one diamond on Earth, would the diamond on Mars also crush in the same second?
If UFO occupants use quantum entanglement to entangle the consciousness of an alien mind and a human mind (which amounts to a shared consciousness and feeling of mutual identity), then this is an on-going telepathy of sorts involving the thought processes and the actual beinghood of both alien (UFO occupant) and human. In a sense, this is a long term, comprehensive telepathy.
I feel that UFO occupants use this scientific procedure fairly often, thus some humans feel a connection to one particular UFO occupant and even a spiritual, emotional pull toward his or her identity as if it were their own – a beckoning. Humans with this telepathic connection often "channel" also but perhaps it is not actually channeling but simply reaching for the Other Being within their Own Being – reaching for the knowledge he or she already knows – a shared consciousness.
Random impulses, whims, and urges sent telepathically are a less-complicated, short term method of telepathy which UFO occupants might be using.
Example: In the past, no one stepped outside to smoke, smokers just contaminated the house. Then, we became aware of how second-hand smoke is as bad as actually smoking, so over the years, smokers have had to step outside. Are UFO occupants aware of our changing social customs and rules?  These days, if you are a telepathic being, how easy it is to induce the idea in your "victim" of having a smoke! In postulating this, I am assuming that impulses and urges are among the easiest telepathic thoughts to convey. Impulses, whims, and addictions seem to be easy to manipulate because they involve virtually no deep-thought process. They are simple impulses acted on a million previous times, which bring calm, relief, and pleasure. http://www.ufocasebook.com/2012/provoutah092912.html
The current case in the link above is one example of the many UFO sightings which happen as someone steps outside to smoke. Read the last comment at the close of the account of this case wherein it is mentioned that the number of cases which happen when someone is outside for a smoke, is just amazing. Is this just a funny coincidence?  These cases are larger in relative proportion than someone seeing a UFO when hiking or even star-gazing these days.
UFO occupants seem to want someone to step outside to spot their craft; when you think about it, it is fairly difficult to get a human to look up at the sky at a particular moment – we stumble along in our mostly indoors, sedentary lives these days. It would be handy to send a message to a smoker to go smoke. Maybe UFO beings can just fill the general human morphic field with the idea, "Go out for a smoke!" knowing their thought will "hit" a smoker.
Yes, these seems far-fetched but if we are dealing with telepathic beings, and there seems to be some evidence throughout the years that we are, then is this idea really so incredible? UFO occupants do seem to WANT to be seen these days and the fact remains, there sure are a lot of outside smokers seeing UFOs!
There is telepathy as created in scientific experiments which are supposed to show ESP ability. This seems to be the accepted concept of telepathy in our society. Can you name the design on the hidden card as the other person holds the card and gazes as the design? It strikes me that this is some of the most difficult telepathy to perform, yet it has been used by the establishment to try to prove or disprove the existence of telepathy itself.  Specific, non-emotional images are difficult to transmit, and to do so under the pressure of, "Now read my mind," when you are a mere human, is a challenge. I bet you would have much better success to "send" the urge to a smoker to go outside for a smoke. There is no pressure, the "receiver" does not even know you are doing this, and the urge is already in-built in the smoker. All you have to do is to make him or her want to smoke NOW.
Are there telepathic thoughts just "in the air?" I know there are theories, research, and experiences with Electronic Voice Phenomenon (EVP) this but it is a large subject for another day, and perhaps not purely telepathy.
There are many more nuances of telepathic thought and suggestion, but basically telepathy varies as to depth of thought and intricacy of thought. Are you sent a mere suggestion which you would like to do anyway (go smoke), or are you receiving some convoluted, complex cosmic concept?
Certainly an individual could receive an easy suggestion one day and then receive a deep concept the next; in other words, there is no difference in the skills of the receiver that we know of. Those who receive completed "complex concepts" are no more skilled or advanced than someone who is told to go outside for a smoke. If there is a scientific process in quantumly entangling two individuals, then perhaps one individual has more ability to receive deep thoughts after that process is performed. But who really knows? This entire subject is alien (no pun), to humans at this point!
Can telepathy be misused? Of course! The prospects of the misuse of telepathy are mind boggling and a separate subject for conjecture, but consider this: Telepathic UFO occupants could get rid of all humanity by sending the mass thought to commit suicide, perhaps directing thousands or millions to walk into the ocean or jump off a steep ledge. They could take over our planet one way or the other through telepathy so easily, if they are indeed extremely telepathic. They have not done this.
Might they be telepathic in nature because their vocal cords atrophied millions of years ago?  They could be some form of the human race originally who became telepathic over the millennia because of computer enhancement or without computer enhancement. Or perhaps they are an alien species who never developed vocal cords, thus are natural telepaths.
Finally, how do you know if you have received a telepathic thought? It likely does not appear as an actual voice in your head but merely a fascinating thought which manifests like all the other thoughts in your mind – except–?? To my knowledge, there really is no way to know. Telepathic thoughts may be abundantly swimming through the human morphic field or telepathy might be reserved for specific purposes. Maybe a telepathic being is not allowed to just send thoughts without good reason; this ability should bring with it, a huge responsibility to only use it well and wisely.
Aliens blamed for spate of cow mutilations in Argentina after 'strange lights' seen in sky
© Express, UK
Sean Martin
Express, UK
Local farmers in Santa Fe, north-eastern Argentina, have seen seven cows killed and mutilated with some believing extraterrestrials are killing the bovine animals.
Witnesses claim the cows look as if they were attacked with lasers, while strange markings were also found on their tongues and genitals.
Farmers in the region are blaming aliens or the mythical chupacabra – a myth from South America which supposedly feeds on animals' blood.
Norberto Bieri, owner of one of the seven cows, told local media: "They did not have tongues or flesh around the jaw, but they did not take any animals away or remove their bones.
"It seems as though the clean incisions were done with a laser as there is no trace of a knife being used. The cows did not have signs of blood and nothing had appeared to eat them.
"Some people say chupacabra or aliens did it. Others believe it was rodents.
"The truth is, the cows are dead and there are no answers as to why."
Mr Bieri added that there had been other recent cases of mutilated animals.
Samples were sent to the lab to be analysed and results indicated the cattle had not been shot or poisoned, adding more mystery to the case.
However, experts offered their, more logical, opinion.
A rat-like animal called hocicudo is endemic to South America and some believe they are responsible.
The day that the Aliens attacked Tuscany, in Italy
During the autumn of 1954 throughout western Europe several surprising events occurred of encounters with strange flying objects (UFOs) and encounters with extraterrestrial beings, according to the sources of the testimonies and victims that relate their experiences, most were peasants and villagers. Let's talk about a case that happened in a small town in Tuscany, Italy.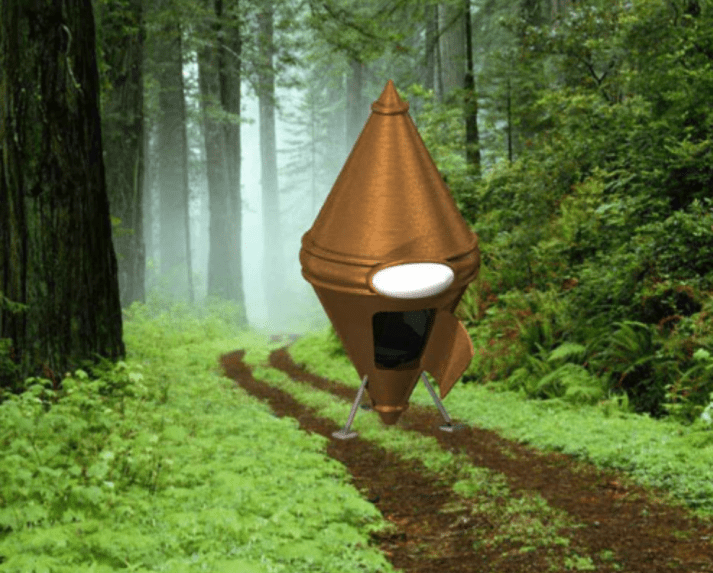 Rosa Lotti Dainelli was a forty-year-old peasant, mother of four children, owner of a farm called "La Collina" in the locality Cennina7 (a small town near Biicine, in the province of Arezzo, Italy).
Monday, November 1, 1954. That morning Rosa was going to go as usual to the church in her town where she used to go, that day she had got up very early at half past six in the morning as the feast of all was celebrated Saints and had several important things to do. Rosa that day decided to release a new dress that she had kept for the occasion and some new shoes.
He left his house with a large bouquet of flowers that he had taken the day before with the intention of going to church after going to the cemetery to visit his deceased relatives as usual on that day. He took a small path that would take her first to the place where he was going. Halfway through he realized that there was a lot of humidity at night because of the abundant morning dew, he stopped to take off his shoes so they would not get wet holding them with his left hand since in the other hand he was carrying the bouquet of flowers and he continued the path barefoot on the path.
Rosa went somewhat distracted looking at the flowers she was carrying and went through a small forest, when she suddenly stopped and was surprised to see a strange device parked on the ground by the side of the road.
Rosa for a few seconds remained motionless and not knowing how to act but minutes later decided to continue moving slowly down the path of the forest. The farmer, without being able to look away from the apparatus, was curiously observing this strange object as she continued to walk, an object which has the shape of two cones, was of a brilliant brown metallic color with golden reflections.
Afraid of this, she decided to approach very slowly to observe more details of that machine. Approached about 5 meters away from the device, Rosa from there could already appreciate the dimensions of that object, which had a height of more than 2.5 meters by almost 2 meters in diameter and a little further down there was a small door which was totally open.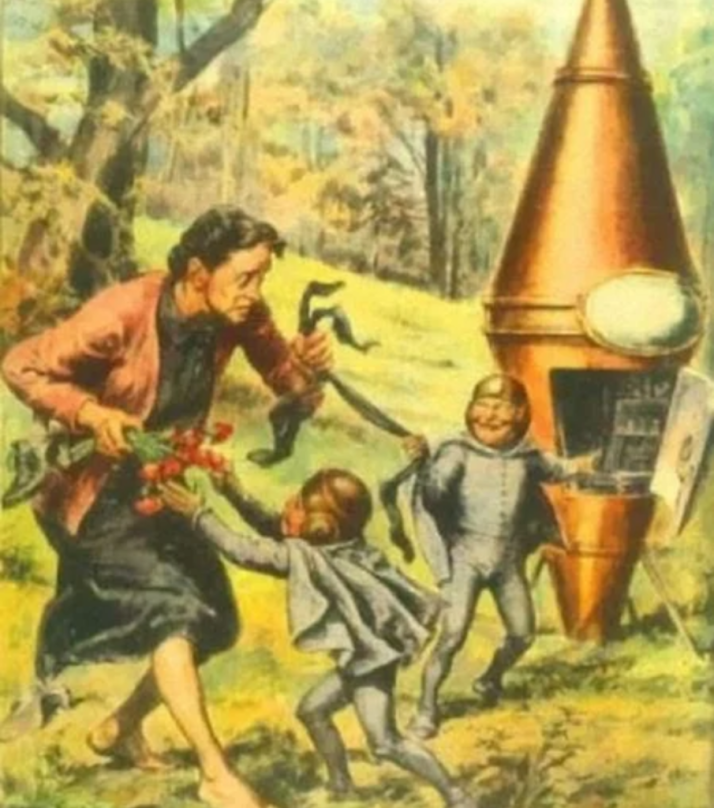 Curiosity overcame him at that moment, making him approach the opening, where he could see two small armchairs facing what looked like a very illuminated board. A kind of broad band surrounded the junction of the cones and above this band were observed several small windows similar to blinking lights similar to "portholes". Suddenly Rosa heard a noise among the branches and in the distance, a few meters away, she saw two little beings appear among the bushes, which caused the woman to be petrified by such an apparition.
They were beings that seemed very smiling, gesticulating, without giving any sign of being a threat to her. In fact it seemed as if they were trying to make themselves understood and wanted to start a conversation with her, they had small and very dark eyes (according to Rosa), they were short (they would not be more than one meter tall), they looked very Similar to humans, their faces were almost perfect, although their trail was rather aged by the wrinkled skin.
The beings wore a bluish-gray one-piece suit with a cape on their backs and over their heads they wore a kind of helmet. They approached her slowly with a funny and friendly face speaking loud and sharp in a strange language. Rosa at that moment remained motionless, so the beings took the opportunity to jump on him and snatch the bouquet and his shoes. At that moment, Rosa proved that despite the size, these beings had great strength.
She tried to recover her belongings, but the one who was closest to her insisted on taking everything she had in her hands. Then Rosa already panicked for fear of being harmed and ran to the trees, hiding as she could in the forest.
When he left, he saw how these creatures stayed in custody and with great curiosity inspected the bouquet of flowers, took some objects that had been left on the ground and then approached the ship, deposited everything inside and then returned to the place and began to search the surroundings are supposed to be looking for Rosa who already died of fear, continued crawling among the grass and thus managed to get away more than 50 m. Once refugee, from that place he observed how those beings, climbed the small ship minutes later and closed the door of the ship. Soon after, with a great sonic vibration and releasing a lot of smoke and flames, that device began to rise and in an instant disappeared into the sky ..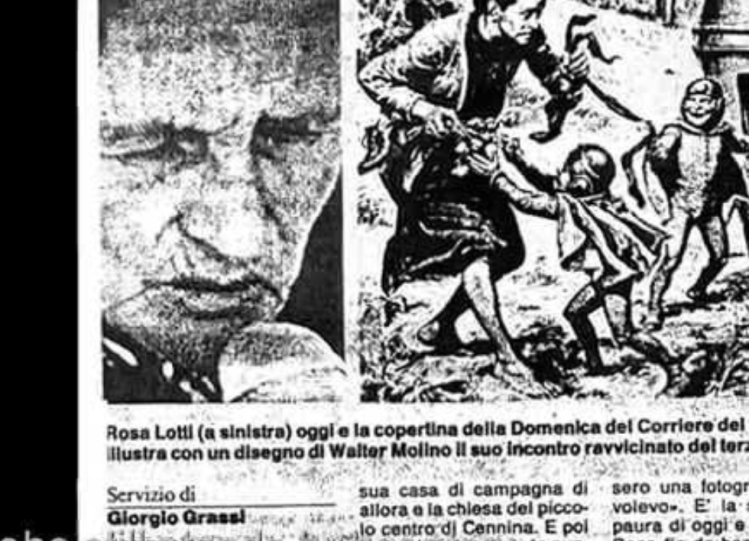 Life on Enceladus? complex organic molecules on Saturn's satellite?
From stories about the inhabitants of the Moon to the costly research programs set up by space agencies, identifying the presence of life on another heavenly body seems to be an endless concern for mankind. As the margins of the known Universe are still moving away from the Earth, the possibility of discovering living beings on another planet is increasing even though we have no certainty, but only hope and probability.
For the moment, we are grateful for these probabilities, awaiting the day that it will undoubtedly confirm that we and our planet do not represent the only life-assembling complex of this huge universe.
But to host life, a heavenly body must give it certain conditions. (Here, it seems that we still need to expand our ideas a little, because we tend to believe that any living thing on another planet must be made up just like the living things on Earth, not necessarily like them, but be the same at the molecular level.
If one of the great scientific discoveries of recent years – bacteria capable of using arsenic instead of phosphorus – is confirmed – that means that our perspective on what is living must change. And then, it is possible that some planets with attributes that today seem inappropriate to become more interesting in the future in the light of our changed concepts.)
But, by the way, all people, at all times, think about the ideas of their time, so let us also thank ourselves to the contemporary ideas regarding what life means and the conditions that a planet must fulfill for that the miracle of life should appear there and perpetuate.
Extraterrestrial life could develop into Enceladus's hidden oceans
The first observations of Saturn's satellite were made in 2005 when hydrothermal jets were detected for the first time. Now, there may be the answer that raises the chances of alien life.
"From where Enceladus has the energy to support the phenomenon has always been a mystery to us,"said astrobiologist Gael Choblet of Nantes University in France.
"I have now considered with greater detail how the structure and composition of the solid core can play a key role in generating the necessary energy,"he added.
It is estimated that the ice thickness is 25 kilometers, but only one kilometer around the southern polar region, where these hydrothermal phenomena occur.
The small pieces of minerals detected in jets suggest that salts and silica dust are formed by the interaction of water that can reach up to 90 degrees Celsius with the rocks of the Enceladus satellite. For this interaction to take place, there must be space in the core for water to coexist, so the core must be porous.
"Whatever the mineralogical composition of the core, it must contain water," Choblet explained, "maybe 20-30% water."
In the new simulations, the team found that the tides generated by the orbit around Saturn can heat the water inside Enceladus due to the frictional force produced as the liquid circulates through rock fragments.
When the water rises in temperature (reaching up to 90 degrees in the orange sections in the image below), it rises through the porous core through the ocean to the surface in the form of jets.
Previous studies state that this heat would have been from radioactive material, but if that was the case, the process would have provided the heat needed to emerge the jets for several million years, so somehow the radioactive material would have appeared recently on Enceladus.
The new theory offers a more plausible explanation, with a phenomenon that takes place over a longer period.
What's most interesting is that the warm water, the long time and the chemical composition found on Enceladus are key elements in the emergence of life.
Thus, this study can be the basis for the search for extraterrestrial life.
Scientists have found evidence of complex organic molecules on Saturn's satellite
Using mass spectrometry data collected by NASA's Cassini probe, scientists have found that large organic carbon molecules are ejected through the cracks on the frozen surface of Enceladus, one of the many natural satellites of the giant gas giant, Saturn.
Researchers at the Southwest Research Institute, who discovered the presence of these molecules, believe that the chemical reactions between the solid core of the satellite and the warm water in the ocean under ice are responsible for these complex compounds, Phys.
"ONCE AGAIN, WE ARE AMAZED BY ENCELADUS. PREVIOUSLY, WE IDENTIFIED ONLY THE SIMPLEST ORGANIC MOLECULES CONTAINING A FEW CARBON ATOMS, BUT EVEN THOSE WERE VERY INTERESTING, "SAID CHRISTOPHER GLEIN, A SCHOLAR AND CO-AUTHOR OF THE WORK RECENTLY PUBLISHED IN NATURE.

"NOW WE HAVE FOUND ORGANIC MOLECULES WITH MASSES OF OVER 200 ATOMIC MASS UNITS. THESE ARE TEN TIMES HEAVIER THAN METHANE. WITH COMPLEX MOLECULES EMANATING FROM THE LIQUID WATER OF THE OCEAN, THIS SATELLITE IS THE ONLY BODY BESIDES THE EARTH THAT SIMULTANEOUSLY MEETS ALL THE NECESSITIES OF LIFE AS WE KNOW IT. "

"EVEN AFTER ITS END, CASSINI CONTINUES TO TEACH US ABOUT ENCELADUS'S POTENTIAL IN ASTROBIOLOGY," GLEIN ADDED.
During the flight, near Enceladus, on October 28, 2015, with the help of the INMS (Neutral Mass Spectrometer) instrument, molecular hydrogen could be detected when the ship passed through a jet.
Previous studies have already shown that the satellite has an ocean under the ice layer and above the solid core. The molecular hydrogen jet is probably formed by the geochemical reactions between water and rocks in hydrothermal environments.
"HYDROGEN PROVIDES A SOURCE OF CHEMICAL ENERGY THAT SUPPORTS MICROBES LIVING IN THE EARTH'S OCEANS NEAR HYDROTHERMAL SPRINGS," SAID HUNTER WAITE, THE SCIENTIST WHO HEADS THE TEAM AT INMS AND CO-AUTHOR OF THE NEW STUDY. "ONCE YOU HAVE IDENTIFIED A POTENTIAL SOURCE OF FOOD FOR MICROBES, THE NEXT QUESTION IS ABOUT THE NATURE OF COMPLEX ORGANIC COMPOUNDS IN THE OCEAN. THIS WORK IS THE FIRST STEP IN THAT UNDERSTANDING OF THE COMPLEXITY OF ORGANIC CHEMISTRY BEYOND OUR EXPECTATIONS. "

"ALSO, THE FINDINGS IN THIS STUDY HAVE IMPORTANT SIGNIFICANCE FOR EXPLORATIONS OF THE NEXT GENERATION," GLEIN ADDED. "A FUTURE SHIP CAN FLY THROUGH THE JET TO ANALYZE THESE COMPLEX ORGANIC MOLECULES USING A HIGH-RESOLUTION MASS SPECTROMETER TO HELP US DETERMINE EXACTLY HOW TO FORM THEM."
Year after year, benefiting from advances in exploration technology, astronomers discover more planets that seem to be "good for life." Let us understand: we do not necessarily speak of "good for us", that is, good to live on, but some that offer similar conditions – identical – to those on Earth, conditions that could allow them to live there beings, adapted to those conditions.
And on Earth there are many places where people do not live, but they live enough life forms, some with a very original metabolism. And some creatures on the Earth can withstand almost unimaginable harsh conditions.
If experts will persuade those who decide the money destination to provide funds for the preparation of such a mission, Enceladus could become the next star on alien life searches.
He deserves it, say "his admirers", because he has a lot to offer – he has qualities that can feed hope much more than the planet Mars, the one that "consumes" currently the funds for the research of the profile.
Well, what can I say? Let's be healthy to take the time when the world explodes the news that the space mission to Enceladus has found signs of biological activity there, undeniable evidence that there is what we have been looking for decades – life-forms living on another heavenly body from our solar system.
References: