Hennessey Performance, a car company known for its incredibly fast vehicles, has now built the world's fastest muscle car.
The company's newest muscle car is called The "Exorcist" and it is a Camaro that has been upgraded to a stunning 1,000 horsepower.
The vehicle tops out at a shocking max speed of 217 mph and can reach speeds of 60 mph in less than 3 seconds, and can clear a quarter mile of track in less than 10 seconds.
Hennessey mechanics were able to create a vehicle this powerful by using a high-flow supercharger, custom camshaft, ported cylinder heads, upgraded valvetrain with new springs, lifters, pushrods and valves, a high-flow intercooler and long-tube stainless steel exhaust headers with high-flow catalytic converters, according to Maxim.
The speed record was set last year by the Hennessey Excorist on the test track at the Continental Tire Proving Grounds in Uvalde, Texas.
The data was confirmed using the speed from the finish on the 8.5 mile track using a Racelogic Video VBox GPS data logging system.
Hennessey president John Hennessey said that that they were really trying to beat their own record, that of the Corvette ZR1.
Hennessey's Exorcist tops out at a max speed of 217 mph and can reach speeds of 60 mph in less than 3 seconds.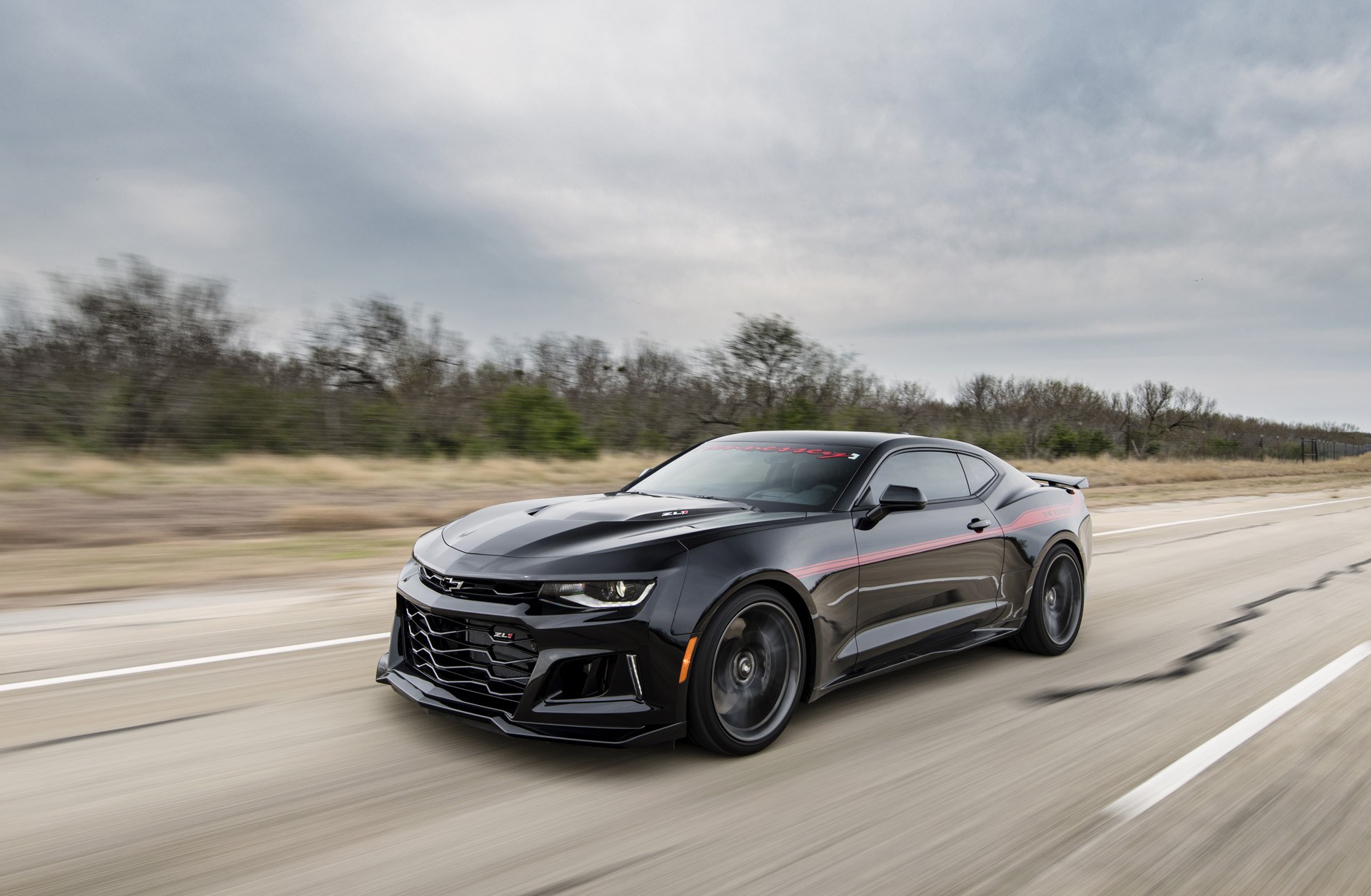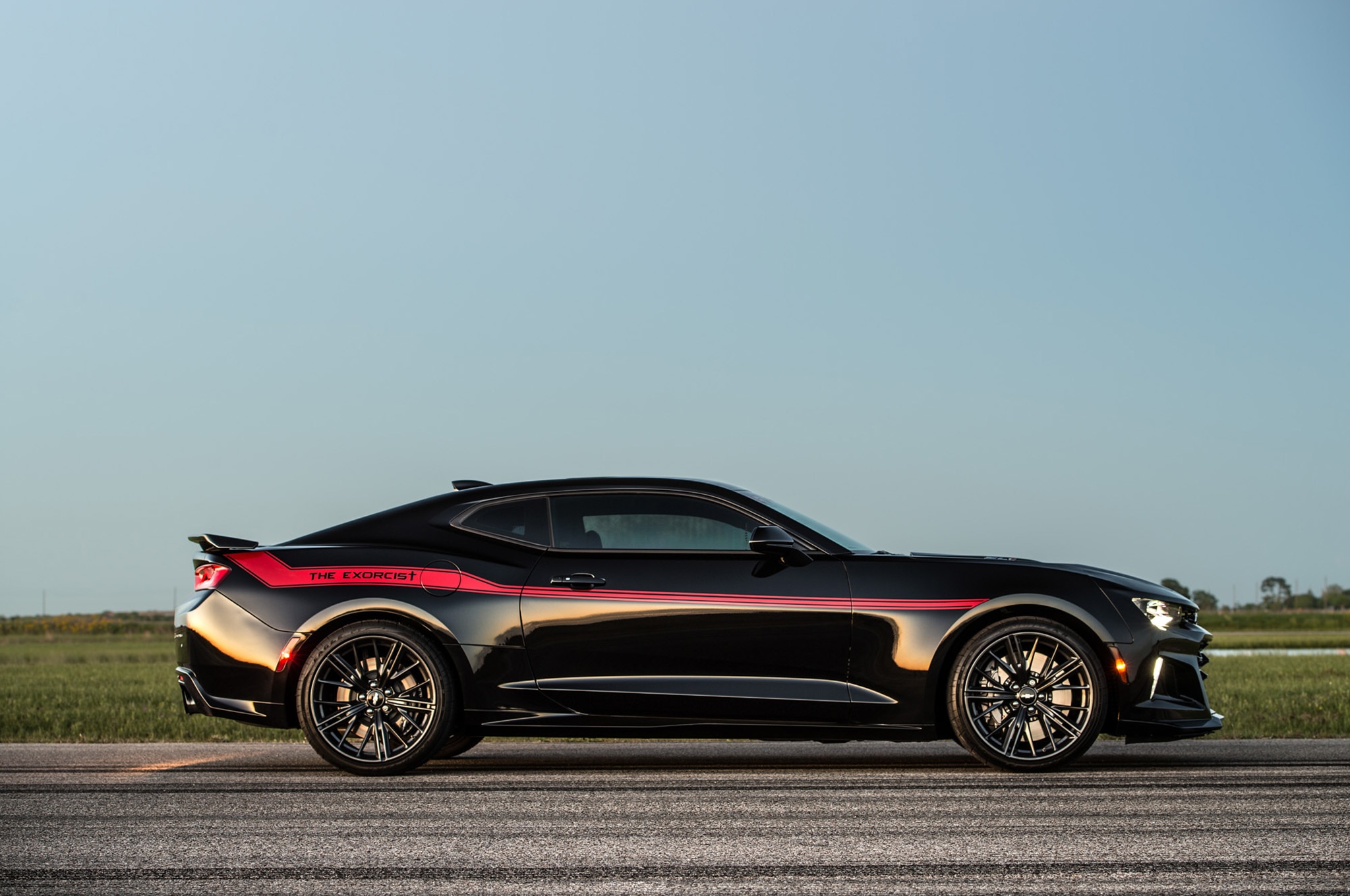 "We wanted to see if the Exorcist could exceed the top speed of the new ZR1 Corvette, which is 213 mph. Mission accomplished. This is just the first high-performance validation test for the Exorcist. We also plan to test our car's 0-60 mph and quarter-mile performance at the drag strip as well as handling and braking on a road course," Hennessey said.
"The Exorcist offers supercar performance while still retaining everything that you would want in a daily driver with a backseat and room for golf clubs in the trunk. It's kind of like having a new ZR1 Corvette with room for 4 people, but faster," he added.
The Exorcist has also exceeded the top speeds of the McLaren 720S, Porsche 911 GT2 RS, Ferrari 812 Superfast, and Lamborghini Huracan.
Hennessey has a tradition of building some of the fastest cars in the world.
The company built its reputation with cars like the Venom F5 and trucks like the VelociRaptor, as well as more sporty models like the Corvette ZR1 and the Exorcist.
The Exorcist comes with a price tag of $119,950.
According to the Hennessey website:
"John Hennessey and the Hennessey Performance Engineering (HPE) team have been making fast cars go faster since 1991. Over the last 27 years, John and his team have built more than 10,000 vehicles with more than 400 of those in 2017 alone. HPE operates a 36,000-square foot workshop and showroom facility situated on 143 acres near Sealy, Texas (about 45 minutes west of Houston). HPE offers a wide variety of dyno-proven, track tested high-performance engine upgrade packages & parts for a variety of modern performance vehicles. Hennessey Performance is also the only tuner in North America that operates its own test track-the Lonestar Motorsports park 1/4-mile dragstrip facility which is adjacent to the HPE workshop & showroom."
POWER:
1000 bhp @ 6,500 rpm
883 lb-ft torque @ 4,500 rpm
PERFORMANCE;
0-60 mph: < 3.0 sec.
1/4 mile: < 10.0 sec.
Top speed: 217 mph
INCLUDES:
High-flow Supercharger System
Custom HPE Camshaft
Ported Cylinder Heads
Upgraded Valve Springs and Retainers
Upgraded Intake valves & Exhaust Valves
Upgraded Lifters and Pushrods
High Flow Intercooling System
Intercooler Heat Exchanger Upgrade
Long-tube Stainless Steel Headers
Stainless Steel Midpipes
High Flow Catalytic Converters
All Necessary Gaskets & Fluids
Professional Installation
HPE Engine Management Calibration
Dyno Tuning & Road Testing
Serial-Numbered Dash & Engine Plaques
Hennessey Exterior Badging
Hennessey Premium Floormats
OPTIONAL UPGRADES
20 inch Rear Drag Radial Tires
Hennessey H10 Monoblock Wheel Upgrade
Automatic Transmission Upgrade
Track Tool Kit
TOTAL PRICE:
$119,950
THE EXORCIST 2019 ZL1 1LE Customer Testimonial