Young Blood Reverses the Signs of Aging
The world has long been fascinated with the idea that the blood of young people could have rejuvenating qualities, like a glorious fountain of youth, only horrifying. Turns out the world is sort of right.
A new study by researchers at Stanford University shows that injections of young blood can reverse the signs of aging in mice. The experiment is as simple as it sounds. Give an old mouse a syringe full of blood from a young mouse, and run some tests. Leader of the research team Saul Villeda and his team found that the boost of youth improved learning and memory in the older mice. Villeda shared his research with the Society for Neuroscience conference in New Orleans on Wednesday and did not understate its implications for conditions that are caused by deteriorating brain function. "I think any sort of disease that has that component, there is a chance this might help," he said. "What I am thinking is if we can address it earlier, when our body still has the control to prevent this from happening, then we might not have to cure Alzheimer's, we might just be able to stop it."
This is crazy, because in the past, crazy people have latched on to the idea that young blood could get them closer to immortality. Kim Jong-il, for example, used to "inject himself with blood from healthy young virgins in a bid to slow the aging process," according to The Guardian. Quite remarkably, it now appears that Kim Jong-ilwasn't aggressive enough. Villeda actually supplied a group of 18-month-old (read: very old) mice with eight transfusions over the course of a month — that amounts to about 5 percent of a mouse's blood supply — and found that the brain connections in the older mice had increased by 20 percent after the treatment. "One of the main things that changes with ageing are these connections, there are a lot less of them as we get older," said Villeda. "That is thought to underlie memory impairment — if you have less connections, neurons aren't communicating, all of a sudden you have [problems] in learning and memory."
10 shocking superpowers in humans
We do not know how to become invisible or fly without aids ,but still people are not so simple ,as it seems. Some of us are granted the amazing properties ,which could be described as superhuman, though not so obvious, like mutants from 'X-Men."
As expected, any such ability can be either a gift or a curse. Some of them can be ignored for many years, and they manifest themselves in different ways. Here are the top ten most shocking human abilities. Who knows, maybe you have one of them?
Super taste is one of the most widespread abilities, which to some extent possesses about a quarter of all people. Thanks to him, the taste of food becomes brighter several times, making sweet things sweeter, bitter – bitter , etc. In general, the super taste is manifested in women and residents of Asia, Africa and South America.
Golden Blood is Rh zero blood, the rarest in the world. Over the past half century, only forty people have been found with this type of blood, at the moment there are only nine alive. Rh-zero is suitable for absolutely everyone, since it does not contain any antigens in the Rh system, but its carriers can be saved only by the same "brother in golden blood".
Supervision. Tetrachromacy is a rare combination of genes that allows only 2-3% of women around the world to see up to 100 million colors, when ordinary people see only 1 million.Primates, including humans, are trichromats, born with three types of cones in the eye (types are responsible for red , green and blue, RGB). Tetrachromats are born with four types of cones, which provide them with such amazing vision.
Hyperelastic skin. Ehlers-Danlos syndrome is a genetic disorder of the connective tissue that affects the joints and skin. Despite a number of serious complications, people with this ailment are able to painlessly bend their limbs at any angle. The image of the Joker in Christopher Nolan's The Dark Knight is based in part on this syndrome.
Echolocation is one of the abilities that any person possesses to one degree or another. Blind people learn to use it to perfection, and this is largely the basis of the superhero Daredevil. You can test your skill by standing with your eyes closed in the center of the room and loudly clicking your tongue in different directions. If you are a master of echolocation, you can determine the distance to any object.
Eternal youth sounds much better than it really is. A mysterious illness dubbed "Syndrome X" prevents a person from any sign of growing up. A famous example is Brooke Megan Greenberg, who lived to be 20 years old and at the same time physically and mentally remained at the level of a two-year-old. There are only three known cases of this disease.
The insensitivity to pain exhibited by the superhero Kick-Ass is a real disease that prevents the body from feeling pain, heat, or cold. The ability is quite heroic, but thanks to it, a person can easily harm himself without realizing it and is forced to live very carefully.
Indestructible bones. There is an incredibly rare mutation called LRP5 that rewards a tiny percentage of humans with indestructible bones. It was first discovered when, during a terrible accident, one of the participants which was not injured at all. The disadvantages of LRP5 include an increased chance of getting liver disease.
Super Strength is one of the most popular abilities among superheroes, but one of the rarest in the real world. Mutations associated with a lack of myostatin protein lead to a significant increase in muscle mass in a person with no growth of adipose tissue. There are only two known cases of such defects among all people, and in one of them a two-year-old child has the body and strength of a bodybuilder.
Absolute Immunity is one of the most useful special abilities, providing protection against most deadly ailments, including cancer and heart disease. This mutation has no drawbacks, not counting the fact that an entire army of scientists is hunting for every person with absolute immunity.
Londoners ordered to pack their emergency backpacks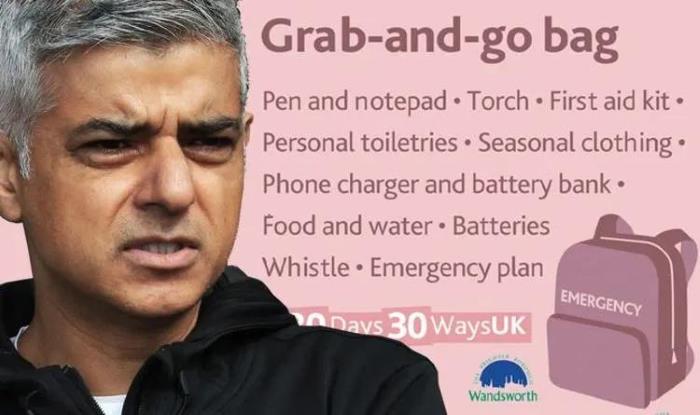 The Wandsworth Council of South London tweeted an emergency warning urging people to plan for an emergency and pack useful items such as a flashlight, first aid kit, phone charger and whistle in their backpack. In comments to the news, the authorities said that the bag will come in handy "if you need to immediately run out of the house, not having time to pack."
Hundreds of social media users immediately began to comment on this post. Many of them said they were worried about the warning, while others asked the question: why do we need to urgently run from home during the coronavirus pandemic?
One person writes, "Wow. What did I miss? Have we faced an imminent emergency evacuation due to a hurricane / flood / fire / meteorite strike / other? Or did you just decide to scare everyone for no apparent reason? "
Another person wrote that before making such announcements, the city council had to "take into account the concern that such an alert might cause in people." The third person writes: "I am not very worried, it is useless, nevertheless, after reading the message from the city council, I decided that something happened." Other Londoners criticized the wording and nature of the emergency warning, with one woman claiming she was "fed up with all the panics" that occur during the COVID-19 epidemic. She said the advice should have thought about people who experienced increased levels of anxiety or mental health problems during isolation before posting such a post.
Labor MP Tooting Rosena Allin-Khan agreed that the authorities did not offer any context for the message:
"We are working with our emergency planning team to send out daily tweets telling people how to prepare for different situations."
However, due to a flaw in the city council or for some other reason, a certain panic arose in the city. Londoners were already worried about the news that new restrictions will be announced this week in connection with the pandemic, and suddenly against this backdrop, the city council publishes this: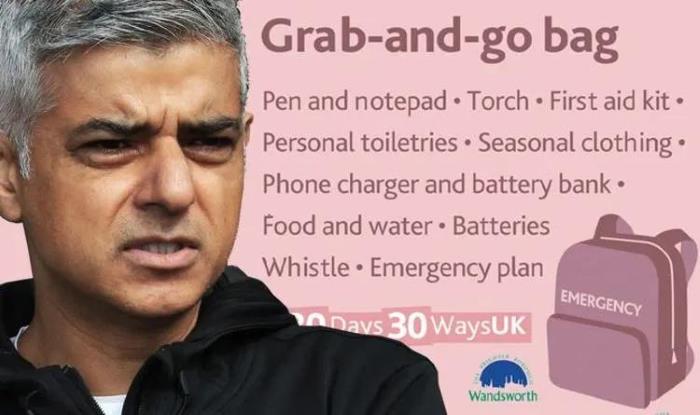 London Mayor Sadiq Khan, commenting on the situation in front of Sky News on Monday night, said that he worked with local council leaders and public health experts to develop a plan to contain the spread of the coronavirus in the capital. According to him, the plan includes additional rules "to slow down the spread of the virus." He also noted that he hopes the Prime Minister will invite him to an emergency COBRA meeting on Tuesday to "discuss in an adult way additional measures we can take to slow the spread of COVID-19."
Did Angels visit a farm in Slovenia after Jerusalem?
A few days ago, a UFO hovered over the city of Podkoren in Slovenia, the appearance of which was recorded on Google Earth maps. The famous Taiwanese ufologist Scott Waring suggested that it could be an angel, given its bright glow and peculiar shape.
On his YouTube channel, Waring posted a photo of an unidentified object that glowed very brightly. The ufologist examined a number of photographs in the same area at different times and made sure that there was nothing reflecting there, which means that it is quite possible that these were events of biblical significance.
The researcher stressed that the trees are not lit. Consequently, the object is well above them. Given the brightness of the glow, it is likely that we are talking not only about UFOs, but also about angels that can visit people living in this area.
He recalled that similar objects were recorded in Jerusalem above a stone dome. The Bible tells a similar story. The author emphasized that he is not a religious person, and the conducted research only confirms his theory.