You Will Want to Learn Lucid Dreaming After Reading This
So you know the psychological definition of lucid dreaming and how it's all supposed to work – but what do lucid dreams feel like?
Years ago, before I had my first lucid dream, I had a very specific idea about what a lucid dream would feel like. I thought it would be very intense and magical and perhaps a bit spooky. Turns out I was right on all fronts.
But there is a heck of a lot more about the sensation and perception of lucid dreams that I have learned about since then. While no two lucid dreams are the same (and while it's no substitute for experiencing a lucid dream first-hand) I have tried to define my own experience of a lucid dream for the uninitiated.
I've broken it down into physical, mental and emotional components:
The Physical Experience
Your physical experience is made up of sensory interpretations, like the feel of the ground underneath your feet, or the smell of the ocean. In waking life, this information is received via the five senses: sight, sound, touch, taste and smell. The stimulus is real and your brain interprets the data.
In dreams, this information is synthesized by the mind – from memory and imagination. And yet, when lucid, it can feel just as "real" and vivid as waking life. Sometimes that's very intense and pleasurable (which is why many beginners go in search of lucid dream sex) or sometimes it can be dulled down (when you lose lucidity).
Here are some examples of physical lucid dream experiences:
Eating in Lucid Dreams
It may be a cliche that women love chocolate – but it's a cliche for a reason.
Eating in Lucid Dreams. So naturally, I have eaten some truly delicious chocolate cake in my lucid dreams.
Imagine the smoothest, richest, creamiest chocolate cake in the world. It's perfection embodied in a dessert. Now intensify that experience and you're getting close to lucid dream cake…
When lucid eating, chewing and swallowing takes less time and it's all about the flavor and texture of the food. What's more, your taste buds never become accustomed to the flavor so each bite is like your first. And of course there's no need to feel guilty about consuming unnecessary calories.
While chocolate cake is right up there, you can of course eat anything imaginable in a lucid dream. It can be a favorite childhood meal or even something you've never tried before (would that taste be authentic?)
Remember that your expectation of it being totally delicious makes it so. Which means you won't get gristle in the world's best beef burger, nor a floppy bit of lettuce. Expectation is why eating in lucid dreams is so awesome.
Flying in Lucid Dreams
Aside from skydivers, base jumpers and other extremists of that ilk, most people have never experienced the physical sensation of flying freely. Yet the lucid dreaming mind simulates it in extraordinary physical detail.
Flying in Lucid Dreams. In my flying dreams, the sense of weightlessness, whooshing and wavering in the air is incredibly authentic (or at least how I imagine it to be). This awareness is critical to the experience, and your mind can even play tricks on you, like suddenly falling and simulating that stomach-dropping feeling.
Your dreaming mind may add more sensations such as feeling the wind in your hair, rain hammering on your skin, or the warmth of the sun on your face. If you have any doubts about your new skills, you may unexpectedly whack into a powerline mid-flight – which brings me to the subject of pain in lucid dreams…
Pain in Lucid Dreams
The lucid dream is co-created by two players: the unconscious dreaming mind (the one that loves surreal symbology) and the conscious self. In normal dreams, the unconscious has basically all control. In lucid dreams, the conscious self steps in and starts to tweak little things as it desires.
Both can technically create pain in lucid dreams, although it's most likely the unconscious mind that produces this experience. Pain is a result of pre-conceptions and established neural pathways: if you hit your thumb with a hammer, what do you expect? The brain simulates dream pain because this is its reality.
Soft Construction with Boiled Beans (Premonition of Civil War) by Salvador Dali. So, if you fall onto a bed of spikes in your lucid dream, you might just find out what it feels like to be impaled. But fear not – you can will the pain to stop instantly or even wake yourself up. And I'm sure it won't be a patch on the real life experience of being impaled.
When I've experienced pain in a lucid dream, it was very different from real pain. It was inconsistent with the cause, and stopped abruptly when the dream moved on. What's more, there was no psychological component, which can make real life pain so much worse.
I have also experienced choking, drowning and dying while in a lucid nightmare and my dream self automatically moved "out-of-body" where it was no longer painful and I could keep observing.
The Mental Experience
Now let's move to the cognitive experience of lucid dreams: how it feels to be aware, process information, recall memories and mentally control the dream.
Location Awareness in Lucid Dreams
In lucid dreams, your focus is expanded considerably compared to normal dreams, but some aspects are still very different from what you experience in waking life. Location awareness is one of them.
For example, sitting at my desk right now, I am aware of the room around me, the house beyond that, the garden, the village, the New Zealand landscape, and even a sense that I am on planet Earth. I know my location in the grand scheme of things and I know this is a solid, reliable construct.
Dream Awareness. But the lucid dream world is much more fluid. When lucid, I am most often in unfamiliar places which have no GeoTag. I accept this automatically, knowing that I can teleport to a new location any time. It's as if my brain has no intention of placing my location so instead focuses my awareness only in the immediate vicinity. The best way I can describe it is becoming absorbed in a video game or a movie and forgetting the "real world" exists beyond it.
Of course, with conscious effort, you can recall that your real body is lying in bed. Sometimes, however, such thinking only serves to wake you up prematurely.
But generally (for me, anyway) the default setting is to focus on the pretty colors in in front of my face right now. This is why it's a good reason to set up a lucid dream intention while awake, because it's hard for the conscious dreaming mind to imagine new places from scratch. If you have no pre-set intention, just allow the dream to take over and show you an unlimited amount of cool new stuff. This is where the best creativity arises anyway.
Memory in Lucid Dreams
Your memory works differently in the dream world. That's because large parts of your brain are inactive during sleep and it can be difficult to rouse them, even when you become conscious inside the dreamworld.
In normal dreams, you have little memory of your real life, and sometimes you even have false memories to make the dream scenario fit. Even the memory of the dream itself fails to lock into short term memory very accurately. In other words, your dreaming memory rather sucks.
Lucid dreams are only a notch or two above this. Waking memories can be hard to grasp while lucid, and the lucid dream must be recorded immediately upon waking or you risk losing the detail forever.
The moment I become lucid, I try to recall my lucid dream intention (my goal for the dream). Usually I'll set this the night before, when I'm going to bed, or earlier in the day during meditation. Sometimes I can't remember any particular intention, which is frustrating if I had a great one lined up, but I always have a backup plan to simply explore the local dreamscape, ask general probing questions of fellow dream figures, or let the dreaming mind take over.
Long term memory in lucid dreams is also off the radar. Like location awareness, unless you are specifically trying to access a piece of information, the awareness of past memories are simply absent – or out of focus. This is equally true of thinking about the future. My lucid dream self lives in the present moment and cares little for childhood memories or abstract intentions, unless I make deliberate attempts to focus on them.
Dream Control
Dream control is a cognitive aspect of lucid dreaming because it's all done through willpower and mental focus.
Contrary to popular belief, when you become lucid you don't automatically have total control over your dream environment. Lucid dreaming only means to have conscious self-awareness within the dream state. Sometimes this means controlling many aspects of it, sometimes just a few key expectations, and sometimes you may choose to relinquish all control altogether.
"The sailor does not control the sea," as lucid dream researcher Robert Waggoner puts it. You may navigate your ship (consciousness) through the ocean (the dream) but you do not have to consciously populate every dream scene with every leaf and blade of grass and wisp of cloud. The dream populates itself while we consciously frolic within it. Sometimes that means a bird flies of its own accord, or a dream figure behaves autonomously. It is all still classified as lucid dreaming.
Beginners often run into the trap of trying to control major features of the dream with only a partial sense of lucidity. This can be frustrating and disheartening. To overcome this obstacle, employ these tricks for increasing and prolonging your lucidity. Only then can you master full dream control (if you so choose).
When you do exert greater control over the dream, the world is your oyster. You can paint the sky with a sweep of your hand. You can burrow down into the ground and journey to the center of the Earth. You can fight zombies, become Iron Man, or even create an entirely new civilization. Absolutely anything is possible – unless you have a preconceived limiting belief about it.
Dream Control and Expectations. For instance, if I told you it was impossible to fly into the sun in a lucid dream (and you really believed me) and then attempted it, you'd probably hit some kind of psychological roadblock. Perhaps you'd melt and emerge in a new scene. Or perhaps you'd hit a wall like Truman Burbank when he reached the edge of his "world".
When it comes to dream control, your expectations are paramount. And if you have no conscious expectations of a certain event, your unconscious will fill them in for you, evolving the dream on your behalf.
The Emotional Experience
The intensity of feelings in lucid dreams can be the same, or more intense, as feelings in real life. The main difference you'll notice is that because you're having such a jolly wonderful time, the emotions are more along the lines of awe, ecstasy, excitement, lust, gratitude, love and all that other fluffy stuff.
Getting Too Excited
Emotions in Dreams. The big problem with lucid emotions is being overcome with excitement – especially the first few times you achieve lucidity. It's tempting to jump for joy, shout and tell everyone in your dream that you are in fact dreaming. This is undesirable because it vastly increases your changes of waking up. Besides, in my experience it's universally true that other dream characters really don't care that you've become lucid anyway. Go figure.
So in your early lucid dreams I recommend taking extra care to remain calm. You can do it. All it takes is the simple acknowledgement right now that you won't run off on like a raving lunatic.
Eventually you won't need to ground yourself like this and you can let your emotions run a bit more free. But until you've mastered that minimum level of focus required to keep the dream running, just tone down the jubilation.
Heightening The Intensity
Eventually you may start to look for a deeper meaning in your lucid dreams. Don't get me wrong; you'll still have plenty of ego-gratifying activities you want to do. But none of it will be too original or paradigm-shifting. That's when it's time to turn inwards.
One of the more profound applications of lucid dreaming is to communicate with the dream itself by asking questions. Simply stop what you're doing and address the dreamscape:
"How can I feel at total peace with myself?"
"How can I find true love?"
"What is the meaning of life?"
"Can you show me a totally original dream?"
Or if you're really bold: "What is my greatest fear?"
Then let the dream reveal itself.
When you probe your dream self you will very likely start to experience more intense emotions and take-home lessons in your lucid dreams, learning about the true nature of your basest self.
Signs that nature has rewarded you with clairvoyance
Many of us think that clairvoyants are some special people whom nature has endowed with supernatural powers. In fact, clairvoyance or the ability to read information through the senses is a talent that is inherent in many people. They just don't even suspect about it.
Each person has the innate ability to perceive information from the outside in a variety of ways. That is why children (and even animals) often understand and see what is hidden from our eyes. By adolescence, we gradually lose this gift. This is mainly due to the influence of society and the ridicule of friends who claim that excessive sensitivity is the lot of weaklings and dreamers. Often such people are even considered insane, because they prefer to simply forget about the innate gift.
The most famous way to see and understand more than the rest is clairvoyance. However, there are other ways of perceiving information, such as clairaudience (when you clearly hear what is hidden from others) or even clarity (when you know something for sure, although you cannot explain why). By the way, clairaudience is often combined with such a gift as clairvoyance.
How do you know if you are clairvoyant?
We suggest you familiarize yourself with the signs that somehow indicate that nature has rewarded you more than others. Or you managed to save this gift and didn't lose it as you grow older.
1. You are very susceptible to feelings.  The fact that other people do not even pay attention or pass by, disturbs and worries you. And – for a very long time it does not let go. You constantly mentally address this, scroll, ponder. Negative emotions just tear you apart, so often think through situations that others do not even think about.
2. You are very selective about who you spend time with, whom you let into your life. There are only a few friends and acquaintances, next to whom you feel comfortable, not squeezed out and exhausted.
3. You somehow in an unthinkable way instantly see and understand the root of the problems of other people. They often come to you for light in difficult situations and you are even called their personal psychotherapist. How do you succeed – you yourself do not know.
4. You are simply fascinated by various ancient and historical things, symbols. When you visit such places, you feel an incomprehensible connection and delight from this unity. Most likely, this is due to the fact that you feel different layers and energies that have been preserved on the territory of ancient civilizations and settlements.
5. You have an extraordinary ability to empathize, and to such an extent that you literally "get used to" the consciousness of other people. Often even those with whom you disagree or who have harmed you in the past. This helps not only to feel and understand, but also to be healed.
6. Despite the fact that there are not many really close people around you, you are a social "moth".  Every flower in the meadow and every person on the way are glad to see you. You fascinate everyone, everyone loves you, although you are not trying to please anyone. This is due to the fact that you intuitively understand what wave a person is tuning in to.
7. You have to struggle all your life with your emotions, which often cover you like an avalanche. Therefore, you had to learn not to let the feelings swallow you whole, which is often quite difficult.
8. You are very uncomfortable in places where there are too many people or things.  Therefore, you gravitate to open and free space. This is because you are very sensitive to a wide variety of vibrations (and negative ones as well), which means you suffer from bad energy.
9. You are not only a deeply sensitive person, but also a real thinker.  Whether you want it or not, but constantly wondering why certain things happen, and most importantly why.
10. You are probably using your clairaudience along with your clairvoyance: as soon as you catch some kind of obscure vibration of a person, place or phenomenon, you immediately turn your thinking on. Your goal is to understand what is really happening, to get to the bottom of the root causes.
Quantum theory of biocentrism: The soul returns to another universe after the death of the physical body
Quantum theory and biocentrism is a very interesting field of science. With its help it is possible to prove not only the controversial idea of ​​the existence of the soul, but also the relocation of consciousness to another place after the death of a person.
According to scientists, the structure of the Universe where we live, its laws and forces, constants, in fact, contains a fine-tuning for life. This implies the presence of intelligence of a previous meaning, in the sense that the "souls" of dead people live in the quantum dimension for an indefinitely long time.
Like all scientists curious in nature, Dr. Lanza became interested in physics, quantum mechanics, and astrophysics. An interesting mixture of interests gave rise to a new theory of biocentrism. According to today's popular hypothesis, life and consciousness are fundamental parts of the universe.
The book of the theory of biocentrism: "How life and consciousness are keys to understanding the nature of the Universe", published in the USA, has stirred up the topic of discussion "life after death". The author of the book, Dr. Robert Lanza, a respected scientist, says: life does not end after the death of the body, and eternity can go on.
Consciousness: Beyond Time and Space
Lanza is an expert in the field of regenerative medicine and the scientific director of Advanced Cell Technology Company. The scientist is well known in the field of stem cell research, including a number of successful experiments on the cloning of endangered rare species of animals.
Not so long ago, the professor turned to the theory of biocentrism, to the very idea that death simply does not exist. Death is an illusion that arises exclusively in the minds of people. It exists because people identify with their bodies, naively believing that consciousness also perishes with the deceased body.
In fact, consciousness exists outside the limits of time and space. Consciousness (the soul – as we are used to) can be located anywhere: both in the human body and outside the body. The theory is in good agreement with the basic tenets of quantum mechanics, according to which a certain particle can be present at any place and time. Any event can occur in several, or rather countless, options.
Robert Lanza believes that multiple universes can exist simultaneously. These worlds contain several ways of possible scenarios of what is happening. In one universe, the body may have died, in another it continues to exist, in the next, consciousness moves to the first universe, for example.
The foregoing suggests that a dead person, during the journey of the "soul" through the "tunnel", finds himself in the world where he once lived, and will now be alive again. And so on through the worlds, up to infinity. So death in one world means birth in another, as, incidentally, people believed before the theory of biocentrism.
Multiple Worlds. Parallel universes
The hope of continuing life in parallel worlds, and even with full "awareness" is an extremely contradictory idea, but it has many involuntary supporters – not only "mere mortals" want to live forever, but also some venerable scientists. Physicists and astrophysicists tend to agree with the existence of parallel worlds, suggesting the possibility of multiple universes, known as multiverse theories.
Science fiction writer Herbert Wells, revealed to society a wonderful concept of life in the story "The Door in the Wall". Hugh Everett supported the idea in his thesis at Princeton University. It is basically said that at any given point in time, the universe is divided into countless similar options. And already at the next moment, the "newborn" universes multiply in this way.
For example, you can be present in some worlds at the same time: in one reading this article you consider the idea complete stupidity, and in the other you readily support the theory of parallel worlds! – Really great? Although according to another theory, the inhabitants of parallel universes will never meet, which of course is depressing.
The initial factor for creating multiplying worlds is our own actions, Everett explained. When we make a certain choice, one universe instantly breaks up into two different versions.
In 1980, Andrei Linde, then a scientist at the Lebedev Physical Institute in Russia, developed the theory of multiple universes (now a professor at Stanford University). According to Linde:
Space consists of many spheres that form new spheres, and those, in turn, form spheres in even greater numbers, and so on to infinity! In the universe, they are separated from each other, and do not know about the existence of each other. But they are parts of one physical universe.
It is an amazing fact that our Universe is not the only one confirmed by data obtained from the Planck space telescope. Using the data, scientists created an accurate map of the microwave background, observing the so-called "relict radiation" left over from the moment our Universe appeared. They also found that the Universe has many anomalies, including those represented by black holes and wide gaps in space.
Theoretical physicist Laura Mersini of the University of North Carolina claims that microwave anomalies exist due to the fact that our Universe is influenced by neighboring universes. Both holes and gaps are a direct result of contact with a number of existing worlds.
Quantum worlds
Thus, evaluating all of the above, an understanding comes that there is an abundance of places or other universes where our soul can settle after the death of the body, in accordance with the theory of neo-biocentrism. But does the soul really exist? After all, all these theories border on a miracle, the true magic of the Creator of the worlds.
Professor Hameroff of Arizona State University has no doubt about the existence of an eternal soul. Last year, he announced evidence that consciousness did not die after the death of the physical body.
According to Hameroff, the human brain is an ideal quantum computer, and the soul / consciousness is information stored on a quantum level. After the death of the body, quantum information migrates to the Universe, where the soul exists indefinitely. In turn, Lanza proves that the soul migrates to another universe. This is the main difference in theories, similar in claim to eternal life.
Roger Penrose, a well-known British physicist and mathematician at Oxford, supports this theory and claims to have found traces of contact with other universes. Together, scientists are developing a quantum theory to explain the phenomenon of consciousness.
They believe that they have found carriers of consciousness, elements that accumulate information throughout life. These elements are located inside neuronal microtubules, which were previously assigned the role of a transport line inside a living cell. Based on their structure, microtubules are best suited to work as carriers of quantum properties within the brain, scientists say.
A "vault" is capable of holding a quantum state for a long time, that is, microtubular structures can function as elements of a quantum computer. And accordingly, after the death of a person, the information does not disappear, but for nothing that, being in a quantum state, "flows" into the universe.
The further fate of the "soul" according to one version lives in this state forever, exploring the environment, or again goes to the world of the living, according to another theory.
Can I stop seeing nightmares?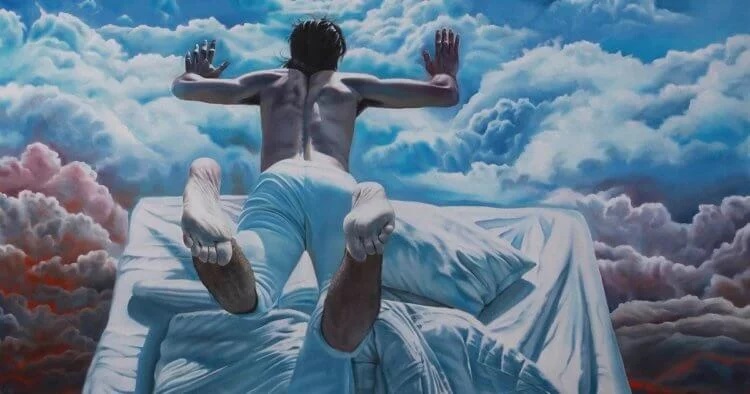 Waking up in the middle of the night from nightmare episodes, the plot of which would be envied by the best screenwriters and writers in the style of horror, we are relieved to realize that what was seen was just a dream.
Nevertheless, the body needs time in order for the heart rate to normalize, and the whole body to release a trembling numbness, sometimes reaching sleep paralysis. Considering how frightening and unpleasant nightmares can be, experts are interested in the possibility of preventing them, including a complete "shutdown". Despite the fact that not much research has been carried out in this area, scientists suggest that people who know the techniques of lucid dreams can answer this question.
Why do we see nightmares?
Experts are convinced that nightmares are part of human experience and represent some kind of interpretation of experienced stress and psychological stress, even though in most cases children from 7 to 10 years are exposed to it. Doctors do not consider rare nightmares a pathology, but if disturbing dreams happen too often, they can significantly affect the upcoming day and the life of a person as a whole. Frequent nightmares can be a symptom of a psychological disorder that could be caused by extreme stress, trauma or certain types of drugs.
Despite previous sleep studies, nightmares still remain only partially understood. At the moment, it is known that often nightmares are dreams of REM sleep phase or in the so-called REM phase, which is characterized by rapid eye movement and increased brain activity. It was found that at the time when a person is in the phase of REM sleep, his brain is almost as active as in the wakeful phase.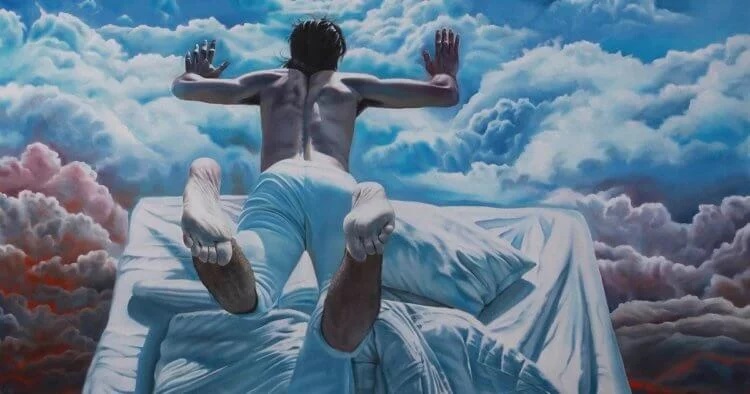 Can nightmares be prevented?
According to an article published on the portal livescience.com, Japanese scientists have confirmed the existence of conscious dreaming and continue to conduct research on their study. For a lucid dream, it is customary to consider those dreams in which a person is fully aware of his condition and can even, to some extent, control the content of night vision, as well as leave it. Experts attribute "lucid dreaming" to a borderline state that lies between the REM and Wake phase.
Despite the fact that medical practice for the development of conscious consciousness is not yet used by doctors, some experts have already developed several methods for their development. For example, research results published in 2019 in the journal Frontiers in Psychology confirm the positive consequences for people suffering from constant nightmares after applying such an unusual therapy in a dream.
According to one of the methods, a person suffering from nightmares needs to set an alarm 30 minutes earlier than he usually wakes up, conduct his daily morning routines, and then go to bed again. According to experts, an awakening and a break between sleep, can help the human brain go to the intermediate stage between the phase of REM sleep and wakefulness.
According to experts, it is the intermediate phase that makes it possible to control a dream, and subsequently prevent nightmares, since brain activity in this phase of sleep allows a person to distinguish reality from dreams. Experts also note that lucid dreaming is only one of the methods to prevent nightmares, although they do not give guarantees of their complete deliverance.