Yes – You are what you eat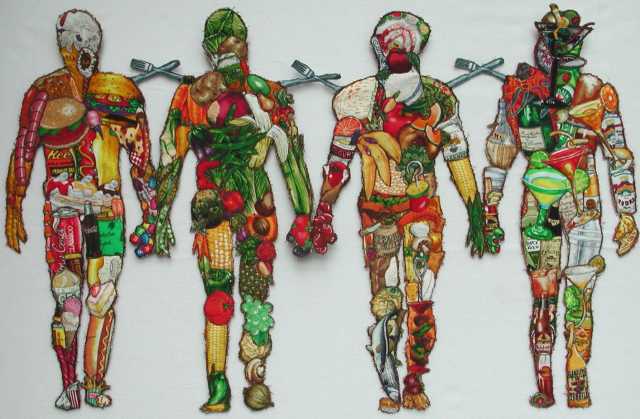 First of all, let me say here that we are not offering medical advice. The information here is simply our opinion, based on our own research and experience.
If you are wondering how it has been so easy for TPTB to have turned the overwhelming majority of American population into sheep who believe everything they are told and comply with outrageous demands and actions, it is partly because they have for decades been replacing our good, healthy, natural foods with foods laced with poisons.
Why would anyone take pleasure in adulterating the food supply? Try this theory – if TPTB can make the masses believe that the cheap crap they get fed (butter substitutes from hydrogenated oils, sugar substitutes, flavor substitutes, etc.) is actually good food, then the less the peons need to have money and the more money is available for TPTB to harvest.
The assault has been revved up in the recent past with MSGs (monosodium glutamates – of whatever name they call it, and there's a list a mile long), HFCS (high fructose corn syrup), Artificial Sweeteners, GMO (genetically modified organisms), Canola Oil, Hydrogenated Oils and emasculating Soy products among the worst, as well as fluoride in the water.
Do some research yourself on these, but here are the highlights of what we have learned:
MSG – is an excitotoxin, which speeds up the body's absorption of other toxins, like mercury. It is addictive, so that your body craves more of the foods containing it, whether those foods are nutritious or not.
ALL of the list below are types of MSG or contain MSG: Glutamate
Glutamic Acid
Monosodium Glutamate
Monopotassium Glutamate
Yeast Extract
Yeast Food
Yeast Nutrient
Autolyzed Yeast
Autolyzed Yeast Extract
Torula Yeast
Autolyzed Soy Protein (any protein that is autolyzed)
Hydrolyzed Protein (any protein that is hydrolyzed)
Hydrolyzed Whey Protein
Hydrolyzed Pea Protein
Hydrolyzed Corn Protein
Hydrolyzed Corn Gluten
Calcium Caseinate
Sodium Caseinate
Textured Protein
Textured Vegetable Protein (TVP)
Natrium Glutamate (natrium is Latin/German for sodium)
HFCS – besides the corn from which it is made being GMO, these super sugars wreak havoc with the pancreas, speeding the road to obesity and Type II Diabetes.
Artificial Sweeteners – Aspartame, Sucralose, etc. all fool your pancreas into acting as if you really ate sugar. It sends out extra insulin to gobble up the sugar that is actually in your blood, causing you to be more hungry when your sugar levels dip. So instead of helping you lose weight, it can cause you to eat more.
GMO – yes, these do affect your genes as well! See the video, Genetic Roulette.
Canola Oil – was first developed as a cheap machine oil. It has been shown to scar arteries and is made from a GMO "rapeseed" plant, which was originally used to keep deer away from other crops. Canola is short for Canadian Oil Co.
Hydrogenated Oils – this is a process in which natural oils are mixed with water to the point that the fat cells are broken down so that they actually emulsify with the water molecules. The detrimental effect is that now those fat cells can be absorbed through the intestines and get more fat and cholesterol into the bloodstream. This is also true of Homogenized milk. Milk is splatted against a steel wall so that the fat breaks down to be evenly distributed throughout the milk (hence, no more cream at the top of the milk carton). Again, this makes it easier for the fat to get into the bloodstream.
Soy Products – virtually all soy is GMO and soy raises estrogen levels – in men as well as women.
Fluoride – fluoride is a toxic waste product of the aluminum manufacturing process. "Hey, why not feed it to the people! Let's put it in their water! After all, it's only a heavy metal and would go straight to their brains!"
Caring about what you eat is now classified as a mental illness – "orthorexia". We knew someone who was a cook for one of the "elite." He told us that his boss would eat NOTHING that wasn't grown on his own farm (meats included), and that this was the case with all of the other "elites" he was in contact with. But if one of the "peons" cares about what they eat, they are labeled a kook and told to take Prozac.
All we know is that since our family is more careful to eat as little of these detrimental foods as possible – we spend hours reading labels before we buy anything – we feel better, are healthier and have more vitality than before and our minds are sharper.
Speaking of reading labels, don't let a big splashy "Organic" on the front of a package fool you. It is now legal to call a food "organic" if only ONE ingredient in that food is actually organic! Foods that are labeled "organic" can contain any of the above foods to avoid as well, again, as long as ONE ingredient is truly organic. Bring your glasses to the grocery store and READ THE LABELS!
Unfortunately, it is IL-legal to mark non-GMO foods as such. According to the government, it would be unfair to the producers of GMO foods to let the consumer know what they are about to eat. Heaven forbid they give the consumer a fair choice!
Regarding eggs, having your own chickens is the ultimate, or at least buying farm fresh eggs in smaller, local markets. Commercial eggs can be 3 months old before they get to the grocers' shelves, and can contain high levels of salmonella, listeria and e-coli.
A word about the new onslaught into the marketplace of "freeze-dried storage foods" for survivalists… Please read the ingredients of those foods and compare them to the lists above. Some may say "No added MSG", but that doesn't mean they don't contain MSG. Also, with the amount of soy products they contain and at least 85% of soy being GMO, it's hard to believe it when they tout their products as "NO GMO". "Single-sylable" storage foods – wheat, rice, beans, etc. – are still the best way to go.
Our diet consists mainly of whole, organic grains (wheat that we grind into our own flour and brown rice), proteins from lentils and beans, farm fresh eggs from our own chickens, sea salt, raw sugar and vegetables from our own garden. We do eat meat occasionally.
For most of you, eating nutritious food that you prepare yourself will be a new experience. Because you will actually be eating food that contains nutrients your bodies need and not just empty calories, you will find that you have to eat less to be satisfied and will lose some weight in the process.
Hundreds of Birds Die Mysteriously in Rural Area of Wales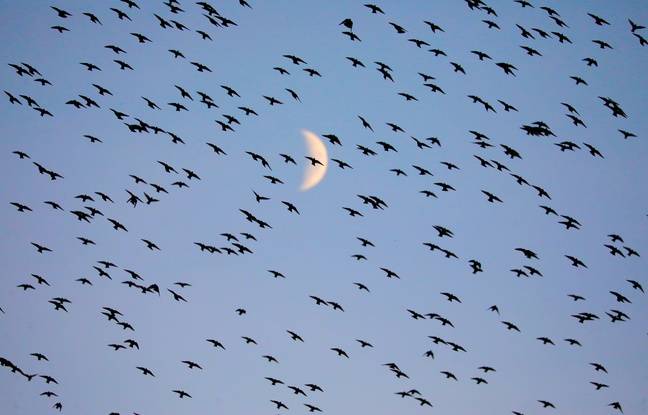 Things mysteriously falling from the sky is one of the classic Fortean phenomena. Birds dying from no apparent cause is another. That winning (or losing) combo occurred this week in a rural town in Wales no one has yet been able to explain the hundreds of dead starlings – many with their internal organs outside their bodies – found on an unclassified road near near Llyn Llywenan in Bodedern on Anglesey, an island off the north-west coast of Wales. With mysterious circumstances and no official explanation, the strange and conspiratorial theories abound.
"There's easily more than 300 of them. I counted 150 last night but I gave up as there's just hundreds of them littered everywhere. It's as if they just dropped down dead from the sky."
Dafydd Edwards reported on social media that his partner, Hannah Stevens, found the birds while driving home. She claimed that on the afternoon of December 10 she had seen a "massive flock" flying overhead before landing to eat something on the road. Less than an hour later, she said they were dead where they had been eating. It's not clear how she arrived at that short timeframe from flying to dead in the road.
"It's very strange, I can't put my finger on it. There are still some alive in the hedges today but it's all unexplained at the moment."
As seen in Edwards' video and photos (see them here and here), the vast majority of dead birds were in the road, where he counted 150 before quitting. North Wales Police's Rural Crime Team counted at least 225 and some witnesses estimated the total to be over 300. They collected the carcasses (identified as starlings) and sent some to a lab for examination and toxicology tests, which means they assume the birds were somehow poisoned. Locals were not so sure.
"It's unlikely that the birds would have been in contact with an aircraft – RAF or civilian. Bird strikes can have quite an effect on aircraft, and can cause severe damage. Even minor bird strikes are reported as a matter of course at RAF Valley, and no such reports have been fed back by our personnel."
The Ministry of Defence answered speculations that the birds had been hit by low-flying planes with that denial. On the act-of-God side, there was talk that the birds might have been caught up in strong winds or stunned by a sudden lightning strike or loud sound, but Hannah Stevens did not report any unusual conditions. The current cause-of-all-bad-things – 5G – was blamed but no other birds or wildlife seem to be affected. A sign of the apocalypse? We're still here and so are the residents of Llyn Llywenan.
"We're hearing one story that it happened in exactly the same place many, many years ago so we're just trying to confirm that as well."
Rob Taylor, Team Manager for North Wales Police's Rural Crime Team, added to the mystery by pointing out that locals claim another similar dead bird incident happened in the same area about 12 years ago, but no details were given and Internet searches turned up nothing.
As of this writing, the North Wales Police indicated they believed they know the cause of this mysterious bird kill but were awaiting the toxicology report. That hints of a suspicion of poisoning of some sort, which would seem to be one of the most likely causes. However, that memory of a previous event makes one wonder if something more sinister – something pre-5G – may be happening underground in Llyn Llywenan. Is anyone checking for unusual human conditions, cancers, deformities or mental illnesses amongst the residents?
Will there be a consensus? Will officials admit it if the cause is not poisoning?
What would Charles Forte think?
Source: Mysterious Universe
Asteroid Will Make Close Fly by of Earth on Friday the 13th
NASA has been monitoring an asteroid which maintains an orbit around various bodies in the solar system and consistently passes through Earth's orbit with the sun. 13 near-Earth objects in total are expected to fly past Earth in December of this year.
Earth is set to have a close encounter with an enormous asteroid which is set to fly nearby Earth on Friday at a speed of almost 18,000 miles an hour (more than 28,000 km/h), according to NASA.
The upcoming pass-by is estimated to happen on 8:25 am on 13 December, the unlucky Friday the 13th. The asteroid's orbit diagram indicates that the near-Earth approach will follow the rock's intersection with Earth's orbit.
According to the space agency's Center for Near-Earth Object Studies (CNEOS), the asteroid has an Earth-crossing orbit with the sun and will not approach from a diagonal or perpendicular direction and instead will flyby perpendicular to earth.
It is expected to pass by earth at a shockingly close 0.03033 astronomical units, around 1.9 million miles (more than 3mn km) away.
NASA has dubbed the asteroid 2019 XO1 and estimate that it is around 243-feet wide, about the width of a Boeing 747 plane.
According to CNEOS, 2019 XO1 is classified as an Aten asteroid, meaning that its orbit circulates around a number of celestial bodies in the solar system including the Sun, Venus, Mercury, and Earth.
The asteroid has a tendency to intersect its orbit with Earth's, typically when it is furthest away from the sun.
3 December marked the first time 2019 XO1 was identified in its frequent encroachment on Earth. It also comes close to Mercury and Venus but, unlike its proximity with Earth, it does not cross the paths of the two other planets.
The body first came near Earth on 17 November 2013, missing the planet by 0.09488 astronomical units, around 8.8 million miles.
Following its passing on Friday the 13th, the asteroid will not come back from Earth's outcrop of the solar system until December 22, 2022, where it will creep as close as 0.09534 astronomical units, up to 8.9 million miles (more than 14Mn km) away.
Sputniknews
Image credit: © CCO
Los Angeles and Chicago Are Readying to Erase 68,000 Nonviolent Marijuana Convictions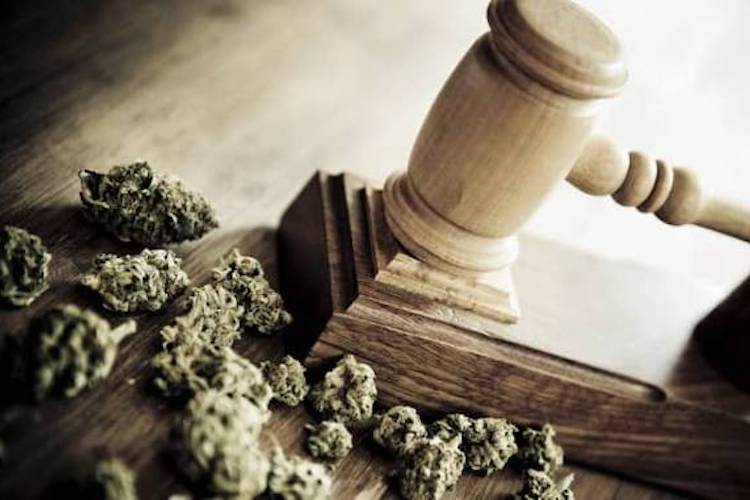 Phillip Schneider, Staff Writer
Waking Times
The cities of Los Angeles and Chicago are taking a big step toward ending the damage caused from the war on drugs by getting ready to expunge nearly 70,000 non-violent marijuana convictions from citizen's criminal records.
Kim Foxx, Cook County's State Attorney in Chicago, is preparing to eliminate misdemeanor convictions of close to 18,000 residents which she argues will help mostly racial minorities get back into the housing and job markets, whereas having these cannabis crimes on their record sets up a barrier between them and these life essentials.