"… The young devil to the old:
– How did you manage to send so many souls to hell?
Old devil:
– Through fear!
Young:
– Well done! And what were they afraid of? Wars? Hunger?
Old:
– No … Disease!
Young:
– They weren't sick? Weren't they dying? Wasn't there a medicine?
Old:
-….. got sick. They died. There was a cure …
Young:
– I do not understand…
Old:
– We accidentally decided that the only thing that needs to be preserved at any cost is LIFE !!!
They stopped hugging … They stopped greeting each other !!! They left all human contact …. They left everything that made a person human!
They were left without money. They lost their jobs.
But they chose to fear for their lives, even if they didn't have bread to eat.
They believed what they heard, read the newspapers and blindly believed everything they read.
They gave up freedom.
They never left the house again. They never went anywhere. We never visited friends and family again. The whole world has turned into a huge prison with convicts – volunteers.
They accepted everything !!! All this to live another miserable day …
They didn't live, they died every day!
It was too easy to take their pitiful soul … "
Clive Lewis "Letters from a Senior to a Junior Devil".
From the book "Balamut's Letters" (1941)
The US and UK Secret Services have declared cyber war on media over Covid-19 vaccinations
Just last week, the national security structures of the United States and Britain quietly made it clear that cyber tools and online tactics previously developed for use in the post-9/11 "war on terrorism" are now being repurposed for use against information sources propagating "indecision in vaccination ", and information related to Covid-19, which contradicts their official version.
The new cyber attack was launched on Monday by the UK signal intelligence agency, the Public Relations Office (GCHQ), which seeks to attack websites that post content deemed to be "propaganda" that raises concerns about state-sponsored development of the Covid-19 vaccine and the multinational pharmaceutical corporations involved.
Similar efforts are underway in the United States: The US military recently funded a CIA-backed firm crammed full of former counterterrorism officials behind the occupation of Iraq and the rise of the so-called Islamic State to develop an AI algorithm specifically targeting new websites promoting suspected disinformation linked to the Covid-19 crisis and the US Covid-19 vaccination effort, known as Operation Warp Speed.
Both countries are preparing to silence independent journalists who express legitimate concerns about corruption in the pharmaceutical industry or extreme secrecy surrounding government-sponsored Covid-19 vaccination efforts now that Pfizer's vaccine candidate must be approved by the Food Control Administration and US Medicines (FDA). by the end of the month.
Pfizer's story, when Pfizer was fined billions of dollars for illegally marketing and bribing government officials to help cover up an illegal drug trial that killed eleven children (among other crimes), was not mentioned by most of the media, which instead noted the obvious imminent approval of the the company's Covid-19 vaccine, without questioning the company's history or that the mRNA technology used in the vaccine has not gone through standard safety test protocols and has never been approved for human use.
It is also not mentioned that Patricia Cavazzoni, head of the FDA's Center for Drug Evaluation and Research, is a former Pfizer vice president of product safety, who hid the connection of one of its products with birth defects.
In fact, state power is being used like never before to suppress online speech and de-platform news websites to protect the interests of powerful corporations like Pfizer and other scandal-ridden pharmaceutical giants, as well as the national interests of the United States and Britain, states that are themselves are directly involved in vaccination against Covid-19.
Professor: the virus has all the signs of a biological weapon! More and more people fall ill with covid-19 again, which shows a rapid disappearance of immunity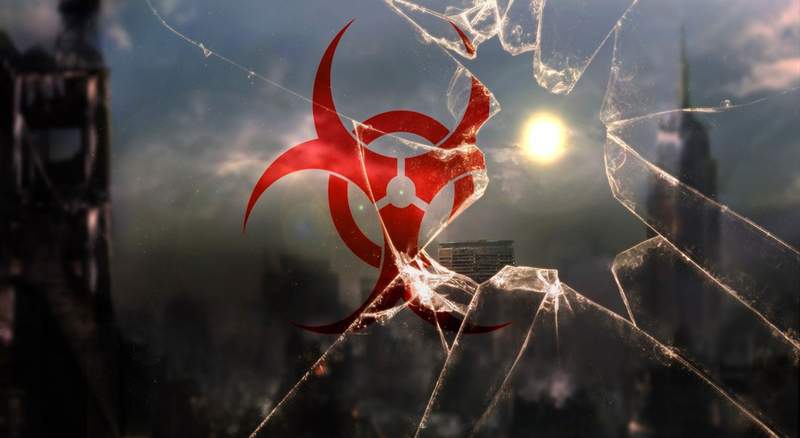 There is every reason to say that SARS-CoV-2 has signs of a biological weapon, a Russian infectious disease doctor, MD, Professor Mikhail Bala said. 
Answering the question about the possible artificial origin of the SARS-CoV-2 virus, Professor Mikhail Bala noted that the virus primarily attacks certain categories of the population: the elderly, overweight people, patients with chronic cardiovascular and pulmonary diseases, diabetes mellitus.
"There is every reason to say that the virus has signs of a biological weapon. This is not my fantasy. These are statements by very respected people, including experts on such weapons, "the doctor said.
The doctor of medical sciences emphasized that this virus in most of its parameters corresponds to biological weapons, and a person who has recovered from COVID-19 remains a source of infection for others for a long time.
"Suppose someone needs a certain part of the population to suffer losses. What does he do. First, it creates conditions for this pathogen to penetrate into such a part of the population, no matter how far it is from the main traffic flows. Therefore, it must be an airborne transmission route, possibly supplemented by contact or food. The second is a long incubation – up to 14 days. During the incubation period, an infected person poses the greatest danger, and therefore is the most effective in spreading the virus ," Professor Mikhail Bala said.
But the main thing, according to the doctor, is the ability of SARS-CoV-2 to penetrate into target cells: 
"This excellent capture mechanism allows the virus to easily enter the human body."
The human immune system reacts to the virus in a paradoxical way, the professor says.
"Usually the virus enters the cell and controls the replication process, and in order to prevent the virus, the body turns on the mechanism of immune antiviral defense and takes control of the situation. But in this case, the opposite is true! " – Bala declares.
"The stronger the body's immune response, the greater the scale of the process of destruction of the cells and internal organs of the patient. A cytokine storm begins: the immune system is racing. She not only does not fight, but begins to bring down her own mechanisms of life. The virus hits cells, disrupts their metabolism. And the more the cell has previously suffered from chronic diseases, the more damage the virus inflicts on it ," Professor Mikhail Bala explains.
"There are all the signs of the artificial origin of the virus: long incubation, high infectivity and virulence. Plus the target audience: people with chronic diseases, " the doctor of medical sciences said.
Rapid disappearance of immunity?
In late June, Sanne de Jong developed nausea, shortness of breath, muscle pain and a runny nose. At first, she thought it was the effects of covid-19, which she contracted in the spring.
On April 17, 22-year-old de Jong was tested for coronavirus, which gave a positive result. Mild symptoms persisted for about two weeks. On May 2, she again passed the test, and the result was negative. She managed to say goodbye to her dying grandmother and returned to work at the Rotterdam hospital, where she was doing an internship.
But when she had symptoms again, the doctor suggested that the girl take the test again. "Re-infection so soon is strange, but possible ," said Dr. de Jong, who had by then lost her sense of smell again and was suffering from stomach pain and diarrhea.
On July 3, she received a call from the municipal health service to inform her that the test result was again positive. "Are you joking!" The girl exclaimed.
Scientists are very interested in such cases. They are rare, but more and more of them. Re-infection indicates that immunity from covid-19 may be weak and disappear rather quickly. The danger lies not only in the fact that recovered patients risk getting sick again. We don't know how long future vaccines will protect humans.
"Everyone wants to find an answer to the question of whether the second infection will be more severe in most cases than the first," said Derek Cummings, who studies Infectious Disease Dynamics at the University of Florida. "And they are eager to know what re-infection can tell us about immunity from SARS-CoV-2 in general . "
South Korean scientists first reported possible re-infections in April, but this diagnosis was officially confirmed only on 24 August. The 33-year-old man was treated at a Hong Kong hospital in March for a mild form of SARS-CoV-2, and on August 15, he was again diagnosed with the infection during an examination at a Hong Kong airport when he returned from a trip to Spain. Since then, at least 24 cases of reinfection have been officially confirmed, but scientists say there are actually many more.
To confirm reinfection, the patient must have a twice positive PCR test result with an asymptomatic one month break. But virologist Chantal Reusken of the Dutch National Institute for Health and Environment explains that a second test can also be positive if the patient has residual non-replicating viral RNA in the patient's airways from the first infection due to simultaneous infection with two viruses or because the virus was suppressed, but not completely destroyed. Therefore, most scientific journals want to see two complete virus sequences from the first and second diseases, significantly different from each other. Paul Moss, a hematologist at the University of Birmingham, talks about this. "The bar is very high," he says.
But even if there is, many laboratories do not have enough time and money to tackle this closely. As a result, the number of genetically proven re-infections is many times less than the number of suspected re-infection. Holland alone has 50 such cases, Brazil 95, Sweden 150, Mexico 285, and Qatar at least 243.
The second infection in the Hong Kong patient was milder than the first. Immunologists suspected that this would be the case, because the first infection creates a certain immunity. This helps explain why re-infections are rare, says Maria Elena Bottazzi, a molecular virologist at Baylor Medical College and Texas Children's Hospital.
In the next two months, re-infections may increase if those who have been ill earlier begin to lose their immunity. Re-infections with the four coronaviruses that cause the common cold occur on average after 12 months, as recently demonstrated by a team of researchers led by virologist Lia van der Hoek of the University of Amsterdam Medical Center. Van der Hock thinks covid-19 may have the same pattern.
"I think we better prepare for the wave of re-infections that will rise in the coming months ," she says. 
This is bad news for those who still believe in herd immunity from natural infections, the virologist adds. It's also a wake-up call for future vaccines.
Other scientists are less pessimistic. Antibodies can be significantly weakened over several months, especially if the patient has a mild disease, but sometimes they are still effective. Neutralizing antibodies, as well as memory B cells and T cells, appear to be fairly stable for at least half a year, according to a paper published in a preview on Nov.16. "For the vast majority of people, this will certainly help avoid hospitalization for illness and severe illness for many years to come," lead author Shane Crotty of the Institute of Immunology in La Jolla told The New York Times.
And there are also hints that people with severe illness from covid-19 have the strongest immunity, as is the case with two other serious diseases caused by coronavirus – SARS and Middle East respiratory syndrome. In both cases, the level of antibodies is so high that immunity lasts up to two years. And the T-cell response to SARS can be detected even later. Because the immune defenses are so robust, "I believe most re-infections will be asymptomatic," says infectious disease specialist Antonio Bertoletti at the National University of Singapore. According to him, it is even useful to be infected again, because this way "you will continue to strengthen and train the immune system."
But not all repeated infections recorded to date are mild. "We see all sorts of combinations," says Rusken. When Luciana Ribeiro, a surgeon from Rio de Janeiro, fell ill for the second time, the illness was much worse. She first contracted the infection in March from a colleague, her symptoms were mild and tests came back shortly thereafter. Three months later, the woman again developed symptoms of coronavirus infection. She did not smell while eating, but did not immediately take tests, believing that she had immunity. However, the woman began to get tired more and more and asked for a CT scan. "It showed that half of my lungs were affected," Ribeiro said. – The radiologist said it was definitely covid. 
Ribeiro thinks that she was reinfected by a patient in the intensive care unit where she works, and that the second illness could be much more serious, as during the medical procedure, an airborne mixture with a high content of viruses entered her lungs. But she has another theory: "Perhaps during this time the virus has become more dangerous."
So far, there is no evidence that the virus mutates, becoming more pathogenic, and mutations help the virus bypass immunity. But recently, scientists at the Swedish Medical Center in Seattle published preliminary data from a study and suggested that mutations exist. Scientists talked about a man who became infected in March and fell ill again four months later. The second virus had a mutation that was widespread in Europe. It causes small changes in the spike protein of the virus, which helps it enter human cells.
Although the patient's symptoms were weaker the second time, neutralization experiments showed that the antibodies that appeared in connection with the first virus fight the second virus rather weakly. The authors note that this could have important implications for vaccination programs.
And some scientists are worried about another scenario in which the second episode of the disease could get worse. This occurs when an unsuccessful immune response to the first infection exacerbates the second response. For example, in dengue fever, antibodies produced in response to an initial infection help dengue viruses and other serum types enter cells, causing a more severe, sometimes fatal, second infection. In some other diseases, the first infection results in ineffective antibodies and T cells, which prevents an effective response a second time.
In a paper recently published by Chinese scientists, it is said that patients with very severe first covid-19 infection may have ineffective antibodies, so they are prone to re-infection in the same severe form. But so far, observations of re-infected patients do not give grounds to assert that with covid-19 the disease intensifies, although scientists cannot rule out this.
Vaccination against certain diseases can also worsen the patient's condition later. Complications are known to arise from vaccines against dengue and respiratory syncytial virus in humans, as well as against coronavirus diseases in cats. But, according to Cummings, there is no indication yet that future covid-19 vaccines could cause such complications. "After working with dengue, I can say that there is simply no empirical basis for aggravating the disease, and dengue is very strong," said Cummings.
The virus samples taken from de Jong were sequenced in both cases in Rusken's laboratory. The result was unexpected. The sequences were not identical, but there were so many similarities between them that virologist Harry Vennema said: "Probably, in April, the virus did not completely disappear from her, and in June it began to replicate again." "After my first illness, I was very stressed by the death of my grandmother," says de Jong. "Maybe it affected my immune system."
In this case, she had a fake re-infection, although Vennema says there is not much difference, because in both cases, the immune system was unable to provide a protective response. His lab has identified at least one similar case, suggesting that some of the unconfirmed re-infections are actually the result of the virus re-emerging from the first infection.
Other coronaviruses can also cause persistent infections, according to Stanley Perlman of the University of Iowa. In 2009, his team proved that the mouse coronavirus, which causes encephalitis, can persist in the body and trigger immune responses for a long time, even if it does not replicate. In a study published on November 5, a group of American scientists showed that SARS-CoV-2 can persist in the intestine for several months. They suggested that such persistent infections explain the symptoms, which persist for an extremely long time and bother those who have recovered from covid-19.
De Jong has some of these symptoms. The September tests were negative and the girl has a high level of antibodies. So she's protected for at least a couple of months. However, she has complaints of gastrointestinal problems, fatigue and impaired cognitive functions. De Jong says her case should serve as a warning to those who have had the virus and who, after illness, consider themselves invulnerable. "Please, be careful. You could get sick again, "she warns.
Why are Spanish scientists working to create a chimera of man and ape in China?
The Internet is full of rumors. So, according to the leaked studies of Spanish scientists, as reported by El Pais, the world's first ape-human hybrid was created in a Chinese laboratory.
Lead author Juan Carlos Ispisua previously worked on pig and human embryos. The proposed research goal is to use animals to create organs for human transplantation. In the course of the work, scientists injected human stem cells into the monkey embryo, allowing the cells to create any kind of tissue within the embryo. But for ethical reasons, the Spanish authorities stopped the experiment before the animals began to get pregnant. For this reason, Spanish scientists were forced to conduct an experiment in China, since the country has a large infrastructure in transgenic scientific field – in other words,
The research project was led by biologist Juan Carlos Ispisua, who also runs a laboratory at the Salk Institute of California. The stated aim of the work is to figure out how to use animals to create organs for human transplantation.
Creation of chimeras ape man
Despite the fact that the word "chimera" sounds intimidating, their creation is relatively simple and not even scary. Scientists inject human embryonic stem cells into another species of embryo that is only a few days old. Ispisua has experience with this kind of research, as he previously tried to add human cells to pig embryos. As his research with pigs ran into obstacles, he turned to experiments on primate embryos.
During the creation of chimeras, scientists genetically engineer certain types of animal cells to be disabled so that human stem cells have a better chance of anchoring. This kind of research is prohibited in a number of countries, but in China, for example, there are no such laws.

It is important to understand that the human-ape hybrid in question has never been born. The fact is that mixed embryos do not progress after one to two weeks of growth in the laboratory. In a statement to El País, Estrella Nunez, biologist and administrator of the Catholic University of Murcia, said that mechanisms have been created to stop the progressive growth of the embryo.
The creation of the ape-man chimera, like other such experiments, has generated mixed reactions from the general public. For example, a number of ethical questions have been raised, such as the fear that human stem cells might somehow migrate into the brain of a monkey embryo. Dr. ngel Raya of the Barcelona Center for Regenerative Medicine told El Pais the following:
What happens if stem cells break out and form human neurons in the animal's brain? Will he have consciousness? What happens if these stem cells turn into sperm?
However, Nunez notes that human cells self-destruct if they enter the brain. In addition, there is an established agreed date for the destruction of all such chimeras – 14 days of pregnancy. This is necessary so that the embryo does not have time to develop the central nervous system.
The consequences of such studies
Nunez described her findings as "very promising," and said the study was pending peer review in a reputable scientific journal. At the moment, we are not aware of the full scope of the experiment, as the results have not yet been published.
Notably, this news came after Japan became the first country to approve experiments with human and animal embryos. The Japanese government intends to allow stem cell researchers to conduct experiments with the same goal – one day, create organs that could be transplanted into humans.

There is still debate over whether this is the best method. Pablo Ross, a UC Davis veterinarian who has worked on experiments on pig and human chimeras, doesn't believe it makes sense to grow human organs in monkey cells, for example.
"I've always thought there was no point in using primates for this. They are usually very small and take too long to develop, "he said in an interview with Big Think.
Ross believes that researchers may be looking for answers to more fundamental scientific questions, such as "evolutionary distance and interspecies barriers," since the creation of chimeras causes disgust in both the public and ethicists. Whether the research proves to be valid or productive, it still – at first glance – continues to push the boundaries of biological and genetic research.
Although China has already made a mistake with the scientist He Juankui, who edited the genes of two babies, the country's open laws generally allow for more daring experiments.