About 6 years ago, Missy Elliott's "Where They From" video appeared on the Internet and on TV channels. There's plenty of eye candy in the clip, from the MC's mirrorball tracksuit and matching lipstick, to twerking and street-dancing marionettes. Besides spitting rhymes and beats, is there also a potential message for 2022?
In Melissa's world she is a star status celebrity and 70 million people watched the video on the official channel alone:
Sometimes, music performances transmit certain encrypted messages to the world and actively promote the Matrix, or some people who control the Matrix.
And now, in the light of this approach, a user named @Ohwell, one of the GLP readers, noticed that Melissa's partner is shining in a T-shirt with the colors of the flag of Ukraine.
Assuming that all this was somehow not accidental, user @Ohwell began to add the numbers 97 and 93 to the February 24 date – the numbers on the costumes of the dancing girls:
And to his great surprise, 93 days from February 24 gave May 28 – the day of the UEFA Champions League 2022 final, which this year is associated with Ukraine.
The final was originally supposed to be held at the Gazprom Arena stadium in St. Petersburg, but on February 25, 2022, UEFA moved the Champions League final in France to the Stade de France stadium.
It is possible that all this is just some kind of coincidence and conjecture of @Ohwell, but if there is really some kind of message hidden in the music video, then the next important date will be June 1 – that is, on the 97th day of the invasion of Ukraine by Russia.
But what can happen on June 1st? Will it have something to do with Ukraine? Or maybe a new global pandemic will be announced on this day – people in boxes look very unusual and suspicious: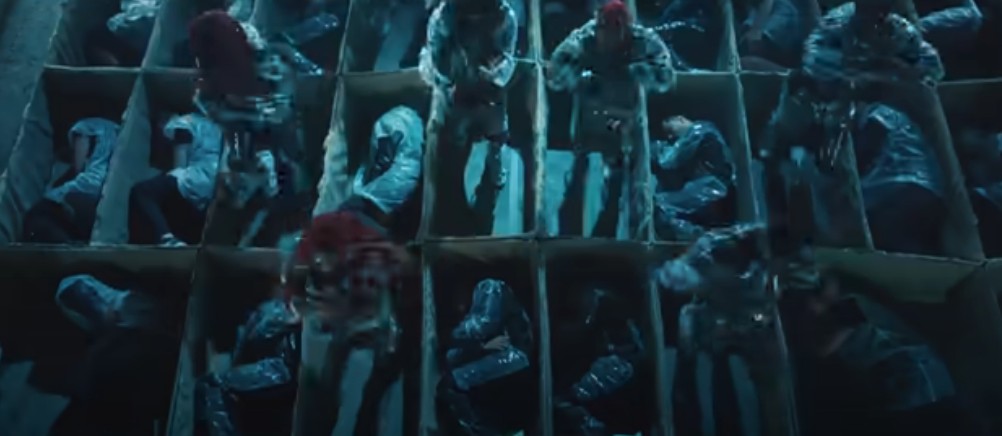 The answer to these questions can be assumed only on May 28, if something significant happens on this day either in Ukraine, or in general in the world.
So open your eyes, the joke's on you guys
And you ain't gotta be a mason in the see through
Some of this shit on occasionFrom WTF (Where They From) lyrics