Worst marine heatwave on record killed one million seabirds in North Pacific Ocean
The common guillemot (known as the common murre in North America) breeds in both the Pacific and the Atlantic and is among the most abundant seabirds in the northern hemisphere. But like many other seabirds, its numbers have declined over the last few decades. Part of that decline is due to the marine environment – a seabird's home and hunting ground – becoming increasingly unpredictable and difficult to survive in.
Between the summer of 2015 and the spring of 2016, a marine heatwave swept the northern Pacific Ocean that was hotter and lasted longer than any since records began in 1870. Known as "the blob", the heatwave caused sea surface temperatures along the Pacific coast of North America to rise by 1-2°C. That may sound trivial, but it was enough to cause massive disruption in the marine ecosystem. The fish that common guillemots normally eat, such as herring, sardine and anchovy, either died or moved into cooler waters elsewhere, leaving the guillemots with little to eat. As a result, many birds starved.
A new study has revealed that one million common guillemots died due to the heatwave, and two thirds of them are thought to have been breeding adults. In a healthy population, about 95% of the breeding birds survive from one year to the next. But a bad year for adult survival causes big problems for the total population.
This is because guillemots live up to 40 years and mature slowly, producing a single egg per annual clutch. A female may start breeding at the age of seven and continue to breed each year until she dies. Most seabirds live similar lives because the food on which they rear their offspring is often a long way from land. Ferrying food back to the breeding colony is what limits how many offspring they can rear in any one year. Rearing just a single chick at a time makes sense, but if many adult birds of reproductive age die, there are no new chicks to replace those birds that are lost, and so the population declines.
Seabirds wrecked by ocean warming
Researchers based the estimate of one million dead guillemots on the numbers of dead or dying birds that washed up between California and the Gulf of Alaska. A total of 62,000 birds were found on 6,000km of coastline, but not all birds that die at sea end up on beaches. Previous studies have shown that the number of birds actually found dead needs to be multiplied by at least seven times – and possibly as much as several hundred times – to find the minimum estimate of the total numbers dead. That means that "one million dead seabirds" might actually be a conservative guess.
According to the new study, breeding populations in the Gulf of Alaska suffered a 10-20% decrease in numbers. Complete breeding failure, where birds either failed to lay eggs or failed to rear any chicks, was reported at 22 regularly monitored guillemot colonies in Alaska during the breeding seasons of 2015, 2016 and 2017. Complete breeding failure is extremely unusual among guillemots and it's a clear sign that food is in extremely short supply.
The appearance of unusually high numbers of dead birds washed up on the shoreline is referred to as a "wreck". Wrecks of common guillemots and related species such as puffins have been known about for many years. These population crashes may be a regular aspect of guillemot biology, but this one was far larger and over a much wider geographic area than any wreck seen before.
In most cases, wrecks are the result of persistent stormy conditions, disrupting the availability of fish on which seabirds like guillemots and puffins depend. When seas are rough and the weather harsh, the increased energy demands can kill many birds. The most recent wreck in the UK and western Europe occurred in the spring of 2014, and it killed at least 50,000 birds, mainly common guillemots and Atlantic puffins.
The common guillemot populations in the Pacific and western Europe will probably recover from both of these recent wrecks, providing there's no further turmoil, but there's no room for complacency. The only way scientists will know if populations have recovered is by monitoring the birds. It's an activity that is generally regarded as the lowest form of scientific endeavour, but one that's absolutely vital in a world of declining wildlife.
I've been studying and monitoring the number of common guillemots on Skomer Island, Wales since 1972. In that time, I've realised how essential this work is to understanding how guillemot populations work. Beach counts of dead seabirds allow scientists to detect unusual events, but these counts are meaningless without information on the overall size of the population. Without regular monitoring of seabird colonies on North America's west coast, the researchers wouldn't have known what proportion of the total population died, and would have missed the total breeding failures in the Alaskan colonies.
The North Pacific common guillemot wreck was unprecedented for the sheer numbers of birds killed, and the vast region over which it occurred. But the marine heatwave that caused it may be just a taste of what is to come for seabirds around the world as climate change accelerates.
Space sailing ship sent amazing pictures of the Earth
The space ship LightSail 2, launched in June last year, received amazing photos of our planet.

LightSail 2 is a project of the Planetary Society; It was launched in June 2019 with the SpaceX Falcon Heavy booster rocket. Unlike other spacecraft, the solar sailboat does not rely on traditional rocket engines – it uses solar energy.
The device has been operating in Earth orbit for about eight months; all in all, its mission should last about a year. According to experts who studied the work of LightSail 2, the design of a space sailboat with solar panels on only one side caused a number of technical problems, so in their opinion, future similar vehicles should have solar panels on both, Space.com reports.
The Planetary Society showed several images taken by the LightSail 2 camera. The solar sail of the apparatus is partially visible on them (in general, the sail area is about 32 square meters), and our planet is also visible.
Immediate enormous volcanic disaster predicted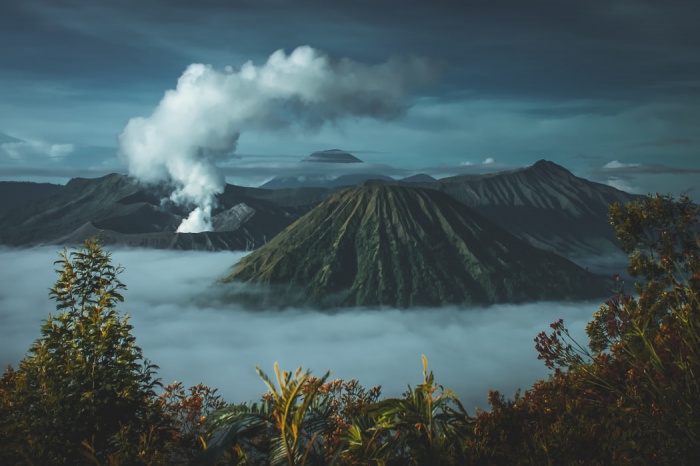 Researchers at the Cambridge Mining School in Britain have predicted an imminent catastrophe, which is associated with the eruption of a large volcano in South America.
The Tungurahua volcano in Ecuador, also known as the Black Giant, shows signs of instability on the slopes, which can lead to a huge landslide. The reason for this is the recent volcanic activity and the imbalance between the erupted and incoming magma, which led to the deformation of the western flank of the mountain and increasing stress.
Since 1999, Tungurahua has often been active, then 25 thousand people had to be evacuated from nearby settlements. The previous large eruption of the Black Giant occurred about 3 thousand years ago and provoked a partial collapse of the western flank of the volcano cone. A landslide from soil, stones, snow and water covered an area equal to 80 square meters. km Later, the cone gradually recovered, reaching a height of 5 km.
A huge meteorite hit the Indian state of Rajasthan, creating a 20-meter crater and turning night into day
When it fell, the meteorite created a huge crater with a diameter of 20 and a depth of 7 meters in the factory complex at Tuesday dawn in the industrial zone of Itaran Alvara, Rajasthan.
Suddenly a rocket-like object appeared, falling from heaven to earth, changing night to day. A celestial phenomenon occurred in the Fauladpur region of Shahjahanpur in the Alvar region around 5:00 a.m. on February 12, 2020.
In the following video surveillance frames, flashes and the subsequent meteorite fall to the ground are visible. People living in the immediate vicinity were not harmed.
People living in the area woke up from weak shocks, similar to an earthquake. The birds began to scream.
Many surveillance cameras were able to record a meteorite explosion. People who witnessed the heavenly event were shocked.
Local resident Rajesh Kumar Gupta said that he felt an explosion and after leaving his house felt a gust of strong wind. Farmers in the city of Fauladpur Shahjahanpur also saw a meteorite.
Ajay Chaudhari, a resident of the Kotkashim region, said that light suddenly appeared and an object similar to a rocket appeared in the sky.
A team of scientists was sent to the crater to explore the mysterious meteorite.