Worst marine heatwave on record killed one million seabirds in North Pacific Ocean
The common guillemot (known as the common murre in North America) breeds in both the Pacific and the Atlantic and is among the most abundant seabirds in the northern hemisphere. But like many other seabirds, its numbers have declined over the last few decades. Part of that decline is due to the marine environment – a seabird's home and hunting ground – becoming increasingly unpredictable and difficult to survive in.
Between the summer of 2015 and the spring of 2016, a marine heatwave swept the northern Pacific Ocean that was hotter and lasted longer than any since records began in 1870. Known as "the blob", the heatwave caused sea surface temperatures along the Pacific coast of North America to rise by 1-2°C. That may sound trivial, but it was enough to cause massive disruption in the marine ecosystem. The fish that common guillemots normally eat, such as herring, sardine and anchovy, either died or moved into cooler waters elsewhere, leaving the guillemots with little to eat. As a result, many birds starved.
A new study has revealed that one million common guillemots died due to the heatwave, and two thirds of them are thought to have been breeding adults. In a healthy population, about 95% of the breeding birds survive from one year to the next. But a bad year for adult survival causes big problems for the total population.
This is because guillemots live up to 40 years and mature slowly, producing a single egg per annual clutch. A female may start breeding at the age of seven and continue to breed each year until she dies. Most seabirds live similar lives because the food on which they rear their offspring is often a long way from land. Ferrying food back to the breeding colony is what limits how many offspring they can rear in any one year. Rearing just a single chick at a time makes sense, but if many adult birds of reproductive age die, there are no new chicks to replace those birds that are lost, and so the population declines.
Seabirds wrecked by ocean warming
Researchers based the estimate of one million dead guillemots on the numbers of dead or dying birds that washed up between California and the Gulf of Alaska. A total of 62,000 birds were found on 6,000km of coastline, but not all birds that die at sea end up on beaches. Previous studies have shown that the number of birds actually found dead needs to be multiplied by at least seven times – and possibly as much as several hundred times – to find the minimum estimate of the total numbers dead. That means that "one million dead seabirds" might actually be a conservative guess.
According to the new study, breeding populations in the Gulf of Alaska suffered a 10-20% decrease in numbers. Complete breeding failure, where birds either failed to lay eggs or failed to rear any chicks, was reported at 22 regularly monitored guillemot colonies in Alaska during the breeding seasons of 2015, 2016 and 2017. Complete breeding failure is extremely unusual among guillemots and it's a clear sign that food is in extremely short supply.
The appearance of unusually high numbers of dead birds washed up on the shoreline is referred to as a "wreck". Wrecks of common guillemots and related species such as puffins have been known about for many years. These population crashes may be a regular aspect of guillemot biology, but this one was far larger and over a much wider geographic area than any wreck seen before.
In most cases, wrecks are the result of persistent stormy conditions, disrupting the availability of fish on which seabirds like guillemots and puffins depend. When seas are rough and the weather harsh, the increased energy demands can kill many birds. The most recent wreck in the UK and western Europe occurred in the spring of 2014, and it killed at least 50,000 birds, mainly common guillemots and Atlantic puffins.
The common guillemot populations in the Pacific and western Europe will probably recover from both of these recent wrecks, providing there's no further turmoil, but there's no room for complacency. The only way scientists will know if populations have recovered is by monitoring the birds. It's an activity that is generally regarded as the lowest form of scientific endeavour, but one that's absolutely vital in a world of declining wildlife.
I've been studying and monitoring the number of common guillemots on Skomer Island, Wales since 1972. In that time, I've realised how essential this work is to understanding how guillemot populations work. Beach counts of dead seabirds allow scientists to detect unusual events, but these counts are meaningless without information on the overall size of the population. Without regular monitoring of seabird colonies on North America's west coast, the researchers wouldn't have known what proportion of the total population died, and would have missed the total breeding failures in the Alaskan colonies.
The North Pacific common guillemot wreck was unprecedented for the sheer numbers of birds killed, and the vast region over which it occurred. But the marine heatwave that caused it may be just a taste of what is to come for seabirds around the world as climate change accelerates.
Michigan nurse shares details of what is happening in hospitals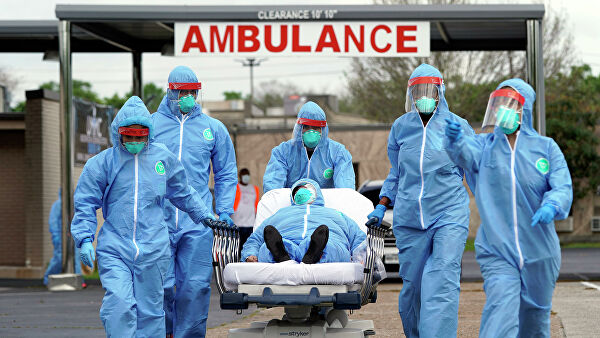 One of Michigan's nurses shot a terrifying video of her workday so people would be more careful about their health and especially with coronavirus. The woman added that she felt as if she was in a battlefield. During her story, she was constantly in tears.
During her last shift, the duration of which was 13 hours, she was separately from her colleagues and was involved in the treatment of two seriously ill patients. She supported them with an assisted breathing apparatus. The nurse encourages people to be more careful and take this problem as seriously as possible.
The nurse plead for hospitals to make every effort possible to eliminate the effects of the coronavirus outbreak, which has only recently intensified. To date, Michigan is in fifth place in case numbers, in which more than two thousand are infected with coronavirus and at least 43 deaths were recorded.
Just a few days ago, two hospitals already announced that they were completely full and they did not have the opportunity to accept new patients. The state expects that over the next three weeks the number of patients may increase to 16 thousand. The government, in turn, said that at the moment there are only 25 thousand beds, 80% of which are already occupied.
The number of cremated people in Wuhan significantly exceeded the death toll from coronavirus
On March 23, Chinese authorities allowed relatives of coronavirus victims in Wuhan to receive the urns with the ashes of their relatives. According to Liu Ping (pseudonym), a local resident who was in front of the Hankou funeral home, there were huge queues of people lined up. Liu Ping arrived in the morning to pick up her father's ashes, and was only able to pick up the ashes at 14:00.
After leaving the bureau, Liu Ping saw a truck that was transporting bins. She found out from the driver that an order had been placed for 2500 boxes, the same quantity had been delivered the day before. A total of 5 thousand deaths from coronavirus is against the 2531 official cases. This information is from only one funeral home. There are eight in total in Wuhan.
According to Sun Jiatong, deputy director of the Wuhan City Civil Affairs Bureau, 21,703 corpses were cremated in a month and a half, eight times the official statistics.
At first, all the bodies were planned to be taken to the Hankou crematorium, but there were no available spaces there. As a result, other local institutions accepted and shared the dead between them. It is scary to imagine the real number of deaths in the whole of China.
Evidence of the "end of the world" by a huge comet found in Syria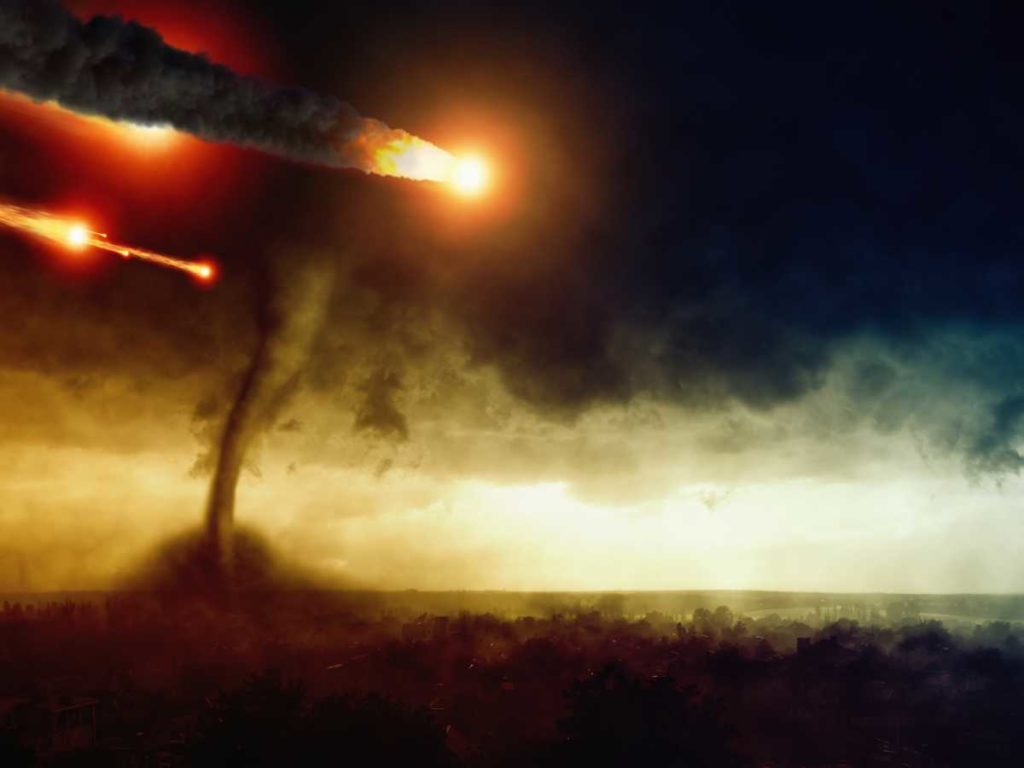 During archaeological excavations in the area of ​​the Syrian settlement of Abu Hureira, scientists came across sensational evidence of a global catastrophe that occurred 12,800 years ago.
It is believed that it was caused by the explosion in the Earth's atmosphere of a huge comet – a piece of rock covered with ice and methane, which led to a powerful cooling, the collapse of ancient civilizations and the disappearance of many animals, such as mammoths.
An amazing layer of "dark matter" brought from outer space was found in Abu Hureira. Rich in carbon and platinum, it contains millions of nanodiamonds and tiny metal spheres formed under the influence of huge temperature.
At a temperature of 2200 degrees, the soil turned into pieces of glass scattered throughout Abu Hureira, even the most refractory elements, such as silicon, flowed.
The temperature that arose on Earth could melt a car in one minute. Even with modern technology it is very difficult to achieve such temperatures, and even on such large areas. This is not observed during lightning strikes and even during volcanic eruptions. A molten mass appeared on the caked earth's surface, which, upon cooling, turned into thousands of glass fragments. A temperature close to this occurs only in explosions of nuclear devices.
This could only happen when the Earth collided with a cosmic body flying at high speed. The glazed soil turned out to be rich in minerals with chromium, iron, nickel, sulfides, titanium and iridium-enriched iron. All this was also brought to Earth by a comet.
A monstrous cosmic body with a thousand explosions covered both hemispheres of the Earth. That ancient catastrophe reminds mankind that it can be expected any day. Although, even with such a catastrophe, the human race managed to survive and adapt to new conditions.
Comets travel in orbits of incredible length that extend beyond the limits of the solar system, and one can only guess what else will fly to us from distant worlds. The comet materials were scattered over a territory of more than 14 thousand kilometers in the Northern and Southern hemispheres. One of the explosions of a part of a decaying comet occurred near Abu Hureira, which at that time was inhabited by nomads who had settled down to engage in farming. The same glazed samples of molten soil were found during excavations in southern Chile.
SARS-CoV-2 virus: important questions that are not yet answered
Unanswered questions about the new coronavirus do not let you know what will happen in the near future. Can I get infected twice? How long will a pandemic last? Will the number of victims increase or vice versa decrease?
To predict the spread and further evolution of SARS-CoV-2 (the official name for the new coronavirus CoVID-19), fundamental data are needed, but so far they have not been obtained. In this case, one of the most important issues is the possibility of re-infection. To date, in addition to the dubious cases described in the press, re-infection has been scientifically proven by only four medical professionals in Wuhan, China. Symptoms in all confirmed repeated cases were mild. We tell you what the next few months may be and whether it is worth worrying for those who have had a new coronavirus.
Is it possible to get the new coronavirus again?
According to the Spanish El Pais, the authors of the work from Wuhan University admit that the results obtained on re-infection can be false positive, since sometimes the tests fail. However, it must be clarified that scientists repeated the test several times. If similar cases occur in the future, then all efforts made to contain CoVID-19 may prove futile.
Of all the possible explanations, double infection is the least realistic. Animal test results indicate that re-infection is not possible. Chinese scientists have found that macaques, who become infected with the new coronavirus and recover, do not get sick again a few days later, even if they are exposed to the virus. Preliminary research results can be found on the BiorXiv preprint server.
The question also remains open about how quickly after a virus enters the body, a person becomes infectious – after a day or longer. Today we know that the incubation period can last from 5 to 14 days, but there are cases when symptoms appeared 24 days after infection. In this case, the immune system takes about a month to develop immune memory for the virus.
The question of the longevity of acquired immunity also remains unknown. The fact is that immunity to MERS (Middle East Respiratory Syndrome) – which jumped from a camel to a person and caused an epidemic that claimed the lives of more than 850 people – lasts less than a year. The same thing can happen with SARS-CoV-2, although at the moment it's too early to talk about it. However, if the virus is capable of re-infection, it is likely to do so with much lower intensity, and the symptoms will be much easier.
Will the pandemic end in the fall?
The 1918 Spanish flu pandemic claimed the lives of more than 50 million people and raged for a year. However, most died during the second wave, which occurred in October. According to a study published by scientists from Imperial College London, after quarantine cancellation, the second wave of CoVID-19 will be almost inevitable. Researchers also warn that the stronger the quarantine measures, the more people can suffer during the second wave.
It must be understood that the meaning of isolation measures introduced in Italy, Spain and other European countries is not so much to prevent the spread of infection as to save hospitals – about 15% of infected need resuscitation and connection to mechanical ventilation and ECMO devices. Since the main problem of quarantine cancellation is the repeated spread of the virus, scientists propose that after the restrictive measures have been lifted, they establish safe periods of stay in the hospital, an alarm will be raised after the end of each stay and the population will be restricted again.
Does the new coronavirus mutate?
From an evolutionary point of view, the most successful viruses are the most infectious, not deadly, because their main purpose is reproduction. In most cases, the tendency is that viruses become less dangerous and allow the host to lead a more or less normal life. It is possible that such a fate awaits the new coronavirus. However, coronaviruses do not mutate much, since they encode a protein that corrects errors in DNA copying, which raises some concerns. Compared to other viruses, coronaviruses accumulate 10 times less errors in DNA, and therefore are much less variable.
One way or another, no one has been able to accurately predict the future. Therefore, today, as a society, we must take care of each other and follow all the recommendations of the World Health Organization. And yet, something is clear today – the pandemic will not pass quickly, and the usual order of things may change dramatically.