Wormhole Is Best Bet for Time Machine, Astrophysicist Says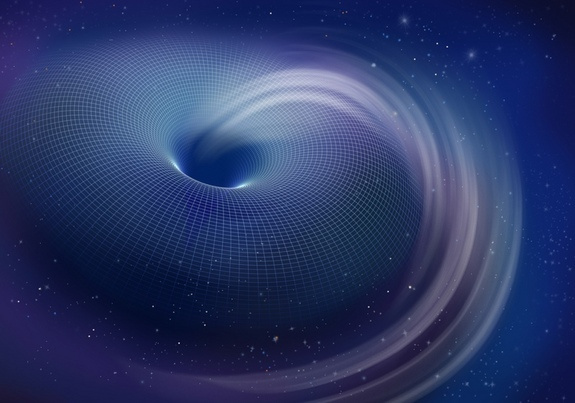 The concept of a time machine typically conjures up images of an implausible plot device used in a few too many science-fiction storylines. But according to Albert Einstein's general theory of relativity, which explains how gravity operates in the universe, real-life time travel isn't just a vague fantasy.
Traveling forward in time is an uncontroversial possibility, according to Einstein's theory. In fact, physicists have been able to send tiny particles called muons, which are similar to electrons, forward in time by manipulating the gravity around them. That's not to say the technology for sending humans 100 years into the future will be available anytime soon, though.
Time travel
to the past, however, is even less understood. Still, astrophysicist Eric W. Davis, of the EarthTech International Institute for Advanced Studies at Austin, argues that it's possible. All you need, he says, is a wormhole, which is a theoretical passageway through space-time that is predicted by relativity.
"You can go into the future or into the past using traversable wormholes," Davis told LiveScience.
Where's my wormhole?
Wormholes have never been proven to exist, and if they are ever found, they are likely to be so tiny that a person couldn't fit
inside, never mind a spaceship.
Even so, Davis' paper, published in July in the American Institute of Aeronautics and Astronautics' journal, addresses time machines and the possibility that a wormhole could become, or be used as, a means for traveling backward in time.
Both general-relativity theory and quantum theory appear to offer several possibilities for traveling along what physicists call a "closed, timelike curve," or a path that cuts through time and space — essentially, a time machine.
In fact, Davis said, scientists' current understanding of the laws of physics "are infested with time machines whereby there are numerous space-time geometry solutions that exhibit time travel and/or have the properties of time machines."
A wormhole would allow a ship, for instance, to travel from one point to another faster than the speed of light — sort of. That's because the ship would arrive at its destination sooner than a beam of light would, by taking a shortcut through space-time via the wormhole. That way, the vehicle doesn't actually break the rule of the so-called universal speed limit — the speed of light — because the ship never actually travels at a speed faster than light.
Theoretically, a wormhole could be used to cut not just through space, but through time as well.
"Time machines are unavoidable in our physical dimensional space-time," David wrote in his paper. "Traversable wormholes imply time machines, and [the prediction of wormholes] spawned a number of follow-on research efforts on time machines."
However, Davis added, turning a wormhole into a time machine won't be easy. "It would take a Herculean effort to turn a wormhole into a time machine. It's going to be tough enough to pull off a wormhole," he told LiveScience.
That's because once a wormhole is created, one or both ends of it would need to be accelerated through time to the desired position, according to general relativity theory.
Challenges ahead
There are several theories for how the laws of physics might work to prevent time travel through wormholes.
"Not only do we assume [time travel into the past] will not be possible in our lifetime, but we assume that the laws of physics, when fully understood, will rule it out entirely," said Robert Owen, an astrophysicist at Oberlin College in Ohio who specializes in black holes and gravitation theory.
According to scientists' current understanding, keeping a wormhole stable enough to traverse
requires large amounts of exotic matter, a substance that is still very poorly understood.
General relativity can't account for exotic matter — according to general relativity, exotic matter can't exist. But exotic matter does exist. That's where quantum theory comes in. Like general relativity, quantum theory is a system for explaining the universe, kind of like a lens through which scientists observe the universe.
However, exotic matter has only been observed in very small amounts — not nearly enough to hold open a wormhole. Physicists would have to find a way to generate and harness large amounts of exotic matter if they hope to achieve this quasi-faster-than-light travel and, by extension, time travel.
Furthermore, other physicists have used quantum mechanics to posit that trying to travel through a wormhole would create something called a quantum back reaction.
In a quantum back reaction, the act of turning a wormhole into a time machine would cause a massive buildup of energy, ultimately destroying the wormhole just before it could be used as a time machine.
However, the mathematical model used to calculate quantum back reaction only takes into account one dimension of space-time.
"I am confident that, since [general relativity] theory has not failed yet, that its predictions for time machines, warp drives and wormholes remain valid and testable, regardless of what quantum theory has to say about those subjects," Davis added.
This illustrates one of the key problems in theories of time travel: physicists have to ground their arguments in either general relativity or quantum theory, both of which are incomplete and unable to encompass the entirety of our complex, mysterious universe.
Before they can figure out time travel, physicists need to find a way to reconcile general relativity and quantum theory into a quantum theory of gravity. That theory will then serve as the basis for further study of time travel.
Therefore, Owen argues that it's impossible to be certain of whether time travel is possible yet. "The wormhole-based time-machine idea takes into account general relativity, but it leaves out quantum mechanics," Owen added. "But including quantum mechanics in the calculations seems to show us that the time machine couldn't actually work the way we hope."
Davis, however, believes scientists have discovered all they can about time machines from theory alone, and calls on physicists to focus
first on faster-than-light travel.
"Until someone makes a wormhole or a warp drive, there's no use getting hyped up about a time machine," Davis told LiveScience.
Accomplishing this will require a universally accepted quantum gravity theory — an immense challenge — so don't go booking those time-travel plans just yet.
A giant explosion recorded on the star Betelgeuse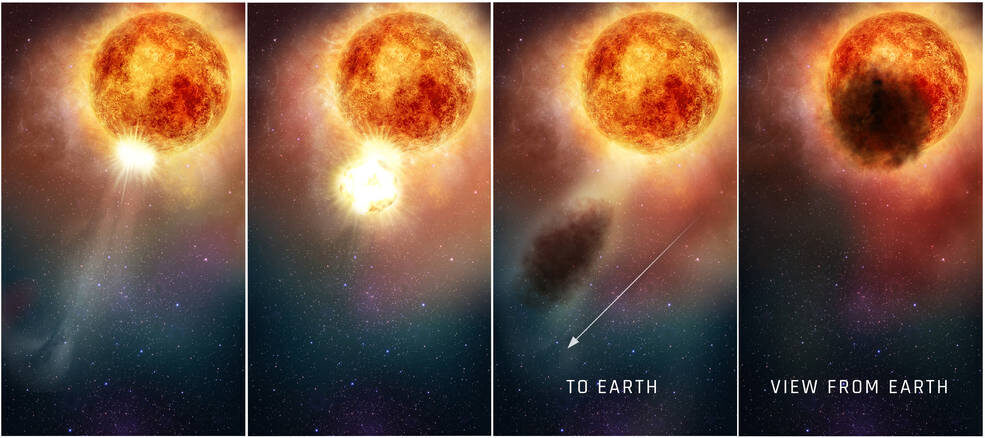 Betelgeuse is considered a doomed star, and its explosion is only a matter of time. Observations from NASA's Hubble Space Telescope show that the sudden darkening of the supergiant star Betelgeuse was most likely caused by the enormous amount of hot matter ejected into space, forming a dust cloud that blocked the starlight emanating from Betelgeuse's surface.
The researchers speculate that the dust cloud was formed when superhot plasma released from the upward flow of a large convection cell on the star's surface passed through the hot atmosphere into the colder outer layers, where it cooled down and formed dust particles. The resulting dust cloud has blocked light from about a quarter of the star's surface since late 2019. By April 2020, the star has returned to normal brightness.
Betelgeuse is an aging red supergiant star that has grown in size due to complex evolutionary changes in its fusion furnace at its core. The star is now so huge that if it replaced the Sun at the center of our solar system, its outer surface would extend beyond Jupiter's orbit.
Betelgeuse's unprecedented strong blackout phenomenon, visible even to the naked eye, began in October 2019. By mid-February 2020, the monster star has lost more than two-thirds of its brilliance.
This sudden blackout has puzzled astronomers, who have tried to develop several theories of abrupt change.
Hubble recorded traces of dense, heated matter moving through the star's atmosphere in September, October, and November 2019. Then, in December, several ground-based telescopes observed a decrease in the star's brightness in the southern hemisphere.
"With the Hubble Telescope, we see material leaving the visible surface of the star and moving through the atmosphere before the dust was formed, which made the star appear dim," said Dupree. "We could see the effect of a dense hot region moving in the southeastern part of the star.
"This material was two to four times brighter than the normal brightness of the star. And then, about a month later, the southern part of Betelgeuse became noticeably dimmer as the star became fainter. We think that it is possible that the dark cloud came from an explosion discovered by Hubble ".
The article was published August 13 in the Astrophysical Journal.
Massive sunspot facing Earth could be bad news as we enter a new 25 solar cycle
A massive sunspot has formed on the Sun, which will be turned towards our planet, which can lead to large and very strong flares aimed at the Earth.
The sunspot AR2770, which was recorded earlier this week, will increase in size. This particular sunspot has already emitted several minor flares, which have caused nothing serious, except for "small waves of ionization running through the upper atmosphere of the Earth."
However, this sunspot, which can be up to 50,000 kilometers in diameter, can release enormous amounts of energy, which in turn can lead to solar flares.
This phenomenon is called coronal mass ejections (CMEs). These outbreaks can have a serious impact on radio communications, global positioning systems (GPS) communications, power grids and satellites.
According to the National Oceanic and Atmospheric Administration (NOAA), CMEs can "oscillate electrical currents in space and excite electrons and protons trapped in Earth's changing magnetic field." Solar flares caused by these CMEs can also cause intense light in the sky called auroras.

What is a sunspot?
A spot is a dark area in the sun that appears dark on the surface and is relatively cooler than other parts. These sunspots contain electrically charged gases that create areas of powerful magnetic forces. Gases on our Sun are constantly moving, which causes irregularities in this "magnetic field". This activity is also called "solar activity". The levels of solar activity do not remain the same and differ from one solar cycle to the next.
What is a solar flare?
Solar flares are the result of changes in the magnetic fields at sunspots that cause a huge explosion. These solar flares are often thrown into space. The energy of the explosion of solar flares can be equivalent to a trillion atomic bombs dropped on Hiroshima and Nagasaki in 1945.
Is a new 25 cycle starting?
At the moment, there is no complete confidence in the beginning of the 25th solar cycle, which will mark a gradual increase in solar activity. Only one thing is clear – the solar minimum, if suddenly it continues, nothing good for our planet and, accordingly, will not bring us all.
Due to the practically zero activity of the Sun on Earth, record levels of cosmic radiation are recorded. To put it simply, our entire planet is essentially turned into a huge microwave.
But the resumption of solar activity after a long period of calm is also not good, since no one can predict the levels of this activity, and if it is high, this could potentially lead to a powerful super-flash that will cover the Earth.
What did Mars look like millions of years ago? New theory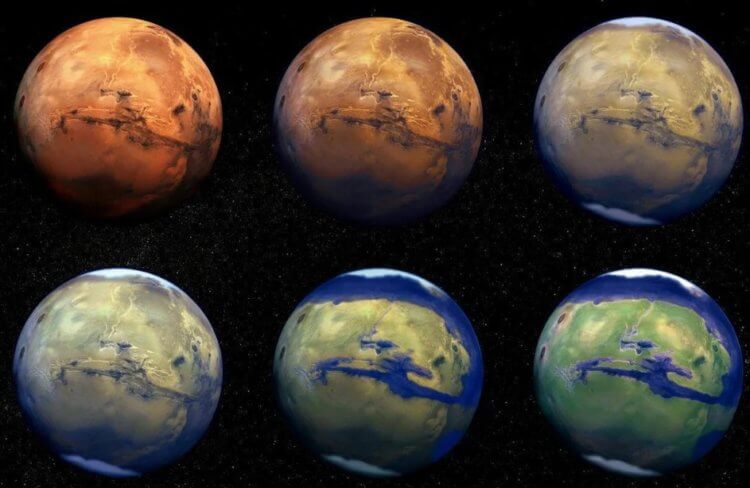 At the moment, Mars is considered the most suitable planet for human life. It is in many ways similar to our native Earth: the surface is solid, the day lasts almost the same 24 hours and periodically there is a change of seasons.
Scientists are sure that millions of years ago between our planet and Mars there were even more similarities, such as the presence of water and living organisms. He has one snag – in time immemorial the sun was much weaker than it is now, and Mars was quite far from it and was not going to approach. It turns out that the planet was cold and there could not be rivers and oceans on it.
But how, then, can explain the presence of valleys and depressions on its surface, which were clearly formed as a result of the flow of water? Canadian scientists have started looking for an explanation for this mysterious phenomenon.
In the course of scientific work, they managed to put forward a theory that greatly changes the idea of ​​scientists about the past of the Red Planet. Perhaps Mars looked like a giant snowball.
Millions of years ago, Mars was hardly a warm place
Water on Mars
The essence of the theory was published in the scientific journal Nature Geoscience . According to one of the study's authors, Anna Grau Galofre , over the past 40 years, the scientific community has believed that irregularities on the surface of Mars were formed by the movement of rivers.
However, there are distinctive features between valleys and depressions in different regions of the planet. To find out what factors could affect the structure of the irregularities, scientists decided to find a place on Earth, the surface of which is as close as possible to the Martian landscape. However, researchers have long known about the existence of such a place.
Mars on Earth
One of the most Mars-like places on our planet is considered the uninhabited island of Devon, located in northern Canada. Almost all of its surface is a cold and dry desert. If you look at the island from a bird's eye view or even from a satellite, you will notice that its surface is really very similar to the vastness of the Red Planet.
It is also full of all kinds of irregularities and scientists are well aware of how they were formed. Since Devon Island is a rather cold place, most of the rivers there flow under a layer of ice. Part of the ice sheet melted over time and the valleys left by the rivers are now clearly visible to us. In their structure, they are very different from the valleys formed by rivers that flow in the open.
So, scientists became aware of the distinctive features of the two types of valleys. Based on this data, they developed an algorithm that was able to quickly study photographs of 10,000 Martian irregularities.
Among them, the researchers found many valleys, which clearly formed under a thick layer of ice. Most of them were formed about 3.8 billion years ago. It turns out that once upon a time, although not all, but most of Mars, was covered with ice and snow. But scientists assumed that it was very similar to our blue-green Earth.
Life on Mars
If Mars really was covered with layers of ice, then the probability of the existence of living organisms on it increases markedly. The fact is that microorganisms could well inhabit the waters hidden under the ice sheet. And this shield, in turn, could perfectly protect them from cosmic radiation.
Indeed, the Red Planet has a very weak magnetic field, which is precisely what serves to protect against harmful radiation. So, despite the changes in the idea of ​​the appearance and conditions of ancient Mars, the probability that at least primitive creatures lived on it remained. Maybe someday their traces will be discovered by devices like InSight and we will gain confidence that life on other planets can exist.
The computer algorithm created within the framework of scientific work will not disappear. According to the developers, it can be useful for studying the past of the Earth.
Technologies existing at the moment allow us to look at history no further than 5 million years, and a new algorithm can reconstruct the history of glaciations on our planet over the past 35 million years. It sounds intriguing, so we can only hope that new discoveries will not be long in coming.