World's Worst Crop Circle Makers Arrested in Alabama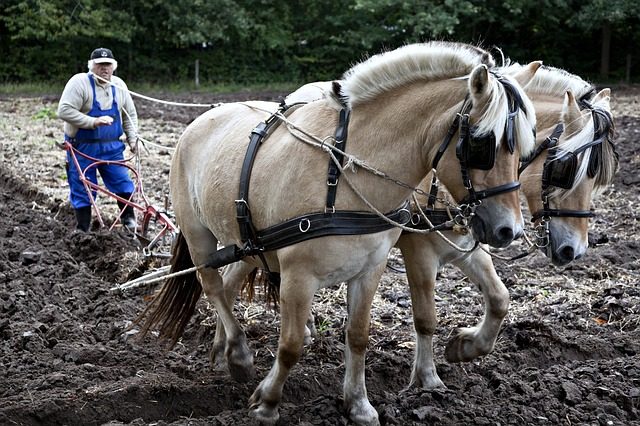 The number of crop circles is rising around the world, with France seeing a high volume of this in 2019. In addition, the complexity of these crop circles keeps improving as the aliens/pranksters get better at making them and keeping them concealed until they're done despite the increasing prevalence of drones. One thing you don't hear very often at these sites are chants of "U-S-A! U-S-A!" That's mostly because the U.S. has so very few of them. Another reason might be that our alien/pranksters are just plain bad at plane geometry. That was proven once again this week in Alabama, where five people were arrested as they were creating what has to be the world's worst crop circle. It shouldn't even be called a "circle" but there's no category in this field (pun intended) for crop blobs. Talk about embarrassing. (You can see the 'circle' here.)
"I think they may have actually made the pattern, came out of the field, and then re-entered the field, and made a second trip. So, it was a little bit of an adventure for them, it wasn't just a quick thing."
Sheriff Jonathon Horton of the Etowah County Sheriff's Office told WSFA 12 News that a neighbor of the owner of the crumpled cornfield saw a suspicious vehicle on a security camera video (Big Brother even watches cornfields) and notified the authorities (after also posting it on social media) and it wasn't long before Brandon Allen Whitlock, Noah Michael Brown, Rex Dakota Brown, Jeni Beth Vaughn, and Stephanie Marie Helm were arrested and charged with totally embarrassing everyone in Etowah County. Also, they were charged with 3rd degree criminal mischief, a felony. The estimated damage to the field was put at $7,500 – that's a lot of corn.
What's sad is that if you were going to pick a place in Alabama to fool the public or send a message to fellow aliens, Etowah County would be the perfect place. Located in northeast Alabama, it's the state's smallest county by area but one of the most densely populated. It also is home to Alabama's most famous cryptid – the White Thang. Reported often in the dense woods of the county, the White Thang is a white Bigfoot-like humanoid creature, usually said to be over 7 feet tall and covered with white fur or hair. It reportedly has a unique howl, stands on two legs but moves extremely fast on all fours and has a foul odor.
Etowah County has also had its share of UFO sightings. While some may be attributed to the Goodyear blimp hangar at the local tire plant, there have been others with a few allegedly attracting military jets. The country also has legends of a river monster and giants, not to mention plenty of ghosts, according to Mark Goodson's book Haunted Etowah Country, Alabama. But no crop circles.
Don't look for Goodson to be revising his book for this one either. It's an embarrassment to Alabama, White Thang and any aliens in the area.
We can't be good at everything, but how hard are crop circles? After all … France!
Source: Mysterious Universe
Highly Unusual Creature Discovered Beneath the Antarctic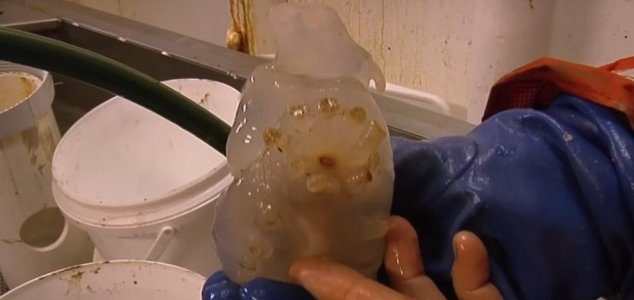 Strange gelatinous creature has been discovered by scientist 3,500 meters beneath the ocean's surface.
via Unexplained-Mysteries:
Likened by some to the terrifying alien creature in science-fiction movie 'The Thing', this never-before-seen deep-sea life form was found within a scarcely explored region of the ocean floor that is so far down that it experiences pressures 300 times those found at the surface.
It was discovered by scientists aboard the New Zealand research vessel RV Tangaroa.
"It has something quite interesting at the front which sort of likened it to a hippopotamus," said Dr Kareen Schnalbel, a marine biologist at the National Institute of Water and Atmospheric Research.

"We don't know how many are down there, we don't know how common this is."

"But I have never seen anything like this before."
You can watch a full documentary about the team's discoveries below.
Unexplained-Mysteries
Falling Fireballs Crashed in Chile Last Week. They Weren't Meteorites, Experts Say.
Chilean officials are investigating a curious collection of burning objects that fell onto parts of the country last week.
Goodness gracious! Great balls of fire rained from the sky in Chile last week, and officials are still trying to figure out what they were and where they came from.
One thing is certain: The mysterious burning objects were not meteors, according to news reports.
The fiery UFOs descended on Dalcahue City on the Chilean island of Chiloé on Sept. 25, CNET reported. . The tumbling objects crash-landed in seven locations, setting off fires that were promptly put out by volunteer firefighters. .
Geologists from Chile's National Geology and Mining Service soon arrived to examine the seven sites that had been scorched by the falling space stuff. While they conducted their analyses, the story spread through local news, social media and national outlets.
Chilean astronomer and astrophysicist José Maza told Chilean news network TVN that the blazing bodies were likely either meteorites or space debris that had detached from rockets or satellites, according to CNET. On Sept. 26, astronomer Jonathan McDowell of the Harvard-Smithsonian Center for Astrophysics chimed in on Twitter, saying that the falling objects were probably meteorites and that there were "no obvious space debris candidates that [he could] see."
"But [it] sometimes takes a few days for relevant data to come in," McDowell added.
Se reporta caída de meteorito en mocopulli chiloe pic.twitter.com/7w3KGEgnln

— marcelo macaya (@mmacaya) 25 September 2019
On Sept. 28, the geologists released their official assessment: None of the seven sites contained traces of meteorite. Since the mysterious objects weren't meteors, logic dictates that they must have been wayward space junk, but officials said they'll be conducting more detailed analyses of soil samples collected from the singed sites to make sure, according to CNET. The geologists will release their results later this month. Only time will tell what exactly fell from the heavens on that unusual September evening.
Source www.space.com
Strange Angel Hair Phenomenon
When most people hear the phase "angel hair", they immediately think of the classic pasta dish, but for the avid UFO enthusiast, it takes on an entirely different meaning.
The strange material known as "angel hair"–a light, cobweb-like substance that reportedly sometimes falls from the sky during UFO sightings–has been considered to be somewhat of a fringe element of Fortean phenomena, but this doesn't mean that occurrences of angel hair have been rare; in fact, since 1947, there have been well over 200 documented cases of this gossamer-like substance being found in direct connection with UFO sightings.
So what exactly is angel hair? It has been generally described as being fibrous and silk-like, with a remarkable consistency that on one hand can be strong and resilient, but then in an instant can dissipate into the air like fog or smoke.
Some ufologists believe that angel hair is left behind as some sort of "exhaust" from alien spacecraft, similar to carbon emissions that are produced by an automobile. Scores of eyewitness reports describe unidentified flying objects including cigar-shaped aircraft, disks and silver spheres emitting this bizarre substance, particularly after moments of rapid acceleration or complex aerial maneuvers.
The substance will slowly drop to the ground, often landing on fences, wires or trees in the area, many times covering large areas at a time. In fact, there have been several reports of angel hair covering power lines for miles on end, or blanketing several square miles of land at a time.
One report from October of 1957 describes how an area of New Mexico was draped in strands of angel hair that reached up to 50 feet in length apiece, and covered a total area of roughly 110 miles. This bizarre phenomenon is often classified as being a close encounter of the second kind, since the substance typically makes some type of physical contact with the environment.
According to a vast number of reports, one of the most interesting properties of angel hair is its ability to demonstrate sublimation, which is the ability of the substance to change directly from a solid to a gas, essentially bypassing the liquid stage altogether.
It has been described in various instances as both fine and coarse, having a consistency similar to cotton, but it often dissipates as it is being physically handled. The most commonly reported color for angel hair is white, but it has also been observed in other instances as being silver, gray, black, and even translucent.
There seems to be no one particular cause for the phenomenon, but there is an inextricable link between UFO sightings and angel hair, with roughly 57% of all angel hair cases being tied to UFO reports in some way. In addition, eyewitness accounts representing virtually every corner of the globe generally agree on both the look and the consistency of this odd substance.
There have been several cases where angel hair was not only recovered from alleged UFO sighting areas, but it has also been examined in scientific laboratories. The substance has been examined by professionals from a wide range of disciplines, with the general consensus being about the same: Nobody is quite sure what this stuff is made of.
Prominent biologists, chemists, fiber technicians, toxicologists, engineers, and so forth have all sought to gain insight into the composition of this strange substance, but to little avail. Common elements such as boron, magnesium, silicon, potassium, and calcium have been discovered in samples of angel hair, with the most notable element being boron due to its noted usage in nuclear technology.
Boron is commonly utilized as a buffer that shields and controls nuclear reactions, a fact that has prompted many researchers to speculate that angel hair may be the by-product of some type of nuclear-powered propulsion system.
Some skeptics have claimed that angel hair is nothing more than the webbing produced by ballooning spiders, which are known for producing large blankets of silk webs that are often pulled aloft by the wind.
Interestingly enough, all of the samples of angel hair that have been studied in laboratories have lacked a primary ingredient that is necessary for spiders to manufacture their webbing: Protein.
The "ballooning spider theory" also does not account for the fact that angel hair often sublimates on contact, which is almost the complete opposite of what happens when physical contact with a spider's web occurs.
While the phenomenon of angel hair definitely leaves quite a bit of room for speculation, its correlation to UFO sightings cannot be easily dismissed. In light of all that is still not known about this unique substance, it would be beneficial for more members of the UFO and scientific community to devote more time and resources towards conducting serious research of this mysterious phenomenon.