Worlds Waters Turn Blood-Red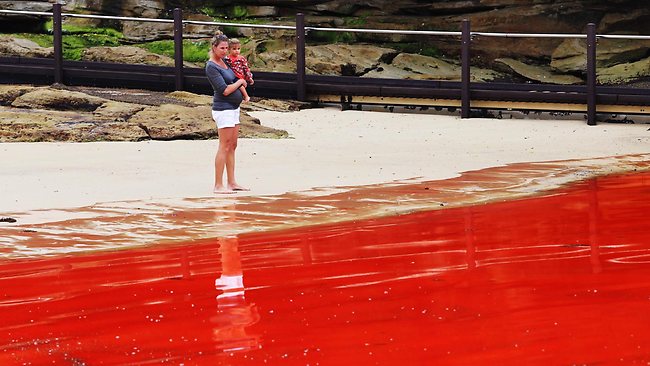 Exodus 7:17 This is what the LORD says: By this you will know that I am the LORD: With the staff that is in my hand I will strike the water of the Nile, and it will be changed into blood.  SEVERAL popular Sydney beaches, including the iconic Bondi, resembled scenes out of a apocalyptic film today after an algae bloom turned the water blood red.
SEVERAL popular Sydney beaches, including the iconic Bondi, resembled scenes out of a apocalyptic film today after an algae bloom turned the water blood red.

Patches of the red algae, a natural phenomenon that can be exacerbated by certain weather conditions, were sighted between Bondi Beach and Maroubra Beach this morning.

Both Bondi Beach and Clovelly Beach were closed while authorities conduct tests in the water.

Gordon's Bay was also closed due to the algal bloom, with Beachwatch posting a photograph on Twitter showing water the colour of tomato juice.

Waverley head lifeguard Bruce Hopkins said the bloom was spotted drifting off the north side of Bondi Beach at around 6.30am.

"It has got quite a fishy smell to it," Mr Hopkins told AAP.

"It can irritate some people's skin but generally not much more than that."

Mr Hopkins said the bloom has a "reddy-purple" tinge and sits on the surface like oil sheen. The bloom was dissipating off Bondi, with hopes the beach might be reopened by this afternoon, he said. Red algae was uncommon but not unheard of at Bondi, Mr Hopkins added.

Algae bloom

A seagull searches for a meal in the algal bloom which has killed many fish on the coast of Sydney.

At just before 12.30pm Beachwatch NSW announced that Clovelly Beach had also been closed because of the bloom.

The closures will come as a blow to tourists and other beachgoers if they continue throughout a week which is forecast to have soaring temperatures peaking at more than 40C on Saturday.

A Randwick Council spokesman said red algae can potentially be dangerous to humans exposed to it.

"There are some possible risks to human health from red algae including skin rashes and eye irritation, and for this reason the beach will remain closed until the algae dissipates," the spokesman said.

"Signage has been installed at Clovelly Beach, and council lifeguards are advising people not to swim."

Algal bloom

The red algal bloom at Clovelly beach. Picture: Craig Greenhill Source: The Daily Telegraph

A spokesman for the NSW Office of Water said testing was being done to discover what caused the bloom.

One cause, he said was an upwelling of colder nutrient-rich water.

He said algal blooms, sometime referred to as "red tides", are more common around spring and autumn when there are higher water temperatures and greater movements in ocean currents.

The NSW Office of Water expects the test results some time on this afternoon but could not confirm the beaches would be opened by the end of the day.

It comes after toxic algal bloom was detected in Botany Bay, south of Bondi on Friday.

That particular species of algae produced paralytic shellfish poisoning toxins, the NSW Department of Primary Industries said.

The NSW Office of Water spokesman said the two blooms were "probably not related", but were unable to confirm further details until test results on the algae at Bondi became available.

While many locals have been deterred by the phenomenon, many people – believed to be tourists – are still swimming in the water.

Algal bloom

The red algal bloom at Bondi Beach. Picture: Craig Greenhill Source: The Daily Telegraph

Bondi local Michael Strum said the algae had stopped him swimming in the water.

"It looks like pink sludge, it's disgusting," he said.

"You can even see it on the sand."

Irene Eristian, 33, said the colour of the water was "quite intense".

"I wasn't sure if I should let my daughter into the water as I wasn't sure what it was," she said.

Some, like 18-year-old Bondi woman Josie Capel, said she was curious to find out what the effects are and "what the risks are, if there are any".

Late this afternoon Bondi beach was reopened after the algae bloom broke up sufficiently to allow swimmers to safely return to the water.

A spokeswoman for Waverley Council said most of the algae had either washed up, or broken up in the water.

Further south, Clovelly beach remains shut.

It is believed the red algae will continue to break up overnight, with Waverley Council not expecting to need to close beaches again tomorrow.
China's Yangtze River "Turns Blood Red": Residents of Chinese city left baffled
It is the last thing the residents of Chongqing would have expected to see. But the Yangtze river, which runs through the city in south-western China, turned a bright shade of orange-red yesterday.
The waterway where the Yangtze met the Jialin River provided a fascinating contrast as the red started to filter into the other river.
Meeting point: A ship sails across the junction of the polluted Yangtze River (left) and the Jialin River in Chongqing, China, yesterday
Shock: The Yangtze river, which runs through the city in south-western China, turned a bright shade of orange-red yesterday
Dirty/clean: A ship sails across the junction of the Yangtze River and the Jialin River at the exact spot where the dyed river starts to bleed into the Jialin
In the thick of it: A fisherman goes about his daily business
While officials investigate the cause of the colouring, one fisherman went about his daily business as if nothing had happened.
Others were so amazed that they collected samples in water bottles.
Although the cause is yet to be determined, this is not the first time a river has turned red in China. Last December, the Jian River in the city of Luoyang, in the north Henan province, turned red after becoming polluted by a powerful dye.
The dye was being dumped into the city's storm drain network by two illegal dye workshops.
Officials raided the factories to shut them down, and then disassembled their machinery.
According to chapter 16, verse 4 of the Bible's book of Revelations, one of the signs that Armageddon is near will be an angel pouring a bowl into the rivers, turning them into blood.
Bizarre: The red river gave Chongqing an apocalyptic appearance yesterday
According to the Inquisitr reports
Lake In France Turns Blood Red

Natural bodies of water like lakes and rivers turning blood red sounds like something apocalyptic straight out of the Bible, but a lake in southern France displaying this phenomenon has a perfectly natural explanation for it: salt.
A lake in the Camargue in southern France, a river delta right where the Rhône meets the sea, turned blood red, causing some panic. But fear not: scientists are saying that the color is due to a natural phenomenon, and not a chilling portent of doom, reports NY Daily. A high concentration of salt taking the form of salt flats caused the water to run an eerie blood red color, says scientists.

The salt build-up can be seen on plants, rock formations, and beaches in photographs snapped by Russian photographer Sam Dobson. The strange and eerie photos, seen here, were described by the photographer thusly:

"Every small branch is covered with crystals. with the red water as a background it looks like something extra-terrestrial," said Dobson of the strange phenomenon. "I was just overwhelmed with emotions the whole time I was there. Despite my numerous travels, I have never seen anything like this before."

This isn't the only time such a thing has happened, either. Lake Retba in Senegal recently took on a strawberry milkshake-like hue for similar reasons, reports the Daily Mail.

"The strawberry [color] is produced by salt-loving organism Dunaliella salina. They produce a red pigment that absorbs and uses the energy of sunlight to create more energy, turning the water pink," Michael Danson, a bacteria expert from Bath University said. "Lakes like Retba and the Dead Sea, which have high salt concentrations, were once thought to be incompatible with life – hence the names. But they are very much alive."

So even though fish and birds are dying by the thousands, and bodies of water are turning blood red, these are not signs of the end-times. You can rest easy: it's all natural.
Apocalypse to start on April 11 claims David Meade
Serial predictor David Meade, who previously claimed the world would end on September 23 and November 19 in 2017, says the new date of the apocalypse is now April 11.
Mr Meade begins an article on Planet X News by saying: "The fat lady is about to sing. It's all over."

Mr Meade gives a list of reasons as to why he believes this will be the date of the end of the world, also adding this will be the year the Antichrist finally reveals himself to usher in the apocalypse.
The conspiracy theorist said the Great American Eclipse which took place on August 21 last year, was a "harbinger of a seven-year Tribulation period".

Mr Meade added the solar eclipse began in Oregon, the 33rd State, and ended in South Carolina, which is in the 33rd parallel – a circle of latitude which is 33 degrees north of the equatorial plane.
Mr Meade said: "The last eclipse of this nature was 99 years ago (33 x 3)".
Three is significant in Biblical terms as it represents the Holy Trinity. Thirty three is how old Jesus was he died.
He goes on to say the "crazy people of the United Nations" declared on December 21 that Jerusalem is not the capital of Israel.
This was followed 42 days later by the blood red blue supermoon.
Following this, Mr Meade says "Ron Reese, a Bible scholar of many years … says the Tribulation begins on or around April 11, 2018."
Mr Meade says the Antichrist will step out of the shadows following this date and "I think I know who it is but there is no way I'm releasing that information."
He said North Korea will commence World War III later this year and that the fabled Planet X – a mythical planet that is allegedly heading towards our solar system and will knock Earth off its axis and cause widespread destruction – will appear.
Mr Meade said: "Halfway through the Tribulation the Antichrist declares himself in the rebuilt Hebrew temple in Jerusalem. There's major trouble from that point forward. Everything escalates a hundredfold.
"The Antichrist's time is brief (a full 3.5 years) but he wrecks havoc on the earth in that time. He creates nuclear wars and as a result there is famine and pestilence."
Scientists think we all may be dead by 2050
According to research around the future of Artificial Intelligence, the human race could vanish within our lifetime.
At last, some good news, then.
Jeff Nesbit, former director of legislative and public affairs at the National Science Foundation and author of more than 24 books, has examined the latest thinking on AI capabilities.
He concludes that the human race could cease to exist by 2050 – or that we become immortal.
Nesbit explains the theory known as ASI, or 'artificial super-intelligence', which posits that AI will evolve into a supercomputer which learns so quickly that it surpasses human intelligence, and solves all problems.
Competing theories
On the one hand, you have the hopefuls like Ray Kurzweil imploring us not to fear artificial intelligence, pointing instead to the older and more pressing threats like bioterrorism or nuclear war.
In fact, Kurzweil argues that mental capabilities are enhanced by AI, and he points out that global rates of violence, war and murder have declined dramatically.
He also argues that AI has helped to find cures for diseases, developed renewable energy resources and, cared for the disabled, among other benefits to society.
Kurzweil puts the date of 'human level AI' at 2029, which gives us just enough time to "devise ethical standards".
Then there's Rollo Carpenter, creator of the Cleverbot software, which has gained high scores in the Turing test – that is to say, many people have mistaken it for human when communicating with it.
I believe we will remain in charge of the technology for a decently long time, and the potential of it to solve many of the word problems will be realised.
He explains that the ability to develop algorithms necessary for achieving full artificial intelligence is still a few decades away, and explains:
We cannot quite know what will happen if a machine exceeds our own intelligence, so we can't know if we'll be infinitely helped by it, or ignored by it and sidelined, or conceivably destroyed by it. 
Billionaire entrepreneur Elon Musk, pioneer of digital money and electric cars, has told students in an interview that we are "summoning the demon" with AI.
Speaking at the AeroAstro Centennial Symposium at the Massachusetts Institute of Technology (MIT), Musk made the following remarks:
If I had to guess at what our biggest existential threat is, it's probably that [artificial intelligence]. So we need to be very careful.

With artificial intelligence we are summoning the demon. In all those stories where there's the guy wih the pentagram and the holy water, it's like – yeah, he's sure he can control the demon. Doesn't work out.
In a 2015 open letter, Musk and Professor Stephen Hawking wrote on the idea that AI could allow development of autonomous weapons, which would revolutionise warfare – and not for the better.
Autonomous weapons are ideal for tasks such as assassinations, destabilising nations, subduing populations and selectively killing a particular ethnic group.

Starting a military AI arms race is a bad idea, and should be prevented by a ban on offensive autonomous weapons beyond meaningful human control.
Hawking, who is able to communicate via a technology that uses a basic form of AI, also had this cheery proclamation for the BBC:
The development of full artificial intelligence could spell the end of the human race.
He, too, considers the possibility and potential dangers of ASI, explaining that AI could take off on its own and re-design itself at an ever increasing rate.
Humans, who are limited by slow biological evolution, couldn't compete, and would be superseded.
But all of them agree on one thing – sometime in the next 30 years or so, a supercomputer will replicate the human brain and evolve into super-intelligence, or ASI.
Tim Urban, author of 'Wait, But Why?' blog, outlines the future:
While most scientists I've come across acknowledge that ASI would have the ability to send humans to extinction, many also believe that used beneficially, ASI's abilities could be used to bring individual humans, and the species as a whole, to…species immortality.
The 'World Health Organization' Warns We're Officially on The Path to a Global Pandemic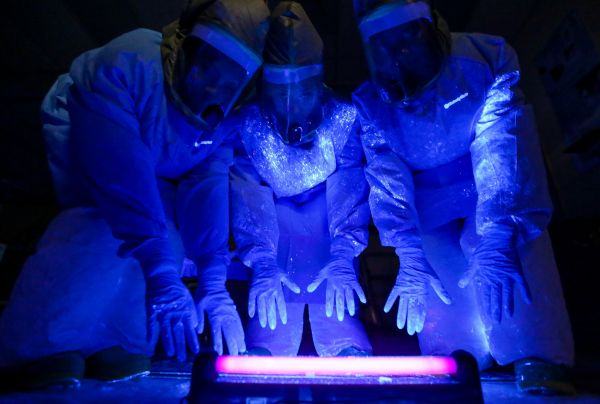 We have a problem. A serious one. At any moment, a life-threatening global pandemic could spring up and wipe out a significant amount of human life on this planet.
The death toll would be catastrophic; one disease could see as many as 100 million dead.
It sounds like a horrifying dream. It sounds like something that can't possibly be true. But it is. The information comes from Tedros Adhanom, Director General of the World Health Organization.
He spoke today at the World Government Summit in Dubai, and according to his assessment, things are not looking good.
"This is not some future nightmare scenario," said Tedros (as he prefers to be called by Ethiopian tradition).
"This is what happened exactly 100 years ago during the Spanish flu epidemic." A hush fell across the audience as he noted that we could see such devastation again, perhaps as soon as today.
Tedros was equal parts emphatic and grave as he spoke: "A devastating epidemic could start in any country at any time and kill millions of people because we are still not prepared. The world remains vulnerable."
What is the cause of this great vulnerability? Is it our inability to stave off Ebola? Rising incidents of rabies in animal populations? An increased number of HIV and AIDS cases?
No. According to Tedros, the threat of a global pandemic comes from our apathy, from our staunch refusal to act to save ourselves – a refusal that finds its heart in our indifference and our greed.
"The absence of universal health coverage is the greatest threat to global health," Tedros proclaimed.
As the audience shifted in their seats uncomfortably, he noted that, despite the fact that universal health coverage is "within reach" for almost every nation in the world, 3.5 billion people still lack access to essential health services.
Almost 100 million are pushed into extreme poverty because of the cost of paying for care out of their own pockets.
The result? People don't go to the doctor. They don't seek treatment. They get sicker. They die. And thus, as Tedros explained, "the earliest signals of an outbreak are missed."
Surveillance is one of the most vital forms of protection the world's public health agencies can offer, but these agencies rely on the money of the governments they serve.
And in the United States, which is presently enduring a flu season of record-breaking severity, the Centers for Disease Control and Prevention (CDC) recently announced they would be cutting their epidemic prevention programs back by 80 percent.
Programs for preventing infectious diseases, such as Ebola, are being scaled back in 39 of the 49 countries they've been employed in, according to The Washington Post.
The reason? Quite simply, governments are pulling money from these programs, and it's not clear whether any more will ever be allocated – at least, not in the US during the current administration.
It might seem a bit obtuse. But, as Tedros pointed out, too often we "see health as a cost to be contained and not an investment to be nurtured."
Aside from the obvious – avoiding a global pandemic that ravages humanity – healthy societies are advantageous for reasons that are more economic than epidemiological.
"The benefits of universal health coverage go far beyond health," Tedros said. "Strong health systems are essential to strong economies."
We know that the quality of pre- and post-natal care a person receives when a child is born has a direct impact on how soon they're able to return to work (if they choose to).
If we want our children to grow up healthy enough to become functioning, contributing members of society, then the quality of care they receive from birth throughout childhood can't be underestimated.
"We do not know where and when the next global pandemic will occur," Tedros admitted, "but we know it will take a terrible toll both on human life and on the economy."
While Tedros acknowledged there's no guarantee we'll one day create a completely pandemic-free world, what is within our reach – if we have the investment and support – is a world where humans, not pathogens, remain in control.
We can do better. And if most of us are to survive in the long term, we must.
This article was originally published by Futurism. Read the original article.