Woody Harrelson Shares a Powerful Video: Thoughts From Within
This is an awesome video made by Woody Harrelson sharing some powerful thoughts from within. The video contains a message that touches us all and is riddled with truth throughout. Have a look and spread the word!
NASA Lies: The "Mars rover" is not on Mars, is the island of Devon, Canada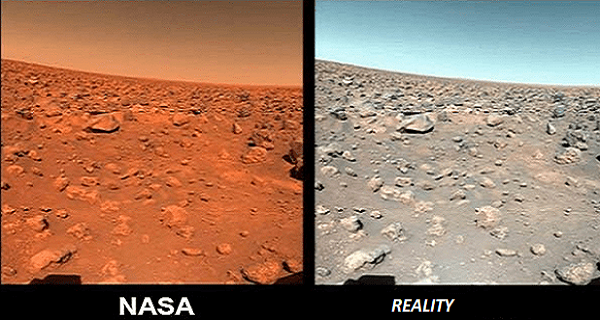 So-called "truthers" believe they have uncovered "solid evidence" that PROVES the space agency's Mars Rovers never reached the Red Planet.
And they have allegedly found where the pictures and video were "beamed back" from.
They have pinpointed a largely uninhabited island, which NASA itself says "resembles the Mars surface in more ways than any other place on Earth".
The bombshell allegations have been compared to claims the Moon landing was faked.
Investigator Harold Saive claims NASA's Mars Exploration Rovers – robots which are supposedly scouring the Martian landscape for signs of water, and possibly alien life – never reached their target.
Instead, they allegedly "fell short" – and landed on Devon Island, in Canada.
Devon Island – the world's largest uninhabited island – lies in the Arctic Circle off the Canadian mainland.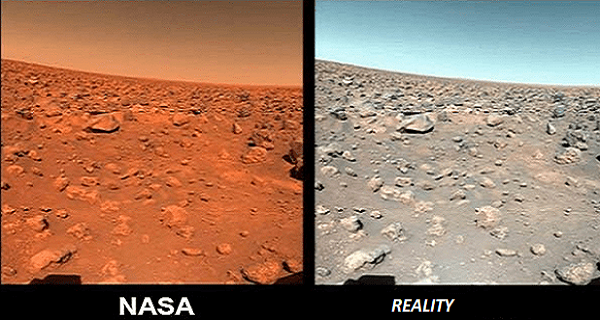 It is characterized by freezing temperatures, barren terrain – and strangely familiar red rocks.
NASA readily admits it has a base there and drives rovers around its rocky surface.
Mr Saive said: "There are an increasing number of people who believe that NASA's rovers never left the Earth in the first place, and the pictures they are allegedly sending back from Mars are taken in remote areas of our planet.
"Evidence suggests that the pictures that we see on NASA's website are not even taken by the Curiosity and Opportunity rovers.
"It is possible that by now, both rovers are stored in a hangar, somewhere at NASA's headquarters."
But the conspiracy theorist goes further – and denies the "Red Planet" is even red.
He says "all amateur telescope pictures" reveal its true color (presumably brown) but NASA Photoshops its pictures of Devon Island to fit our preconceptions.
Mr. Saive even provides a video by fellow truther Danny Wilten showing how it's done.
NASA has had a base at Nunavut, on Devon Island, since 1997 and up to 100 staff work there each summer.
The space agency insists its "mission" to the faraway world of…Canada…is to practice for Mars expeditions.
It says the Haughton Crater on Devon Island provides the perfect terrain for the job.
A spokesman said: "The Haughton-Mars Project exploration program studies the technologies, strategies, and personal training that will be used in human exploration missions to the Moon, Mars, and other planetary bodies.
"HMP researchers test technology prototypes, such as K-10, a robot designed to assist humans before, during, and after human exploration missions.
"Because the environment is harsh, isolated, and poorly mapped, it provides an analog for testing planetary exploration strategies, such as safety and telemedicine."
Professor Lewis Dartnell, an astrobiology at the University of Westminster, who is designing laser eyes for the European Space Agency's own Mars rover, told the Daily Star Online: "NASA's Mars rover program is real, and Spirit, Opportunity, and Curiosity rovers are all on the surface of Mars.
"The radio signals beamed back to Earth from Opportunity and Curiosity are picked up by an international system of radio dishes called the Deep Space Network — so if this was a conspiracy then many different nations would need to be involved, and not just the USA.
"Also, satellites like the Mars Reconnaissance Orbiter can clearly see the rovers on the surface of Mars, and the tracks left by their wheels tracing out across the Martian landscape.
"Any planetary scientist around the world can request images of particular regions on Mars from these orbital probes."
The Cosmic False Flag: Experts Claim Shadow Government Will Fake Alien Invasion
Quoting a report published in Aviation Week and Space Technology on August 17, 1992, aerospace historian Michael Schratt states more than $100 million dollars of tax payer money a day — every day of the year — is being spent on covert operations with no civilian oversight whatsoever.
That's $3 billion a month going to projects that you and I know absolutely nothing about.
Think about that for a moment. Imagine what you could do with that kind of money?
Now try imagine what greedy-power drunk psychopaths could do with that money?
If that's not disturbing enough, it has already been officially acknowledged that trillions of dollars of tax payer money cannot be accounted for…
Of course, this is pretty mind blowing to consider in and of itself. It's actually very difficult to even believe or comprehend how the government can get away with something like this. But sadly they can, and they do.
The obvious question here is, where is all this money going?
According to this documentary, these funds are going into the planning of an unprecedented false flag attack that will "make 9/11 look like a picnic," and ultimately be used to justify an authoritarian government unlike anything the human race has ever seen.
You can watch the trailer below;
The Highest Form Of Ignorance Is When You Reject Something You Know Nothing About
Personally, I have no idea whether this story is true or not, but I did decide to keep an open mind and watch the documentary which I was very impressed with.
Not only does it make a sensible argument to support the theory of a cosmic false flag event in the making, but it also presents strong evidence — particularly in the form of high ranking government/military official testimony — that alien visitation has already taken place, bodies have been recovered, and all of this has actually been hidden in plain sight for decades.
So instead of mindlessly rejecting this information based on your personal narrow minded prejudice, simply hear what these reputable authorities have to say. The highest form of ignorance is when we reject something we actually know nothing about.
Agartha, A Subterranean World Inside Our Planet, Confirmed By Top Secret Nazi Maps And Documents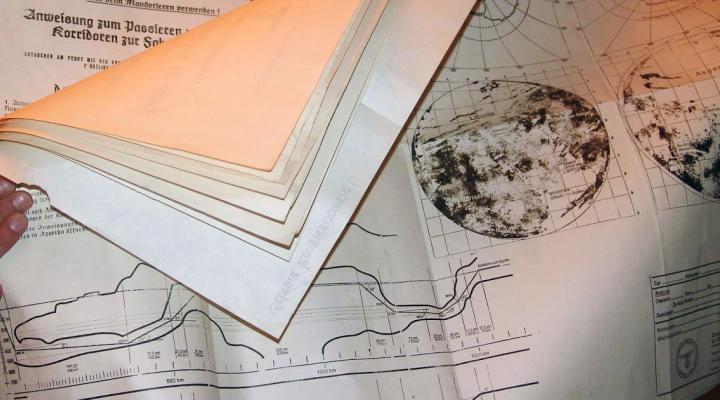 Us humans know a lot about the surface of the Earth. We've drilled oil rigs into it, mapped it, and studied it so many times that we can pretty much find out anything about the Earth from some database out there. However, we know very little about the inside of the Earth, a fact that the Nazis think that they have a lead into.
Map of Neuschwabenland
Nazi maps were recently uncovered that brought up questions as to whether the Earth is partially hollow and inhabited by lifeforms that we might have never seen. There are even stories of these Nazis who explored the polar regions of the Earth and going so far as to create secret bases in Antarctica.Imperial German maps of the Hollow Earth
Imperial German maps of the Hollow Earth
Translation:Maps for the passage of the depths of the seas.Use only during manoeuvers!Instructions to pass spaces and corridors for the voyage to Agartha.
Beyond the Nazis, many other researchers have discovered and published material regarding Operation Highjump and Admiral Byrd's journeys in which technologically-advanced airships and UFO were believed to be seen flying around, and even aggressively engaging with them. In addition, a top-secret map found in a U-Boat depicts many secret passages that were used by the U-boats to explore unknown and mysterious underground regions. All these maps indicated that the center of the Earth is hollow. But why have the Nazis kept this a secret for so long? Such a fact would be of great curiosity to man if it were found true.

This is a close up of the document showing us the NS Seal and advice on how to work with it.
Translation:After returning from the assigment hand in at the secret department!IN CASE OF DANGER DESTROY FIRST!Printed for the Military Navy in an edition of 1300 copies at the special laboratory of the KZ Dachau. January 1944.
Perhaps all this was merely a propaganda scheme made for the war. After all, the Nazis wanted to establish themselves as a master race, and making it look like they had access to underground U-Boat tunnels and that they could communicate with supernatural things such as UFOs would make them look very dominant if that U-Boat were to be captured by the enemy.
This map shows us the main continent of this hemisphere named Liberia. The main ocean here again is also the Valkarian Ocean. On the lower part of the map the city of Shambala is depicted. The Tibetan Monks believe that the City of Shambala is not on our surface but on the inside of the Earth. This map of the Inner Earth shows us the actual position of Shambala confirming the actual existence of this mythical place.Or maybe the Nazis wanted to keep this information secret to us in case they ever needed to use it for military needs in the future. Think about it: having access to secret underground tunnels could lead to more efficient and safe travel over enemy waters.
This is a letter from a German U Boat crewman of U-209. He says in the letter that U-209 commanded by Heinrich Brodda made it to the Inner Earth of Agharta and that they wouldn't be coming back.
Translation: Dear old comrade,This message will be a surprise to you. The U Boat 209 has made it, the Earth is HOLLOW! Dr. Haushofer and Hess were right. The whole crew is doing well, but they cannot come back. We are no prisoners. I am certain, that this message will reach you, it is the last contact with the U 209. We will meet again comrade. I am worried about the people that have to live on the surface, since the Fuehrer is gone.God bless our Germany always.With hearty greetings,Karl Unger
Whether the Earth is hollow or not, the Nazis have left us quite a puzzle to deal with. Hopefully one day we will take a "Journey to the Center of the Earth" and find out!
Translation:
Neuschwabenland, Antarctica and Operation Highjump
More info and translations of all the text on the documents: http://imperialgermans.com/documents.html