Woman Claims Her Home Is Haunted — And What Happened to Journalists Just Minutes Into Their Interview With Her Almost Had Them Fleeing
Two skeptical journalists were just minutes into an interview with a Pennsylvania homeowner who claims her house is infested with ghostly and demonic forces when they found themselves so scared they almost abandoned the investigative report altogether.
WPMT-TV's Katie Kyros was recently accompanied by photojournalist Nick Petrillo on a visit to DeAnna Simpson's home in Hanover, Pennsylvania. Considering that the woman claims she's seen a seven-foot "shadow man," heard mysterious voices and experienced rogue scratches, they decided to explore.
But it's what they say happened just five minutes into the interview that had the two so scared they almost left.
"Basically, when we walked in the home, I didn't feel anything at first," Petrillo said during an on-air report explaining the experience. "I felt — it was something like a piece of hot metal almost … I looked down on my wrist and I noticed there was a scratch there."
The photojournalist said he's "never felt anything like that" in his life. In fact, Petrillo was a skeptic before entering Simpson's home, but now says the experience has made him a believer.
"I actually didn't really believe in it until this actually happened," he said. "I was very skeptical of it until this."
The burning sensation and scratch Petrillo felt didn't surprise Simpson, who told the two that she believes the mere fact that they were covering the story was enough to anger the supposedly evil entities inside the home.
"You know why? Because you're telling the story," she said of the purported injury. "Because you're putting it out there … I'm telling you right now, that is their way of a warning."
Watch the WPMT-TV report, showing footage of a door shutting, an image of the so-called "shadow man" and the journalists' claims below:
Kyros, who reported that she was also touched and pinched inexplicably while at the home, claimed that she and Petrillo saw "strange lights on the walls and heard noises."
Simpson and her husband, who have lived in the home seven years, want to leave, but she said that they would need to recoup the money they invested into the house in order to do so.
Kyros and Petrillo purportedly brought a Ouija Board with them, but Simpson was so terrified she asked them not to bring it inside.
The home was also featured on "The Dead Files" on the Travel Channel this past Saturday.
(H/T: WPMT-TV)
Parents terrified after seeing a ghostly face next to their baby's crib
Have you ever seen or heard a ghost? Many people say that there are ghosts in their homes, which appear in any room and at any time of the day. And the reality is that there are ghostly apparitions in all places, from old houses, new houses, forests, cemeteries, offices or restaurants.
Sometimes, these appearances are caused by tragic death, or due to residual energy, or simply are not ready to move on to the next life. But whatever the reason, they exist. But if we have to talk about terrifying experiences with ghosts, are those related to strange noises and whispers in videos, psychophonies and even appearances in baby monitors.
New mothers have many worries, and even more so if a ghost harasses their child. Unfortunately, there are many cases of ghostly voices recorded in baby monitors . And terrified mothers have two options: ignore the sound or investigate and try to find a solution. But what would you do if instead of listening to the voice of a ghost you saw it? We do not know, but some parents have been terrified to see a strange presence by the cradle of his son.
The ghostly face
The video, published on Reddit , shows a child moving in his crib late at night. At first nothing strange, but if we look better you can see something really disturbing. In the background, just behind the baby, there is a spooky face, similar to the face of a girl.
"This is the moment when concerned parents installed a camera to monitor their child and were surprised when they watched the video" , says the description that accompanies the video. "The images show the child moving in the crib late at night. But if we look better we see a disturbing truth. In the background there seems to be a spooky object that looks like a face. It does not move through the video, but the images are cut before we know what happened to the child. "
The terrible paranormal experiences of the family
After the publication on social networks, the mother explained the story behind the video. According to its version, the recording corresponds to the afternoon. But the phenomena began in September 2016, after suffering a miscarriage. On the night of the abortion, her other 18-month-old son had an electronic toy. Since then, his son's toys were inexplicably ignited , talking and singing. And it did not matter if the batteries were worn out, they just went to work.
However, this has not been the only supernatural incident that parents have experienced. The mother assures to listen regularly to the cable of the lamp in her room moving and hitting against the back of her bedside table.
"We do not have mice and I can not think of any logical explanation of why this is happening,"explains Melanie Meez, the baby's mother, on Reddit. "The last time I heard it was the night of the video right after I got into bed."
Also about two months ago he heard a repeat of beats as if it were Morse code in the middle of the living room during the night. It was strong enough for parents to come down to see what it was. But he stopped when they entered the room. They were in the room for about 30 seconds and they heard the strange noise again. It sounded like a fingernail hitting a plastic with no pattern or rhythm . It lasted about 20 seconds and the sound came a few meters away from where they were standing and it seemed to come from the wooden stairs. They had never heard that noise before or heard it again.
And there's more, as last week the lid of his son's cup fell into the sink for no apparent reason. Her husband decided to place two empty cups of their children with their caps near the sink. When they returned, they were all inside the sink.
"I'm just a mom with two great kids. I have always looked for logic in situations and it seems that I can not explain what happens in our house " , concludes the mother.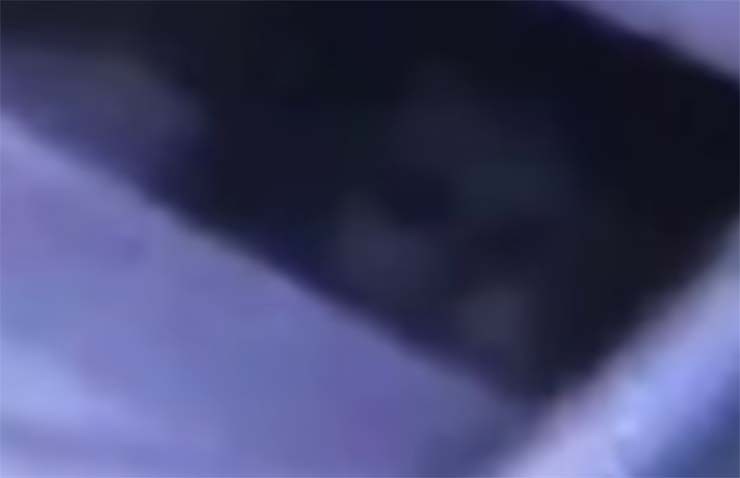 Debate on social networks
No doubt it is a video and a really scary story. And as such, it has had some repercussion in social networks. Believers in the paranormal have different opinions, some believe that it may be the ghost of an unborn child protecting what should have been his brother , while others suggest that it is an evil entity harassing the child, so Parents should seek help from a professional in the field.
But skeptics have another opinion about the incident. If it is not a video edition, then there could be a lot of objects or toys that could create that effect . Although what they do not take into account are the experiences of this poor family, which could be a victim of some kind of negative entity. But of course, for them that is the least important thing.
What is the mysterious face that you see in the video? Is it some kind of entity? Or can it be a mundane object creating an optical effect?
Man Who Claims His Apartment Is Haunted Provides Chilling Proof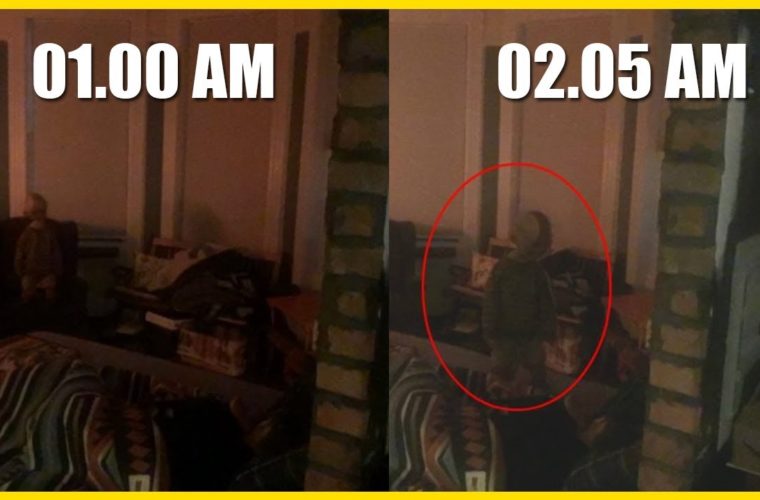 Man who claims his apartment is haunted provides chilling proof.
We take a look a man who claims his apartment is haunted & provides chilling proof.
Whether or not you believe in supernatural beings, ghost stories have a way of captivating even the biggest of skeptics. Though most of these tales are fiction, a special few are believable. Such was the case for one New York cartoonist named Adam Ellis.
Adam recently took to Twitter to tell his followers about a haunting experience. At first, his friends weren't sure if they believed him. But when he showed them the bone-chilling evidence, they were left stunned.
Fire erupts at Shetland's most haunted house
Image Credit: CC BY-SA 3.0 Otter / Wikimedia
The house is in dire need of renovation.
Police are investigating a mysterious fire at what is thought to be one of Scotland's most haunted buildings.
Situated on moorland on the remote Shetland Islands to the north of Scotland, Windhouse in Mid Yell has been at the center of numerous ghost stories over the years.
Reportedly the most haunted building on the islands, the house is today little more than a ruin.
Accounts of paranormal phenomenon, including tales of a ghostly woman walking on the stairs, have prompted some foolhardy investigators to try and spend the night there.
The last time a family actually lived at the property was all the way back in 1930. The inhabitants reportedly left the house after it was hit by a lightning strike which also killed some of their sheep.
Since then there have also been reports of two skeletons being found there – one of a child found hidden behind the lining of one of the walls and another of a man found under the back doorstep.
This week's fire, which caused further damage to the ruin, was quickly tackled by local fire crews however the exact cause of the blaze remains a mystery.
Authorities are now appealing for witnesses in an effort to determine what happened.