Witnesses Claim They Can Pinpoint Exact Location of MH370 Crash Site 
The mystery surrounding the Malaysia flight MH370 aviation disaster continues to grow.
via Sputniknews
An MH370 investigator has been trying to solve one of history's greatest aviation mysteries, and believes he has picked up the trail.
Speaking to Daily Star Online, Noel O'Gara, an Ireland-based private investigator and writer, said he believes the ill-fated MH370 was accidentally shot down on the orders of the Malaysian government.
The expert previously claimed that eyewitnesses of the Malaysia Airlines flight showed that the government had concealed the truth about the plane's mysterious disappearance.
O'Gara, who has been trying to solve the aviation puzzle for over four years now, is convinced that it is possible to determine the location of the airplane using the testimony of eyewitnesses.
According to him, the Malaysian government could have secretly removed the wreckage of the plane from the seabed.
"Unless the Malaysian government recovered it later. They would know exactly or within a few miles of where it had come down".
Describing the pursuit of the truth as attempts to put together "the pieces of a jigsaw puzzle", O'Gara highlighted four key witnesses whose testimony could come in handy to pinpoint the wreckage site.
Mike McKay, a Kiwi oil worker who was fired for claiming to have seen the missing MH370 burst into flames the morning it disappeared, is one of them.
"McKay saw a plane on fire when he was on an oil rig off Vietnam at the time. This sighting could be when MH370 went up to 45,000ft and broke over the horizon as it made the turn back. It was flying eastwards and ascending rapidly in the struggle for control of the plane. For a few moments when it broke over the horizon, it appeared as if on fire when it was hit by the sunlight from the east and then it fell away as it descended again", O'Gara said.
The second key witness is Raja Latife Raja Dalelah, who was flying from Saudi Arabia to Malaysia near the Andaman Islands, when she spotted what she believed was a plane sinking into the sea the day flight MH370 vanished.
"Dalelah saw a plane on the sea in the crucial place and at the crucial time", O'Gara explained.
He also dismissed the commonly-held opinion that Dalelah's plane would have been too high for her to recognise objects below with accuracy:
"A jumbo would be visible while a smaller plane might not be visible from that height. She said she saw it and I believe her evidence".
The third eyewitness is Katherine Tee, an English sailor who told the Joint Agency Coordination Centre she had seen a burning aircraft on the way to Phuket in Thailand.
"Tee saw a plane go down and two smaller planes high overhead heading off. In that area and at that time".
His fourth and fifth witnesses are two Malaysian fishermen who insisted they saw the plane come down: "The fisherman off Kota Bharu saw a plane go down in that area and at that time", Noel said.
These latest assumptions come shortly after O'Gara suggested that the plane had been shot down after a suspected hijacking, with authorities allegedly believing they had little time to prevent a 9/11-style attack. Noel also claimed the Malaysian authorities had covered up the shooting down of the aircraft.
Almost five years since the Malaysia Airline Boeing's disappearance, theories are still running amok about the plane's fate – but the majority of people believe the doomed aircraft crashed into the ocean.
Beijing-bound MH370 with 239 passengers and crew on board went off radars on 8 March 2014. Only a few fragments believed to be parts of the wreckage have been discovered at different locations, including South Africa, Mozambique, and the French Island of Reunion in the Indian Ocean.
Malaysia, China, and Australia conducted a nearly three-year, $144-million surface and underwater search in the southern part of the Indian Ocean that was called off in January 2017 after yielding no results.
Sputniknews
Secret US aircraft or UFO? San Antonio woman films mysterious 'craft' flying over neighborhood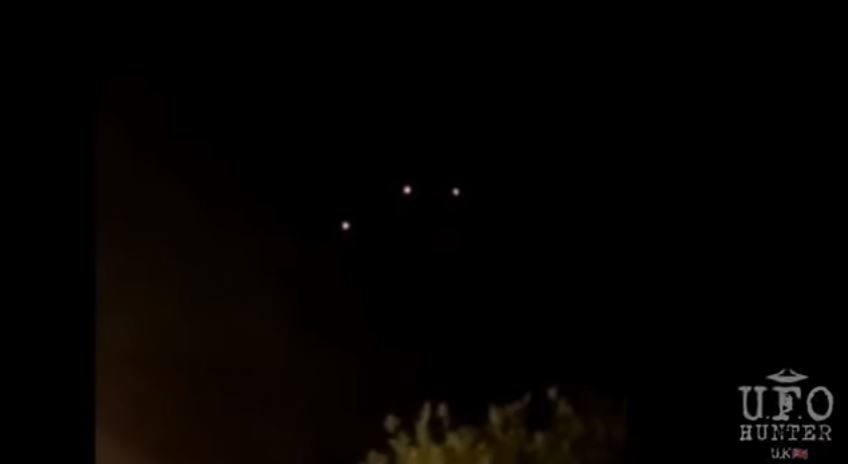 © YouTube/Red White And Disclosure
The reported UFO sighting took place over Texas, with a woman arguing with her fiancé about its nature and insisting that the craft was not of this world.
A San Antonio woman has shared footage of a mysterious object seemingly hovering in the distance in her suburban residential neighbourhood.
"Ok what is it? It's f***ing hovering," the woman can be heard saying to her partner. "It's helicopters," the man responds. "That's a UFO," she responds. "Ok what is it, it's hovering in the sky, and one of the lights disappeared," she adds.
Indeed, near the beginning of the video, the top light over the craft appears to separate from the main craft and zoom upward toward space.
Speaking about her (moderately) close encounter, the woman explained that the incident took place on April 11 at about 9:15 pm, and said that the craft "stayed stationary," with the lights seeming "to rotate slowly as it raised higher and higher and the lights went out one by one."
The frightened woman added that she heard "no sound at all" during the two minutes she and her future hubby stood in awe watching the craft.
The sighting left people excited or freaked out, with popular UFOlogist YouTuber Tyler Glockner saying the triangular-shaped formation of the lights in the craft was "very common, with many people believing they are craft from out of this world, or sightings of the infamous TR-3B, or Black Manta," an alleged surveillance aircraft being developed for the US Air Force so wrapped in secrecy that its existence has never been confirmed.
"The Black Manta is said to use anti-gravity technology that is, in turn, reverse-engineered from alien technology," Glockner added.
Sceptics were out in force too, accusing of people of "jump[ing] to UFO theories too fast," while others offering own theories about what the craft might be.
Believers stood their ground, insisting that this was indeed a UFO, or at least the secret US surveillance plane project mentioned above.
A mysterious "ice circle" appears on a lake in China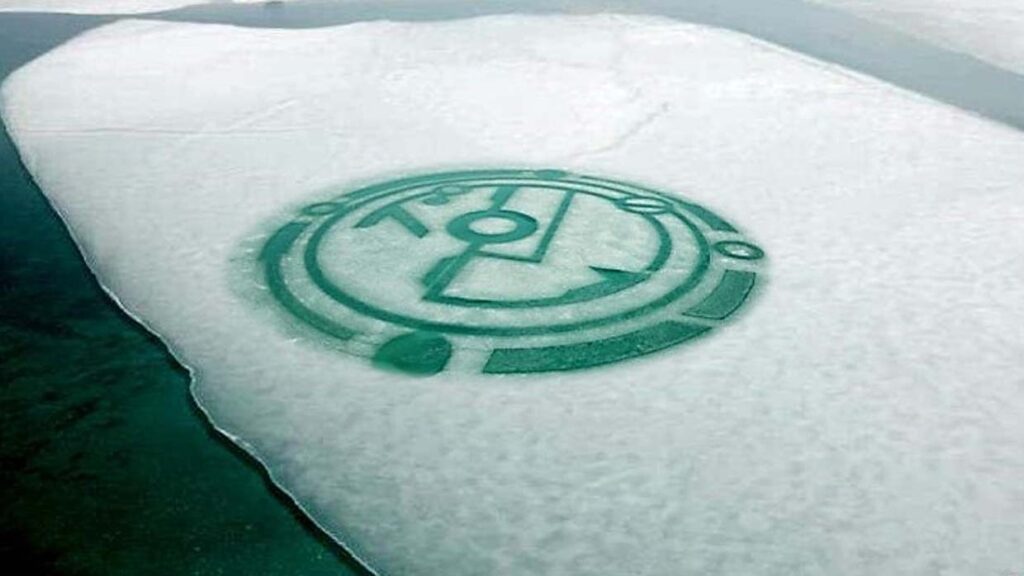 The crop circles (strange patterns that appear mysteriously from the overnight in agricultural fields) have been causing confusion and controversy since time immemorial. It is true that circles are better known in the United Kingdom, but they have spread throughout the world in recent decades. The mystery has inspired innumerable books, blogs, researchers (nicknamed "cereólogos") and even Hollywood movies. Despite having been studied for decades, the question remains: Who or what is doing them?
Many people believe that crop circles have been documented for centuries, even some scientists have their own opinion about it. In 2017, Dr. Horace Drew stated that the circles in the crops are real and contain hidden messages from aliens or time travelers. Dr. Drew, who has a Ph.D. in chemistry from the prestigious California Institute of Technology (Caltech), also suggested that circles are a method that extraterrestrial beings use to try to communicate with the human race. Whether they are well-crafted deception or extraterrestrial messages, they usually appear in agricultural fields and the last place where we would expect to see one of these circles is in a frozen lake. Well, this is what has happened in China.
Mysterious ice circle
On April 12, a gigantic and mysterious figure appeared on the ice of Qinghai Lake. According to the photographer Qing Xiu, of the tourist company Qinghai Lake Tourism Group, he took the photographs at 11 o'clock in the morning of the same day, and the circle seemed to have approximately more than 100 square meters. So far no one has been able to explain its origin and it is also unclear how it appeared in Qinghai Lake.
Due to the spectacular nature of the images, the mysterious circle has caused a stir in Chinese social networks, where thousands of users have tried to offer an explanation for the geometric figure. The most skeptical say that the "circle in the ice" has been created by pranksters to attract attention. According to some, the strange form could only have been made from the air, for example, using a helicopter, although the inhabitants near the lake did not see any aircraft for weeks.There are also those who believe that the symbol is a logo related to a Chinese automobile company called AION, so there is a possibility that the circle is a marketing strategy. But experts in the field say that in this particular case there does not seem to be any imperfection, a basic detail to detect false circles. The aliens are perfectionists due to their advanced technology. Then the explanation would be that it is a message coming from civilizations of other worlds.Whether real or fake, Qinghai Lake is the largest lake in China and receives the waters of 23 rivers and streams, located 3,205 meters above sea level, in a depression of the Tibetan plateau. In addition, it is considered the second largest lake in Central Asia after the Issyk-Kul. In the West, it is known by Kokonor, because the lake was traditionally a border area between the Mongolian and Tibetan peoples. And like other places in the world, Qinghai Lake is surrounded by legends and mysteries.
It is said that in its waters lives a beast that supposedly resembles a dragon, with a snake head and iridescent scales. But apart from this mysterious creature, many have seen numerous sightings of strange lights coming and going from Qinghai Lake, which has led some ufologists to believe that the place can house an extraterrestrial submarine base.
What is your opinion about the mysterious circle in the ice? Is it fake or an extraterrestrial message?
Halloween Which I Will Never Forget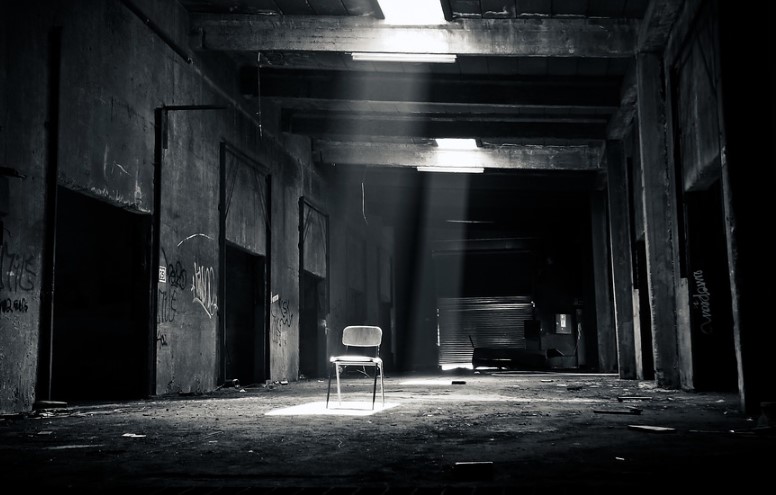 Anomalien.com reader story…
Now this story is true. I swear it on my mother's grave. I live in Montreal Quebec. Out here there are a lot of bizarre things but none so horrifying then what happened to me and my (ex-best friend). First of all, let me introduce myself. My name is Mike and my pal's name… Well, let's just call him Steve. Anyways here is our story.
It was around Halloween time last year when I and Steve got the idea to throw our party in the coolest spot we could find. So we started looking. Unfortunately, we did not have much money and all the nicest spots cost an arm and a leg to rent so we decided to start looking at other options.
We ended up finding an abandoned factory on the st-Patrick street and although it is against the law we figured what they don't find out we won't tell them. So anyways for the next couple of weeks, we went to the dollar store and we bought: candles, decorations, party favors, snacks and whatnot.
We figured we should decorate the place at the last Minute to lower the chances of getting caught. On October 30th we went down there me and Steve thinking of the coming bash and wondering where to get a good boom box in here that would work on batteries all night.
Steve was pretty nervous about the fact that a girl he liked a lot was going to be there. Anyways as we proceeded with the decorating I was hit by the most disgusting smell ever.
It reminded me of a plastic container filled with three weeks old leftover boild broccoli I once found in my refrigerator, then Steve started freaking out, telling me that he felt like there was something tightening around his throat making it hard for him to breath or swallow.
At first, I thought he was kidding me but then I started to think it was serious because his face was turning red and his eyes were bulging out and you could really see the panic in them.
Now at this point we were on the third floor of this building so I grabbed Steve and pulled him towards the stairs so we could get down and out of there.
Let me tell you that I wasn't feeling too good myself. I figured it was probably caused by the anxiety I felt for Steve, the stink in the air and the whole confusion of the moment but I felt like something was right in the back of us, when we reached the last flight of stairs only then, did I dare turn around and that's when I saw it.
It Was like a huge, thick, black shape. Very much like a shadow but much thicker and darker and I swear I could hear it laugh but the sound was very faint and distant, never the less. It chilled me to the bone and When I turned to Steve I could tell right away that he was seeing it too.
His face had turned white and he was staring at the thing with his mouth hanging open. We canceled the party and after that, I and Steve were never close the way we used to be.
Every time I tried to talk about What happened that day. He would get really mad at me and tell me to shut up about it until one day he just denied anything had happened at all and told me he did not want to see me anymore…
Mike