Also referred to as the Williams Enigmalith, is a stone with what to all appearances is an electrical plug sticking out of it.
From The Viral Post
100,000 Year Old Electrical Device Found?

In 1998, electrical engineer John J. Williams discovered what looked like an electrical connector sticking up out of the ground. He began digging and found the three-pronged plug was embedded in a small rock.

According to Williams, the curious stone was unearthed during an excursion in a rural location in North America, far from human settlements, industrial complexes, airports, factories, and electronic or nuclear plants.

While it may hurt the credibility of his discovery, Williams refuses to give the exact location of his find, for fear that the site might be plundered of other mysterious relics.

Known as the "Enigmalith" (a combination of the words enigma and monolith) or" Petradox," the device presents the undeniable appearance of an electronic component embedded in a naturally formed, solid granite stone composed of quartz and feldspar (including very small percentages of mica.)

The three-pronged plug is held by a matrix of a thus-far indeterminable origin. The 0.3-inch diameter piece does not appear to be manufactured out of wood, plastic, rubber, metal, or some other recognizable material.

After the stone was found, geological analysis found it to be about 100,000 years old—a technical impossibility according to conventional understanding of mankind's technological development.
Perhaps not just a "technical impossibility" but a geologic one as well.
The youngest exposed pluton represents the most recent tectonic uplift and highest exhumation. The youngest exposed pluton reported to date is the Takidani Granodiorite (~ 1.4 Ma) in the Hida Mountain Range of central Japan. Using LA-ICP-MS and SHRIMP U-Pb zircon dating methods, this study demonstrates that the Kurobegawa Granite, also situated in the Hida Mountain Range, is as young as ~ 0.8 Ma. In addition, data indicate multiple intrusion episodes in this pluton since 10 Ma with a ~ 2-million-year period of quiescence; hence, a future intrusion event is likely within 1 million years.
For anyone a bit confused by the terms, as I am…
A Pluton…
A pluton in geology is a body of intrusive igneous rock (called a plutonic rock) that is crystallized from magma slowly cooling below the surface of the Earth.
And Ma…
Ma in geology means Mega Anum. The M is a standard SI prefix (think giga, mega, kilo, etc.), and anum means year. However, in geology the "a" specifically denotes time before the present. For example, 10 Ma means ten millions years before the present, or ten million years ago.
So the youngest granite found on the planet is 1.4 million years old, yet Williams rock is tested at only 100,000 years. Who tested it and how? I have asked him for this information but not yet gotten a response. Then, there are many different compositions of granite, causing a variety of colors, and here is a piece of rough granite, unpolished…
and the Google Search for images I took this one from, and I do not see a lot of similarity between any of these and the appearance of what Williams claims to be an uncut piece of granite, 1/10th the age of the youngest granite known.
Being quite apparently porous eliminates Williams' rock from being granite as he claims. Granite is an igneous rock that forms from magma in the Earth's crust and is lifted by tectonic forces. The only porous igneous rock is that which is expelled as magma from active volcanoes and cools on the surface.
Some testing has been done, including X-rays of the rock which can be seen on Williams' website
As seen in the X-ray the prongs of the "plug" quite obviously do not connect to anything. Electronic testing done on the plugs show they are consistent with an "open circuit" which also says they are not connected to anything, so you have to wonder, what purpose does the plug serve in the rock? It has been suggested that the plug is simply something that got stuck in the rock while it was forming, and setting aside that the proposed time frame of that formation is unlikely, this obviously manufactured object would have to have A: gotten deep into the Earth, and into the magma layer, and B: survived the heat, pressure, and passage through the crust as it was forced up under tectonic pressure while remaining relatively unscathed.
A little digging tells us about Williams himself, CEO Consumertronics, Albuquerque, NM. A website that sells books on subjects such as mind control, computer hacking, electronic security, cheating your utility provider, and a variety of other survivalist based topics. They also sell various hardware for electronic security, surveillance, and communication security.
And from the portion of the website dedicated to this Petradox:
Hello. My name is John J. Williams. I have for decades been and still am an avid researcher and investigator of weird, unusual and unexplained phenomena. I believe that aliens and lost advanced civilizations existed here on Earth and have left evidence of their visits and stays. If one has developed highly specialized equipment, one can discover sites that were occupied by highly advanced beings, thereby much increasing his/her probability of discovering genuine artifacts of their presence. I have extensive hardware design experience as a researcher and investigator of weird, unusual and unexplained phenomena => www.lonestarconsultinginc.com/weird.htm, and much of my research is described in my books and manuals on phenomena topics => www.consumertronics.net/weird.htm.

Should you be interested in paying for the entire webpages with its 150+ images and much descriptive text of my rock and embedded component – much of which I have never published in an Online webpage (including newly discovered features) – please purchase our limited-issue only $19 CDROM (bottom of page). If you want the CDROM for free as full compensation for your efforts on my behalf, you must first justify it by proving to me: (1) That you are a member of the media or an author, and that you are doing a story that will substantially include my rock and contain my webpage address; (2) That you are a bonafide scientist, engineer or professional fortean phenomena researcher or commentator, and that you are interested in evaluating my rock, and/or putting together and/or becoming a part of a scientific team to evaluate my rock and/or to dig the site; (3) That you wish to become a benefactor and will at this time irrevocably and without any qualifications or reservations pledge and obligate at least $1,000 to a non-profit organization, trust, LLC or corporation that I expect to later set-up for the research and exploration relevant to my rock and related fortean phenomena (at this time, do NOT send me any pledge money – once I receive substantial benefactor pledges (including bequests), I will set up the proper organization and then call in the pledged monies); or (4) That you have made or will make a substantial effort on my behalf to make (1), (2) or (3) above to occur.

CDROM OFFER: Please note that I not only offer my CDROM here but also in my eBay Store ("troodont") – SOMETIMES I LIST THE ROCK ITSELF ON EBAY AUCTION!
==> ROCK IS NOW ON SALE FOR ONLY $500,000! <==
And while he charges $19 dollars for a cd of images of the object, he offers a reward to anyone who can prove it is not what he claims.
If you are the very first person to provide me satisfactory proof that the embedded component in my rock ("component") is a modern manmade part or that the entire rock-component assembly ("assembly") itself is modern manmade, I will pay you $100 cash! As used relevant to this contest, "satisfactory proof" is met if, and only if, both of the two Conditions below are fully met to my satisfaction (burden of proof lies with the contestant):
If you go to his page and scroll down you can find out all about the contest and more. The conditions of the contest are that through various means you must prove that the rock and its anomalous object are not what he claims. This is a stale, old argument in the unexplained, that claims must be proven false, and it will never get you anywhere. There is no burden of proof on saying this is not what is claimed, just as there is no burden of proof on saying there are no unicorns, no Easter bunny and no boogeyman. The idea that your word should be taken as universal truth, without offering a shred of evidence for your case until anyone can prove otherwise is not science. All the while Williams is criticizing the scientific and higher education communities for not taking him seriously, not being open minded, and not adhering to what he considers credible science.
I have not been able to get a single New Mexico scientist or skeptic to even take a look at my rock – apparently, they are all a bunch of PC-controlled chickens – so much for science credibility in New Mexico.
Despite his bluster, Williams' rock can be shown to not be what he claims. That he expects financial reward from his find and has an agenda of proving the idea of ancient aliens, and/or prehistoric human technology casts more doubt upon his sincerity. Then there would seem to be a contradiction in this statement:
"According to Williams, the curious stone was unearthed during an excursion in a rural location in North America, far from human settlements, industrial complexes, airports, factories, and electronic or nuclear plants."
And this one:
I was hoping against hope that with all of this substantial coverage, a scientific exploration team would have emerged by now, or at least Hollywood and the major presses would have gotten involved so that additional huge boost in publicity would have pressured the scientific community to also get involved – hopefully before the dig site becomes much more trampled on that it already is.
Aside from the fact that he is a publicity seeker, how does an undisclosed location far from human settlement get trampled? Of course, as a part of his fundraising, Williams also seeks to buy the land on which he located the rock. I'm sure he won't charge an entrance fee to any Ancient Aliens theme park he might want to build there.
'Alien' message creativity. What the crop circles really hide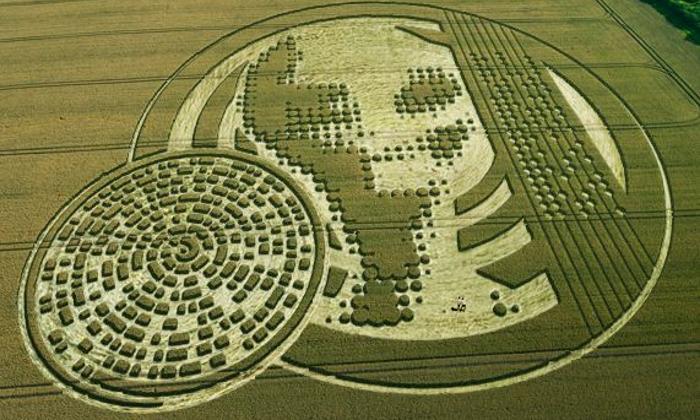 At the beginning of last month, an ordinary French farmer, Gerard Benoit, suddenly became famous throughout the district. Early in the morning of July 5, 2020, walking out into his field near the town of Vimy in the very north of the country, he found that it was hopelessly spoiled.
A little later, with the help of a drone, it turned out that the plots of crushed wheat form a gigantic pattern – the Templar cross. The farmer's outrage knew no bounds, and he shared the "vandalism" on social networks. And completely in vain.
A few days later, a huge geoglyph became a place of pilgrimage for thousands of curious people who began to trample the remnants of the unfortunate harvest. Mr. Benoit unwittingly turned out to be another victim of the mysterious "circles" that have regularly appeared in the fields around the world since the late 1970s.
Tens and hundreds of thousands of enthusiasts still perceive them as evidence of contact with long-awaited extraterrestrial civilizations, although it has long been clear how these circles with an endless set of plots appear and who is really behind them. Why are these objects so common in southern England? What does the tourism industry and informal art have to do with it? Understanding.
Devil-mower
It all started in a pub, as it sometimes happens.
Location: a place called Percy Hobbs on the outskirts of the British city of Winchester in the very south of England.
Time of action: 1976.
Heroes: some Doug Bower and Dave Chorley.
Evening, it was getting dark.
The two friends were spending their time, as befits two respectable gentlemen, with a pint of ale and an interesting conversation. At some point in the conversation, Bower, who had recently returned from Australia, recalled an interesting story that flashed in Australian newspapers in the second half of the 1960s.
Near Tully, Queensland, local farmers began reporting to police and then reporters about the mysterious circles that appeared at night in their sugarcane fields. The reasons for the appearance of the circles were never established, which made it possible with a clear conscience to call them saucer nest ("flying saucer nest"), especially since one of the farmers swore that he saw a UFO take off from this site. Having laughed at the Australians, Bower and Chorley went outside to freshen up, saw a wheat field in front of them, and then the logic of their thought, warmed up by used pints, it was quite obvious. So with the help of an ordinary iron beam and rope, their hoax began.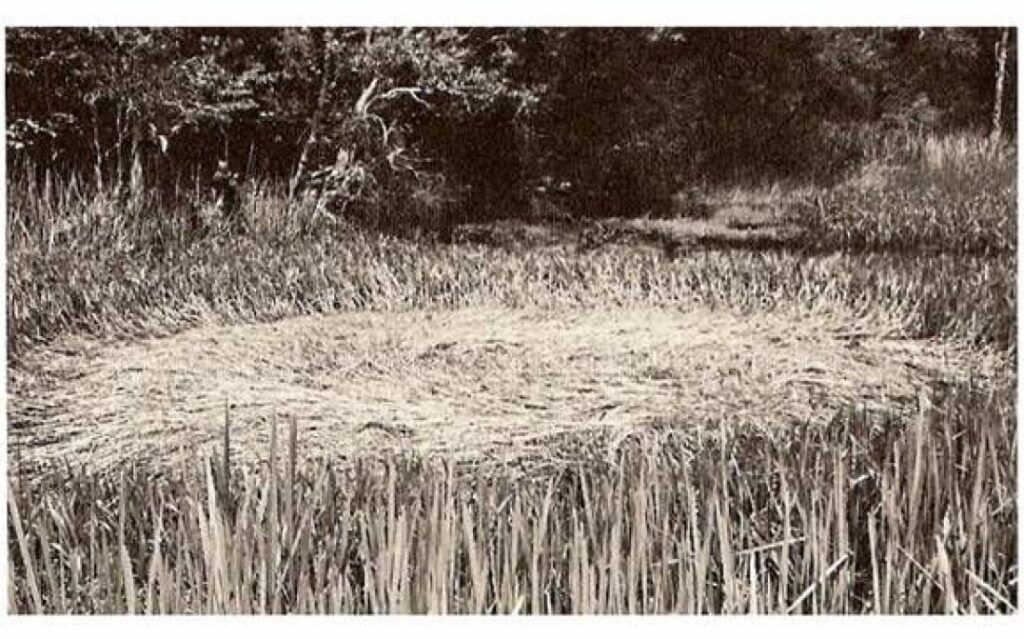 Over the next couple of years, friends staged several more such provocations, but no one noticed them, until in 1978 Bower and Chorley chose a particularly successful location – the natural Cheesefoot Head amphitheater, popular with tourists.
The effect exceeded expectations – a 25-meter circle, just a circle without any pattern, first got into the regional and then national media and, naturally, fell into the sphere of close attention of various ufologists and experts in the field of inexplicable phenomena, who began to comment on the origin with a clever look object. 
It was the complete success that Bower and Chorley had been waiting for. In the future, friends themselves began to report to the media about their next work, pretending to be casual witnesses who discovered an unidentified.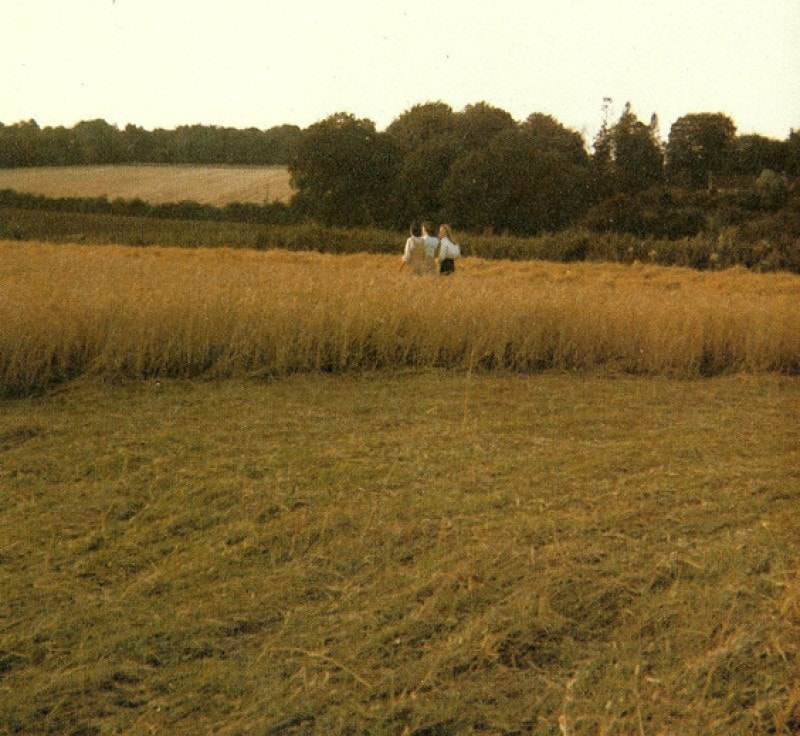 In the second half of the 1970s – early 1980s, the popularity of all kinds of hoaxes was at its peak. Not only in narrow circles keen on the topic of the paranormal, but also among the general public, the mystery of the so-called. Bermuda Triangle, reports of another "unidentified flying object" began to be ubiquitous, the search for the "Bigfoot" was carried out in earnest, expeditions to the Scottish Loch Ness were organized. Crop circles, which began to appear in southern England, proved to be the most appropriate in such a discourse.
It immediately became clear that in fact similar objects had been recorded before. In the British Library, a pamphlet from 1678 was discovered in which a creature was doing something that looked like a circle on a field. The story of the source, whose full title was "The Devil Mower, or Strange News from Hertfordshire," was about a farmer who refused to pay a peasant to mow a field, saying that the devil had better mow him.
The next night, that same field was engulfed in fire, and the next morning it turned out that it was perfectly mowed. In fact, it was not very similar to the circles that appeared in England, where wheat (or other cereals) were only crushed (and not cut), but such nuances did not interest the hunters for sensations.
Much more excitement was caused by another fact – the location where these objects began to appear en masse.
Place of power
The success of the action, which began in a Winchester pub, was largely due to the place where Bower and Chorley began to arrange their antics. In the neighboring county of Wiltshire, there is the largest complex of Neolithic monuments, which by that time had already become a Mecca for lovers of everything occult. The most famous structure in this series is undoubtedly Stonehenge, located 40 minutes from Winchester. But this megalith, cult in a certain environment, did not end there.
Fans of the New Age and similar currents were attracted by the Avebury sanctuary located in the same county (which is very conveniently a circle-ring that should have resembled objects in the wheat fields), the artificial chalk mound of Silbury Hill, the fortress of Barbury Castle, the so-called … Uffington white horse (carved in prehistoric times image of a white horse)
All these outstanding monuments of the Neolithic and Bronze Age have traditionally been in the center of attention of fans of inexplicable phenomena, who assured that the objects are covered with energy domes, connected by energy flows and, in general, are ancient relics that served for contact with someone outside of our mortal planet.
Bower and Chorley subsequently honestly admitted that they began to stamp their circles, not least because of the reputation of the area, where, among other things, there was the densest concentration of UFO "sightings".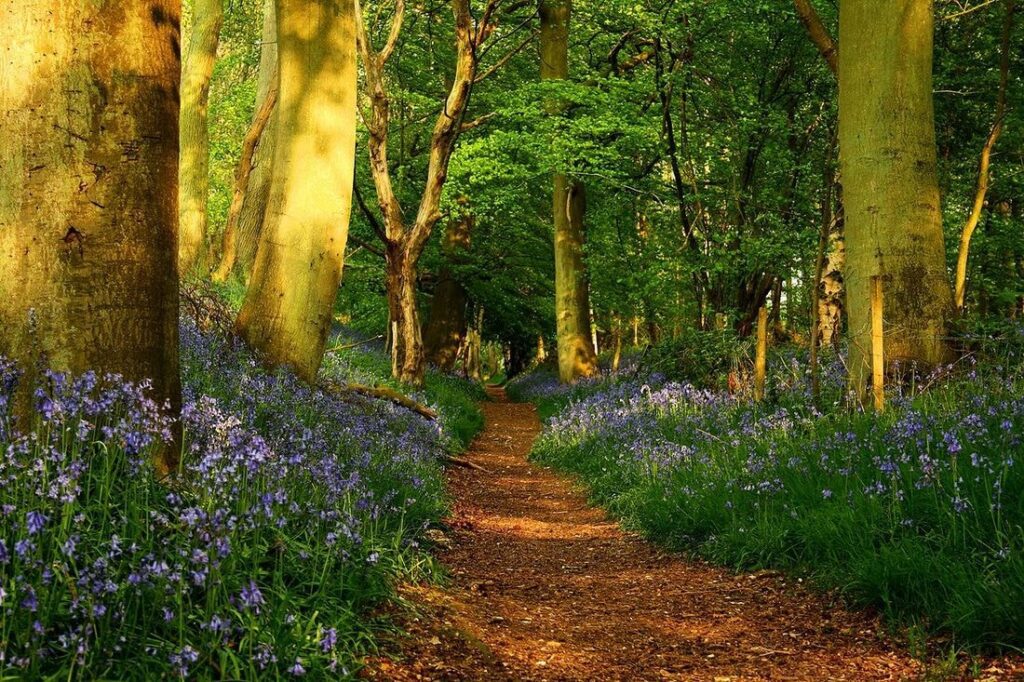 Alien contact became the first, most popular, version of the origin of geoglyphs. However, soon the scale of what was happening acquired such a character that real scientists also took up an attempt to find a scientific explanation for it.
The most vigorous activity in this field was developed by the meteorologist and physicist Terrence Meaden of Dalhousie University in Halifax, Canada. First, he put forward the theory that the profile of the hills in southern England directly influenced the formation of specific air vortices, which in turn could stabilize at certain points and form the necessary circle of crushed wheat. And although this version did not explain in any way why such objects (at least in such quantities) had not formed before, Bower and Chorley, who created the fake on the UFO topic, decided to take the necessary measures.
They developed their next geoglyphs, starting to "draw" constructions from several circles instead of one circle. This, by the way, subsequently led to an ever greater complication of such objects.
In response to new facts, Meiden adapted his theory. Instead of ordinary air vortices, he made certain "electromagnetic hydrodynamic plasma vortices" responsible for the appearing mysterious formations.
The explanation of the Canadian looked so plausible that even Stephen Hawking, after another circle appeared at his house in Cambridge, said that a certain natural vortex could have caused it. True, at the same time, the famous theoretical physicist considered human impact more likely.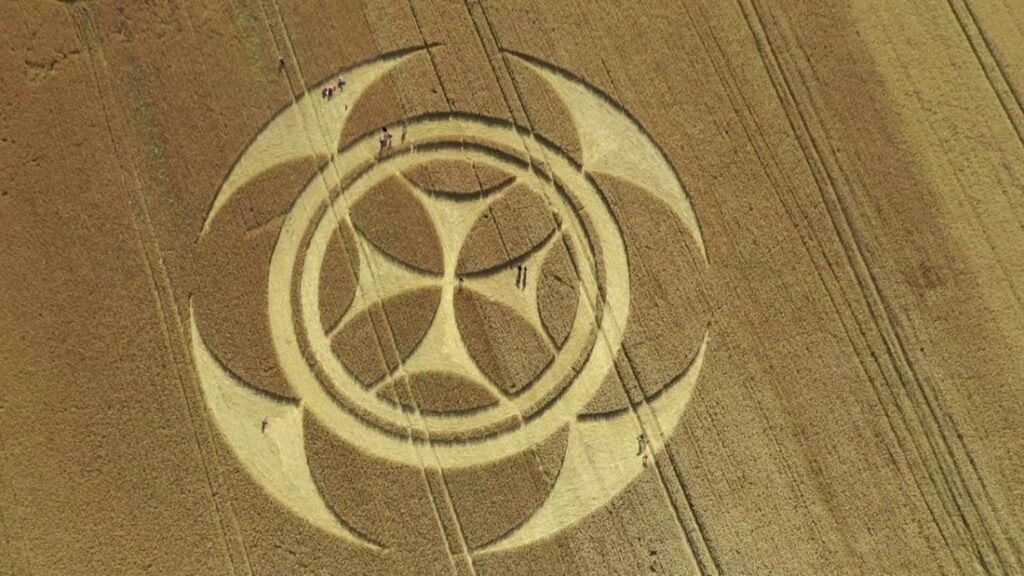 Bower and Chorley did not give up in their fight against the scientist Meaden. In the end, in order to refute the "vortex" fabrications, they constructed an object of two circles and five rectangles. The latter certainly could not have been created by Mother Nature, which in the end had to be admitted by the unlucky Canadian meteorologist.
Well, in 1991, Bower and Chorley decided to get their 15 minutes of fame and get out of the closet. Friends gathered the journalists and confessed to them that this whole grandiose hoax had been started by them in the second half of the 1970s.
They said that over the past time they have created more than 200 different geoglyphs in the fields of southern England, and for convincingness they demonstrated the technology of their creation. The usual circle was extremely simple. It was necessary to determine its center, stick a conventional stick there, tie a rope to it and go around the center in a circle,
For the sake of completeness, after the formation of this exemplary circle, Bower and Chorley brought in an unsuspecting cereologist to the scene (cereology is the activity of studying "crop circles"). The expert confirmed the authenticity of the object (i.e., its inexplicable origin), after which he was quite disappointed when he was told the truth.
Occam's razor
It must be said that the exposure of the hoax had practically no effect on the number of believers in the paranormal version of the appearance of geoglyphs. On the contrary, the hit of this entire 15-year history in newspapers and on television only contributed to the spread of such objects around the world.
Another trend has become the progressive complication of geoglyphs. The drawing that appeared in early July 2020 on the French field is far from the most complex of those that appeared in southern England and other countries of the world. Bower and Chorley, who once started in a Winchester pub, could only envy the scale and complexity of many of them.
In the fields, not just combinations of large and small circles appeared, sometimes whole pictures were drawn there, mathematical functions, fractals were visualized (for example, the Mandelbrot set).
But if there are no questions about the authenticity of the human origin of many simple figures, for example the works of Bower and Chorley, then how much more complex drawings appeared, because many of them appeared in just one fairly short night.
The answer to this question lies in the plane of experience and effective organization of work. Obviously, modern production of crop circles is not complete with two pairs of hands – large teams are working on them now, the actions of the participants of which are clearly coordinated.
They already have at their disposal not only a primitive rope and a board, but also modern means of determining the geo-position, as well as laser devices that allow them to correctly calculate the distances between the elements of the figure and create objects of the desired shape.
Back in 1998, a group of authors known under the pseudonym Circlemakers demonstrated to BBC reporters the ability to create in one night the most complex spiral of 100 circles of different sizes. Even more complex drawings are sometimes made in uncrowded places, but in a few days. Or, for their creation, a formal (or informal) permission from the home team is obtained.
Many creators of the most beautiful circles consider themselves to be real artists. Most of them even prefer to remain anonymous, as do some of their colleagues from the city streets, for example Banksy. This maintains the necessary aura of mystery of the creative process. Well, the second reason why the creators of circles do not take responsibility for their works is the fact that most often the figures in the fields can be regarded as vandalism,
Despite the fact that the human origin of the circles is quite obvious (how can conventional "aliens" know, for example, about the Templar cross, and why should they draw it?), There are still many people in the world who believe in outright fantasy.
A large number of relevant literature and specialized sites help maintain this belief. There is nothing strange about this. Firstly, rational thinking is generally not characteristic of many people, and secondly, a whole small tourism industry has been created and exists around such geoglyphs.
Exactly the same as it happens around Loch Ness or the Bermuda Triangle. It is possible that some circles and their combinations (at least in southern England, the place of their greatest concentration) are created on purpose, as a result of the collusion of farm owners and "expert cereologists", for whom excursions to "places of power" became a source of income. Any figure of this kind – and the latest French example confirms this once again – invariably attracts increased public attention.
Well, the victims of this whole hoax, building another theory of the origin of such tempting objects, forget about the principle of "Occam's razor". More often than not, the correct explanation is indeed the simplest.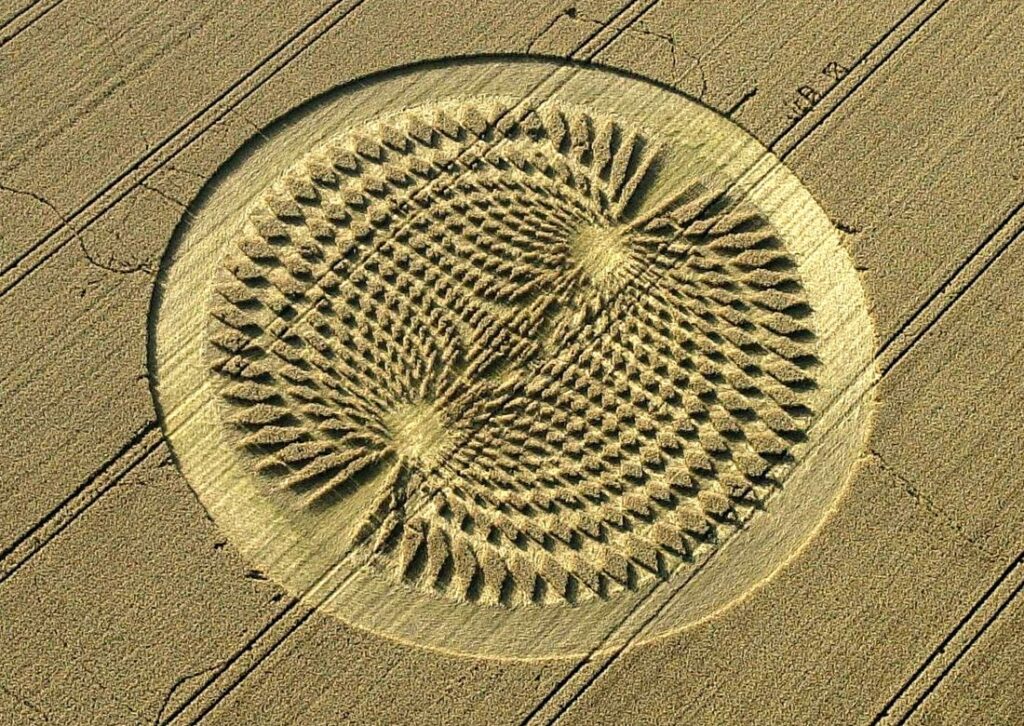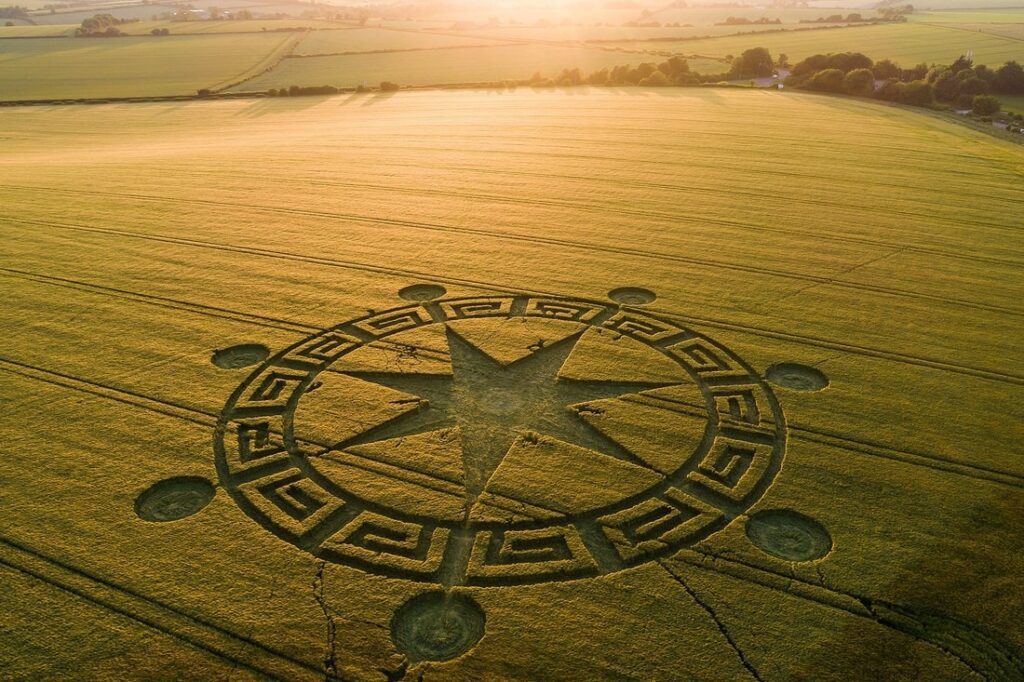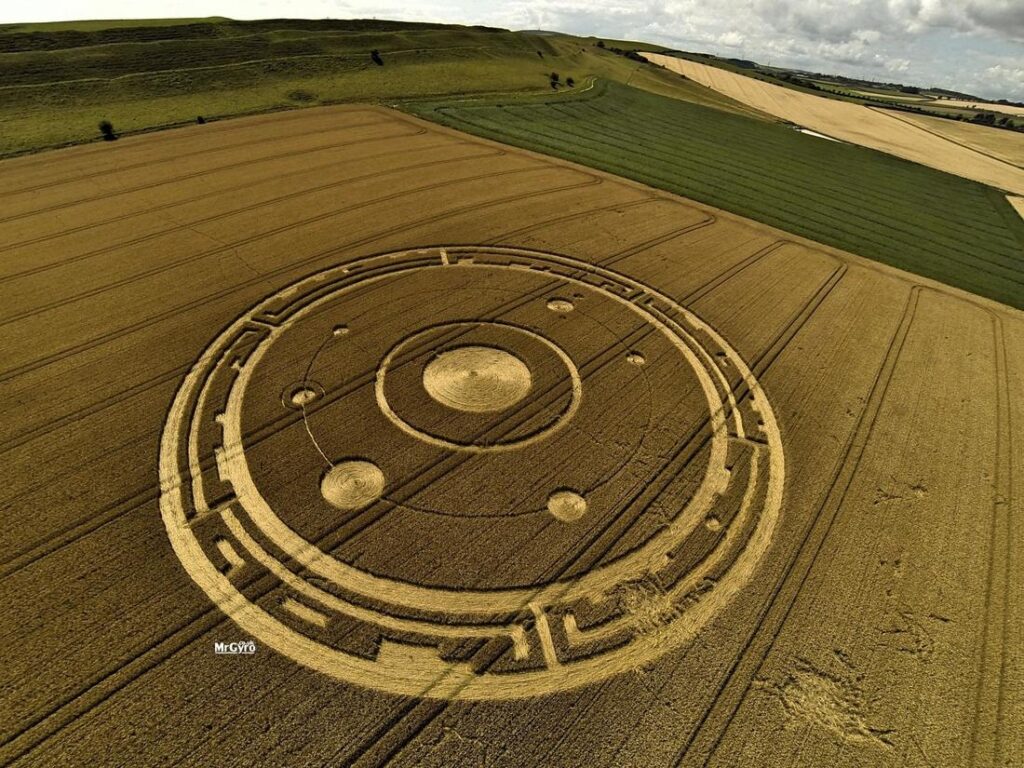 "Prophecy of God" about coronavirus found in an old Japanese newspaper: "Half of humans will suffer from infectious diseases in 2020"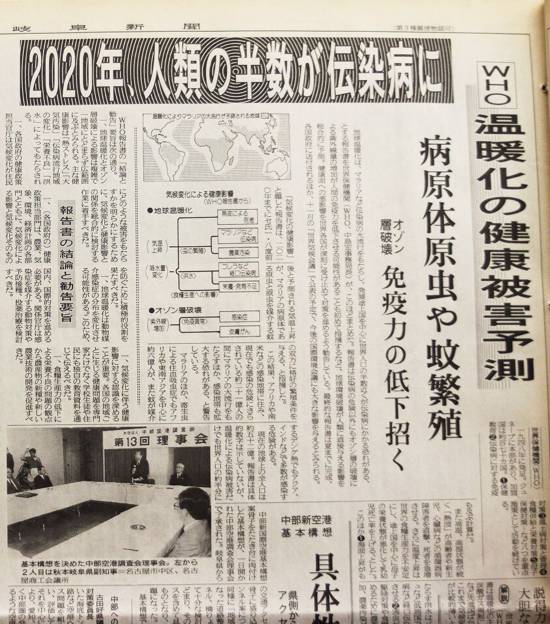 Meticulous readers found in a newspaper thirty years ago a prediction of a coronavirus pandemic – it indicated exactly 2020 and it was predicted that half of humanity would become infected.
The editors of the Japanese edition "Gifu Shimbun" were forced to give explanations, but this did not reassure the conspiracy theorists.
In the May 2, 1990 issue of the Gifu Shimbun, an article was published under the loud headline "Prophecy of God." It said that in thirty years, due to global warming, the world could be swept by a pandemic of infection, which will affect half of the population. Additionally, against the background of the destruction of the ozone layer, people will also have their immunity weakened.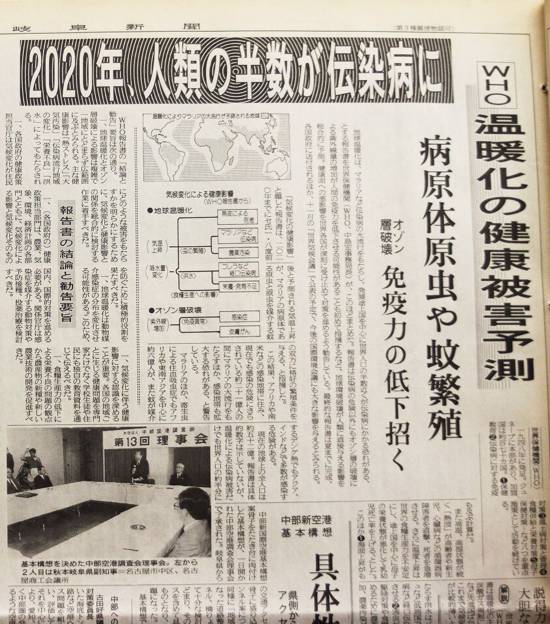 Conspiracy theorists who dug up the newspaper in the archives began to discuss the old publication on social networks, comparing its author to Nostradamus. Passions reached such a level that the editorial staff of "Gifu Shimbun" eventually issued a statement. The journalists explained that the article was written on the basis of the next WHO report of that time, and there are no specific details indicating the features of the coronavirus pandemic in the publication.
Japanese netizens have mixed reactions to this "prophetic" report. Some people marvel that this report is more accurate than the "big prophecy" of the French Jewish prophet Nostradamus↓
"This is more accurate than Nostradamus' big prediction."
"The big predictions of Nostradamus are more powerful than those of Nostradamus. Although the details are different, the years are all right! Even though I sometimes have things published by scientists and researchers, it's true. Is it true?" Thoughts such as'I've been taken carelessly day by day, but now there are so many natural disasters, it's time to take these issues seriously.'
"The people who predicted the new crown are really amazing"
"'Half of humans are infected' means there is more than just the new coronavirus. I want to know what the final outcome will be."
But some people expressed disbelief↓
"What's this. #新冠Prophecy"
Some netizens borrowed a line from the "Doraemon" comics↓
"Reports 30 years ago predicted that the new coronavirus epidemic has become a hot topic, but please take a look at Iduki Sugi's comments:'I don't believe in prophecies. People either say it by accident or are far-fetched. Interpretation attached to the meeting.'"
Nevertheless, lovers of esotericism and the theory of conspiracy began to assert that, if so, the journalists were led by a "higher power", which, they say, was trying to give a sign to humanity. Poor WHO, which in fact issued many similar warnings, was deprived of its laurels.
There is a radio station that has been operating since 1982 and no one knows why
On the territory of Russia, the largest country in the world, there is a city shrouded in many secrets. So, according to one of them, there is a mysterious radio station in St. Petersburg, which has been broadcasting since 1982.
There is even an assumption that "MDZhB" (MJB) is a spy radio station, a peculiar way of Russian President Vladimir Putin to monitor all living things on the planet (something similar was written in the British express.co.uk in 2017), but today day it is known only that the signal was registered in a swampy area near St. Petersburg.
Agree, there is something special in old, Soviet tape recorders and radios
What is MDZhB?
To begin with, all talk about a mysterious radio station is talk about noise with a frequency of 4625 kHz and more often than not it is just a buzzing sound. However, sometimes among this "white noise" there are code words and numbers pronounced with a Russian accent. And besides the fact that the signal source is located somewhere in a swampy area near St. Petersburg, nothing else is known about it. One of the reasons for this – I'm not afraid of this word – misunderstanding is that no one really followed this broadcast.
However, according to other "theories" MDZhB – secret alien spy technology and the Russian military or other secret government projects – welcome to the Twilight Zone / Area 51 / The X-Files / Poltergeist and beyond. But do you know what is the most wonderful thing about this whole story? Anyone in the world can tune in to this radio station.
The first recording of the broadcast of the alleged radio station was made in 1982. Professor David Stapples, a signal intelligence specialist at the City University of London, believes that "there is absolutely no information in the signal." Stapples believes the noise has changed a bit over the years, but it has always included some form of regular humming, interrupted by a voice that sometimes apparently read the message.
According to BBC Future, it is believed that the frequency belongs to the Russian military, although they never admitted it. The stations began broadcasting at the end of the Cold War era, when communism was already in decline. Today they operate from two locations – near St. Petersburg and Moscow. Oddly enough, after the collapse of the Soviet Union, activity did not stop, but increased sharply.
Crazy theories
So, let's take a critical look at the situation: if the radio station is really an alien spyware, then what other traces of the presence of extraterrestrial civilizations on Earth have been discovered by scientists? Why doesn't anyone know anything about them? As for more rational assumptions, according to one theory, the station is used by the Russian army to detect the range of missiles during tests. This explanation, however, does not seem plausible, as the waves required for this type of detection will sound more like a "car alarm" rather than a continuous hum.
Note that high-frequency radio signals can only travel in a straight line and eventually decay when hitting obstacles or reaching the horizon. But shortwave frequencies have an additional trick – they can bounce off charged particles in the upper atmosphere, which allows them to zigzag between the earth and the sky and travel thousands, not tens of kilometers.
Another possible explanation is that this radio station exists to "sound" how far away the reflective layer of charged particles is. The higher the distance to the reflecting layer and the travel time of the signal to the sky and back, the higher the frequency it should have.
And yet, many believe that this radio station is a hybrid of two things. The constant buzzing is just a marker saying something like "this frequency is mine, this frequency is mine" so that people cannot use it. But MDZhB acquires state importance only in times of crisis, for example, in case of military aggression or other emergency. 
In such a situation, the operation of the mysterious radio station will become a way of instructing the worldwide Russian spy network and the Russian army in remote areas. What do you think is MDZhB? Have you ever heard of it?