William Friedkin revisits old haunts with new documentary on famous exorcist, Father Amorth
Maureen Dowd
The New York Times
William Friedkin, director of "The Exorcist" has created a new documentary called "The Devil and Father Amorth".
When you've got a demonic child in Washington splattering dark stinking bile, croaking gibberish, spewing vulgar personal attacks, lying to sow confusion, whining about the unfairness of the attempts of righteous men to compel the diabolical behavior and head-spinning outbursts to stop, who do you call?
The demon-buster himself, of course, William Friedkin, the director of The Exorcist.
Before Donald Trump became president, the most frightening thing that happened in the capital was The Exorcist, which brags on its DVD cover that it's "the scariest film of all time."
It could well be, if the measure is moviegoers putting down their popcorn in unison when Linda Blair gushes green vomit.
"That was oatmeal – the pea soup was just for coloring," the 82-year-old Friedkin tells me, as we have lunch at 1789 in Georgetown, a restaurant opposite the steep concrete steps where Jason Miller's tortured Father Karras fell to his death in a violent struggle with the demon.
Friedkin offers an eerie connection to the Trump White House, noting that he edited the film at 666 Fifth Avenue, the accursed Manhattan building with the Number of the Beast at the center of Jared Kushner's money problems.
The book and screenplay were written by William Peter Blatty, inspired by a news story he heard about in a religious class: the 1949 case of a 14-year-old boy in a Maryland suburb of Washington. Objects appeared to move around on their own in the boy's bedroom and he was violent and speaking Latin phrases. The boy, a Lutheran who grew up to be an engineer at NASA, underwent an exorcism, first with a priest from Georgetown University and then with priests in St. Louis.
After studying up on the case, Friedkin has decided it was "jive."
"It just doesn't hold water," he says, eating asparagus soup that looks enough like what came out of Linda Blair's mouth to make me a little queasy.
Friedkin's career peaked in the early '70s with two blockbusters, The French Connection and The Exorcist. Eventually he felt so out of touch with a Hollywood possessed by comic books and Sci-Fi's that he began directing operas.
Now he has returned to the subject that haunts him with a documentary called The Devil and Father Amorth, opening this month.
Friedkin used a hand-held camera to film an interview with Father Amorth, the chief Vatican exorcist, who worried that "Satan rules the world" and was in the Vatican. He died in 2016 at 91.
The director, who had never seen an exorcism, also talked the priest into letting him film the exorcism of an Italian architect named Christina with whom he had done the ancient ritual many times.
"It was harrowing," Friedkin says. "These five strong guys are holding her down. They're sweating. Father Amorth told me that during one of the exorcisms, she accused him of his sins and they were real."
Friedkin took this footage to neurosurgeons and psychiatrists, and one psychiatrist challenged it, saying Christina did not show "the classic symptoms" of possession, such as her head turning 360 degrees and her body levitating.
"I said, 'Doctor, we made that up,'" Friedkin recalls dryly. "Blatty invented what we think of as possession and exorcism today, and I had to find a way to film it. Father Amorth never encountered stuff like that, but he encountered other extraordinary occurrences and personality changes and voice changes. But there was no levitation or head spinning."
The filmmaker says that for his documentary he did nothing to amplify the guttural growl of Christina, which evokes the terrifying voice used by Mercedes McCambridge, which was dubbed in for Blair's in the possession scenes.
"When she breathed into the mic, you'd hear five or six sounds come out at once, like John Coltrane playing the sax," he says. "When I first called her, she said, 'I'm in A.A. I had a serious drinking problem. I am a lapsed Catholic, but I still have strong ties to the church. So in order to do what you want, I'm going to have to start drinking Jack Daniel's again and smoking cigarettes and eating raw eggs.' And she wanted to have her own two priests with her at all times."
Friedkin is chockablock with such tales.
He says the first of his four wives, Jeanne Moreau, installed a lifelong love of Proust in him by reading it aloud.
Happily married to Sherry Lansing for 26 years, Friedkin says, he wasn't really "Hollywood's most combustible director," as The Telegraph once called him.
"I don't drink," he says. "I've never done drugs. I've never tried grass. But I think Miles Davis is a reason to live." He does cop to slapping a couple of people to get the sad and angry performances he wanted, noting that another word for director is "manipulator."
He did not want Gene Hackman to play the iconic New York police detective Popeye Doyle in The French Connection.
He gave the role to Jimmy Breslin instead. "He had exactly the look I had in mind, a Black Irishman," Friedkin says. "The first day, he was great, great, great. The second day, he forgot what he did on the first day. The third day, he didn't show up. Comes Friday, he shows up and says, 'Hey, isn't there a car chase in this movie?' I said, 'Yeah.' He said, 'You know, I promised my mother on her deathbed I wouldn't drive, so I don't know how to drive.' I said, 'You're fired.'"
He gave Hackman the part, and they sparred so much during filming that at the end, he told a producer: "I may get away with this thing, but if I had to do 'The Gene Hackman Story,' I wouldn't hire this guy." He acknowledges now that Hackman is one of the greatest American film actors.
After lunch, Friedkin makes me descend the Stairway to Hell, the 75 steps in the movie's climactic scene that I had avoided my whole life. I saw The Exorcist on my 21st birthday and was so unnerved, I went to bed and missed my own party.
Standing on the steps, Friedkin channels the demon, growling, "Your mother still rots in hell, Karras, you faithless slime." Tourists taking selfies on the stairs look around, startled.
And even all these years later, I still want to crawl under the covers.
People of the shadow: what do the mysterious shadow creatures want from us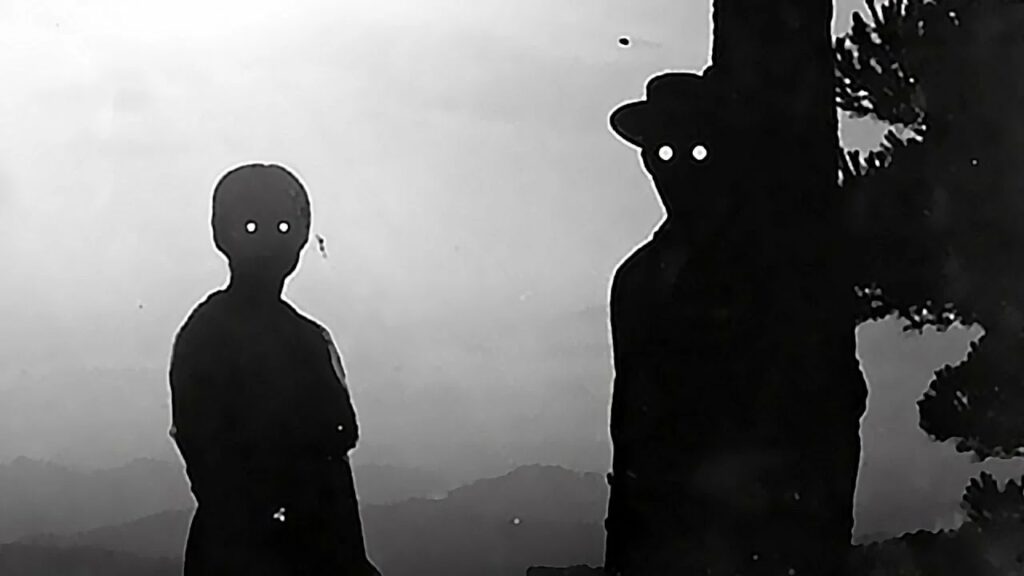 Shadow creatures are neither ghosts nor people, and we know these creatures as shadow people. It seems that the "shadow" know about our location and want us to feel fear or even panic in their presence.
People-shadows or shadow people are paranormal dark barely visible silhouettes known to mystics for a long time. They look like dark humanoid creatures or barely noticeable ghosts, often seen only with peripheral vision. Witnesses claim that shadow people only catch a few seconds, eyewitnesses also say that they looked into the eyes of shadow people and their eyes shone with a red light, like demons.
Shadow people can take different shapes and sizes: look like full-fledged people or even like animals. But most often these are thin tall strange figures. Be that as it may, they appear only for a moment, quickly evaporating into the air. Unfortunately, they can harm humans, which was proven in 2013.
The video posted on the web had confirmation of the existence of a shadow man who was visible for over a minute! An unknown silhouette knocks down a man walking down the corridor and drags him across the floor for several seconds. After some time, it also suddenly disappears, releasing the person. As it became known, the building where the striking phenomenon was filmed has complaints from tenants who more than once meet paranormal events in their home.
There are very few known cases though of adverse events caused by shadow people. In most cases, they appear or disappear as soon as they are found.
Shadow creatures can be spotted out of the corner of your eye. Some people who saw them or knew about their presence say that they are alien creatures, slipping in and out of our field of vision. In the eyewitness accounts, the observation of the recurrence of shadow manifestations is especially often mentioned.
Whether they are an elusive race that has always coexisted with us is an interesting theory suggesting that these creatures are frequent guests in our lives.
Paranormal researchers consider shadow people to be malevolent supernatural entities. Perhaps shadow people will not cause physical pain, but they can affect you emotionally, for example, cause fear – this gives them energy.
Skeptics and scientists believe that shadow people are optical illusions or hallucinations that appear under the influence of drugs or physiological changes in the body. When the left temporo-parietal brain is stimulated, these strange images are created.
Often the appearance of these shadows is inextricably linked with sleep paralysis, when a person is, as it were, between sleep and reality. Scientifically, this is called hypnogogy. Hypnogogia is called "the phenomenon of the face in the dark" for such hallucinations.
All eyewitnesses, regardless of where they live, talk about the same sensations in the presence of shadow creatures. Fear is a cold feeling that overcomes a person at this moment.
Some people say they even saw the eerie red eyes of these dark personalities that momentarily appear anywhere and demonstrate the ability to walk on the walls of enclosed spaces, which defies the general laws of physics.
Whoever they are, they feed on human energy, emit bad vibrations and give negative emotions. We do not know how they got into our dimension, about the purpose of their mission and how they affect the human essence. The main thing is to stop feeling fear in their presence and not to "feed" anyone with your precious energy.
Ghost hunter told how to summon spirits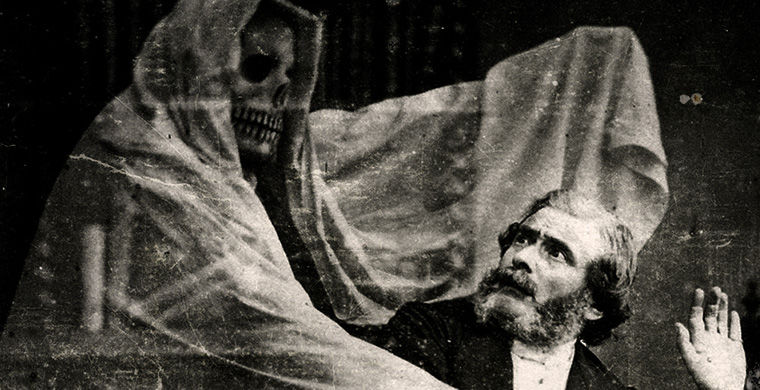 A ghost hunter explained how to summon ghosts and when is the best time to do it according to The Daily Star.
Jade Capasso explores hotels, inns, historical places to allegedly reveal the spirits and ghosts that are present in them. She shares her discoveries on the YouTube channel Ghost Club Paranormal. The girl is sure that you can also talk with spirits.
The 28-year-old ghost hunter is confident that you can talk to ghosts and spirits using a voice recorder. A particularly good time for this, according to her, is the eve of All Saints' Day – Halloween.
"I think there is more activity during Halloween. More people believe in the other world, "she said.
She recalled that Halloween pumpkin is an invariable attribute and symbol of the holiday. People decorate their home with funny, scary, and sometimes even terrifying faces.
"I'm sure there will be more sessions and many will use Ouija boards," she says.
To connect with the "other world", you can go to a famous haunted place, says Kapassa. She also recommends checking your home for ghosts.
To hear a ghost, the girl recommends using special equipment. 
After all, ghosts, she said, emit sounds at ultra-low frequencies that are not perceived by the human ear. You can hear them, as she notes, only on audio recordings.
The girl says that you need to leave the digital voice recorder in a room where paranormal activity is observed all night, or ask questions and wait for an answer.
"Ask questions, and who knows, you might hear a disembodied voice answering you," says Jade.
According to her, there is no need to rush, because the spirits must be given enough time to respond.
"You probably won't hear them in real time. But if you listen to the recording, you might hear someone from the underworld, "she said.
A photographer took a picture of an old house, but did not know that a woman lived there. No wonder – you can only see it in the photo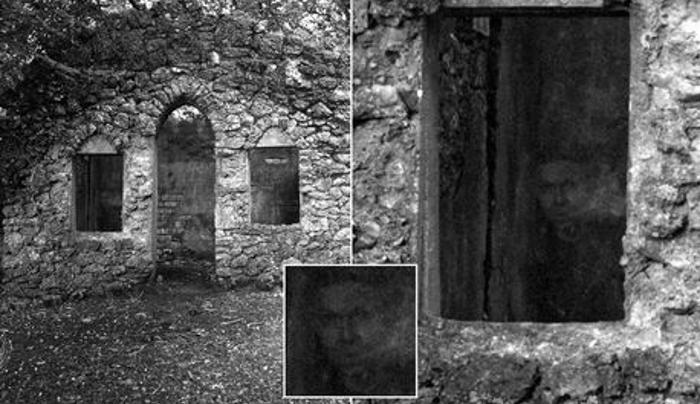 A Scottish resident took a photo of an abandoned building, and then could not believe his eyes when he looked at the finished photograph. From there the woman's face was looking at him, but the man is sure: there was no one in the ruins of the house. Finding an explanation for what he saw was not easy.
A photographer from Scotland, who wished to remain anonymous, decided to arrange an unusual photo session, Unilad writes.
His choice fell on several abandoned buildings that are located in one of the parks in the North Ayrshire region. After taking a couple of pictures, he went to the studio to print them, and then looked at the finished result.
Mysticism often happens in abandoned buildings , and the case with a man was no exception. In one photo, the Scotsman saw the ghostly silhouette of a woman looking at him from a window. However, the man assures that there was no one in the building, and he was alone in the ruins.
During the shooting, I did not feel anything unusual or anything otherworldly.
Despite the fact that the woman's face looks intimidating, he is glad that he managed to capture it. Moreover, the hero of the story shared the frame with all friends who adore mysticism and riddles.
I'm happy that I was able to capture something that looks like a ghost. I am even proud to be able to show photos to people who love riddles.
Many people, according to the photographer, are inclined to believe that this is a ghost, who love to talk to children so much, although the author of the picture himself is in no hurry to draw conclusions. He even looked at the frame under a microscope, but never came to the truth.
You can, of course, speculate, but the human brain makes us see familiar traits everywhere, especially if we look at them long enough.
Moreover, the photographer, according to him, does not really believe in ghosts and other mystical phenomena.
I don't like the term paranormal. As for ghosts, I don't know if they exist. I don't even know how to define them. What is it? Energy?