Will the next UFO disclosure be "biological threats from outer space?"
That may sound like a misguided question. But let's look at Tom DeLonge's company, currently acting as a conduit for new UFO revelations.
DeLonge (twitter), a famous musician (Blink-182, Angels and Airwaves) has surrounded himself with high-level spooks from the CIA and the military, in his new venture, To The Stars Academy (twitter).
One of his lead collaborators is Luis Elizondo, who was the Pentagon chief of a secret program (2007-2012) to study and explore UFO activity. Elizondo is now the point man for media, explaining the breaking news about a 2004 US military sighting of a UFO, and subsequent failed attempts to analyze materials from UFOs. He's also hinting that alien UFOs are a potential threat to our safety, a threat we can't ignore.
Every major press outlet in the world, starting with the NY Times, is covering this story.
Who are the players on De Longe's team? Buckle up. The following quotes are from the Academy's site:
Jim Semivan-"Mr. Semivan retired from the Central Intelligence Agency's Directorate of Operations after 25 years as an operations officer, both overseas and domestically."
Hal Puthoff-"Dr. Puthoff's professional background spans more than five decades of research at General Electric, Sperry, the National Security Agency (NSA), Stanford University and SRI International. Dr. Puthoff regularly advises NASA, the Department of Defense and intelligence communities…"
Luis Elizondo-"Luis Elizondo is a career intelligence officer whose experience includes working with the U.S. Army, the Department of Defense, the National Counterintelligence Executive, and the Director of National Intelligence. As a former Special Agent In-Charge, Luis conducted and supervised highly sensitive espionage and terrorism investigations around the world. As an intelligence Case Officer, he ran clandestine source operations throughout Latin America and the Middle East."
Chris Mellon-"He served 20 years in the federal government, including as the Deputy Assistant Secretary of Defense for Intelligence in the Clinton and Bush Administrations."
Paul Rapp-"His past honors include a Certificate of Commendation from the Central Intelligence Agency for 'significant contributions to the mission of the Office of Research and Development'." (Note: This office, ORD, was where the CIA's MKULTRA mind control program secretly landed, in 1962, after it purportedly ended.)
Norm Kahn-"Dr. Kahn had over a 30-year career with the Central Intelligence Agency…"
Getting the picture?
That's quite a roll call of military and intelligence insiders. Did DeLonge recruit them, or did they covertly recruit him, viewing him as a sincere, but rather clueless front man they could use for their own purposes?
But let's go one layer deeper with a few of these names on Tom DeLonge's team at the To the Stars Academy.
Dr. Norm Kahn's career with the CIA "culminat[ed] in his development and direction of the Intelligence Community's Counter-Biological Weapons Program."
Dr. Rapp "is a Professor of Military and Emergency Medicine at the Uniformed Services University."
Dr. Garry Nolan, another Academy advisor, "is the Rachford and Carlota A. Harris Professor in the Department of Microbiology and Immunology at Stanford University School of Medicine…He holds a B.S. in genetics from Cornell University, a Ph.D. in genetics from Stanford University."
Luis Elizondo's "academic background includes Microbiology, Immunology and Parasitology, with research experience in tropical diseases."
And finally, another Academy team member, Dr. Adele Gilpin, "is a scientist with biomedical academic and research experience as well as an active, licensed, attorney."
Why are all these medical people on board, along with intelligence and military players? Microbiology, parasitology, immunology, genetics, biological weapons? What do these fields have to do with UFOs?
It doesn't take a great deal of imagination to come up with a few answers. Military and intelligence and microbiological people, working together on UFO scenarios, could easily concoct "threat assessments" focusing on "unique viruses coming to Earth from space." Via drift, or even through "aliens" visiting from afar.
I say "threat assessments," because that is how these people think and how they spin.
Don't be too surprised if you hear language like this emerge:
"We must prepare for all eventualities. After all, if we aren't alone in the universe, we could be subject to life forms at the micro level we aren't ready for, and to which we have no natural immunity…"
When your professional background is inventing enemies, there are no limits to the scenarios you'll dream up.
Suppose we soon hear this: "Dr. X has suggested the need for extensive research on possible vaccines against a whole range of unknown viral species from outer space…"
The CEO of Merck would sit up straight and grab the phone. He would want to talk to his contact at the Defense Department. He smells a new government contract.
A few big shots at the US Centers for Disease Control would huddle in a meeting. How can they get in on the action? Perhaps they can find an astrobiologist who'll claim "the possibility of human disease originating in space has been considered for many years. We've always been puzzled by the genetic makeup of certain viruses. When you consider that components involved in the formation of Earth itself could have come from distant space, these components certainly could have carried microbes with them…"
Yes, that would be a start. "And if, in fact, we have had 'visitors,' wouldn't they carry their own set of unique viruses?"
Here is an actual news story from gizmodo.com (6/22/15), "Why Scientists Have Been Scared of Space Germs for Almost 50 Years":
"The 1967 Outer Space Treaty was one of the few things the U.S. and the Soviet Union managed to agree on at the height of the Cold War. Among other things, it forbid both nations from bringing space microbes back to Earth, or spreading Earth germs to other planets."
"Mostly, they [scientists] worry about single-celled, microscopic organisms, such as bacteria, some fungi, and viruses – or whatever the alien version of single-celled life looks like. We know for certain that bacteria and viruses can survive exposure to the harsh conditions of space long enough to hitch a ride to someplace more hospitable [like Earth]."
"Once they [Apollo mission personnel] returned to Earth, the crews went into immediate quarantine. First they lived in a mobile isolation unit on the aircraft carrier that recovered the landing capsule, then in an aircraft set up for isolation, and finally in a special quarantine unit at the Johnson Space Center in Houston, Texas. They stayed there for three weeks, while NASA doctors performed tests and watched for any signs of illness that might indicate an alien infection."
Perfect. The intelligence and military and medical people at DeLonge's Academy could cook up "space-virus" scenarios in a heartbeat. And with a series of press statements, they could pitch a threat assessment to the press. They already own a direct pipeline to the NY Times, which tells you they have an official green light to move forward.
We're looking at something extraordinary here. A rock musician, who's been intensely interested in UFOs for years, starts his own Academy, and he's instantly surrounded by important CIA and Pentagon and medical players. They have access to the most powerful press outlets.
They've already sold a story about military contact with a UFO, and another story about pieces from a UFO that resist all attempts at analysis. It was a remarkably easy sale. Poof. No problem.
Why not hoist up the flag on bio-threats from deep space? Carefully craft the language. Peddle that tale, too.
There are lots of payoffs. Raise the public level of fear. Always a goal when the CIA and the Pentagon are in the game. Stimulate government contracts (big money) for new medical research. Use this research as a cover for yet more (illegal) work on offensive bio-warfare programs. Hell, if they're going to go that far, why not claim the Russians have already isolated viruses from space and are developing super bio-weapons-and you have the makings of a brand new shiny Cold War.
Too wild to be believed? No, not really. When you own the basic narrative, and you have good propagandists at your disposal, the sky's the limit.
Or in this case, space.
It may be the Final Frontier of exploration, but it's also the frontier of sheer fabrication.
"Are you ready, boys? All right, let's go. Work it. Work the new virus-from-space scenario. This is a big one. All hands on deck. Sell it. Sell that jive. The New York Times is panting for more. Give it to them."
There are rumblings in Congress about resurrecting the Reagan Star Wars plan to build space weapons, which would intercept enemy nuclear missiles. Why not piggy-back a staggeringly expensive program to install "virus detectors" in space, to alert the government to "incoming microbes" from Out There-or from purported Russian "bio-attacks?"
"They'd never be able to sell that idea."
Really? Given enough time and propaganda, and given control of the basic narrative, government scientists can sell almost anything.
For decades, they've been selling the concept and practice of taking babies and toddlers, who possess almost no immune systems of their own, and injecting them with brews of toxic chemicals and microbes-known as vaccination-in order to stimulate and produce immunity in those non-existent immune systems.
Back in the mid-1990s, a whole brew of hysteria was whipped up about the Hot Zone. The thesis went this way: Because of the ease of global travel, all sorts of dangerous viruses, buried for centuries in Africa and the rainforests of South America, were going to come to the West and kill untold numbers of people, who had developed no natural immunity to them. Books and articles and films about this threat appeared.
Well, the next great Hot Zone story would be Space.
And To the Stars Academy has the right people on board to promote and hustle it.
Plus, on the side, DeLonge's Academy can always use all those medical experts to analyze an alien ET body that suddenly pops up in a locker at Area 51.
Were Two Projectiles Fired Into The Sun by a UFO?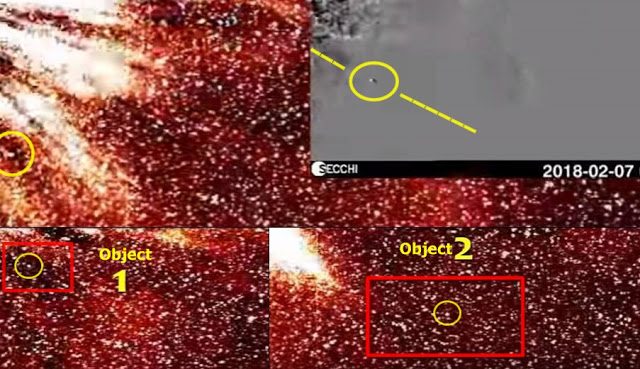 Secchi Stereo satellite captured two strange objects flying towards the Sun.
If you look closely at the bottom of the video, you can see how two objects appear from nowhere flying straight towards the sun.
You might think these objects are comets but according to Myunhauzen74, two comets cannot follow the same trajectory at the same moment but these two objects do follow the same trajectory at the same moment and right behind each other.
After analyzing the strange event near the sun he concluded that both objects are some sort of projectiles fired by a disguised alien craft with the aim of hitting the sun.
Below the footage and decide for yourself whether the objects are comets or projectiles fired by an alien craft.
UfoSightingsHotSpot
FAA radar and audio tapes from Oregon UFO incident that sent F-15s scrambling
Tyler Rogoway
The Drive
New evidence offers great detail of the bizarre event and provides unprecedented insight into how such a unique incident is dealt with in real time.
Last November, The War Zone posted an exclusive story detailing a bizarre incident involving an unidentified aircraft that transited the skies of the Pacific Northwest in the early evening of October 25th, 2017. What started as a radar target moving at very high speed over Northern California turned into a series of eyewitness accounts made by nearby airline pilots traveling northward over Oregon. Even F-15 fighters were launched to intercept the mysterious intruder that quickly became invisible to radar.
Now, through the Freedom of Information Act, we present what could be one of the most insightful instances of official documentation surrounding such an encounter that had already been confirmed to have occurred by both the FAA and the USAF. These materials include fascinating audio recordings of radio transmissions and phone calls made as the incident was unfolding, as well as pilot interviews, and conversations between FAA officials made in the aftermath of the highly peculiar incident.
For proper context, make sure to first read our original post linked here detailing the event, how our report came to be in the first place, as well as the rare confirmations as to its authenticity from both the FAA and the USAF. Below is also a short explainer video that will give you a basic overview of the incident.
See video here. (3:01)
Fast forward three months later, and now we have so much more evidence that adds incredible depth and color to our original report and the limited radio recordings we originally had to go off of. Via our Freedom of Information Act Request we received hours of audio, all with unique elements that add to this story. What we have done is packaged that audio, as well as the radar data provided, into four separate videos. We will highlight some of the big takeaways from each video in our piece, but we cannot stress enough how interesting and eye opening this audio is to listen to in full, so we highly recommend you do so by watching each video in its entirety.
The first video includes audio from the initial spotting of the object as it ripped its way across Northern California at high speed, before it took a turn north and merged with nearby air traffic and disappeared from radar. Once again, beyond becoming invisible to radar, this aircraft had no transponder broadcasting nor did it ever communicate verbally with air traffic controllers. The audio in the video goes on to be sync'd in real-time with radar data obtained via our FOIA request.
Video here. (35:03)
Oakland Center Sector 31 first detected the target around 4:30pm PST. Below is a chart showing where Oakland Center's high altitude sectors are situated around Northern California. Sector 31 spans roughly from Sacramento up towards Redding, before its northern edge, which is near the border with Oregon, terminates and Seattle Center's airspace begins. To the east, the airspace sits along the California-Nevada border. This makes sense as the craft was eventually tracked by airline pilots as it made its way up over Crater Lake and towards the Willamette Valley.
In the audio the Oakland Center controller notes that it is near his boundary, so it seems the aircraft's first appearance officially occurred near the border of Oakland Center Sector 31 and Seattle Center Sector 13 or 14. The target was moving "very fast at 37,000" feet when it was first detected.
© FAA
© Seattle ARTCC
Seattle Center high altitude sector chart.
The "intruder" quickly dropped off radar and that's when the visual sightings made by airline crews began. They continued for roughly half an hour and over hundreds of miles. The exchanges between nearby pilots and air traffic control regarding the unidentified aircraft were constant in the audio, with the same description coming back time and again-that of a white aircraft cruising at around 37,000 feet that is too far away to tell the type or if it has markings of any kind on it.
At roughly 27:30 into the video we get our first indication that the F-15s out of PDX are about to scramble, with the air traffic controller noting this while talking to another FAA controller, during which the controller also reiterates that there has still been no radar contact with the aircraft. The controller also repeatedly asks aircrews nearby to check their Traffic Collision Avoidance Systems (TCAS) for the aircraft, which all come back negative.
The F-15s first appear on radar as they climb out of Portland to the south at time index 33:33 as "Rock" flight – a common callsign used for the alert F-15s stationed at PDX. Alaska 439 asks for an update on the unidentified aircraft and the controller notes they still have nothing on him, saying colloquially that it must be in a kind of "stealth mode or something." It's also interesting that the F-15s first went south when it seems as if the object would have been north of PDX by the time they finally launched.
This second video is just the radar data in its raw form. It starts before the sync'd recording begins above so we thought we would post it in full so our readers can take a closer look if they want.
Video here. (51:57)
Next we move into some very interesting recordings of FAA phone calls that occurred as all of this was taking place. We edited out dead space in the audio between phone calls and bleeped the names of those who named themselves. Aside from that, the audio is unedited by us, although we cannot be certain if parts were redacted by the FAA or not. There were a few strange areas where conversations went mute and it's not clear if this was edited or just an anomaly. The primary person talking in most of these calls is the Operations Manager In Charge for Seattle Center at the time that the incident took place.
Audio here. (15:34)
The first call is to Oakland Center, and it occurs early on after the initial radar detection and as pilots began spotting the craft visually. He also mentions that "air defense" is looking for the target now too (on radar), so it shows how early the military was involved in the encounter.
© United States Air Force
Washington Air National Guard
You will notice that the term "DEN" is referred to repeatedly in these recordings. That is the Domestic Events Network, a sort of hotline system that is used to bridge the FAA with federal authorities, namely the military, during a number of circumstances which you can read about here. You will also hear the term "WADS" and the nickname/callsign "Bigfoot." This refers to the Western Air Defense sector of NORAD that monitors the airspace over a huge swath of territory in the United States and Canada. Based out of McChord AFB in Washington, WADS scrambles the fighters when needed and works to direct them to their targets of interest during domestic air sovereignty missions, among other responsibilities.
When the Manager In Charge is asked if he was asking for military assistance by another FAA controller, the tape goes blank. The same inquiry is heard moments later, and it goes silent again before another call begins. Although it really doesn't have much impact on the greater mystery, who asked for the F-15s to scramble and when, comes up in the next video in an exchange between the same manager and an FAA official.
In the final set of calls in the video we hear controllers talking about how the Air Force wants to set up an air patrol over Battle Ground, Washington, which is a dozen miles directly north of PDX. We know the F-15s headed south initially, so it isn't clear if this call came after they initially headed in that direction or before they were even airborne and the plan changed later on for some reason. Once again "Rock" refers to the callsign of the alert fighters.
Finally, we get to our last and most interesting of our evidence videos. It contains the calls made after the incident occurred. Seattle Center's Manager In Charge of Operations tries to figure out what happened exactly. In doing so he talks once again with Seattle Center and the trio of airline pilots that spotted the craft visually and has some very interesting conversations with the FAA's Air Traffic Organization Security office and the agency's Safety and Quality Assurance Group.
Audio here. (36:32]
First we hear about the big question as to who "requested" the scramble, as according to the call, it has to come from FAA headquarters. The manager floats the idea, in retrospect, of having the airliners keep a visual on the craft instead of allowing them to descending into PDX, at least until the F-15s show up, but the FAA official swats that down as they didn't know what the aircraft was, "if they are equipped with anything" or its intentions. She reiterates that getting the military involved was a good idea but that it should have come from FAA headquarters over the DEN. The manager reminds her again that he doesn't know who requested military assistance and that Oakland Center told him to call WADS initially.
Next we hear from Oakland Center again, at first discussing who ordered the scramble, but then the conversation goes into talking about what actually happened. Both agree that there was "definitely something out there" with the Oakland Center controller saying the aircraft first appeared going southbound at high speed before executing an abrupt maneuver and then "took off northbound." Even figuring out how to report the encounter seems totally foreign to both higher ranking controllers, with one stating "I have a feeling someone is going to go through this with a fine-tooth comb."
Then we get into the pilot interviews over the phone, with the manager's intention being for each crew to write up a report detailing their individual perspective of the incident. During the call with United 612 there are some odd dropped moments, but the pilot describes the encounter, stating that he was too far away to make out the type. The next call, with Alaska Airlines 525, also doesn't reveal much as the crew says they never were able to see it, but the crew of Skywest 3478 did, although he didn't have much to add.
The call with the pilot of Southwest 4712 was by far the most interesting. He immediately notes how strange the encounter was and how he has never seen an incident like it in nearly 30 years of flying jets. The pilot noted, "if it was like a Lear (private jet) type airframe I probably would not have seen it this clear. This was a white airplane and it was big. And it was moving at a clip too, because we were keeping pace with it, it was probably moving faster than we were… It was a larger aircraft yeah." He also said they watched the object from Northern California all the way to their descent into Portland.
The manager's final call, was with the FAA's Quality Assurance Group, who is taken by surprise by the details surrounding the event, and especially with the fact that nobody still knew what the aircraft was or where it ended up. "Wow that's weird" is the operative quote by the FAA official, which is insightful to say the least as these people deal with unique incidents that occur in American airspace on a daily basis. The manager agreed with the sentiment and noted that it wasn't some small aircraft and it was moving fast, outpacing a 737 cruising nearby. The official also says that the incident should be classified as "potentially significant" on reporting documents. She even said that this was "a weird enough thing that there is not a set procedure… It's not often we hear about an unknown guy up at that altitude."
Collectively these materials give us incredible insight not only into this incident, but also into how such an event is actually handled in real-time by those who are responsible for the safety of those in the air and those on ground below. What they don't offer is any sort of an explanation for what happened on that fall evening. But really, the fact that all those involved, from air traffic controllers, to Air Force radar operators, to airline pilots, and even special FAA officials tasked with responding to all types of out of the ordinary incidents that occur in the sky on a daily basis seem just as puzzled with this event as we are makes the story all that much more intriguing.
Above all else, this new evidence underscores just how rare these events actually are, especially ones that include multiple sightings, the use of multiple sensors, the involvement of various agencies including the military, and some of the most capable air-to-air fighters in the world. And after recent reports unmasking how the Pentagon remains highly interested in encounters just like this one, it holds even more weight than it did three months ago.
We will continue to investigate this bizarre incident and we will keep you updated as to what else we discover.
50 years ago, a small town Ohio policeman chased a flying saucer into Pennsylvania…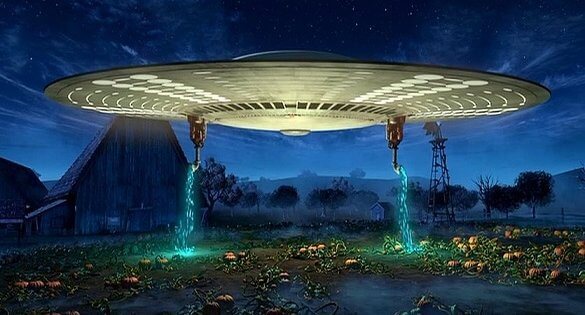 We met at Mike's Place, the greasy spoon near Kent State with the X-Wing parked out front. It seemed appropriate – it was fifty years ago, this week, that James Evans' father chased some kind of spacecraft into Pennsylvania. They seated us inside the converted school bus near the back of the place. He ordered biscuits and gravy and told me about what his old man saw, back in 1966.
"He didn't like to talk about it," James said. "And when he would, he always said, 'I wished I'd never seen it.'"

Dale Spaur was a deputy Sheriff for Portage County in 1966. Big dude – 6'7". Wicked sense of humor. Former gunner on a B-51 in the Korean War. He was known on the force for having a bit of a lead foot, reprimanded for taking turns too fast in his cruiser on Main Street in Ravenna. He worked the night shift with his partner, Wilbur Neff, known as "Barney" to friends. Spaur was a good cop with a good family – a wife and two boys at home. But everything changed the morning of April 17, 1966.
Spaur and Neff were called out to an abandoned vehicle on the side of State Route
224, near the town of Atwater, at about 5 a.m. It was an isolated stretch of country road, lined with trees. They got out of their cruiser to investigate and that's when Spaur spotted a glowing craft rising out of the woods. It reached treetop level and then began to move toward them, according to an article that appeared in the Record-Courier the following day. It was shaped sort of like an ice cream cone tipped on its side, a little pointed end sticking up in the back, and it made a sound like "an over-loaded transformer." When it came close, they could feel the heat baking off of it. Slowly, it started east, down 224.
The two deputies returned to their cruiser and radioed into dispatch. The sergeant on duty told them to follow it. The chase was on.

The faster Spaur pursued in his cruiser, the faster the object accelerated. Soon they were speeding east down old Route 14 into the rising sun, the odometer edging past 100 mph. Occasionally they'd have to stop for lights or traffic, though, and when they did the craft slowed down, too, like it was playing a game of "cat-and-mouse," Spaur would later explain.
Along the way, Spaur and Neff were joined by East Palestine police officer, Wayne Huston, who followed in his own car. They chased the UFO all the way into Pennsylvania, where Spaur was finally forced to stop for gas. Another cop – Frank Panzanella – was already waiting at the service station. The four officers watched the UFO dart straight up into the sky and disappear.
By the time Spaur made it home, the local newspapers had the story. Headline: THEY TAILED A SAUCER 86 MILES! The national news picked it up and within three days, they were getting calls from Japan. At the station, Spaur and Neff were ridiculed. Neff took it in stride but it really got to Spaur, who lost twenty pounds from the stress of it all. Then men from Project Blue Book – the military's Cold War UFO-investigation department – arrived. After interviewing everyone, they determined that the object the four police officers saw that morning was the planet Venus refracted through fog.
By all accounts, Spaur suffered an emotional breakdown after this. Within six months, he'd lost his job. His wife left with the children. In October, a Plain Dealer reporter found him living out of a motel, subsisting on peanut butter and jelly sandwiches. "Thirty-four years old and what do I have? Nothing," he said. "Who knows me? To everyone, I'm Dale Spaur, the nut who chased a flying saucer."
James didn't know who his real father was until he was thirteen – after the divorce, his mother remarried and James was adopted by his stepfather. He was watching Good Morning America with his older brother, Dale Jr., when a tall man was invited on the program to talk about flying saucers.
"My mother came in and said, 'That's your dad.'" The boys wanted to meet him so Daneise called the television station and the show's producers passed along her message. Two weeks later, Dale Spaur pulled into the driveway in a big pickup truck. "I remember watching him get out," said James. "It was like he unfolded out of the truck when he stepped out, he was so big." During his visit, he told his boys about his adventures since leaving Portage County.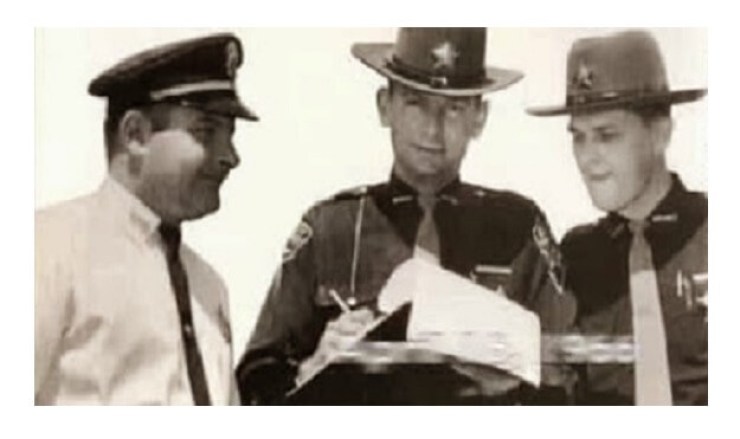 It had taken time, but Spaur had finally gotten his life back together. Not long after that reporter found him at the motel, Dale moved to West Virginia, where he worked in the mines. He had a terrible accident there, falling seventy feet down a shaft, breaking his back. He lay in a coma in the hospital for several days, eyes wide open but completely out of it. "A nurse was supposed to sit with him the whole time," said James. "But she only lasted a couple hours. I guess she came running out of the room, screaming, 'This man is possessed by an alien!'"
When he recovered, Spaur moved back to Ohio and settled in Rocky River. He remarried, opened a bar called the Avenue at West 65th and Detroit Road in Cleveland, and on rare occasions told stories about the UFO he called "Floyd," which he claimed visited him sometimes when nobody else was around.
Later, he did a little consulting for Stephen Spielberg's movie, Close Encounters of the Third Kind, but walked off set in a huff after he found out the main character was not a cop, said James. The film opens with a police officer chasing a UFO shaped kind of like an ice cream cone on its side.
Spaur died on April 4th, 1983, never recovering from severe pneumonia after catching the flu. James remembers an endless stream of people he'd never seen before at his father's funeral. He never knew his father had so many friends.
"I look up and five Eskimos are standing there. Where did they come from? How did they know my father?"
I asked James what he thinks after all these years. What did his father see in the skies above Portage County fifty years ago?
"He believed what he saw was extra-terrestrial," said James. "I believe him. Nothing we made could fly like that. In Pennsylvania, it hovered over his car. He could feel the heat coming off it. Then it went straight up and disappeared. Poof. Gone! And remember, my father served in the Air Force. You couldn't put a bird up there he doesn't recognize."
If there's definitive proof, the military has it. Spaur and Neff kept a camera in the cruiser. They took dozens of photographs. But when Blue Book came to town, the G-men confiscated the negatives. They have never been released.