Why You Should Keep Your Orange and Banana Peels
by Karen Foster Prevent Disease
The peels of fruits hold some of the most incredible nutrients in the world. There are dozens of uses, both medicinal and practical, for orange and banana peels that are unknown to most. Next time you think about throwing away one of these peels, you may want to have this information handy.
ORANGE PEELS
Always try and minimize your pesticide levels by selecting organic oranges, but since they're very low in the pesticides, it's not essential and a good cleaning with 1 tablespoon of lemon juice and 1 tablespoon of white vinegar in 1 cup of water will remove almost any pesticide remaining within the outer peel.
Orange peel and apple skin are similar since most of the nutrients and benefits are in the skin of these fruits. According to Rebecca Wood, author of The New Whole Foods Encyclopedia, "One medium orange contains over 60 flavonoids and 170 different phytonutrients." They are good for your skin, your system and your home too. Dr. Jaishree Bhattacharjee, Ayurvedic consultant with Satvikshop helps us find out it's different uses.
Medicinal Properties of Orange Peels
As per Ayurveda, orange peel is tikta (bitter) and it improves digestion and removes sluggishness in the abdomen. It helps to remove gas, heartburn, vomiting and acidic eructation. It works well in perking up appetite and relieving nausea.

Due to its pacifying properties, orange peel powder helps dissolving phlegm in respiratory systems and alleviate cough, asthama etc.
Beneficiary aspects of orange peels come from its essential oils, which have anti-microbial and anti-inflammatory properties. Essential oil d-limonene has ability to defuse stomach acids and maintain normal intestinal movements. It also promotes normal liver function.
Studies have shown that orange peel can dissolve cholesterol and triglyceride. That means consumption of orange peel can benefit obese persons who have high cholesterol levels. It has a flavonoid known as hesperidine, which is said to be effective against colon cancer and osteoporosis.
Essential oils from orange peels are sedative in nature so can be used to calm nerves and induce sleep. Use orange peels in baths or simmer in a pot for uplifting your mood and drive away insomnia.
Beauty Properties of Orange Peels
Oily skin responds well to application of orange peels. It balances the skin oils and makes skin smooth and soft.
Dried orange peel beads act as natural exfoliators and remove dead cells and blackheads gently and naturally, bringing a glow to the skin.
Orange peels help in removing dark spots and blemishes.
Due to its cleansing, anti inflammatory, anti bacterial and antifungal properties, it works well against pus filled pimples and acne.
To remove damp or musky odor from house and fill it with beautiful fragrance, it can be boiled in water with clove or cinnamon.
Orange Peels in Cooking
In cooking, orange zest enhances the taste and flavour of many dishes.
Dried orange peels can absorb humidity from brown sugar
Sweet candies made with orange peel can tickle your taste buds and improve your appetite and the vitamin c in them would protect you from the onset of many ailment
BANANA PEELS
Again, as with oranges try and make sure you use organic banana peels to reduce pesticide levels, otherwise the natural organic wash mentioned above will suffice.
Banana peels are chock-a-block with antioxidants, minerals, and vitamins, so they're a natural cure for many an ailment and an aid for cell regeneration. Here are just a few uses:
Water Filtration
Research has demonstrated they have a capacity to absorb lead and copper from river water.
Bug Bites
Rub a banana peel on bug bites to soothe the skin and reduce itching.
Bruises
With restorative properties, banana peel can speed up the healing of bruises.
Teeth Whitening
It's said that if you rub banana peel on your teeth for a couple of minutes every day, your teeth could be noticeably whiter in a few weeks.
Warts
Not only do banana peels help eliminate warts, but they prevent their return. Simply tape (or otherwise fasten) a piece of banana peel to the wart overnight for about a week. Alternately, you can just rub the banana peel on the affected area daily. This even works for plantar warts (on the sole of the foot).
Scrapes and Scratches
Rubbing banana peel on boo-boos can help promote healing.
Splinters
Among the more bizarre applications for banana peels is the removal of splinters. The enzymes actually help dislodge the splinter and start the healing process when you tape a piece of the peel over a splinter.
Acne
Banana peel will soothe the inflammation and irritation of acne and reduce outbreaks. Rub the peel over the acne (face or body) every night. Improvements should be apparent within a few days.
Psoriasis
Once or twice daily, rub a banana peel on a psoriasis-affected area. Bananas have all the properties to moisturize, reduce itchiness, and heal psoriasis providing noticeable differences in as little as a few days.
Rashes and Itches
Got poison ivy? Banana peel is good for relieving the itch. Rub the peel over the rash twice daily until it is gone.
Headaches
Next time you're at a friend's house, ask for a banana, peel it, discard the banana, and hold the banana peel across your forehead as a headache cure. Watch for their reaction; your friend may have lost faith in your sanity, but you also might not have a headache any more.
Wrinkles
Given the overall restorative and healing properties of banana peel, it is said that regularly applying banana peel to your forehead and cheeks can tighten the skin and reduce wrinkles.
Household
The theme in household applications for banana peels is polishing. After removing the stringy bits from the peel, rub away and watch the shine.
Shoe Polish
Rub the banana peel on your (leather) shoes, then buff them up with a soft cloth.
Leather Polish
Leather jackets and furniture could benefit from those peels. Please test a small area first before tackling your sofa with a banana peel and buffing it with a soft cloth.
Silver Polish
The application is the same as above: rub and buff.
Polar vortex: "wild" winter is coming in the US, Northern Europe and East Asia after the 16th of January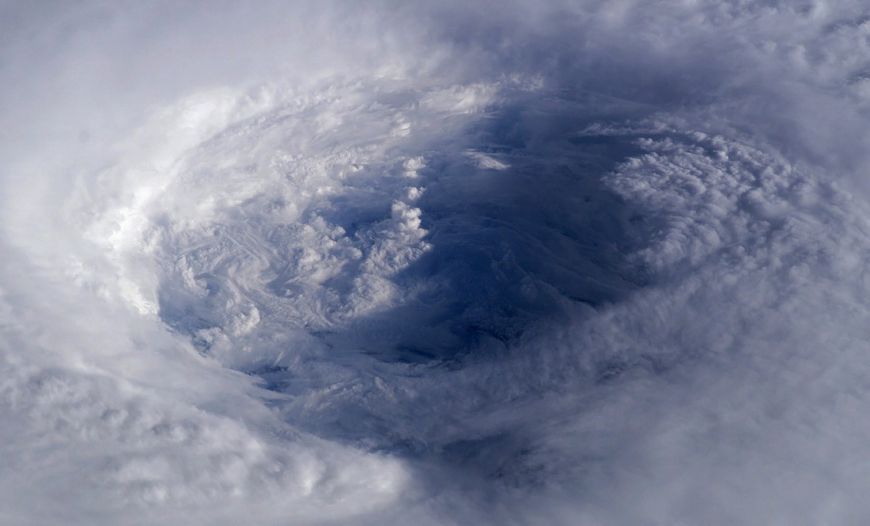 In the upper atmosphere above the North Pole, experts saw a rapidly swirling vortex of cold air that could bring severe frosts to the United States, Northern Europe and East Asia. Serious cold snap and snowy weather are expected after January the 16th.
Snowfalls and a cold snap hit South Korea since the start of 2021, hitting historic snow maximums and temperatures. In the country, for the first time since 1964, television and newer communications are sending people cold snap warnings:
The situation is similar in Japan, where a new snow storm hit historic highs:
On January 7, the thermometer In Beijing dropped to -20 degrees Celsius, breaking the 1966 record. In other regions of China, the temperature is also not sugar, and you can only move around in special uniforms:
The cold even reached Taiwan, where the temperature in some areas dropped below freezing point, snow poured down and people realized that rice terraces can be used as a ski jump:
Even more snow went to Spain, where on January 6, 2021, a temperature of -34.1 ° C was recorded – the lowest on record. After that, a snow storm hit the country, which has not been seen for 80 years:
The same thing happens in Canada and in the northern states of the United States:
It seems that after a stratospheric warming, the subpolar vortex began to split:
The vortex itself is a standard phenomenon. However, this time experts were surprised at his movement. It is possible that in the near future it will be divided into two parts. 
Scientists associate the strange behavior with the changed climate in the Arctic, which has become warmer. From September to December, the amount of ice cover decreased significantly.
The polar vortex is a low-pressure region located in the stratosphere and filled with cold air. When the jet stream of air that holds the vortex weakens, the low pressure area moves south. 
As the ice shrinks, more moisture will move inland. It will turn to snow, so snowfalls are expected. Snow, in turn, reflects heat, leading to a cold snap.
Hospital in Naples was evacuated after a new, huge sinkhole appeared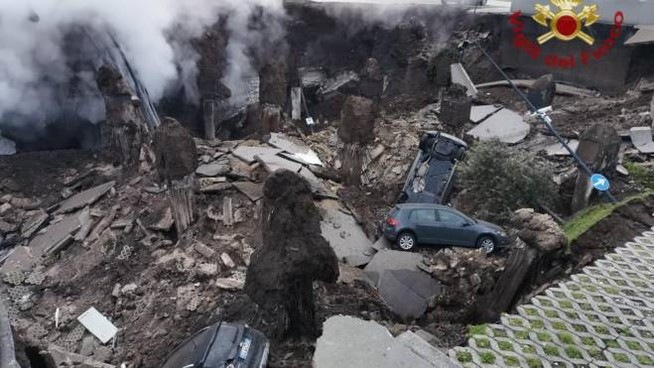 Eyewitnesses said they heard a loud crash at dawn when a huge hole in the ground formed outside the Ponticelli Ospedale del Mare hospital in eastern Naples.
Early in the morning of January 8, 2021, a sinkhole occurred in the parking lot of a clinic in Naples. The depth of the formed cavity is about 20 meters, the total area of ​​the hole is about 2,000 square meters.
No casualties were found at the scene; firefighters say the sinkhole "affected an area of ​​about 500 square meters" and engulfed several cars parked near the hospital.
As the press writes and as a little can be seen from the videos, rescuers and firefighters were running around the pit together with the governor of the area.  But who should be there in the forefront are Italian geologists, since Naples stands in the very center of the volcanic system known as the Phlegrean Fields.
If the surface collapsed, moreover – the surface reinforced with concrete and reinforced from below with some kind of communications, then we are talking about serious soil deformations caused by the activity of magma.
Italy has been in doubt since the summer of 2020, because swarms were observed there in very atypical places in May, and according to the forecasts of old Italian seismologists, who had witnessed many strong earthquakes, it should have boomed in the August region.
Fortunately, nothing bad happened to Italy and there was no big earthquake. But, since there are swarms, it means that something is being prepared, the magma is gathering strength. 
Following this particular sinkhole event – an obvious sign that a major earthquake in Italy is already very close.
A new great pandemic cycle has begun (again) in China
In the first months of 2020, the whole world with a certain fright followed the events unfolding in China, where people fell on the streets during the day and astronauts wandered, and in the evening crematoria began to smoke. And now, with the onset of December, the cycle seems to be repeating itself.
Shunyi area in Beijing, where the authorities announced "wartime status" the day before. As you can see in the videos, thousands of people are lined up in the queue for mandatory testing:
Dalian city, where "wartime" is also declared. Neighborhoods are blockaded, people are walled up in entrances, familiar characters of George Lucas roam the streets:
Chinese 'rescuers', before performing a combat mission:
Chengdu City:
Daluo Port, Yunnan – tourists came for adventure and they received the 'time of their life' after leaving the ramp:
If something happens in Beijing, it does not mean that tomorrow the same will happen everywhere. However, the trend towards such dynamics is observed and, as the practice of the first wave of the pandemic has shown, all countries and people, to one degree or another, have taken into account the 'Chinese experience'.
Therefore, one must think that everything will now be in peace, as in spring – a new global round of the fight against the Covid has begun in China, a new great pandemic cycle!