Why We Need To Stop Bashing R. Kelly If We Want To Stop Teen Sexual Abuse & Pedophilia
The Facts:A former long time US government insider, Steve Pieczenik, recently tweeted about elite level pedophilia, hashtagging it on twitter and emphasizing that it's "NOT! Surprising."
Reflect On:With so many people like Steve speaking out, why do many of us still believe this is a conspiracy when there is evidence that women and children are actually suffering?
Steve Pieczenik is a former United States Department of State official and a Harvard trained psychiatrist with a doctorate in international relations from the Massachusetts Institute of Technology (MIT). He held many roles within the US political system, including as the Deputy Assistant Secretary of State under Henry Kissinger, Gerald Ford, Jimmy Carter, Ronald Regan and George H.W. Bush.
Now, if you've done research into US politics, being associated with names like Kissinger and Bush automatically raise a red flag. What's even more concerning is that he was a member of the Council on Foreign Relations, a group many consider to be 'wicked' while hiding behind good deeds. However, he was removed from the membership as early as October 2012, which was around the same time he started to "blow the whistle."
Not everyone from 'within' is part of this strange clique that many people are becoming aware of today. The clique that Donald Trump doesn't seem to be part of, which is a huge step, and is something we haven't seen for a long time. That's not to say we support his presidency whatsoever, we're just stating that he doesn't seem to be part of the Deep State. Nevertheless, many from within are starting to have a shift in consciousness, and feel a deep need to let the public know what's really going on.
Despite his credentials, Pieczenik's statements have gone completely ignored by mainstream media. In 1982, Pieczenik was mentioned in a New York Times article as "a psychiatrist who has treated C.I.A. employees." In 2001, he operated as chief executive officer of Strategic Intelligence Associates, a consulting firm.
He's been an insider for years and is one of many from within who have a much clearer idea of what is going on behind the scenes, despite the narrative that's controlled and televised by the establishment's media mouthpieces.
Pieczenik is a legend for speaking his truth, and he deserves to at least be listened to.
It's interesting to review how 'elite level pedophilia' hit the mainstream over the past couple years, bringing up Pizzagate at first, which was quickly labelled a 'conspiracy theory,' and then again when the 'Q anon' phenomenon began to surface, which mainstream media brushed off as a 'conspiracy' yet again.
You don't have to look far to see that this kind of thing isn't a conspiracy theory. The victims are starting to come forward, and people like Pieczenik are speaking up about it. Not long ago, an MSNBC news report even implicated Hillary Clinton in covering up a pedophile ring within the state department.
A lot of this is simply labelled as 'fake news' by the establishment because it implicates many of its members. It's also easy to label it as such because some of it is so unbelievable that it's hard for the mind to accept.
The truth is that we have more than enough information to at least warrant a proper investigation.
The more we continue to refer to this type of thing as a conspiracy theory, the more we allow those who are involved to continue hurting and abusing innocent women and children who have no way out.
We are talking about ritual abuse, and it seems to start at the Vatican, bleeding down into the government and other power structures. It's a big club, and we're obviously not in it. Let's not forget Jeffrey Epstein, a convicted pedophile of the Royal Family, similar to the relationship Jimmy Savile had with the Royals as well.
Even foreign politicians have suggested that western politics is associated with pedophilia and Satanism, Vladimir Putin being one of the latest examples.
This is why I wasn't shocked when I came across the tweet below, discussing the news that came out at the end of last year stating that celebrity Sacha Baron Cohen found a potential pedophile ring while taping the show "Who is America."  Cohan was quoted as saying, "We immediately turned over the footage to the FBI because we thought, perhaps there's a pedophile ring in Las Vegas that's operating for these very wealthy men."
You may be asking: Why hasn't the FBI done anything? (Ted Gunderson, former FBI special agent and head of their L.A office did a lot of work in this area).  If you want the answer to that question, retired police detective Jon Wedger, with over 25 years of service in the investigation of child abuse, explains who is involved in this ring and how it operates continually without ever being taken down. It's because, for the most part, when you take this information to your superior, they are already aware of these activities and fail to act on any information. The ones we go to solve this problem may actually be condoning it.
Pieczenik has also implicated the Clintons, stating that"We know that both of them have been a major part and participant of what's called The Lolita Express, which is a plane owned by Mr. Jeff Epstein, a wealthy multi-millionaire who flies down to the Bahamas and allows Bill Clinton and Hillary to engage in sex with minors, that is called Pedophilia."
It's important to note that Trump's name was found once on the flight ledger to Lolita Island but not repeatedly as with many other people, like Bill Clinton who appeared 26 times for example. It is often believed that Trump appears to be working so hard to stop sex trafficking because of what he saw when visiting Lolita Island.
Again, given his background, and all of the evidence that's already been put out to the public, why should anybody deem this a conspiracy theory? Why have there been no investigations? Why were Australian media outlets forced into silence when Cardinal George Pell was recently convicted on five counts of child sexual abuse? He is now the most senior official ever to be found guilty, serving as an advisor to Pope Benedict as well as Pope Francis. He's one of the Vatican's most powerful officials.
Children are being subjected to torture, murder, and a life full of trauma. We must understand that pedophilia within the realm of politics goes far beyond just that, it goes into ritual abuse and Satanism as well. And it's not just politics, it's Hollywood too. You can find it in many institutions that have amassed massive amounts of power.
Weird connections have always been observed from within, take the Obama administration for example. He appointed Kevin Jennings as Assistant Deputy Secretary of the Office of Safe and Drug-Free Schools at the US Department of Education. He's a member of NAMBLA (North American Man/Boy Love Association) and supports Harry Hay, who is also in support of NAMBLA. This was more than a decade ago, but these strange connections exist all over the political system.
Another example of institutional pedophilia support can be found within the UK government and the Catholic Church, which have come under public scrutiny for claiming that victims of child sexual abuse can "consent" to their rapes. They did this in order to avoid compensating victims. The Criminal Injuries Compensation Authority (CICA) establishes which victims get compensated, and they do so by determining whether or not the victim gave consent, even if that victim is a child. You can read more about that here.
A lot has happened since Former U.S. representative Cynthia McKinney blew the whistle about pedophilia within the government in 2005. She grilled Donald Rumsfeld on DynCorp's child trafficking business of selling women and children. (source)
Not long after that, retired Army General James Grazioplene, who worked in the Pentagon and as the Vice President of DynCorp, faced six rape charges against minors.
There are so many connections, whistleblowers and investigations that have uncovered examples of institutional pedophilia — we just aren't aware of them because the mainstream media often fails to report on them.
The Takeaway
What does this tell us about who we are electing as our leaders? Are they that two-faced? Many of these people are powerful members of the elite, and some of them have been made for us to idolize and almost worship. They hide behind philanthropy and good deeds, masking some very disturbing things taking place behind the scenes.
We've been turning a blind eye to this topic for too long and it's time to pay attention. A big issue here is the fact that many of the people involved have also experienced the same type of trauma as a child. It's considered normal to them, and it's normal to many of the children who are involved today. If we as a society are going to bring this out into the open, a discussion has to happen from a place of compassion, not judgement. This is still something the human race needs to work on, because if we continue to punish and ostracize people for their wrongdoings, we will never address the root causes of the issues we wish to rid the planet of.
Experts Horrified by Leaked CRISPR Baby Study
Chinese scientist He Jiankui's creation of the world's first gene-edited human babies was undoubtedly one of the most impactful science stories of 2018.
But for as much attention as the experiment received, the paper detailing it was never actually published — until now.
On Tuesday, MIT Technology Review published excerpts from a copy of He's manuscript, titled "Birth of Twins After Genome Editing for HIV Resistance," which it obtained from a source earlier in 2019.
The outlet also shared the manuscript with a legal scholar, a doctor specializing in in vitro fertilization, an embryologist, and a gene-editing specialist — and the experts' reactions to He's CRISPR baby study confirm that it was an absolute ethical nightmare.
The MIT Tech Review story highlights 13 problems the experts found with the paper, not least of which is the fact that the researchers behind it never managed to actually prove their claims that the experiment was "successful."
Additionally, the experts note that He and his co-authors seem to have made deliberate attempts to conceal some key information, such as by not naming the doctors involved in the experiment.
In other instances, He's team appears to have outright lied, for example by noting in the manuscript that the twins were born in November 2018 when people familiar with the experiment have said the birth occurred in October.
The experts told MIT Tech Review that reading the manuscript not only left them concerned that the parents involved in the CRISPR baby study only participated to gain access to in vitro fertilization — and not to prevent their offspring from inheriting the father's HIV — but also that the doctors involved in the experiment might not have even known what was happening.
"Approaching this document, I was hoping to see a reflective and mindful approach to gene editing in human embryos," Rita Vassena, scientific director of assisted reproduction company Eugin Group, told MIT Tech Review.
"Unfortunately, it reads more like an experiment in search of a purpose," she continued, "an attempt to find a defensible reason to use CRISPR/Cas9 technology in human embryos at all costs, rather than a conscientious, carefully thought through, stepwise approach to editing the human genome for generations to come."
FBI launches a new phobia: You're being watched on smart TVs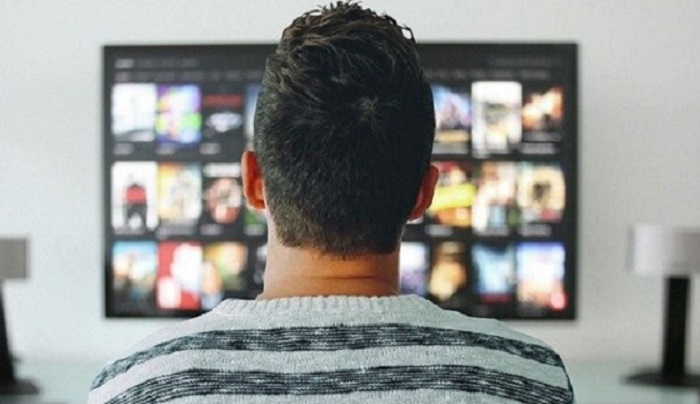 Federal Bureau of Investigation warned US citizens that hackers can watch and monitor them through modern TVs.
It goes without saying that ordinary people can be watched via smart camcorders. Therefore, these cameras must be "sealed " when not in use.
Smart TVs have built-in internet access to watch streaming media content.
Technically, it's a hybrid between a PC and a TV. That's why the FBI triggered the alarm – any ordinary computer can be hacked, which means it can be done with smart TVs.
Many smart TVs are equipped with camcorders and microphones. If hackers break into your TV, they will be able to watch and hear you, and you won't even notice it.
But, hackers will not stop until they penetrate your TV. If their activity is not stopped, they will reach your smartphone and laptop using your data.
The FBI advises:
"Don't rely on the default settings. Protect your privacy by putting, for example, an opaque adhesive tape on your cameras when not in use. "
This warning was posted on November 26, 2019 by FBI staff at the Bureau's official website.
The warning was deliberately issued before Black Friday and Cyber ​​Monday, known for selling people a variety of things, including digital equipment and smart TVs.
The warning also says:
"If they get access to your equipment, in the simplest case, they will modify your channel list or show inappropriate videos to your children. At worst, they will unnoticed, turn on the camera and microphone, even in your bedroom."
It is reported that if citizens spot cyber fraud cases, they can always 'knock' at the FBI's local office or file a complaint online through a dedicated website.
All of this provokes conspiracy theorists to ask questions, such as: who should be more guarded by hackers or special services? Isn't this evidence that the FBI is spying on people the same way? Why is this information given? What is the FBI's intended purpose?
Latest Tests Reveal Children's Cereals Still Contaminated with Toxic Glyphosate
The Environmental Working Group (EWG) has compiled fresh data on the levels of toxic glyphosate (Roundup) found in several popular oat-based breakfast cereals, and the verdict is this: All of them contain at least trace amounts of the cancer-causing herbicide, while most of them are loaded with it.
Olga Naidenko, PhD, a senior science advisor at EWG, along with Alexis Temkin, a toxicologist at EWG, identified the presence of glyphosate in all of the 21 oat-based cereals and snack products they tested. And all but four of these products were found to contain glyphosate at levels higher than what EWG considers to be "protective for children's health with a sufficient margin of safety."
The worst product was General Mills' Honey Nut Cheerios Medley Crunch, which clocked in at 833 parts per billion, or ppb, of glyphosate. In second place was General Mills' Cheerios Toasted Whole Grain Oat Cereal, which tested at 729 ppb of glyphosate.
General Mills' Honey Nut Cheerios was one of the few cereal products that tested below EWG's children's health benchmark of 160 ppb of glyphosate, containing 147 ppb of glyphosate according to EWG's tests. The best-testing product was Nature Valley Fruit & Nut, and Dark Chocolate & Nut, Chewy Trail Mix Granola Bars, at 76 ppb of glyphosate.
A whole slew of other General Mills and Nature Valley products tested at somewhere in between these upper and lower levels, while still mostly exceeding EWG's children's health benchmark of 160 ppb of glyphosate.
These latest findings are significant in that they once again prove that children's breakfast cereals, especially those that aren't organic and contain oat ingredients, are a toxic nightmare that's being completely ignored by federal health authorities.
The Environmental Protection Agency (EPA), for instance, has yet to act on a petition filed by EWG that calls on the agency to "sharply limit" the amounts of glyphosate residue allowed on food. EWG has also called on the EPA to put an end to the use of glyphosate as a preharvest desiccating, or drying, agent.
But the EPA rarely acts on behalf of the general public, it's important to note. In fact, the agency has been colluding with Monsanto (now Bayer-Monsanto) for years to keep glyphosate on the market by claiming that the chemical is completely safe for humans – this being a total lie.
Amid ongoing litigation concerning glyphosate's cancer-causing properties, Bayer-Monsanto is desperate to keep a lid on the truth – and the EPA is actually helping the company to continue deceiving the public about it. But EWG's petition, which includes 19 food companies that agree with its demands, has already been signed by more than 80,000 people, meaning the EPA can't ignore it forever.
Prior to 1993, the EPA actually had standards in place to prevent excess glyphosate from getting into food. But those standards have since been abolished, which explains why the American food supply is becoming increasingly more toxic with each passing day.
"EWG's petition, currently under consideration by EPA, calls on the agency to return to its health-protective 1993 standard," EWG reports. "But it could take years for EPA to act, and the agency has been caught colluding with Monsanto to promote the claim that the chemical is safe."
"The only way to quickly remove this cancer-causing weedkiller from foods marketed to children is for companies like General Mills and Quaker to use oats from farmers who do not use glyphosate as a desiccant," EWG goes on to explain, adding that more than 236,000 people have already signed a petition calling on these two companies to stop sourcing oats from farms that use glyphosate as a preharvest desiccant.
You can sign that petition yourself at this link.
Ethan Huff
Natural News