Why Not An Animal Afterlife?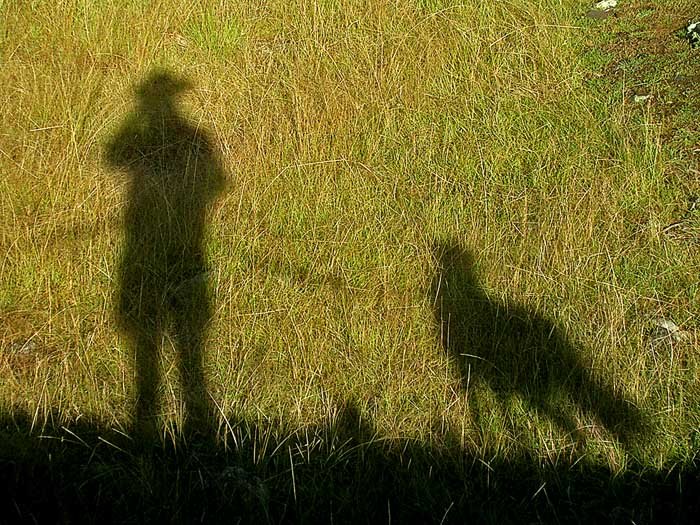 It is the dog returning, the same dog or a different one, a shadow dog I cannot clearly perceive, it has no definite form or color… – Swedish poet Artur Lundkvist from Journeys in Dream and Imagination, 1991
Like people, animals seem to be able to come through in many ways after they have died. A good friend of mine from Ottawa had a feline apparition that regularly bounded across her apartment's hallway. She had lived in the century-old apartment building for many years, and saw the shadowy cat a few times a year.
"Out of the corner of my eye, I'd see this black shadow zip across the width of the hallway. I used to write it off as shadows from the sun, but every time it happened, it was in the same spot, but at different times of the day." Her immediate thought, whenever it happened, was that it was a black cat. "My first roommate said, 'Oh yeah, I see it too. It's our black cat.' And we'd joke about it." My friend received further verification from subsequent roommates who also saw the ghost cat. The greatest substantiation of what she saw came when a maintenance man was replacing the fire doors in her apartment. When he was done, he came to speak with her. He turned around, and then looked back at my friend. "Oh, do you have a cat?" he asked, describing a black cat darting across the hall. Having a visitor witness the phenomenon excited my friend, and she called her roommate over and had the mystified repairman repeat what he saw. Interestingly, he saw the cat from a different position than people would usually see it in the hallway. "It would never occur to you in the depths of your mind that it was anything other than a cat," she told me.
Animal apparitions and afterlife contact is not all that uncommon. Famed medium Allison Dubois (who inspired the popular TV series Medium) wrote in her book Don't Kiss Them Goodbye that passed on pets figure significantly in the readings she does. In one memorable reading, Allison saw a bird perched on the finger of her client's recently departed mother-in-law, and the client confirmed that her mother-in-law's bird died around the same time she did. "Although I knew dogs and cats crossed over," Allison wrote, "I wasn't aware that birds could come through from the other side."
Photo by Christopher Laursen, Gudhjem, Bornholm, Denmark, 2012.
Maybe everyone will be reunited with the pets they loved once they die.
My Mom certainly believes so. She recently recounted to me a variety of experiences that she agreed to share here. Her beloved collie, Katie, died in April 2006 from lymphoma. This was quite hard on my Mom who lives on her own. In the years leading up to Katie's death, two of her cats had died: Kitty and my own cat, Mookie, adopted by my Mom when I moved to Ontario. After Katie's death, it was very sad for me to think of my Mom returning to an empty house every night after work and going for walks alone.
But she wasn't completely alone, I later found out. A week after Katie died, my Mom heard two distinct barks in her house. "I know her barks like you would know your kid's voice," my Mom told me. "It was like her saying, 'I'm still here, I'm okay.'" The signs continued on in the ensuing weeks after Katie's death. Early one morning, my Mom awoke to hear Katie lie down in her crate in a room down the hall; the crate creaked as she did so. In August 2006, my Mom heard the sound of Katie shaking out her coat in the sitting room. The audible evidence that Katie was still around the house was further verified for my Mom in several dreams she had, where she would be visited by Katie and find that she no longer had the lumps from lymphoma.
When I was younger, after my childhood cat Sylvester died, I remember lying on my parents' bed on a warm afternoon. I felt what seemed to be Sylvester jumping on the bed, doing circles and resting on the bed near me. I just left my eyes closed. It made me smile. Of course, there was no cat on the bed when I opened my eyes, but I felt that Sylvester had curled up next to me one last time. My Mom has had such experiences as well. Maybe the most interesting experience occurred after Katie's death in the wee hours of morning. She heard Katie come into her room, turn around to lie down on the floor beside her and smack her lips as if she were going to go to sleep. Then she felt her old cat Kitty come under the blanket (something her cat was prone to doing when she was alive). She reached her hand under the blanket and could feel Kitty's tail and her rump. She felt Kitty sniff her hand. "It was like I was having a dream, but it was more than a dream," she said. Whether this was a dream or something experienced while she was awake, the animals' presence comforted my Mom.
"But what really blows me away are the actual things that have shown up in my house after Katie died," my Mom said, recollecting how she had found individual pieces of Katie's fur. "They seemed to come when I was most upset and needed to know that she was okay. The hairs would always stick straight out so I could see them." One long collie hair appeared on her sweater, and another time, she found one on the upper part of her dining room curtain. Perhaps the strangest finding during this time was when she opened her clothes closet a few weeks after Katie died and found one of Kitty's claws sitting on the carpet just inside the closet. This was especially unusual since Kitty had been dead for two years. I should mention that my Mom keeps her home meticulously clean.
In November 2006, my Mom adopted a new bounding spirit into her home – an energetic collie puppy by the name of Holly. My Mom maintains a very detailed journal of these experiences, and in the year following her adoption of Holly, she regularly found pieces of cat litter around the house – very strange since she hadn't had a cat in about three years at that point.
One January morning in 2010, my Mom awoke to a 5 a.m. alarm and as she stood up from her bed, she heard the sound of a dog's feet approaching her bedroom in the hallway. She thought it was Holly and saw the outline of a dog in the dark. "I bent down to pet her as she walked by me," my Mom recorded in her journal, but my Mom "didn't feel her," and thought the dog went into a large carrier that she keeps in her bedroom, but she didn't hear the dog enter it. She went to the bathroom and put the light on, and her dog Holly was lying in the sitting room on the other side of the house from her bedroom, looking at her. Was it an apparition of Katie that my Mom experienced?
Photo by Jim Wegryn, Grand River southwest of Lansing, Michigan.
These are extraordinary experiences. Numerous people have reported having such experiences after their pets have died. For example, cat enthusiast and writer Dusty Rainbolt encountered so many stories of people encountering apparitions and signs of their cats' presence after they had died, that she wrote a book, Ghost Cats, based on these accounts in 2007. Another animal lover and naturopath, Kim Sheridan, has written two volumes on animals and the afterlife, the most recent due for an upcoming release. And the parapsychologist and painter Raymond Bayless collected many accounts in his 1970 book Animal Ghosts. Some further books and accounts are included in the links below.
In a review of Sheridan's first book in about.com, the reviewer concluded that "This book should offer much-needed comfort to those who have either recently lost a pet or face the imminent loss of one. It offers compelling anecdotal evidence that life after death indeed exists for the animals we love." My Mom expressed how grateful she is for these types of books in finding that others have also had such experiences. The meanings of these experiences are extraordinarily powerful and personal to those who encounter deceased animals.
The ghostly black cat that darts across the hall. A bird perched on the finger of a deceased relative in a medium's reading. Apparitions and physical evidence that deceased pets remain present. These are but three types of experiences people have had involving animals in ways that do not work within conventional explanation.
Such uncanny encounters with animals is no doubt an area worthy of further study. If you have had any such experiences, please feel free to share them in the comments below, or send me a message and I will consider including your account as part of my documentation of people's extraordinary experiences.
Ghosts are Here for Different Reasons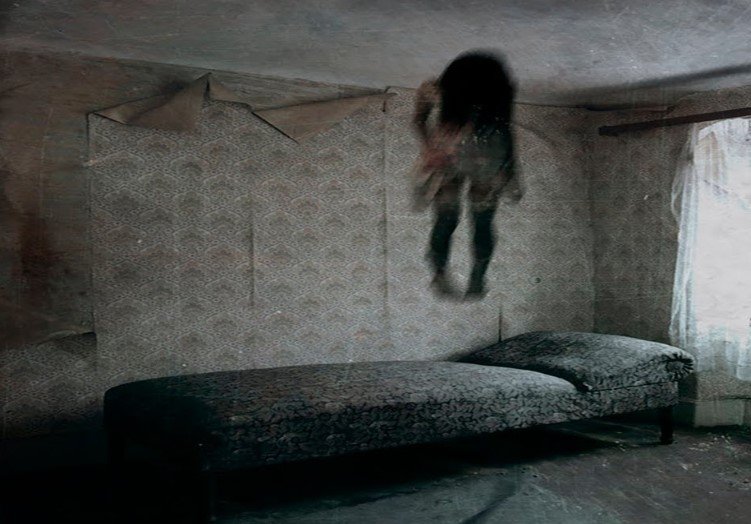 A ghost is a ghost, or is it? Actually there is more to it than that. There are several different types of entities. Some of them are aware of those around them, while others are simply replaying events that have happened in the past.
Any of these can be very scary for those who can see them, but most are harmless. Here is a brief description of the most common types of hauntings.
Residual Ghosts
These are by far the most common type of entity seen. Usually what is actually happening is a scene from the past is being replayed, with the specter not being aware that anyone else is watching.
It is kind of like a tape being played over and over. Often they are seen at the same time, happening on an anniversary of the actual occurrence. It may replay every month on a certain day or just once a year.
Intelligent Ghosts
These can be extremely scary, as they are aware of the people around them, and will often try to make their presence known. They sometimes move around and might attempt to move something to get attention.
Usually they have stayed in a certain area for emotional reasons. It might be where they once lived, or where they died. Possibly they have left something unfinished, and feel that they cannot move on. They may not have even realized that they are actually dead.
Poltergeists
These are perhaps the most frightening of all types of entities. This is the kind of haunting most often seen in the movies, probably because they provoke the most activity. They are able to move heavy objects and call out to those around them.
Often there is a teenage girl in the house, or another person who is in a stressful situation, who is bringing in these spirits without realizing it. They can be very difficult to eradicate, and may be present for years.
Demons
Very rarely seen, demons have never been human. They are characterized by a strong, foul scent, similar to sulfur. While most hauntings are accompanied by a feeling of cold, demons often warm the area around them. Able to present themselves in any form, they are frequently seen as a black mass. Demons are actually able to do harm, and that is usually their intent.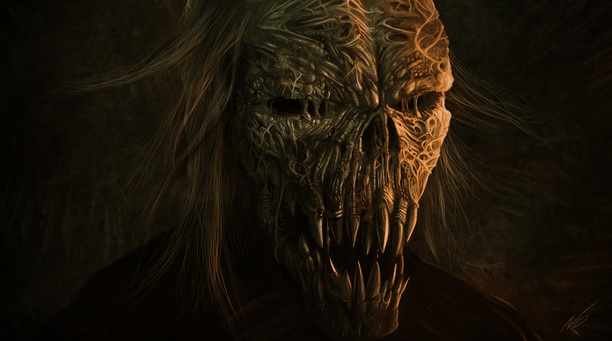 They may attack if they desire, or even possess someone. They have lived for thousands of years and cannot be destroyed. The best that can be done is to get them to move on to another space. Professional help from a paranormal group or member of the clergy is needed to make this happen.
TV Show Ghost Nation captured apparition of legs walking across stairs
If you have been watching and keeping up to date with new TV show Ghost Nation on Travel Channel then you have more than like seen the episode 'Ghosts From the Battlefield'.
Jason, Steve and Tango investigate a property just outside of Gettysburg, Pennsylvania. The owners of the property claim of having possessed mannequins and seeing apparitions.
They believe that the property is being haunted by civil war soldiers from the battle of Gettysburg. One such apparition is a white figure seen on the steps.
During the investigation the Ghost Nation team captured an apparition of legs walking across the stairs where the white figure was seen.
Could this be some of the most compelling evidence of ghosts?
Jason Hawes believes it to be a residual type haunt rather than an intelligent type.
I thought this would have made more news than it has done, nothing much has been said about the episode or what they captured.
I wanted to post about this to get your opinion on the footage.
What do you think of it? Is it a genuine apparition?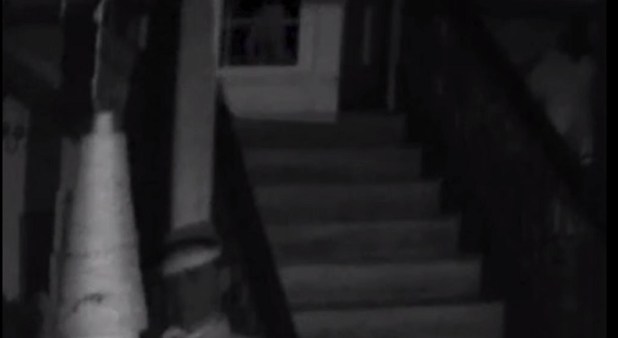 Story Of The Ghost Priest Of St. Nicholas Church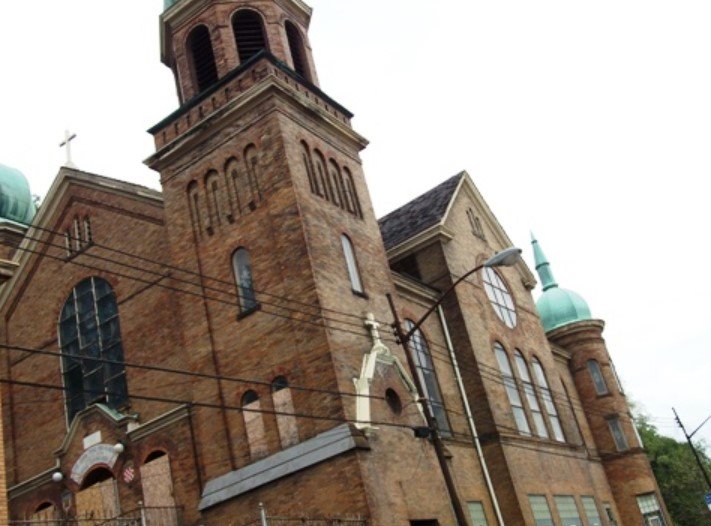 This story, of a ghostly priest in Saint Nicholas Croatian Roman Catholic Church in Millvale PA. is one of Allegheny County's most famous tales.
The story began when an artist was hired in April of 1937 to paint a mural on the walls of the church. On the second night he was there he heard a sudden long sound come from the organ in the back of the church.
On the fourth night, he glanced at the alter below him and there was a figure of a man in black moving and raising his arms and making gestures in the air. The artist assumed it was the priest who hired him to paint the murals and dismissed the incident. Unfortunately, that was not the end of it.
On the eighth night at about midnight, the specter appeared again. This time walking slowly down the main aisle of the church, mumbling rhythmically as if he was "praying". For a while he walked along the aisle, then disappeared.
This time the artist asked the priest if he had been in the church. The father had not – and had been asleep since nine that evening.
The following nights the priest decided to come into the church and stay with the artist until quitting time. The following evening the priest verbally taunted the specter with a summons to appear.
Soon the men heard knocks emanating from the back of the church. Soon after they saw an old man in black sitting in the fourth pew. He was there for a moment – then vanished. That night the priest also reported hearing knocks or clicks in his room.
As the artist continued his work the old man in black appeared again, this time moving down the aisle toward the altar where they saw him blow out the light of the eternal flame. In eight years that light had never been extinguished.
The spector appeared throughout the job-for two months, usually around eleven or twelve midnight. Sometimes he would burn candles on the chandelier in front of the alter.
Local people report that the haunting continues to this day. The current priest of St. Nicholas has said that his German Shepherds jump and bark furiously around something leading to the front door of the church, and always around 11 o'clock. He refuses to enter the church after a certain hour.
It is believed that the spirit of the old priest haunts the church because he stole money from parishioners and neglected priestly duties and has returned to make amends. Whatever the case may be, if you find yourself in Millvale PA, this is one church you may want to avoid.