Why is it so difficult to discuss 'occult' topics in the mainstream media?
I am a historian of alternative religions – I document, and deeply care about, outsider spiritual views, particularly with regard to the esoteric, supernatural, and occult.
I've managed to write about these things seriously in mainstream news outlets, from The New York Times to The Washington Post, and discuss them on CBS Sunday Morning, Dateline NBC, and NPR's All Things Considered. But it is a struggle. I find that the bar is raised much higher for writing about outside-the-fold topics than it is for things that editors and producers already believe (e.g., "Positive thinking is for dupes and dumbbells.")
Here are some of the reasons it's tough to find a mainstream mic for these issues – and some different ways to think about how we communicate:
1) Disavowal is the price of admission to the mainstream culture.
I love journalist Jon Ronson. But he plays this game all too well. He studies a fringe topic – like ESP in the military – depicting it as hooey. But then he says ingenuously in an interview: "The psychic spies do have some successes that you can't explain. There are stories of 'remote viewers' divining map coordinates or sketching something that does, in fact, lead to something. Maybe." That, to me, is where to start digging. But Ronson quickly slams shut the door. Critic Janet Maslin in the New York Times admiringly quotes himcalling his foray into ESP "frivolous."
I have no particular solution to this, as I refuse to disavow my sympathies – any more than historians such as Robert Peel, Gershom Sholem, or Richard Lyman Bushman should be expected to, respectively, disavow their dedication to Christian Science, mystical Judaism, or Mormonism.
2) Cable producers often deem fraud and fudging more saleable than fact.
This is a source of constant frustration – and it's why I do fewer cable documentaries than I used to. Producers want you to juice up stuff. If you don't comply, they may do it for you. For example, a certain show on the Travel Channel wanted me to do a piece based on my tours of occult imagery in New York's Grand Central Terminal. I made it clear that I didn't deal with conspiracy theories, fantasies about the Illuminati, or any such stuff, and wouldn't discuss these things other than to voice my disavowal. You can witness the (sneaky) result right here. (But y'all come back now – it gets better).
For my real views on Grand Central, check out this mini-doc from The Midnight Archive:
On a happier note, I also participated in a Discovery channel documentary called Secrets of Secret Societies (see below), which was more ardently factual than I had hoped for, not that I stand by the testimony of every talking head in it. I told the truth – and they used it: "Conspiracy theorists have a passion for making connections. It explains everything. It simplifies everything. If an individual looks out his window and sees a world wracked with tragedy, accident, unexpected events, all he has to do is take a leaf from a conspiracy theory and suddenly everything that had seemed complex before seems simple. And his fear and his anger now have a target."
3) The greatest barrier to seriously discussing the occult and the offbeat in public is the inability of critics and gatekeepers to understand that seriousness depends not on topic but on terms of engagement.
This is a persistent problem in our intellectual culture. Many academics and journalists simply cannot wrap their minds about around the principle that you can study an arcane topic without propagating it. For example, a friend of mine who is a professor of French history at New York University recently wrote a biography of Nostradamus. He wanted to consider all aspects of the 16th-century prognosticator's life, including his work as a professional astrologer. He discovered that Nostradamus had a poor grasp of the generally agreed upon tenets of astrology in his time. "He was actually a bad astrologer," my friend told colleague. "Is there such thing as a good one?" the colleague replied. Can you see the obtuseness of that remark? My friend's study had nothing to do with the value of astrology but with evaluating Nostradamus as a practitioner. Is there an emoji for "duh"?
In a recent debate about the legacy of 19th century occultist Madame H.P. Blavatsky (which has been going on now for about, oh, 140 years), my friend Richard Smoley, a historian and philosopher of mystical traditions, remarked: "There is a great deal of value in HPB's work and a great deal of nonsense. I see absolutely no reason to be forced to either take it or leave it all." This false choice to "take it or leave it" is perhaps the most limiting factor in how people view the world. It makes it difficult to discuss esoteric topics, and it wreaks hell on our political dialogue. For example, look at the video below. In a typical comment someone posted on YouTube (and I recount this almost humorously): "He doesn't even believe what he's saying – lying through his teeth…watch his eyes." Watch my eyes indeed.
4) Finally, when reasonable people don't get in the mix the space gets filled by wingnuts.
A lot of sloppy, anti-intellectual people are drawn to occult topics. They find them spooky, paranoia-inducing, and fun. But these toe-dippers often promulgate conspiracist dreck – I'm talking to you Alex Jones – that impoverishes our entire culture.
That is, finally, is why I keep at it. As the social activist and writer Michael Harrington once said in a different context: "We call ourselves socialists because it's the truth. And all we have is the truth."
MITCH HOROWITZ was raised in a world of Bigfoot stories, UFO sightings, and Carlos Castaneda books. He grew determined to find the truth behind it all – and today Mitch is a PEN Award-winning historian and the author of Occult Americaand One Simple Idea: How Positive Thinking Reshaped Modern Life.Mitch has written on everything from the war on witches to the secret life of Ronald Reagan for The New York Times, The Wall Street Journal, Salon, and Time.com. The Washington Post says Mitch "treats esoteric ideas and movements with an even-handed intellectual studiousness that is too often lost in today's raised-voice discussions." He is the voice of audio books including Alcoholics Anonymous, and hosts the web series ORIGINS: SUPERSTITIONS. Mitch is vice president and executive editor at TarcherPerigee, a division of Penguin Random House, where he publishes authors, living and dead, including David Lynch and Manly P. Hall. Visit him at www.MitchHorowitz.com and @MitchHorowitz.
The Little Known History of the Tarot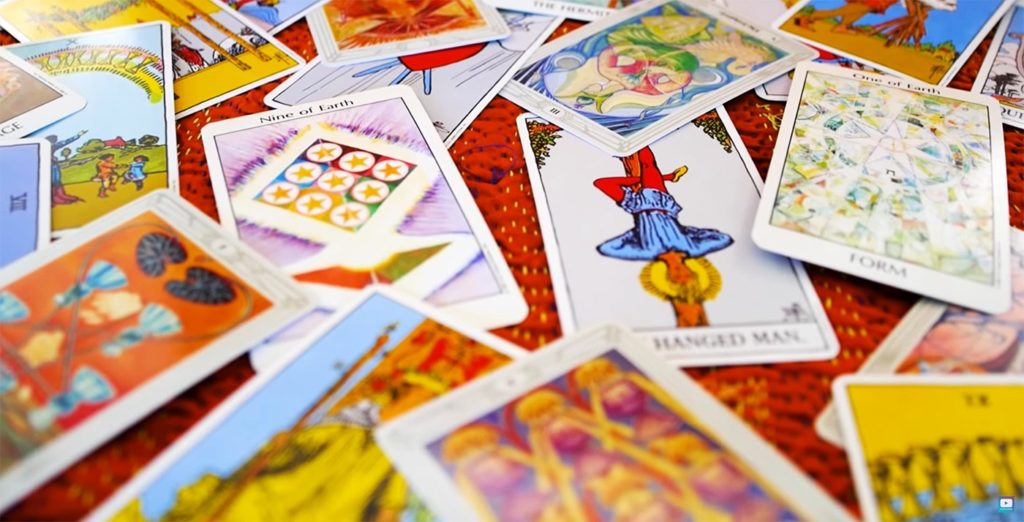 In recent years there's been a huge upswing of interest in the Tarot, the card-divination technique that is often claimed to have truly ancient roots, dating back to ancient Egypt (or, for some, even 'Atlantean' times). And with the surge of interest in the Tarot there's also been a massive expansion in the number of decks available – in recent years here on the Grail we've mentioned a Twin Peaks-themed deck as well the wonderful 'Ghetto Tarot'.
For those newcomers interested in the Tarot who are confused about its origins, and as to which of the many available decks is 'genuine', or at least which is the best to start with, Gaia have produced a fantastic short introductory video (embedded below).
The video consults with our good friend Mitch Horowitz, who has written on many occult traditions (including a piece on the Ouija in our Darklore anthology) and also has been involved in a separate video introduction to the Ouija board, so it's a good common sense view of an esoteric tradition that has certainly generated plenty of speculative theories over the years.
Throughout its history, tarot has has been associated with various ancient mystery schools and esoteric ideologies. However, evidence points to a deck of cards that wasn't used exclusively for fortune telling until centuries after its creation. Occult historian and author Mitch Horowitz sheds some light on how this powerful tool transitioned from an early version of bridge to a mystical divination tool.

SOURCE:
It's Not Just Valhalla Where The Fallen Vikings Go
Folkvangr (interpreted from Old Norse to mean 'field of the people', 'field of the warriors', or 'field of the hosts') is among a few places where the deceased could go to their afterlife in Norse mythology. This area or meadow is thought to be the domain of Freyja, a Vanir, who's among the most prominent goddesses in Norse mythology. In addition, it turned into a home for the goddess' specially selected Viking warriors following their earthly demise.
References to Folkvangr are in literary sources such as the Prose Edda and the Poetic Edda, both of which are believed to have been compiled around the 13th century AD.
Freyja's Domain
Folkvangr is believed to be ruled over by the goddess Freyja. In Norse mythology, Freyja was a Vanir, the daughter of Njord, and the twin sister of Freyr. She was regarded to be an important goddess, and had power over love, beauty, and fertility.
Some have speculated that Freyja evolved from an earlier pagan Germanic goddess, Frija, and that during this process, she was split from another goddess called Frigg, the wife of Odin, and the'Queen of the Æsir'. This may be said to further strengthen the significance of Freyja in the Norse belief system.
In any case, the Norse believed that Folkvangr was the home of Freyja. This is one of the four homes owned by goddesses, the others being Fensalir (where Frigg dwells), Helheim (the realm of Hel), and Thrymheim (the abode of Skadi after her father's death).
Hel and the dog Garm. Hel is a Norse goddess overseeing another of the realms of the afterlife, Helheim.
Folkvangr vs Valhalla
According to Norse mythology, there are several different places where the souls of the dead may go to in the afterlife. The three main ones are as follows, Helheim (meaning 'home of the goddess Hel'), Valhalla (meaning'Hall of the Fallen'), and Folkvangr. Whilst the souls of those who died of either old age or disease would be received in Helheim, those who were slain in battle would travel either to Valhalla or Folkvangr.
Viking army in battle.
According to some sources, Freyja was given the right to select half of the warriors who were slain in battle. The souls of these fallen warriors would be taken to Folkvangr. The other half of the dead warriors would be taken by Odin to Valhalla. Others, however, have speculated that Valhalla was reserved for leaders, Folkvangr was the place where the souls of ordinary warriors would end up in.
References to Folkvangr
Reference to the home of Freyja can be found in the Poetic Edda, specifically in the poem Grimnismol (which translates as 'The Ballad of Grminir'). In this poem, Odin, disguised as Grminir (meaning'Hooded / Masked One), journeys to the home of King Geirröth as a part of a bet with his spouse.
Frigg claimed the king was an inhospitable figure and could torture his guests when he believed that too many were coming to him. Odin disregarded this as a lie, made a wager with Frigg, and visited Geirröth in disguise. One of Frigg's maid-servants was sent to the king to warn him of a traveling magician who had been arriving to bewitch him. Thus, when Odin came, Geirröth had him tortured placing him between two fires, in order to make him speak.
'Odin' (1893) by Georg von Rosen.
After eight days, the king's son, Agnar, brought him a horn to drink from, after which the god disclosed his identity to the boy. It had been during his address to Agnar which Odin mentions Folkvangr, which can be as follows:
"The ninth is Folkvang, where Freyja decrees

Who shall have seats in the hall;
The half of the dead each day does she choose,
And half does Othin have. "
Ultimately, it may be noted that some other reference to Folkvangr can be found in Gylfaginning (which translates as 'The Beguiling of Gylfi'), a book from the Prose Edda.   Folkvangr is described in this work in precisely the exact same fashion as the Grimnismol. Nevertheless, this source adds that Freyja has a great hall called Sessrúmnir (meaning 'Seat Room') at Folkvangr.
Spain's Mysterious Cursed Village of Witches
Nestled away within the rolling foothills of the Moncayo mountain range, in the province of Zaragoza, Aragon, Spain, is the tiny village of Trasmoz. The town has a long history, with its origins as a lordship dating back to the 12th century. It's colorful and turbulent past has seen it being conquered by Jaime I, king of Aragón, as well as a civil war with the nearby Veruela Abbey, and it is also known as being the temporary home of Manuel Jalón Coróminas, the Spanish inventor of the mop and its bucket. Over the years the population has dwindled here from around 10,000 people in its heyday to just around 62 permanent residents, and it seems like just another quaint little Spanish countryside town, but this place is remarkable as having a rather sinister past as a place of witches, pagan rituals, and black magic.
Ground zero for rumors of witchcraft can be traced to the construction of the Castle of Trasmoz sometime in the 13th century. The layout of the spooky and imposing structure was a unique hexagonal shape, which was seen as a sure sign of witchcraft afoot, and it did not help that the castle supposedly constantly issued forth anomalous noises such as rattling chains, the banging of metal, which was seen as the result of witches mixing potions in their cauldrons and other mischief, as well as occasional shrieks and arcane wails. Even the construction of the castle was wreathed in myth, as it was said to have been created in a single night by a magician called Mutamín.
Many of these bizarre rumors seem to have been originally intentionally spread by the castle's very own inhabitants. At the time the Castle of Trasmoz was said to be a major den of the illicit manufacture of fake coins, which was helped along by the rich silver and iron mines of the area. It is said that in order to keep the locals from becoming too nosy about all the noise they were making, the counterfeiters intentionally began to fan out rumors that the scraping and banging of metal was from the nefarious activities of witches engaged in their dark, arcane business. The ploy worked, and it is thought that this is where the village's reputation as a haven of witches began.
Unfortunately for the villagers, the rumors spread by the fake coin forgers worked a little too well. Before long the rumor grew to encompass the whole village, until it was seen as a veritable hive of witches and warlocks, a cursed place and a center of the dark arts that stirred fear and superstition in the surrounding areas, an idea still held on to by many today. It got to the point that the neighboring monastery of Veruela had the entire village officially excommunicated from the Church, although this is often seen as just being an excuse to force Trasmoz to pay taxes to them, something from which had previously been exempt as it didn't officially belong to the Catholic Church. With the excommunication carried out and in full effect, the villagers nevertheless refused to beg for forgiveness, with many of them Jews and Muslims and not even Christian, which only furthered their reputation as Devil worshipping heathens.
The friction between Trasmoz and Veruela Abbey would continue for many years, eventually almost leading to civil war when the abbey began trying to divert the village's irrigation water without paying. Although the King of Spain, King Ferdinand II, deemed Trasmoz to be in the right in terms of the water dispute and ruled in their favor, the Church took this as an affront. Seething that they had been bested by this witch infested, excommunicated town, the Catholic Church went about getting revenge. Pope Julius II gave permission to dust off the powerful and rarely used Catholic curse "psalm 108 of the Book of Psalms," which is said to be a potent curse saved for the worst of times, and in this case it was invoked to curse the entire village of Trasmoz.
It was in the wake of this wicked curse that the once prosperous and populous village fell into severe decline, suffering from a mysterious epidemic of disease, famine, a fire which burned down the Castle of Trasmoz in 1520, and other myriad woes, during which time the population fell to its current low. Even to this day the village is poor and in shambles, its buildings weathered and decrepit, its nearly empty streets cracked and weed-choked, a veritable ghost town, and for many this is a result of the Catholic curse, which is technically still in effect as no Pope has ever officially lifted it. This makes Trasmoz the only whole town in all of Spain to remain both excommunicated and also cursed by the Catholic Church, as well as to incidentally still be considered a haven for witches and witchcraft.
This reputation has brought in droves of tourists to this tiny, withered village, who come for the dark history and to see for themselves what an officially cursed town of witches looks like. Trasmoz does little to downplay this history of witchcraft, and indeed there is the yearly Feria de Brujeria festival held here, during which amulets, potions, herbs, charms, and other magical witch's items are sold, and there is even the crowning of the "Witch of the Year," called the Bruja del Año. There is even a museum of witchcraft now located in the Castle of Trasmoz, where the whole legend started. If one is ever to visit, there are plenty of charms to be bought against witchcraft, so rest assured you are in safe hands.
SOURCE: Mysterious Universe