Why cooking with a microwave destroys cancer-fighting nutrients in food and promotes nutritional deficiencies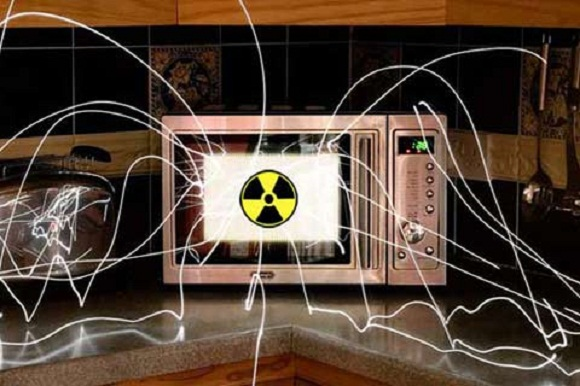 Mike Adams NaturalNews
Microwaves absolutely decimate the nutritional value of your food, destroying the very vitamins and phytonutrients that prevent disease and support good health. Previous studies have shown that as much as 98% of the cancer-fighting nutrients in broccoli, for example, are destroyed by microwaving.
To understand why, you have to understand the nature of vitamins and phytonutrients (plant-based nutrients). These are very delicate molecules which are fragile. They are easily destroyed by heat, which is why raw plant foods contain more plant nutrients than cooked foods. Carotenoids, antioxidants and other molecules like DIM (in broccoli) or anthocyanins (in purple corn) are all easily destroyed by microwave energy.
Microwaves "nuke" your food at a cellular level
Microwaving is the worst way to cook foods because microwaves excite the water molecules inside whatever you're cooking, causing heat to be formed from the inside out. This results in a cell-by-cell "nuking" of the food (such as broccoli, carrots, etc.), causing the near-total molecular decomposition of the vitamins and phytonutrients that promote disease.
Microwaved food is not merely "dead" food at every level, it is food that has been molecularly deconstructed, leaving nothing but empty calories, fiber and minerals. Virtually the entire vitamin and phytonutrient content has been destroyed.
Anybody who says microwaving food is a healthy way to cook is wildly ignorant of nutrition and cooking methods. While steaming vegetables is, indeed, a good method for some veggies to help make certain nutrients more bioavailable, microwaving destroys veggies from the inside out at a cellular level.
Don't be fooled by appearances
What's really deceptive about microwave cooking is that the food still appears to be basically the same, but at the cellular level, it's like a nuclear war has taken place. The actual molecular structure has been decimated. If you could see microwaved foods with a powerful microscope, you'd never eat them again because you would recognize just what a nutritional wasteland they really are.
If you want to eat in a healthy way, make sure a significant part of your diet is raw plants. It's okay to eat some steamed, stir-fried or even grilled veggies, but when grilling foods, avoid burning them because all burned parts contain toxic, cancer-causing chemicals that promote colon cancer.
Personally, I am absolutely astonished that more people don't already know all this. I'm even having to talk with my own staff about these issues, as they don't seem to know the full story on microwave cooking. Spread the word: Microwaves promote death because they turn nutritious, healthy food into empty, decimated calories. I gave up using a microwave well over a decade ago, and I don't even own one.
Remember, a person who cooks a lot of their food with microwaves will inevitably have chronic nutritional deficiencies that promote cancer, diabetes, bone diseases, loss of brain function, heart disease and many other health problems. The least healthy people of any society are typically the ones who frequently use the microwave oven to "nuke" their foods.
Previously Unknown 'Ghost' Chimp Species Discovered 
Hundreds of thousands of years ago, a previously unknown species of ape roamed the forests of Central Africa. We know this not because archeologists have unearthed physical evidence but because there are clues in bonobo DNA, New Scientist reports.
Bonobos would have co-existed with this mystery ape and even mated to produce fertile offspring. Hence, the species lives on, if only in its descendants' genes.
Martin Kuhlwilm from the Institute of Evolutionary Biology in Barcelona, Spain, presented the research at the AsiaEvo conference in China. He "discovered" this mystery (or "ghost) ape after comparing the genes of bonobos and common chimps, searching for any odd traces or bizarre fragments of DNA that could not be explained either by mutations or mating between the two species.
And he found some in the genes of the bonobos. In fact, roughly 1 percent of the bonobos' genes was inherited from this ghost ancestor. He calculated that the two chimp species likely interbred 400,000 or so years ago.
This would not be the first case of two separate species mating to produce so-called viable offspring. For example, there is the beefalo – a cross between a cow and a buffalo, not a chunk of meat. Then there are studies suggesting that red and eastern wolves are not so much their own species but coyote-grey wolf hybrids.
Evolutionarily speaking, hybrids can in fact help strengthen a species by introducing useful DNA. Big cats have a long history of interbreeding, even before humans sought to get a fast buck from ligers and tigons, and hybrids may be responsible for improving jaguars' vision.
As for humans, new research confirms our ancestors got busy with some of our hominid relatives. Around 1 to 3 percent of DNA in people outside of sub-Saharan Africa is Neanderthal, and Denisovan DNA is what allows people in Tibet to survive in high altitudes.
Which brings us to so-called "ghost species", species that are only known through fragments of DNA passed down to their descendants. A 2017 study discovered a lost hominin via modern human spit. It was this study that inspired Kuhlwilm to search for odd bits of DNA in bonobos and chimps, and it makes you wonder, how many more "ghost" species are lurking in genomes across the animal kingdom?
[H/T: New Scientist]
Rosie McCall
IFLScience
Nasa revives 'weird life forms' trapped in giant underworld crystals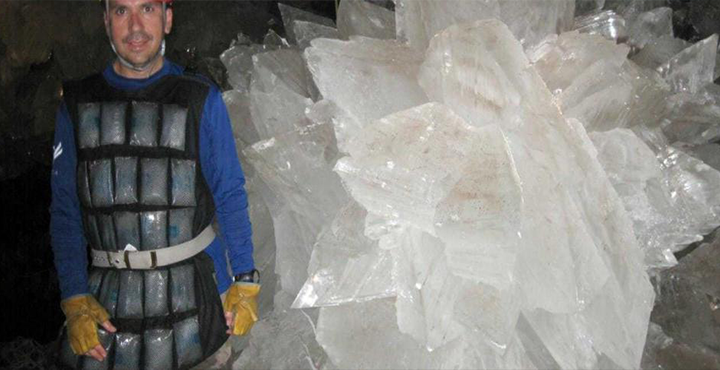 NASA decided to revive lifeforms which had been dormant for nearly 60,000 years.
The reanimation of these organisms, which had been surviving inside of crystals, raises the troubling prospect that alien organisms could be found – and revived – in extreme environments on other planets.
Penelope Boston, one of the key NASA members behind this and the director of NASA's Astrobiology Institute, has spent years exploring Mexico's Naica Mine in Chihuahua looking for extremophiles witch her team.
The mine is filled with enormous gypsum crystals that look so extraordinary that Dr. Boston believed they must have been photoshopped when she first saw a picture of them.
However, what was inside of the crystals astounded her even more. There she found tiny bugs in a state of what her team of government scientists is calling 'geolatency' – where living organisms remain viable in geological materials for long periods of time.
Around 100 different organisms, most of which were bacteria, were found inside of the crystals. 90 percent had never been observed before anywhere on Earth.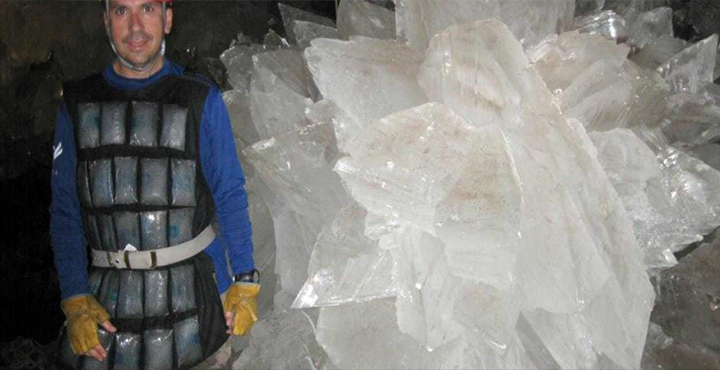 "Much to my surprise we got things to grow, said Dr. Boston. "It was laborious. We lost some of them – that's just the game. They've got needs we can't fulfill. That part of it was really like zoo keeping."
The cave itself sits above a large pocket of magma and can reach temperatures of up to 60 degrees Celsius as a result. Some of the astrobiologists go so far as to nickname the location "Hell".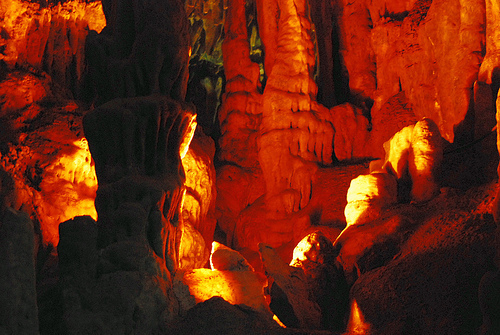 Very few lifeforms could survive in such a location, but scientists discovered some organisms have evolved to feed on the sulfides, iron, manganese or copper oxide in the cave.
"They're really showing us what our kind of life can do in terms of manipulating materials, "said Dr. Boston.
"These guys are living in an environment where there's not organic food as we understand it. They're an example at very high temperatures of organisms making their living essentially by munching down inorganic minerals and compounds. This is maybe the deep history of our life here."
She described working in the cave as:
"A transformative experience. it really felt strange. It was a very hard environment to work in, but tear-inducingly beautiful. It's like being inside a geode."
Some of the extremely rare and unusual sparkling white giant crystals are as long as five meters.
"I can't even put my arms round the biggest ones, "she added.
Scientists report that they detected signs of what they would only call "weird life forms" in other caves, but decided to access those areas was too dangerous.
NASA scientists shared concerns that this discovery proved that dangerous bugs could hitch a ride back to Earth if humans one day send spacecraft to other planets and back.
Nonetheless, NASA has plans to bring back rock and ice samples from Europa, one of Jupiter's icy moons. It is frequently considered, one of the most likely locations for extraterrestrial life due to the salty ocean beneath its crust.
Dr. John Rummel, from the Seti Institute in California, said it would be "pretty easy" for bugs to survive space journeys if they could be somehow shielded from the sun's radiation.
"If we bring samples back from either Europa or Mars, we will contain them until hazard testing demonstrates that there is no danger and no life, or continue the containment indefinitely while we study the material.
"It is assumed that such life would be hardy – to survive the trip to Earth; not easy – and precautions taken would provide a very high degree of containment.
All of this information is terrifying, but perhaps most shocking is the fact that NASA scientists were willing to revive these bugs without even considering whether they might be dangerous or not. Over 90 percent of them had never been seen before, but these scientists, apparently thinking that they could play God, did not even bother to consider whether these newly discovered creatures could be dangerous. Who knows what else might be in that cave.
Some observers have been quick to point out that the bugs that originated from the cave that scientists have literally named "Hell" might not be of this world. They have been dormant for 60000 years, and how did they get down in such a deep cave, to begin with? Some believe that this could be closer to a literal Hell than scientists have been willing to admit.
Regardless of whether there is a natural, extraterrestrial, or even supernatural explanation for these bugs, some information is being covered up by the government. Whether this case of scientists playing God comes back to harm our planet or not, this is all very scary stuff, and not nearly enough precautions are being taken.
New WATER HARVESTER delivers fresh water from air
Researchers from the University of California, Berkley managed to successfully extract clean, drinkable water at very low humidity and at a low cost using their newly built next-generation water harvester.
Omar Yaghi, the James and Neeltje Tretter chair in chemistry at UC Berkeley and inventor of the technology said: "There is nothing like this.
"It operates at ambient temperature with ambient sunlight, and with no additional energy input you can collect water in the desert.
"This laboratory-to-desert journey allowed us to really turn water harvesting from an interesting phenomenon into a science."
In October 2017, scientists created a prototype water harvester, which they propped into the backyard of a tract home as the device sucked water out of the air using just sunlight as energy.
Their initial discovery led them to create an even larger water extractor machine, brining them closer to their goal of providing life-long clean and drinkable water to people living in water-scarce areas.
Mr Yaghi, a faculty scientist at Lawrence Berkeley National Laboratory, and his team are set to report the results of the water-collecting harvester's first field test in the June 8 edition of the scientific journal, Science Advances.
The trial was conducted in Scottsdale, where the relative humidity drops as low as 8 percent a day.
Despite low humidity levels, the harvester demonstrated its ability to extract water from even the most scarce places, after scientists added more of the machine's water absorber – a highly porous material comprising of a metal-organic framework, or MOF.
Researchers estimate that the harvester's current MOF (MOF-801), made out of the expensive metal zirconium, will be able to extract about 200 millilitres of water per kilogram of MOF.
Mr Yaghi also created a new MOF made out of aluminium, called MOF-303, that is almost 150 times cheaper and captures twice as much water compared to MOF-801.
This will enable scientists to produce a new generation of harvesters capable of producing more than 3 cups of water per day from one kilogram of MOF.
Mr Yaghi said: "There has been tremendous interest in commercialising this, and there are several startups already engaged in developing a commercial water-harvesting device.
"The aluminium MOF is making this practical for water production, because it is cheap."
He added: "The key development here is that it operates at low humidity, because that is what it is in arid regions of the world.
"In these conditions, the harvester collects water even at sub-zero dew points."
Mr Yaghi is awaiting his next field test, where he is set to test the alumnium-based MOF (MOF-303) in the Death Valley in late summer, where temperatures reach up to 43 degree Celsius in the day, with humidity levels as low as 25 percent.
Source: https://www.express.co.uk/