Why Cannnabis Is The Future Of Medicine
by Sayer Ji
The future of medicine rests on the the fundamental right we all have to use things that spring from the Earth naturally as healing agents. Why should cannabis, used for at least 10000 years by humankind to alleviate suffering, be excluded from this inexorable mandate?
The politics of cannabis are exceedingly complex, and yet the truth is simple: this freely growing plant heals the human body – not to mention provides food, fuel, clothing and shelter, if only we will let it perform its birthright. In a previous article, we investigated the strange fact that the human body is in many ways pre-designed, or as it were, pre-loaded with a receptiveness to cannabis' active compounds — cannabinoids — thanks to its well documented endocannabinoid system.
But the medical-industrial complex in the U.S. does not want you to use these freely growing compounds. They threaten its very business model and existence. Which is why it synergizes so naturally with the burgeoning privatized prison sector, which now has the dubious title of having thehighest incarceration rate in the world. The statistics don't lie:
"far surpassing any other nation. For every 100,000 Americans, 743 citizens sit behind bars. Presently, the prison population in America consists of more than six million people, a number exceeding the amount of prisoners held in the gulags of the former Soviet Union at any point in its history."
According to a recent Al-Jeezera editorial, "One explanation for the boom in the prison population is the mandatory sentencing imposed for drug offences and the "tough on crime" attitude that has prevailed since the 1980s."
Cannabis/marijuana is presently on the DEA's Schedule 1 list.  Since 1972, cannabis has been listed on the Schedule I of the Controlled Substances Act, the most tightly restricted category reserved for drugs which have "no currently accepted medical use". Opioids, stimulants, psychedelics and a few antidepressants now populate this list of substances that can put you in jail for possessing without a prescription.
The notion that marijuana has no 'medicinal benefits' is preposterous, actually. Since time immemorial it has been used as a panacea ('cure-all'). In fact, as far back as 2727 B.C., cannabis was recorded in the Chinese pharmacopoeia as an effective medicine, and evidence for its use as a food, textile and presumably as a healing agent stretch back even further, to 12 BC.[1]
When it comes to cannabis' medical applications, cannabis' 'healing properties' is a loaded term. In fact, it is extremely dangerous, as far as the medical industrial complex goes, who has the FDA/FTC to enforce it's mandate: anything that prevents, diagnoses, treats or cures a disease must be an FDA approved drug by law, i.e. pharmaceutical agents which often have 75 or more adverse effects for each marketed and approved "therapeutic" effect.
Indeed, the dominant, drug-based medical system does not even acknowledge the body's healing abilities, opting for a view that looks at most bodily suffering as fatalistic, primarily genetically based, and resulting from dysfunction in the mechanical design of a highly entropic 'bag of enzymes and proteins' destined to suffer along the trajectory of time.
And so, an at least two trillion dollar a year industry stands between you and access to the disease alleviating properties of this humble plant.
As Emerson said, "a weed is an herb whose virtues have yet to be discovered," and yet, by this definition, cannabis is not a weed, but given that is has been extensively researched and used for thousands of years for a wide range of health conditions, it should be considered and respected as a medicinal herb and food. Sadly, the fact that the whole herb is non-patentable is the main reason why it is still struggling to gain approval from the powers that be.
Let's look at the actual, vetted, published and peer-reviewed research – bullet proof, if we are to subscribe to the 'evidence-based' model of medicine – which includes over 100 proven therapeutic actions of this amazing plant, featuring the following:
Multiple Sclerosis
Tourette Syndrome
Pain
Obsessive Compulsive Disorder
Brachial Plexus Neuropathies
Insomnia
Multiple Splasticity
Memory Disorders
Social Anxiety Disorders
Amyotrophic Lateral Sclerosis
Inflammatory Bowel Disease
Cancer
Opiate Addiction
Anorexia
Bladder Dysfunction
Bronchial Asthma
Chemotherapy-induced Harm
Constipation
Crack Addiction
Dementia
Fibromyalgia
Glaucoma
Heroin Addiction
Lymphoma
Nausea
Neuropathy
Obesity
Phantom Limb
Spinal Cord Injuries
Endotoxemia
Myocardia Infarction (Heart Attack)
Oxidative Stress
Diabetes: Cataract
Tremor
Cardiac Arrhythmias
Fatigue
Fulminant Liver Failure
Low Immune Function
Aging
Alcohol Toxicity
Allodynia
Arthritis: Rheumatoid
Ascites
Atherosclerosis
Diabetes Type 1
High Cholesterol
Liver Damage
Menopausal Syndrome
Morphine Dependence
Appetite Disorders
Auditory Disease
Dystonia
Epstein-Barr infections
Gynecomasia
Hepatitis
Intestinal permeability
Leukemia
Liver Fibrosis
Migraine Disorders
Oncoviruses
Psoriasis
Thymoma
Moreover, this plant's therapeutic properties have been subdivided into the following 40+ pharmacological actions:
Analgesic (Pain Killing)
Neuroprotective
Antispasmodic
Anxiolytic
Tumor necrosis factor inhibitor
Anti-inflammatory
Antiproliferative
Apoptotic
Chempreventive
Antidepressive
Antiemetic
Bronchodilator
Anti-metastatic
Anti-neoplastic
Antioxidant
Cardioprotective
Hepatoprotective
Anti-tumor
Enzyme inhibitor
Immunomodulatory
Anti-angiogenic
Autophagy up-regulation
Acetylocholinesterase inhibitor
Anti-platelet
Calcium channel blocker
Cell cycle arrest
Cylooxygenase inhibitor
Glycine agents
Immunomodulatory: T-Cell down-regulation
Intracellular adhesion molecule-1 inducer
Matrix mettaproteinase-1 inhibitor
Neuritohgenic
Platelet Aggregration Inhibito
Vascular Endothelial Growth Factor A inhibitor
Anti-apoptotic
Anti-proliferative
Anti-psychotic
Antiviral
Caspase-3 activation
Chemosensitizer
Immunosupressive agent
Interleukin-6 upregulation
Tumor suppressor protein p53 upregulation
Thanks to modern scientific investigation, it is no longer considered strictly 'theoretical' that cannabis has a role to play in medicine. There is a growing movement to wrench back control from the powers that be, whose primary objectives appear to be the subjection of the human body in order to control the population (political motives) — what 20th century French philosopher Michel Foucault termedbiopower, and not to awaken true healing powers intrinsic within the body of all self-possessed members of society. Even the instinct towards recreational use – think of the etymology: to re-create – should be allowed, as long as those who choose to use cannabis instead of tobacco and alcohol (and prescription drugs) do not cause harm to themselves or others. How many deaths are attributed to cannnabis each year versus these other societally approved recreational agents, not to mention prescription drugs, which are the 3rd leading cause of death in the developed world?
Ultimately, the politics surrounding cannabis access and the truth about its medicinal properties are so heavily a politicized issue that it is doubtful the science itself will prevail against the distorted lens of media characterizations of it as a 'dangerous drug,' and certainly not the iron-clad impasse represented by federal laws against its possession and use. All we can do is to advocate for the fundamental rights we all possess as free men and women, and our inborn right towards self-possession, i.e as long as what we do does not interfere with the choices and rights of others, we should be free to use an herb/food/textile that sprouts freely and grows freely from this earth, as God/Nature as freely made available.
I think people need to be educated to the fact that marijuana is not a drug. Marijuana is an herb and a flower. God put it here. If He put it here and He wants it to grow, what gives the government the right to say that God is wrong?

~ Willie Nelson

"Why is marijuana against the law? It grows naturally upon our planet. Doesn't the idea of making nature against the law seem to you a bit . . . unnatural?" – Bill Hicks
About the author
Sayer Ji is the founder of GreenMedInfo.com, an author, educator, Steering Committee Member of the Global GMO Free Coalition (GGFC), and an advisory board member of the National Health Federation.
He founded Greenmedinfo.com in 2008 in order to provide the world an open access, evidence-based resource supporting natural and integrative modalities. It is widely recognized as the most widely referenced health resource of its kind.
Source:
NTP nuclear rocket engine will take humans to Mars in just three months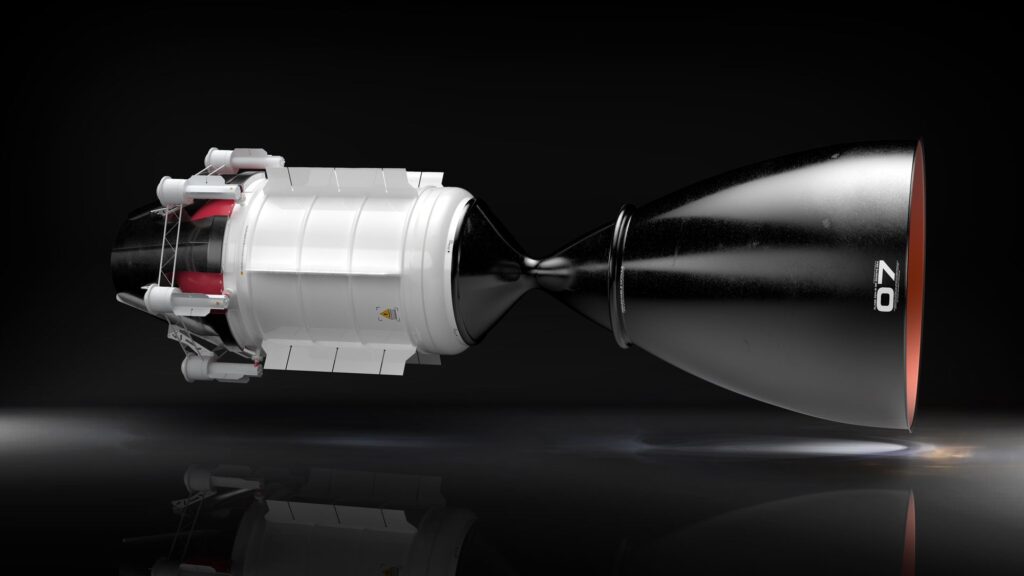 Although the romance of the peaceful atom has subsided since the mid-1960s, the idea of ​​using nuclear reactors for "civilian" purposes is still regularly returned. The new nuclear rocket engine (NRM) will deliver a man to Mars much faster than is possible now.
The danger of cosmic radiation is much more serious than the risk of infection from an accident with such an engine. The most dangerous of all the constraining vectors for projects of sending people to other bodies in the solar system is cosmic radiation. Radiation from our star and galactic rays can seriously damage the health of the mission crew. Therefore, when planning flights to Mars, engineers and scientists try to reduce travel time as much as possible.
One promising way to get to the Red Planet in just three months could be a new NTP engine. Its concept was developed and submitted to NASA by Ultra Safe Nuclear Technologies ( USNC-Tech ) from Seattle, USA. The name of the unit is simply deciphered – Nuclear Thermal Propulsion ( NTP ), that is, "thermal nuclear power plant". The novelty differs from its previously created or invented counterparts in the most secure design.
A key component of USNC's development is mid – grade uranium fuel "pellets". They contain 5% to 20% of the highly reactive isotope U- 235 coated with zirconium carbide ceramics. This degree of enrichment lies roughly halfway between the "civilian" nuclear power plants and the military. The proprietary ceramic coating technology makes the tablets incredibly resistant to mechanical damage and extreme temperatures.
The company promises that their fuel elements are significantly superior in these parameters to those currently used at nuclear power plants. As a result, the engine will have a higher specific impulse with a lower degree of uranium enrichment than in earlier versions of NRE. In addition to the flight to Mars, among the goals of the ambitious project are other missions within the solar system. The perspectives of the concept will soon be considered by specialists from NASA and the US Department of Defense ( DoD ). Perhaps departments will even allow its commercial use by private companies.
Theoretically, NRE based on modern technologies can have a specific impulse (SR) seven times higher than that of chemical jet engines. And this is one of the key performance parameters. At the same time, unlike electric and plasma ones, the ID of a nuclear rocket engine is combined with high thrust. One of the limiting factors in the use of NRE, in addition to safety issues, are extremely high temperatures in the reactor core.
The higher the temperature of the gases flowing out of the engine, the more energy they have. And accordingly, they create traction. However, mankind has not yet come up with relatively inexpensive and safe materials that can withstand more than three thousand degrees Celsius without destruction. The solution created by USNC will operate at the limit of modern materials science (3000 ° C) and have a specific impulse twice that of the best liquid-propellant engines.
The official press release does not specify which working body will be used in NTP . Usually, in all NRE projects, the reactor core heats hydrogen, less often ammonia. But, since we are talking about a long-term mission, the creators could have chosen some other gas. Keeping liquid hydrogen on board for three months is no easy task. But you still need to invent something for the way back.
Scientist Peter Scott-Morgan is set to become "the world's first complete cyborg"
Two years ago scientist Peter Scott-Morgan was diagnosed with motor neuron disease, also known as Lou Gehrig's disease, and today he is still fighting for a new life, not just for survival.
This October, Dr. Scott-Morgan is on track to become the world's first full-fledged cyborg, potentially giving him more years of life.
The world's first complete cyborg
It was in 2017 that Dr. Peter Scott-Morgan (a brilliant robotics writer, scientific writer, and talented speaker) was diagnosed with degenerative motor neuron disease that ultimately paralyzed his entire body except his eyes.
The diagnosis is understandably grim, especially considering that he has only two years to live, but he has not given up the fight.
Teaming up with world-class organizations with expertise in artificial intelligence, Dr. Scott-Morgan is transforming himself into what he calls "the world's first fully fledged cyborg."
"And when I say 'Cyborg', I mean not just that some kind of payment will be implanted in me, I mean that I will become the most advanced human cybernetic organism ever created on Earth for 13.8 billion years. My body and brain will be irreversibly changed, "says Dr. Scott-Morgan.
What does it mean to be human
According to Dr. Scott-Morgan, he will become part robot and part living organism. Moreover, the change will not be one-time, but with subsequent updates.
"I have more updates in the process than Microsoft ," says Dr. Scott-Morgan.
AI-powered creative expression
The cyborg artist is a great example of the power of human-AI collaboration. AI uses the data that make up Peter's digital portrait ( articles, videos, images, and social media ) and is trained to recognize key ideas, experiences, and images.
Peter will introduce a theme, AI will suggest composition, and Peter will apply images to suggest style and mood. Peter will direct the AI ​​to render a new digital image that none of them could create alone.
A unique blend of AI and human, reflects Peter's creative and emotional self – a critical aspect of what it means to be human.
Peter 2.0
This October, Dr. Scott-Morgan will undergo what he calls the latest procedure that will transform him into "Complete Cyborg".
October 9 he tweeted a photo of himself, writing the following:
"This is my last post as Peter 1.0. Tomorrow I will trade my vote for potentially decades of life as we complete the last medical procedure for my transition to Full Cyborg, in the month that I was told statistically I would be dead. I am not dying, I am transforming. ! Oh, how I LOVE science !!! ".
Japan has developed an inflatable scooter that weighs practically nothing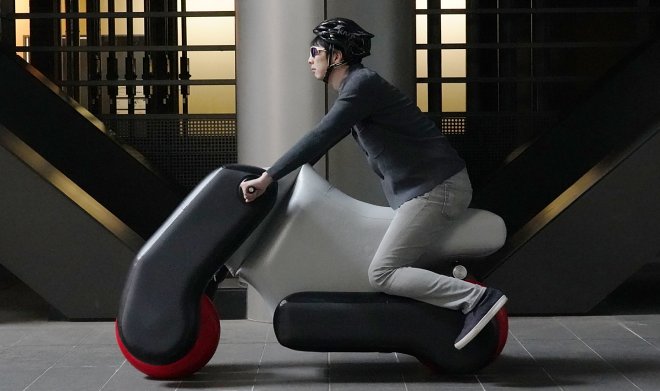 The University of Tokyo engineers have developed the Poimo inflatable electric scooter, which is created individually for each owner. It is enough to send your photo to the manufacturers – and a personal optimized model will be assembled for you.
The scooter is designed with a special program for the body size of a particular user and his specific fit. Moreover, each owner is free to make any changes to this model. If he makes any changes to the drawing, the program will automatically redesign the electric bike to maintain its strength, stability and controllability. When the model is finished and approved, it is handed over to the manufacturer.
The scooter consists of seven separate inflatable sections that are constructed from durable fabric and sewn with straight stitch. It remains to add electronic components – in particular, a brushless motor and a lithium-ion battery.
The finished electric scooter weighs about 9 kg and can travel at speeds up to 6 km / h (that is, slightly faster than a pedestrian). It can work for an hour on one charge.
This is how the current version of Poimo looks like in action: