The White Death – Creepy Urban Legend
There was once a little girl that hated life and she wanted to get rid of every trace of herself off the planet. Soon, She killed herself and people found out. The people that found out died a few days later. Their limbs torn apart. They say if you know of The White Death, She will come and find you and constantly knock on your door. Each knock gets louder. You can't tell anyone about her, But if you do, She strikes. Killing you and then goes for the person you told. My friend told me of the White Death and i always hear knocks on my door. I can't take it anymore so i'm telling you people so it can stop. She doesn't want anyone to know about her, Thats why she kills. Now that you know of her, She'll be coming for you. Don't tell anyone you'll be torn apart limb..by limb. I'm sorry i told you this… no matter where you go, She will find you and keep knocking till you kill yourself. Or you tell someone else.
I am currently sitting in front of my computer, scared witless. Every moment could be my last. My friend is here with me and he is the sole reason why my life is in danger. It may not make sense at first, but let me explain.
It all started earlier today, when a friend of mine burst into my house and slammed the door behind him. His eyes were wide with fear and he stood there with his back against the door, breathing heavily. I asked him what had happened and he told me this story:
He had been living with his Aunt for the past year because his parents were in Mexico. They were doing mission work at a small hospital in Southern Mexico. The previous night, a bedraggled man had stumbled through the entrance of the hospital. He was screaming in Spanish and appeared to be out of his mind with terror.
They brought him over to a chair and let him sit down. As he caught his breath, he told his story in broken English. He claimed that his sister had been killed by something he referred to as "La Muerto Blanco". He kept saying that it was coming for him next.
Confused, they asked him who or what a Muerto Blanco was. With a look of unfathomable fear on his face, he said that La Muerto Blanco was The White Death. She is the soul of a girl who died years ago. She died by her own hand, he said, alone and unloved. She hated life so much that she wanted to remove all traces of herself from the earth. So great was her desire to completely obliterate her memory, that she returned from the dead as a vengeful spirit, bent on killing all those who knew of her existence.
She is a girl, but not a girl, he said. She's not dead, but not really alive. She has cold, black eyes that weep blood. She walks without ever actually seeming to move an inch. She stalks her victims like a wild animal, pursuing them across rivers and valleys, trailing them back to their homes. You are never really aware that she is following you, until you hear her telltale knock upon your door.
"She knocks once for you skin, which she'll use to patch her own decaying flesh. Twice for your hair, which she'll gnash between her teeth. Three times for your bones, which she'll fashion into clubs. Four times for your heart, which she'll tear out of your chest. Five times for your teeth, which she'll polish and keep in a box. Six times for your eyes, which she'll pluck out one by one. Seven times for your soul, which she'll swallow whole."
"No matter where you go, The White Death will track you down and you will hear her terrible knocking begin on the door. You can try to outrun her, but she's faster than any mortal man. If you flee from your home while she's knocking on your door, she will follow you wherever you go."
The terrified man was certain that this thing had killed his sister. He had tried to tell the police, about The White Death but they would not listen, dismissing it as an old wives' tale. Next, he had tried to tell his priest, but the priest immediately shut the door of the church in his face and turned him away. The priest had seen The White Death following him, he said, and did not want to get involved.
With his head in his hands, the frightened man said that The White Death follows you forever until you tell someone else about it. Then it strikes. It kills you and begins following the person you told.
After finishing his tale, the man stole a car from the mission hospital parking lot, and vanished into the night.
Apparently, my friend's mother and father had immediately called his aunt and told her about the stange man they had encountered. They asked her if she had ever heard of the White Death. She said she had not and they proceeded to tell her the story that the man had told them.
The aunt got a phonecall later that night. It was the Mexican police. They told her that the parents had been found dead outside the hospital. They had been torn apart.
My friend's aunt had immediately called him at school to break the bad news to him. As he cried, she told him she couldn't understand what had happened. She recounted the whole story to him, telling him about the strange man who had turned up in the hospital just hours before his parents were found dead. She told him how the man had given his parents a weird and disturbing story about something called The White Death.
When he hung up the phone, he had struggled to come to terms with what had happened. It almost didn't seem real to him. When he got home after school, he found the front door of his Aunt's house standing open. Inside was a trail of blood, leading into the kitchen. There on the kitchen floor, he found his Aunt's dead body. She had been torn limb from limb.
He ran out of the house and all the way across town, never looking back, until he reached my house. As he told me this story, I could hardly believe it. Within the space of a day, his mother, his father and his aunt had been murdered. It all seemed too far-fetched.
But before I could utter a word, my friend and I both recoiled in horror as we heard a knocking begin at my front door.
We've been staring at the door for an hour now, neither of us wanting to open it. The knocking is still going on, growing louder and louder. She never gives up. She never quits. La Muerto Blanco is unstoppable. I think she wants to scare us, my friend and I. I think she wants us to blame each other. And I do – I blame my friend. It's all his fault. He should never have told about her.
As I sit here in my house, beside my friend, both of us listening to that hideous knocking growing ever louder, I wish a lot of things. I wish she had killed my friend before he reached my house. If he had never been able to tell me about her, I wouldn't be in danger now. I'm sorry I ever met him.
And I'm sorry for you too. I'm sorry I made you read this story. I'm sorry I ever told you about the White Death. Because now that you know about her, she'll be coming for you next.
Ghost hunter told how to summon spirits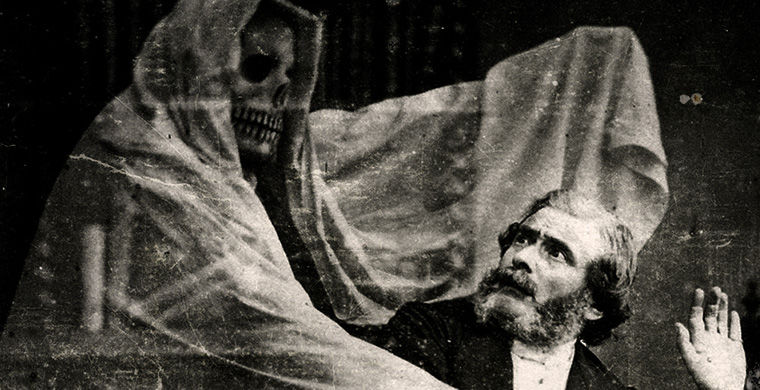 A ghost hunter explained how to summon ghosts and when is the best time to do it according to The Daily Star.
Jade Capasso explores hotels, inns, historical places to allegedly reveal the spirits and ghosts that are present in them. She shares her discoveries on the YouTube channel Ghost Club Paranormal. The girl is sure that you can also talk with spirits.
The 28-year-old ghost hunter is confident that you can talk to ghosts and spirits using a voice recorder. A particularly good time for this, according to her, is the eve of All Saints' Day – Halloween.
"I think there is more activity during Halloween. More people believe in the other world, "she said.
She recalled that Halloween pumpkin is an invariable attribute and symbol of the holiday. People decorate their home with funny, scary, and sometimes even terrifying faces.
"I'm sure there will be more sessions and many will use Ouija boards," she says.
To connect with the "other world", you can go to a famous haunted place, says Kapassa. She also recommends checking your home for ghosts.
To hear a ghost, the girl recommends using special equipment. 
After all, ghosts, she said, emit sounds at ultra-low frequencies that are not perceived by the human ear. You can hear them, as she notes, only on audio recordings.
The girl says that you need to leave the digital voice recorder in a room where paranormal activity is observed all night, or ask questions and wait for an answer.
"Ask questions, and who knows, you might hear a disembodied voice answering you," says Jade.
According to her, there is no need to rush, because the spirits must be given enough time to respond.
"You probably won't hear them in real time. But if you listen to the recording, you might hear someone from the underworld, "she said.
A photographer took a picture of an old house, but did not know that a woman lived there. No wonder – you can only see it in the photo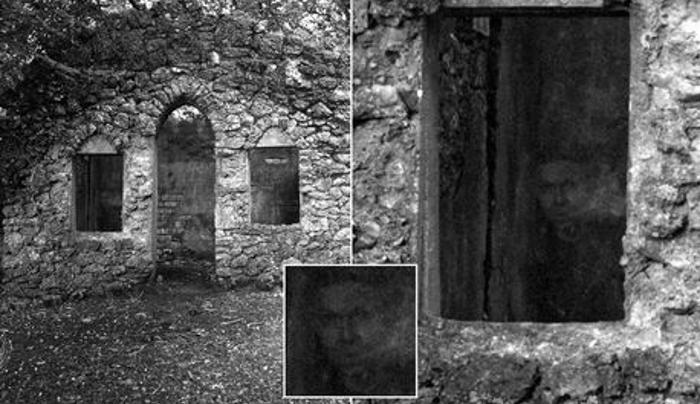 A Scottish resident took a photo of an abandoned building, and then could not believe his eyes when he looked at the finished photograph. From there the woman's face was looking at him, but the man is sure: there was no one in the ruins of the house. Finding an explanation for what he saw was not easy.
A photographer from Scotland, who wished to remain anonymous, decided to arrange an unusual photo session, Unilad writes.
His choice fell on several abandoned buildings that are located in one of the parks in the North Ayrshire region. After taking a couple of pictures, he went to the studio to print them, and then looked at the finished result.
Mysticism often happens in abandoned buildings , and the case with a man was no exception. In one photo, the Scotsman saw the ghostly silhouette of a woman looking at him from a window. However, the man assures that there was no one in the building, and he was alone in the ruins.
During the shooting, I did not feel anything unusual or anything otherworldly.
Despite the fact that the woman's face looks intimidating, he is glad that he managed to capture it. Moreover, the hero of the story shared the frame with all friends who adore mysticism and riddles.
I'm happy that I was able to capture something that looks like a ghost. I am even proud to be able to show photos to people who love riddles.
Many people, according to the photographer, are inclined to believe that this is a ghost, who love to talk to children so much, although the author of the picture himself is in no hurry to draw conclusions. He even looked at the frame under a microscope, but never came to the truth.
You can, of course, speculate, but the human brain makes us see familiar traits everywhere, especially if we look at them long enough.
Moreover, the photographer, according to him, does not really believe in ghosts and other mystical phenomena.
I don't like the term paranormal. As for ghosts, I don't know if they exist. I don't even know how to define them. What is it? Energy?
Camera recorded an extraneous movement in Massachusetts. And this sight is not for the faint-hearted
A Redditt user with the nickname grandslammer0891 from Mansfield, Massachusetts, posted a video from security cameras at a friend's house, which scared him and left users in disbelief.
The author of the video explained that his friend left home by the end of August, leaving four huskies in the care of a friend. He usually visited them during the daytime.
One day the owner of the apartment received a notification in the middle of the night that the camera recorded some kind of extraneous movement. At that time there were only dogs in the house.
The video captured the kitchen and part of the living room. A dog is lying on the sofa in the right corner, and you can trace the turns of the head by its ears. When her ears turn to the left, then in the dark you can see the transparent figure of a moving person.
The video puzzled users and caused a mixed reaction from them. Some could not find an explanation for what they saw and panicked slightly. The dog's head turns towards the ghost, which suggests that it also noticed the apparition.
"What is it, I saw it … with my own eyes. Does anyone else see this? Because it seems to me that I definitely saw something wrong. No no".
Others decided that a man had walked past the window on the right, and his shadow flashed on the left in the headlights. Some users even believe that a live person got into the frame.
"I hope your buddy has a gun. There was a real intruder. "
Some readers agreed that the ghost video is quite plausible, since Massachusetts is full of ghosts.