So there you are, about to leap into a black hole. What could possibly await should — against all odds — you somehow survive? Where would you end up and what tantalizing tales would you be able to regale if you managed to clamor your way back?
The simple answer to all of these questions is, as Professor Richard Massey explains, "Who knows?" As a Royal Society research fellow at the Institute for Computational Cosmology at Durham University, Massey is fully aware that the mysteries of black holes run deep. "Falling through an event horizon is literally passing beyond the veil — once someone falls past it, nobody could ever send a message back," he said. "They'd be ripped to pieces by the enormous gravity, so I doubt anyone falling through would get anywhere."
If that sounds like a disappointing — and painful — answer, then it is to be expected. Ever since Albert Einstein's general theory of relativity was considered to have predicted black holes by linking space-time with the action of gravity, it has been known that black holes result from the death of a massive star leaving behind a small, dense remnant core. Assuming this core has more than roughly three-times the mass of the sun, gravity would overwhelm to such a degree that it would fall in on itself into a single point, or singularity, understood to be the black hole's infinitely dense core.
The resulting uninhabitable black hole would have such a powerful gravitational pull that not even light could avoid it. So, should you then find yourself at the event horizon — the point at which light and matter can only pass inward, as proposed by the German astronomer Karl Schwarzschild — there is no escape. According to Massey, tidal forces would reduce your body into strands of atoms (or 'spaghettification', as it is also known) and the object would eventually end up crushed at the singularity. The idea that you could pop out somewhere — perhaps at the other side — seems utterly fantastical.
What about a wormhole?
Or is it? Over the years scientists have looked into the possibility that black holes could be wormholes to other galaxies. They may even be, as some have suggested, a path to another universe.
Such an idea has been floating around for some time: Einstein teamed up with Nathan Rosen to theorise bridges that connect two different points in space-time in 1935. But it gained some fresh ground in the 1980s when physicist Kip Thorne — one of the world's leading experts on the astrophysical implications of Einstein's general theory of relativity — raised a discussion about whether objects could physically travel through them.
"Reading Kip Thorne's popular book about wormholes is what first got me excited about physics as a child," Massey said. But it doesn't seem likely that wormholes exist.
Indeed, Thorne, who lent his expert advice to the production team for the Hollywood movie Interstellar, wrote: "We see no objects in our universe that could become wormholes as they age," in his book The Science of Interstellar (W.W. Norton and Company, 2014). Thorne told Space.com that journeys through these theoretical tunnels would most likely remain science fiction, and there is certainly no firm evidence that a black hole could allow for such a passage.
But, the problem is that we can't get up close to see for ourselves. Why, we can't even take photographs of anything that takes place inside a black hole — if light cannot escape their immense gravity, then nothing can be snapped by a camera. As it stands, theory suggests that anything which goes beyond the event horizon is simply added to the black hole and, what's more, because time distorts close to this boundary, this will appear to take place incredibly slowly, so answers won't be quickly forthcoming.
"I think the standard story is that they lead to the end of time," said Douglas Finkbeiner, professor of astronomy and physics at Harvard University. "An observer far away will not see their astronaut friend fall into the black hole. They'll just get redder and fainter as they approach the event horizon [as a result of gravitational red shift]. But the friend falls right in, to a place beyond 'forever.' Whatever that means."
Maybe a black hole leads to a white hole
Certainly, if black holes do lead to another part of a galaxy or another universe, there would need to be something opposite to them on the other side. Could this be a white hole — a theory put forward by Russian cosmologist Igor Novikov in 1964? Novikov proposed that a black hole links to a white hole that exists in the past. Unlike a black hole, a white hole will allow light and matter to leave, but light and matter will not be able to enter.
Scientists have continued to explore the potential connection between black and white holes. In their 2014 study published in the journal Physical Review D, physicists Carlo Rovelli and Hal M. Haggard claimed that "there is a classic metric satisfying the Einstein equations outside a finite space-time region where matter collapses into a black hole and then emerges from a while hole." In other words, all of the material black holes have swallowed could be spewed out, and black holes may become white holes when they die.
Far from destroying the information that it absorbs, the collapse of a black hole would be halted. It would instead experience a quantum bounce, allowing information to escape. Should this be the case, it would shed some light on a proposal by former Cambridge University cosmologist and theoretical physicist Stephen Hawking who, in the 1970s, explored the possibility that black holes emit particles and radiation — thermal heat — as a result of quantum fluctuations.
"Hawking said a black hole doesn't last forever," Finkbeiner said. Hawking calculated that the radiation would cause a black hole to lose energy, shrink and disappear, as described in his 1976 paper published in Physical Review D. Given his claims that the radiation emitted would be random and contain no information about what had fallen in, the black hole, upon its explosion, would erase loads of information.
This meant Hawking's idea was at odds with quantum theory, which says information can't be destroyed. Physics states information just becomes more difficult to find because, should it become lost, it becomes impossible to know the past or the future. Hawking's idea led to the 'black hole information paradox' and it has long puzzled scientists. Some have said Hawking was simply wrong, and the man himself even declared he had made an error during a scientific conference in Dublin in 2004.
So, do we go back to the concept of black holes emitting preserved information and throwing it back out via a white hole? Maybe. In their 2013 study published in Physical Review Letters, Jorge Pullin at Louisiana State University and Rodolfo Gambini at the University of the Republic in Montevideo, Uruguay, applied loop quantum gravity to a black hole and found that gravity increased towards the core but reduced and plonked whatever was entering into another region of the universe. The results gave extra credence to the idea of black holes serving as a portal. In this study, singularity does not exist, and so it doesn't form an impenetrable barrier that ends up crushing whatever it encounters. It also means that information doesn't disappear.
Maybe black holes go nowhere
Yet physicists Ahmed Almheiri, Donald Marolf, Joseph Polchinski and James Sully still believed Hawking could have been on to something. They worked on a theory that became known as the AMPS firewall, or the black hole firewall hypothesis. By their calculations, quantum mechanics could feasibly turn the event horizon into a giant wall of fire and anything coming into contact would burn in an instant. In that sense, black holes lead nowhere because nothing could ever get inside.
This, however, violates Einstein's general theory of relativity. Someone crossing the event horizon shouldn't actually feel any great hardship because an object would be in free fall and, based on the equivalence principle, that object — or person — would not feel the extreme effects of gravity. It could follow the laws of physics present elsewhere in the universe, but even if it didn't go against Einstein's principle it would undermine quantum field theory or suggest information can be lost.
A black hole of uncertainty
Step forward Hawking once more. In 2014, he published a study in which he eschewed the existence of an event horizon — meaning there is nothing there to burn — saying gravitational collapse would produce an 'apparent horizon' instead.
This horizon would suspend light rays trying to move away from the core of the black hole, and would persist for a "period of time." In his rethinking, apparent horizons temporarily retain matter and energy before dissolving and releasing them later down the line. This explanation best fits with quantum theory — which says information can't be destroyed — and, if it was ever proven, it suggests that anything could escape from a black hole.
Hawking went as far as saying black holes may not even exist. "Black holes should be redefined as metastable bound states of the gravitational field," he wrote. There would be no singularity, and while the apparent field would move inwards due to gravity, it would never reach the center and be consolidated within a dense mass.
And yet anything which is emitted will not be in the form of the information swallowed. It would be impossible to figure out what went in by looking at what is coming out, which causes problems of its own — not least for, say, a human who found themselves in such an alarming position. They'd never feel the same again!
One thing's for sure, this particular mystery is going to swallow up many more scientific hours for a long time to come. Rovelli and Francesca Vidotto recently suggested that a component of dark matter could be formed by remnants of evaporated black holes, and Hawking's paper on black holes and 'soft hair' was released in 2018, and describes how zero-energy particles are left around the point of no return, the event horizon — an idea that suggests information is not lost but captured.
This flew in the face of the no-hair theorem which was expressed by physicist John Archibald Wheeler and worked on the basis that two black holes would be indistinguishable to an observer because none of the special particle physics pseudo-charges would be conserved. It's an idea that has got scientists talking, but there is some way to go before it's seen as the answer for where black holes lead. If only we could find a way to leap into one.
David Crookes
LiveScience
NASA has photographed a UFO in Antarctica
This new discovery is undoubtedly of great global impact for those who believe in the existence of UFOs and Extraterrestrials on our planet. The image of NASA depicting a UFO on the Antarctic continent was published on Google Earth. Antarctica has constantly aroused many mysteries, from the entrance to the Hollow Earth to the discovery of alien bases and the discovery of pyramid structures.
Even so, today all its secrets are hidden, although it begins to reveal some clues that amaze geologists, archaeologists, scientists, popularizers and even great personalities of the world. Whatever the mysteries of Antarctica, they will have to be discovered little by little. Who is not fascinated by the secrets of the most arid, windy and cold continent in the world? What is the truth about this unexplored and frozen continent? In the images provided by Google Earth we can see a silver circular object that has nothing to do with the rest of the surface.
It is clearly an artificial object and very similar to the classic flying saucer. This discovery was made by Argentine researcher Marcelo Irazusta and published by Sandra Andrade on her YouTube channel. This new discovery is undoubtedly of great global impact for those who maintain the existence of UFOs on our planet. The image is from NASA published on Google Earth. With this new discovery no doubt, it is of great global impact for those of us who believe in UFOs and extraterrestrials on our planet. We know that they discovered internal structures similar to the ruins of a technologically advanced ancient civilization, and it was also leaked that some frozen bodies of non-human beings appeared.
The Mystery of the Taman Shud Case
The mystery of the Taman Shud case has puzzled law enforcement and intelligence agencies all over the world for more than half a century now.
Also referred to as "The Mystery of the Somerton Man", this unsolved case refers to an incident that took place on December 1, 1948 where and unidentified male body was found dead at 6:30 a.m. on the shore of Somerton Beach in Adelaide, Australia.
Police found his body after a handful of various witnesses reported what they suspected was a man who was either drunk or asleep, reclining on the sand with his head resting against the seawall.
He was clothed in fine European attire, but all of the labels had been deliberately torn off from his clothing, indicating a possible attempt to conceal his identity. His dental records did not match any known individual in Australia.
Police searched his pockets in an attempt to find some type of identification, but to no avail; their search only produced a redeemed bus ticket, an unused second-class railway ticket, a half-empty pack of Juicy Fruit gum, some cigarettes, and a partially empty box of matches.
After several unsuccessful attempts to confirm the man's identity and potential cause of death, police turned to an autopsy.
According to Sir John Burton Cleland, a noted University of Adelaide pathologist, the man's body had all of the signs of a death by poisoning, including severe congestion in the liver, kidneys and brain.
The man's spleen was enlarged about three times the normal size, and a significant amount of blood was located in his stomach as well.
Interestingly enough, several toxicology experts attempted to determine what type of poison was used, but it was completely undetectable in his body.
Authorities ruled the death a suicide by an unknown poisonous substance, but after a careful re-examination of the body by Sir Cleland, a small rolled-up piece of paper was discovered deep within a small fob pocket inside of the deceased man's trouser pocket.
The paper contained the words "Taman Shud" (meaning "ending", "finished" or "the end" in Persian) printed on it, and the reverse side was blank.
Public library officials were able to determine that the phrase came from the text of a collection of poems known as The Rubaiyat by Persian philosopher Omar Khayyam.
Police conducted a widespread campaign to find the book that the text was torn from, circulating images of the piece of paper in the press all over Australia.
A man whose identity has been kept anonymous by the police came forward and revealed that he had discovered a very rare copy of The Rubaiyat in the backseat of his parked, unlocked car on Jetty Road in Genelg about two weeks prior to the discovery of the body.
The man said that he had no idea that the book had any connection to the case until he read about it in the newspaper.
The book was missing the phrase "Taman Shud" on the very last page, and microscopic tests confirmed that the small piece of paper found in the Somerton man's trouser pocket was indeed torn from the final page of the book.
Five lines of all-capital letters were scrawled in pencil in the very back of the book, delineating what authorities have ruled as some type of code.
Investigators first conjectured that the lines represented a foreign language, but that was later ruled out in favor of some type of cipher or cryptographic message. The five lines are as follows:
WRGOABABD
MLIAOI (this second line was struck through in the original message, indicating a possible mistake due to its similarity to line 4)
WTBIMPANETP
MLIABOAIAQC
ITTMTSAMSTGAB
A phone number was also written in the back of the book, which police later discovered belonged to a woman who resided on Moseley Street in Glenelg, only about a quarter of a mile from the location where the body was discovered. (Side note: Glenelg was also the destination listed on the bus ticket found in the Somerton man's pocket.)
After being questioned by police, she stated that she did own a copy of The Rubaiyat during the time when she worked as a nurse at the Royal North Shore Hospital (in Sidney) during the second World War, but that she had given her copy to an Australian Army lieutenant named Alfred Boxall in 1945.
Police were now certain that the dead man could be identified as Alfred Boxall, until the real Alfred Boxall surfaced later with a different copy of The Rubaiyat (a 1942 edition), with the last page containing the phase "Taman Shud" intact!
The woman and did not claim to have any connection to the dead man discovered at Somerton beach. She asked to remain anonymous since she was newly married with a toddler, and did not want to be associated with a murder mystery or Boxall.
Amazingly, the police agreed to grant her anonymity, although she was considered to be the best lead in the case.
To this day, the identity of the Somerton man has not yet been confirmed, and the meaning of the cipher (if any) has not been determined.
Many have speculated that the mysterious man may have been some type of spy since his death occurred during a particularly intense period of the Cold War.
Several intelligence specialists, cryptanalysts, mathematicians and astrologers have attempted to decipher the code, but no one has been successful as of yet.
Perhaps the enigma of the Taman Shud case will never be solved, but it still carries an air of mystery and intrigue that fascinates people all over the world.
The Mercury Monolith is proof that an Extraterrestrial Civilization inhabited the Solar System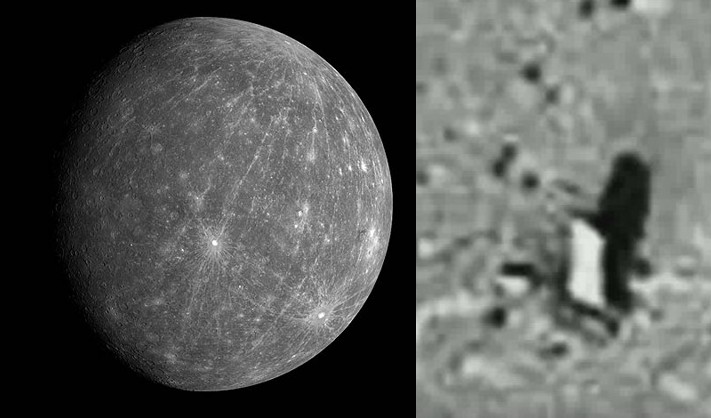 It seems that Mars is not the only planet in our solar system that hosts mysterious monoliths. According to the images recorded by space probes, relative to the surface of Mercury, the "fire" planet is added to the list of planets and moons of our solar system, which show fascinating anomalies, which according to many, show that there is alien life, or at least it existed up to a certain point, in our solar system.
Many researchers call the monolith of Mercury the 'door to another world', while others believe that it is one of the many evidence that points to the fact that millions of years ago and perhaps even before life on Earth, an advanced alien civilization was created, that inhabited our solar system, leaving behind traces of their existence that we are beginning to find today. The massive "artificial structure" was recently analyzed by the researcher and YouTuber "SecureTeam10", who discusses and analyzes the" black rectangular structure "that is present in the images taken by NASA. A similar monolith can also be found on Mars and on one of its Phobos moons.
Curiously, astronaut Buzz Aldrin also said: "We must see better the moon of Mars (Phobos). On its surface there is a monolith, a very particular structure on this small potato-shaped object that revolves around Mars once every seven hours. So who put that thing on Phobos? Who put it? Well the universe put that object there, or if you choose … God put it there. "
The mysterious structure seen on the surface of Mercury was first sighted in 2012, when researcher Scott Waring had analyzed it on his blog. However, the video uploaded to YouTube by Tyler Glockner, analyzes the mysterious structure in the shape of a monolith on the surface of Mercury: "I took an excellent image that became clear to me … that this is not an entrance open to everyone. In reality, it is something much more magnificent. It is a shadow … but where does the shadow come from? Dear friends, the rectangular object is a monolith structure with an imposing appearance above the surface. "
Many are convinced that the image presented by NASA actually describes a permanent structure on the surface of Mercury. Glockner believes that due to the inclination of the shadow from the Sun, you determine the black rectangle which is then actually a shadow of a permanent structure on the surface.
According to data collected by the Messenger probe, Mercury is a planet subjected to high temperatures, but it also has water and organic material present on its surface. It is interesting to note that the amount of water on the planet is sufficient to cover Washington DC on ice. According to the scientists, it is believed that Mercury possesses its own dose of organic material, which when compared is similar to that which was present on our planet at the time of the creation of life, millions of years ago. Incredibly, this material, according to scientists, has been the building blocks of life.