When Demons Get Into Our World
An exorcism is a religious practice of removing demons or other possessing spirits from a person or place. Ridding someone of a diabolic possession is not always an easy process, but many believe it is necessary for the safety of the victim and those around them.
Exorcisms have been practiced for thousands of years and across several major religions, including: Hinduism, Islam, Judaism, and, of course, Catholicism.
Exorcism in Catholicism
Though called by a variety of names, the ritual of exorcism can be found in nearly every form of religion. However, it is most often associated with the removal of demons in Christianity; specifically in the denomination of Catholicism. Catholics believe that the power of Jesus Christ provides priests with the power to expel evil demons.
Baptism, blessings, and the cleansing Prayers of Deliverance can be considered forms of exorcism in the Catholic faith, but Major Exorcisms are what we typically associate with the word.
This form, also known as the Rite of Exorcism, is considered when a powerful entity has taken control of an individual. This rite can only be performed by a priest, or with the permission of a Bishop.
Identifying the Possessed
Demonic or spiritual possession can display itself in many ways depending on who, or what, has actually taken hold of the host. Most signs are quite similar to what we associate with mental disorders like schizophrenia, but escalate much quicker and are accompanied by events or characteristics that can only be considered paranormal.
Some symptoms of possession are:
– Sudden hair or eye color changes.
– Tone of voice switches randomly from very high to very low.
– Speaks in tongues, or languages they've never learned.
– Ability to move the body in unnatural or humanly impossible positions.
– A sudden aversion to all religious objects, practices, or materials.
– Exhibits extreme rage along with superhuman strength.
– Recants past events they've never heard of as if they were there.
– Ability to read the thoughts of those around them.
– Levitates at will or during sleep.
Due to advancement in medicine and many tragedies that have occurred during exorcisms, an extensive investigation is now required before an exorcism will be performed. It's essentially a process of elimination to determine if the person is truly possessed by a spiritual being or not.
A priest will enlist the help of a psychiatrist, medical doctor, and Church-appointed paranormal expert to determine if the symptoms can be explained by mental illness, a medical condition, or fraud. If the investigation concludes that the individual is truly possessed, then an exorcist is appointed to the case.
Performing the Rite of Exorcism
The appointed exorcist dresses in this surplice along with a purple stole, and makes his way to the victim. He then begins the ritual by speaking a series of statements, prayers, and appeals.
These can be divided into two groups: Those in which the priest asks God to free the subject from the demon, and those in which the priest commands the demon to leave by the name of God.
The priest will perform various actions at specific times during his recitations, such as: laying his hands on the victim, splashing holy water on everyone in the area, clasping or hold up a holy relic, and making signs that signify the cross on himself as well as the victim.
All of these things are repeated until the demon has been expelled, or the priest has exhausted all options.
Most Famous Exorcisms
Though there have been many documented cases of exorcisms, there are a few that stand out.
The Exorcism of Ronald Doe
Upon the sudden death of his aunt, a teenage boy attempted to communicate with her through Ouija board. Soon after, many strange things started occurring around him. When no one could explain the events, two priests were called to help.
During multiple exorcisms performed on him in 1949, the priests witnessed his bed shake violently, various objects flying around the room, many words appearing in wounds on his body, and the boy speaking in a guttural tone.
Once the 30th rite was completed, everything suddenly stopped and the boy had no memory of the previous events. Though given the pseudonyms Ronald Doe and Ronnie Mannheim, the boy's true name was never released. The diary kept by one of the priests was adapted into the film and novel, The Exorcist.
The Exorcism of Anneliese Michel
A German Catholic woman named Anneliese Michel, initially thought to be suffering from depression, began hearing voices that told her she was damned. Over time she developed seizures and became intolerant to many things related to her religion, like walking past a crucifix or drinking holy water.
After psychiatric treatment and medication showed no improvement, her family turned to the church for help. From 1975-76 over 60 exorcisms were performed, some lasting as long as 4 hours.
She died in her home on July 1, 1976 from malnutrition. Her case has been considered a misdiagnosis of mental illness, negligence, and abuse. The films of Requiem and The Exorcism of Emily Rose are based on her story.
Ossett murder case of 1974
In the British town of Ossett, a man by the name of Michael Taylor expressed that he felt evil within himself. He began to verbally lash out in his Christian Fellowship Group, and his erratic behavior escalated even after an absolution was performed.
A priest and a group of Methodist clergymen were eventually called in to carry out an exorcism. The rite lasted for many hours from October 5th to 6th in 1976 and those involved claimed that at least forty demons spoke through him.
When they were all too exhausted to go on they allowed him to return home, though they feared that at least three demons were still present. A few hours later, he was found in the street covered in blood. He had murdered his wife; tearing her face off with his bare hands.
Exorcisms are protected under the first amendment in the US and still preformed throughout the world today. In fact, the many films related to them have caused a sharp increase in the number of exorcisms being requested.
However, only a handful of priests have been given the ability to perform them and less than 1% of all requests are granted. Whether you believe in possessions or not, the need for exorcisms has been around for a long time and will probably be around for many years to come.
This haunted hotel houses a huge Ouija board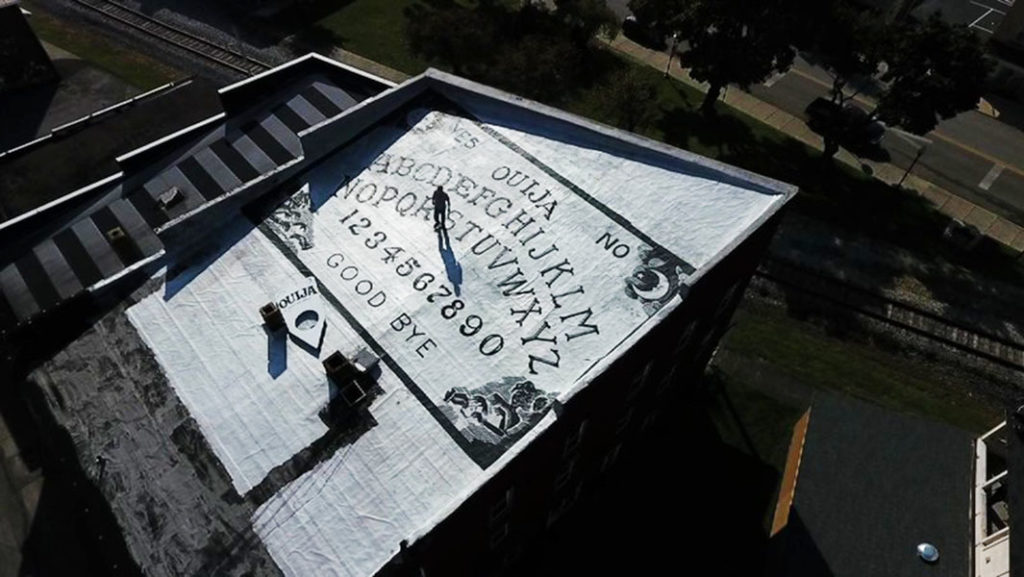 Waking up in a haunted hotel every day may seem like a living nightmare, but for Blair Murphy, it is a reality.
As the owner and operator of the Grand Midway Hotel in Windber, Pennsylvania (United States), mysterious noises and inexplicable events are only part of normal life when they live in a 130 year old historic building.
Although the walls point to the heads of taxidermed animals and show the ghost portraits that haunt the hallways – it's not the only things that make the place more frightening than an average home.
Even if it contains the formidable "Canopy Room" that most of the clients cannot bear to stay all night, there are two particular eccentricities within the structure that make the Grand Midway Hotel stand out from the rest: the grand Ouija Board and the World's Largest Tarot Card .
"The Grand Midway Hotel was a former coal mining hotel in the late 1880s," says Blair. "I could remember countless stories of meeting ghosts of people who stayed here overnight. It was actually a fascinating place to live. But then the paranormal hum became silent for about two years. "
The inspiration for the large board is the direct result of the two-year lull, when Blair and his girlfriend at the time, Camille Zamboni, decided to play with the game Ouija created by Hasbro in 2016 to see if they could boost morale.
After a night of playing the board and communicating with the spirits in the Edgar Allen Poe room, the two were left with the idea of ​​creating the world's largest board on the roof of the hotel.
"Shortly after that night, things turned upside down throughout the hotel. The energies swirled. The guests were completely panicked, "says Blair. "It seemed to kick-start a whole new level of paranormal activity. We saw people floating and hearing voices, and even the hotel pets turned and reacted to invisible forces. Our dreams were pretty crazy. "
"And it wasn't just us. Other longer-term hotel residents said "there's absolutely something going on here" and have their own strange encounters in the middle of the night. "
It took weeks to complete the final plank of 121.01 m² (1,302.54 ft²), after a lot of planning and coordination between team members Brian Cano, James Bertolasio, Mark Portante, Mark Swindler, Nova Lox, Luke Hoffman, Camille Zamboni and project manager Blair Murphy.
As a dedicated artist, Camille Zamboni directed the painting of the board, ensuring that the lettering was an exact replica of the painting as directed by Guinness World Records.
"After we finished, really strange things started to happen. Blair and I were sleeping and in the middle of the night we woke up because we both heard my son screaming. Except that he was not staying at the hotel that night. "Said Camille.
Camille also mentions it and Blair saw "angry" versions of each other while the other person was nowhere to be seen.
"I remember going to sleep and woke up screaming and yelling at the end of the bed. I was so confused because he never does that, so I asked "What's going on?" And when I looked again, he wasn't there. He had been in his office the whole time. Likewise, another day, Blair saw me in the attic talking and yelling something and began to respond to "me." However, I was not at the hotel – I went shopping when that happened. "
Now located on the hotel's third floor roof, the irony of the placement is that the inventor of the original Ouija board William Fuld died after falling from the roof of a third floor building.
Even with these frightening events and coincidences, it was not enough to stop the team at The Grand Midway from reaching other records.
As Blair himself is quite an artist and filmmaker, he decided that creating the largest tarot card of the world would be a fitting addition to all the work in progress he had done at the hotel since he acquired it in 2001.
"I always looked at it like the hotel had chosen me. I was living in Los Angeles when an ad for the historic Pennsylvania hotel appeared in my email one day like a scary witty finger from the grave, tapping my attention, saying "buy me … move here … live here. .. it will be fantastic… "It was a fantastic adventure," said Blair.
The son of two funeral directors, Blair was used to death when he was a child; something that played a big part in his interest in the many paranormal experiences that would occur regularly in his haunted house which has 32 rooms with scary themes.
These rooms have a variety of different atmospheres, ranging from the Vampire room which contains a hidden passage to the adjoining, full of coffins quarters, up to the magician's room, where one has to push through a secret library to enter the 'darkness residence.
The Canopy Room, which is said to be haunted by a ghost who died decades ago – is by far the most terrifying in the building.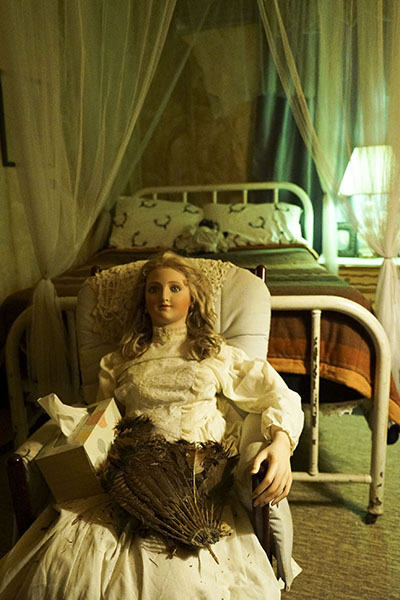 With a life-size doll and Victorian decor surrounding the area – many claim to have felt spirits touching them or to have seen ghosts appear in the room.
No wonder, then, with all of the eclectic and bizarre artifacts around the hotel – Blair would like to add another record object to the establishment.
After recruiting painter Terrence Kauffman in 2017, the couple worked together to form a 6.42 m (21 ft. 1 in.) Long and 4.87 m (16 ft. 0 in.) Wide tapestry that is now hanging from the ceiling of the library on the first floor.
Terrence and Blair chose The Universe card from the Thoth Deck as their symbol for recording.
Unlike some of the sinister components of the Grand Midway Hotel, this card symbolizes positivity and satisfaction – as it represents luck and reward for the one who comes out of the life for which he worked hard.
Similar to the woman who dances in the center of the image, this special card is representative of a celebration and the joy of making success a reality.
Since this particular card now has a Guinness World Records title, it seems to be quite effective.
This is the first time that artist Terrence has worked on a record – because his day job is being a tattoo artist.
He says he's happy to be working on one of the many projects Blair has done to put Windber, Pennsylvania on the map.
And despite recent headlines from another Ouija Board claiming to have beaten its record title, Blair still holds the official Guinness World Records title as directed and has submitted evidence.
The rivalry inspired him to continue chasing more records in the future, as he now ponders the idea of ​​creating the largest coffin in the world in the historic church he recently acquired on the rue de l hotel, which now houses the Anne Rice doll collection.
Now, many of those who have heard of extraordinary record titles have flocked to see them in person, and are impressed by the story that encompasses the historic building from 19 e century.
Longtime residents of the Grand Midway, like Synthia Berns, recognize his hard work and ambition.
"It's really great to see what Blair has done for the community, he has just gathered so many people and it is an honor for the city to be able to have two Guinness World Records titles. I'm just impressed with the incredible work he has done. "
Want to learn more about The Grand Midway Hotel? Check it out here .
Singapore: meet father-son duo banishing demons for a prize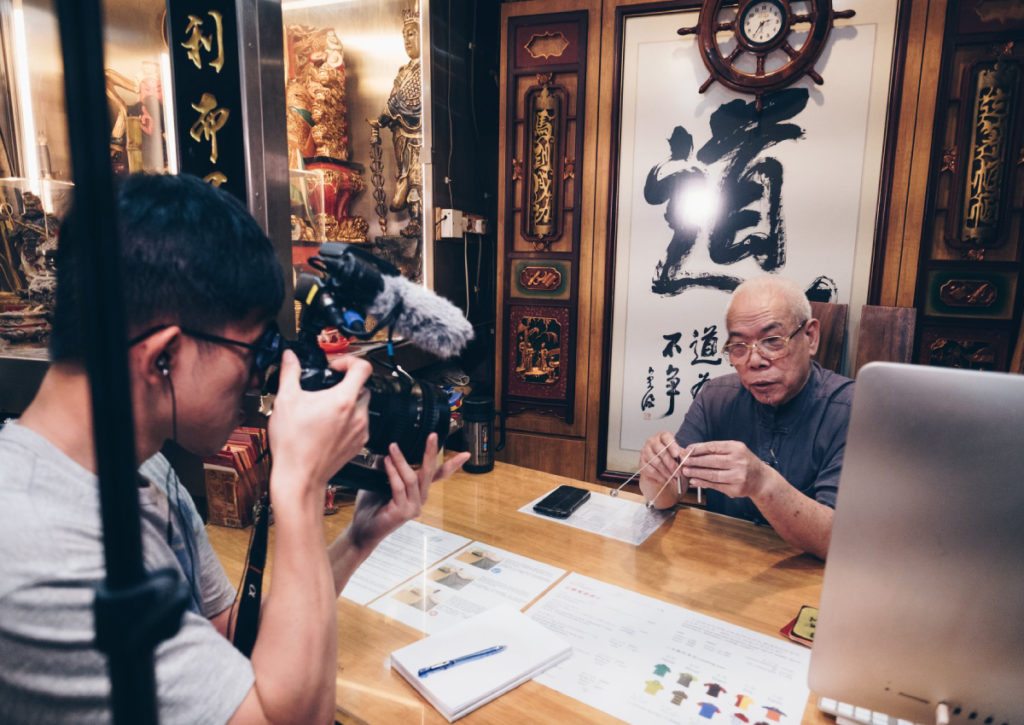 Anderson Lim clasped his hands tightly in a praying position as a spiritual medium made back and forth movements before him.
Lim then chanted indistinctly as the medium set a paper doll – known as a "substitute" – on fire.
The doll, dressed in a blue shirt that belonged to Lim's brother, was part of a Taoist ritual performed to ward off bad luck.
" Recently [my brother] had a very bad fall. He missed a step and his ankle was severely fractured. He was hospitalized for two weeks, "said Lim, a 41-year-old businessman.

"I hope that after this ritual, he will be fine. I have seen too many things that cannot be explained, so there are some things that we have to believe. "
Like Lim, many Singaporeans in the modern city-state still turn to supernatural means, such as traditional spiritual mediums, for good luck, health, and prosperity.
While some of his clients seek feng shui advice for disagreements at home, others seek help when they are unlucky or have career issues, said Jeroen Chew , an exorcist and master of feng shui.
Chew joined unconventional commerce over a decade ago after hearing stories that his father Chew Hon Chin, better known as Grand Master Chew, changed the lives of many people around the world.
"My father showed me that non-Taoists and non-religious believed in him," said Chew, 44. "When we went to the Philippines, there was a long line of people lining up to see him … And I thought to myself that this man can really do something to change people's lives. "
For former Chew, joining the profession was more of a calling. He said he was cursed 16 years ago, and after coming out of the "spell", it was time to help others.
"I was cursed for about 10 years. I couldn't sleep or eat properly, my business failed and everyone thought I was crazy, "said the 72-year-old, who added that he had also attempted suicide.
"Nor did I believe in gods or spirits in the past, I only believed in myself. But one night I dreamed that someone told me that if I got out of the curse, I would need to help people the same way. "
He then created Ghostbuster.
Explaining how the name was born, young Chew said his father originally wanted to "catch ghosts," but that the family business has since evolved to offer not only exorcism services, but also feng shui readings as well. as luck improvement and ancestral prayer services.
The company also offers ba zi reading, reading its date and time of birth, which would allow Chew to "warn customers" of things as if a conflict should arise with their superiors or their bosses.
" [The lectures] will tell them, "Today you are not in a good energy mood with your boss, you have to be careful," said Chew, whose services are offered from 88 Australian dollars (65 US dollars).
"Some people don't take us seriously. But like I said, we help those who want us to help. Those who don't believe us are fine with us. "
Today, Ghostbuster has approximately 1,000 customers of different faiths. On larger events, such as the eighth day of the Lunar New Year, also known as the jade emperor's birthday, attendance averages between 400 and 600 "followers."
According to Chew, 70% of his clients are Christians, even if certain elements of his business are rooted in Taoism.
"We will never tell to you to change religion. We are here to solve your problem. If I solve your problem, I do something that makes you feel good, you feel better and you keep going with your life. You will not change anything, "he said.
Customers ranging from teens to those in their thirties are increasing, said Chew, representing about 60% of his clients.
Most of them ask for help when they face bad business prospects or problems with their family.
Chew added, "Some people feel that they are not reaching their maximum potential … and let's help each client achieve the best they can in their career or family life. "
Among those who turn to such supernatural means is Wilmer Ang, 30, who went to see a master several years ago "out of curiosity". He later consulted with the master when he started his business and when he encountered problems at work.
"I will visit my master occasionally, either to ask for advice on my business or to love life," said Ang, who works in the real estate industry.
He is said to carry certain objects, including precious stones, or to place "lucky charms" in his office to bring him prosperity.
Another believer, Max Tan, 35, first consulted a numerologist in his twenties. Then he thought it would be a "good idea to see what the future holds."
During the consultation, he discovered that he had conflicting character traits and "slowly reconciled" with who he was.
Tan, who is a fashion designer, recently consulted his master again, who confirmed his decision to continue his studies.
Dhylan Boey, a professional metaphysician, who has been in the business for over 10 years, has suggested that the younger generation is more open to such practices because it has "fewer hangups" with taboos and conventions, compared to the older generation.
Boey, who specializes in numerology, crystal healing, tarot and feng shui readings, said, "My Generation Y or Generation Z clients are open to new things that may not be be validated by clinical sciences. "
"On some level, they like to believe that some magic still exists in this world and that as young humans grappling with life problems, and discovering their purpose in life, they may also be doing part of this magic. "
Source: AsiaOne
Unexplained Case Of Stone-Throwing Devil of New Castle Island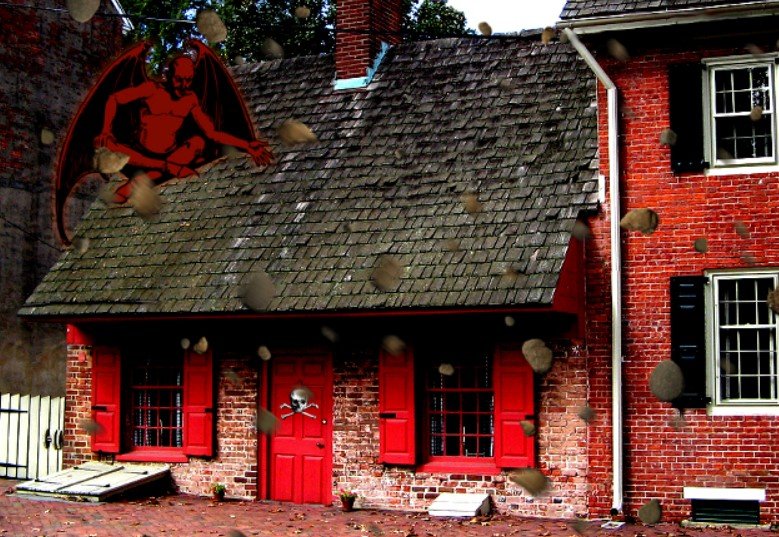 In 1682, stones battered George and Alice Walton's home and crashed through windows in the living quarters above their tavern.
Hails of stones followed them into their fields. Richard Chamberlain, Secretary of the British Colony of New Hampshire, who was staying with the couple documented the events and coined the word, Lithobolia,a Greek-sounding one that translates as Stone-Throwing Devil.
He published a book about the seventeenth century poltergeist.
Stone-Throwing Devil Activity – Summer 1682
George was the stones' target. There were up to one hundred of them in sessions and George was hit as many as forty times. Some were very hot, while some were icy cold.
Their size ranged from small pebbles to rocks as large as a human head. When people put them on a table, they disappeared and reappeared. The Waltons tried to repel the Stone-Throwing Devil by boiling crooked pins in a pot of urine. Twice, a stone hit the pot, spilling the liquid.
A gate from the Waltons' house to neighbor Amazeen's was tossed off if its hinges. A spit from the fireplace disappeared, then fell down the chimney and impaled itself into a log. A wheel of cheese was broken into pieces.
The drainage stopper in George's boat vanished. Household items were tossed into the yard. Witnesses heard rocks rolling in the upstairs room, snorting, heavy breathing and sounds of distant hoofbeats.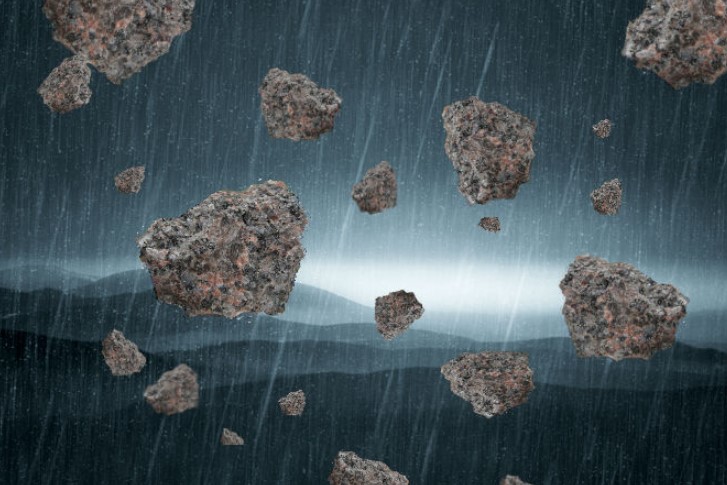 Stone-Throwing Devil and Accusations of Witchcraft
The Waltons were considered wealthy property owners. Goody, a term used for women who didn't have the status of being called missus, Hannah Jones was poor.
They both claimed ownership to a small field. Walton accused her of being a witch when she told him he should never enjoy that piece of land. She countered by accusing him of sorcery.
Some believed this event summoned the Stone-Throwing Devil.
Political Climate in New Castle Island
The islanders, two days before the stone throwing started, petitioned to separate from Portsmouth. It was denied. The heirs of John Mason, who was granted all of the land in New Hampshire, wanted their land returned or to collect taxes from all residents.
Chamberlain, the Waltons' guest, was also the lawyer for the Masons. The Waltons were Masonian sympathizers and Quakers. Members of the sect were persecuted as those suspected of practicing witchcraft were.
Waltons' household included servants an African man and an AmerIndian woman, in an era of great racial prejudice.
Stone-Throwing Devil's Activity Ends
The poltergeist activity ended after Chamberlain returned to England. Two and a half years later, George Walton, who was seventy at the time, signed his property over to Alice and provided legacies to his children and grandchildren.
When he died in the following year, George still suffered from the wounds caused by the stones.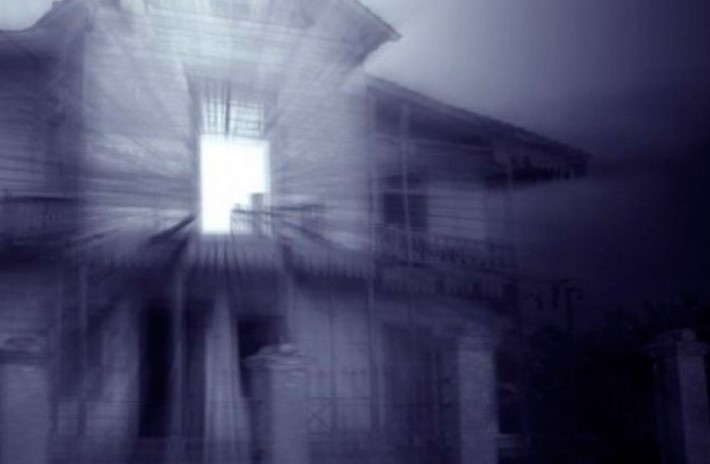 What was the Stone-Throwing Devil?
There were those who believed the stone tossing was caused by the devil. Increase and Cotton Mather, two powerful colonial New Englanders, wrote about the events that many believed were caused by witchcraft.
Cotton played a prominent role in the future Salem Massachusetts witch hysteria involving persecutions, accusations, trials and executions. No record can be found that indicates executions of anyone connected with the Stone-Throwing Devil.
Some islanders believed mischievous humans they dubbed the Boys at Work were the culprits. The Waltons had a houseful of grandchildren. The boys heard the snorting sounds; the girls, awakened by sounds of rolling rocks.
Both ran outside during the hails of stones. The problem with this theory is that stones pelted George in the children's absence.
There is a phenomenon called the rock-throwing poltergeist that has been investigated and documented in modern times. Their activity is limited to stone tossing.
This is a manifestation of PK, psychokinesis, the ability of the mind to affect matter. The agent can be a human or an entity. There is a profile for human agents.
They experience unpleasant emotions such as frustration, anger and feelings of worthlessness, and test above average for PK. Emotions are repressed and released by subconscious PK. The activity may stop spontaneously or by psychotherapy.
By today's standards, this case would be considered as trickery or a poltergeist, not the work of the devil.