Wheat threatens all humans, new research shows
Bread lovers beware! Gluten-free diets may not just be a trendy choice but something everyone should follow. New research reveals that proteins in wheat may be detrimental to all humans.
"Gluten-free" seems to be appearing just about everywhere these days, from restaurant menus to grocery store shelves and even on cosmetics labels. And with good reason. The gluten-free market is exploding. Packaged Facts, a market research company estimated that the gluten-free market in the United States was $4.2 billion last year and predicts an expansion to $6.6 billion by 2017.
In a recent Time Magazine article entitled: "Why We're Wasting Billions on Gluten-Free Foods," business writer Martha C. White puzzled over this seemingly baseless trend, stating: "As food fads go, though, this one's not only enormous: It's enormously expensive – and many of us paying a premium to avoid gluten are doing so without any legitimate medical reason."
The article goes on to describe how less than 1% of Americans suffer from celiac disease, an autoimmune disease triggered by gluten consumption and how as many as 1 in 16 Americans may have a significant sensitivity to gluten, a disease for which the term "non-celiac gluten sensitivity" was recently developed by an expert panel of gluten researchers and clinicians.
No doubt it is in the best interest of these two groups to avoid consuming gluten, a protein found in wheat as well as barley, rye, and spelt products. But is the statistic that as many as 29% of Americans admit to trying to maintain a gluten-free diet simply an indication of their desire to remain trendy? If in fact only a small fraction of Americans actually have a medical condition exacerbated by gluten consumption, what could explain the overwhelming traction of the gluten-free movement?
A Google search for gluten-free websites produces over 7.5 million returns with many of these sites populated by incredible testimonials of miraculous improvements following the adoption of a gluten-free diet in a wide range of medical issues including headaches, joint pain, skin disorders, epilepsy, depression, insomnia, and ADHD, to name a few. If we are to believe that only a small number of us should avoid gluten, does that relegate these personal triumphs from a dietary change to simply a placebo effect?
Good science would mandate that we should consider the possibility that something else may happen when a person chooses to eliminate wheat that may have nothing to do with reactivity to gluten.
While gluten makes up the lion's share of protein in wheat, research reveals that modern wheat is capable of producing more than 23,000 different proteins, any one of which could trigger a potentially damaging inflammatory response. One protein in particular is wheat germ agglutinin (WGA). WGA is classified as a lectin – a term for a protein produced by an organism to protect itself from predation.
All grains produce lectins, which selectively bind to unique proteins on the surfaces of bacteria, fungi, and insects. These proteins are found throughout the animal kingdom. One protein in particular for which WGA has an extremely high affinity is N-Acetylglucosamine. N-Acetylglucosamine richly adorns the casing of insects and plays an important role in the structure of the cellular walls of bacteria. More importantly, it is a key structural component in humans in a variety of tissues, including tendons, joint surfaces, cartilage, the lining of the entire digestive tract, and even the lining of the hundreds of miles of blood vessels found within each of us.
It is precisely the ability of WGA to bind to proteins lining the gut that raises concern amongst medical researchers. When WGA binds to these proteins, it may leave these cells less well protected against the harmful effects of the gut contents.
WGA may also have direct toxic effects on the heart, endocrine, and immune systems, and even the brain. In fact, so readily does WGA make its way into the brain that scientists are actually testing it as a possible means of delivering medicines in an attempt to treat Alzheimer's disease.
And again, the concern here is not just for a small segment of the population who happened to inherit susceptibility for sensitivity to gluten. This is a concern as it relates to all humans. As medical researcher Sayer Ji stated, "What is unique about WGA is that it can do direct damage to the majority of tissues in the human body without requiring a specific set of genetic susceptibilities and/or immune-mediated articulations. This may explain why chronic inflammatory and degenerative conditions are endemic to wheat-consuming populations even when overt allergies or intolerances to wheat gluten appear exceedingly rare."
The gluten issue is indeed very real and threatening. But it now seems clear that lectin proteins found in wheat may harbor the potential for even more detrimental effects on human health. It is particularly alarming to consider the fact that there is a move to actually genetically modify wheat to enhance its WGA content.
Scientific research is now giving us yet another reason to reconsider the merits of our daily bread. The story of WGA's potential destructive effects on human health is just beginning to be told. We should embrace the notion that low levels of exposure to any toxin over an extended period can lead to serious health issues. And this may well characterize the under-recognized threat of wheat consumption for all humans.
Polar vortex: "wild" winter is coming in the US, Northern Europe and East Asia after the 16th of January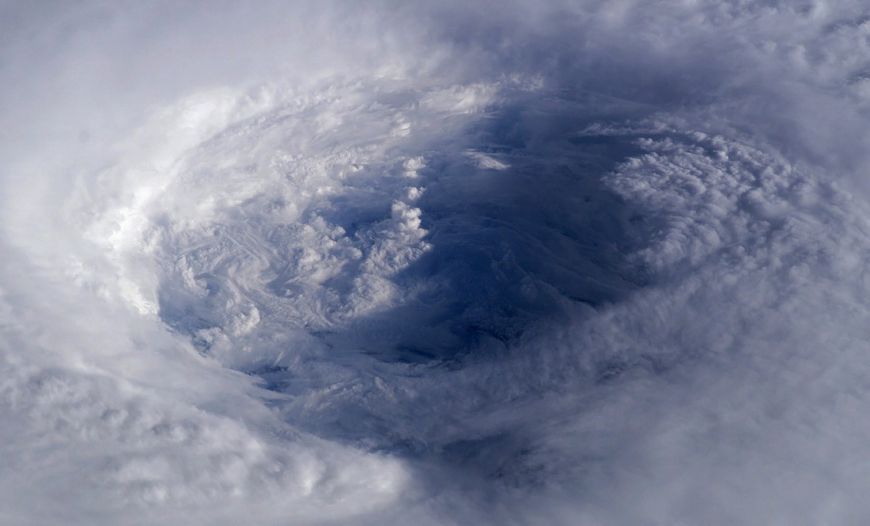 In the upper atmosphere above the North Pole, experts saw a rapidly swirling vortex of cold air that could bring severe frosts to the United States, Northern Europe and East Asia. Serious cold snap and snowy weather are expected after January the 16th.
Snowfalls and a cold snap hit South Korea since the start of 2021, hitting historic snow maximums and temperatures. In the country, for the first time since 1964, television and newer communications are sending people cold snap warnings:
The situation is similar in Japan, where a new snow storm hit historic highs:
On January 7, the thermometer In Beijing dropped to -20 degrees Celsius, breaking the 1966 record. In other regions of China, the temperature is also not sugar, and you can only move around in special uniforms:
The cold even reached Taiwan, where the temperature in some areas dropped below freezing point, snow poured down and people realized that rice terraces can be used as a ski jump:
Even more snow went to Spain, where on January 6, 2021, a temperature of -34.1 ° C was recorded – the lowest on record. After that, a snow storm hit the country, which has not been seen for 80 years:
The same thing happens in Canada and in the northern states of the United States:
It seems that after a stratospheric warming, the subpolar vortex began to split:
The vortex itself is a standard phenomenon. However, this time experts were surprised at his movement. It is possible that in the near future it will be divided into two parts. 
Scientists associate the strange behavior with the changed climate in the Arctic, which has become warmer. From September to December, the amount of ice cover decreased significantly.
The polar vortex is a low-pressure region located in the stratosphere and filled with cold air. When the jet stream of air that holds the vortex weakens, the low pressure area moves south. 
As the ice shrinks, more moisture will move inland. It will turn to snow, so snowfalls are expected. Snow, in turn, reflects heat, leading to a cold snap.
Hospital in Naples was evacuated after a new, huge sinkhole appeared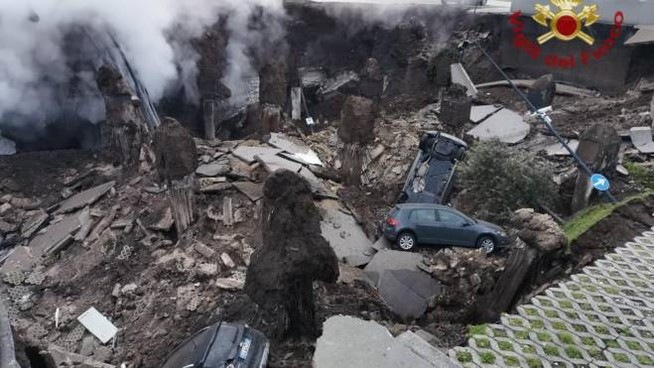 Eyewitnesses said they heard a loud crash at dawn when a huge hole in the ground formed outside the Ponticelli Ospedale del Mare hospital in eastern Naples.
Early in the morning of January 8, 2021, a sinkhole occurred in the parking lot of a clinic in Naples. The depth of the formed cavity is about 20 meters, the total area of ​​the hole is about 2,000 square meters.
No casualties were found at the scene; firefighters say the sinkhole "affected an area of ​​about 500 square meters" and engulfed several cars parked near the hospital.
As the press writes and as a little can be seen from the videos, rescuers and firefighters were running around the pit together with the governor of the area.  But who should be there in the forefront are Italian geologists, since Naples stands in the very center of the volcanic system known as the Phlegrean Fields.
If the surface collapsed, moreover – the surface reinforced with concrete and reinforced from below with some kind of communications, then we are talking about serious soil deformations caused by the activity of magma.
Italy has been in doubt since the summer of 2020, because swarms were observed there in very atypical places in May, and according to the forecasts of old Italian seismologists, who had witnessed many strong earthquakes, it should have boomed in the August region.
Fortunately, nothing bad happened to Italy and there was no big earthquake. But, since there are swarms, it means that something is being prepared, the magma is gathering strength. 
Following this particular sinkhole event – an obvious sign that a major earthquake in Italy is already very close.
A new great pandemic cycle has begun (again) in China
In the first months of 2020, the whole world with a certain fright followed the events unfolding in China, where people fell on the streets during the day and astronauts wandered, and in the evening crematoria began to smoke. And now, with the onset of December, the cycle seems to be repeating itself.
Shunyi area in Beijing, where the authorities announced "wartime status" the day before. As you can see in the videos, thousands of people are lined up in the queue for mandatory testing:
Dalian city, where "wartime" is also declared. Neighborhoods are blockaded, people are walled up in entrances, familiar characters of George Lucas roam the streets:
Chinese 'rescuers', before performing a combat mission:
Chengdu City:
Daluo Port, Yunnan – tourists came for adventure and they received the 'time of their life' after leaving the ramp:
If something happens in Beijing, it does not mean that tomorrow the same will happen everywhere. However, the trend towards such dynamics is observed and, as the practice of the first wave of the pandemic has shown, all countries and people, to one degree or another, have taken into account the 'Chinese experience'.
Therefore, one must think that everything will now be in peace, as in spring – a new global round of the fight against the Covid has begun in China, a new great pandemic cycle!