What would happen if the Earth was really flat?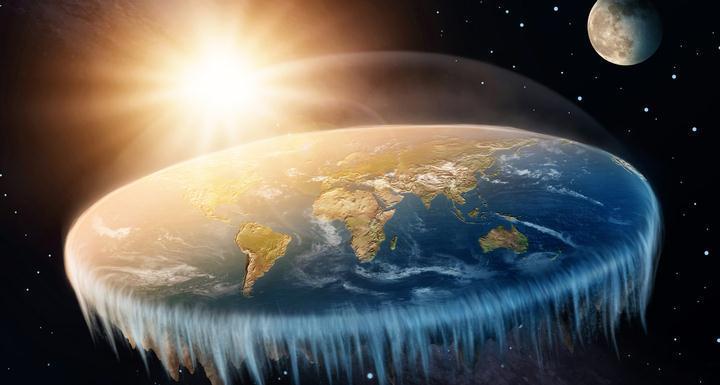 The Earth is spherical, but the belief in a flat Earth refuses to die. A revealing blog from the Lamont-Doherty Earth Observatory at Columbia University explains what would happen if the Earth was really flat.
First, a flattened planet such as the one that defends the Flat Earth Society may not have gravity. It is not clear how gravity would work or be created in such a world, says Lamont-Doherty geophysicist James Davis . It is a big problem, since gravity explains a wide range of terrestrial and cosmic observations. The same measurable force that causes an apple to fall from a tree also causes the moon to orbit around the Earth and all the planets orbit around the sun.
People who believe in a flat Earth assume that gravity acts directly, but there is no evidence to suggest that it worked that way. What we know about gravity suggests that it would pull toward the center of the disk that forms the so-called flat Earth. That means that it would only pull down at a point in the center of the disk. As it moved further and further away from the center, gravity would pull more and more horizontally. This would have some strange impacts, such as sucking up all the water towards the center of the world and making trees and plants grow diagonally, as they develop in the opposite direction to the pull of gravity.
Then there is the Sun. In the scientifically supported model of the solar system, the Earth revolves around the sun because the latter is much more massive and has more gravity. However, the Earth does not fall to the Sun because it travels in an orbit. In other words, the sun's gravity is not acting alone. The planet is also traveling in a direction perpendicular to the gravitational pull of the star; if it were possible to deactivate that gravity, the Earth would shoot straight and come out of the solar system. In contrast, the linear pulse and the sun's gravity combine, resulting in a circular orbit around the sun.
The plane model of the Earth locates our planet at the center of the universe, but does not suggest that the Sun orbits the Earth. On the contrary, the sun rotates on the upper side of the world like a carousel, emitting light and heat downwards like a desk lamp. Without the linear and perpendicular impulse that helps generate an orbit, it is not clear what force would prevent the Sun and the Moon from hovering above the Earth, says Davis, instead of hitting it.
Similarly, in a flat world, artificial satellites would probably not be possible. How would you orbit a plane? "There is a series of satellite missions that society depends on that simply would not work," says Davis. For this reason, he says: "I can not think how GPS would work on a flat Earth."
If the Sun and Moon simply revolve around one side of a flat Earth, there is likely to be a procession of days and nights. But it would not explain the seasons, the eclipses and many other phenomena. The Sun should also be, presumably, smaller than Earth so as not to burn or crash into our planet or the Moon. However, we know that the Sun has more than 100 times the diameter of the Earth.
In a flat world, artificial satellites would not be possible.
The depths
Deep beneath the earth, the solid core of the Earth generates the planet's magnetic field. But on a flat planet, that would have to be replaced by something else. Maybe a sheet of liquid metal. That, however, would not rotate in a way that would create a magnetic field. Without a magnetic field, charged particles from the sun would fry the planet. They could eliminate the atmosphere, as they did after Mars lost its magnetic field, and air and oceans escaped into space.
The solid core of the Earth generates the magnetic field of the planet.
The movement of the tectonic plate and the seismicity depend on a round Earth, because only one sphere fits all the plates in a sensible way, says Davis. The movements of the plates on one side of the Earth affect the movements on the other. The areas of the Earth that create bark, such as the mid-Atlantic mountain range, are counteracted by places that consume bark, such as subduction zones. On a flat Earth, none of this could be adequately explained. There should also be an explanation of what happens on the edge of the world. One could imagine that it could fall, but that would probably endanger the proposed wall that prevents people from falling out of the world in the form of a disk.
Perhaps one of the most striking oddities is that the proposed map of the flat Earth is totally different. Place the Arctic in the center while Antarctica forms an "ice wall" around the edges. In such a world, traveling would be very different. Flying from Australia to certain parts of Antarctica would be, for example, an eternity: you would have to travel through the Arctic and both Americas to get there. In addition, certain feats of the real world, such as traveling through Antarctica (which has been done many times), would be impossible.
This is how some terraplanistas conceive our planet. The Arctic is in the center and an "ice wall" on the edges prevents people from falling …
Contrary to popular belief, it is a mistake to think that many societies of serious and educated people once truly believed in the theory of the flat Earth. "With few extraordinary exceptions, no one educated in the history of Western civilization since the third century AD believed that the Earth was flat," said historian Jeffrey Burton Russell in 1997. "A round Earth appears at least since the century VI before Christ with Pythagoras, who was followed by Aristotle, Euclid, and Aristarchus, among others, observing that the earth was a sphere, "adds Davis.
Canada Bans Whale, Dolphin And Porpoise Captivity
Canada has made history by passing unprecedented legislation to ban entertainment based whale, dolphin and porpoise captivity. Under the new laws, it will also be illegal to trade, posses, capture or breed of cetaceans. The House of Commons voted overwhelmingly in favor of Bill S-203, which was called "the Ending the Captivity of Whales and Dolphins Act."
The bill was introduced by Senator Wilfred Moore in 2015, and then later sponsored by Senator Murray Sinclair.
Rebecca Aldworth, Executive Director of HSI/Canada called the passing of the bill a "watershed moment."
"The passage of Bill S-203 is a watershed moment in the protection of marine animals and a victory for all Canadians. Whales and dolphins don't belong in tanks, and the inherent suffering these highly social and intelligent animals endure in intensive confinement can no longer be tolerated. We congratulate the sponsors of this bill and the Canadian government for showing strong leadership in responding to public will and sound science on this critical issue," Aldworth said.
The bill was endorsed by a coalition of over 20 leading marine scientists and stakeholder organizations.
Only two facilities in the country currently hold cetaceans in captivity. Those facilities are the Vancouver Aquarium, and Marineland in Niagara Falls. However, now these facilities will no longer be able to breed or import any new cetaceans.
Green Party Leader and Saanic Gulf Islands MP Elizabeth May was one of the main supporters of the bill in the House of Commons.
"Canadians have been clear, they want the cruel practice of keeping whales and dolphins in captivity to end. With the passage of Bill S-203, we have ensured that this will happen," MP May said.
Senator Wilfred Moore, who sponsored the bill, said that humans have a moral obligation to treat animals humanely.
"We have a moral obligation to phase out the capture and retention of animals for profit and entertainment. Canadians are calling upon us to do better – and we have listened," Moore said.
Hal Whitehead, a leading marine scientist, said that the conditions that marine animals are currently held in are similar to prisons.
"The living conditions for captive marine mammals cannot compare to their natural ocean environments in size, nor in quality. We thank the federal government and all those involved in the passage of Bill S-203, so that our laws can finally align with the Canadian peoples' values and end this cruel practice," Whitehead said.
For the past few years, animal parks like SeaWorld have been under heavy scrutiny, due to criticism from animal rights activist who say that they mistreat the whales and dolphins that they have in captivity. The theme park has been at the center of controversy since the 2013 release of the documentary "Blackfish", which exposed the inhumane treatment of its animals.
After years of activism from a variety of groups and individuals, the California Coastal Commission banned captive whale breeding in 2015, and set unprecedented limitations on how the company can hold and transport the animals.
The board also approved the construction of a $100-million project called Project Blue World, which SeaWorld says will greatly improve the quality of life for the whales that they have captive. The new project will reportedly be an expansion of the pools, and an enhanced habitat, but the plan has been criticized by many activists who say that the project is "a joke."
Attendance at parks like this have been dropping so sharply that they are being forced to look for new sources of income, as they face out captivity.
The company announced in 2015 that they have seen an 84% decrease in sales as "continued brand challenges" steer customers away from the park, and things have only gotten worse for the brand. Since the release of the film, it was reported that the company lost more than half of its market value, and was forced to fire many leading executives.
Following the release of Blackfish, it was shown that SeaWorld's income dropped from $37.4 million $5.8 million in just two years, and attendance dropped by more than 100,000 tickets.
SeaWorld contends that their parks are more like veterinary clinics than zoos, because according to the company, they nurse sick animals back to health and keep them in captivity because they would not be able to survive on their own. However, these claims are mostly rejected by animal rights activists.
Nevada Becomes First State to Ban Employers From Testing Workers for Weed
Elias Marat, TMU
Waking Times
In a move that could blaze a small but important trail for workers' rights across the U.S., Nevada has passed a bill telling employers and state agencies that they can no longer refuse to hire workers on the basis of their testing positive for cannabis. It's a long way to come for a state that was once infamous for its notoriously strong prohibitionist laws penalizing those in possession of marijuana.
Last week, Governor Steve Sisolak signed AB 132, which prohibits the denial of employment to cannabis consumers after drug pre-screenings. Advocates are hailing the passage of the bill because it finally clears a major gap in the law between states that have rendered marijuana totally legal for medical or recreational purposes and those U.S. companies that try to block their workers from toking up at all.
In Nevada, as in the other several states that have made recreational cannabis legal across the country, employers were still able to turn people away from jobs if they failed the "whizz quiz," or urine-based drug tests. NFL players seeking to recover from the intense physical pressures of football are unable to use cannabis-based remedies, doctors have lost their licenses for using medicinal cannabis, and 48 percent of businesses in otherwise weed-friendly Colorado have "well-defined" rules that allow them to fire employees if marijuana is detected in a worker's test results.
According to the Nevada law, which kicks in January:
"It is unlawful for any employer in this State to fail or refuse to hire a prospective employee because the prospective employee submitted to a screening test and the results of the screening test indicate the presence of marijuana."
However, a number of provisions in the bill complicate matters. Safety-sensitive positions including first responders such as firefighters and EMTs, doctors, transportation and construction workers are exempt from the bill, as are workers who belong to collective bargaining agreements—which bars union workers who are extant across numerous industries in Nevada, according to Merry Jane. Additionally, federal law demands that workers like truck drivers must take drug tests.
Paul Enos, the chief executive of the Nevada Trucking Association who helped ensure revisions to the law that would allow safety exemptions for certain workers, toldthe Washington Post:
"We want to make sure we have safety conscious individuals … The bill gives employers a tremendous amount of discretion to determine whether or not the position they are hiring for could impact the safety of others … They can still use positive tests for marijuana to deny the job."
The law has come a long way since it was introduced, with some employers accusing state politicians of allowing workers to blaze it up while on the clock.
Lead sponsor of AB 132 and Democratic Assemblywoman Dina Neal said during a hearing for the bill in February:
"There is nothing in AB132 that prevents an employer from having a policy prohibiting the possession or use of marijuana at the workplace … The bill does not get into violating the [federal] supremacy clause or get into the business of usurping federal law and preventing rights of federal employees."
Yet Madisen Saglibene, the executive director of the Nevada and Las Vegas chapters of NORML, worked hard alongside legislators to ensure the bill's passage in the face of opposition from industry representatives and politicians like Ellen Spiegel, chair of the Commerce and Labor committee.
Saglibene told VICE that the troubling provisions in the bill were a result of compromises necessary to pass the bill, explaining:
"It was hated … It was one of those things where we were meeting with legislators and they were like, Absolutely not. We are not taking away employers' right to hire who they want."
But thanks to Neal, who held meetings with all parties interested in the bill, a compromise was finally met. Saglibene said:
"By the time it was having its final public comments, most of the stakeholders who were initially against it testified as neutral … which is saying a lot, actually, considering they were so vehemently opposed."
Gov. Sisolak has also signed Assembly Bill 192, which provides for a process through which individuals can petition to have their criminal records sealed if their conviction was for offenses that were eventually decriminalized, such as for a cannabis conviction.
Saglibene remains optimistic about the prospects of the AB 132, which opens the door to similar—and perhaps stronger—legislation across the country. Acknowledging that there is still work ahead, she noted:
"We're very pleased … This isn't the end-all-be-all but this is absolutely a step in the right direction."
**This article (Nevada Becomes First State to Ban Employers From Testing Workers for Weed) was originally published at The Mind Unleashed and is re-posted here with permission.**
7 Proven Reasons To Eat More Blueberries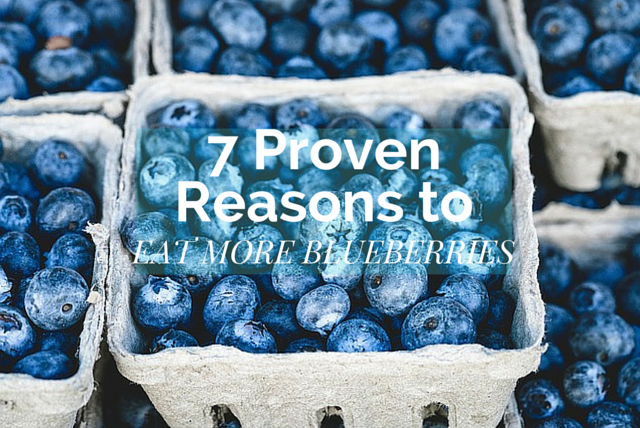 Spring and summer are prime seasons for fresh blueberries.  But there are good reasons to eat them all year round.  Blueberries pack huge health benefits in a tiny package.
Research confirms that eating even less than a cup of blueberries a day helps fend off heart disease, cancer, brain aging, and much more. Here are seven great reasons to eat more blueberries every day.
1. Berries Stop Heart Attacks
According to a study published in Circulation: Journal of the American Heart Association eating at least three servings of blueberries and strawberries every week can save women from heart attacks.  Researchers from the Harvard School of Public Health and the University of East Anglia reviewed the berry-eating habits of 93,600 women between the ages of 25 and 42 over 18 years.  The women were part of the Nurses' Health Study II. Researchers concluded that women who ate three or more servings of blueberries and strawberries per week reduced their risk of heart attack by as much as one-third.
And it really had to be berries.  Women who ate a diet rich in other fruits and vegetables did not enjoy the same reduced heart attack risk.
2. Lower Blood Pressure With Blueberries
Blueberries can lower your blood pressure.  Researchers conducted a double-blind, placebo-controlled clinical trial on 48 post-menopausal women with pre-hypertension or stage one hypertension.  Every day half the women were given 22 grams of freeze-dried blueberry powder equivalent to one cup of fresh blueberries.  The other half received a placebo. The results were published in the Journal of the Academy of Nutrition and Dietetics.
After just 8 weeks the women who took the blueberry powder had significantly lowered their systolic (5.1%) and diastolic (6.3%) blood pressure.  Those on the placebo had no change.
In addition, the blueberry powder reduced arterial stiffness on average by 6.5%.  No change was seen in the placebo group. Arterial stiffness is a symptom of atherosclerosis and predicts cardiovascular risk.  It indicates that the heart has to work harder to circulate blood to the peripheral blood vessels.
The researchers attributed the beneficial effects to an amazing 68.5% increase in blood levels of nitric oxide in the women who took the blueberry powder.  Nitric oxide is known to widen blood vessels to increase blood flow and lower blood pressure.  Those on the placebo had no changes in nitric oxide levels.
3. Wild Blueberries Boost Vascular Health
A study from Florida State University found that a daily serving of blueberries could be key to fighting cardiovascular disease in women.
And in another study, researchers from England and Germany proved that less than a cup of wild blueberries can have an almost immediate and long lasting effect on how well your vascular system is circulating blood. The more easily blood flows through your arteries and veins, the less your heart has to work.
They conducted two randomized, controlled, double-blind crossover studies in 21 healthy men between 18 and 40 years old.  In the first study, some of the men drank varying amounts of blueberry polyphenols, ranging from the equivalent of 240 grams (3/4 cup) to 560 grams (1.25 cups) of wild blueberries.  Others were given a drink with the same macro and micronutrients but no blueberry polyphenols.
The researchers then measured changes in the men's "flow-mediated dilation."  FMD is the gold-standard to measure endothelial function.  The endothelium is the lining of the blood vessels.  FMD is considered a good predictor of cardiovascular disease risk.
They found that as blueberry polyphenols were broken down by enzymes into various metabolites, endothelial function in the men improved.  The benefits lasted at least 6 hours.
A second study showed that FMD improved in a dose-dependent manner up to the equivalent of about 240 grams of wild blueberries.  Then the effects plateaued.  In other words, the men didn't get any additional benefit in endothelial function by eating any more than the equivalent of three-quarters of a cup of wild blueberries.
4. Prevent Cancer With Blueberries
A study in the journal Nutrition Research found that daily blueberries increase natural killer (NK) cells.[i]  NK cells are white blood cells that play a critical role in the immune system's defense against foreign invaders like viruses and tumors.  They scan the body for abnormal cells and destroy them before they can develop into actual cancers.
The researchers divided 25 sedentary men and post-menopausal women in two groups.  Every day one group received a placebo while the other was given 38 grams of blueberry powder.  The powder was equivalent to 250 grams of fresh fruit.
After six weeks the blueberry group saw significant increases in NK cells.  The results were consistent with earlier research by the same team finding that blueberries improve NK cell counts, oxidative stress, and inflammation in trained athletes.
Other research shows that blueberries are rich in antioxidants that help prevent cancer.  Antioxidants work by neutralizing free radicals, atoms that contain an odd number of electrons and are highly unstable.  Free radicals can cause the type of cellular damage that is a big factor in cancer development.
Blueberries are also rich in anthocyanins.  These compounds give blueberries their beautiful color. They also help explain why blueberries may help prevent the free-radical damage associated with cancer.
5. Berries Protect Lungs
Anthocyanins in blueberries also protect your lungs as you get older.  A study in the American Journal of Clinical Nutrition followed 839 participants from the VA (Veterans Affairs) Normative Aging Study.  Over 16 years it found that men who ate two or more servings of blueberries a week had up to 37.9 percent less decline in their lung function compared to those who ate no or very little blueberries.
6. Berries Improve Insulin Sensitivity
A double-blinded, randomized, and placebo-controlled clinical study in The Journal of Nutrition found that bioactive compounds found in blueberries improve insulin sensitivity.
Twice a week researchers had 32 obese, non-diabetic, insulin-resistant patients drink smoothies with or without 22.5 grams of blueberry bioactives.  After six weeks the blueberry group improved their insulin sensitivity by a factor of four over the placebo group.
In another randomized controlled study from Oklahoma State University 48 people consumed either a freeze-dried blueberry beverage or a placebo drink once a day. The freeze-dried drink was equivalent to about 350 grams (3.5 cups) of fresh blueberries. After eight weeks researchers found that the blueberries improved measures of metabolic syndrome.
7. Blueberries Keep Your Brain Young
A study in the Annals of Neurology found that anthocyanins in blueberries can slow brain aging by up to 2.5 years.  Harvard researchers measured cognitive function in 16,010 participants 70 years and older in the Nurses' Health Study.  Based on dietary questionnaires, they concluded that eating more blueberries slowed cognitive decline by up to 2.5 years.
It works for young people too.  In a crossover study in the journal Nutrition 14 children aged 8 to 10 years old consumed a blueberry drink or placebo. Two hours later they completed a battery of five cognitive tests.  The blueberry drink significantly improved delayed recall of a list of words.
Eat Blueberries More Often
Making one simple change to your diet by adding blueberries could have a significant impact on cardiovascular health, cancer prevention, and brain power.
In addition to polyphenols, blueberries are an excellent source of vitamins K and C, manganese, and fiber.
Wild blueberries are particularly potent.  They are smaller than the cultivated versions most often found in your supermarket, with about twice the number of berries per pound.  They also have less water and a higher skin-to-pulp ratio.  That means the wild versions have more intense flavor and double the antioxidant content.
During the spring and summer months enjoy blueberries fresh.  Out of season you can easily find them frozen or dried.  Add them to salads, yogurt, oatmeal, or smoothies.  Or just eat them by the handful.
But many berries are heavily treated with pesticides.  Always choose organic blueberries to be safe.
For more information visit GreenMedInfo's page on blueberries.
Additional References
---
[i] McAnulty LS et al. "Six weeks daily ingestion of whole blueberry powder increases natural killer cell counts and reduces arterial stiffness in sedentary males and females." Nutr Res. 2014 Jul;34(7):577-84. doi: 10.1016/j.nutres.2014.07.002.