What These Archaeologists Found All Over The World Is Deeply Disturbing. And Yes, It's Real.
Over the course of human history, societal sensibilities have changed quite a bit. For example, apparently 8,000 years ago having a stake driven through your noggin was not much more than a bad case of the Mondays. Thanks to the work of archeologists, we are now discovering just how horrifying life used to be. By the end of this list, you'll be glad you don't live thousands of years in the past because it looks seriously messed up.
1. Babies In The Bathhouse
Researchers on a dig in Israel were combing through the structures of an Ancient Roman/Byzantine bathhouse. The building was fitted with a sewage system for drainage purposes, but what they found there was disturbing. In the pipes were the bones of hundreds of babies. Why the infants were placed there remains unknown.
2. Neandethal Cannibal Attack
Though neanderthals are separate from humans, they're close enough to make this list. In 2010, archeologists in Spain discovered the remains of a cannibal feast. Three adult females, three adult males, three teenagers, two young children and an infant showed indications that they were the lunch of another group of neanderthals. Yikes.
3. The Headless Vikings of Dorset
Railroad workers in Dorset, England were in the midst of a regular day when they came upon a burial of sorts. The bones of a small contingent of fighting-age Scandinavian men had been placed together and each one was missing his head. Experts surmise the men may have been executed for some sort of defection.
4. The Claw of the Mount Owen Moa
In 1986, a expedition into the cave systems of Mount Owen in New Zealand came upon a well preserved limb. It was the foot of what looked like a recently deceased bird. In actuality it wasn't very recent. This specimen was from a prehistoric creature called the Upland Moa which will now haunt my dreams for the foreseeable future.
5. Spike To The Skull
In the process of excavating a lakebed in Motala, Sweden, archeologists were surprised to find several skulls that had spikes driven through them. Others also had the pieces of other skulls placed inside them. This horriyfing scene likely occurred around 8,000 years ago.
6. The Grauballe Man
Though mummies in marshes and bogs are not entirely unique discoveries, this man's story was special in how well it was told by the information in and around his remains. The large slash on his necks suggests his death was the result of a sacrifice – likely in the name of a healthy harvest.
7. Venetian Vampire Vs. Brick
While seemingly a silly solution when compared to a wooden stake or garlic, this method of vampire prevention wasn't so odd hundreds of years ago. The brick and cement placed in this person's mouth were believed to prevent its ability to rise from the dead and bite much of anything. Terrible, but effective.
8. The Oldest Leper
Lepers have never really gotten much slack throughout history, despite the disease not being very contagious. But the first known instance of its stigma comes in the form of a skeleton from about 4,000 years ago. The Indian man's body is largely intact, despite Hindu tradition calling for cremation. This suggests he was an outcast and was not give the same sort of burial rights.
9. Burned Alaskan Child
During an excavation of a home estimated to be about 11,500 years old, researchers discovered a grisly sight. Inside the ancient hearth was the charred remains a 3-year-old child. It appeared that the home was abandoned after the cremation.
10. Chemical Warfare In Ancient Syria
About 2,000 years ago, a group of 20 or so ancient Roman soldiers were subject to a particularly gruesome demise. Whilst besieging the Syrian town of Dura, Persian soldiers began to dig tunnels in order to get past the Roman defenses. The Romans thought it smart to dig their own tunnels and try and intercept the intrusive Persians. In response to this, the Persians left a trap that was bad by any measure of wartime deaths. They left a petrochemical concoction that would have likely turned the Romans' lungs to acid. Sounds like a bad time.
Source: List25
Goodbye, Burger King! Horse Meat In Burgers Confirmed
When some fast food retailers and supermarkets in Europe were found to be passing off horse meat in processed food packages, it caused something of a scandal in those countries, such as the United Kingdom, where there is a general taboo about the consumption of horse meat.
Considering that most people in the United States are similarly averse to eating horses, could a similar scandal unfold in that country?
Americans eating horse meat without knowing it
Is it legal to buy and eat horse meat here in the U.S.? And if so, what does it taste like?
According to huffpost:
While it's legal in most states to buy and sell horse meat, we couldn't find a supplier here in the U.S., where the last horse slaughterhouse closed years ago. However, we were able to find a wide selection of horse jerky from a small company in Wales and have some shipped to our offices in New York.

But is it any good? We decided to do a blind taste test to see if people could tell the difference between horse and beef — and to see which they liked better.

The results might surprise you.

While most of our fifteen contestants (66 percent) were able to correctly identify which meat was which, the beef jerky's taste earned only slightly higher ratings than the horse. Some contestants actually preferred the horse.
Slaughtering horses for meat production was effectively illegal in the United States between the years of 2006 and 2011 because there were no funds available for horse slaughterhouse inspections due to a lack of demand for this public service. This changed in 2011 when President Obama's administration re-authorized the funds. Since then it has been legal in most states to slaughter horses for meat, although there are no slaughterhouses for horses in the United States. However, it has always been legal in almost every state for companies and individuals to buy and sell horse meat which was imported from abroad.
This means that it is theoretically possible that imported horse meat could have been slipped into consumer's food without their knowledge. However, this is very unlikely to have occurred because there are no slaughterhouses in the United States meaning that the cost of imported horse meat would be significantly higher than meat which is produced on a mass scale in the country, such as beef or chicken.
But despite the fact that the United States does not appear to have any domestic trade in horse meat, animal rights activists still say that there is a cause for concern. The United States has allowed for horses to be shipped to slaughterhouses in both Canada and Mexico where the eating of horse meat is more socially acceptable. According to animal rights groups, this is an incredibly cruel practice, and the animals sometimes have to endure brutal treatment while they are being transported across the border and that the slaughterhouse conditions are often poor and result in prolonged and painful deaths.
Did A 1988 Economist Magazine Predict A Bitcoin Explosion In 2018?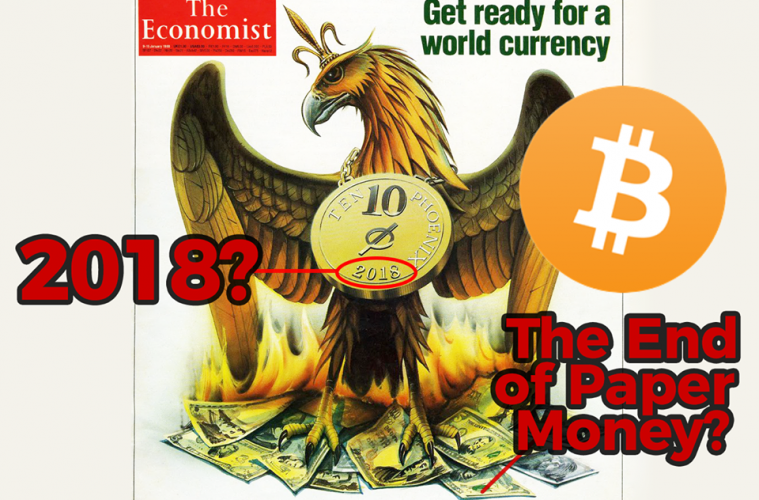 Here Are The Most Outrageous Food Trends Of 2017
Another year has come and gone, but 2017 is leaving behind a legacy of super weird food, beauty, and fashion trends. We compiled a list of the most colorful, crazy, and just plain weird food trends of 2017. Keep reading and let us know if you tried any of these trends this year 🙂
1. Charcoal EVERYTHING
2017 was the definitely the year of charcoal! From ice cream to bagels, charcoal was popping up everywhere on the food scene. Many people believed that the charcoal made the food more healthy, but scientists say that there are very few benefits to eating charcoal in food. But it sure does look great in an Instagram photo!
2. Pastel And Colorful "Unicorn" Food
You might remember the insanity this past summer when Starbucks released a limited edition Unicorn Frappucino. Kids and adults were lining up to get their hands on this colorful, sweet concoction. This was just the beginning of the unicorn food craze this year, which took the internet by storm. But does it taste as good as it looks?
3. Smoothie Bowls
Carefully arranged smoothie bowls were clogging people's Instagram feeds this past summer. The colorful bowls of vitamin-rich smoothies topped with an assortment of fruits and nuts were a complete craze, and thankfully so! Smoothie bowls are definitely one of the most healthy of the food trends in 2017, and we're predicting they'll continue to be a hit in 2018!
4. Cloud Eggs
People started experimenting with new ways to spruce up their eggs and created puffy, wondrous "cloud eggs." They are standard baked eggs, but the whites are whipped into a meringue to give it a cloud effect when cooked. This dish became extremely popular among health nuts, since they're not only easy on the calories (only 161 per serving!) but they also look great in photos 😉
5. Raindrop Cakes
This aesthetically pleasing Japanese treat has become a popular dessert in the West. The vegan jelly dessert consists simply of agar, spring water, black sugar and kinako, but the process to make them is quite difficult. But don't expect a flavorful dessert when you first bite into one; many people say they are tasteless and just serve as a light, after dinner treat.
6. Turmeric Latte
If you love spiced drinks, then you'll love this colorful and wacky turmeric latte. The bright yellow drink is full of powerful antioxidants, but we just can't get past the idea of turmeric as a LATTE. Would you try it?
7. FREAK SHAKES
Freak Shakes definitely take the cake for the most INSANE food of 2017! These towering pillars of sweets and ice cream were dropping jaws everywhere during the summer, and continue to be a craze. We can't even imagine the sugar rush you get after finishing one of these impressive desserts!
Those are the craziest and weirdest foods trends of 2017! How many of them have you tried?