What These Archaeologists Found All Over The World Is Deeply Disturbing. And Yes, It's Real.
Over the course of human history, societal sensibilities have changed quite a bit. For example, apparently 8,000 years ago having a stake driven through your noggin was not much more than a bad case of the Mondays. Thanks to the work of archeologists, we are now discovering just how horrifying life used to be. By the end of this list, you'll be glad you don't live thousands of years in the past because it looks seriously messed up.
1. Babies In The Bathhouse
Researchers on a dig in Israel were combing through the structures of an Ancient Roman/Byzantine bathhouse. The building was fitted with a sewage system for drainage purposes, but what they found there was disturbing. In the pipes were the bones of hundreds of babies. Why the infants were placed there remains unknown.
2. Neandethal Cannibal Attack
Though neanderthals are separate from humans, they're close enough to make this list. In 2010, archeologists in Spain discovered the remains of a cannibal feast. Three adult females, three adult males, three teenagers, two young children and an infant showed indications that they were the lunch of another group of neanderthals. Yikes.
3. The Headless Vikings of Dorset
Railroad workers in Dorset, England were in the midst of a regular day when they came upon a burial of sorts. The bones of a small contingent of fighting-age Scandinavian men had been placed together and each one was missing his head. Experts surmise the men may have been executed for some sort of defection.
4. The Claw of the Mount Owen Moa
In 1986, a expedition into the cave systems of Mount Owen in New Zealand came upon a well preserved limb. It was the foot of what looked like a recently deceased bird. In actuality it wasn't very recent. This specimen was from a prehistoric creature called the Upland Moa which will now haunt my dreams for the foreseeable future.
5. Spike To The Skull
In the process of excavating a lakebed in Motala, Sweden, archeologists were surprised to find several skulls that had spikes driven through them. Others also had the pieces of other skulls placed inside them. This horriyfing scene likely occurred around 8,000 years ago.
6. The Grauballe Man
Though mummies in marshes and bogs are not entirely unique discoveries, this man's story was special in how well it was told by the information in and around his remains. The large slash on his necks suggests his death was the result of a sacrifice – likely in the name of a healthy harvest.
7. Venetian Vampire Vs. Brick
While seemingly a silly solution when compared to a wooden stake or garlic, this method of vampire prevention wasn't so odd hundreds of years ago. The brick and cement placed in this person's mouth were believed to prevent its ability to rise from the dead and bite much of anything. Terrible, but effective.
8. The Oldest Leper
Lepers have never really gotten much slack throughout history, despite the disease not being very contagious. But the first known instance of its stigma comes in the form of a skeleton from about 4,000 years ago. The Indian man's body is largely intact, despite Hindu tradition calling for cremation. This suggests he was an outcast and was not give the same sort of burial rights.
9. Burned Alaskan Child
During an excavation of a home estimated to be about 11,500 years old, researchers discovered a grisly sight. Inside the ancient hearth was the charred remains a 3-year-old child. It appeared that the home was abandoned after the cremation.
10. Chemical Warfare In Ancient Syria
About 2,000 years ago, a group of 20 or so ancient Roman soldiers were subject to a particularly gruesome demise. Whilst besieging the Syrian town of Dura, Persian soldiers began to dig tunnels in order to get past the Roman defenses. The Romans thought it smart to dig their own tunnels and try and intercept the intrusive Persians. In response to this, the Persians left a trap that was bad by any measure of wartime deaths. They left a petrochemical concoction that would have likely turned the Romans' lungs to acid. Sounds like a bad time.
Source: List25
Mysterious lights in the sky scared the people of China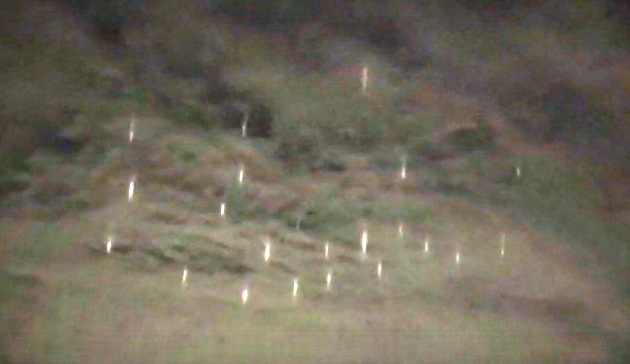 The night sky over Matsu and Jinmen surprised the locals, many people photographed the sky and clouds, where unusual light spots shone brightly.
In Chinese and Taiwanese social networks, this event became so "viral" that the authorities even had to broadcast a story in which, with reference to meteorologists, this phenomenon was explained by the effect of "light pillars".
True, meteorologists did not bother to clarify how this phenomenon appeared in the subtropics. Indeed, there is such a phenomenon, but these "pillars" look like a vertical luminous strip and, most importantly, this optical effect occurs at sub-zero temperatures.
Jinmenquandao are islands in the western part of the Taiwan Strait, ruled by the Republic of China. Geographically located close to the coast of Fujian province of the People's Republic of China, east of Xiamen city and south of Quanzhou city of Fujian province of China.
The Matsu Islands is an archipelago in the northern part of the Taiwan Strait, ruled by the Republic of China, near the coast of Fujian province.
This phenomenon was observed at 1:15 am on August 9, 2020. In the night sky of Dongju, Lianjiang County, a thin cloud floated, and at least 12 to 21 luminous points appeared in it.
Noah's Ark or Nazi ship: a mysterious "ship" discovered off the coast of Antarctica
One of the users of Google Earth examined in the images a huge "ice ship", which lies not far from the coast of Antarctica. The huge ice structure south of New Zealand strikingly resembles a cruise ship with a row of windows and many chimneys.
The "ice ship" was noticed by a video blogger registered on YouTube under the nickname MrMBB333, who describes himself as the guardian of the Earth.
"I follow [on Google Earth] everything from the seabed to space and everything in between," MrMBB333 says about himself.
In one of his latest videos, the author highlighted the part of the snow-covered Antarctica, in which, in his opinion, he found the ship. According to him, the vessel is about 130 meters long.
If you do not look closely, then we can assume that this is a huge iceberg, but if you examine the find in more detail, then there is absolutely no doubt that this is a real ship that was built on purpose.
Users in the comments under the video, which MrMBB333 posted on his channel on August 7, continue to argue where such a large ship could have come from in Antarctica. One user suggested that the ship was built a few years ago to save rich people in the event of the end of the world. Others leaned towards the shipwreck version. Another part believed that the YouTuber managed to find the mysterious Noah's Ark. Also, the widespread version was that the ship had some direct relation to a secret Nazi military base.
At the moment there is no information about what kind of ship it actually is. In order to lift it off the ice and transport it for further study, it will take a lot of resources, and it is not possible to do this now.
Earlier in the same video, MrMBB333 shows another piece of ice in Antarctica, which he claims has wall marks and parking spaces. In the comments to the video, users either jokingly or seriously build conspiracy theories about the origin of the ship.
Various versions are being put forward: from a secret Nazi base to traces of an ancient civilization.
53-year-old looking 25 reveals the secret of "eternal youth"
Edson Brandao from the Netherlands told Unilad how at 53 he manages to look several decades younger."People are always shocked when they find out that I'm 53 years old. They all think I'm 25," he admits.
Brandao claims that he never resorted to the help of plastic surgeons, and his appearance is the result of a healthy lifestyle.
He adheres to a special diet: he does not eat fried and canned food, and also avoids sugar.
The man combines all this with strength training. He prefers mineral water from drinks, drinking about two liters daily.
Brandao also stresses that he has never smoked or used drugs in his life.
"Now I feel no worse than when I was not even 30," he says. – I feel the same energy as before. To be honest, I've never felt so good." he says.