What These Archaeologists Found All Over The World Is Deeply Disturbing. And Yes, It's Real.
Over the course of human history, societal sensibilities have changed quite a bit. For example, apparently 8,000 years ago having a stake driven through your noggin was not much more than a bad case of the Mondays. Thanks to the work of archeologists, we are now discovering just how horrifying life used to be. By the end of this list, you'll be glad you don't live thousands of years in the past because it looks seriously messed up.
1. Babies In The Bathhouse
Researchers on a dig in Israel were combing through the structures of an Ancient Roman/Byzantine bathhouse. The building was fitted with a sewage system for drainage purposes, but what they found there was disturbing. In the pipes were the bones of hundreds of babies. Why the infants were placed there remains unknown.
2. Neandethal Cannibal Attack
Though neanderthals are separate from humans, they're close enough to make this list. In 2010, archeologists in Spain discovered the remains of a cannibal feast. Three adult females, three adult males, three teenagers, two young children and an infant showed indications that they were the lunch of another group of neanderthals. Yikes.
3. The Headless Vikings of Dorset
Railroad workers in Dorset, England were in the midst of a regular day when they came upon a burial of sorts. The bones of a small contingent of fighting-age Scandinavian men had been placed together and each one was missing his head. Experts surmise the men may have been executed for some sort of defection.
4. The Claw of the Mount Owen Moa
In 1986, a expedition into the cave systems of Mount Owen in New Zealand came upon a well preserved limb. It was the foot of what looked like a recently deceased bird. In actuality it wasn't very recent. This specimen was from a prehistoric creature called the Upland Moa which will now haunt my dreams for the foreseeable future.
5. Spike To The Skull
In the process of excavating a lakebed in Motala, Sweden, archeologists were surprised to find several skulls that had spikes driven through them. Others also had the pieces of other skulls placed inside them. This horriyfing scene likely occurred around 8,000 years ago.
6. The Grauballe Man
Though mummies in marshes and bogs are not entirely unique discoveries, this man's story was special in how well it was told by the information in and around his remains. The large slash on his necks suggests his death was the result of a sacrifice – likely in the name of a healthy harvest.
7. Venetian Vampire Vs. Brick
While seemingly a silly solution when compared to a wooden stake or garlic, this method of vampire prevention wasn't so odd hundreds of years ago. The brick and cement placed in this person's mouth were believed to prevent its ability to rise from the dead and bite much of anything. Terrible, but effective.
8. The Oldest Leper
Lepers have never really gotten much slack throughout history, despite the disease not being very contagious. But the first known instance of its stigma comes in the form of a skeleton from about 4,000 years ago. The Indian man's body is largely intact, despite Hindu tradition calling for cremation. This suggests he was an outcast and was not give the same sort of burial rights.
9. Burned Alaskan Child
During an excavation of a home estimated to be about 11,500 years old, researchers discovered a grisly sight. Inside the ancient hearth was the charred remains a 3-year-old child. It appeared that the home was abandoned after the cremation.
10. Chemical Warfare In Ancient Syria
About 2,000 years ago, a group of 20 or so ancient Roman soldiers were subject to a particularly gruesome demise. Whilst besieging the Syrian town of Dura, Persian soldiers began to dig tunnels in order to get past the Roman defenses. The Romans thought it smart to dig their own tunnels and try and intercept the intrusive Persians. In response to this, the Persians left a trap that was bad by any measure of wartime deaths. They left a petrochemical concoction that would have likely turned the Romans' lungs to acid. Sounds like a bad time.
Source: List25
Mystery surrounds tanker flight over Area 51
Image Credit: CC BY-SA 2.5 Cooper
Area 51 remains shrouded in secrecy.
A Boeing NKC-135R was tracked flying over the secretive facility multiple times back on September 20th.
There are few places on Earth as notoriously secretive as Area 51 – a remote facility in the Nevada desert that has become synonymous with stories of reverse-engineered alien technology and the development of highly advanced black projects that next to nobody knows anything about.
Despite the mystery surrounding the base however, it seems that not even Area 51 is beyond requesting the services of an air-to-air refuelling tanker now and again.
On September 20th, tracking data indicated that a Boeing NKC-135R tanker had spent much of the night flying repeated routes right over the top of the secretive facility.
It began at around 11pm and continued crisscrossing Groom Lake for over 4 hours before vanishing.
While it is unclear exactly what the tanker was doing over the area, it is not difficult to imagine that it could have been refuelling some sort of exotic new aircraft that is being worked on at the base.
Given the secrecy surrounding the place however, it is unlikely that we will ever know for sure.
Source: The Drive
33 Scientists Say Octopuses Are Aliens From Space That Arrived To Earth On Icy Bodies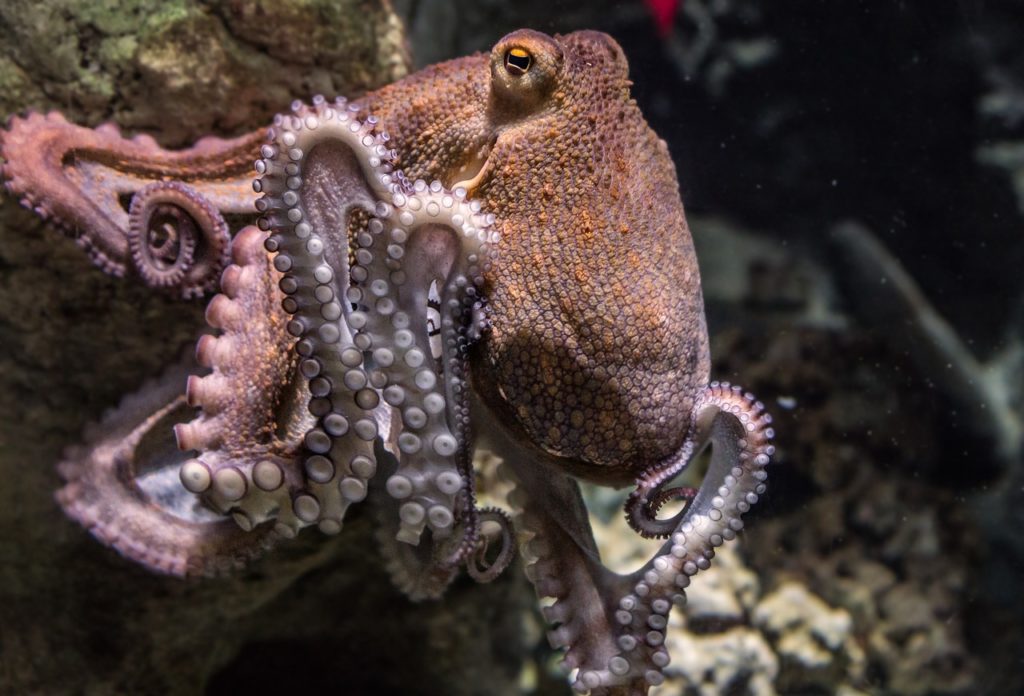 Why Do 33 Scientists Think That Octopuses Are Aliens?
The theory of octopuses being extraterrestrial beings was introduced by a group of 33 scientists from around the world. Citing the intelligence of the octopus, the scientists believe that the animal was one of many life-forms to come from alien material in outer space.
The study was published on March 13 in the journal Progress in Biophysics and Molecular Biology. It received attention from the media in May.
The scientists were specifically focused on the toolkit of genes that an octopus has.
"In our view, is that the new genes are likely new extraterrestrial imports to Earth — most plausibly as an already coherent group of functioning genes within (say) cryopreserved and matrix protected fertilized Octopus eggs," the scientists wrote in the study.
Source: Universe Inside You
The Sideshow Collection of Johnny Fox Hits the Auction Block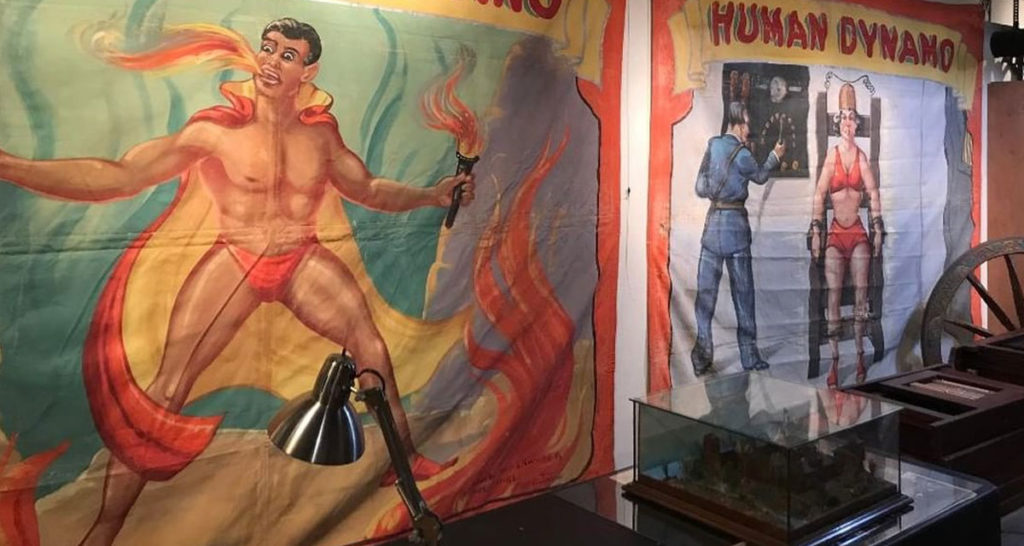 Own some amazing pieces of sideshow history from the collection of sword swallower Johnny Fox.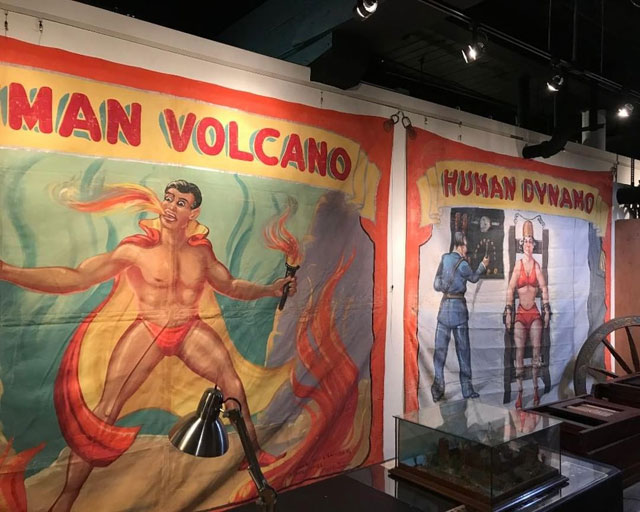 An amazing assemblage of circus sideshow artifacts and memorabilia is hitting the auction block this Saturday at Potter & Potter in Chicago. The collection belonged to sword swallower and magician Johnny Fox, known as the King of Swords, who died in 2017. The items range from cabinet cards, sideshow banners, circus posters, and gaffs like a Fiji Mermaid and furry trout to vintage taxidermy, skulls, and numerous other oddities. Fox displayed his curiosities in his Freakatorium, El Museum Loco, in Manhattan's Lower East Side from 1999 to 2005.
Everything from the museum will be up for auction except a glass eye that supposedly belonged to Sammy Davis Jr., which had been on loan.
Alive! On the Inside! Potter & Potter is pleased to present the over-the-top, one-of-a-kind Barnumesque collection of renowned sword swallower, comedian, magician, and curiosity seeker Johnny Fox.

Expect a sale like no other, populated with sideshow banners (Fred Johnson, Snap Wyatt, Siegler and Meah), tribal art and artifacts, furry mink fish (very rare), magic tricks, swords for swallowing, and oh, so much more!

Fox amassed an amazing assortment of natural and unnatural curiosities which he displayed at The Freakatorium, "El Museo Loco," a singular establishment he operated on the lower east side of Manhattan from 1999 – 2005. The entire contents of the collection will go on the block, from Johnny Eck memorabilia to circus posters, sideshow gaffs, Fiji mermaids, and even the disembodied wax head of Mao Zedong. This is one sale without comparison, filled with a thousand things you never knew existed – or that you wanted.
Here are some of the amazing and bizarre things from the catalog: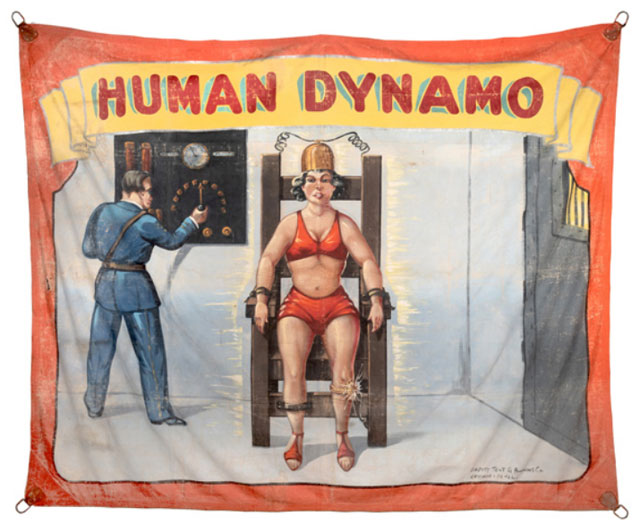 Sideshow banner by Fred Johnson depicting an electric chair illusion c.1950
Sideshow performer CDVs

Spidora sideshow banner by Mark Frierson

The Walter L. Main Circus train wreck in Tyrone, Penn., 1893

Clothing and other items owned by P.T. Barnum performers Tom Thumb and his wife Lavinia

Adelaide Herrmann's Electrocution Illusion c.1910

Life size plaster cast of Lobster Boy Grady Stiles' hand

CDV of Isaac Sprague, the Skeleton Man c.1870s

Mysterious devil fish, also known as Jenny Hanivers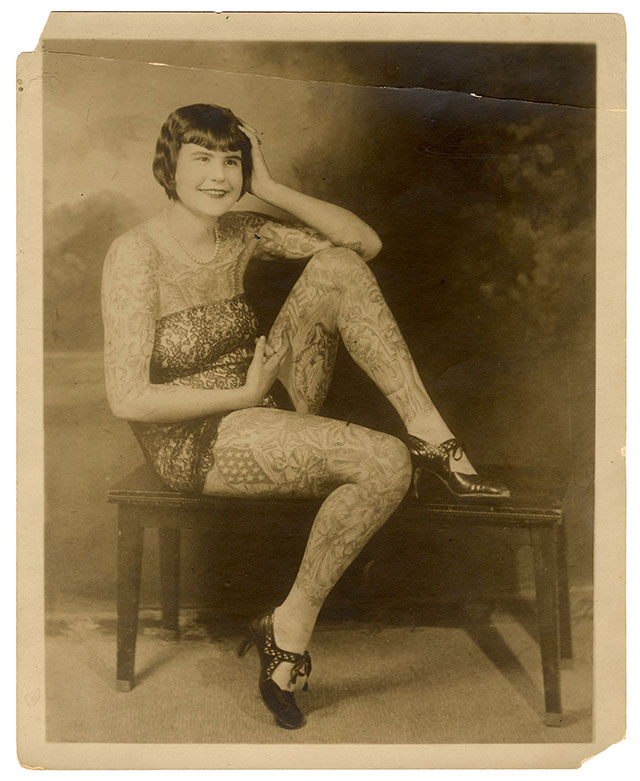 Betty Broadbent, Youngest Tattooed Lady, had 565 tattoos. Photo c.1928

Oil painting depicting Saint Agatha of Sicily having her breasts cut off

Mid-twentieth century painted silk Odd Fellows banner

French mourning hair grave display, 1888

The mummy of Ramses II photograph c.1880s

Chupacabra diorama made by Mark Frierson

Sideshow banners by Snap Wyatt c.1950

A brank scold bridle used to prevent women from gossiping and being a public nuisance

Sharpshooting/trick shot artists c.1900s

Life size sacrificial lamb prop, Valley of Milwaukee, Ancient Accepted Scottish Rite, Wisconsin

Vintage shrunken heads from South America

Kar-Mi buried alive lithograph, 1914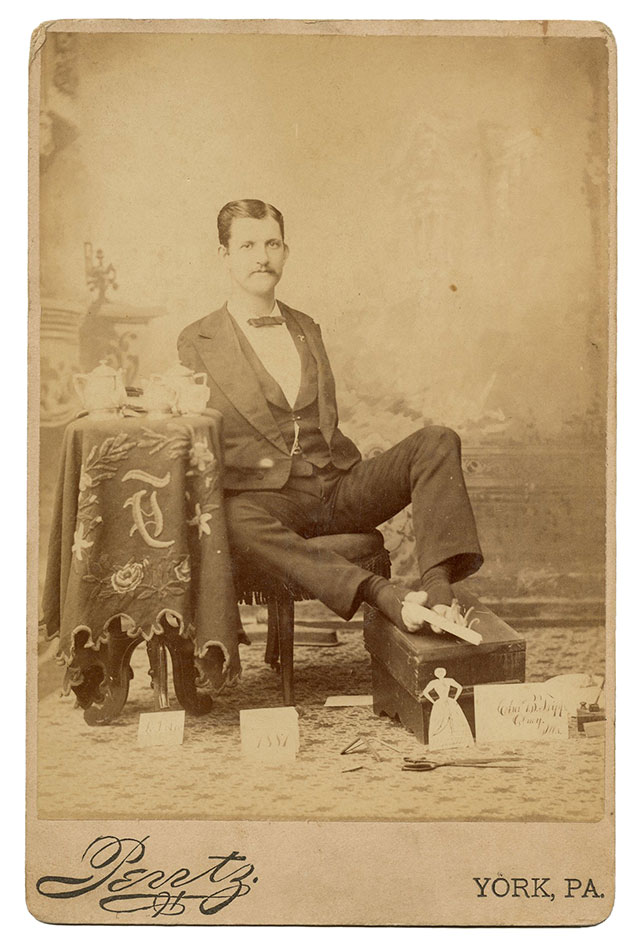 Charles B. Tripp Armless Wonder cabinet card c.1887

Vintage taxidermy

Sideshow performer Laloo and his parasitic twin c.1880s

Baculum (penis bone) of a cave bear

B.F. Gleason embalmer's cooling table c.1886

Bearded Lady Annie Jones c.1890

Furry trout

Four-pronged cannibal fork from Fiji

Atlantica banner for a Girl in Fishbowl sideshow illusion

Contortionist in a bizarre costume c.1940s

Early twentieth century felt-covered wood coffin, Valley of Milwaukee, Ancient Accepted Scottish Rite, Wisconsin

Chastity belt with vicious face to ward off potential sexual activity

Mummified "walled cat" named Fluffy, found in the wall of an old building in New York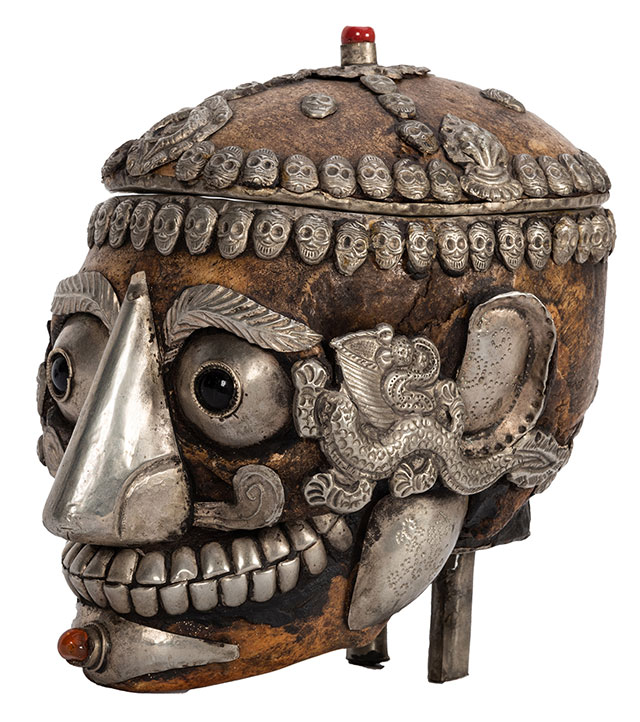 Tibetan kapala skull

Magic tricks and sideshow illusions

Bezoar stone extracted from the intestinal tract of Wexy, the war horse of Prince William of Orange, 1815

Tibetan llama bone necromancer hat

Miniature flintlock pistol with ivory grip, early twentieth century

Erotic optical illusion cabinet card c.1900s

Manfish sideshow gaff created by Mark Frierson

Jerry Pope naval tattoo art c.1940s

Adam and Eve vaudeville pamphlet c.1920s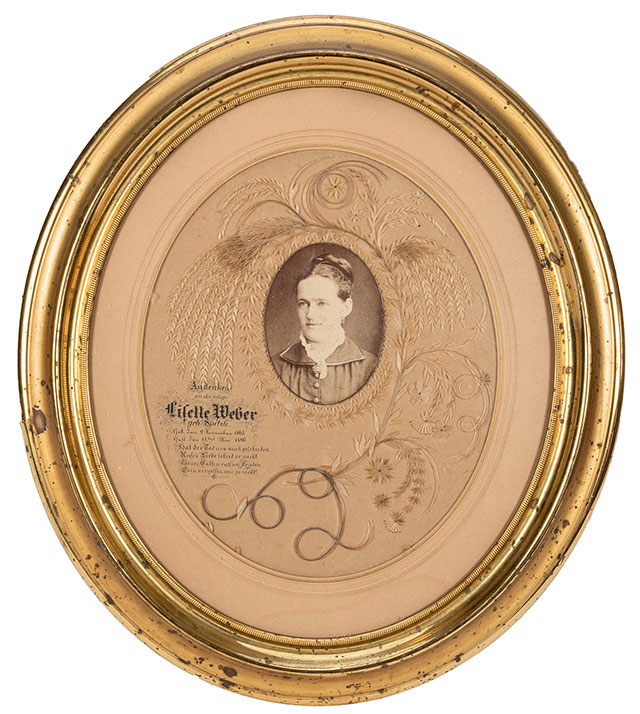 Mourning portrait of Lisette Weber with hair and straw, Germany, c.1886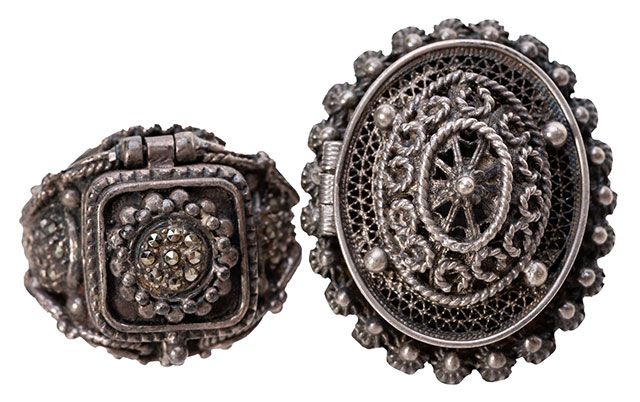 Antique silver poison rings, early 1900s

Pre-Columbian human skull with seashell discs covering eyes from Oaxaca, Mexico believed to be part of the Zapotech culture

Victorian taxidermy bird diorama

Reliquary from Genoa, Italy containing the bone fragment relics of 7 saints, 1763

Zoma the Cannibal sideshow banner c.1930
See more in the Freakatorium auction catalog.
The auction is happening Saturday, November 10th at 10am.
h/t Weird Historian