What?! The Universe Appears to Be Missing Some Light
By Charles Q. Choi, Space.com Contributor
An extraordinary amount of ultraviolet light appears to be missing from the universe, scientists have found.
One potential source of this missing light might be the mysterious dark matter that makes up most of the mass in the cosmos. But a simpler explanation could be that ultra violet light escapes from galaxies more easily than is currently thought, according to the new research.
This puzzle begins with hydrogen, the most common element in the universe, which makes up about 75 percent of known matter. High-energy ultraviolet light can convert electrically neutral hydrogen atoms into electrically charged ions. The two known sources for such ionizing rays are hot young stars and quasars, which are supermassive black holes more than a million times the mass of the sun that release extraordinarily large amounts of light as they rip apart stars and gobble matter.
Black holes are strange regions where gravity is strong enough to bend light, warp space and distort time.
Credit: Karl Tate, SPACE.com contributor
Astronomers previously found that ionizing rays from hot young stars are nearly always absorbed by gas in their home galaxies. As such, they virtually never escape to affect intergalactic hydrogen.
However, when scientists performed supercomputer simulations of the amount of intergalactic hydrogen that should exist and compared their results with observations from the Hubble Space Telescope's Cosmic Origins Spectrograph, they found the amount of light from known quasars is five times lower than what is needed to explain the amount of electrically neutral intergalactic hydrogen observed.
"It's as if you're in a big, brightly-lit room, but you look around and see only a few 40-watt lightbulbs," lead study author Juna Kollmeier, a theoretical astrophysicist at the Observatories of the Carnegie Institution of Washington in Pasadena, Calif., said in a statement. "Where is all that light coming from? It's missing."
The researchers are calling this giant deficit of ultraviolet light "the photon underproduction crisis."
"In modern astrophysics, you very rarely find large mismatches like the one we are talking about here," Kollmeier told Space.com. "When you see one, you know that there is an opportunity to learn something new about the universe, and that's amazing."
"The great thing about a 400 percent discrepancy is that you know something is really wrong," study co-author David Weinberg at Ohio State University said in a statement. "We still don't know for sure what it is, but at least one thing we thought we knew about the present day universe isn't true."
Strangely, this missing light only appears in the nearby, relatively well-studied cosmos. When telescopes focus on light from galaxies billions of light years away — and therefore from billions of years in the past — no problem is seen. In other words, the amount of ultraviolet light in the early universe makes sense, but the amount of ultraviolet light in the nearby universe does not.
"The authors have performed a careful and thorough analysis of the problem," said theoretical astrophysicist Abraham Loeb, chairman of the astronomy department at Harvard University, who did not take part in this research.
The most exciting possibility these findings raise is that the missing photons are coming from some exotic new source, not galaxies or quasars at all, Kollmeier said. For example, dark matter, the invisible and intangible substance thought to make up five-sixths of all matter in the universe, might be capable of decay and generating this extra light.
"You know it's a crisis when you start seriously talking about decaying dark matter," study co-author Neal Katz at the University of Massachusetts at Amherst said in a statement.
There still may be a simpler explanation for this missing light, however. Astronomers could be underestimating the fraction of ultraviolet light that escapes from galaxies in the nearby universe. "All that one needs is an average escape probability on the order of 15 percent to relieve the discrepancy," Loeb told Space.com.
Nearby, recent "low-redshift" galaxies have less gas to absorb ultraviolet rays that more distant, early "high-redshift" galaxies, Loeb noted.
"The more I think about it, the more plausible it appears that the escape fraction of ultraviolet photons is higher in local galaxies than in high-redshift galaxies," Loeb said.
On the other hand, "the biggest problem with this possible solution is that there are measurements of local galaxies that indicate the average escape fraction is significantly lower than 15 percent — more like 5 percent," Kollmeier said."In principle, it is possible that these galaxies are not representative and therefore we need to do more such measurements, but we cannot just dismiss the data."
Another potential explanation is ionization of intergalactic hydrogen by x-rays and cosmic rays, Loeb said. Although he noted this radiation does not play a major role in ionizing intergalactic hydrogen in the most distant corners and earliest times in the universe, astronomers may want to see how much of a role x-rays and cosmic rays play in the nearby universe, "where they are produced more vigorously," he said.
The scientists detailed their findings in the July 10 issue of the Astrophysical Journal Letters.
Ariana Grande Responds to NASA Interns Remixing Her Song
It's no secret that Ariana Grande is a fan of space and, by extension, the folks over at NASA. And it turns out that the love is reciprocal, seeing as how a group of interns at NASA's Johnson Space Center have just given her song "NASA" the remix treatment.
An "educational parody" of Grande's track, the interns created an accompanying video "in order to inform the public about the amazing work going on at NASA and thee Johnson Space Center," per its description.
Even cooler? The specific project the interns that inspired the interns is NASA's forthcoming Artemis missions, which aims to send the first woman to the moon by 2024.
Hey @ArianaGrande, we saw 'NASA' trending this morning and thought it was about one of our new discoveries. But we realized that you might need some space.

🎶 It's like you're the universe and we're N-A-S-A 🎶

Check out the universe: https://t.co/hRtKDqTkiZ pic.twitter.com/p3aAZEwMfv

— NASA (@NASA) February 8, 2019
Given all of this, Grande was obviously over-the-moon about the parody. No pun intended.
"Oh my. this is so pure and special and insane," she tweeted in response. "hi everyone over there that is doing such incredible work ! thank u for taking the time to make this ! my heart is ….. bursting."
Watch the entire remix video for yourself, below.
Source www.papermag.com
Another Interstellar Comet Has Arrived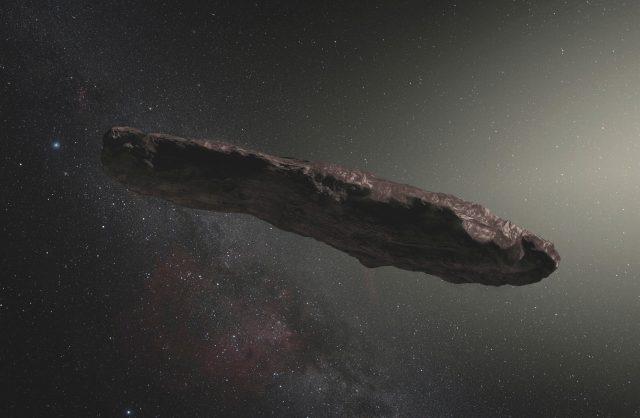 "Based on the available observations, the orbit solution for this object has converged to the hyperbolic elements shown below, which would indicate an interstellar origin. A number of other orbit computers have reached similar conclusions, initially D. Farnocchia (JPL), W. Gray, and D. Tholen (UoH)."
Remember 'Oumuamua, the first interstellar object ever discovered in our solar system? You won't for long as another one was picked up by multiple observers and reported this week by The Minor Planet Center (MPC) at Harvard University. Unlike 'Oumuamua, this one is definitely a comet and has been identified earlier enough in its trip through the solar system to be analyzed intensely – possibly revealing where it came from and how astronomers can locate more of them.
"The comet's current velocity is high, about 93,000 mph [150,000 kph], which is well above the typical velocities of objects orbiting the sun at that distance. The high velocity indicates not only that the object likely originated from outside our solar system, but also that it will leave and head back to interstellar space."
The BBC reports that object gb00234, now known as Comet C/2019 Q4, was discovered by amateur (but experienced) astronomer Gennady Borisov on August 30th, 2019, at the Crimean Astrophysical Observatory in Bakhchysarai. When he noticed it, C/2019 Q4 was three astronomical units (450 million km) from the Sun. Since then, other astronomers have seen its tail – confirming C/2019 Q4 is a comet – and measured its eccentricity at 3.2, based on current observations. A perfect circle has an eccentricity of 0, while a closed elliptical orbit ranges from 0 to 1. Anything greater than one indicates an arc-shaped trajectory and is likely an interstellar comet or object making a one-time visit. While not confirmed yet, together these make Comet C/2019 Q4 the first 'true' comet to visit use from outside our solar system.
Unless it's a spaceship.
Good point. Anyone?
Karl Battams
@SungrazerComets
Unlike 'Oumuamua, whose asteroid-or-comet nature still gets debated, this one is definitely a comet. If it is unequivocally interstellar, it'll be fascinating to see how its composition (spectral properties) compare to the variety we see in comets from our own solar system.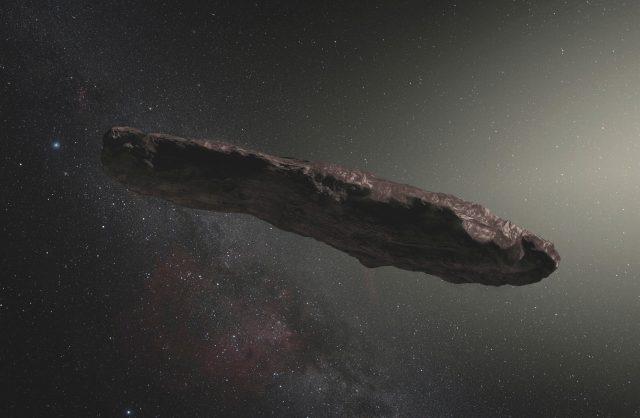 Astrophysicist Karl Battams, from the Naval Research Laboratory in Washington DC, tweeted an end to that comet-asteroid-spaceship-or-what debate which has trailed 'Oumuamua like a tail (if it had one) since it was discovered hightailing out of here. Comet C/2019 Q4 will have plenty of eyes on it as it will be visible to even low-powered professional telescopes for at least a year, including when it makes its turn around the sun (perihelion) around December 10. However, the MPC leaves an opening for the unusual:
"Absent an unexpected fading or disintegration, [C/2019 Q4] should be observable for at least a year."
In lieu of seeing windows with aliens waving out of them, an "unexpected disintegration" would be the next coolest thing.
Source: Mysterious Universe
Mysterious Radio Burst Picked up by China's Radio Telescope
Is someone or something trying to contact earth?
China's Five-hundred-meter Aperture Spherical Radio Telescope (FAST) has detected a repeating fast radio burst (FRB) — mysterious radio signals from outer space — for the first time, Science and Technology Daily reported.
Scientists on the FAST project with the National Astronomical Observatories of China, part of the Chinese Academy of Sciences, revealed the news to China Daily on Wednesday.
The FRB originated some three billion light years away from Earth. Interference factors including aircraft and satellites have been eliminated and cross validation is being carried out, the scientists said.
FRB is one of the hottest topics in astronomy. It was not until 2007 when the first FRB was discovered by humans. Fewer than 100 FRBs have been detected internationally to date.
There is still no cohesive explanation for the origin of FRB in the international scientific community at present. FRBs mostly only appear once, which makes them very hard to track.
The FRB detected by FAST's real-time detection terminal, however, is one that has been observed before, said Zhang Xinxin, an assistant engineer with the NAOC.
Known as FRB121102, it was first discovered in 2012 and found to repeat in 2015. Analysis of data later located the source of the signal coming from a dwarf galaxy three billion light years away.
The first pulse from FRB121102 was spotted by FAST on Aug 30. After this, the telescope recorded dozens of pulses from the FRB over the course of days. On Sept 3 alone, more than 20 pulses were detected.
The number of enigmatic bursts detected so far is too small to draw any conclusions, Zhang said. FAST, the world's largest single-dish radio telescope, has a certain edge in detecting repeated FRBs.
This is because the 19-beam receiver installed on FAST, covering frequency ranges of 1.05 – 1.45 GHz, is very sensitive to radio signals, Zhang said.
Scientists of the FAST project will adjust the debugging observation missions of the telescope to conduct follow-up observations of FRB121102 as it is currently in a period of activity, Zhang said.
It is hoped other telescope facilities around the world will also carry out observations, she added. More samples are expected to contribute to research on the origin and physical mechanism of the FRBs, she said.
DM Chan
Asia Times
Image Credit: © Asia Times