What?! The Universe Appears to Be Missing Some Light
By Charles Q. Choi, Space.com Contributor
An extraordinary amount of ultraviolet light appears to be missing from the universe, scientists have found.
One potential source of this missing light might be the mysterious dark matter that makes up most of the mass in the cosmos. But a simpler explanation could be that ultra violet light escapes from galaxies more easily than is currently thought, according to the new research.
This puzzle begins with hydrogen, the most common element in the universe, which makes up about 75 percent of known matter. High-energy ultraviolet light can convert electrically neutral hydrogen atoms into electrically charged ions. The two known sources for such ionizing rays are hot young stars and quasars, which are supermassive black holes more than a million times the mass of the sun that release extraordinarily large amounts of light as they rip apart stars and gobble matter.
Black holes are strange regions where gravity is strong enough to bend light, warp space and distort time.
Credit: Karl Tate, SPACE.com contributor
Astronomers previously found that ionizing rays from hot young stars are nearly always absorbed by gas in their home galaxies. As such, they virtually never escape to affect intergalactic hydrogen.
However, when scientists performed supercomputer simulations of the amount of intergalactic hydrogen that should exist and compared their results with observations from the Hubble Space Telescope's Cosmic Origins Spectrograph, they found the amount of light from known quasars is five times lower than what is needed to explain the amount of electrically neutral intergalactic hydrogen observed.
"It's as if you're in a big, brightly-lit room, but you look around and see only a few 40-watt lightbulbs," lead study author Juna Kollmeier, a theoretical astrophysicist at the Observatories of the Carnegie Institution of Washington in Pasadena, Calif., said in a statement. "Where is all that light coming from? It's missing."
The researchers are calling this giant deficit of ultraviolet light "the photon underproduction crisis."
"In modern astrophysics, you very rarely find large mismatches like the one we are talking about here," Kollmeier told Space.com. "When you see one, you know that there is an opportunity to learn something new about the universe, and that's amazing."
"The great thing about a 400 percent discrepancy is that you know something is really wrong," study co-author David Weinberg at Ohio State University said in a statement. "We still don't know for sure what it is, but at least one thing we thought we knew about the present day universe isn't true."
Strangely, this missing light only appears in the nearby, relatively well-studied cosmos. When telescopes focus on light from galaxies billions of light years away — and therefore from billions of years in the past — no problem is seen. In other words, the amount of ultraviolet light in the early universe makes sense, but the amount of ultraviolet light in the nearby universe does not.
"The authors have performed a careful and thorough analysis of the problem," said theoretical astrophysicist Abraham Loeb, chairman of the astronomy department at Harvard University, who did not take part in this research.
The most exciting possibility these findings raise is that the missing photons are coming from some exotic new source, not galaxies or quasars at all, Kollmeier said. For example, dark matter, the invisible and intangible substance thought to make up five-sixths of all matter in the universe, might be capable of decay and generating this extra light.
"You know it's a crisis when you start seriously talking about decaying dark matter," study co-author Neal Katz at the University of Massachusetts at Amherst said in a statement.
There still may be a simpler explanation for this missing light, however. Astronomers could be underestimating the fraction of ultraviolet light that escapes from galaxies in the nearby universe. "All that one needs is an average escape probability on the order of 15 percent to relieve the discrepancy," Loeb told Space.com.
Nearby, recent "low-redshift" galaxies have less gas to absorb ultraviolet rays that more distant, early "high-redshift" galaxies, Loeb noted.
"The more I think about it, the more plausible it appears that the escape fraction of ultraviolet photons is higher in local galaxies than in high-redshift galaxies," Loeb said.
On the other hand, "the biggest problem with this possible solution is that there are measurements of local galaxies that indicate the average escape fraction is significantly lower than 15 percent — more like 5 percent," Kollmeier said."In principle, it is possible that these galaxies are not representative and therefore we need to do more such measurements, but we cannot just dismiss the data."
Another potential explanation is ionization of intergalactic hydrogen by x-rays and cosmic rays, Loeb said. Although he noted this radiation does not play a major role in ionizing intergalactic hydrogen in the most distant corners and earliest times in the universe, astronomers may want to see how much of a role x-rays and cosmic rays play in the nearby universe, "where they are produced more vigorously," he said.
The scientists detailed their findings in the July 10 issue of the Astrophysical Journal Letters.
The Hayabusa 2 probe Leaves for Earth today loaded with remains of the asteroid Ryugu
The Japanese probe Hayabusa 2 will leave its orbit around the asteroid Ryugu and head back to Earth this Wednesday. But it will not do it alone: ​​inside it brings samples that could shed light on the origins of the Solar System.
Hayabusa 2 launched a projectile that raised cosmic dust and collected it.
The probe, the size of a refrigerator, traveled 300 million kilometers to explore Ryugu, one of the asteroids that are part of the Apollo asteroids, those close to Earth's orbit.
It was last April when Hayabusa 2 fired a copper bomb to create an artificial crater to extract material from it
It made a "perfect" landing on the surface of the asteroid to collect the samples that scientists expect to provide clues about what the Solar System was like at its birth about 4.6 billion years ago.
Hayabusa 2 will receive its orders to return home this Wednesday.
Although it took three and a half years to reach the asteroid, the return trip should be significantly shorter – approximately 1 year – since the positions of the Earth and Ryugu will be much closer.
はや2くんがリュウグウを無事に出発しました。リュウグウ滞在の時間、人類は本当にたくさんの宝物を得られたと思います。そして地球へ。「帰ってくるまでが遠足」ですね。ご安全に。#SAYONARA_Ryugu #はやぶさ2 https://t.co/9LsyvGHAaj #毎日新聞 #ニュース

— はやぶさ毎日 (@mai_hayabusa) 13 November 2019
To get rid of the asteroid's gravity, the probe will use its chemical engine. Subsequently, it will deploy its main ion engine in full power mode to travel to Earth.
The operation of this last engine will be the key to the return, as it will be the first time the device has fully operated since its arrival in Ryugu in June 2018.
Hayabusa-2 is expected to leave the samples in the desert of southern Australia. However, JAXA is negotiating with the Australian government on how to organize it.
This will not be the first time that Japan has been able to bring samples of an asteroid. Hayabusa 1 already managed to bring dust from the Itokawa rock in 2010.
The galaxies are connected by "giant structures"
Experts argue that galaxies can move across great distances in the universe tied to giant structures and current models would not be as accurate.
A group of scientists from Korea's Institute of Space Science and Astronomy have suggested that galaxies move in rather strange patterns within the universe, making them think there may be giant structures between them.
We all know that today the Solar System is located in the Milky Way, which is one of hundreds of billions of galaxies, which constantly move as the universe expands.
As a result, experts have noted that there are certain mysterious patterns between distant galaxies that can transcend the interactions believed to exist in the space around each other.
Universe and giant structures
The researchers explain that, thanks to recent research and studies focused on understanding how galaxies move through space, it led them to consider the existence of the enigmatic "giant structures".
These would be dark forms based on hydrogen gas and dark matter, which can separate themselves through filaments or leaves that have been referred to by experts as the "cosmic lattice".
The existence of these structures in the dark space between galaxies would have very important implications for the patterns that would follow these gigantic accumulations of matter as they move, being defined as the 'root' that would drive them.
Experts have argued that if this impressive theory were to be proven, it would be a total challenge to the fundamental ideas that currently relate to the universe.
Modern research on the universe
Noam Libeskind, cosmographer of the Institute of Astrophysics of Germany states:
That is why everyone is always studying large-scale structures as a way of investigating and restricting the Laws of Gravity and the nature of matter, dark matter, dark energy and the universe.
Through other studies conducted last October, published in the The Astrophysical Journal, he discovered that there are hundreds of galaxies that spin in sync with the same galaxies that are millions of light years away from them.
For this situation, experts suggest that 'synchronized galaxies' may be linked by these large-scale structures, which rotate at low counterclockwise speeds.
That would be the most viable reason so far for explaining the similar rotation of motion between distant neighbors, but certainly much remains to be studied for astronomy to verify this impressive theory with which one could explain how structures influenced the dynamics of the universe in its beginnings.
Scientists Confirm The Discovery Of A Mysterious Interstellar Space Boundary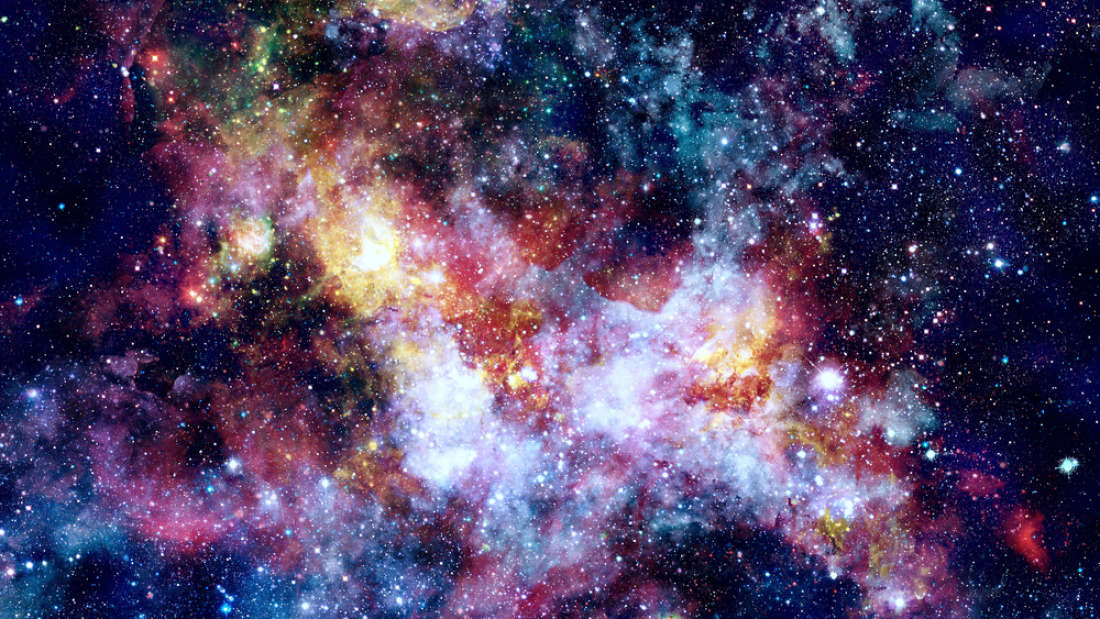 NASA scientists behind the Voyager mission are on the brink of something huge – literally. Recent findings from the Voyager 2 probe confirm there is a distinct – albeit mysterious – boundary known as the heliopause between the local space we are in and interstellar space.
Spacecraft Voyager 2 joined its sister craft Voyager 1 on November 5, 2018, when it passed through the interstellar medium. It's only now that researchers are learning about the space environment the craft is currently moving through.
"This is a watershed moment in our exploration of space: we have for the first time left the confines of 'home' and are taking our very first tentative steps into the interstellar space – the Milky Way galaxy of which we are a part," explained NASA astrophysicist Jeffrey Hayes to IFLScience. "That's an amazing distance to come in only 62 years, since the launch of the first satellite. Who knows what the next 62 will bring?"
The Voyager 2 probe was launched by NASA on August 20, 1977, and is the second spacecraft to enter interstellar space to study the edge of our solar system. Five studies released this week each identifies findings from one of Voyager 2's five operating science instruments. Altogether, these help us to understand the "cosmic shoreline", where our Sun ends and the "vast ocean of interstellar space begins," writes NASA Jet Propulsion Laboratory.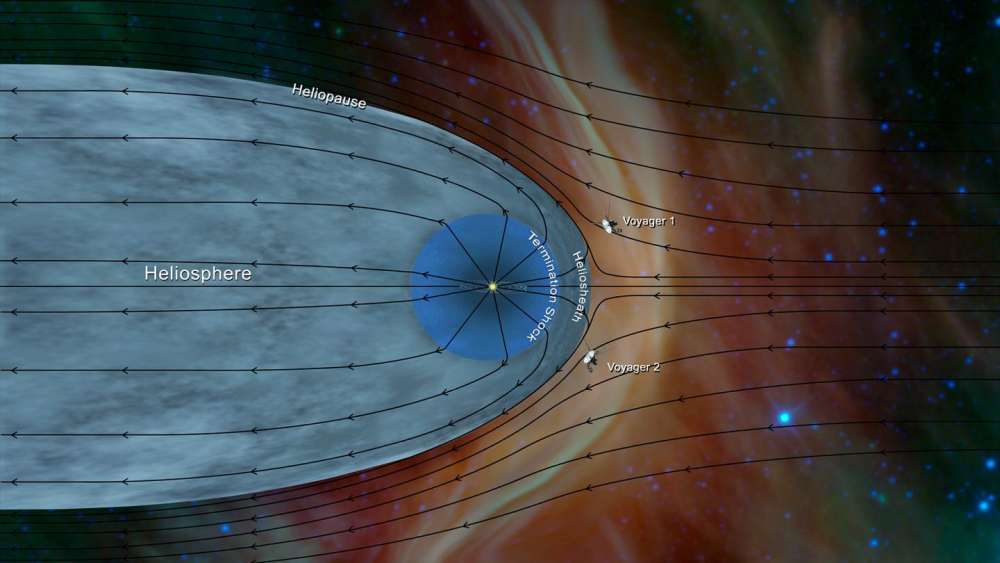 "Inside is the space we live in, which is the very extended influence of the Sun and the solar wind that it generates, and outside is a region that is not under that same influence," said Hayes. "Both Voyagers found this to be the case. The original model was that the solar wind would just gradually fade away until one was in the interstellar medium; clearly that's not the case."
"The heliopause acts as a somewhat porous boundary that only allows some particles to traverse it," said Hayes. "Because we have only very recently passed through it – in 2012 with Voyager 1, and now with Voyager 2, there are still a lot of aspects of this we don't understand."
Voyager 2 also observed that the magnetic field outside of the heliopause is slightly stronger than measurements taken by Voyager 1, which seems to indicate that the interstellar magnetic field changes over small distances. Unexpectedly, charged particles carried by solar wind also appear to "leak" out into interstellar space.
Before Voyager 2 took the first direct measurements of interstellar space, scientists had to infer findings with data taken from a spacecraft much closer to Earth. Hayes said that the current observations are "totally new" and will take time to understand fully.
"In terms of space exploration, it means that we have only barely scratched the surface of what it means to be in interstellar space," said Hayes.
"All told, we have entered a new era of exploration that is posing as many new questions as it has answered our older ones," said Hayes, adding that it has taken some 42 years to travel about 143 Astronomical Units (or 143 times the distance from the Earth to the Sun) and only just now have we reached the beginning of interstellar space. If humans as a species hope to explore space, Hayes said we must either learn to be patient or learn to travel faster.
NASA's Heliophysics Division is set to launch the Interstellar Mapping and Acceleration Probe (IMAP) mission by 2024, carrying with it instruments designed to follow up on the discoveries made by the Voyager probes. In the 2030s, Hayes said that NASA is studying an Interstellar Probe concept mission that would travel out 10 times the distance that the Voyagers are at now.
Source www.iflscience.com