What happens when an entire country becomes infested with demons?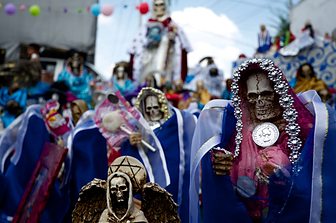 Vatican City, Jun 16, 2015 / 03:09 am (CNA/EWTN News).- Can a country with deep Christian roots like Mexico find itself at the mercy of demons? Some in the Church fear so.
And as a result, they called for a nation-wide exorcism of Mexico, carried out quietly last month in the cathedral of San Luis Potosí.
High levels of violence, as well as drug cartels and abortion in the country, were the motivation behind the special rite of exorcism, known as "Exorcismo Magno."
Cardinal Juan Sandoval Íñiguez, the archbishop emeritus of Guadalajara, presided at the closed doors ceremony, the first ever in the history of Mexico.
Also participating were Archbishop Jesús Carlos Cabrero of San Luis Potosí, Spanish demonologist and exorcist Father José Antonio Fortea, and a smaller group of priests and lay people.
The event was not made known to the general public beforehand. According to Archbishop Cabrero, the reserved character of the May 20 ceremony was intended to avoid any misguided interpretations of the ritual.
But how can an entire country become infested by demons to the point that it's necessary to resort to an Exorcismo Magno?
"To the extent sin increases more and more in a country, to that extent it becomes easier for the demons to tempt (people)," Fr. Fortea told CNA.
The Spanish exorcist warned that "to the extent there is more witchcraft and Satanism going on in a country, to that extent there will be more extraordinary manifestations of those powers of darkness."
Fr. Fortea said that "the exorcism performed in San Luís Potosí is the first ever carried out in Mexico in which the exorcists came from different parts of the country and gathered together to exorcise the powers of darkness, not from a person, but from the whole country."
"This rite of exorcism, beautiful and liturgical, had never before taken place in any part of the world.  Although it had taken place in a private manner as when Saint Francis (exorcised) the Italian city of Arezzo," he stated.
The Spanish exorcist explained, however, that the celebration of this ritual will not automatically change the difficult situation Mexico is going through in a single day.
"It would be a big mistake to think that by performing a full scale exorcism of the country everything would automatically change right away."
Nevertheless, he emphasized that "if with the power we've received from Christ we expel the demons from a country, this will certainly have positive repercussions, because we'll make a great number of the tempters flee, even if this exorcism is partial."
"We don't drive out all the evil spirits from a country with just one ceremony. But even though all will not be expelled, those that were removed are not there anymore."
Fr. Fortea emphasized that "when the exorcists of a country drive out its demons, it has to be done in faith. You're not going to see anything, feel anything, there's not going to be any extraordinary phenomenon. We have to have faith that God conferred on the apostles a power, and that we can use this power."
"In any case, if this ritual were to be carried out in more countries once year, before or after, this would put an end to any extraordinary manifestations which would show us the rage of the devil. Because, without a doubt, the demons hate to be driven out of a place or to be bound with the power of Christ."
The Spanish exorcist said that "it would be very desirable that when there's an annual meeting of exorcists in a country, a ritual such as this exorcismo magno that took place in Mexico be performed."
He also emphasized that a bishop "can authorize its occurrence once a year with his priests in the cathedral."
"The bishop is the shepherd and he can use the power he has received to drive away the invisible wolves from the sheep, since Satan is like a roaring lion prowling around looking for someone to devour, and the shepherds can drive away the predator from the victim," he concluded.
Plasma Cosmology [Full Infomentary]
Science is the pursuit of objective truth. Objective truth is the foundation of philosophic exploration, a critical aspect of personal evolution and the attainment of spiritual values and growth. The preceding information reveals the fact the Deep State are using the suppression of science to maintain a false reality that they promote to the public. Properly understood, an individual can begin the process of clearing away false beliefs so as to develop a more accurate understanding of reality, one that is personally derived and therefore on solid footing.
How Can You Protect Yourself From Electromagnetic Radiation?
What is Electromagnetic Radiation?
For those who are unfamiliar, electromagnetic radiation refers to the waves of the electromagnetic field that we are bombarded with on a constant basis. This can sound pretty scary. However, it is important to note that most people will be most familiar with electromagnetic radiation because of visible light, which is one of its frequencies.
In short, electromagnetic radiation is categorized based on its wavelength. The shorter the wavelength, the more energetic the electromagnetic radiation. Furthermore, the more energetic the electromagnetic radiation, the more damage that it can do to living tissues. For example, ultraviolet radiation, X-rays, and gamma rays are more energetic than visible light, so it should come as no surprise to learn that they can pose serious problems for human health. In contrast, infrared radiation, microwaves, and radio waves are less dangerous because they are less energetic than visible light, though they are still perfectly capable of causing damage under certain circumstances. For proof, consider how people can be burned by infrared radiation, which makes sense because infrared radiation is one of the three main kinds of heat transfer.
How can you protect yourself from dangerous effect of EMF?
The most energetic kinds of electromagnetic radiation are blocked out by our atmosphere, without which familiar forms of life couldn't exist on the surface of our planet. However, it isn't necessarily a bad idea for interested individuals to take precautions from excessive exposure to various kinds of electromagnetic radiation, which have been proposed as potential causes for various human health problems.
Here are some examples of how some people have sought to protect themselves from electromagnetic radiation:
Gemstones
There are some people who use different gemstones and crystals for the purpose of protecting themselves from electromagnetic radiation. Supposedly, the gemstones serve to ground said phenomenon, which is in addition to various other touted uses for said objects.
When it comes to gemstones and their help in protection from EMFs, these are found to be most helpful.

Amazonite protects against electromagnetic pollution and absorbs microwaves.
Amethyst protects against geopathic or electromagnetic stress.
Aventurine neutralises all sources of electromagnetic pollution, blocking out emanations from computers, television and other electronic equipment.
Black Tourmaline deflects radiation energy.
Bloodstone draws off negative environmental energy, helping to overcome influences such as geopathic or electromagnetic stress.
Clear Quartz (Rock Crystal) draws off negative energy of all kinds, neutralising background radiation, including electromagnetic smog or petrochemical emanations.
Diamond blocks electromagnetic stress and protects against cell phone emanations.
Jasper clears electromagnetic and environmental pollution, including radiation.
Lepidolite clears electromagnetic pollution.
Malachite guards against radiation and clears electromagnetic pollution.
Smokey Quartz gently neutralises negative vibrations and is detoxifying on all levels, prompting elimination of the digestive system and protecting against radiation and electromagnetic smog.
Sodalite combats radiation damage by soaking up electromagnetic smog.
Orgonite
Orgone is a kind of life force proposed by a German psychoanalyst named Wilhelm Reich in the 1930s, with the result that other enthusiasts have since connected it to chi, aether, and similar concepts. Orgonite is supposed to be a substance that can be used to filter out negative forms of orgone energy for the betterment of the user, which tends to be made out of resin, quartz, and various other materials.
Orgonite pendants
Wearing an orgonite pendant protects the personal bioenergetic field (aura) from electromagnetic and psychic influences. For better results orgonite pendants are ideally worn over the heart chakra or throat chakra with direct skin contact.
Orgonite pyramids
Orgone pyramids supposed to become attuned to the body. Metals respond to different magnetic and electrical impulses, for instance, whilst any quartz contained in the orgonite will undergo modifications in its cellular structure in response to changes in its environment. Keeping orgonite pyramid close to the body may help it to work most effectively. They also can be placed in an auspicious position around the house to cleanse the entirety of the living space.
Himalayan Salt
If healing stones don't interest concerned people, there are other possibilities as well. For instance, Himalayan salt has become very popular in certain circles for various health benefits. As such, it should come as no surprise to learn that some people have started using Himalayan salt lamps carved out of said substance to provide lighting as well as various other claimed benefits such as air filtration and electromagnetic radiation protection.
Recent studies have shown that Himalayan salt lamps somehow intercept the negative EMS electromagnetic fields generated by laptops in all wireless devices, therefore for better results salt lamp should be placed next to computer or workstation.
Further Considerations
Interested individuals should make sure to look further into electromagnetic radiation as well as the various ways that it can affect people. The more that they know, the better prepared that they will be to choose the perfect products for their personal preferences.
NOTE: No advice is offered or given in this article or this publication.
The Significance Of Peacock In Ancient Culture And Art
Due to their beautiful-looking feathers and habits, peacocks are associated with different symbolic meanings. They are seen as a powerful and mystical symbol and are considered sacred in many cultural and religious groups across the world.
The peacock is native to India and further east, but the bird has a long history in the Middle East, perhaps originally brought by early Indian traders to ancient Babylon. The male peacock's plumage of shimmering blues and greens fascinate even as its raucous cries seem so at variance with such beauty.
Peacock and Peacock Butterfly, painting by Archibald Thorburn (Image Source)
Peacock in Feng Shui
Peacock is considered as the manifestation of the celestial Phoenix bird, and its feather is often recommended in Feng Shui as a love cure.