What happens when an entire country becomes infested with demons?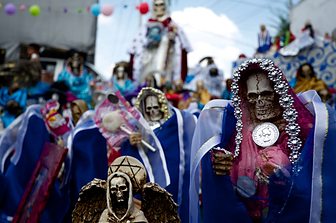 Vatican City, Jun 16, 2015 / 03:09 am (CNA/EWTN News).- Can a country with deep Christian roots like Mexico find itself at the mercy of demons? Some in the Church fear so.
And as a result, they called for a nation-wide exorcism of Mexico, carried out quietly last month in the cathedral of San Luis Potosí.
High levels of violence, as well as drug cartels and abortion in the country, were the motivation behind the special rite of exorcism, known as "Exorcismo Magno."
Cardinal Juan Sandoval Íñiguez, the archbishop emeritus of Guadalajara, presided at the closed doors ceremony, the first ever in the history of Mexico.
Also participating were Archbishop Jesús Carlos Cabrero of San Luis Potosí, Spanish demonologist and exorcist Father José Antonio Fortea, and a smaller group of priests and lay people.
The event was not made known to the general public beforehand. According to Archbishop Cabrero, the reserved character of the May 20 ceremony was intended to avoid any misguided interpretations of the ritual.
But how can an entire country become infested by demons to the point that it's necessary to resort to an Exorcismo Magno?
"To the extent sin increases more and more in a country, to that extent it becomes easier for the demons to tempt (people)," Fr. Fortea told CNA.
The Spanish exorcist warned that "to the extent there is more witchcraft and Satanism going on in a country, to that extent there will be more extraordinary manifestations of those powers of darkness."
Fr. Fortea said that "the exorcism performed in San Luís Potosí is the first ever carried out in Mexico in which the exorcists came from different parts of the country and gathered together to exorcise the powers of darkness, not from a person, but from the whole country."
"This rite of exorcism, beautiful and liturgical, had never before taken place in any part of the world.  Although it had taken place in a private manner as when Saint Francis (exorcised) the Italian city of Arezzo," he stated.
The Spanish exorcist explained, however, that the celebration of this ritual will not automatically change the difficult situation Mexico is going through in a single day.
"It would be a big mistake to think that by performing a full scale exorcism of the country everything would automatically change right away."
Nevertheless, he emphasized that "if with the power we've received from Christ we expel the demons from a country, this will certainly have positive repercussions, because we'll make a great number of the tempters flee, even if this exorcism is partial."
"We don't drive out all the evil spirits from a country with just one ceremony. But even though all will not be expelled, those that were removed are not there anymore."
Fr. Fortea emphasized that "when the exorcists of a country drive out its demons, it has to be done in faith. You're not going to see anything, feel anything, there's not going to be any extraordinary phenomenon. We have to have faith that God conferred on the apostles a power, and that we can use this power."
"In any case, if this ritual were to be carried out in more countries once year, before or after, this would put an end to any extraordinary manifestations which would show us the rage of the devil. Because, without a doubt, the demons hate to be driven out of a place or to be bound with the power of Christ."
The Spanish exorcist said that "it would be very desirable that when there's an annual meeting of exorcists in a country, a ritual such as this exorcismo magno that took place in Mexico be performed."
He also emphasized that a bishop "can authorize its occurrence once a year with his priests in the cathedral."
"The bishop is the shepherd and he can use the power he has received to drive away the invisible wolves from the sheep, since Satan is like a roaring lion prowling around looking for someone to devour, and the shepherds can drive away the predator from the victim," he concluded.
The Third Dimension of Fire
Elva Thompson, Contributor
Waking Times
"The thing that hath been, it is that which shall be; and that which is done is that which shall be done: and there is no new thing under the sun." ~Ecclesiastes 1:9 

What a bizarre and seductive reality we live in. A chaotic world of speed where survival is on overdrive. A surreal place where it's hard to tell truths from lies anymore. But…confusing and scary as it maybe, everything is cosmically in order. The Old Age ended on Dec 21st 2012 and there is a reset time while the new programme is installed for the next twenty six thousand years.
Spiritual science tells us that at the end of every Grand Cosmic Year all species on earth should evolve into a higher plane of consciousness, and this is known as the Shift of Ages. It would appear that the cosmic wifi has been hijacked.
The Hijacking of Humanity
Humanity's ascension frequency has been hijacked by the owners of this 3D construct, and our spiritual connection with nature has been severed. Even our physical interaction with each other has been intercepted…interfaced with AI, and replaced by the digital reality of the internet and social media. The meteoric rise of cell phones towers, gwen towers, smart everything and 5G full spectrum dominance is no accident. It's perfect timing for the controllers of the human farm. They don't want us to evolve out of their fractal, dualistic reality so they block the incoming cosmic information with electro – magnetic smog. They want to exploit us…keep sucking on our energy…in the same way that we don't want to give our wild life and farmed food animals any right to life.
As a result of our faulty thinking, we are being locked into an energetic electro-magnetic prison and ushered into a new age of slavery. To keep us in a closed mental loop, they have insinuated all kinds of distractions to occupy our attention, and keep us confused and fearful – religion, politics, staged terror events, pandemics etc…take your pick.
It is a time of doubt for many people.
So who is the spider that has trapped us in its sticky web of deceit and illusion?
The Hell Fire Club Re-Visited
"Hell is empty. All the devils are here." ~Shakespeare
It's no secret that a cabal of elite satanists control the world and all its governments. A bunch of hidden hands that operate like the mob. Their reality is one of excess, fabulous wealth and power, murder, bribery, blackmail, secret societies, occultism, paedophilia, satanism. In other words the Hell Fire Club of do what you want with total freedom to break any laws without recourse…. like past like present.
Controlling the Grid
"For the life of the flesh is in the blood; and I have given it to you upon the altar to make an atonement for your souls; for it is the blood that maketh an atonement for the soul." ~Leviticus 17v:11
The elite have always used terror, black magic and blood sacrifice as a means of controlling the frequency of the earth's icosahedral(water/emotional) grid. Their intent is to bathe all life on this plane in a fearful and violent energetic matrix that provides a medium for absolute control…a frequency where they can divide us and set us at each other's throat. Our predictable responses to their constant negative media programming makes it easy for them to stoke the passions of our animalistic reptile mind, and keep us locked into the low frequency state of animal instinctive drive. To maintain this base level of awareness they need the energy of 'terrified spiritual trauma' produced by constant war, and the destruction of innocent young souls. This 'blood trade' could be the reason why millions of children go missing every year.
Spiritual Science
Spiritual science teaches that our reality is energetically maintained by the terror and torture of blood sacrifice. Blood infused with fear whether human or animal, bird, fish or reptile is the glue that holds this world together. The Abrahamic religions: Christianity, Islam, Judaism, Hinduism and Luciferianism all advocate blood sacrifice because they are 'agent provocateurs' of the negative force that manages the karmic, spiritual revolving door of humanity..life after bloody life. ( see my article Life after Life)
The Karmic Wheel
"I lay no wood, Brahmin for fire on altars. Only within burneth the fire I kindle." ~Buddha

In contrast to the blood letting religions, Buddhism teaches compassion. The Buddha was against killing all beings without exception. He understood that all life is but One Life – and that our cruelties to living beings creates the karma that keeps the re-incarnation cycle rolling with energetic debt. A resonance pattern of return that waits like a psychic sledgehammer to smack us in the head, and blocks us evolving to a higher plane of existence.
If all life is One Life who are the animals?
Concepts Contrary to Our Programming

One of my mentors, Sir George Trevelyan often talked about sacred sympathy, the ability to intensify our imaginative thinking – to stretch our minds and entertain concepts contrary to our programming….
Sir George maintained along with Rudolph Steiner and other mystics that man is the symphony of the One Life – the Archetype containing all other life forms. In Gen 1 v26 we are told that heaven and earth, and its creatures were the first to be created – man appeared last in creation after all his instinctual, physical and spiritual aspects had been assembled.
What if every animal species is a specialised part of the human body? The ruminants: cattle, sheep, antelopes, deer, giraffes etc, can be seen as the digestive system externalised. The lion seems to be the chest in specialised development, the rhythmic system of heart and lungs. The eagle, representing the bird kingdom is seen as a metamorphosis of head and larynx. Snakes could be viewed as the guts, and fishes as recognized in astrology are the feet. The crustacea floating in the sea are like the floating organs in the blood such as kidneys, and it is well-known that blood and sea water are chemically practically identical. One only has to look at the development of the human embryo to realise we share features with other creatures, such as tails and gill-like structures.
It may be because of the dualistic nature of our reality, 'the parts' (the creatures) that make up the archetypal design of man are projected outside of Self and viewed as separate. Man as the microcosm reflects the macrocosm, and his bodily organs appear spread out through the living kingdoms of nature.
Rising Above Our Animal Nature
In the words of Sir George:
"Man is the symphony of the created world, and as such we need to rise above our animal qualities…qualities, which in their rightful place are noble and useful, but when manifesting in the human ego can be despicable. Scavenger hyena is an essential part of nature's pattern, but he is not fitting if manifesting as a human faculty." ~Operation Redemption

If we can imaginatively grasp the concept that animals are our greater body, we will realise that to become fully human we have to transmute and sublimate the (snake, wolf, rat, fox, etc) traits that exist within us.
Living Biological Computer Programme
The implications of this understanding are enormous and could well explain the suffering of human beings. If animals are aspects of self and we murder them by the billions every day, we are in reality attacking our own soul….heaping up a huge karmic debt that keeps us stuck in the re-incarnation cycle. Every time we intentionally hurt the creatures we are spiritually damaging ourselves, and when we eat their flesh we are cannibalizing our own essence.
Food for Thought
Years ago I watched a short video on you tube called Nature by Numbers. It was then I realised that all manifested life in this reality is based on fractal geometry: the Golden Rectangle, the Fibonacci spiral and phi , bodies equipped with programmed instructions and built-in desires that operate autonomously.
I have often pondered on the question…. If life is a biological computer programme what gives the living essence to the creatures and their ability to respond to love?
My conclusion is that the energy of our blocked multi dimensional awareness powers life in the natural world. This is the spiritual connection we feel with our pets, plants and nature as a whole. The illusion of separation is created by the dual nature of this dimension. There is only One Life and everything partakes of it…it is the power house of our Archetypal Idea…..
Until the next time we meet in digital reality stay aligned with life. Tread lightly on the earth and leave no foot print.
I recommend the video with the article. It gets to the point.
Here is the Nature by Numbers video:
About the Author
Elva Thompson was born in England in 1947 and moved to Rosebud Lakota reservation in 1987. She is the author of the Heartstar Series; Book One: The Key made of Air, and Book Two: The Gates to Pandemonia. Her other interests include organic gardening, ancient phonetic languages, sonic sound and their application in the healing arts. She is also a medical intuitive and teaches sonic re-patterning using sound, colour, and essential oils. Elva Thompson is on Amazon Author Central @ amazon.com/author/heartstar
Is belief in alien life a whole new religion ?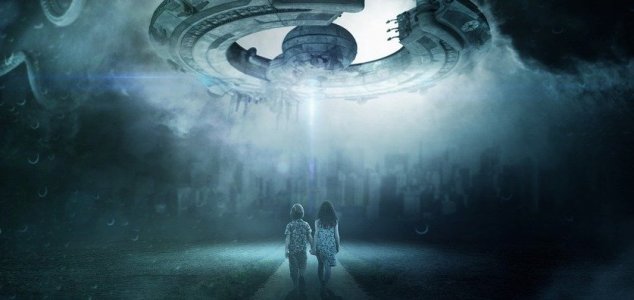 Image Credit: PD – Comfreak / Pixabay
Belief in intelligent alien life is on the increase.
In the United States, there are almost as many believers in intelligent alien life as there are believers in God.
Professor Diana Pasulka of the University of North Carolina has recently published a new book – American Cosmic – which delves in to the parallels between religion and belief in UFOs.
The notion that mankind is not alone in the universe she argues, is itself becoming more and more like a kind of religion – especially given that over 50 percent of Americans and more than 60 percent of young Americans believe in alien life, a figure very close to that of those who believe in God.
"One way we can make sense of this is by using a very old but functional definition of religion as simply the belief in nonhuman and supernatural intelligent beings that often descend from the sky," Pasulka told Vox.com's Sean Illing in a recent interview.
"There are many definitions of religion, but this one is pretty standard."
One way in which belief in God and belief in alien life differs, she argues, is that the idea that we are not alone in the universe is something shared (and often promoted) by prominent scientists.
"Here we have people who are actual scientists, like Ellen Stofan, the former chief scientist at NASA, who are willing to go on TV and basically make announcements like, 'We are going to find extraterrestrial life'," said Pasulka.
"She says we're going to find life, we're going to find habitable planets and things like that."
"So that gives this type of religiosity a far more powerful bite than the traditional religions, which are based on faith in things unseen and unprovable."
Source: Vox.com
Giant Jesus Figure Appears Above Argentinian City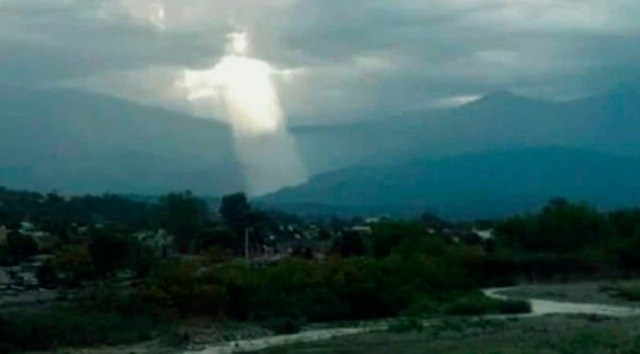 Perhaps this is a sign of the times, many people are losing it…after seeing this image which resembles Jesus Christ. This Christ-like figure, has captivated the internet – yet the mainstream news seems to ignore it. Was this a some kind of projection or digital manipulation of some kind? People are searching for answers, as the symbolism of this simply cannot be ignored.
Let's face it, the world as we know it is in trouble. Many people are acting bizarre over different issues and some cannot even think for themselves any longer. They are caught up in the phony culture of all material things.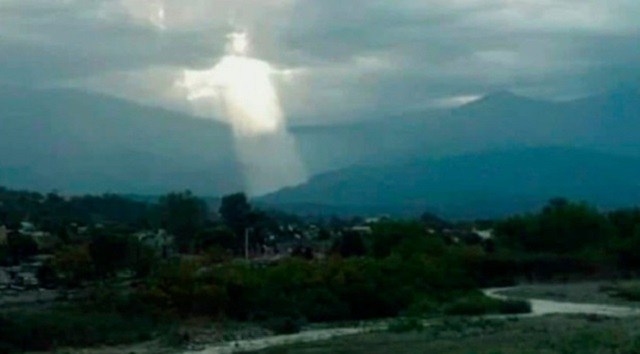 One witness named Monica Aramayo, managed to capture a photograph of this spectacle. What an incredible sight it must have been, to see this in person. Seemingly hovering over top of the Argentinean city of San Salvador de Jujuy (in the northwest part of Argentina) was this Christ-like figure. This area is near the southern end of the Humahuaca Canyon, where wooded hills meet up with the lowlands.
The event took place back on Tuesday, May 14th. The surrounding settlements of Jujuy Province also noticed this giant Jesus in the sky. As seen in the photograph, Jesus appears to be peering out from the clouds, wearing a crown with his arms extended.
The image strikes a powerful pose into the minds of the people. The image of this holy figure, continues to go viral on the internet, as more people learn about it. Some are comparing this image to the Christ the Redeemer in Rio de Janeiro in Brazil overlooking the city.
One person named Mariela Romano said, "The Lord will soon come for us all and we should be ready.
Romina Salinas said, "I personally only see the sun coming through the clouds, but people see what they want to see."
Someone else said: "Thanks for the image that allows us to keep on our path and have a better hope for tomorrow."
Rather incredibly, not everyone was able to see the Jesus figure in sky. Some wonder if their faith is strong enough. Is this merely an unusual formation of clouds in the sky? Likely not, it is far too amazing to be such a occurance.