Weird War: Strange Stories of the Military
Comic book aficionados who grew up in the 1970s may remember – if only dimly – a particular comic book that stood out from the rest because of the nature of the stories it presented. Military adventures featuring Sergeant Fury (Marvel Comics) and Sergeant Rock (DC Comics) eventually shared rack space with Weird War, a title with paranormal overtones that managed to hold its own against the more established offerings, delighting and terrifying readers with tales of hapless soldiers confronting ghosts, zombies and sinister figures from other times and places. Weird War owed its success, to a certain extent, to early '60s offerings such as Haunted Tank.
But what the writers and illustrators of these works didn't know, or most likely were not aware of, is the volume of high strangeness that has affected fighting men and women from various countries over time – situations and circumstances that would perhaps have strained the most devoted reader of Weird War and other publications – and which has been overlooked by the no-nonsense nature of the world's militaries.
On July 27, 2012, the Moyers and Company television broadcast aired an interview with Karl Marlantes (http://billmoyers.com/segment/karl-marlantes-on-what-its-like-to-go-to-war/), a Marine platoon leader, recipient of the Navy Cross and other distinguished service medals, author of "What It Is Like To Go to War", a memoir on the horrors of combat during the Vietnam War and coping with post-traumatic stress disorder. Despite being a successful businessman, Marlantes was troubled for years by his experiences during the conflict – graphically retold in the pages of his book and in the PBS interview, and he delved into an experience that can only be considered paranormal.
At one point during the exposition, Bill Moyers asked Marlantes what war had taught him about the nature of evil, and the response was stunning. Marlantes asserted his belief that evil is a real thing, "something that exists, and that it is always possible for us to tune into it; it's part of being in the world…we personify it, Christians came up with the concept of the devil, and I don't believe it that way, but I do believe that we are in a world of opposites, and that somehow we have to make our choices, and that Evil exists."
He then went on to describe a mind-bending ordeal that shook him to his core. After having taken part in a mass for the dead celebrated by a Capuchin monk — a process that involved talking not only to his comrades lost in battle, but to the enemies he had slain during the conflict — Marlantes returned home and that very same evening, found himself visited by a supernatural presence. "That night there was a presence that came into the room that absolutely terrified me, it was beyond anything I had ever encountered in my life, it was the archetype of shadow. It filled the room, and it was going to get me."
The decorated war hero did not hesitate to say that the negative presence caused him to revert into a "five-year old, holding a crucifix" in an effort to allay the visitation. "It was something that I felt. It was absolutely real."
Marlantes returned to the see the monk to discuss the ghastly event. The Capuchin suggested that they might have been tampering with a force far more powerful than they suspected. Turning to a superior in his monastic order, described as being more familiar with the details of the mass for the dead, the monk learned that any effort made to loosen evil's grasp on a soul will result in evil fighting back to reassert control.
The Marine hero ended the discussion on evil by saying that the matter was brought up with a fellow soldier – a Chumash Indian who had belonged to the Army's Long Range Penetration units – who quickly recognized the matter as an attack by "evil spirits" that was well within the control of his people, recommending a shamanistic practice to dispel the dark forces.
The Lady of Many Veils
In the mid-1970s a young man performing his mandatory military service in the Spanish army was found dead in a deserted area outside his military base on the outskirts of Madrid. He had been found – with a bullet hole in his forehead- by a fellow soldier who had gone to relieve him on guard duty. His submachine gun lay on the ground beside him, and a piece of paper protruded from his flak jacket's pocket. It turned out to be a message for his father.
A teenager far from home, thrust amid strangers in a barracks, may become homesick enough to take his life, and sadly, this is nothing new. But the contents of the message went beyond the usual suicide note one might expect to find on a body.
The soldier wrote that he had been visited by a beautiful woman while on guard duty: she was dressed in a "costume of many veils" and had spoken to him about the nature of the universe and the myriad forms of life to be found beyond the confines of the earth, were joy and love were boundless. The mystery female tendered the soldier a tempting invitation – to join her aboard her spaceship, the vehicle that had brought her to our planet, and go away with her to see the wonders of the universe. Taken aback by the thought of deserting his post, the guard refused the offer, and watched her walk away into the darkness.
Night turned to day and the soldier was unable to dispel the vision of loveliness from his mind. The nature of the encounter was such that that he was afraid to bring the matter up with his buddies, who would surely jeer at him. Overcome with regret, the soldier remembered that the woman had told him that the way to be with her involved surrendering his own physical life.
It was then that he penned the note to his father, making it clear on paper that his suicide was not on account of any hardship or depression brought about by the mandatory service. He promised to return from the afterlife to visit with his family and offer them aid. Upon reporting for guard duty that evening, he turned his service pistol against himself and died.
Spanish paranormalist Salvador Freixedo includes this unsettling story in his book Defendámonos de los dioses (Beware of the Gods) but adds some intriguing details.
The recruit who came across the suicide's body took the note and did not show it to anyone at all, much less the military authorities or the boy's father, the intended recipient of the message. He immediately reported his find, but found himself accused of murdering the sentry. He spent over a year in a military prison but was later released due to a lack of evidence.
Who or what was the "lady of many veils" who claimed a world beyond our own as her home? Even the most hardened believer in the ETH would be forced to agree that a bona fide alien traveler would hardly ask for death as the price for a jaunt in a spaceship. More importantly, was the nameless soldier her only victim, or one of many, caught in the "games non-people play", as John Keel would have put it? Freixedo adds an interesting note with more specifics: On 8 March 1984, Madrid's Diario 16 newspaper reported the death of another young conscript, Carlos Assua Molinero, found dead of a bullet wound in a sentry box. The precise location was given as one of the guard posts between the military School of Communications and the town of Alcorcón. "The causes motivating the suicide are unknown." Perhaps the "lady of many veils" wasn't quite through playing with suggestible minds mesmerized by her charms.
Kaikōura, New Zealand UFO sighting still flummoxing locals 40 years later
© Image – supplied; Video – The Project
Forty years on from an unidentified flying object (UFO) sighting that put Kaikōura in the international spotlight, those who witnessed the strange occurrences are still confused by what they saw.
Three bright lights appeared in the Kaikōura sky in December 1978, bewildering those to witness it – including air traffic controllers John Cordy and Andy Herd.
It was even caught on camera by an Australian film crew who was in the area trying to capture footage of them.
Journalist Quentin Fogarty said they were transfixed by the mysterious lights, some of which were the size of a house.
"We saw this string of lights, it started as a small pinpoint of light then grew into this large pulsating globe with tinges of orange and red," he said.
"I'm sitting there transfixed – we were told after it was about the size of a house."
The objects even appeared on radar, further confusing air traffic staff.
The Muldoon Government said it was squid boats, the moonlight bouncing off cabbages or Venus rising – but those who were there aren't convinced.
"Come on, radar returns from a field of cabbages? Squid boats doing 180 knots at 14,000 feet?" said Mr Cordy.
Even Mr Herd, a sceptic according to his son, believed the flashing lights were not normal.
"My father was a very sensible man," Daniel Herd said. "It would have taken a lot for him to believe that this was something as unusual as he did believe that it was."
Further complicating the mystery is other sightings of UFOs six years earlier in 1972, and a US scientist who studied the lights admitting he believed it wasn't a hoax… or explainable as squid boats.
You can watch Newshub's video coverage here.
Watch How A Lightning Strike Temporarily Disables This UFO's Cloaking Shield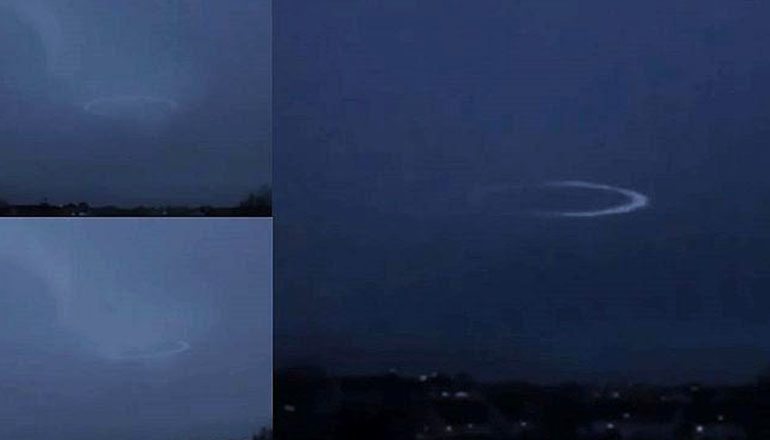 It seems electrical disturbances have an impact on a UFO's cloaking device, as evidenced by the following video.
An unidentified flying object's cloaking shield is one of its best assets since it allows the craft's occupants to remain undetected while performing their obscure activities on Earth.
Visible light can be considered an oscillating electric and magnetic field and because the cloaking shield works on a visible level, it must operate on some kind of electromagnetic principle we've yet to discover. You know what else is electromagnetic? The immense power surge caused by a lightning strike. So it makes sense that when a camouflaged UFO is hit by the thousand or so Giga Watts discharged by a lightning bolt, some interference may occur.
In the following video we are treated to the rare sight of such a phenomenon.
During a recent thunderstorm in the U.S., a large, circular UFO became visible after coming in contact with the immense voltage of an electrical discharge between clouds. It is unclear whether the craft was accidentally hit or it was there exactly for that reason. Perhaps these advanced vehicles are able to harvest energy from a variety of sources, including, but not limited to volcanoes, lightning and solar wind.
After lightning touches its surface, the UFO becomes visible for approximately 30 seconds during which it remains lit and illuminates the sky and clouds surrounding its massive body. Once the UFO disappears, the surrounding area returns to its normal luminosity.
Although videos like this are rare, they are not unheard of. In a previous article, we showed you a fleet of UFOs recharging their batteries during a thunderstorm. Another video that quickly went viral featured a creepy UFO exiting a lightning storm at a high velocity.
It's obvious that aliens always need two things: human specimens and a whole lot of power.
Source: http://ufoholic.com/
Forestry Worker Attacked By Aliens In Scotland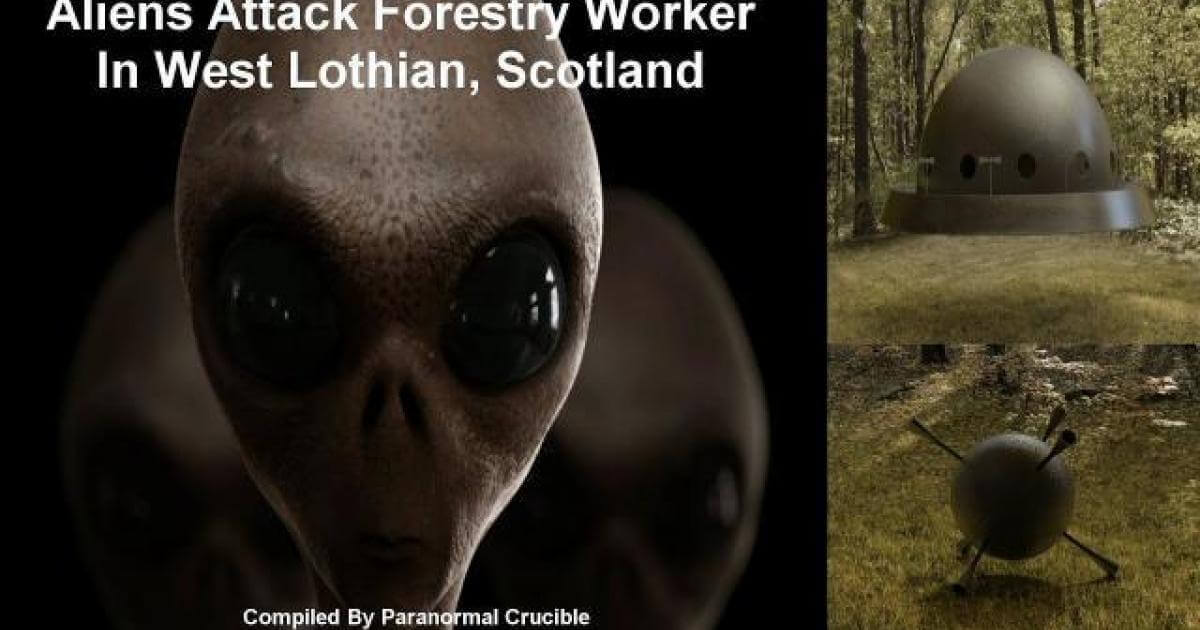 A seemingly unprovoked attack on a Scottish forestry worker over 30 years ago has been recounted by the victim, who still has no idea why he was targeted.
The forestry worker, Robert Taylor, arrived at work as usual on a typically cold November morning and began walking towards the job site through a woodland path only to emerge into a clearing and see the alien craft.
He described the object as spherical, around 20-30 feet in diameter and hovering around 15 feet from the ground. Shortly after this two objects fell from the craft resembling world war two sea mines, rolled towards him and attached themselves to his hips. As the objects approached, he remembered smelling burning, and shortly after they attached themselves to him they began to pull him towards the main craft.
At this point, he lost consciousness and remembers nothing of whatever happened next. After he came to the object was gone, leaving only marks in the ground below where the craft had been, a graze on his forehead and what he described as an incredible thirst. He also believed at the time that he was not unconscious for more than a minute or two, although was somewhat disoriented by the events.
What provoked the attack is unknown, although presumably, the craft was not expecting Taylor to approach it. Some have speculated that the aliens abducted Taylor in an attempt to erase his memory of having seen them. Others that he was experimented on, and that his time aboard the craft may have been much longer than he thought at the time.
Unlike the majority of UFO sightings or abduction experiences, there are seemingly no arguments forthcoming that the events could have come from a man-made source. Experimental aircraft would not have accounted for the spherical objects that pulled Taylor towards the ship, nor the lack of consciousness. Not to mention that West Lothian where the attack took place is not a location known for its abundance of secret military test bases.
The full eyewitness account of the abduction can be found here: