Weird War: Strange Stories of the Military
Comic book aficionados who grew up in the 1970s may remember – if only dimly – a particular comic book that stood out from the rest because of the nature of the stories it presented. Military adventures featuring Sergeant Fury (Marvel Comics) and Sergeant Rock (DC Comics) eventually shared rack space with Weird War, a title with paranormal overtones that managed to hold its own against the more established offerings, delighting and terrifying readers with tales of hapless soldiers confronting ghosts, zombies and sinister figures from other times and places. Weird War owed its success, to a certain extent, to early '60s offerings such as Haunted Tank.
But what the writers and illustrators of these works didn't know, or most likely were not aware of, is the volume of high strangeness that has affected fighting men and women from various countries over time – situations and circumstances that would perhaps have strained the most devoted reader of Weird War and other publications – and which has been overlooked by the no-nonsense nature of the world's militaries.
On July 27, 2012, the Moyers and Company television broadcast aired an interview with Karl Marlantes (http://billmoyers.com/segment/karl-marlantes-on-what-its-like-to-go-to-war/), a Marine platoon leader, recipient of the Navy Cross and other distinguished service medals, author of "What It Is Like To Go to War", a memoir on the horrors of combat during the Vietnam War and coping with post-traumatic stress disorder. Despite being a successful businessman, Marlantes was troubled for years by his experiences during the conflict – graphically retold in the pages of his book and in the PBS interview, and he delved into an experience that can only be considered paranormal.
At one point during the exposition, Bill Moyers asked Marlantes what war had taught him about the nature of evil, and the response was stunning. Marlantes asserted his belief that evil is a real thing, "something that exists, and that it is always possible for us to tune into it; it's part of being in the world…we personify it, Christians came up with the concept of the devil, and I don't believe it that way, but I do believe that we are in a world of opposites, and that somehow we have to make our choices, and that Evil exists."
He then went on to describe a mind-bending ordeal that shook him to his core. After having taken part in a mass for the dead celebrated by a Capuchin monk — a process that involved talking not only to his comrades lost in battle, but to the enemies he had slain during the conflict — Marlantes returned home and that very same evening, found himself visited by a supernatural presence. "That night there was a presence that came into the room that absolutely terrified me, it was beyond anything I had ever encountered in my life, it was the archetype of shadow. It filled the room, and it was going to get me."
The decorated war hero did not hesitate to say that the negative presence caused him to revert into a "five-year old, holding a crucifix" in an effort to allay the visitation. "It was something that I felt. It was absolutely real."
Marlantes returned to the see the monk to discuss the ghastly event. The Capuchin suggested that they might have been tampering with a force far more powerful than they suspected. Turning to a superior in his monastic order, described as being more familiar with the details of the mass for the dead, the monk learned that any effort made to loosen evil's grasp on a soul will result in evil fighting back to reassert control.
The Marine hero ended the discussion on evil by saying that the matter was brought up with a fellow soldier – a Chumash Indian who had belonged to the Army's Long Range Penetration units – who quickly recognized the matter as an attack by "evil spirits" that was well within the control of his people, recommending a shamanistic practice to dispel the dark forces.
The Lady of Many Veils
In the mid-1970s a young man performing his mandatory military service in the Spanish army was found dead in a deserted area outside his military base on the outskirts of Madrid. He had been found – with a bullet hole in his forehead- by a fellow soldier who had gone to relieve him on guard duty. His submachine gun lay on the ground beside him, and a piece of paper protruded from his flak jacket's pocket. It turned out to be a message for his father.
A teenager far from home, thrust amid strangers in a barracks, may become homesick enough to take his life, and sadly, this is nothing new. But the contents of the message went beyond the usual suicide note one might expect to find on a body.
The soldier wrote that he had been visited by a beautiful woman while on guard duty: she was dressed in a "costume of many veils" and had spoken to him about the nature of the universe and the myriad forms of life to be found beyond the confines of the earth, were joy and love were boundless. The mystery female tendered the soldier a tempting invitation – to join her aboard her spaceship, the vehicle that had brought her to our planet, and go away with her to see the wonders of the universe. Taken aback by the thought of deserting his post, the guard refused the offer, and watched her walk away into the darkness.
Night turned to day and the soldier was unable to dispel the vision of loveliness from his mind. The nature of the encounter was such that that he was afraid to bring the matter up with his buddies, who would surely jeer at him. Overcome with regret, the soldier remembered that the woman had told him that the way to be with her involved surrendering his own physical life.
It was then that he penned the note to his father, making it clear on paper that his suicide was not on account of any hardship or depression brought about by the mandatory service. He promised to return from the afterlife to visit with his family and offer them aid. Upon reporting for guard duty that evening, he turned his service pistol against himself and died.
Spanish paranormalist Salvador Freixedo includes this unsettling story in his book Defendámonos de los dioses (Beware of the Gods) but adds some intriguing details.
The recruit who came across the suicide's body took the note and did not show it to anyone at all, much less the military authorities or the boy's father, the intended recipient of the message. He immediately reported his find, but found himself accused of murdering the sentry. He spent over a year in a military prison but was later released due to a lack of evidence.
Who or what was the "lady of many veils" who claimed a world beyond our own as her home? Even the most hardened believer in the ETH would be forced to agree that a bona fide alien traveler would hardly ask for death as the price for a jaunt in a spaceship. More importantly, was the nameless soldier her only victim, or one of many, caught in the "games non-people play", as John Keel would have put it? Freixedo adds an interesting note with more specifics: On 8 March 1984, Madrid's Diario 16 newspaper reported the death of another young conscript, Carlos Assua Molinero, found dead of a bullet wound in a sentry box. The precise location was given as one of the guard posts between the military School of Communications and the town of Alcorcón. "The causes motivating the suicide are unknown." Perhaps the "lady of many veils" wasn't quite through playing with suggestible minds mesmerized by her charms.
NASA in alien life BREAKTHROUGH after DNA discovery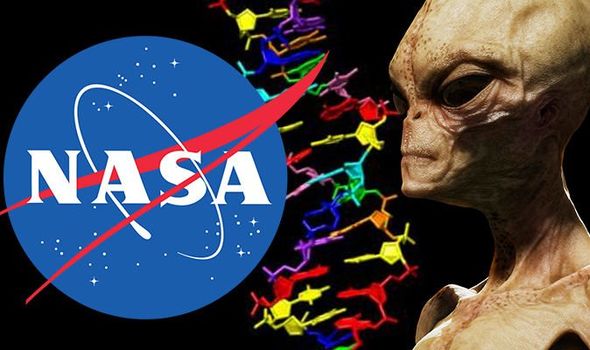 NASA has synthesised an "alien" form of DNA, revolutionising our understanding of what extraterrestrial life may resemble and where it exists.
Deoxyribonucleic acid (DNA) contains the genetic instructions for all known living things. And scientists at US space agency NASA have created an "alien" form of DNA. This DNA could lead breakthroughs in understanding what alien life could resemble.
The NASA discovery suggests there might be unimagined forms of DNA-based life as we know it on Earth.
And alien life on other worlds might be built using different molecular systems of the kind the NASA scientists have synthesised, they have suggested.
The new molecular system will allow scientists searching for alien life to recalibrate what exactly they are actually looking for and where it could exist.
DNA is a complex double helix-shaped molecule stored and then transmitting the genetic information that makes us who we are.
This data is passed from generation to generation in every living thing on Earth, allowing life to continue.
DNA is constructed of four different ingredients, known as nucleotides and are common across all life on our planet.
But DNA could likely vary significantly elsewhere in the universe, the NASA study has shown.
Imagining forms of life that might use different structures – and developing ways of detecting them – is a central part of NASA's work.
And this week's announcement is a huge breakthrough, as the study has has created such a molecule.
Lori Glaze, acting director of NASA's Planetary Science Division said: "Life detection is an increasingly important goal of NASA's planetary science missions, and this new work will help us to develop effective instruments and experiments that will expand the scope of what we look for."
The new research saw scientists create a new kind of molecule system that functions like DNA, but has an important difference.
Instead of DNA's usual four ingredients, the NASA scientists have created one containing eight.
It has all of the four that are found in life on Earth: adenine, cytosine, guanine, and thymine.
The NASA scientist have added an extra four synthetic ones, capable of mimicking the structures of the ingredients found in regular DNA.
The NASA researchers call the new creation "hachimoji" DNA – hachi is Japanese for eight, while moji means letter.
Hhachimoji DNA functions the same as our DNA, meeting the same requirements that allow it to store and transmit information.
That has meant that the kinds of molecules that might be storing information in life on alien worlds could be similarly different.
Source www.express.co.uk
Massachusetts Town Removes Monument to Historically Documented UFO Sighting
In this age of government UFO revelations and presidential candidates promising disclosure of secret UFO files, you would think that the town which claims to be the home of the "only historically documented UFO sighting in the United States" would be proud of a monument touting the event. In this case, you would be wrong.
"The monument was removed at considerable expense to the town. Unfortunately, the party responsible was not responsive."
The Berkshire Edge interviewed Selectman (a New England term for a member of the local government board) Martin Mitsoff about the removal this week of the Sheffield UFO monument located near the Sheffield, Massachusetts, covered bridge where in 1969 Thomas Reed, then age 9, and his family found themselves "being taken aboard a tarnished circular looking vessel where an image of a willow tree was displayed." The next thing he says he remembers is being back in the car and a couple of hours had passed.
His grandmother reported the incident to the police and found that at least 20 others had also reported seeing a UFO and a local radio station said they received 40 calls from witnesses. Reed claims he took a lie detector test and got a 99.1 truth rating. Based on that, the Great Barrington Historical Society declared the UFO sighting "historically significant and true" and money was raised to create a 6-foot tall, 5,000-pound concrete memorial (you can see photos of the monument and the park here) with an inscription that reads in part:
"This Governor's Citation [is] in recognition of the off-world incident on Sept. 1st, 1969, which engaged the Reed Family, which has been established."
Cool! What's Selectman Mistoff's problem? Well, the monument attracted graffiti and was discovered to be on government property, so it was moved 50 feet and updated with lights and a bench. Then it was discovered to be on a town right-of-way easement. That prompted a year of meetings and email exchanges which resolved nothing. On June 4, this happened:
"A crew from the town highway department arrived at around 8:30 a.m. with a front-end loader/backhoe combination and hauled away the monument, a bench and a row of crushed stone."
The story doesn't reveal where the monument was hauled away to, but Reed considers this to be an act of theft and plans to file charges.
Wait a minute! Why doesn't the governor's office get involved, since the plaque on the statue is from current Governor Charlie Baker? Doesn't that make this an official state monument? An earlier story by The Berkshire Edge has a possible answer:
"Tim Buckley, then Baker's communications director, said in 2016 the citation was issued in error after a persistent Reed repeatedly asked the governor's staff to put his signature on it. The text of the citation is all in capitals and is poorly written. It appears to have been notarized by a justice of the peace in Connecticut."
Uh-oh. It looks like the local officials agree with the governor's former communications director and not with Reed nor the producers of the TV show "Unsolved Mysteries," which had just been in town to do a segment on Reed and his UFO story. Should Reed try to enlist some UFO disclosure proponents like former US Senator Harry Reid or Tom DeLonge? That might help, but for now it appears the parties have their lawyers aimed at each other and will shoot it out in court.
Has anyone considered asking for help from the crew of the UFO?
Source: Mysterious Universe
Navy pilots report seeing UFOs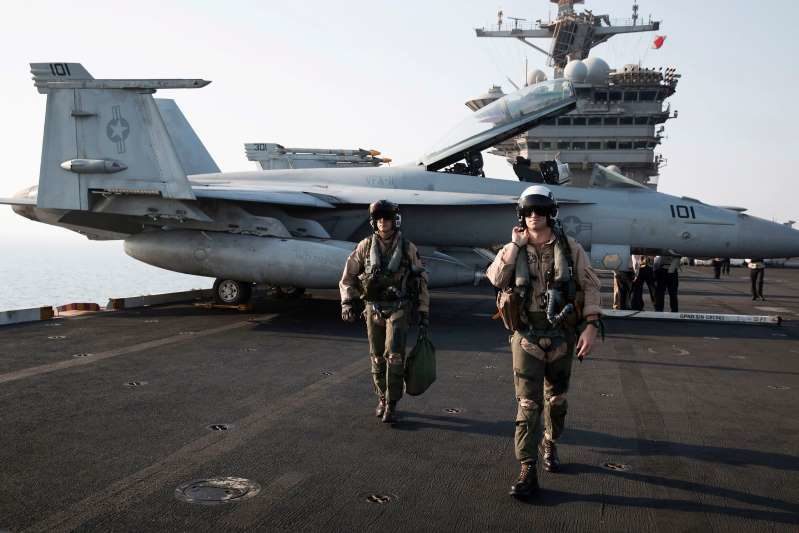 © Adam Ferguson/The New York Times
Helene Cooper
MSN
A US Navy pilot and a weapons system officer from the VFA-11 "Red Rippers" squadron after returning to the aircraft carrier USS Theodore Roosevelt in the Persian Gulf in 2015.
The strange objects, one of them like a spinning top moving against the wind, appeared almost daily from the summer of 2014 to March 2015, high in the skies over the East coast. Navy pilots reported to their superiors that the objects had no visible engine or infrared exhaust plumes but that they could reach 30,000 feet and hypersonic speeds.
"These things would be out there all day," said Lieutenant Ryan Graves, an F/A-18 Super Hornet pilot who has been with the Navy for 10 years and who reported his sightings to the Pentagon and Congress. "Keeping an aircraft in the air requires a significant amount of energy. With the speeds we observed, 12 hours in the air is 11 hours longer than we'd expect."
In late 2014, a Super Hornet pilot had a near collision with one of the objects, and an official mishap report was filed. Some of the incidents were captured on video, including one taken by a plane's camera in early 2015 that shows an object zooming over the ocean waves as pilots question what they are watching.
"Wow, what is that, man?" one exclaims. "Look at it fly!"
No one in the Defense Department is saying that the objects were extraterrestrial, and experts emphasize that earthly explanations can generally be found for such incidents. Graves and four other Navy pilots, who said in interviews with The New York Times that they saw the objects in 2014 and 2015 in training maneuvers from Virginia to Florida off the aircraft carrier USS Theodore Roosevelt, make no assertions of their provenance. But the objects have gotten the attention of the Navy, which this year sent out new classified guidance for how to report what the military calls unexplained aerial phenomena, or unidentified flying objects.
Joseph Gradisher, a Navy spokesman, said the new guidance was an update of instructions that went out to the fleet in 2015, after the Roosevelt incidents.
"There were a number of different reports," he said. Some cases could have been commercial drones, he said, but in other cases "we don't know who's doing this, we don't have enough data to track this. So the intent of the message to the fleet is to provide updated guidance on reporting procedures for suspected intrusions into our airspace."
The sightings were reported to the Pentagon's shadowy, little-known Advanced Aerospace Threat Identification Program, which analyzed the radar data, video footage, and accounts provided by senior officers from the Roosevelt. Luis Elizondo, a military intelligence official who ran the program until he resigned in 2017, called the sightings "a striking series of incidents."
The program, which began in 2007, was officially shut down in 2012 when the money dried up, according to the Pentagon. But the Navy recently said it investigates military reports of UFOs, and Elizondo and other participants say the program – parts of it remain classified – has continued in other forms. The program has also studied video that shows a whitish oval object described as a giant Tic Tac, about the size of a commercial plane, encountered by two Navy fighter jets off the coast of San Diego in 2004.
Leon Golub, a senior astrophysicist at the Harvard-Smithsonian Center for Astrophysics, said the possibility of an extraterrestrial cause "is so unlikely that it competes with many other low-probability but more mundane explanations." He added that "there are so many other possibilities – bugs in the code for the imaging and display systems, atmospheric effects and reflections, neurological overload from multiple inputs during high-speed flight."
Graves still cannot explain what he saw. In the summer of 2014, he and Lieutenant Danny Accoin, another Super Hornet pilot, were part of a squadron, the VFA-11 "Red Rippers" out of Naval Air Station Oceana, Va., that was training for a deployment to the Persian Gulf.
Graves and Accoin spoke on the record to The Times about the objects. Three other pilots in the squadron also spoke to The Times about the objects but declined to be named.
The pilots began noticing the objects after their 1980s-era radar was upgraded to a more advanced system. As one fighter jet after another got the new radar, pilots began picking up the objects but ignoring what they thought were false radar tracks.
But Graves said the objects persisted, showing up at 30,000 feet, 20,000 feet, even sea level. Then pilots began seeing the objects.
What was strange, the pilots said, was that the video showed objects accelerating to hypersonic speed, making sudden stops and instantaneous turns – something beyond the physical limits of a human crew.
Asked what they thought the objects were, the pilots refused to speculate.