Weird War: Strange Stories of the Military
Comic book aficionados who grew up in the 1970s may remember – if only dimly – a particular comic book that stood out from the rest because of the nature of the stories it presented. Military adventures featuring Sergeant Fury (Marvel Comics) and Sergeant Rock (DC Comics) eventually shared rack space with Weird War, a title with paranormal overtones that managed to hold its own against the more established offerings, delighting and terrifying readers with tales of hapless soldiers confronting ghosts, zombies and sinister figures from other times and places. Weird War owed its success, to a certain extent, to early '60s offerings such as Haunted Tank.
But what the writers and illustrators of these works didn't know, or most likely were not aware of, is the volume of high strangeness that has affected fighting men and women from various countries over time – situations and circumstances that would perhaps have strained the most devoted reader of Weird War and other publications – and which has been overlooked by the no-nonsense nature of the world's militaries.
On July 27, 2012, the Moyers and Company television broadcast aired an interview with Karl Marlantes (http://billmoyers.com/segment/karl-marlantes-on-what-its-like-to-go-to-war/), a Marine platoon leader, recipient of the Navy Cross and other distinguished service medals, author of "What It Is Like To Go to War", a memoir on the horrors of combat during the Vietnam War and coping with post-traumatic stress disorder. Despite being a successful businessman, Marlantes was troubled for years by his experiences during the conflict – graphically retold in the pages of his book and in the PBS interview, and he delved into an experience that can only be considered paranormal.
At one point during the exposition, Bill Moyers asked Marlantes what war had taught him about the nature of evil, and the response was stunning. Marlantes asserted his belief that evil is a real thing, "something that exists, and that it is always possible for us to tune into it; it's part of being in the world…we personify it, Christians came up with the concept of the devil, and I don't believe it that way, but I do believe that we are in a world of opposites, and that somehow we have to make our choices, and that Evil exists."
He then went on to describe a mind-bending ordeal that shook him to his core. After having taken part in a mass for the dead celebrated by a Capuchin monk — a process that involved talking not only to his comrades lost in battle, but to the enemies he had slain during the conflict — Marlantes returned home and that very same evening, found himself visited by a supernatural presence. "That night there was a presence that came into the room that absolutely terrified me, it was beyond anything I had ever encountered in my life, it was the archetype of shadow. It filled the room, and it was going to get me."
The decorated war hero did not hesitate to say that the negative presence caused him to revert into a "five-year old, holding a crucifix" in an effort to allay the visitation. "It was something that I felt. It was absolutely real."
Marlantes returned to the see the monk to discuss the ghastly event. The Capuchin suggested that they might have been tampering with a force far more powerful than they suspected. Turning to a superior in his monastic order, described as being more familiar with the details of the mass for the dead, the monk learned that any effort made to loosen evil's grasp on a soul will result in evil fighting back to reassert control.
The Marine hero ended the discussion on evil by saying that the matter was brought up with a fellow soldier – a Chumash Indian who had belonged to the Army's Long Range Penetration units – who quickly recognized the matter as an attack by "evil spirits" that was well within the control of his people, recommending a shamanistic practice to dispel the dark forces.
The Lady of Many Veils
In the mid-1970s a young man performing his mandatory military service in the Spanish army was found dead in a deserted area outside his military base on the outskirts of Madrid. He had been found – with a bullet hole in his forehead- by a fellow soldier who had gone to relieve him on guard duty. His submachine gun lay on the ground beside him, and a piece of paper protruded from his flak jacket's pocket. It turned out to be a message for his father.
A teenager far from home, thrust amid strangers in a barracks, may become homesick enough to take his life, and sadly, this is nothing new. But the contents of the message went beyond the usual suicide note one might expect to find on a body.
The soldier wrote that he had been visited by a beautiful woman while on guard duty: she was dressed in a "costume of many veils" and had spoken to him about the nature of the universe and the myriad forms of life to be found beyond the confines of the earth, were joy and love were boundless. The mystery female tendered the soldier a tempting invitation – to join her aboard her spaceship, the vehicle that had brought her to our planet, and go away with her to see the wonders of the universe. Taken aback by the thought of deserting his post, the guard refused the offer, and watched her walk away into the darkness.
Night turned to day and the soldier was unable to dispel the vision of loveliness from his mind. The nature of the encounter was such that that he was afraid to bring the matter up with his buddies, who would surely jeer at him. Overcome with regret, the soldier remembered that the woman had told him that the way to be with her involved surrendering his own physical life.
It was then that he penned the note to his father, making it clear on paper that his suicide was not on account of any hardship or depression brought about by the mandatory service. He promised to return from the afterlife to visit with his family and offer them aid. Upon reporting for guard duty that evening, he turned his service pistol against himself and died.
Spanish paranormalist Salvador Freixedo includes this unsettling story in his book Defendámonos de los dioses (Beware of the Gods) but adds some intriguing details.
The recruit who came across the suicide's body took the note and did not show it to anyone at all, much less the military authorities or the boy's father, the intended recipient of the message. He immediately reported his find, but found himself accused of murdering the sentry. He spent over a year in a military prison but was later released due to a lack of evidence.
Who or what was the "lady of many veils" who claimed a world beyond our own as her home? Even the most hardened believer in the ETH would be forced to agree that a bona fide alien traveler would hardly ask for death as the price for a jaunt in a spaceship. More importantly, was the nameless soldier her only victim, or one of many, caught in the "games non-people play", as John Keel would have put it? Freixedo adds an interesting note with more specifics: On 8 March 1984, Madrid's Diario 16 newspaper reported the death of another young conscript, Carlos Assua Molinero, found dead of a bullet wound in a sentry box. The precise location was given as one of the guard posts between the military School of Communications and the town of Alcorcón. "The causes motivating the suicide are unknown." Perhaps the "lady of many veils" wasn't quite through playing with suggestible minds mesmerized by her charms.
UFO Lands On A Mountain In Trinidad And Filmed By Witnesses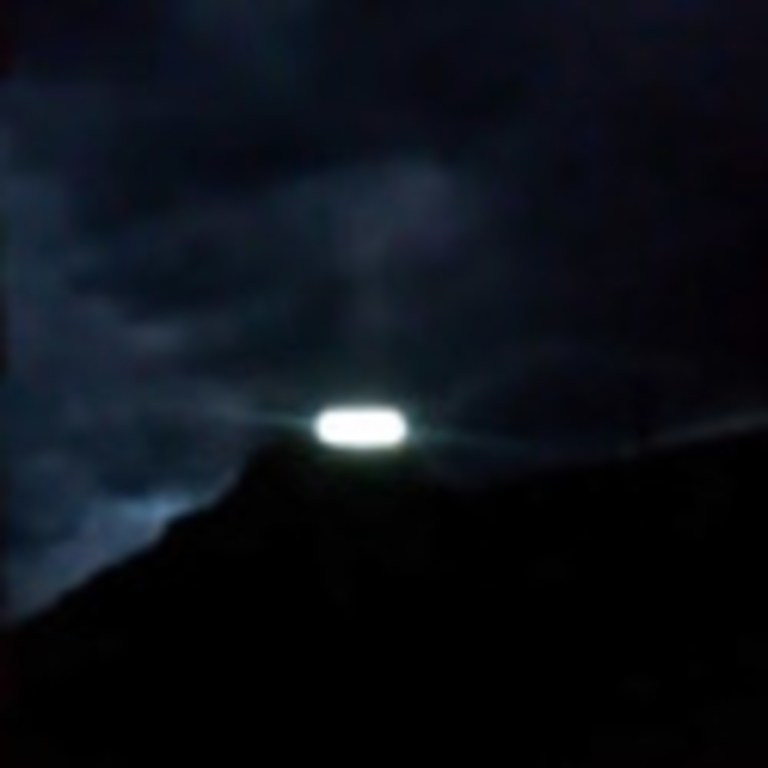 On the evening of January 14, 2019, Ms. Dorothy Romero, who lives in the city of Trinidad, Colorado (United States), witnessed with her husband the landing of an unidentified flying object on the historic Simpson's Rest mountain. Then the video sent by the witness claiming UFO Lands On A Mountain In Trinidad.
«My husband was outside to wash our porch when he saw a UFO flying directly over our house … At first I didn't believe him and I thought it was just flashes and lightning. However, my husband insisted and claimed that the object had landed at Simpson's Rest, on the mountain directly behind our house. When he landed, he produced sparks that seemed to come out of the bottom of this mysterious object, "Dorothy related.
«I had my phone in my hand and started recording what was happening. I regret that the quality of the video is not the best, but you can see very well the bright UFO behind the roof of our house, which later disappeared without a trace, as if it had vanished.
To clear up any confusion, it should be noted that the UFO in question is spherical and can be seen somewhat below the luminous sign of the city of Trinidad (as specified by the witness in English in the video).
The mountain where the UFO would have landed owes its name to George S. Simpson, a famous explorer, merchant and pioneer who settled in what is now the city of Trinidad in 1848. History tells us that the explorer survived an attack by the Ute natives when hiding in a recess of the mountain for three days. When he died years later, he asked to be buried in that place.
The landscape from Simpson's Rest is amazing, from there you can see the entire city of Trinidad, the Purgatory River and its valley. Would the UFO be there for this view?
Video: Elon Musk's SpaceX satellite camera captures UFO around it!
US billionaire SpaceX's Amos 17 satellite camera Elon Musk recorded an unidentified flying object approaching the spacecraft and then disappearing.
The 'thirdphaseofmoon' channel on YouTube specializing in genre revelations has uploaded a video featuring an unidentified flying object (UFO) allegedly approaching the SpaceX Amos 17 satellite.
The strange object resembles a light sphere and appears to be moving rapidly in front of Elon Musk's satellite camera and eventually, turning left, disappears.
Blake and Brett Causins, who runs the YouTube channel, claim that UFOs could not be a space debris because of the orbit that followed.
"How could he turn left in space unless he had a propulsion system," Blake emphasized, pointing out that many internet users estimate that the UFO was "tracking the satellite".
"The whole idea that these are just space debris is not valid. If it were, you should see it follow a straight path. But he is carrying out this strange maneuver that defies all logic, "said Blake Causins.
Could light and noise from Earth attract aliens?
© NicoElNino/Shutterstock
Europe's lights seen at night from space.
Jacco van Loon
The Conversation
Since the first use of electric lamps in the 19th century, society hasn't looked back. Homes and streets are lit at all hours so that people can go about their business when they'd once have been asleep. Besides the obvious benefits to societies and the economy, there's growing awareness of the negative impact of artificial light.
Light pollution has been blamed for wasting energy, disrupting wildlife behaviour and harming mental health. One aspect has avoided the spotlight though. Namely, that light not only allows one to see, but also to be seen. This could well attract unwelcome attention – and not just from moths.
The innate curiosity of humans and our growing knowledge of the universe in which we live have led us inexorably to a question. Do civilisations exist on planets other than Earth? Scientists now believe that there are many places in the universe which might harbour simple lifeforms such as bacteria.
What is more speculative is the notion that such extraterrestrial life could have become technologically advanced, perhaps even well beyond our capacity. This idea has captured the imagination of the general public, giving birth to a rich collection of science fiction literature and blockbuster films. But it has also received serious attention from scientists, who have thought of ways to find and possibly contact these alien species.
In 1974, radio astronomer Frank Drake used the then most powerful radio transmitter, at Arecibo in Puerto Rico, to broadcast a message into space announcing our presence. The message will now be 45 light years away from us. While there are many stars and planets closer to us than that, they won't have been in the path of Drake's broadcast.
But impatient as scientists tend to be, more effort has gone into searching space for such signals transmitted by extraterrestrial civilisations. As more and more planets are discovered around other stars, the search for extraterrestrial intelligence – often abbreviated to SETI – is becoming more relevant, better informed and better resourced. In 2015, wealthy entrepreneurs Yuri and Julia Milner allocated US$100m to the Breakthrough Listen SETI project, which buys time at observatories to use their powerful telescopes to detect artificial signals from outer space.
But despite the vastness and emptiness of space, scientists have started to wonder why we haven't heard from aliens yet. This puzzle is known as the Fermi Paradox, named after the physicist Enrico Fermi. Among the many solutions proposed for this problem, one really brings us down to Earth: aliens might be scared of other aliens.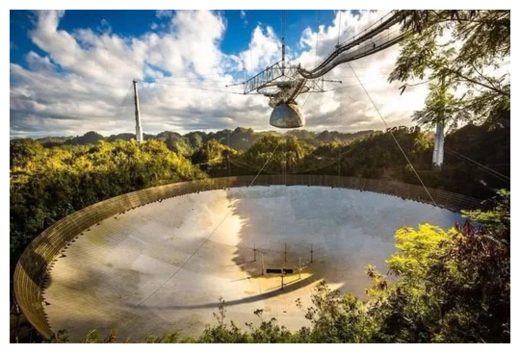 © Photo Spirit/Shutterstock
The radio telescope dish of Arecibo national observatory in Puerto Rico.


Is anyone listening?
While tempting, many scientists now agree that sending messages into space without knowing who might be intercepting them might not be such a good idea. Once sent, it cannot be undone. Unlike a post on social media, it cannot be removed. Listening is much safer. But radio communication among ourselves – which includes navigation, television broadcasts and the internet – might also be detected from space.
After all, radio waves that aren't captured continue to travel, up and away from the Earth into deep space. Unintentionally, we may already have been observed by an amused, terrified or "interested" species, who may decide to meet us to "shake hands", or come to enslave us, eat us, or destroy us as a precaution. We are, after all, an aggressive species ourselves.
Fortunately, Earth has become a lot quieter, thanks to more directed signalling and fibre cables replacing aerial transmission. We might just get away with our past recklessness. But a new beacon is brightening.
Images of the Earth at night reveal our presence in spectacular fashion. Cities and roads outline the contours of continents, while oil platforms dot the seas and ships draw lines across the ocean. This type of light, which has replaced older, incandescent sources, is unnatural. From the orange sodium or bluish mercury lamps, to white-light emitting diodes (LEDs), the artificial origin of this "spectrum" should be easy for technologically advanced aliens to spot.
In the coming decades Earth's space agencies may be developing the means to detect such artificial light from planets around other stars. But we may fail, if aliens believe the smartest thing to do is to keep quiet and remain in the dark. We, on the other hand, may already have been seen, and they may already be on their way. This begs the question – should we dim our lights, before it's too late?