We Need a Revolution – It Starts with Falling in Love with the Earth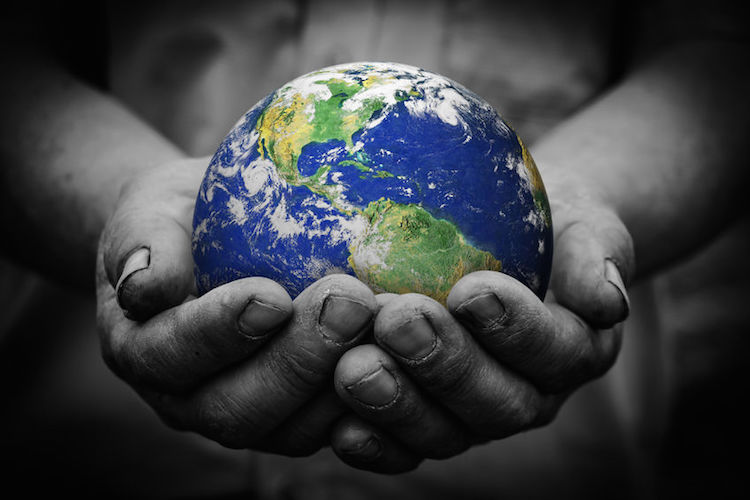 Thich Nhat Hanh, Guest
Waking Times
The Earth is our mother, nourishing and protecting us in every moment–giving us air to breathe, fresh water to drink, food to eat and healing herbs to cure us when we are sick. Every breath we inhale contains our planet's nitrogen, oxygen, water vapor and trace elements. When we breathe with mindfulness, we can experience our interbeing with the Earth's delicate atmosphere, with all the plants, and even with the sun, whose light makes possible the miracle of photosynthesis. With every breath, we can experience communion. With every breath, we can savor the wonders of life.
We need to change our way of thinking and seeing things. We need to realise that the Earth is not just our environment. The Earth is not something outside of us. Breathing with mindfulness and contemplating your body, you realise that you are the Earth. You realise that your consciousness is also the consciousness of the Earth. Look around you–what you see is not your environment, it is you.
Great Mother Earth
Whatever nationality or culture we belong to, whatever religion we follow, whether we're Buddhists, Christians, Muslims, Jews, or atheists, we can all see that the Earth is not inert matter. She is a great being, who has herself given birth to many other great beings–including Buddhas and bodhisattvas, prophets and saints, sons and daughters of God and humankind. The Earth is a loving mother, nurturing and protecting all peoples and all species without discrimination.
When you realise the Earth is so much more than simply your environment, you'll be moved to protect her in the same way as you would yourself. This is the kind of awareness, the kind of awakening that we need, and the future of the planet depends on whether we're able to cultivate this insight or not. The Earth and all species on Earth are in real danger. Yet if we can develop a deep relationship with the Earth, we'll have enough love, strength and awakening in order to change our way of life.
Falling in Love
We can all experience a feeling of deep admiration and love when we see the great harmony, elegance and beauty of the Earth. A simple branch of a cherry blossom, the shell of a snail or the wing of a bat–all bear witness to the Earth's masterful creativity. Every advance in our scientific understanding deepens our admiration and love for this wondrous planet. When we can truly see and understand the Earth, love is born in our hearts. We feel connected. That is the meaning of love: To be at one.
Only when we've truly fallen back in love with the Earth will our actions spring from reverence, and the insight of our interconnectedness. Yet many of us have become alienated from the Earth. We are lost, isolated and lonely. We work too hard, our lives are too busy, and we are restless and distracted, losing ourselves in consumption. But the Earth is always there for us, offering us everything we need for our nourishment and healing: The miraculous grain of corn, the refreshing stream, the fragrant forest, the majestic snow-capped mountain peak, and the joyful birdsong at dawn.
True Happiness is Made of Love
Many of us think we need more money, more power or more status before we can be happy. We're so busy spending our lives chasing after money, power and status that we ignore all the conditions for happiness already available. At the same time, we lose ourselves in buying and consuming things we don't need, putting a heavy strain on both our bodies and the planet. Yet much of what we drink, eat, watch, read or listen to, is toxic and is polluting our bodies and minds with violence, anger, fear and despair.
As well as the carbon dioxide pollution of our physical environment, we can speak of the spiritual pollution of our human environment: The toxic and destructive atmosphere we're creating with our way of consuming. We need to consume in such a way that truly sustains our peace and happiness. Only when we're sustainable as humans will our civilization become sustainable. It is possible to be happy in the here and the now.
We don't need to consume a lot to be happy; in fact, we can live very simply. With mindfulness, any moment can become a happy moment. Savoring one simple breath, taking a moment to stop and contemplate the bright blue sky, or to fully enjoy the presence of a loved one, can be more than enough to make us happy. Each one of us needs to come back to reconnect with ourselves, with our loved ones and with the Earth. It's not money, power or consuming that can make us happy, but having love and understanding in our heart.
The Bread in Your Hand is the Body of the Cosmos
We need to consume in such a way that keeps our compassion alive. And yet many of us consume in a way that is very violent. Forests are cut down to raise cattle for beef, or to grow grain for liquor, while millions in the world are dying of starvation. Reducing the amount of meat we eat and alcohol we consume by 50% is a true act of love for ourselves, for the Earth and for one another. Eating with compassion can already help transform the situation our planet is facing, and restore balance to ourselves and the Earth.
Nothing is More Important than Brotherhood and Sisterhood
There's a revolution that needs to happen and it starts from inside each one of us. We need to wake up and fall in love with Earth. We've been homo sapiens for a long time. Now it's time to become homo conscious. Our love and admiration for the Earth has the power to unite us and remove all boundaries, separation and discrimination. Centuries of individualism and competition have brought about tremendous destruction and alienation. We need to re-establish true communication–true communion–with ourselves, with the Earth, and with one another, as children of the same mother. We need more than new technology to protect the planet. We need real community and co-operation.
All civilisations are impermanent and must come to an end one day. But if we continue on our current course, there's no doubt that our civilisation will be destroyed sooner than we think. The Earth may need millions of years to heal, to retrieve her balance and restore her beauty. She will be able to recover, but we humans and many other species will disappear, until the Earth can generate conditions to bring us forth again in new forms. Once we can accept the impermanence of our civilization with peace, we will be liberated from our fear. Only then will we have the strength, awakening and love we need to bring us together. Cherishing our precious Earth–falling in love with the Earth–is not an obligation. It is a matter of personal and collective happiness and survival.
About the Author
Zen Master Thich Nhat Hanh is a global spiritual leader, poet and peace activist, revered around the world for his powerful teachings and bestselling writings on mindfulness and peace. He is the man Martin Luther King called "An Apostle of peace and nonviolence." His key teaching is that, through mindfulness, we can learn to live happily in the present moment—the only way to truly develop peace, both in one's self and in the world.
Meteor Fireball Streaking Across the North Carolina Sky Captured by Dashcam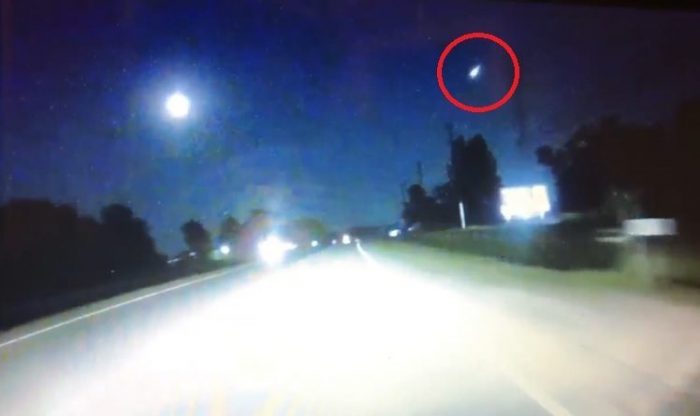 A car dashcam recorded a fireball streaking across the night sky in North Carolina.
An ABC11 viewer recorded the video Thursday night while driving on Raleigh Road in Wilson toward Airport Boulevard.
In the top right of the screen, a bright light can be seen entering the frame and streaking toward the horizon for about three seconds.
According to the American Meteor Society, as many as 20 witnesses from South Carolina to Virginia reported seeing something similar around 8:07 p.m.
With all of the reports are taken into consideration, AMS projects the fireball's trajectory happened off the coast of Morehead City.
Defending the Amazon, Indigenous Rights & Planetary Integrity
As the Amazon Rainforest crisis persists, our inability to protect our planet poses an existential threat to all of Earth's inhabitants. As the sky recently turned black over Sao Paulo, Brazil because of smoke (thousands of kilometers away) from the fires that is so thick it can be viewed by NASA space satellites, the world's leaders were assembled at the G-7 summit in Europe, seemingly more interested in exchanging sophomoric insults than solving the world's most pressing and urgent problems. According to Brazil's National Institute for Space Research, almost 73,000 forest fires have been documented this year alone. That's an alarming 84% increase from what was observed in 2018.
As Indigenous groups and conservationists scramble to defend the lungs of our planet, Brazil' President Jair Bolsonaro audaciously shrugged off the news and blamed NGO's and Indigenous groups for the glaring uptick in fires in the Amazon. Since taking office in January, Bolsonaro has promised to roll back environmental protections and indigenous rights in order to exploit the Amazon for increased farming and mining, and he has made good on that promise.
Invasion of indigenous territories are on the rise in Brazil, and indigenous groups are increasingly under threat as titans of industry within mining, logging, and animal farming continue to encroach upon indigenous land and destroy precious parcels of the Amazon for commercial exploitation. Bolsonaro has emboldened these invasions. Recently, a group of heavily armed miners invaded indigenous land in Northern Brazil and assassinated one of the community's indigenous leaders.
Indigenous peoples in Brazil are once again on the front lines today of one of the most brutal attacks on their rights and on the forest in recent history. We're now seeing the drastic rollback of 30 years of progress on human rights and environmental protection in Brazil under Bolsonaro's regime, which romanticizes Brazil's past when military dictatorship took helm and presided over wanton destruction of the forest. The Munduruku people have been resisting encroachment and destruction of their land for centuries, and their fight (along with other indigenous groups and the very spirit of the Amazon jungle itself) is more urgent than ever as Brazil's government and commercial industries continue to violate with impunity.
The tragedy currently taking place in the Amazon is indicative of a broader cultural problem in regards to our relationship with our planet. 1/5th of all the world's plants and birds and about 1/10th of all mammal species are found in the Amazon. Earth has lost half its wildlife in the past four decades. Based on an analysis of thousands of vertebrate species by the wildlife group WWF and the Zoological Society of London, our way of life has presided over the destruction of 60% of our animal populations since 1970. The report calculates a global "ecological footprint," which measures the area required to supply the ecological goods and services humans use. It concludes that humanity currently needs the regenerative capacity of 1.5 Earths to supply these goods and services each year.
With the planet's population expected to grow by 2.4 billion people by 2050, the challenge of providing enough food, water and energy (while sustaining planetary health) will be difficult. This should be the real "RED ALERT" placated all over the media, as the shocking and rapid decline of planetary biodiversity poses an imminent catastrophe that plagues all of us, requiring urgent and bold alterations to our way of life.
That being said, we have more than enough resources to profit food and shelter to billions of people. Solutions done seem to be the problem, it's human consciousness, greed and ego.
Outrage is an understandable response to the Amazon crisis, but not sufficient to redress the problem. We need to take individual action in our daily lives by altering our lifestyles. One of the most under-reported aspects of Amazonian deforestation is our addiction to consuming meat. Beef, soy, palm oil and wood drive the majority of tropical deforestation.
Animal agriculture is devastating for the Earth. Raising livestock for meat, eggs and milk uses about 70% of agricultural land, and is a primary factor in the proliferation of deforestation, biodiversity loss, and water pollution.
"1.2 billion farmed animals are slaughtered globally every week for human consumption. In one week, more farmed animals are killed than the total number of people killed in all wars throughout history. Although these animals are treated as commodity, they are — in fact — sentient beings — like your pet cat or dog. We tend to assume that only vegans and vegetarians follow a belief system — but when eating animals is not a necessity (which is the case in much of the world today) — then it is a choice, and choices stem from beliefs. "Carnism" is a dominant philosophy — as eating animals is just the way things are — yet it runs contrary to core human values such as compassion, justice, and authenticity. And so — they need to use defense mechanisms that distort our thoughts and numb our feelings so that we act against our core values without fully realizing what we are even doing." ~Dr. Melanie Joy
The challenges that face our planet, our indigenous family, and our own imminent future are immense. It is easy to feel discouraged, angry, and hopeless about the state of the world, but the ability to harness humanity's intelligence, creativity and compassion to steer the planet in a new direction is with us right now. We can take individual responsibility today, which can resonate immediately and create waves of influence that can lead to a collective change in behavior and attitudinal shift towards our relationship with nature and with ourselves. This change starts from within, and this work begins with each of us making the choice to defend and protect this wondrous planet which has so graciously hosted our livelihood.
Satellite Images Reveal Devastating Amazon Fires in Almost Real-Time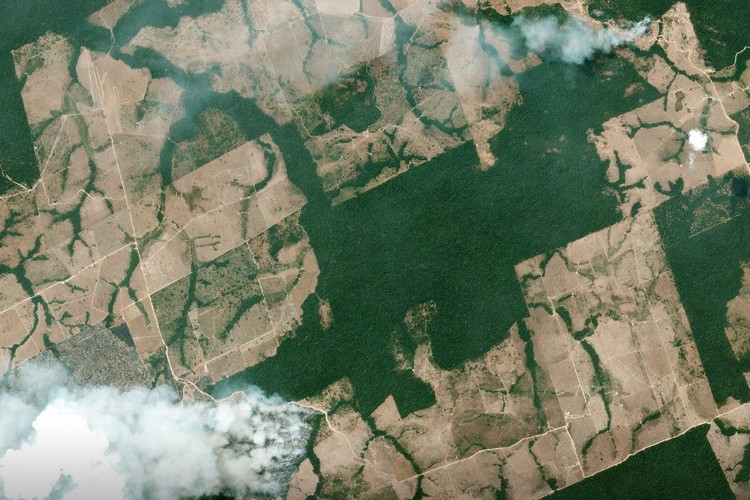 Rhett Butler, Mongabay
Waking Times
High-resolution images from satellite company Planet are revealing glimpses of some of the fires currently devastating the Amazon rainforest.
While many of the images currently being shared on social media and by news outlets are from past fires — some from as long as 15 years ago — satellites can provide a near real-time view of what's unfolding in the Amazon. With near-daily overflights and high-resolution imagery, Planet's constellation of satellites is providing a clear look at some of the fires now burning in the Brazilian Amazon.