We Need a Revolution – It Starts with Falling in Love with the Earth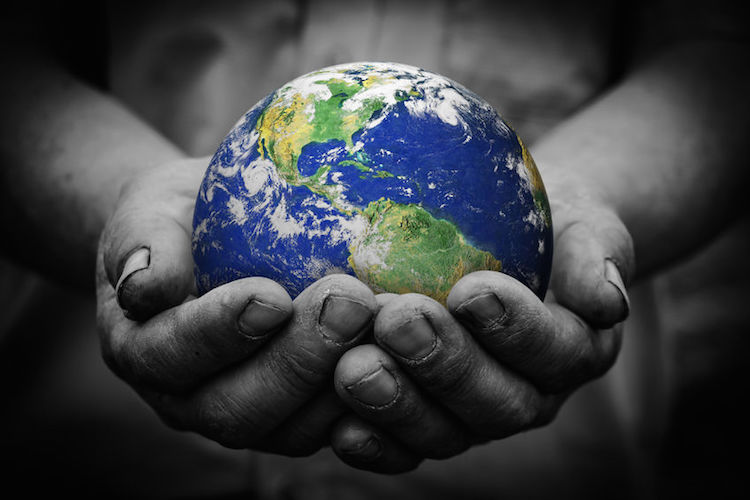 Thich Nhat Hanh, Guest
Waking Times
The Earth is our mother, nourishing and protecting us in every moment–giving us air to breathe, fresh water to drink, food to eat and healing herbs to cure us when we are sick. Every breath we inhale contains our planet's nitrogen, oxygen, water vapor and trace elements. When we breathe with mindfulness, we can experience our interbeing with the Earth's delicate atmosphere, with all the plants, and even with the sun, whose light makes possible the miracle of photosynthesis. With every breath, we can experience communion. With every breath, we can savor the wonders of life.
We need to change our way of thinking and seeing things. We need to realise that the Earth is not just our environment. The Earth is not something outside of us. Breathing with mindfulness and contemplating your body, you realise that you are the Earth. You realise that your consciousness is also the consciousness of the Earth. Look around you–what you see is not your environment, it is you.
Great Mother Earth
Whatever nationality or culture we belong to, whatever religion we follow, whether we're Buddhists, Christians, Muslims, Jews, or atheists, we can all see that the Earth is not inert matter. She is a great being, who has herself given birth to many other great beings–including Buddhas and bodhisattvas, prophets and saints, sons and daughters of God and humankind. The Earth is a loving mother, nurturing and protecting all peoples and all species without discrimination.
When you realise the Earth is so much more than simply your environment, you'll be moved to protect her in the same way as you would yourself. This is the kind of awareness, the kind of awakening that we need, and the future of the planet depends on whether we're able to cultivate this insight or not. The Earth and all species on Earth are in real danger. Yet if we can develop a deep relationship with the Earth, we'll have enough love, strength and awakening in order to change our way of life.
Falling in Love
We can all experience a feeling of deep admiration and love when we see the great harmony, elegance and beauty of the Earth. A simple branch of a cherry blossom, the shell of a snail or the wing of a bat–all bear witness to the Earth's masterful creativity. Every advance in our scientific understanding deepens our admiration and love for this wondrous planet. When we can truly see and understand the Earth, love is born in our hearts. We feel connected. That is the meaning of love: To be at one.
Only when we've truly fallen back in love with the Earth will our actions spring from reverence, and the insight of our interconnectedness. Yet many of us have become alienated from the Earth. We are lost, isolated and lonely. We work too hard, our lives are too busy, and we are restless and distracted, losing ourselves in consumption. But the Earth is always there for us, offering us everything we need for our nourishment and healing: The miraculous grain of corn, the refreshing stream, the fragrant forest, the majestic snow-capped mountain peak, and the joyful birdsong at dawn.
True Happiness is Made of Love
Many of us think we need more money, more power or more status before we can be happy. We're so busy spending our lives chasing after money, power and status that we ignore all the conditions for happiness already available. At the same time, we lose ourselves in buying and consuming things we don't need, putting a heavy strain on both our bodies and the planet. Yet much of what we drink, eat, watch, read or listen to, is toxic and is polluting our bodies and minds with violence, anger, fear and despair.
As well as the carbon dioxide pollution of our physical environment, we can speak of the spiritual pollution of our human environment: The toxic and destructive atmosphere we're creating with our way of consuming. We need to consume in such a way that truly sustains our peace and happiness. Only when we're sustainable as humans will our civilization become sustainable. It is possible to be happy in the here and the now.
We don't need to consume a lot to be happy; in fact, we can live very simply. With mindfulness, any moment can become a happy moment. Savoring one simple breath, taking a moment to stop and contemplate the bright blue sky, or to fully enjoy the presence of a loved one, can be more than enough to make us happy. Each one of us needs to come back to reconnect with ourselves, with our loved ones and with the Earth. It's not money, power or consuming that can make us happy, but having love and understanding in our heart.
The Bread in Your Hand is the Body of the Cosmos
We need to consume in such a way that keeps our compassion alive. And yet many of us consume in a way that is very violent. Forests are cut down to raise cattle for beef, or to grow grain for liquor, while millions in the world are dying of starvation. Reducing the amount of meat we eat and alcohol we consume by 50% is a true act of love for ourselves, for the Earth and for one another. Eating with compassion can already help transform the situation our planet is facing, and restore balance to ourselves and the Earth.
Nothing is More Important than Brotherhood and Sisterhood
There's a revolution that needs to happen and it starts from inside each one of us. We need to wake up and fall in love with Earth. We've been homo sapiens for a long time. Now it's time to become homo conscious. Our love and admiration for the Earth has the power to unite us and remove all boundaries, separation and discrimination. Centuries of individualism and competition have brought about tremendous destruction and alienation. We need to re-establish true communication–true communion–with ourselves, with the Earth, and with one another, as children of the same mother. We need more than new technology to protect the planet. We need real community and co-operation.
All civilisations are impermanent and must come to an end one day. But if we continue on our current course, there's no doubt that our civilisation will be destroyed sooner than we think. The Earth may need millions of years to heal, to retrieve her balance and restore her beauty. She will be able to recover, but we humans and many other species will disappear, until the Earth can generate conditions to bring us forth again in new forms. Once we can accept the impermanence of our civilization with peace, we will be liberated from our fear. Only then will we have the strength, awakening and love we need to bring us together. Cherishing our precious Earth–falling in love with the Earth–is not an obligation. It is a matter of personal and collective happiness and survival.
About the Author
Zen Master Thich Nhat Hanh is a global spiritual leader, poet and peace activist, revered around the world for his powerful teachings and bestselling writings on mindfulness and peace. He is the man Martin Luther King called "An Apostle of peace and nonviolence." His key teaching is that, through mindfulness, we can learn to live happily in the present moment—the only way to truly develop peace, both in one's self and in the world.
Polar vortex: "wild" winter is coming in the US, Northern Europe and East Asia after the 16th of January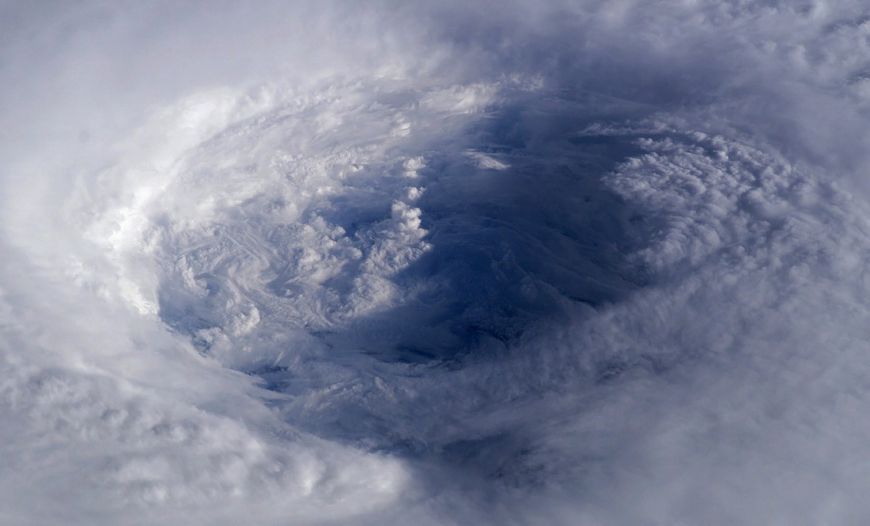 In the upper atmosphere above the North Pole, experts saw a rapidly swirling vortex of cold air that could bring severe frosts to the United States, Northern Europe and East Asia. Serious cold snap and snowy weather are expected after January the 16th.
Snowfalls and a cold snap hit South Korea since the start of 2021, hitting historic snow maximums and temperatures. In the country, for the first time since 1964, television and newer communications are sending people cold snap warnings:
The situation is similar in Japan, where a new snow storm hit historic highs:
On January 7, the thermometer In Beijing dropped to -20 degrees Celsius, breaking the 1966 record. In other regions of China, the temperature is also not sugar, and you can only move around in special uniforms:
The cold even reached Taiwan, where the temperature in some areas dropped below freezing point, snow poured down and people realized that rice terraces can be used as a ski jump:
Even more snow went to Spain, where on January 6, 2021, a temperature of -34.1 ° C was recorded – the lowest on record. After that, a snow storm hit the country, which has not been seen for 80 years:
The same thing happens in Canada and in the northern states of the United States:
It seems that after a stratospheric warming, the subpolar vortex began to split:
The vortex itself is a standard phenomenon. However, this time experts were surprised at his movement. It is possible that in the near future it will be divided into two parts. 
Scientists associate the strange behavior with the changed climate in the Arctic, which has become warmer. From September to December, the amount of ice cover decreased significantly.
The polar vortex is a low-pressure region located in the stratosphere and filled with cold air. When the jet stream of air that holds the vortex weakens, the low pressure area moves south. 
As the ice shrinks, more moisture will move inland. It will turn to snow, so snowfalls are expected. Snow, in turn, reflects heat, leading to a cold snap.
Hospital in Naples was evacuated after a new, huge sinkhole appeared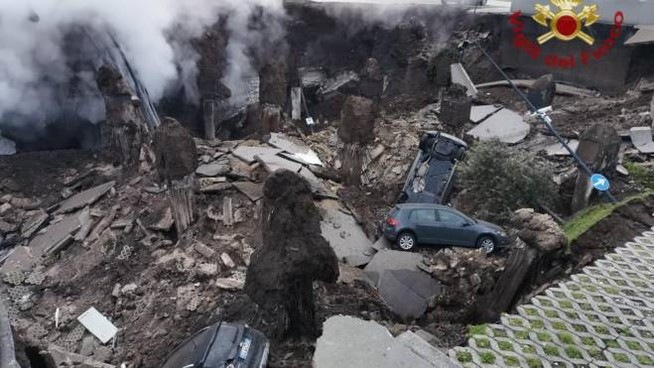 Eyewitnesses said they heard a loud crash at dawn when a huge hole in the ground formed outside the Ponticelli Ospedale del Mare hospital in eastern Naples.
Early in the morning of January 8, 2021, a sinkhole occurred in the parking lot of a clinic in Naples. The depth of the formed cavity is about 20 meters, the total area of ​​the hole is about 2,000 square meters.
No casualties were found at the scene; firefighters say the sinkhole "affected an area of ​​about 500 square meters" and engulfed several cars parked near the hospital.
As the press writes and as a little can be seen from the videos, rescuers and firefighters were running around the pit together with the governor of the area.  But who should be there in the forefront are Italian geologists, since Naples stands in the very center of the volcanic system known as the Phlegrean Fields.
If the surface collapsed, moreover – the surface reinforced with concrete and reinforced from below with some kind of communications, then we are talking about serious soil deformations caused by the activity of magma.
Italy has been in doubt since the summer of 2020, because swarms were observed there in very atypical places in May, and according to the forecasts of old Italian seismologists, who had witnessed many strong earthquakes, it should have boomed in the August region.
Fortunately, nothing bad happened to Italy and there was no big earthquake. But, since there are swarms, it means that something is being prepared, the magma is gathering strength. 
Following this particular sinkhole event – an obvious sign that a major earthquake in Italy is already very close.
A new great pandemic cycle has begun (again) in China
In the first months of 2020, the whole world with a certain fright followed the events unfolding in China, where people fell on the streets during the day and astronauts wandered, and in the evening crematoria began to smoke. And now, with the onset of December, the cycle seems to be repeating itself.
Shunyi area in Beijing, where the authorities announced "wartime status" the day before. As you can see in the videos, thousands of people are lined up in the queue for mandatory testing:
Dalian city, where "wartime" is also declared. Neighborhoods are blockaded, people are walled up in entrances, familiar characters of George Lucas roam the streets:
Chinese 'rescuers', before performing a combat mission:
Chengdu City:
Daluo Port, Yunnan – tourists came for adventure and they received the 'time of their life' after leaving the ramp:
If something happens in Beijing, it does not mean that tomorrow the same will happen everywhere. However, the trend towards such dynamics is observed and, as the practice of the first wave of the pandemic has shown, all countries and people, to one degree or another, have taken into account the 'Chinese experience'.
Therefore, one must think that everything will now be in peace, as in spring – a new global round of the fight against the Covid has begun in China, a new great pandemic cycle!