"We have little chance of distinguishing ET artifacts from natural celestial objects," says scientist.
British physicist Stephen Wolfram believes extraterrestrial intelligent life is inevitable, but with one caveat. Although intelligent life is inevitable, we will never find it – at least not by searching the Milky Way.
Wolfram points out that in order to compress more and more information into our communication signals, whether they are cell phone or computer conversations, we have removed all redundancy or pattern. If something in a signal repeats, it can be deleted. But this process of removing any pattern from a signal makes the signal seem increasingly random – in fact, much like the random "noise" of radio that rains on Earth from stars and interstellar gas clouds.
According to Wolfram, if one transmitted our own 21st century communication signals from space, it would be difficult to determine if they were artificial or natural. So what chance do we have of distinguishing ET communication from static general radio from the cosmos?
In his magnum opus, " The New Kind of Science"(A New Type of Science), Wolfram, suggests that extraterrestrial intelligence is inevitably difficult to define and recognize.
He wrote:
Detecting extraterrestrial signals from sophisticated mathematical computation is generally assumed to provide evidence for extraterrestrial intelligence.

But discoveries in a new kind of science show that such computation can indeed be produced by very simple underlying rules – of types that can occur in simple physical systems, with nothing like what we normally consider intelligence. The result is a new view of the character of intelligence and a collection of ideas about the nature of the goal, and to recognize it in the final extrapolations of technology.
The Oumuamua Paradox
As Harvard's Avi Loeb suggested about Oumuamua, Hawaiian for "Messenger from Afar," the first known interstellar object detected passing through the Solar System on 19 October 2017, ET artifacts could look far more like a natural artifact. Loeb made headlines around the globe in 2018 when he suggested that Oumuamua, with an extreme oblong shape as much as 10 times as long as it is wide, might actually be an alien spacecraft. An analysis of its trajectory suggests that the object came in from a place far beyond the solar system, somewhere in the constellation Lyra, heading towards the constellation Pegasus.
Astronomers around the world tried to detect radio signals to see if they could determine what it was. Was it a fragment of an ancient asteroid, a strange comet? Or was it something else? One possibility, Loeb suggests, is no more speculative than the existence of dark energy or dark matter.
It is easy to distinguish technological artifacts like a car from natural objects like a tree. The tree is much more complicated.
Wolfram says:
This is simply because our technological artifacts are primitive. As they become more complex (with computer processors that allow them to make moment-by-moment decisions) they begin to look as complex as trees, people, and stars.
We have little chance, he suggests, of distinguishing an ET artifact from a natural celestial object.
If Wolfram is right and ETs are out there but we will not be able to recognize them – either in their communications or their artifacts – then of course they could be here in the Solar System and we would not have noticed.
The computational universe
Wolfram thinks ETs won't want to travel to Earth – or anywhere else. In Wolfram's view, everything in the universe is the product of a computer program. In fact, he imagines a cyber virtual universe of every conceivable computer program, from the simplest to the most complex. This "computational universe" contains everything from the Apple Macintosh operating system to a program to create a faster-than-light starship.
Wolfram believes he has found nature's big secret – how it generates the complexity of the world, everything from a rhododendron to a tree to a barred spiral galaxy by applying simple rules over and over again as a simple computer programs. Wolfram came to this remarkable conclusion in the early 1980s when he discovered that the simplest kind of computer program – known as a cellular automaton – can generate infinite complexity if its output is repeatedly fed back in as its input.
The great secret of nature
Wolfram found evidence that the kind of computer program that produces infinite complexity can be implemented not only in biological molecule systems, but in all kinds of physical systems — chaotic gas clouds, subatomic particle systems, and so on. He concludes that all over the Universe life – though definitely not life as we know it – will spring up spontaneously. It is a fundamental feature of matter.
The existence of this computational universe is crucial. But the reality is that it would be easier and more efficient for an extraterrestrial civilization to stay home and use a computer to search for useful programs in the computational universe, rather than trying to get the same information by looking for extraterrestrials to chat among the 200 Billion or more stars. in the Milky Way. "It's a simple numbers game," says Wolfram.
He says:
Everything is computer generated, and that includes you and me. Someone on the other side of Galaxy could have found the computer program for you and be talking to you right now.
In Michigan, a surveillance camera recorded the one who mutilated hens. It turned out to be a UFO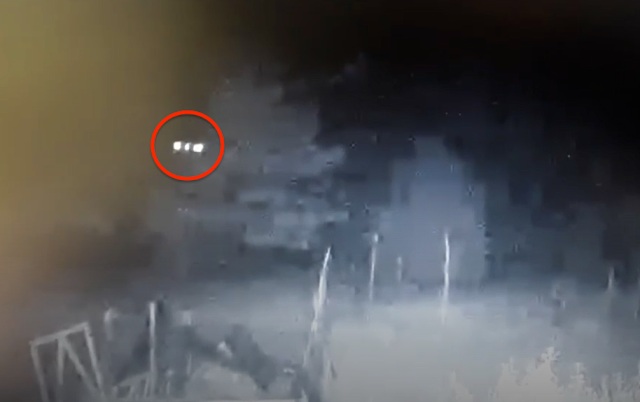 In the US state of Michigan, one resident was worried that he found mutilated chickens in a fenced-in chicken coop every morning. Moreover, something cut out the back of the birds and their bodies were bled.
The owner of the chicken house installed a camera aimed at the house. When looking through it's recordings, he found out that on July 1 of this year at 1.44 a small UFO flew up from the chicken coop.
This small luminous thing looks like a toy drone with flashlights, but it's not a drone, because it takes off from the thick grass, which is impossible for a drone. Moreover: as the author of the video suspects – this thing dismembers his farm chickens, which he often finds with surgically removed fragments of the body.
Now he wonders what is going on. They live in a rural area in Michigan, and of course they didn't add optimism to such incidents … Nobody launches any drones there. This is a farm, private land.
So, what is this glowing UFO that flies into the chicken coop and mutilates chickens, cutting out their internal organs.
UFO's are just all over the place
Mexico, July 3:
Latin America, July 5th:
To believe that this is not a fake is very difficult, but this "flying wing" was first seen in Cuba a couple of years ago and has been appearing regularly since then:
And here is not just a UFO, but aliens jumping out of a portal or from a mother ship, hidden by a cloud:
It is not indicated where this video was recored, since the owner of the channel simply collects such things, finding them on social networks. Judging by the architecture of the building that got into the frame, it is somewhere in Southeast Asia.
Another cloud shot in Milan on June 15:
Russia, June 20:
As the author of the video writes in the comments, this thing flew in May, but no one managed to take tape it then, but now the camera was at hand. Moreover, the place of filming is noteworthy – the city of Sestroretsk, near St. Petersburg. Just at that moment, the media wrote about the incomprehensible movement of military equipment in the area and the cancellation of train traffic "because of a fallen tree".
Egypt, July 8th:
And this is China:
We could not trace the final source of the video, but it is now being circulated on Chinese social networks and it doesnt look like a fake:
The video was shot in Guangdong (this is where Hong Kong goes further to the sea). On the eve of China has already been in the top of the paranormal news, because there was something wildly roaring in the mountains and no one could explain what it is. And here, it seems, a possible reason for such sounds hung over the earth – a hefty UFO with aliens.
Belgian incident. UFO invasion in 1989-1990
The events of November 29, 1989 were confirmed by at least thirty different groups of witnesses and three separate groups of police officers. All witnesses described a large object flying at low altitude. The vessel was flat, triangular in shape, with lights below. This giant ship made no sound, slowly moving over the Belgian landscape.
A free exchange of information was organized as the Belgian population tracked this ship as it moved from the city of Liege to the border of the Netherlands and Germany.
This is the first astounding sight to turn into a wave of UFO sightings over the next few months. In two cases, a pair of F-16 fighters pursued a mysterious object, but to no avail. On March 30, 1990, the military headquarters received a desperate call from the captain of the Belgian national police. He reported a giant triangle flying past him, and simultaneously two ground-based radar stations showed on their screens an object of unknown origin.
One of these bases was under NATO control near the city of Glons, located southeast of Brussels. After contacting other radar installations, they learned that at least four other stations also report the object on their screens. The object moved slowly along their screens, and could not send a transponder signal to identify itself.
Two F-16s received orders to intercept and identify this phenomenon, and one of the aircraft radars recorded the object. It appeared like a small diamond on the pilot's screen. The pilot reported that just a few seconds after capturing the target, the object began to gain speed, quickly moving away from the radar zone. An hour-long chase followed, during which the F-16 two more times intercepted the signal of a strange ship and saw that it had disappeared from sight. The triangular ship seemed to play cat and mouse and finally got lost in the night lights of Brussels.
Fighter pilots reported that UFOs made maneuvers at speeds exceeding the capabilities of their equipment – the radar showed a sharp decrease in an unknown aircraft from 3 kilometers to 150 meters in 5 seconds! Unusual aircraft continued to appear for several months, and a triangular UFO was spotted more than 1,000 times, both day and night. The object fell low enough to be easily seen with the naked eye, and this event became one of the most high-profile stories in the Belgian media.
Another unusual phenomenon associated with the Belgian UFO was the inability to take a clear photo of it. Many observers kept their cameras ready and shot what they thought should be a clear image, but when the film showed up, the image was blurred,
This anomaly was examined by physics professor Auguste Meessen, who worked at Catholic University in Louvain. Meessen's study gave the theory that infrared light should be the reason that almost all images were unclear.
To test his theory, he exposed the film to infrared radiation, and then photographed objects in ordinary light. The results were the same as in the photographs of a triangular UFO. One good image was finally shot in April 1990. This image showed the bottom of the ship's hull with spotlights at three angles.
US President declassifies UFO materials
We are talking about the "Roswell incident" when in 1947 a balloon crashed in the USA, which was used to record sound waves from Soviet nuclear tests. The military hid the origin of the wreckage, which gave rise to many conspiracy theories.
US President Donald Trump promised to think about removing the secrecy stamp from materials about unidentified flying objects and the "Roswell incident."
In an interview dedicated to Father's Day, to his son Donald Trump Jr., which was broadcast on Thursday, the American leader said that many asked him a question about UFOs.
"Millions of people want to go there and see. I won't tell you that I know about it, but it's very interesting."
The son of a Republican asked him if he was prepared to declassify materials about UFOs and the "Roswell incident." "I have to think about it," Trump answered.
On July 4, 1947, the so-called Roswell incident. A balloon crashed on a ranch near Roswell, New Mexico, which was used to record sound waves from Soviet nuclear tests as part of the US Air Force's secret Mogul project. The military hid the origin of the wreckage, which gave rise to many conspiracy theories widely circulated by local and then national media – in particular, about the extraterrestrial origin of the crashed "unidentified apparatus."
At the end of April, the Pentagon published videos of the US Navy, which, as noted in a press release, captured "air events" that were described as "unidentified." We are talking about shots taken by the crews of American military aircraft in November 2004 and January 2015. 
As noted in the message, the videos got into the network back in 2007 and 2017, but then the Ministry of Defense did not give their permission to publish them, although the authenticity of the records of the US Navy was subsequently recognized.
At the end of 2017, it became known that the Pentagon had a classified program for collecting and analyzing data on "anomalous aerospace threats." In 2007-2012, $ 22 million was allocated for it. At first, the program was administered by the intelligence department of the US Department of Defense.
Not the only US politician announcing a UFO in Roswell
It is worth noting that Donald Trump is not the first American politician to promise to declassify UFO information during the pre-election period. During the 2016 campaign, a similar statement was made by Trump's main rival, former US Secretary of State Hillary Clinton.
During an interview on Jimmy Kimmel's program, she was asked a similar question about UFOs. In response to him, the former first lady clarified that "now it is called differently." 
"These are unidentified air phenomena, illegal armed groups, such is the new nomenclature," Clinton said. 
Then the politician said that if she wins the election, all information about such phenomena will be declassified, if this does not affect the sphere of national security.
A similar promise in 2019 was made by another candidate from the Democratic Party – Socialist Senator Bernie Sanders. In an interview with TV presenter Joe Rogan, he noted that if he heads the state, he will definitely declassify UFO documents, as his wife constantly asks about this. 
Recall also that during the 1976 campaign, the future 39th president, Jimmy Carter, did not hesitate to say that in 1969 he witnessed the appearance of UFOs in the state of Georgia and even turned to the NICAP ufological organization with testimonies.