"We have little chance of distinguishing ET artifacts from natural celestial objects," says scientist.
British physicist Stephen Wolfram believes extraterrestrial intelligent life is inevitable, but with one caveat. Although intelligent life is inevitable, we will never find it – at least not by searching the Milky Way.
Wolfram points out that in order to compress more and more information into our communication signals, whether they are cell phone or computer conversations, we have removed all redundancy or pattern. If something in a signal repeats, it can be deleted. But this process of removing any pattern from a signal makes the signal seem increasingly random – in fact, much like the random "noise" of radio that rains on Earth from stars and interstellar gas clouds.
According to Wolfram, if one transmitted our own 21st century communication signals from space, it would be difficult to determine if they were artificial or natural. So what chance do we have of distinguishing ET communication from static general radio from the cosmos?
In his magnum opus, " The New Kind of Science"(A New Type of Science), Wolfram, suggests that extraterrestrial intelligence is inevitably difficult to define and recognize.
He wrote:
Detecting extraterrestrial signals from sophisticated mathematical computation is generally assumed to provide evidence for extraterrestrial intelligence.

But discoveries in a new kind of science show that such computation can indeed be produced by very simple underlying rules – of types that can occur in simple physical systems, with nothing like what we normally consider intelligence. The result is a new view of the character of intelligence and a collection of ideas about the nature of the goal, and to recognize it in the final extrapolations of technology.
The Oumuamua Paradox
As Harvard's Avi Loeb suggested about Oumuamua, Hawaiian for "Messenger from Afar," the first known interstellar object detected passing through the Solar System on 19 October 2017, ET artifacts could look far more like a natural artifact. Loeb made headlines around the globe in 2018 when he suggested that Oumuamua, with an extreme oblong shape as much as 10 times as long as it is wide, might actually be an alien spacecraft. An analysis of its trajectory suggests that the object came in from a place far beyond the solar system, somewhere in the constellation Lyra, heading towards the constellation Pegasus.
Astronomers around the world tried to detect radio signals to see if they could determine what it was. Was it a fragment of an ancient asteroid, a strange comet? Or was it something else? One possibility, Loeb suggests, is no more speculative than the existence of dark energy or dark matter.
It is easy to distinguish technological artifacts like a car from natural objects like a tree. The tree is much more complicated.
Wolfram says:
This is simply because our technological artifacts are primitive. As they become more complex (with computer processors that allow them to make moment-by-moment decisions) they begin to look as complex as trees, people, and stars.
We have little chance, he suggests, of distinguishing an ET artifact from a natural celestial object.
If Wolfram is right and ETs are out there but we will not be able to recognize them – either in their communications or their artifacts – then of course they could be here in the Solar System and we would not have noticed.
The computational universe
Wolfram thinks ETs won't want to travel to Earth – or anywhere else. In Wolfram's view, everything in the universe is the product of a computer program. In fact, he imagines a cyber virtual universe of every conceivable computer program, from the simplest to the most complex. This "computational universe" contains everything from the Apple Macintosh operating system to a program to create a faster-than-light starship.
Wolfram believes he has found nature's big secret – how it generates the complexity of the world, everything from a rhododendron to a tree to a barred spiral galaxy by applying simple rules over and over again as a simple computer programs. Wolfram came to this remarkable conclusion in the early 1980s when he discovered that the simplest kind of computer program – known as a cellular automaton – can generate infinite complexity if its output is repeatedly fed back in as its input.
The great secret of nature
Wolfram found evidence that the kind of computer program that produces infinite complexity can be implemented not only in biological molecule systems, but in all kinds of physical systems — chaotic gas clouds, subatomic particle systems, and so on. He concludes that all over the Universe life – though definitely not life as we know it – will spring up spontaneously. It is a fundamental feature of matter.
The existence of this computational universe is crucial. But the reality is that it would be easier and more efficient for an extraterrestrial civilization to stay home and use a computer to search for useful programs in the computational universe, rather than trying to get the same information by looking for extraterrestrials to chat among the 200 Billion or more stars. in the Milky Way. "It's a simple numbers game," says Wolfram.
He says:
Everything is computer generated, and that includes you and me. Someone on the other side of Galaxy could have found the computer program for you and be talking to you right now.
The mysterious UFO incident near Shag Harbor, Nova Scotia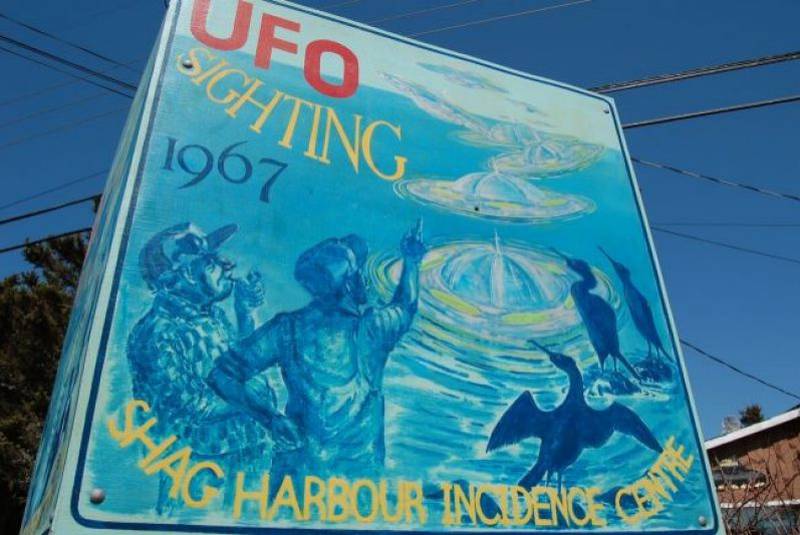 More than 50 years ago, in the Canadian fishing village of Shag Harbor, Nova Scotia, an extremely unusual event took place.
At least 11 people are becoming it's eyewitnesses, which is one of the largest UFO sightings in Canada.
On October 4, 1967, at 11.30am, the residents of the small port fishing village of Shag Harbor saw that suddenly something bright was flashing in the sky. Then more brilliant lights came on, becoming four in all. They moved in such a way that one could see that it was a large object with four lights on it.
For almost an hour, this object slowly flew back and forth around the settlement and those who were still awake could clearly see it.
Then the object suddenly began to fall and at high speed it plunged into the water. At the same time, it made a very loud and hissing noise, and when submerged in the water, its brilliant lights did not go out.
One eyewitness says:
"We saw four lights in the sky and decided it was an airplane. Therefore, we did not pay attention to it, we just watched its lights go out and then they glow again. Then it flew over the road and disappeared behind the hill, so that it was no longer visible.
We ran to the hill, and when we climbed it, we saw a bright light in the water. We then ran to the street phone and called the Canadian Mountain Police to report a plane crash. "
But then, the mysterious object suddenly floated about a mile from shore. A yellow light shone on it as it rocked on the waves for some time.
Then, the object again plunged deep into the water, but floated again. All 11 eyewitnesses at the port of Shag Harbor saw this object from different points of view and in different places, so that no hallucinations and pareidolia could be mentioned.
It was definitely a material and solid object that, at the same time, did not resemble a land vehicle of those years – an airplane or a helicopter.
The Coast Guard boats appeared shortly after the incident, but by that time the object had already disappeared. Only the odd yellow foam was left of the water.
It was initially agreed that there was a plane crash, but it quickly became clear that no aircraft in the area had disappeared or even passed over the area. Including small private jets.
After that, even the country's top officials started talking about UFOs. This incident is one of the few cases where, in the documents of a state institution, it is officially stated that the incident occurred with an unidentified flying object.
Several interrogated eyewitnesses also confirmed that the object did not look like an airplane. Some even began to report directly that an alien ship had crashed at the port of Shag Harbor.
When search and rescue teams and military divers did not find debris in local waters within three days, the extraterrestrial version became even more intrusive.
Later, on the day of the UFO incident near Shag Harbor, strange objects were observed in the sky and elsewhere in the same region. Including the pilot of a passenger plane on Air Canada Flight 305, which is said to have seen something unidentified and rectangular flying near his plane.
Over the next few years, the incident at Shag Harbor was carefully investigated by the Royal Police, the Canadian Coast Guard and a group of US investigators, but no one came to a specific conclusion.
According to accidental leaks, it is known that Americans, along with Canadians, have even searched for bodies of dead aliens there. But, it is unknown if they have found anything.
A spectacular video shows a "cylindrical object that expels a puff of smoke" on the moon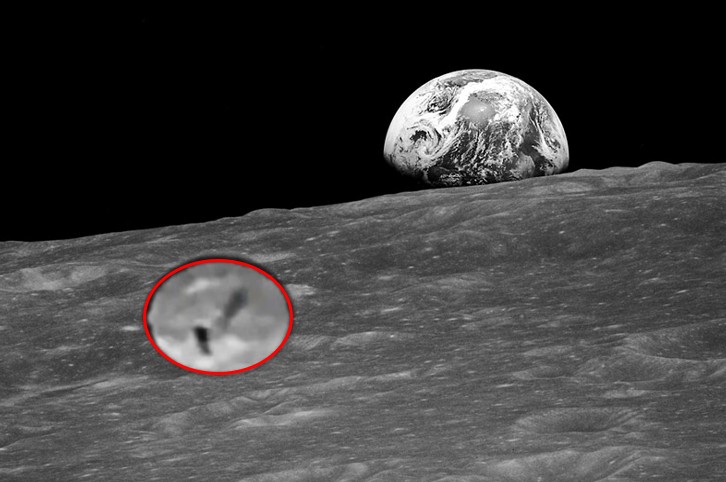 The images presented in the August 2003 issue of Electric Space Craft, a scientific journal, have aroused enormous interest. The publication contained an extraordinary series of frames taken from NASA images included in the TV program, NOVA: To the Moon. The meaning of the images had only recently been noticed.
While Apollo 8 orbited 70 miles (113 km) above the lunar surface, with the Earth in the background, it took pictures of the ground below. At some point in the NOVA program, a small black object, tall and cylindrical, seems to protrude from the moon.
In fact, just as it seems that the Apollo 8 camera is about to pass, the strange object seems to release a cloud in the form of a jet. It can be described as a funnel that expels a puff of smoke. The "cloud" moves to the right and then dissipates. Although the black object appears small on the screen, it should be hundreds or thousands of feet tall if it were actually seen from such a high altitude.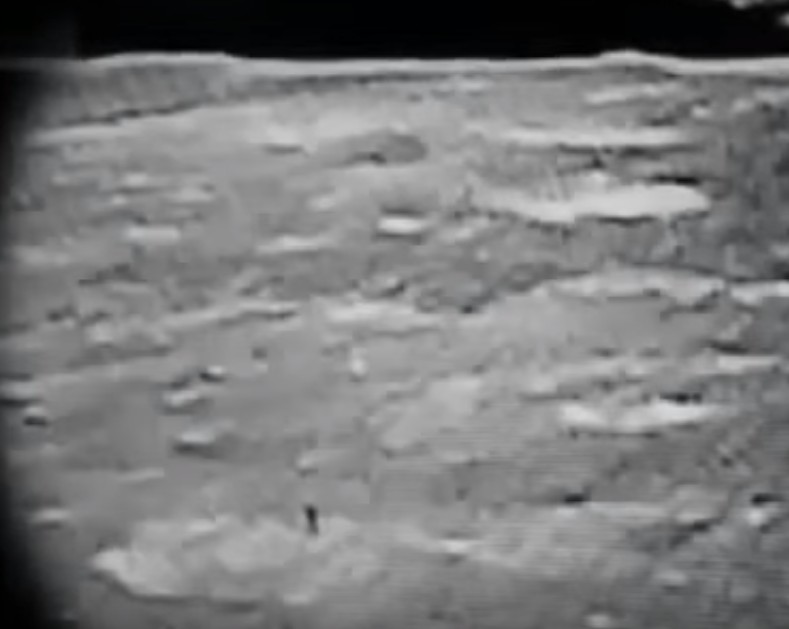 From the still images taken from the Apollo 8 video, you can see the anomaly that appears first near the center of the frame, then descends towards the lower left corner while the camera moves forward. Additional color images have been sent to us from the scientific publication.
Electric Space Craft has increased the sharpness and contrast of black and white images to clarify the scene for printing (however, you can see for yourself the real movie if you watch the documentary NOVA: To the Moon, on YouTube, (or DVD). The executive director of the magazine (and former engineer Apollo), Charles A. Yost, said that the anomaly is clearer on the VHS version due to digital compression for the DVD.
The object appears on the screen for two seconds (at minute 47.50) but was not mentioned in the NOVA program. Apparently it was not noticed until it was identified by the Electric Space Craft staff. At first glance, the anomaly does not seem to be dirt (dust) on the film because it can be seen in many frames, it changes when the perspective of the camera is changed and produces the inexplicable cloud-like shape that drift and vanishes. (see video below Nova: To the Moon- minute 47.50)
According to NASA, they did not have a color camera with a zoom on the Apollo 8 mission. The image in question shows clear evidence of a zoom. Therefore, unless there was an integrated camera that NASA kept secret, this zoom effect should not be seen. There are people who claim that NASA had a lot of secret cameras on board, but if so, then why did this "secret" footage fall into NOVA's hands? It is curious that zooming on a photograph would create such a strange anomaly and we would like to hear thoughts about what the anomaly could be.
The strange thing is that the Russians have noticed this anomaly by declaring that they had seen smoke coming out of the lunar surface during the Apollo 8 orbital journey. But then NASA had denied it. The chimney visible in the NOVA video is more than 300 meters high. The UFO researchers are wondering if this structure is part of an extraterrestrial mining industrial complex located in the Kepler Crater.
Below is the documentary Aliens On The Moon, where from minute 35.02, the images of this mysterious alien structure appear like a real "chimney". 
A Private UFO Enthusiast Donated Thousands of Government UFO Reports to the General Public
A collection of 30,000 documents was donated to the University of Manitoba in Canada by a private UFO enthusiast.
The skies of northern Canada are UFO hotspots, with many mysterious phenomena being reported. Now, alien truth seekers may have a busy winter ahead of them at the University of Manitoba in Winnipeg, thanks to the recent donation of over 30,000 UFO-related files to the school's archives, courtesy of Chris Rutkowski.
Rutkowski is a Canadian science writer and prolific ufologist. His collection includes over 20,000 UFO reports documented over the past 30 years and over 10,000 UFO-related files from the Canadian government. Several of these files concern an infamous Falcon Lake incident, a UFO encounter that Rutkowski considers Canada's best-documented UFO case.
For Rutkowski, the Falcon Lake incident even beats Roswell because the U.S. still does not recognize that anything happened over New Mexico. Meanwhile, the Falcon Lake incident struck both Canadian and U.S. officials as unexplainable and unusual.
The incident happened on May 20, 1967, when amateur geologist Stefan Michalak was looking for quartz near Falcon Lake in Manitoba, a Canadian province that starts over above North Dakota and stretches almost 800 miles into the frigid north. A flock of agitated geese swopping past him startled Michalak. The geese were reportedly fleeing from two glowing, cigar-shaped objects flying in the sky. One of the objects eventually flew off, and the other landed nearby on a rocky terrace.
Michalak decided to spend some time sketching the strange craft, and those sketches are now part of the University of Manitoba's collection. After drawing, Michalak came closer to it. He felt the warm air and smelled sulfur and heard the whirrs and hisses of the craft. Michalak then touched the craft, but it was so hot that it burned the tips of his gloves. He seemed to hear voices coming from within.
Michalak looked into the craft through an open door, expecting to see a team of American military pilots. However, he saw little more than a panel of blinking lights before the door closed. The craft then rotated, and a grid-like pattern of small holes in the exterior of the ship sprayed his abdomen with scorching-hot gas.
Michalak's shirt and hat were on fire because of the attack, which left him with first-degree burns on his stomach that looked similar to the ship's grid-like pattern. His injuries were treated in a hospital in Winnipeg. They were later rose into welts, and he experienced headaches, blackouts, and diarrhea for a couple of weeks. Michalak reported the incident to both Canadian and U.S. authorities and eventually completed a psychological and physical evaluation at the Mayo Clinic in Minnesota, which determined him to be of sound mind and not hallucinating.
Years after the incident, a twisted piece of metal was reportedly recovered from the Falcon Lake landing site. The metal was found to be highly radioactive in several tests. Until today, neither the U.S. nor the Canadian military has been able to explain the event.