Was Barbara Bush the Daughter of Famous Satanist Aleister Crowley?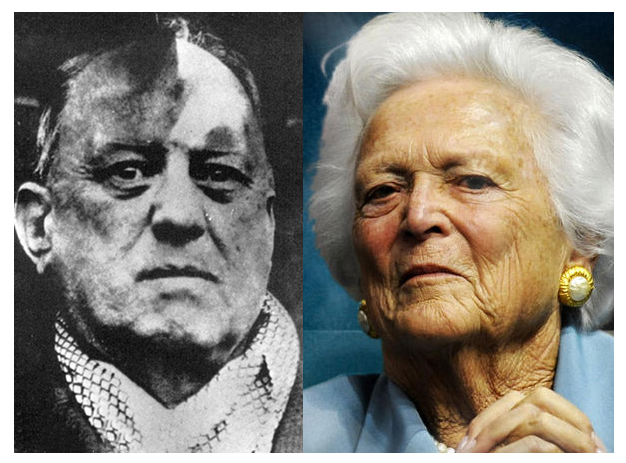 The Bush family are by far, the greatest example of a successful American crime family. No other American family can claim the kind of success that the Bush family has, over the past century. We must give credit, where credit is due. Right??
"The earth is given into the hand of the wicked!" [Job 9:24]
Samuel Bush was a very successful businessman. He was Skull & Bones I believe. He was instrumental in organizing the military industrial complex, with the Harriman family, and the Remmington gun & ammo company. Together, they conspired to orchestrate WWI, and made many billions of dollars in 1917 money. That would make them trillionaires by today's standards, which they in fact are.
Samuel's son Prescott was another very successful business man. He began as an amazing tire salesman, then by marrying into the Walker family, he became a banker with Brown Brothers – Harriman. Sound familiar?? BBH, along with another Zionist banking cartel, known as Kuhn Loeb & Company, conspired to orchestrate WWII, and the Nazi takeover of Europe. In fact, Prescott Bush, and his close Skull & Bones buddy, Averill Harriman, had a bank in Manhattan, N.Y., which had it's assetts seized by J. Edgar Hoover, and the FBI, under the "Trading With The Enemies Act". That happened not once, but twice, to the Union Banking Corporation of New York City. A documented fact, which is undeniable.
Prescott's son, George H.W. Bush is also a very successful businessman, politician, and CIA agent. Most people don't know that G.H.W. Bush was in fact a CIA agent as early as the late 40's, or very early 50's. Nobody is 100% sure when he became an agent, but we do know for sure it was before 1953. We now know that he was directly involved, and responsible for the orchestrated assassination of JFK, and RFK. That too is a documented fact, which somehow has managed to avoid major exposure. We know as a fact that Prescott Bush groomed Richard M. Nixon for his political career, and was expected to have G.H.W. Bush on the 1968 Republican ticket as Nixon's Vice Presidential running mate, but Nixon knowing what Bush did to JFK because he was in Dallas that day, chose Agnew as his running mate because he knew Bush would assassinate him in order to be President without being elected.
When Nixon refused to go along with the plan, Bush, and his CIA cohorts, conspired to destroy Nixon's political career in the Watergate scandal, which worked brilliantly. Bob Woodward himself was a CIA stooge, from the Office Of Naval Intelligence. All the while, Nixon, the ass, and evil scum that he was, was busy escalating the war in Vietnam by invading, and carpet bombing Cambodia. Remember??
At this same time, G.H.W. Bush's son George W. Bush was supposed to be in the Texas military reserves. He was assigned to a unit known as the "Champagne Unit". They were the brave soldiers that patrolled the skies of Texas, looking for Vietnamese invaders. The problem is that G.W. Bush never completed his service as a reserve pilot, and went AWOL from a base in Louisiana, and was never seen again at any military base. Nobody has ever come forward and claimed to have ever even seen G. W. Bush at any military base in Louisiana, but he claims he graduated from there. BTW, it's a Federal Offense to go AWOL, especially at a time of war.
George H.W. Bush had many different business', all of which were quite successful, for rather mysterious reasons. Zapata Oil, Zapata Offshore, Dressor Industries, and a bunch of others are all very suspicious. His business ties in Columbia are interesting to say the least, not to mention his friends in Panama, and other Central American nations. One of H.W.'s closest CIA buddies, a piece of garbage known as Allen Dulles, was a prominent attorney for United Fruit Co., and had strong business interests in Central America. Together, Bush and Dulles assassinated a president, orchestrated a CIA war in Vietnam, and used the military to import drugs into the US. Let's not forget they had a huge Nazi mind control program going on at this same time where they were using LSD, and rock musicians to experiment on the American, British, Canadian, and other nations civilians without their knowledge or consent. The program was, and still is known as Operation MK-Ultra, which was in fact a Nazi mind control program that was brought to America under Operation Paperclip.
Many of us are familiar with George W. Bush, and his criminal activities involving the conspiratorial orchestration of 9-11 with the Mossad of Israel, and British agents as well. These criminals have targeted the American people, and America as a sovereign, independent nation, which it isn't, and probably never really was, especially after the establishment of central banking in America. Particularly the Federal Reserve Bank, which is an illegal private bank, and was created by a man named Paul Warburg, who was a Satanic Hebrew Zionist, and an agent of the Rothschild family of Bavaria, along with the Oppenheimer, and Schiff families as well. Schiff went on to fund the Bolshevik Revolution of Russia, which murdered tens of millions of Orthodox Jews, and paved the way for Marxist Communism, and a convenient enemy of America. Of course, many of us know Oppenheimer went on to help mastermind the creation of the first atomic weapons that were to be used against innocent civilians under the guise of war, but was actually another Nazi experiment that was being employed against innocent civilians. America is in fact a Zionist nation, and America has been controlled by Satanic Ashkenazi Hebrew Zionists for more than the past century, at least. Great Britain, much longer than that, thanks to the Rothschild family. They bring war, misery, and human suffering wherever they set foot, or have business interests.
Jeb Bush is a British agent. His entire family are elite blood lines of Europe, or Great Britain. They definitely have very strong ties in Scotland, especially with the Gammell family. Bill Gammell is, or was G.H.W. Bush's very close friend. The purpose of the Bush family is to behave like a parasite. Sucking the blood and life force from it's host. The Bush family have done an extraordinary job at sucking the blood of the American people, as well as the monetary life force of this nation, by creating fake terror attacks, and fake wars, just to make profits, and exhaust the monetary system to the point of weakness, if not collapse.
I truly feel sorry for any American that is naive enough to vote for a criminal, who is a direct descendent of a long line of criminals. A true "Crime Family", and Satanic to boot. Anyone who has investigated Skull & Bones of Yale University knows that they do in fact act out Satanic death rituals, as well as Satanic sex rituals. We know that Barbara Bush is probably the most Satanic of them all, by default, because Barbara Bush is the daughter of Pauline Pierce. Pauline Pierce was impregnated by the world famous Satanist Aleister Crowley, of Great Britain. That explains a lot. Now we can see why war, death, and misery is so vital to the Bush family. It's literally a religious sacrament to them to see blood spill in the name of Satan. Jeb Bush is absolutely no different than anyone else in his family. Anyone that thinks otherwise is dangerously naive.
[From the GlobalTube Truth]
Watch this Youtube –
Source:
https://michaeljeshurun.wordpress.com/2018/04/20/barbara-bush-daughter-of-aleister-crowley/
Was an Angel filmed over a house extinguished by firefighters?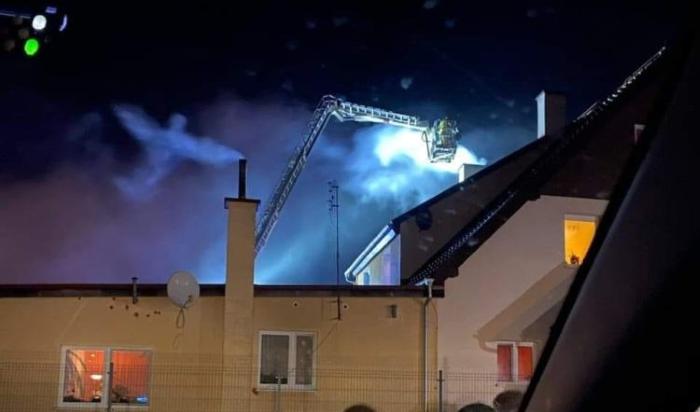 Having appeared on the network, this photo caused a lot of comments – from the fact that it really was a Guardian Angel who guarded the firefighters during work, to those who assured that all this was just an illusion, no more complicated than a cloud in the shape of a lamb.
At the end of December 2020, while extinguishing a fire in the Polish village of Maldyty, an Angel hovered over the firemen, or at least something like an Angel. This photo appeared on the Facebook page of the Maldyta fire station and generated many comments.
"This is something that was formed during the last extinguishing of the fire from the ignition of soot in the chimney in Maldyty. Write in the comments your thoughts about it," was written under the picture on their FB page.
Poles are known to be very religious and there are plenty of people willing to comment on the picture.
Many indeed believed that the Angel oversaw the work of the firemen and, perhaps, even helped them to extinguish the fire. But there were also enough of those who believed that it was all just a random silhouette between clouds in the sky and pareidolia (illusion). The photo was taken by an unspecified person sitting in the cab of a car parked next to the burning house.
"Christians have always believed in the existence of guardian spirits. Some call them Guardian Angels. The Bible confirms their existence," Pastor Leszek Kozheniecki told reporters, commenting on this photo.
By the way, Kozhenetskiy is a well-known Polish pastor who believes in the existence of supernatural beings.
Three years ago, he told the press that he had driven out the evil spirit that settled in his house in Turza Wielka. One of the firefighters who worked on the extinguishing of the house that night said:
"If we have this kind of protection watching over us, I am pretty calm about safety during work."
The skeleton of a mysterious "prehistoric beast" found in Antarctica?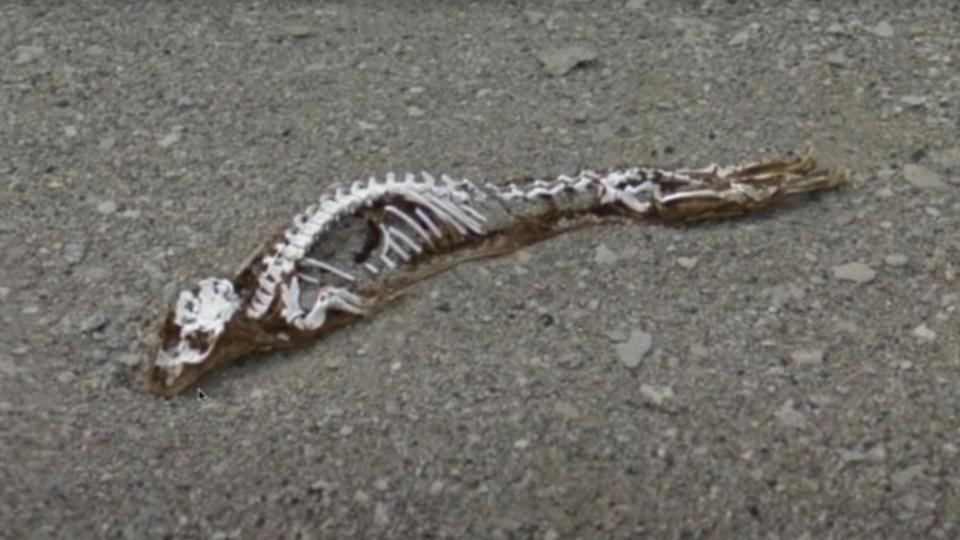 Blogger MrMBB333 shared an image of a "mysterious creature." It was discovered 80 kilometers off the coast of Antarctica in a remote region of Antarctica, according to the Sun.
According to the blogger, the pictures are screenshots from the Google Earth service, which were sent to him by his subscriber and conspiracy theorist under the nickname BONKERS.
They estimate the length of the remains at 3.6-6 meters.I don't know if it was frozen for thousands of years or appeared recently,- the blogger said.
MrMBB333 believes the skeleton belonged to a dinosaur. He came to this conclusion by examining the front and hind limbs of the creature. His subscribers are sure that these are the remains of a seal.
A google search for seal skeleton images shows a pretty good match,- one of them wrote.
Other subscribers call the skeleton "suspicious". They explain that "seals have no hind legs." Another wrote that the remains belonged to an alligator or some other reptile.
In the comments, conspiracy theorists also expressed their opinion that "Antarctica is full of unexplained phenomena that may be related to ancient aliens."
It is also believed that most of the "discoveries" made by users of Google Earth can be explained by the unusual shape of ice or other natural phenomena.
MrMBB333 uploaded his investigation video to YouTube on January 5. Since then, the video has been watched more than 200,000 times.
150 thousand years old Metal pipes in Tibet, contradict the official history
It is said that there is a mountain in Tibet that contains a network of special formations that extend to the nearest lake. Many researchers believe that this is an artificial pipeline system. But, strangely enough, its origin dates back to the era of the Neanderthals.
This mountain rises about 40 km from the city of Dalingha in the Tibetan Autonomous Region. It is called Baigongshan (White Mountain). In the world, it is better known for the wonderful formations that are in its heart and wide surroundings – they are called the Baigong pipes.
This miracle has been the subject of controversial discussions for many years. Some believe they are a natural formation, but there are many who are sure that someone built them in the distant past to drain the lake. They base their arguments on research results, but there is a catch; the mysterious aqueduct should have appeared 150 thousand years ago. Traces of settlements around the mountain are not even older than 30 thousand years. So who could build metal pipes inside an uninhabited mountain?
There are three caves at the foot of Mount Baigongshan, two of them have already collapsed and are inaccessible, but the largest of them has since been the target of many tourists who come to the area.
The cave looks like it was artificially created by someone. Visibility is enhanced by a massive pipe about forty centimeters in diameter that sticks out of the stone.
Another apparently hollow pipe of the same diameter ran into the cave from the top of the mountain. Another one came from the bottom of the cave somewhere below.
At the entrance to the cave, you can see several other pipes with a diameter of 10 to 40 cm. All this gives the impression of the remains of some ancient system or mechanism. About 80 meters from the cave, Lake Toson sparkles with a large number of scattered pipes on the beach.
They stretch from east to west and have a diameter of 2 to 4.5 cm, these archaeological finds are described by the Chinese scientist Liu-Shaolin:
The unmistakable rust color indicates that they are made of metal. And their craftsmanship showcases advanced attachment techniques. Who could have built such a complex pipe system? Only one who knew well what he was doing and why.
The version that such an engineering miracle was created by the Chinese disappears immediately. The inhabitants of the Middle Kingdom could not build something like that 150 thousand years ago. As the authors of many amazing inventions, bureaucracy became one of them. Therefore, it is simply impossible to imagine that such a large-scale and, without exaggeration, a great construction project was reflected in any ancient Chinese source. Any emperor, during whose reign this happened, would make sure that his great deed was not forgotten by descendants.
Baigong tubes are another unsolved mystery in human history. This find once again refutes the facts of the official history. Where is the true and where is the misconception? Maybe there will be people among the readers who will logically explain the origin of the ancient aqueduct.