Visitors from the Ascended Realm in Comparison
Cover of The Voice of the "I AM" magazine August 1936 edition published by Mr. and Mrs. G. W. Ballard's Saint Germain Press, Inc.
Considering testimonials of visitations of people from 'beyond'—or what is sometimes called 'the ascended realm'—allows some significant correlations to be found.  These cases encompass documented cases of human interaction with so-called 'space people.'  In 2012, blog articles  reported about 'flying saucer contactees'
Truman Bethurum
,
Daniel Fry
and
Orfeo Angelucci
.  In this post, I  am presenting four excerpts involving accounts that might lead one to recall the 'ambrosia' of the ancient Greeks and 'amrita' of Hindu scriptures.  The first is from Angelucci's initial account of his contact  experiences from his self-published
Twentieth Century Times
in 1953.
The entire description of these circumstances may be read in a previous blog article.  Following this passage is an excerpt from Unveiled Mysteries (1934) by Godfré Ray King (pen name of Guy Ballard) describing what happened during a hike on Mt. Shasta.
From Twentieth Century Times
Two effluorescent green discs, about 30 inches apart, and each about 30 inches in diameter were there, shimmering, like two bubbles perfectly suspended in air.  They appeared to be in a state of extreme agitation. Hardly two seconds had elapsed from the moment the burgundy color object disappeared, a most delightful masculine voice suggested . . . "Come out here." Orfeo stepped out from the right side door.  Unafraid as yet, he closed it and stayed near to the front fender, unaware of his own movements.  There were only he and these two beautiful green discs.  All else was a dreamlike shadow in the background.  He knew of no world of existence, past or present. What followed is here set down in the best recollection.  It can only be gathered as to who is doing the talking or the thinking . . . "Orfeo, beloved friend—Greetings." " . . . Greetings." "Do you remember us?" "Yes, . . . I mean, Yes, indeed." "Your balloons in New Jersey — beloved friend." (The voice was as mellow-dipped in the gold of the stars.  Who could know fear at this moment?) "Yes, I saw your plane go with them." "They saw, but saw not.  The world sees, but sees not.  This you know.  Orfeo, you are thirsty.  Ever so thirsty.  A bottle of drink for you." On the fender of the car Orfeo "took up" a bottle, drinking the most satisfying "nectar" he had ever tasted, and thereby all symptoms and thirst vanished at once.
 1934 paperback edition
From Unveiled Mysteries
The morning in question, I started out at daybreak deciding to follow where fancy led, and in a vague sort of way, asked God to direct my path.  By noon, I had climbed high up on the side of the mountain where the view to the south was beautiful as a dream. As the day advanced, it grew very warm and I stopped frequently to rest and enjoy to the full the remarkable stretch of country around the McCloud River, Valley, and town.  It came time for lunch, and I sought a mountain spring for clear, cold water.  Cup in hand, I bent down to fill it when an electrical current passed through my body from head to foot. I looked around, and directly behind me stood a young man who, at first glance, seemed to be someone on a hike like myself.  I looked more closely, and realized immediately that he was no ordinary person.  As this thought passed through my mind, he smiled and addressed me saying: "My Brother, if you will hand me your cup, I will give you a much more refreshing drink than spring water."  I obeyed, and instantly the cup was filled with a creamy liquid.  Handing it back to me, he said: "Drink it." I did so and must have looked my astonishment.  While the taste was delicious, the electrical vivifying effect in my mind and body made me gasp with surprise.  I did not see him put anything into the cup, and I wondered what was happening. "That which you drank," he explained, "comes directly from the Universal Supply, pure and vivifying as Life Itself, in fact it is Life—Omnipresent Life—for it exists everywhere about us. It is subject to our conscious control and direction, willingly obedient, when we Love enough, because all the Universe obeys the behest of Love.  Whatsoever I desire manifests itself, when I command in Love.  I held out the cup, and that which I desired for you appeared."
The preceding excerpt is the first part of the description of the narrator's first encounter with ascended master Saint Germain, who is quoted:
"We—in the Ascended State—can control the atomic structure of our world—as a potter controls his clay. Every electron and atom in the universe is obedient to our desire and command because of the God-Power by which we control it and of which we have earned the right to be the Directors.
"Mankind in the unascended state marvels at these things but I tell you, it is no more effort for us to change the appearance and activity of our bodies than it is for the ordinary human being to change his clothes."
Orfeo Angelucci wrote about a 'nectar' produced from pellets and water that resulted with a liquid that could seemingly elevate the drinker "into the next octave of consciousness" in Son of the Sun (1959).  The following excerpt is from the first chapter, wherein Angelucci described having first encountered in a Twentynine Palms cafe 'Adam,' a strikingly handsome young man who "had just come through an experience of learning and romance that was not one which mortals of earth usually know . . . In the course of three evenings he narrated his fantastic story to me."
From Son of the Sun
"Would you like a bottle of beer, Orfeo?" I looked at the pitcher of water.  His own glass contained a sparkling liquid the color of pale ginger ale, fizzing and bubbling continuously, though he had already drunk half of it.  The lively bubbles arose from the remains of a tiny tablet at the bottom of the glass.  My answer to his offer was a hurried, "No, Adam.  No beer from me.  I will take the water," and I poured some from the pitcher into my glass.
Adam smiled even more broadly as his hand went into his coat pocket.  He brought out an oyster-white pellet and held it before me as he remarked:
"O.K., Orfeo.  Then how about a very rare champagne?"
Returning his reassuring smile with my own, I took the pellet and dropped it into my glass.  Immediately the water bubbled, turning slowly into the clear, pale amber contained in his own glass.  I lifted the glass a few inches from the table, looking into it with a feeling that this might be the drink I dared not hope for.  The exhilarating aroma rising from it could not be mistaken.  I had tasted and smelled the same liquid before.  I put my lips to the glass and merely let the liquid touch my lips.  That was enough.
"Adam — Adam, I can't believe it!  Please don't fool me."  My sudden excitement had taken me from earth number one to earth number two.  I could feel my whole being swirling into another domain from the mere recognition of the nectar.  I could not control my spiral ascent, nor did I want to.  Adam's eyes had continued smiling into my own.
"Yes, Orfeo," he assured me.  "It is nectar.  A mild, diluted form, but the real nectar, just the same."
I wanted to take a few sips, but just then the waitress brought servings of soup and salad to me.  Up to this moment, in spite of my sudden exhilaration, everything had appeared normal to me.  But I knew that very soon everything would appear differently.  So I tried to evaluate the objects about me as they truly were so I would not lose my sense of orientation when the environment took on an enhanced aspect.
Ah, yes.  No wonder Adam had expected me.  No wonder he seemed so alive and alert.  To him all the surroundings were of a different pace and appearance.  Before I opened the door, he had already come under the pleasant spell of the nectar.
What was more important, he was in the protective care of others somewhere, perhaps nearby, perhaps far off — unseen, and not of earth, nor of our solar system.  Soon I, too, would be engulfed with him.
I thrilled from head to foot as I took the glass, lifted it to my lips, and swallowed twice from it.  At that instant I entered, with Adam, into a more exalted state and everything around me took on a different semblance.  No longer was I in Tiny's cafe in Twentynine Palms.  It had been transformed into a cozy retreat on some radiant star system.  Though everything remained in its same position, added beauty and meaning were given to the things and people present there.
Angelucci wrote that Adam's next spoken words were: "In the final analysis, Orfeo, there is only one virtue; the love of pure learning.  And all else is procrastination and dissipation in the eyes of the One who awaits our evolutionary awakenings."
In a recorded lecture from the same year that this book was published, Angelucci commented, "I wrote a second book Son of the Sun as told to me by a physician, Adam.  He had the same experience [but] much better than mine.  He was able to tell me where they came from.  So I wrote it."  This book can now be read online, as can be Angelucci's The Secret of the Saucers (1955) and Ballard's Unveiled Mysteries.  Another passage from Unveiled Mysteries features an otherworldly liquid involved in a consciousness expanding encounter.  The following excerpt is from Chapter VIII.  An interlude is presented that occurred as the narrator was looking forward to an anticipated reunion with Saint Germain in seven days.
From Unveiled Mysteries
On the morning of the seventh day, I left my lodge at four o'clock and reached our meeting place at ten-thirty.  I sat down on a log to wait with a feeling of wonderful exhilaration, which I knew to be the result of my meditation.  I was so deep within the contemplation of my God Self, I did not hear anyone approaching until a voice spoke to me.
I looked up, and saw an old man with white hair and beard, whom I thought at first sight, was an old prospector, although his clothing was too clean for that occupation.  As he came up to me and held out his hand, that too confirmed my feeling—he was not a laboring man.  We exchanged greetings, chatted for a few moments on generalities, then he turned to me, and said:
"My Friend, I would like to tell you a story.  It won't take long.  I haven't told it to anyone for a long time. I would like to try once more."
By that time I began to have a feeling of intense interest.  It occurred to me he might be thirsty, and as I reached for a cup to get him a drink, from the spring by which we stood, a crystal cup formed within my hand, like the one Saint Germain had held out to me several times.  The old man looked up and with eyes shining and excited, almost shouted:
"It is he! It is he!"
I did not know what to do, so I insisted he drink.  As I looked within the cup, I saw it was filled with the same clear, sparkling Liquid the Master had given me.  The old man grasped it eagerly, and, with an intense expression of the deepest gratitude I have ever seen, drank the contents.  He immediately became very calm and quiet, but with it all a deep, intense sincerity.  I asked him again to tell me the story, and he began by saying:
"My father was a British officer stationed in the Punjab of India where we made our home.  When I was sixteen, he financed a friend who went to South Africa to try his luck in the diamond mines, but my father never heard from him afterward.
"The year I was twenty, a tall, handsome stranger, a man of great wisdom, visited my father at our home. He had come to bring a message from father's friend.
"'I bring you news,' he explained, 'from the friend whom you financed four years ago.  He met with great success on that venture, in fact became very wealthy.  He has recently passed on at the mines, and left no relatives.  His entire fortune has been left to you and in case of your passing, it is to go to your son.  If you desire, I will take charge of the matter and have it transferred at once.'
"'I cannot leave India at the present time,' my father replied, 'for I am on government duty here.  I appreciate greatly your offer to take care of the matter for me.'  I was standing nearby during their conversation, and when they had completed arrangements the stranger turned to me.
"'My son,' he said, 'when you find the man who will offer you a crystal cup of sparkling liquid you will have met the one—who can assist you in raising the body.  I cannot tell you more than this, except that you will find him on a great mountain in North America.  This may seem vague to you now but it is all I can say.'
"The stranger left, and a month later my father, who had ridden out to adjust certain government matters with the natives was shot, and passed on before he could be brought home.  I was an only son, and after another month, mother and I prepared for our return to England.  Just before we left, the same stranger came again, and said, he was ready to transfer father's fortune to me.  I explained, father had been shot.
"'Yes,' the stranger replied, 'when I left two months ago, I knew your father would pass on before my return.  I have arranged for the fortune to be transferred to you, or rather to the Bank of England for you.  Here is money you may wish to use on the journey home, also the papers of transfer, and the credentials you will need at the bank.  Present them, and you will receive custody of your wealth.  Much of it is in diamonds of the first quality.'  I thanked him, and offered to pay for his services and kindness but he replied:
"'Your kind intent is greatly appreciated but that is already adjusted.  I will be happy to accompany you to the steamer at Bombay.'
"The trip revealed to me his great wisdom and beside him I felt like an infant.  I know now that he enveloped me in a Radiation which has stayed with me throughout the years.  He arranged for transportation, accompanied us to the boat, and his last words to me were:
"'Remember—the "Crystal Cup."  Seek and you shall find.'
"After a most wonderful voyage, we arrived at Southampton, went on to London, and presented my credentials to the Bank of England.  The official to whom I presented them remarked:
"'Yes, we were expecting you today.  Here are your bank and check books.'
"I looked at them to see how much my fortune amounted to and was amazed to learn a hundred thousand pounds had been placed to my credit.  Five years later, my mother passed on.  I transferred one half of my wealth to a bank in New York and began the search for 'the man with the Crystal Cup.'
"I can never repeat the disappointments, the trials, the sorrow I have been through but in the face of everything, somehow I could never give up.  The thing which seems so strange to me is, while I have grown old in outer appearance, my energy and strength are as great as ever, sometimes I think greater, than in my fullest youth.
"In years, I am seventy.  Today, I just wanted to follow this trail, and praise God I have found you.  My desire was so great, it was almost irresistible."
"But my good man," I asked, "what am I to do for you?"
"You will know," he replied, "for I know I have made no mistake.  In the heart of this majestic mountain is a Great Power.  I feel it.  Ask God to show you what to do."
Suddenly, I felt the "Mighty God-Power" surging forth so strong, it almost lifted me from the ground.  Making the sign Saint Germain had taught me, I called to God for "Light" and raising my hand in salutation said:
"Mighty God in man and the Universe!  We seek Thy Light!  We seek Thy Wisdom!  We seek Thy Power!  Let Thy Will be done in and for this, My Brother, who has sought and found me to do for him I know not what.  Thou knowest!  Manifest Thy Will through my mind and body, and let whatever is to be done for this Brother—Thy Son—come forth."
As my hand came down, it held the Crystal Cup filled with "Living Liquid-Light."  I offered it to him, and my Mighty God self spoke again.
"Drink without fear.  Thy search is ended."
He drank the contents without a moment's hesitation.  I stepped forward quickly and took both his hands in mine.  Slowly and steadily every vestige of age disappeared from him, and the God in me continued:
"Behold!  Thou art forever free from all earthly limitation.  Ascend now unto the 'Great Host of Light' who await Thee."
Very slowly, he began to rise from the ground, and as he did so, his human garments disappeared, and he became clothed in raiment of glistening white.  I let go his hands.  Then in a voice of deepest Love, he said:
"I shall return to thee, Beloved Brother.  Well shalt thou be repaid for this Transcendent Service.  Thou wert the only one through whom this could be done for me.  Some day, thou shalt see why," and with a happy smile, he disappeared on a Radiant Pathway of "Light."
As the Mighty God-Power Within me receded, I was so astounded, I fell on my knees and offered the deepest prayer of my Life in grateful humility and praise for the privilege of giving such service.
I rose and the Master Saint Germain received me into his wondrous embrace.
"My Beloved Brother!" he said, "I am greatly pleased.  Noble and faithful was your attendance upon the Great God Within you.  Beautifully did you receive your Mighty 'God in Action.'  I do indeed congratulate you.  You will ever be held within Our Embrace, even though outwardly you may not always be aware of it.
"You have become a worthy 'Messenger' of the Great White Brotherhood and the Ascended Host.  Hold close to your Mighty God Self.  Thus, you will ever be ready for service wherever and for whatever is required.  My Love enfolds you until we meet again.  I will keep you informed."
Slowly, I wended my way back to the lodge, every step praise and gratitude to the "One Mighty God" that molds us all into "Eternal Perfection."
More information about Guy Ballard and Unveiled Mysteries may be read in the concluding portion of this 2012 blog article.
These excerpts bring to mind a lecture I attended in Hollywood on May 20, 2006.  Ramtha was 'channeled' by (spoke through) the entranced JZ Knight.  In the lecture that was later given the title "From Suppression to Love and the Power to Change" for a CD recording, Ramtha's first words were: "Greetings and salutations, you beauteous entities, indeed welcome to this esteemed audience."  He repeated the phrase several times with slight variations in the choice of words and then said, "Indeed I am honored to have you here.  Let us have a drink to life.  We change the water that it become the living proclamation to which we say.  And then we drink it into the body and the body is given life truly."
In England, children are allowed to take hormones to change their sex
12-year-old Ashley Lamin was born a boy and by the age of 8, her name was Ashton. Ashley lives in Kent, England.
Recently, with the full approval of the doctors, the child begins to take hormonal pills – blockers of puberty.
These pills will not allow Ashley to become a man because she consciously considers herself a girl. He wants to "lie under the surgeon's knife" at the age of 18 so that he can transform his boy's body into a girl's body.
Ashley Lamin is one of the youngest UK teenagers to receive hormone medication. This immediately caused much controversy in the community.
Critics are sure that children of this age cannot even understand what they want, and that Ashton's desire to become a girl is simply a fad.
In justification, Ashley's mother, 43-year-old Terry Lamin, assures critics and reporters that her son was considered a girl from a young age. She also says that if the child is mistaken, then Ashley has up to 18 years to refuse surgery and medication.
Critics respond that the body will already be seriously damaged by hormonal drugs, whose effects on these young organisms have not yet been fully studied.
At the age of 5, Ashton doesn't like his genitals and he urges his mother to remove them. When he was told that this was not right, he asked why he needed them after all.
Ashton did not like to wear pants and other clothes for boys. He liked to dress in pink dresses and was "in love" with the princess dress he wore on his birthday.
By the age of 8, this discrepancy led to Ashton begging everyone to call him Ashley and assuring them he was born in the "wrong" body.
When doctors allowed Ashley to take blockers, it was her first major victory on her way to the "right" body.
Ashley considers herself a girl and wants to undergo a transplant surgery after a gender change surgery so she can become pregnant and have a baby later.
Such statements drive the critics crazy. They see only one child who is brainwashed with words such as "tolerance", etc., and who exhibits ridiculous "whims". According to them, the child should visit a psychologist instead of being allowed to prepare for a dangerous operation.
Ashley's mother says:
"At three, Ashley told me it was my fault she was a boy. I felt terrible. Then I just agreed with her. It's important to me that my child is happy. "
Terry Lamin has seven more children (!), So it is not difficult to understand why it is more convenient for a woman to agree with the child's words instead of continuing to confront him.
Ashley had no particular problems at home when she was wearing girls' clothes before school. But when she started going to school in girls 'clothes and using the girls' toilets, conflicts arose with the parents of other children. To them, it was all too strange and unusual. They even stopped inviting Ashley to children's parties.
At the age of 11, Ashley goes to high school, where she becomes a target for a group of children who offend her and throw away her things. Ashley had to undergo home schooling.
Because of all this, Ashley becomes very anxious and even thinks about suicide. She asked her mother why all this was happening to her and stated that she hated herself.
The woman began to guide the child to various doctors. After all, they ended up at the Clinic for Gender Dysphoria.
It is there that the child's hormones are prescribed, which Ashley will take at least until the age of 18.
Blind seer Baba Vanga made predictions for 2020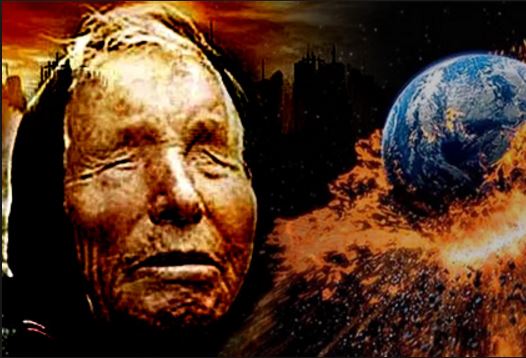 Baba Vanga, also known as the blind seer, is without a doubt one of the most well-known mediums in the world. Even though she died in 1996, the predictions she made are still coming true today.
Her real name was Vangelia Paneva and she was born in Bulgaria in 1911. When she was 12 years old, she lost her sight after she was lifted into the air by a tornado and thrown into a nearby field where she was found a few days later with her eyes covered in sand and dust.
She made her first predictions a few days after this traumatic event, and the legend states that she developed healing powers and clairvoyancy. One of her most significant and noteworthy predictions was the invasion of the Nazis.
Lots of the predictions that Baba Vanga made are expected to be fulfilled in 2020. All of them however are just based on theories from people who believe in clairvoyancy and powers like this and have no scientific foundation.
Drama in Asia
Baba Vanga also predicted the famous Boxing Day tsunami of 2004, and If her theories and predictions are to be believed, a much bigger tsunami will hit parts of Japan, China, Alaska and Pakistan in 2020. Nearly 400 deaths have already been recorded following an earthquake measuring 7.5 on the Richter scale that hit Indonesia in September.
Putin's life could be in danger
According to h ertheories, the Russian president Vladimir Putin will also be the victim of an assassination attempt and the assassin will be a member of his own security team. Putin admitted that at least four assassination attempts have occurred in the past, but all have failed and he is currently under the protection of a team of snipers.
Donald Trump will be sick
The president of the United States, Donald Trump, can also succumb to an unknown disease. Apparently he will suffer from tinnitus, severe nausea and hearing loss. The illness he would have contracted could be the same as some US diplomats contracted while in Cuba because of the similar symptoms they experienced.
What will happen after 2020?
And by 2023 we would suffer a drastic change on the planet, because the Earth's orbit will change. It will influence the weather, the waters and much of nature, causing great difficulty for humanity to adapt. As a result of this calamity, a change in the ideology of social policy would flourish in the main countries and by 2076 the whole world would be living under communism.
Shortly after this reorganization of politics and the world economy, by the year 2100 human technology could create an artificial sun that served both as a source of energy and to heat the planet cooled from the change of orbit. Even as a result of human technological advancement, Vanga said that by 2111 all people would have become robots after finding a way to transport consciousness to a body that would no longer have to suffer aging and die of disease. And with the planet almost destroyed and without resources, this robotic humanity, which would already inhabit Mars, would face an interplanetary war, which in 2183 will trigger the independence of the Earth.
Reaching immortality
A few centuries after these conflicts, in 2271 the Laws of Physics will be totally altered. This will open the possibility of time travel a few decades later. The race for temporary travel will cause many conflicts between inhabited human planets, and in 3005 there will be a world war on Mars.
The only good news among Baba Vanga's predictions is only for the year 4308. The seer says that evil will disappear from the face of the planet ; The human being will reach a stage of evolution that will promote the relationship through peace, love and ethics. Then, in 4599, we will achieve immortality. But again we have bad news: we will reach the edge of the universe in 5076 and the world would end three years later.
What does Vanga say about the future?
Baba Vanga's predictions are almost uncountable. The Bulgarian seer spoke about many prophecies, and many of them hope they will never come true. The future seen by Vanga is nothing pleasant and speaks of the end of the world. There are many predictions that have drawn attention, but if there is one that we have to highlight is about China, which says it will be the next world power.
The truth is that we do not know if these prophecies will be fulfilled, what we do know is that our world has entered into a catastrophic dynamic, where everything seems to fall apart, and the future does not seem to be better.
A computer game helped predict the likelihood of a breakdown of drug addicts after treatment
An assessment of the risk of patients who are treated for drug addiction will help to identify critical moments in which a breakdown is likely.
A research, published in the journal JAMA Psychiatrymay will be the basis for the development of a clinical tool to track and reduce the number of drug-dependent patients who again start using opiates after treatment. Scientists from New York University have created a game that helps assess the likelihood of a "breakdown" of a person who is undergoing or has completed treatment.
Drug treatment for drug addicts with methadone, buprenorphine and naloxone shows good efficacy. However, the positive effect of these drugs is largely offset by the lack of reliable tools for assessing the patient's response to therapy. The new development makes it possible to evaluate how high the probability of a person returning to the "needle", and allows you to adjust the treatment program.
Scientists have proposed using a computer application to simulate this probability, which simulates gambling with bets and cash rewards. To study the effectiveness of such a tool, the researchers selected 70 patients from the Bellview Hospital Center in New York who were treated for drug addiction. An additional 50 patients with approximately the same distribution by gender, age and race, but never suffering from opioid dependence, were selected as a control group in the same institution.
Subjects played weekly for seven months. The game was built in such a way that patients could receive a lower reward with a 50% probability or risk a large number of virtual "chips" to win a big reward with unclear chances. For all test participants, preparedness schedules for accepting risks were drawn up.
The results of the experiment were compared with the data of questionnaires, in which the subjects were interviewed for their desire to try drugs again or for the presence of recent "breakdowns" in their history records. Scientists have found that patients who are prone to take risks in the game are more likely to disrupt the process of anti-drug therapy using opioids.
"Our research shows that computer diagnostic tests may offer a new useful feature," says lead author of the study, Paul Glimcher. According to the scientist, in the process of treating addiction, patients can experience a kind of "ups and downs": at some points they show determination in the desire to get rid of addiction, but at times they are ready to risk the work done for a fleeting pleasure. The application, developed by Glimcher and his colleagues, will help to identify critical moments in the psychological state of patients and prevent breakdowns.
Previously, scientists created a test that will help to identify drug addicts by fingerprint, and developed an implant with an antidote which will save lives from drug overdose.