Vatican prepares conference on extraterrestrial life
A conference with an extraordinary theme will be held at the Vatican on February 12: The Universe and Possible Encounters with Other Civilizations.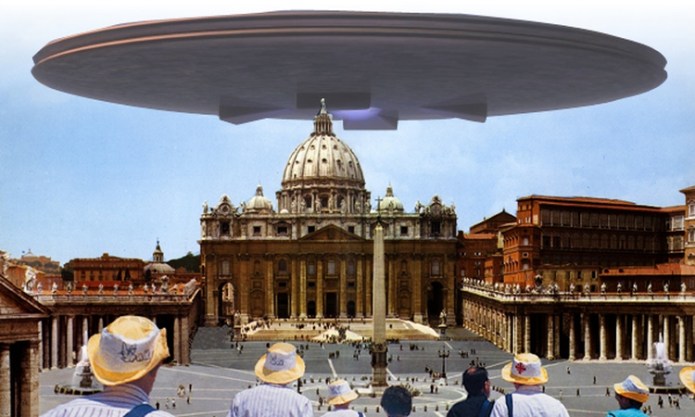 As is known, Catholicism represents one of the most important religious currents in the world, it has an ancient and modern cultural heritage.
Accumulated information from several centuries suggests that UFO students know that this organization knows more than it needs to recognize encounters with alien races and the existence of unknown flying objects.
From 2 March 2020, the Vatican will allow several researchers from various countries to access information from the end of Pope Pius XII's pontificate, that is, from 1958 to the present day.
The Vatican is considered one of the most important centers of historical collection in the world. It has about 150 thousand documents, 650 different files in an extension of 85 linear kilometers of shelves, which are said to allow to know 8 centuries of history.
Everything suggests that there may be an opening for the revelation of the existence of extraterrestrial life in the universe and, possibly, be in our world.
On February 12, the conference will be held under the title: The Universe and Possible Encounters with Other Civilizations, sponsored by Nazionale Ufological Center, an Italian organization that has members related to the Vatican and the Italian government.
It will be presented by Vladimiro Bibolotti, a freelance journalist, aware of the UFO phenomenon since 1975, and a member of this Center since 1995, of which he was president until 2019.
Bibolotti has an experience that accredits him as a specialist in ufology. He also has connections that connect him to the Vatican.
Bibolotti mentioned in 2014 that:
"if massive contact occurs or the existence of extraterrestrial life is revealed, all religions would have to join new scenarios, in addition to creating another worldview".
This Center is related to the organization founded by Tom DeLonge, who participated in the public release of US Navy UFO videos.
In 2019, the UFO phenomenon was marked by the recognition of American agencies, which are taking a new turn in their knowledge.
Within the clergy, what is related to the UFO phenomenon is considered strange and denied, but supposedly they would be changing their irreducible positions.
Of course, ufology and the Vatican have more in common than we want to recognize, and everything suggests that some answers can be found in their archives.
Perhaps this opening can be significant so that, once and for all, it is established that we are not alone in the universe.
Near Earth outer space is a real war for the Earth
Strange events occur not only in our world, but also very close to us in space. An unusually large number of UFOs have appeared on our planet and it seems that the real "Star Wars" has unfolded there, someone is bombing our Sun and it is quite likely that the coronavirus also came from space.
If you look at all the latest unusual incidents, you can see that the number of meteorites falling on the surface of the earth has increased dramatically, but is it meteorites at all? Maybe these are fragments of alien spaceships – echoes of a space war that unfolded over our heads in outer space?
On March 20, something exploded on the far side of the sun. The Solar and Heliospheric Observatory (Soho) recorded debris flying above the eastern tip of the sun. The place of the explosion was hidden from view, so we do not know what exploded. But, it was not a sunspot. According to astronomers, it is more likely that the thread of magnetism became unstable and exploded, throwing pieces of itself and the surrounding plasma into space.
The sun has long been at a minimum of activity, no emissions, active spots, flashes – no, and suddenly such a powerful explosion. But what if all these tales of the "strands of magnetism" are set aside and imagined that a fleet of alien spaceships was moving toward the Earth, but in near-solar space he met with another fleet, another alien civilization, and a battle took place.
The result of all this was "meteorites" and "threads of magnetism", or maybe a giant star cruiser with powerful weapons on board and a power plant with such energy just collapsed onto the surface of our sun that the incredibly powerful explosion occurred that pierced a huge hole in the sun and throwing so much energy into space?
A lot of strange events have been happening in space lately, think about the wave of huge alien spaceships and clusters of smaller UFOs observed from the ISS and they are visible on live broadcasts. They were visible in February and the first week of March. Although at the time of the appearance of these objects, the broadcast is interrupted, but enthusiasts manage to record live footage.
Further analysis of frames with large alien spacecraft seen from the ISS shows that they were destroyed or at least seriously damaged, and are surrounded by countless fragments and broken parts from these UFOs, while clusters of smaller UFOs can be rescue capsules.
Rescue capsules with crews of spaceships destroyed in battle during the battle of two groups unknown to us with space battle fleets.
COVID-19 pandemic, look at what's happening in the world. I can't believe that the whole world is ruining the global economy because of this virus. Indeed, well, let's argue sensibly – there is no pandemic, nothing out of the ordinary for taking such quarantine measures is happening, the conclusion is essentially isolation of entire countries, cities – millions of people on Earth!
What is happening, that the leading states of the world are ruining the global economy of our civilization – they are ruining their economy in the end. Is that the deadliest virus? Is this a plague? no – dying of ordinary flu – now – more people than worldwide died from coronavirus! Why have these unusually harsh measures been introduced now in this regard? Maybe the virus really came from outer space and the consequences for those infected are not limited only to the likelihood of death. Maybe everything is much more complicated? Maybe the survivors will not be the same?
Maybe for the Earth very close to it by cosmic standards there is a real battle? The virus does not stop the global economy. There must be better ways to deal with this virus than simply shutting down the global economy. Something more than the virus is happening, and it looks like they are testing a methodology for global isolation of our planet's population for the upcoming World Event.
From this point of view, it seems that there is a space battle going on, and we are on the line of fire of this space war, which, it seems, is still ongoing and it is not yet clear who will triumph in it – those who flew to Earth to enslave it or those unknown forces that entered the battle with these invaders and are now waging a space war with them?
The world is being prepared for something to happen that everyone should be prepared in advance and it is likely that a "pandemic" was devised, just to begin further global isolation, to prepare all services, forces, government and military for something more dangerous than "coronavirus"?
Earth's population is preparing for something global and very crushing. so dangerous that civilization is ready to sacrifice the world economy and stability in order to prepare the population for this event. To prepare him for a ruined economy, worsening living standards, for life in cities locked and blocked, to prepare and train him to live in such very unusual conditions for modern civilization. To accustom the population, to prepare power, medical, rescue, service, military structures for actions – the right actions in a situation for which everything should be prepared.
Maybe I'm right and in space next to the Sun there is already a space war and the outcome of its outcome is not yet clear. Whoever wins will get our planet in ownership. Who will it be – the aggressors or those who are trying to protect us. But are they protecting us, or is there just a battle between two forces – the aggressors for the right to possess the Earth?
Or something is coming that is no less global, but not related to the theory of alien invasion, but of such a nature that it can inflict no less damage on our civilization and put it on the brink of survival. Perhaps such. There are options – for example, a pole flip or a powerful flash (explosion in the sun), such a force that our civilization will be discarded in development in the Stone Age.
Hypothetically, there is the likelihood of such a cause of everything happening – yes, there is. It remains only to wait and observe, analyze and search for pieces of information in order to understand the essence of the current events.
General Douglas MacArthur's interplanetary war
The peoples of the whole world must unite for the next war, which will be an interplanetary war. The people of the Earth must someday create a common front to repel the attacks of people from other planets.
MacArthur participated in both world wars and believed that any problem could be solved by force of arms. He owns the phrase:
"He who said that the pen is more powerful than the sword, obviously, never came across a machine gun."
General liked to talk on global topics. He said that Rome, Carthage, Byzantium, Egypt and other great empires and nations fell because they neglected national defense, were careless and were afraid to use an iron fist against pacifism.
In an interview, the general talked about the need to unite the peoples of the whole world into a common front to repel an attack from other planets. In 1955, at the height of the Cold War, the famous American general, commander of the Pacific Armed Forces Douglas MacArthur, made a strange appeal to the US military and scientific forces:
"The nations of the world must unite, since the next war will be an interplanetary war …".
Apparently, he knew what he was talking about. He was echoed by former Secretary of State J. Marshall:
"The US authorities established the fact that flying saucers brought visitors to space from space and these guests, before landing and making contact, tried to develop a method of existence in our atmosphere."
In general, contact with the aliens at the highest level, apparently, took place. However, the case ended with the fact that the US military and politicians classified everything around the UFO phenomenon and contacts with them. The ban is still valid. At the same time, a huge number of ufological fakes are deliberately thrown into the media and, after them, revelations. As a result, the public of many countries classifies the UFO problem as journalistic fiction. And this was what is needed to impress.
A huge energy surge in deep space, spaceship armadas and a white UFO
What caused this huge energy surge in deep space?
Last February, NASA's stereo A HI1 satellite captured something strange in space for several days.
What we see is a huge force field coming to the right, surrounded by some kind of energy ring. This is followed by a huge surge or "discharge", turning it into a giant bubble and it rotates, although it is almost imperceptible, but watch it closely.
A white UFO was captured in the sky over Scotland
Eyewitnesses who filmed an unidentified flying object soaring in the sky posted their video on Twitter.
Witnesses of an incredible sight were the inhabitants of Scotland. An unidentified white flying object hovered in the sky as if it intentionally attracted the attention of others. Witnesses, taking the opportunity, immediately recorded what happened on the video, and then the video was posted on Twitter.
Most commentators agreed that this object most likely belongs to representatives of alien civilizations. Others tried to compare this object with something famous, for example, an airplane or a drone. Despite this, discussions of the provocative video with UFOs on the Web are still ongoing.
Big alien ships are watching us.
It is becoming more and more exciting, these UFO formations and huge spaceships moving freely in space close to the International Space Station.
The continued appearance of these clusters of extraterrestrial spacecraft is no longer a coincidence, something is happening in deep space, causing these UFOs to move to other places.
You can clearly see the structure and shape of some of these large alien ships.