US senators receive classified briefing on UFO sightings
Bryan Bender
Politico
© Mark Wilson/Getty Images
"If naval pilots are running into unexplained interference in the air, that's a safety concern Senator Warner believes we need to get to the bottom of," Sen. Mark Warner's spokesperson said.
Three more U.S. senators received a classified Pentagon briefing on Wednesday about a series of reported encounters by the Navy with unidentified aircraft, according to congressional and government officials – part of a growing number of requests from members of key oversight committees.
One of them was Sen. Mark Warner (D-Va.), the vice chairman of the Senate Intelligence Committee, whose office confirmed the briefing to POLITICO.
"If naval pilots are running into unexplained interference in the air, that's a safety concern Senator Warner believes we need to get to the bottom of," his spokesperson, Rachel Cohen, said in a statement.
The interest in "unidentified aerial phenomenon" has grown since revelations in late 2017 that the Pentagon had set up a program to study the issue at the request of then-Sen. Harry Reid (D-Nev.). Officials interviewed multiple current and former sailors and aviators who claim to have encountered highly advanced aircraft that appeared to defy the laws of aerodynamics when they intruded on protected military airspace – some of which were captured on video and made public.
The Navy has played a prominent role in light of the testimony of F/A-18 pilots and other personnel operating with the USS Nimitz aircraft carrier battle group off California in 2004 and the USS Theodore Roosevelt in the Atlantic in 2015 and 2016.
The growing congressional interest is credited for playing a major role in the service's recent decision to update the procedures for pilots and other personnel to report such unexplained sightings, which POLITICO first reported in April.
"In response to requests for information from Congressional members and staff, Navy officials have provided a series of briefings by senior Naval Intelligence officials as well as aviators who reported hazards to aviation safety," the service said in a statement to POLITICO at the time.
The Navy had no immediate comment on Wednesday, and few details of the latest secret sessions were available.
They come several days after President Donald Trump told ABC News that he, too, had been briefed on the reports. "I did have one very brief meeting on it," he said. "But people are saying they're seeing UFOs. Do I believe it? Not particularly."
But several current and former officials with direct knowledge describe the Capitol Hill briefing as the latest for members of Congress and their staff representing the Intelligence, Armed Services and Defense Appropriations panels.
"There are people coming out of the woodwork," said one former government official who has participated in some of the meetings.
A current intelligence official added: "More requests for briefings are coming in."
The sessions have been organized by the Navy but have also included staff from the under secretary of Defense for Intelligence, the sources said. Both were not authorized to talk publicly about the briefings.
Advocates for giving the mystery greater attention say they hope Congress will take more formal steps, such as requiring the Department of Defense to collect and complete a detailed analysis of data collected by satellites and other means of unidentified craft intruding into military airspace or operating under the sea.
TR – 3B ASTRA – From Myth To Reality
If you have any idea about the sightings of UFOs (unidentified flying objects), you probably just stare at the sky and wonder what aliens control these things. For, TR-3B Astra, it is not what you'd expect at all.
To understand the truth about TR-3B Astra is to catch a glimpse into the world of Aurora, one of the best kept secrets by the government today. To clarify this, Aurora is not a planet of aliens or an invading army of cyborgs. As a matter of fact, this is happening right here on the U.S. soil.
So, what is this TR-3B Astra?
The TR-3B Astra, also known as the black triangle, is a nuclear-powered anti-gravity aircraft secretly built and maintained by the U.S. government.
It all started in 1982 and is part of the Black Program, a secret Air Force project funded with what is known as the Black Budget (estimated to be worth about $3 billion).
The technology behind this aircraft is considered beyond everyday technology. Some even point out that it might as well have been inspired by alien technology. For example, this aircraft can move stealthily, a feat uncommon during those times.
The TR-3B Astra is extremely lightweight, giving it the ability to easily outmaneuver other aircrafts. This is possible through a technology known as the MFD technology. The MFD is a short form of a circular plasma-filled accelerator ring, called a magnetic field disruptor.
This technology designed by the Sandia and Livermore Laboratories is so powerful that it was totally kept a secret by the government, making it officially non-existent. As you would expect, a lot of money goes into this research.
A good amount of citizens' taxes go to fund this project carried out at the Area 51 Groom Lake Air Base in Nevada. To understand how massive the operations going on in Nevada are, know that the government owns about 80% of all the lands in Nevada.
Source: Matrix World Disclosure
UFO Lands On A Mountain In Trinidad And Filmed By Witnesses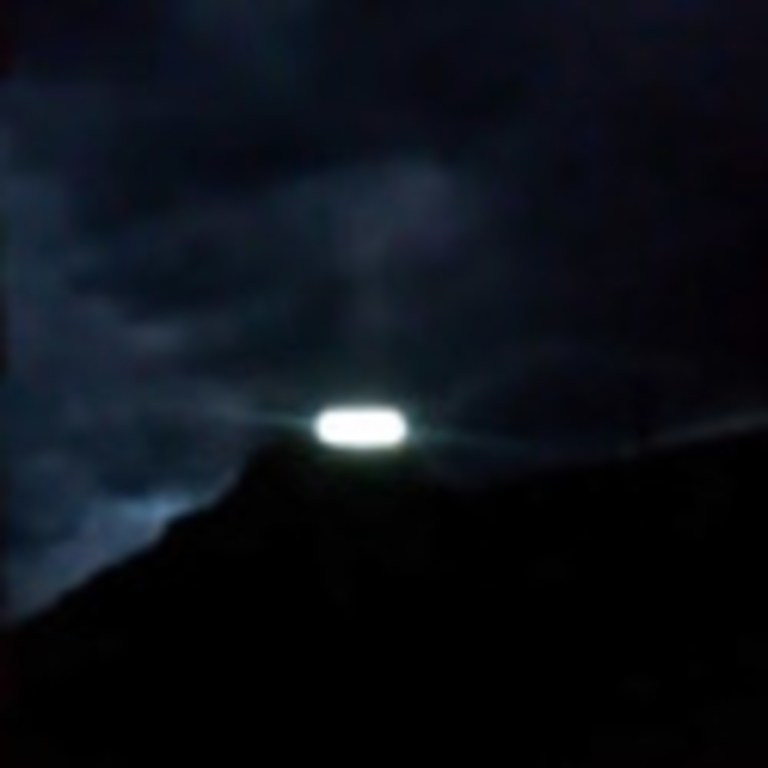 On the evening of January 14, 2019, Ms. Dorothy Romero, who lives in the city of Trinidad, Colorado (United States), witnessed with her husband the landing of an unidentified flying object on the historic Simpson's Rest mountain. Then the video sent by the witness claiming UFO Lands On A Mountain In Trinidad.
«My husband was outside to wash our porch when he saw a UFO flying directly over our house … At first I didn't believe him and I thought it was just flashes and lightning. However, my husband insisted and claimed that the object had landed at Simpson's Rest, on the mountain directly behind our house. When he landed, he produced sparks that seemed to come out of the bottom of this mysterious object, "Dorothy related.
«I had my phone in my hand and started recording what was happening. I regret that the quality of the video is not the best, but you can see very well the bright UFO behind the roof of our house, which later disappeared without a trace, as if it had vanished.
To clear up any confusion, it should be noted that the UFO in question is spherical and can be seen somewhat below the luminous sign of the city of Trinidad (as specified by the witness in English in the video).
The mountain where the UFO would have landed owes its name to George S. Simpson, a famous explorer, merchant and pioneer who settled in what is now the city of Trinidad in 1848. History tells us that the explorer survived an attack by the Ute natives when hiding in a recess of the mountain for three days. When he died years later, he asked to be buried in that place.
The landscape from Simpson's Rest is amazing, from there you can see the entire city of Trinidad, the Purgatory River and its valley. Would the UFO be there for this view?
Video: Elon Musk's SpaceX satellite camera captures UFO around it!
US billionaire SpaceX's Amos 17 satellite camera Elon Musk recorded an unidentified flying object approaching the spacecraft and then disappearing.
The 'thirdphaseofmoon' channel on YouTube specializing in genre revelations has uploaded a video featuring an unidentified flying object (UFO) allegedly approaching the SpaceX Amos 17 satellite.
The strange object resembles a light sphere and appears to be moving rapidly in front of Elon Musk's satellite camera and eventually, turning left, disappears.
Blake and Brett Causins, who runs the YouTube channel, claim that UFOs could not be a space debris because of the orbit that followed.
"How could he turn left in space unless he had a propulsion system," Blake emphasized, pointing out that many internet users estimate that the UFO was "tracking the satellite".
"The whole idea that these are just space debris is not valid. If it were, you should see it follow a straight path. But he is carrying out this strange maneuver that defies all logic, "said Blake Causins.