US Quietly Allows Import of Some Elephant Trophies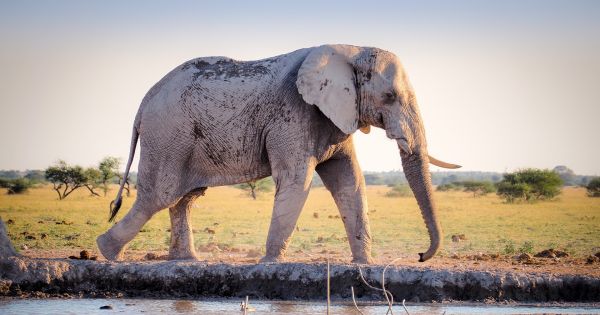 The US Fish and Wildlife Service has announced it will consider applications to import elephant trophies on a case-by-case basis. This contradicts the comments made by President Trump as recently as January 2018.
The Trump administration has decided to lift a ban on the import of African elephant trophies, allowing hunters to bring parts of the animals' bodies back home.
The news was unexpected: The President himself, speaking with British broadcaster Piers Morgan, said that he "didn't want elephants killed and stuffed and have the tusks brought back into this [country]."
So it's no surprise that even when passed without fanfare, a lift on the ban on elephant trophy imports has caused quite a stir.
"The Trump administration is trying to keep these crucial trophy import decisions behind closed doors, and that's totally unacceptable," Tanya Sanerib, international legal director at the Center for Biological Diversity, told AP. "Elephants aren't meant to be trophies, they're meant to roam free."
Through a memorandum on its website, the U.S. Fish and Wildlife Service (FWS) has announced the news, saying that the authorities will consider requests on a case by case basis with immediate effect. It will be legal to import trophies from Zimbabwe and Zambia among others.
The ban elephant trophies was put in place by the Obama administration in 2014. In December 2017, a lawsuit filed by the National Rifle Association and Safari Club International entered the courts. It found that proper procedures weren't followed when the regulations were enacted, including the lack of an opportunity for the public to comment on the ban.
The FWS mentioned the lawsuit's resolution in its announcement about the ban being lifted. It also confirmed that several other measures enshrined in the Endangered Species Act, focusing on elephants, lions and bontebok are being revoked.
The agency noted that the Endangered Species Act will inform its case-by-case decisions on whether to authorize trophy imports, however it hasn't elaborated on the criteria that will be used to determine which imports will be allowed. "The confusion is not helpful," said Jimmiel Mandima, a conservationist at the nonprofit African Wildlife Foundation, in an interview with NBC News.
Some argued that the decision to allow trophy imports might help animal populations, as fees paid by hunters to shoot selected animals can help fund wildlife conservation initiatives. However, the strategy may not be so effective should the money be siphoned away by corrupt authorities, as some fear.
EPA Releases Strategy to Reduce Animal Testing on Vertebrates
We know that not only are there ethical concerns about animal testing, but also that using animals for medical research can be ineffective and unreliable. The EPA is doing something about it.
Animal testing has become a questionably effective thorn in the side of scientific progress. While it was once our best method, alternative methods are beginning to surpass animal testing in both accuracy and reliability. Fortunately, the EPA recently released a draft strategy to reduce the use of vertebrate animals in chemical testing.
This public stand against animal testing is a part of the EPA's commitment to the Frank R. Lautenberg Chemical Safety for the 21st Century Act, which amended the Toxic Substances Control Act (TSCA).
"This draft strategy is a first step toward reducing the use of animals and increasing the use of cutting-edge science to ensure chemicals are reviewed for safety with the highest scientific standards," said EPA Administrator Scott Pruitt in a statement. The EPA's draft strategy is currently available for public comment, and will be for 45 days as of March 7.
The draft strategy has three relatively simple components: "identifying, developing and integrating" new approaches for Toxic Substances Control Act decisions; building confidence that these new methods are scientifically reliable, and relevant to toxic substance decisions; and implementing the new methods that are a best fit. Of course, that's much easier said than done, and the plan notes that this "necessarily describes a multi-year process with incremental steps for adoption and integration" of new testing methods.
"We welcome the draft strategy as a progressive step to reduce and ultimately replace the use of animals to regulate chemicals in the U.S. through the implementation of TSCA reform," said Catherine Willett, director of science policy at The Humane Society of the United States, in the EPA statement. "We have every indication that EPA intends to make good on this unprecedented opportunity to not only reduce animal use, but improve the science used to evaluate chemical safety."
Reducing and eliminating animal testing is no longer just an animal rights' issue. Unfortunately, animal testing has been shown to produce some misleading, unreliable results, given that animals' bodies respond to drugs and medical conditions in some significantly different ways from humans'.
Fortunately, as the EPA continues to reduce animal use in testing, alternative methods continue to develop and improve. It is possible that one day soon testing will be both animal-free and more accurate than ever before.
SUV Sales Rise Worldwide, Despite Their Effect on Climate
Despite their negative environmental impacts, SUV sales soared in 2017. The trend could put the brakes on global efforts to combat air pollution.
Most drivers only need a sedan to navigate the sometimes pothole-ridden, but relatively flat, big city roads. But for many consumers, larger vehicles that could nail an off-road test drive seem to remain a must. And despite the fact that these often-massive sports utility vehicles (SUVs) not only cost more, but also pollute more, SUV sales continue to climb.
According to the latest data from an automotive research firm Jato Dynamics, the global demand for SUVs hit a new record in 2017, totaling 34 percent of global car sales for the year. The vehicles were particularly popular in North America, Europe, and China, despite the fact that all three regions struggle with severe air pollution — a problem that more fuel-guzzling SUVs is unlikely to solve.
"Everyone is jumping on SUVs," said Matthew Weiss, JATO Dynamics' president for North America, The New York Times reported.
The New "Family Car"
Since the 1970s, the U.S. Environmental Protection Agency tried to reduce air pollution by requiring automakers to improve vehicles' fuel efficiency. However, for off-road vehicles and SUVs, pollution restrictions have remained lax.
SUVs are a middle-class favorite in the U.S., thanks to a marketing operation that successfully bypassed increasingly strict environmental rules. In order to penetrate consumer markets, U.S. automakers pitched SUVs as the new "family vehicle". The rebranding was so effective that, to date, it still speaks to consumers more than modern electric or hybrid cars do.
Companies like Volkswagen continue to expand their SUV offerings — the German automaker, which currently offers only four off-road models, plans to increase those options to 20 SUV options within the next two years.
China's Pollution Paradox
The juxtaposition between a global need to address pollution problems and consumers' love for bigger, less fuel-efficient SUVs takes center stage in China. The pollution crisis choking Beijing and Shanghai  prompted the Chinese government to drop coal in favor of solar and other clean energy sources. As the United States increasingly embraces a pro-fossil fuels agenda, China continues to champion global climate action.
Despite accounting for 43 percent of global electric vehicle (EV) production, China's appetite for SUVs is increasing. According to the research firm McKinsey, in the last four years SUVs were responsible for 66 percent of the overall growth in China's car sales.
One one hand, that could be because bigger vehicles are considered a status symbol, particularly among young people, but SUVs could also accommodate China's growing family size after the government dropped its one-child policy.
A sustained growth in diesel-powered SUV sales, particularly as the vehicles' electric counterparts struggle to take off, could significantly hamper China's deliberate environmental conscientiousness.
Transportation accounts for 14 percent of global greenhouse gas emissions. Industry trends like this one — in which SUVs continue to trump EV — have the power to tip the already precarious environmental scales towards increasing urban pollution, rather than decreasing it.
Sensible Solutions For The School Safety & Gun Control Issue That We Never Hear About
It's no surprise that the topic of school shootings is on most people's minds, these shooting sprees have become very common in the USA, so much so that it simply cannot be ignored.
There are many opinions and ideas about what can be done about this very serious issue. Many people think that simply banning guns is the answer, but is that really going to end violent acts towards others?
One post that has received many shares (at the time of writing this it was up to 100,000) is one by Clint Fiore, father to 4 children who has been involved with 'Rachel's Challenge' an anti-violence, anti-bullying school safety organization which was formed after what happened at Columbine High School.
I loved the points Clint raised in his post and I personally think members of Congress need to see this list. Please make sure you read the expanded info section which you can access at the bottom of this post.
Let us know what you think, and if you like it, please share and tweet to members of congress!
Here's the link to the original post: https://www.facebook.com/clint.fiore/posts/10101395810027708
Defending guns is getting tiresome. The same impossible-to-implement gun-control ideas are trotted out after every shooting with a fixation on the scary object. Few of you on my friends list know I dedicated years of my life right after college to a program born out of Columbine that's the most effective at reducing school shooting tragedies and that I've traveled the country to visit middle schools and high schools in 30+ states speaking as well as doing work to make schools safer.

1) Fatherlessness needs to be addressed. Kids need dads- most shooters don't have an involved dad. Can we connect boys without fathers to father-figure mentors? This is also a theme in the inner-city, less-publicized, yet more-frequent gun crimes in minority communities.

2) Adults need to be held accountable. The Parkland shooting last week is 'Exhibit A' on that. Dozens of adults at the school, local law enforcement agencies, and even the FBI knew about this kid and what he said he was going to do. Another adult, the SRO on duty, could have stopped it while it was happening but never went in. How many adults around this situation will be charged with crimes like negligence or manslaughter for their blatant failures? My guess is zero. How many will lose their jobs? My guess is zero. Nobody does anything because you risk nothing by doing nothing and get in trouble if you take a proactive approach and try to do address things before the blood is spilled. This is up and down our education and law enforcement systems.

3) Boys need safe environments to fight and let out their physical aggression. Young men involved in physically violent sports like football, wrestling, karate, etc. typically do not become mass murderers. I feel like our present culture is trying to take the fight out of our boys, but it's still hard-wired into them. Where no healthy outlets for this natural aggression exist, unhealthy ones will take their place.

4) The role of pharmaceutical drugs in mass shootings needs to be thoroughly investigated. It's too common of a theme to be ignored as a potential factor. Too many of our kids are getting drugged up instead of getting the care they really need. Right on the labels of these mood-altering drugs are side effects like "Hallucinations- loss of contact with reality." and "Suicidal thoughts." Yet we don't immediately ask about the prescriptions these kids are on, instead focusing on what kind of gun they used.

5) Training kids to huddle together as stationary targets on the ground, HAS TO STOP. It's stupid and getting our kids killed in greater numbers during these events. If they can't get in a secured room separated from the shooter, they need to run or fight, period. Get out the window or tackle the shooter etc are all way better things to teach. There are great programs to better train our kids on how to react to this threat.
6) Empower and encourage teachers and school administrators to have a plan, have the support of the district, and secure their classrooms the way they're comfortable with. Too many wonderful teachers with hearts of lions for protecting their kids are fearful bringing up their desires to their bosses whom will point to policy and liability concerns over common-sense solutions the teacher needs and wants. Teachers, if you don't get the support you need, do what you need to do anyways quietly. Damn the system. Keep our kids safe. There isn't a one-size-fits-all answer here, but all kinds of things could help like: ways to block/harden doors, weapons (gun or non-gun) to have a fighting chance if a shooter makes it through the door, and additional escape options like rope ladders for 2nd story windows teachers can deploy, etc. We can't have a cop everywhere and even if we do, there's no guarantee they won't be taking their sweet time outside like the Parkland SRO did while your class is in the cross-hairs. Teachers are right there and the first line of defence and they need to think about it and take it seriously and not get in trouble if they do.
7) Finally, and most importantly, we need to improve the culture of our nation and our schools. We need to value human life highly. We need love. We need kindness. We need compassion. We need to look for the kids that are becoming isolated and need help and go help them. We need more than just anger at what's wrong, we need to celebrate the good stories and champions of kindness. Kids that care for one another don't kill each other. We need to touch the hearts of kids and train them up in morality and virtue- not just pack their heads full of information.
This is exactly what we focused on when I worked for Rachel's Challenge, one of the top anti-violence programs in the country, and we saw tons of lives saved by changing the culture of schools from the inside out. (would-be-shooters with kill lists turning themselves in, gang members laying down their colors, suicides planned for that night cancelled, etc.) Invite them to your school as a great way to start this cultural transformation.
Clint Fiore, the author of this post also has now expanded his list with suggestions for action which you can access here: this is highly recommended to read.