US Navy admits it has more information / video about UFOs
Jazz Shaw wrote the article below on the website hothair.com, putting into perspective exactly how the US government was caught lying about whether or not they had more information and videos associated with UFOs. Pentagon and Navy contradict each other.
Interesting, if not terribly informative, development has occurred in the history of UFOs encountered by the Nimitz carrier battle group in 2004.
As you may recall, there were three videos released by the Navy over the past two years, through the efforts of the To The Stars Academy (TTSA) showing encounters with bizarre flying objects exhibiting performance characteristics that challenge much of our understanding of physics. One video was of the Nimitz incident and the others were from a much later encounter involving the aircraft carrier Roosevelt. The videos were a bit grainy and short. Many journalists have tried to find out if there are more videos, or at least longer and clearer versions of what was made available. All of these requests were answered negatively.
This is … until now. A researcher named Christian Lambright sent a FOIA (Freedom of Information Act) request to the Office of Naval Intelligence (ONI) in October, looking for very specific information. He finally received a response recently.
The military did not provide him with new videos or documents, but admitted that they located other documents and another video that would apply to his request. They could not release them, however, because the documents were classified as VERY SECRET and the video as SECRET. Their release, the navy says, could cause "serious damage" to national security. This information was recently published by Paul Dean.
Our analysis of our records and systems reveals that ONI has no releasable records related to your request. ONI searched our records for responsive documents. We found some information slides classified as TOP SECRET. A review of these materials indicates that they are currently appropriately classified as TOP SECRET under Executive Order 13526, and the Original Classification Authority determined that the release of these materials would cause exceptionally serious damage to United States National Security. Specifically, in Section 1.4, the materials would trigger protections in subcategory c), US Intelligence Activities, as well as the Sources and Methods being used to gather information in support of US National Security. In addition, the materials would trigger protections in subcategory e), Science and Technology Issues related to US National Security. For this reason, materials are exempt from release under exemption (b) (1) for classified national defense matters. As a result, these records may not be released and are being retained.

We also determined that ONI has a video rated SECRET, for which ONI is not the Original Classification Authority. ONI referred your request to Naval Air Systems Command to determine the possibility of release… "
We must immediately put these revelations in context, so let's review some important points.
THE US Navy has admitted it has top secret footage from a UFO sighting – but say it can't be released as it would cause "grave damage" to national security.
Starting early last year, the Pentagon seemed to grow tired of fielding all of these questions about UFOs and started referring all journalistic inquiries to a single spokesperson, Susan Gough. This is an important point to make because we've heard testimony from several of the sailors from the Nimitz battle group who witnessed these events saying that they remembered seeing longer videos. However, when journalists asked the Pentagon about this, Ms. Gough informed us on multiple occasions that those three videos were the only ones they had and no longer or clearer versions existed.
Now ONI has gone on record stating that there is at least one additional video from the Nimitz encounter and it can't be released because it's classified SECRET. (They are reviewing that classification to see if it can be changed now so perhaps we'll eventually see it.) So once again we have the Pentagon, through Ms. Gough, saying there are no more videos and we have ONI saying there is at least one more. Both of these things can not be simultaneously true. In other words, somebody is lying… again.
Who should we believe? We can apply a bit of logical testing to this situation and make a pretty good guess. One possibility is that someone from the Naval Intelligence Office decided to invent a fairy tale about non-existent UFO videos and send them to researchers and journalists to… manipulate them psychologically?
The other possibility is that when the Pentagon was asked about additional videos they lied to us. You may recall that I wrote a rather lengthy screed about a month ago about the Pentagon (and really most of the government) and their somewhat dubious relationship with the truth. This is the same Susan Gough who told us repeatedly for many months that the AATIP program was real and it investigated UAPs. (That's their term for UFOs now.) Then on December 7th, she inexplicably put out a statement saying that AATIP had never had anything to do with UAPs. She also told us that TTSA's Louis Elizondo was never in charge of or associated with AATIP (which may still be true) while numerous other sources claim that he ran the program and his name shows up on one of the only verifiable documents about AATIP associated with Harry Reid.
So I don't know, sports fans. If we have to decide whether ONI is fibbing or the Pentagon is, which way are you leaning?
One additional thing to note here is that the response from ONI speaks of a set of briefing slides and a single video. But if you follow the link and look at Lambright's FOIA request, you'll note that it is structured very specifically to request information relating to UAP encounters happening in relation to the Nimitz battle group over a period from 10-16 November 2004. Having battled through the FOIA process myself on a number of occasions, I can assure you that the government never, ever gives up more than they have to under the law. Lambright apparently got exactly what he asked for, but nothing more.
To put it bluntly, ONI might be sitting on thousands of documents and as many videos. But if they originated from any time prior to November 10, 2004, or any date from November 17th of 2004 to the present, or if they happened anywhere else in the world but the Nimitz training exercise area, they would not include those items in the response.
What does that mean? Well, we've heard from the pilots involved in both the 2004 Nimitz encounter and the 2015 Roosevelt incident that they've been seeing these things "all the time." This happens frequently enough to alarm some senior people in the military and they want answers. If that's the case, do you really think they only managed to record three (or now possibly four) videos in the past sixteen years (at a minimum)? Unlikely in the extreme.
This is yet another example that's turned up of the government feeding us bogus information on this subject and being caught. More than likely they have a mountain of evidence and they're withholding it all. And they're still lying about it. Mind you, this still doesn't automatically mean that any of this has anything to do with extraterrestrials. For example, why was the slide presentation and the other video so classified? Perhaps that evidence might reveal some secret program of ours or the Russians or the Chinese demonstrating incredible technological advancements. You could understand how that might need to be classified. But without emptying the bag entirely, they should tell us whether it's one or the other. And just as a favor… STOP. LYING. TO. US.
Shadow group in the U.S. government believe ETs are demons
The article below, by Anthony Bragalia, shows one of the reasons why the UFO research is being undermined: the fanaticism of some members of the US government.
A surprising new analysis and an overview of the available reports reveal that within the U.S. defense and intelligence agencies lies a shadow group that is influential, fanatically religious and that actively undermines UFO studies by the government and its associated program managers, believing that UFOs are demonic.
An ongoing investigation into this bizarre and unscientific situation seeks to call fundamentalists who want to dismantle such programs by name. In doing so, they destroy the professional reputation and advancement of science. Incredibly, these extreme evangelicals believe that these "aliens" are demons and that those who study them are playing with fire. They are working from within to put pressure on these military and intelligence programs and on the professionals involved in examining the phenomena.
It has been over two years since the New York Times revealed the existence of Advanced Aerospace Threat Identification Program (AATIP) of the US Pentagon. The program had a recognized budget of US $ 22 million and ran for 2007-2012. It produced military radar reports, weapon camera images and detailed UFO sighting reports (now officially referred to as Unidentified Aerial Phenomena or UAPs). Former AATIP program manager, intelligence officer Luis Elizondo, also confirmed the existence of a collection of foreign materials, similar to metals, recovered by civilians and military personnel, apparently as UFO waste or collision items. Federal contracts were assigned to Bigelow Aerospace for the modification of facilities near Las Vegas, NV, to house and test these items. The Bigelow Aerospace is owned by Robert Bigelow, a billionaire and a major financial contributor to UFO causes, close to the senator Harry Reid and other influential individuals.
But it goes far beyond that:
Luis Elizondo's predecessor (a PhD rocket scientist 'Beltway') endured efforts by religious fanatics to inflict professional ruin on him, because the data he was gathering was a threat to their belief system! It appears that a specific element of religious extremists has somehow placed itself in the main government military and intelligence agencies that have allowed them to do so. And that element did not like the discoveries of Elizondo's predecessor – and tried to destroy his career – because they think UFOs and their demonic occupants.
Elizondo himself, in managing the program, experienced obstacles similar to those that impose his strange ET-as-Devil belief.
Incredibly, former UK Ministry of Defense UFO research officer Nick Pope also came forward to say that he was also harmed in his work on the phenomenon by people who consider him satanic, running these unscientific campaigns across the world.
This author strives to track down and name the religious extremists who are preventing the study of government UFOs and the program managers who may be helping them.
This threat to science, rationality and free research is rampant. And, unfortunately, this set of beliefs is not limited to just one branch or agency. This superstitious and reactionary way of thinking is difficult to understand in 2020, but it spreads to senior US military and intelligence officers who, driven by the strange idea that ETs are demonic, continue to impede authorized study of UFOs.
Elizondo discloses interference by officials who claim ETs are demons
The blog of the To The Stars Academy (TTSA), on November 1, 2018, presented a brief article and little known or mentioned published by Luis Elizondo, where he writes in part:
Unidentified aerial phenomena (UAP) have been linked to demons and anti-Christian-Jewish beliefs. I experienced this first hand during my time working on the US Government's Advanced Aerospace Threat Identification Program (AATIP), where certain senior government officials thought our collection of facts about UAPs was dangerous to their philosophical beliefs. In fact, my predecessor's career at AATIP was ruined because of a mistaken fear by a few of the elite. Rather than accepting the data provided by a high-ranking rocket scientist, they decided that the data was a threat to their belief system and instead destroyed their career because of it.
These extraordinary admissions by Elizondo indicate that he and the person who held that position previously experienced the same madness that "aliens are the devil" and career impediment by employees when they were managers of the UAP program.
The Pentagon scientist whose career was destroyed by anti-UFO religious fanatics
Dr. James Lacatski is not a household name in the UFO world – but he should be. He was the program manager for the Pentagon's UFO study shortly before Luis Elizondo. Elizondo provided clues about Lacatski in his post. These clues and others led to the name of Lacatski, thanks to the brilliant work of Keith Basterfield, a long-time Australian UFO researcher and writer, and Roger Glassel, Swedish UFO researcher, specializing in archiving documents obtained under the Freedom of Information Act. They learned about an Advanced Aerospace Weapon Systems Application Program ( AAWSAP). Glessel says that "AAWSA, if not the same thing, seems to be closely related to AATIP". Support for this has now come from several sources:
Emmy and Peabody award-winning columnist Las Vegas George Knapp (investigative TV reporter), who personally knows Senator Harry Reid, D-NV, retired) Confirms that: "Senator Harry Reid and his colleagues obtained funding for an ongoing study, but it was not called AATIP. The original acronym was AAWSAP or Advanced Aerospace Weapon System Applications Program."
Senator Harry Reid himself (D-NV, retired) stated: "I received a communication from a man who worked for one of the defense agencies, a PhD. He said: 'I know everything about rockets, but I don't know what those things are'."Reid was certainly referring to Lacatski, who was a senior scientist at the Defense Intelligence Agency and an expert on subjects that include new methods of energy and propulsion. Senator Reid also told George Knapp that the Pentagon's UFO program has ended for reasons that include: "there were other authorities who had religious objections".
Nick Pope, a former UFO investigator at the UK Ministry of Defense, recently told the newspaper reporter Subway (UK), Jasper Hamill, that he found the same kind of attitude when working in the UK, and that he himself heard about religious fanatics in the USA versus flying saucers with AATIP: "I knew that the Pentagon's reaction to UFO research was partly due to the religious beliefs of some of those involved", he said. "It was a strange irony that UFO investigations were being hampered because some people who believe in God meant that they did not believe in the existence of extraterrestrial life or that they considered UFOs and extraterrestrials to be demonic. The fact that some people consider UFOs to be demonic seems to have their roots in the biblical description of Satan as being 'the prince of the power of the air'. Luis Elizondo says he encountered a religious reaction from the senior team when he ran the Pentagon's UFO Program, and I saw some evidence of that also at the Ministry of Defense (UK)". This suggests that this "aliens are demons" mentality is global and exists among powerful elements in nations other than the United States.
The Defense Intelligence Agency approved a study entitled 'Warp Drive, Dark Energy, and Manipulation of Extra Dimensions'(Space Warp Engine, Black Energy and Extra Dimension Manipulation), associated with AAWSAP. James Lacatski is named as the contact in this document, AAWSAP Program Manager. This study is part of a series of advanced reports on propulsion and navigation technology produced under the program.
How does this religious faction incorporated into military intelligence prevent the authorized study of UFOs? There are several possible ways: depreciation and verbal harassment, isolation, not answering questions, denying or delaying the necessary resources, issuing poor performance reports and limiting program staff.
Finding and losing Lacatski
This author located Dr. Lacatski, 68, and obtained his personal contact information and contacted him directly at his retirement home in Bowie, Maryland, in mid-December 2019. Dr. Lacatski, like many , apparently does not answer the phone from unknown numbers. After a few responses for a few days, I left a voice message asking him to call me back, indicating that I wanted to briefly count on his assistance in a "history of science" project. Not receiving his reply, a second and last voice message left by me was more direct and detailed. I asked Dr. Lacatski to consider telling his story because it is being told by others (mentioning Elizondo) and that we need to call this anti-scientific element now by name and prevent it from happening again, because, unfortunately, it is still for other people.
I didn't get an answer from him. Later, I contacted his wife, Wisal, 61, employed by NASA, via a work email there. Again, no answer. And it's no surprise: I suspect they want peace and federal pensions. Who can blame them? Lacatski has been through enough Luciferian madness and probably does not want to relive it. He's a silent hero. All he tried to do was serve science and our country in search of the unknown and was instead attacked by religious fanatics.
Lacatski's interest in paranormal things
I discovered that Lacatski was raised in a family where Catholic school education was valued. Even his mother was a Catholic school girl. But Lacatski also has a very strong interest in paranormal and extra-dimensional things. This probably contributed to the reason that the ultra-conservative religious element wanted to expel him.
Lacatski wanted to visit a famous 550-acre farm in Utah, where for more than half a century, paranormal phenomena and UFOs have a reputation for having occurred. For years, until recently, the farm was owned by Robert Bigelow (mentioned earlier) and is known as the 'Skinwalker Ranch'. Activities and entities include sightings of orbs and UFOs, cryptid animals, poltergeists and disturbing magnetic fields. One telling thing was mentioned in The New York Times on December 17, 2017: "Mr. Reid said that his interest in UFOs came from Mr. Bigelow. In 2007, Mr. Reid said in the interview that Mr. Bigelow told him that a Defense Intelligence Agency employee approached him, wanting to visit Utah's Bigelow farm, where he conducted research. Reid said he met with agency officials shortly after his meeting with Bigelow and found that they wanted to start a UFO research program.". After this meeting with Reid and Lacatski, the program (AAWSAP, later AATIP) started with Lacatski, and later Elizondo. This is supported by the research and is considered to be the opinion of Keith Basterfield (UFO researcher mentioned above).
Lacatski is also closely associated with Dr. Eric Davis, a Baylor professor who received military contracts for technical documents on new and hyper-technical concepts of space travel. Davis is also known to be involved with UFOs. See Davis's 2002 email to Admiral Tom Wilson, director of the Defense Intelligence Agency (DIA, 1999-2002), discussing the reality of visiting ET[[link]. Davis also claims that in Skinwalker Ranch he witnessed the presence of a large dark-haired entity and other anomalous phenomena. Dr. Lacatski is clearly listed as having read and approved Davis's publication for the DIA mentioned above (Warp Drive, Dark Energy and Manipulation of Extra Dimensions).
Lacatski's contacts extend to Reid, Davis, Bigelow and Elizondo. He is well connected to this paranormal / UFO circle and probably similar ones.
Robertson, Falwell, Huckabee provide information about the mental state of those who think "aliens are demons".
The group that wished the expulsion of Elizondo's predecessor shares the same views on ET as religious evangelical extremists, as the former US presidential candidate, Reverend Pat Robertson, (TV program 'The 700 Club') And the late Reverend Jerry Falwell, extreme right and "Moral Majority Leader", political influencer and co-founder of the evangelical Liberty University, and Mike Huckabee, minister, ex-governor, candidate for republican presidency and commentator of Fox News.
Pat Robertson has stated on numerous occasions that ETs are, in reality, "demons" and that they are trying to lead people away from Christ. He says that even studying ETs is a serious offense. He says: "The Bible says that the earth belongs to man, but the heavens belong to the Lord. He gave us the Earth ". Robertson warned of ETs: "These things are, at best, nothing lifeless, intelligent and demonic. They are not a host of heaven, they are fallen angels "…
In the late 1970s, Jerry Falwell made his followers aware of his thinking on the subject. In an interview in Virginia Beach, he warned that UFOs are a "satanic tool of deception to confuse humanity". In a televised sermon in the same city, he said that UFOs were "transports of demons from hell".
In 2008, on his campaign trail, Mike Huckabee was asked about the UFO and ET subject, to which he replied by spelling out "G-O-D not U-F-O." He is well-known for expounding about the Devil, and disparaging talk of the extraterrestrial.
Reports on the anti-flying saucer fundamentalist faction: "Final Events" by Nick Redfern
Renowned writer Nick Redfern authored the groundbreaking book Final Events (Final Events- Anomalist Books) in 2010. It contains the first real examination of organized factions within the government that promote the belief that ETs are really deceitful, demonic and fallen angels. By calling part of that element 'the Elite Collins', its sources and reports are reliable and spanning a period of years.
And now, a decade later, in 2020, this faction has grown and its efforts have intensified. This is a clear reflection of today's culture and political climate. We demonize those who are different from us.
Newsweek claims Christian extremists have infiltrated the Department of Defense
Newsweek correspondent Nina Burleigh, in her 5/22/2017 article 'Trump Effect Inspires Radical Christians in Military', insightfully points out the perils of intersecting radical Christianity and the military. Note that the Department of Defense is the ultimate oversight agency for the UFO program AATIP:
The mix of radical Christianity and the US war fighter has been going on for some time. In 2007, the Department of Defense inspector general published a report on a group of Defense Department officers and officials who 'abused their authority', promoting a video for 'Christian Embassy', a high-level evangelizing equipment based in Washington and a website designed to make it look like an arm of the US government. Fundamentalist views are decidedly in the minority in the general population, but they have adherents in some of the most powerful positions in the US armed forces, especially in and around Washington DC, and in the city of Colorado Springs, home to the US Air Force Academy. and the eating of the country's nuclear power plant.
Giving the names of the authorities that hinder the government in its research on UFOs, why is this "wicked"
We can begin to understand who these extremists are by going back to Huckabee, Robertson and Falwell. All three had political aspirations and a strong influence on the government, with the three evangelicals being extremists. The influence that politicians and reverends similar to Huckabee, Robertson and Falwell have on millions of people about ETs, clearly extends to military and intelligence leaders.
A profiler would point to the characteristics of these culprits as being of the extreme right's political inclination; South or West; Married and with children; White; Man; 40 to 50 years; strict Christian / evangelical / born-again persuasion; and in a position high enough to be able to exert such influence.
Conservative Christian Bible studies, ministries, church organizations and scholarships exist across the country (such as the Christian Embassy, ​​mentioned above), whose members consist exclusively of US military officers (including generals) and US intelligence agents. They meet regionally and nationally in Christian colleges, evangelical churches and military bases, inclusive in Wright-Patterson military base. And at least one of those military / intelligence groups (Christian Fellowship) meets at the Pentagon (Room 2C453) and at Jerry Falwell's Liberty University in West Virginia. If these officers and agents believe in this demonic-alien dogma and exercise the influence of their beliefs while serving the country, this is very dangerous for the very foundations of science and free research.
Using the profile and information above in this article – as well as a clue provided by someone familiar with all of these subjects who prefer to remain anonymous at this point – I am beginning to make a short list of potential people, crossing them with those who may have made religious statements on the subject and identified those that are 'in jail' for affected UFO program managers.
I hope to succeed in this task, because once I find them, I will publish their names and expose them to shame.
– Anthony Bragalia
Military files show an Alien Base was discovered by a CIA analyst under Mount Hayes, Alaska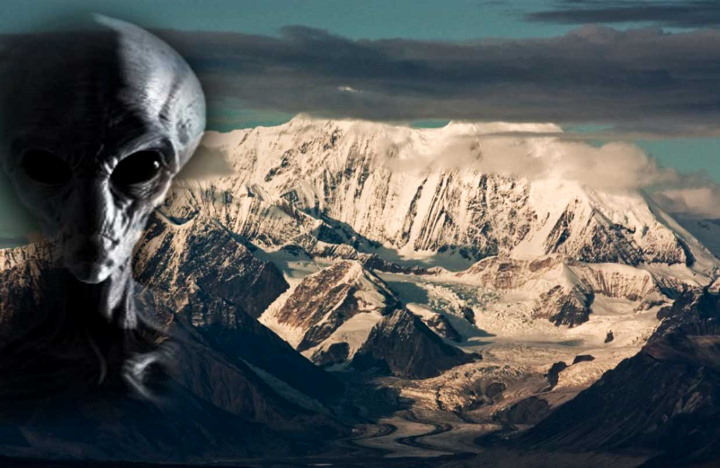 By the late 1980s, the Stargate Project was in full swing. Declassified files show that the United States government has used remote viewing, the ability to psychically see places from a distance, for over a decade.
While browsing the CIA archives, we found something that made us double-interpret: the apparent discovery of three extraterrestrial bases by an intelligence analyst. The obscure handwritten document, de-classified and named "Sun Streak", was under the supervision of the DoD's Defense Intelligence Agency, describes secret underground structures of extraterrestrial origin. One of these structures would be located under . Despite its highest mountain status in the eastern range of the state, Hayes is rarely climbed due to its remoteness and inaccessibility.
It is also the epicenter of what the locals call the Alaskan Triangle … a hot spot for news of inexplicable lights, hikers fading away and even tiny beings living in the desert. So what exactly did the United States government find out? And could an underground facility have anything to do with strange relationships in the area dating back decades?
In his book written in 1997, Remote Viewers: The Secret History of America's Psychic Spies, the author Jim Schnabel describes in detail the involvement of US Intelligence in the controversial issue of "psychic espionage" that began in the 1970s. In the section dedicated to Pat Price, we learn that the extraordinary "psychic spy", in one of his visions, would have said that "… in Alaska, the interior of Mount Hayes, the jewel of the northeast of Anchorage, hosted ( and still houses) one of the largest secret bases of aliens. "
According to Pat Price, the aliens who lived inside the mountain were very similar to humans in appearance, differing only in the internal anatomy, such as heart, lungs, blood and eyes. In addition, Price states that the aliens were able to take control of our mind and that "the Alaska site was also responsible for the malfunction of some American and Soviet space objects."
Of course, Pat Price's claims have never been officially confirmed. However, despite the controversial nature of the story, in some recently publicized FBI files, we read about surprising encounters with UFOs in the period between 1947 and 1950 in Alaska.
Drones in Colorado could be secret military ships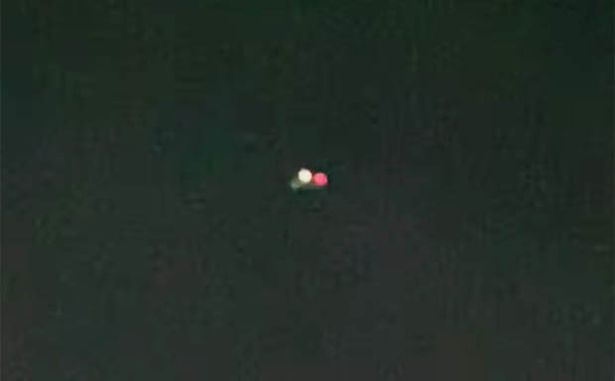 A former United States Air Force (USAF) intelligence specialist believes that the mysterious swarm of drones discovered in recent weeks in the state of Colorado may not be a drone – but a new cutting edge military technology.
US state officials were inundated with reports of "car-sized" drones being seen almost every night.
So big is the frenzy about what could be happening, that a task force involving 10 to 15 law enforcement agencies, including the FBI, was created to "get to the bottom of this".
But, despite claiming that there is nothing "criminal" about these ships, no one has yet managed to explain them.
And now, an intelligence specialist, who has worked in all branches of the armed forces, believes they may not be drones.
Mike Turber told the Daily Star Online that the ship may actually be exhibiting TIC Tac 'technology' erom the USAF.
Mike Turber told the Daily Star Online that the spacecraft may actually be displaying USAF 'tic-tac' technology.
Speaking to that site after an explosive participation at the The Hidden Truth Show with Jim Breslo, he said:
I think it's related to the Navy.

I've seen several videos that caught my attention.

I'm a debunker and I've never jumped on the UFO bandwagon.

But as I'm watching these videos, I'm seeing some objects that look a lot like a tic-tac would be.

There's one where an aircraft is zooming by at a ridiculous speed.

As far as I know, they very well could be these tic-tacs but I have no inside knowledge of what these are and can't really confirm anything.
Mike believes that these tic tac spaceships are the same objects seen by US Navy fighter pilots from USS Nimitz in November 2004.
While the Navy labeled those ships as Unidentified Aerial Phenomena, the intelligence expert is convinced that they are actually being built by the U.S. military.
Conspiracies as to what the mysterious drones in the states of Colorado and Nebraska could be have continued to emerge since they were first reported on December 23.
Aviation attorney and drone enthusiast Loretta Alkalay told Motherboard that drones may not exist, suggesting the media frenzy over them have turned the stories from fact to fiction.