US Air Force: Don't Worry About Those Weird Lights and Booms Sunday, It's Just a Spaceship
If you're in the vicinity of Vandenberg Air Force Base in California Sunday evening (Oct. 7), you might hear some strange booming and see some weird lights in the sky. But the Air Force would like you to know that there's no need to worry; something entirely normal is going on — a rocket that heaved its way up into space will be falling back to Earth, correcting its trajectory with "multiple engine burns," and then (if all goes well) settling comfortably back on its landing struts in the vicinity of its launch site.
The Air Force released the warning because, while Floridians have had ample time to grow comfortable with the spectacle of SpaceX landings, this will be the first attempt to land a Falcon 9 rocket on the West Coast. It will not, however, be the first launch from Vandenberg:
The rocket is currently scheduled to launch at 7:21 p.m. local time, carry the SAOCOM 1A satellite into space, and return to Earth shortly afterward.
According to a Facebook post by the Air Force's 30th Space Wing at Vandenberg, "local residents" can expect to see something of the rocket itself as it returns to the base, while people as far as Santa Barbara, Ventura and San Luis Obispo counties may hear thunderclap-like sonic booms, depending on the weather.
SpaceX launched its Falcon 9 rocket from Vandenberg Air Force Base in California on Dec. 22, 2017, with bystanders on the ground getting a gorgeous light show.
Credit: Maxwell Harris/Getty Images
Source www.space.com
Martian sand dune looks like Starfleet logo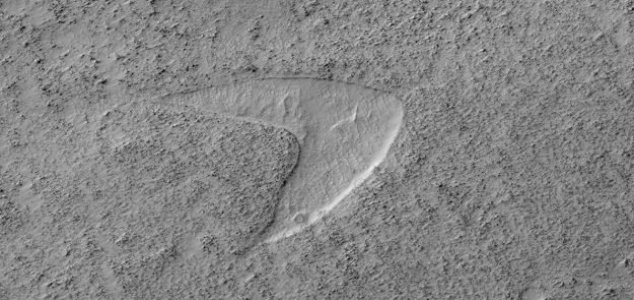 Image Credit: NASA
The dune looks very similar to the Starfleet logo. 
New images taken by NASA's MRO HiRise camera show a sand dune formation with a rather familiar shape.
The photographs, which were captured by NASA's Mars Reconnaissance Orbiter, have prompted some rather tongue-in-cheek references to Star Trek's iconic insignia.
"Enterprising viewers will make the discovery that these features look conspicuously like a famous logo," the HiRise team at the University of Arizona wrote in a Tweet.
Star Trek references aside, this intriguing formation and others like it have been helping scientists to learn more about the Red Planet's atmosphere, temperature and topography.
This, in turn, will also help NASA to better plan out future manned missions.
Caption Spotlight (12 Jun 2019): Dune Footprints in Hellas

Enterprising viewers will make the discovery that these features look conspicuously like a famous logo.

More: https://t.co/CAq5xBbDwf

NASA/JPL/University of Arizona#Mars #science pic.twitter.com/N5MfKQPiYt

— HiRISE (NASA) (@HiRISE) June 12, 2019
Source:
IB Times
Why Lockheed Martin Is Designing A Tiny Home To Orbit The Moon
NASA wants to build another space station, but this one won't live in a close orbit around Earth. Within the last year, NASA has begun planning for a much smaller astronaut outpost in orbit around the Moon, a new destination dubbed the Gateway. The idea is for this space station, which will be a fraction of the size of the International Space Station, to serve as a place for astronauts to live and train for excursions to and from the lunar surface.
A crucial piece of hardware needed for this Gateway will, of course, be habitats — spaces for a handful of astronauts to do research, exercise, sleep, and eat. But what exactly does it take to build a habitat for deep space? NASA has tasked six companies with figuring that out, through the space agency's NextSTEP program. Through a public-private partnership, companies like Boeing and Bigelow Aerospace are creating and executing their own designs for modules that could house astronauts in the environment around the Moon.
Another one of those companies is Lockheed Martin, a longtime contractor for NASA located in Colorado. Lockheed is currently working on a cylindrical deep-space habitat that will provide about 882 cubic feet of livable space, which is about the size of a bedroom for up to four astronauts to roam around in.
And just like designing a tiny home, Lockheed has gotten creative with storage. For instance, the design calls for water to surround the hull of the habitat, to be used as drinking water but also to be used as shielding for deep-space radiation. The habitat also has a treadmill on its ceiling; but, in orbit around the Moon, the microgravity environment means there is no ceiling. So every bit of exposed wall is used for a different purpose. The habitat will also include a workstation, as well as sleeping bags for the crew and storage for food and other essential living materials.
In the third episode of Space Craft season 2, we got to visit a mockup of Lockheed Martin's deep-space habitat at the company's headquarters in Denver. However, what we saw was just for show: a glimpse of what the final design might look like. We also were able to use augmented reality and virtual reality to get a better feel of what the final look of the habitat will be like. Currently, Lockheed Martin is building its first prototype of the habitat in Florida, so that NASA can analyze its design by 2019.
Meanwhile, Lockheed is also building another key piece of spacecraft hardware for NASA, one that will be used to potentially transport astronauts to and from this deep-space habitat. It's a capsule called Orion, and it's become a big part of NASA's plans for the future. We also got to test out a simulation of what it might be like to dock the Orion capsule to the habitat — what future astronauts will do to get to their deep-space home.

Source www.theverge.com
Your name can be on Mars in the year 2021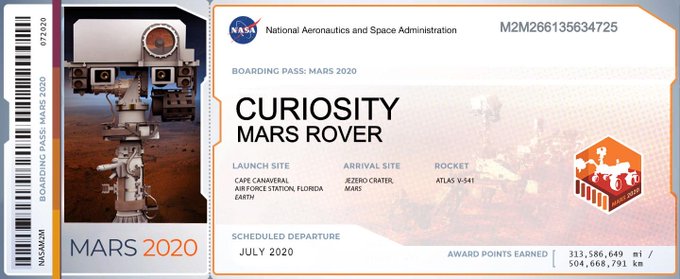 NASA has launched a campaign for anyone who wishes to send their name to Mars, in the form of a boarding pass digitized on a chip incorporated in the next Mars 2020 mission. 
«Do you want to accompany me on Mars? Send your name to the surface of the red planet with the next rover of NASA, Mars 2020 », published the Twitter account of Curiosity, which explores our planetary neighbor since 2012.Ver imagen en Twitter
The tweet is completed with a link to a website that offers the form to fill out for the issuance of the personalized boarding pass. For example, we have completed ours, and Mystery Planet will be included among the names that will appear on the chip of the new rover to explore Mars.The ticket also includes "frequent flyer points", which add to the previous ones if you were attentive and participated, for example, in similar initiatives for other NASA missions, such as InSight and Parker Solar Probe al Sol (in our case we have accumulated more than 614,000 million kilometers!).
To send your name CLICK HERE . You have time until September 30.
Mars 2020
The Mars 2020 mission is scheduled to be launched in July 2020 from Cape Canaveral, and its arrival is expected in February 2021 in the Jezero crater.
The rover, which weighs about 1,000 kilograms, will look for signs of microbial life, as well as make climatic and geological investigations, collect samples and pave the way for future human exploration and colonization.
Source: NASA